We may earn income from links in this post. Please read this Disclosure for details.
If you're looking for the perfect place to sip a cocktail–while you skip in and out of the warm aqua sea–there are lots of fun beach bars in Aruba to choose from. Many resorts also have their own lively bars where guests gather for Happy Hour before heading out to enjoy some Aruba nightlife.
But when it comes to choosing the best of the best, there are a few spots that offer everything one could ask for in a classic beach bar. Creative drinks, delicious food, and the kind of great service and friendly camaraderie that keeps folks coming back for more.
From infinity pools to the best bars near the cruise ship port, we've hand-picked a few of our favourite places that no-one should miss on a bar hopping tour of Aruba:
1. Beach Bar Aruba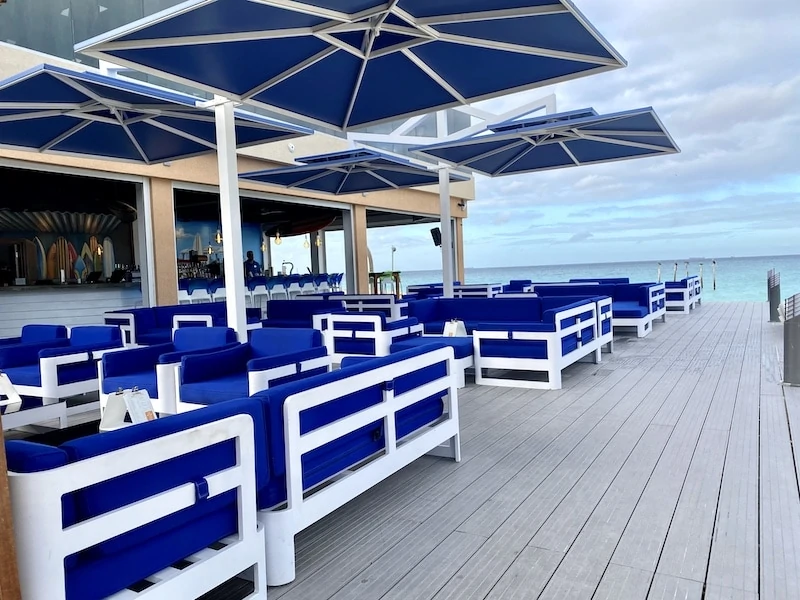 The newest offering by Divi Resorts is on spectacular Druif Beach and looks out onto the picturesque "pelican poles" — remnants of the old Eagle Refinery pier where these entertaining sea birds love to perch. Designed to be simply the ultimate Aruba Beach Bar as the name suggests, it succeeds in an elevated way.
Comfy alfresco couches, or the big sit-around shaded palapa bar ,welcome patrons to enjoy superb creative cocktails, craft beers, fine wines, and fusion fast food like wraps, gourmet burgers and paninis. There are vegan burgers on tap, too. Their homemade summer popsicles and delicious desserts are also bound to please.
Swimming out front is splendid, and live music or hot DJs set the scene for spectacular sunsets over the sea.
Happy Hour is 2-3 pm & 5-6 pm daily.
Insider's Tip: This establishment is not part of any of Divi Resorts all-inclusive plan. Beach Bar Aruba is open to the public as a stand-alone spot.
2. MooMba Beach Bar and Restaurant
Undoubtably the islands most legendary beach bar, MooMba Beach Bar morphs into many different incarnations depending on the time of day and the day of the week. In the mornings, the restaurant side offers up excellent, reasonably-priced buffet breakfasts with incredible views.
Daytime, the bar area is always buzzing with tourists hopping to and from the many snorkel trips that take off from the pier directly in front.
And you'll find always find a gang recapping the day's adventures at Happy Hour, enjoying great pub fare, and taking advantage of the outdoor bucket shower to rinse off the saltwater.
Later, the vibe shifts to hip music, and on Sunday nights it becomes the island's biggest local beach blow-out spot. Friday and Sunday BBQ's are also a big draw.
Insider's Tip: Sunday nights are popular and draw a young crowd of locals. Although the barkeeps at MooMba are masters, it can take a while to get a drink when the crowd is three-deep to the pine.
3. Bugaloe Beach Bar & Grill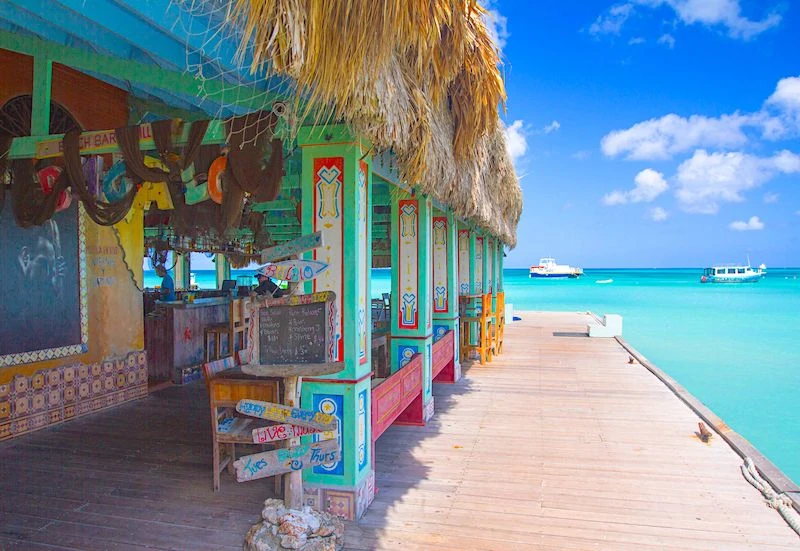 This lively Aruba pier bar reigns supreme as THE over-the-water night spot that's always rocking on Palm Beach. Locals and visitors alike flock to this hot spot to enjoy live bands, karaoke, salsa dancing with workshops, and more, 7 nights a week.
There's always music happening at Bugaloe starting at Happy Hour, and they offer late night Happy Hour, too. During the day, it's a casual breakfast and lunch spot and popular drink pit stop for those taking the seafaring excursions from DePalm Pier where they are located.
The decor is pure beach shack, brightly painted wood in Caribbean colours to match the surreal aqua sea views that steal the show.
Insider's Tip: You won't want to miss "Crazy Fish Monday" featuring fresh seafood specials. On Saturday night it's all about their fabulous BBQ ribs.
4. purebeach
This is an ethereal and classy spot to unwind and sip some hand-crafted cocktails, have some trendy tapas and mains, or slip into the swim-up pool bar to cool off and socialize with a bunch of fun and friendly people.
"purebeach" is Divi Aruba Phoenix Beach Resort's casual beach bar and eatery. "pure" is their brand for all their outlets like "pureocean" their fancier dining spot on the sand, "pureindulgence" their elegant spa, and "puredeli" their indoor grab-and-go coffee shop.
Different nights offer different vibes, karaoke, live bands, DJ's, and BBQs revolve throughout the week. Check their Facebook page for updated events.
Daily Happy Hour is from 4pm – 6pm.
Insider's Tip: You need not be a guest of the hotel to be a patron there, it is not an all-inclusive resort. Purchasing food and drinks also gives you access to their pool and giant outdoor adult-only Jacuzzi, too.
5. Oceanside Bar & Grill
Ask any island bartender, "What is the most popular drink in Aruba?" and they'll quickly whip you up an Aruba Ariba – the island's national ruby red cocktail.
But when it comes to tropical concoctions, I'm still a Pina Colada gal, and I found the absolute best ones are made at the Holiday Inn Aruba Beach Resort's giant surfside palapa called the Oceanside Bar & Grill.
Maybe it's the fact that their barkeeps are truly old school professionals, or maybe it's the fact that the resort has a surprisingly good selection of fine rums (ask for dark rum in your drink), but compare as I might, theirs always wins hands-down. Also notable are their fried grouper sandwiches and excellent flatbread gourmet pizzas.
For those who like to stand in the sea with cocktails in hand, the location is ideal. It's mere steps from what is arguably the best, most uncluttered stretch of calm surf on Palm Beach.
Open until 6 pm daily except Saturday, when they are open until 10 pm.
Insider's Tip: What makes the Aruba Ariba drink unique to the island is the locally sourced red liqueur called "coecoei" made with agave, rum and cane sugar.
6. The West Deck Island Grill & Beach Bar
A short walk from downtown Oranjestad just past the Renaissance Marketplace on the marina, you'll find this fab beach bar and grill on its own crescent of white sand. It offers panoramic views of the cruise ships and guaranteed superb sunsets over the sea.
It's designed to be a welcoming, casual fun and friendly spot– truly a local bar Aruba style–but they also offer quality fare, first-rate service and creative cocktails.
In fact, the West Deck Island Grill & Beach Bar was recently among the very first recipients of the Aruba Tourism Authority's new "Aruba Quality Seal" program which awards businesses for excellence.
Home of the popular "Beer-Rita" – a local Balashi beer turned upside-down in a Margarita cocktail – it's a wonderful al fresco emporium for grabbing a bite and socializing with locals and visitors alike. Sometimes they have live music and special BBQs too.
Insider's Tip: West Deck is also a great place to sample authentic local eats on Aruba. In fact, it's one of the stops on the Fusion of the World Food Tour.
7. Surfside Beach Bar
One of two excellent urban Aruba beach bars near the cruise port where you can swim in the sea, Surfside Beach Bar is little over a mile from the port. This makes it an ideal sand and surf excursion for cruise visitors.
Chair and umbrella rentals are reasonably priced, beach service is fast and friendly, or you can just grab a table under the big shaded bar area.
Fare specialties include international tapas, small bites, pizza and burgers, and they also serve breakfast. Locals also like to flock here for the live music after work at Happy Hour Fridays from 5-7 pm.
And the gala Sundays BBQs (chicken, ribs, salad, and rice $10) from noon to 7 pm with live music later, also attracts the weekend crowds of locals and visitors alike.
Insider's Tip: It's very close to the airport, so if you get stuck at the new Hyatt Place Aruba Airport hotel because of flight issues, grab a cab there to spend the day at the closest beach instead of hanging around the hotel pool.
8. Reflexions Beach Bar & Restaurant
Right next door to Surfside Beach Bar, but with more of a South Beach sophisticated vibe, the offerings at Reflexions Beach Bar are elevated- fine wines, champagnes and upscale cocktails. Full dinners of fresh seafood and high-end steaks are available too.
Rentals range from regular beach chairs and parasols to double beds/tents, round lounges, and even canopied four-poster beds for uber romantic lounging. Also, a big draw there is their lively swim-up pool bar with music.
For more tips on romantic things to do in Aruba, check out our Top Spots for an Unforgettable Date Night in Aruba.
Open 8 am-10 pm daily.
Insider's Tip: This can be a popular venue for private events and wedding receptions so can be closed to the public at certain times. Check ahead so you're not disappointed.
9. Arashi Beach Shack
Historically, Arashi Beach at the far northwestern tip near the California Lighthouse, has been a highly favored beach for locals, especially on weekends. Up until recently there were no facilities nor shade spots save a few public palapas.
But now it's become more popular with visitors since the Arashi Beach Shack opened, offering drinks and snacks and even ice cream plus showers and washroom facilities.
The shack offers shaded wooden table areas to chill at, but you can also rent chairs and umbrellas on the beach. (Rentals include free water and Wi-Fi.) Sometimes they also have live music at Happy Hour. Bring your own snorkeling gear as there are plenty of colourful fish very close to shore.
Insider's tip: There is a big free parking lot, but the Arashi Beach Shack also happens to be on the public bus route. The bus runs about every hour and stops at all the main beaches and resorts on its way to and from the Oranjestad terminal.
10. Rum Reef Cocktail Bar & Grill
One of the most unique beach bars in the island is found out past San Nicolas on pristine Baby Beach. It's an adult-only bar and outdoor lounge with a gorgeous infinity pool so well designed to be at one with the sea, that you really feel like you're in it, even when you're not.
Food service is planned for the near future, but for now, it's simply a sophisticated spot for drinks and sunbathing without the clamor of children.
The indoor bar also boasts stellar sea views. And barkeeps – friendly professionals like Maureen who has been a fixture at Rum Reef for over a decade when it was a little tiki bar–serve up legendary cocktails like Monkey Juice and Mau's Rum Punch. They also have a new cocktail that's like a Long Island Iced Tea called a Lionfish.
If you're staying in an overwater bungalow on that side of the island, don't miss all the incredible new outdoor art in San Nicolas. Exploring it is one of the best free things to do on Aruba!
Insider's Tip: You're welcome to have a beer or drink at the bar without entrance charge, but those who want to use the pool and lounges area must purchase a minimum of $15 USD.
Travel Planner to the Best Beach Bars in Aruba
Legal Drinking Age in Aruba: The legal age for drinking or purchasing beer, wine and spirits is 18 in Aruba. Drinking alcoholic beverages is allowed on the beaches. Be sure to drink responsibly and don't litter.
Flamingo Island: Another popular attraction on Aruba is Flamingo Beach on Renaissance Island, a private island accessible via water taxi from Orangestad. If you're a hotel guest at Renaissance Resort & Casino you get FREE access to the island via water taxi,.
However, it's also possible to purchase a Day Pass to Renaissance Island and enjoy a beach day sipping cocktails and communing with the pink flamingos. VIP cabanas with bottle service is also available to hotel guests for a daily rate.
Check prices and availability of Renaissance Aruba Resort & Casino on Booking.com.
Also check out these top beach bars in Anguilla!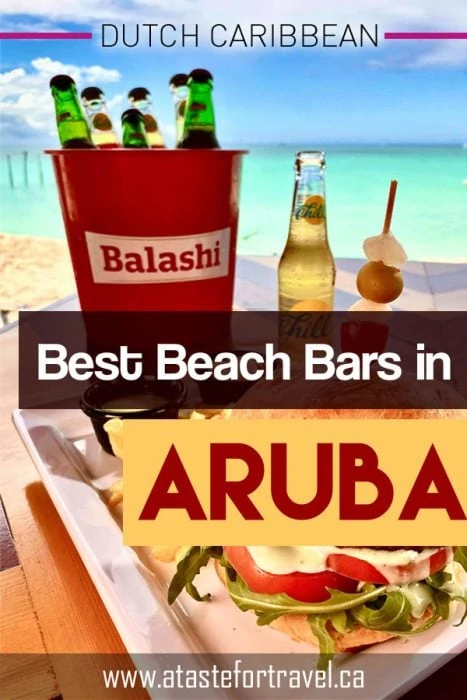 You Might Also Like:
Sue Campbell is an award-winning Canadian travel writer specializing in the Caribbean and other tropical hot spots.
She's authored major guidebooks for Fodor's (Aruba, Bonaire, Curaçao, Saba) and countless magazine articles about the Dutch Caribbean for their on-island guides and websites.
Her work has appeared in Reader's Digest, USA Today 10Best, Forbes, Montreal Gazette, Globe & Mail, Toronto Star, National Geographic, Afar, Business Insider, Journey, Matador, Delta Sky Magazine, Costco Travel and many more. Follow her journeys on social here.
Learn more about Sue Campbell.