We may earn income from links in this post. Please read this Disclosure for details.
While often called the "Saint Tropez of Turkey" due to its posh celebrity hideaways and sapphire blue waters, the glittering resort town of Bodrum offers much more than beaches.
I quickly fell in love with its alluring mix of ancient archeological sites, pine-scented inland villages and culinary attractions.
And I'm not alone in appreciating Bodrum's unique blend of modern comforts and traditional charms. It's one of the best places to visit in Turkey, officially the Republic of Türkiye.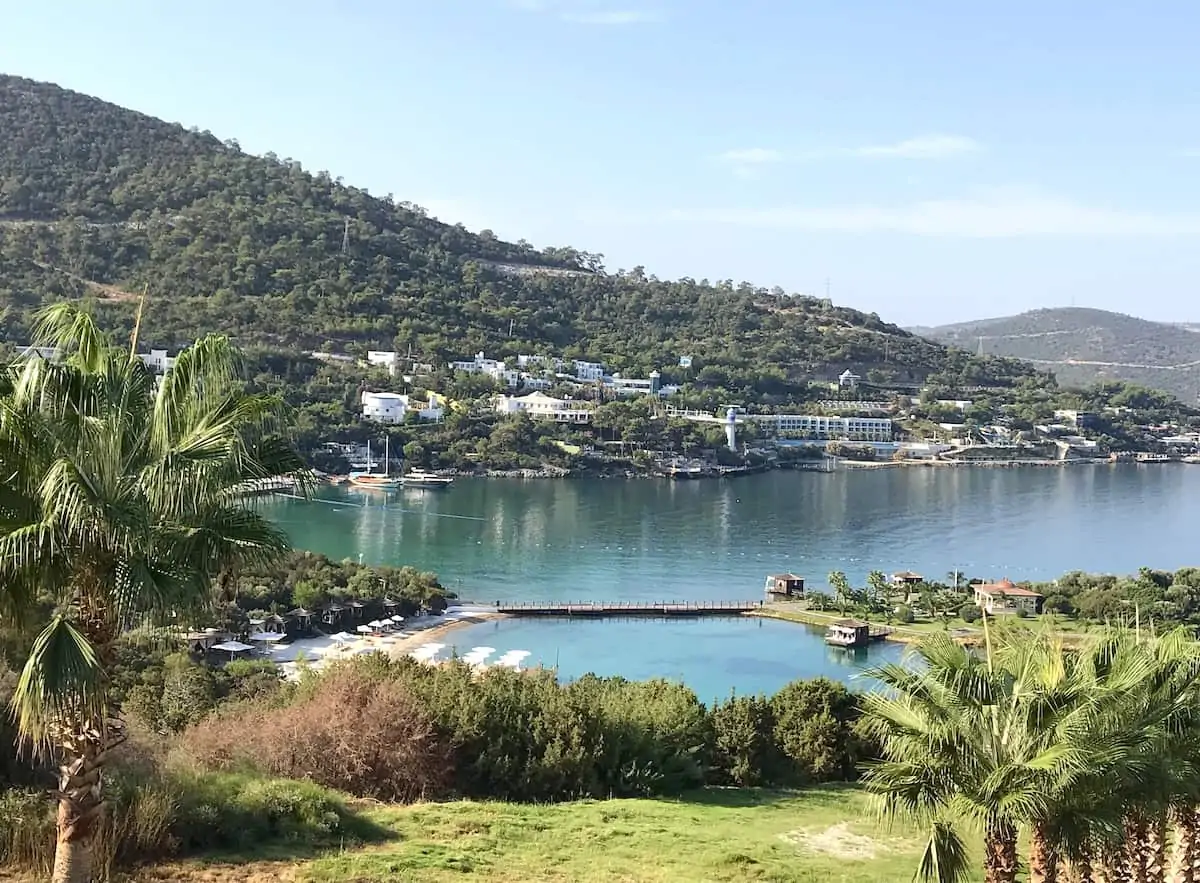 Time Magazine even selected Bodrum as one of the World's Greatest Places 2021!
What makes it such a great place to visit?
Here's my list of the most amazing things to do in Bodrum, Turkey and why you should add it to your travel bucket list:
1. Stroll the Waterfront Promenade and Marina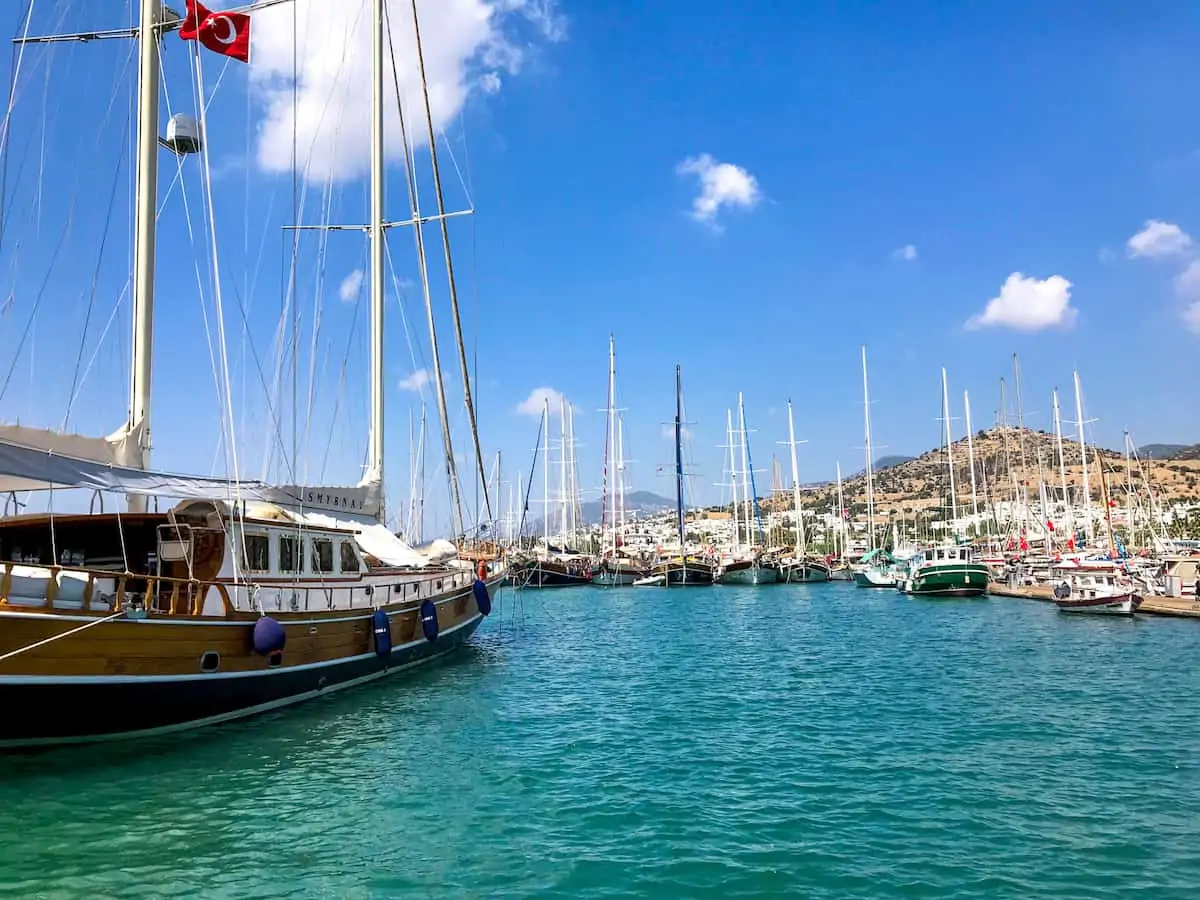 To get oriented, one of the first things to do in Bodrum is head to the marina. Take a slow and scenic stroll along its waterfront promenade and you'll quickly gain an appreciation of the city's strategic location as an important port for trade.
Set between two sheltered bays on the Aegean coast southwest of Istanbul, prior to Ottoman rule, what is now Bodrum was the Greek city of Halicarnassus. In modern times its promenade is a gorgeous part of a fun-filled day.
The pedestrian zone is lined with vendors, outdoor restaurants and bobbing fishing boats, cruise ships and yachts. Bill Gates often jets in to enjoy some time on his mega yacht.
In the evening, the promenade offers spectacular views of the neon sunset, illuminated stone walls of Bodrum Castle and star-lit skies.
2. Travel Through History at Bodrum Castle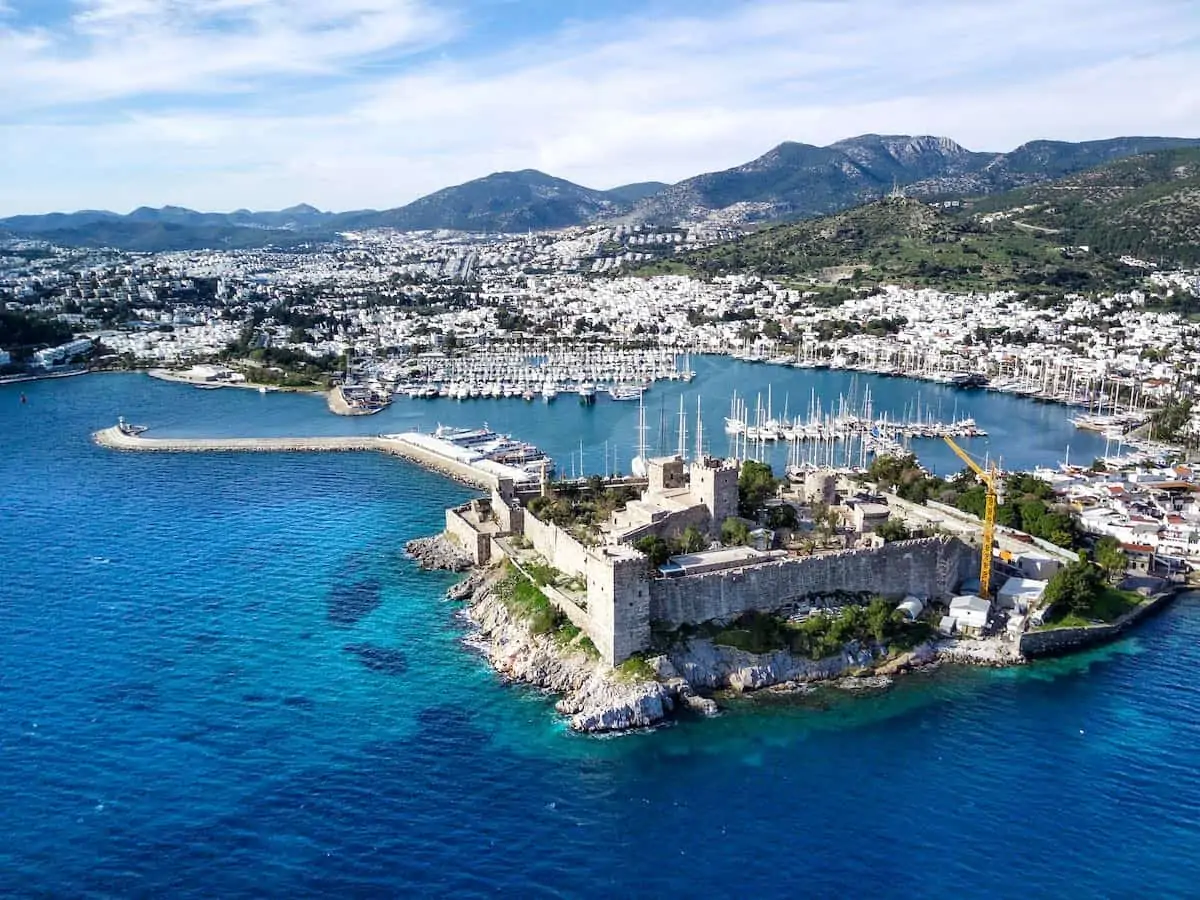 The heart of a walk along the promenade walk is Bodrum Castle. Recently reopened after extensive renovations, this UNESCO World Heritage Site is not only beautiful but packs a strong historical punch.
Also known as the Castle of St. Peter, it was built in 1402 by the Knights Hospitaller also known as the Knights of St. John. They had a base in Rhodes and castles in strategic locations such as Paphos (Cyprus) and Akko (Israel).
As the Order of the Knights of St. John was a multinational organization, each Order had its tower with its own style. As a result, visitors can see these French, Italian, German, and Italian influences in the overall structural beauty of the castle.
Insider Tip: Before you go, soak up the ancient atmosphere of 13th century costumes, sword-fighting and Turkish horsemanship in Resurrection: Ertuğrul the popular Turkish series based on the life of Ertuğrul the father of Osman 1, the founder of the Ottoman Empire.
Often called the Turkish Game of Thrones, this 5-season series depicts battles with invading Crusaders and Mongols. While Karacahisar Castle depicted in the series is in ruins, Bodrum Castle is a fine example of architecture from the Byzantine Empire.
3. Delve into Bodrum Museum of Underwater Archeology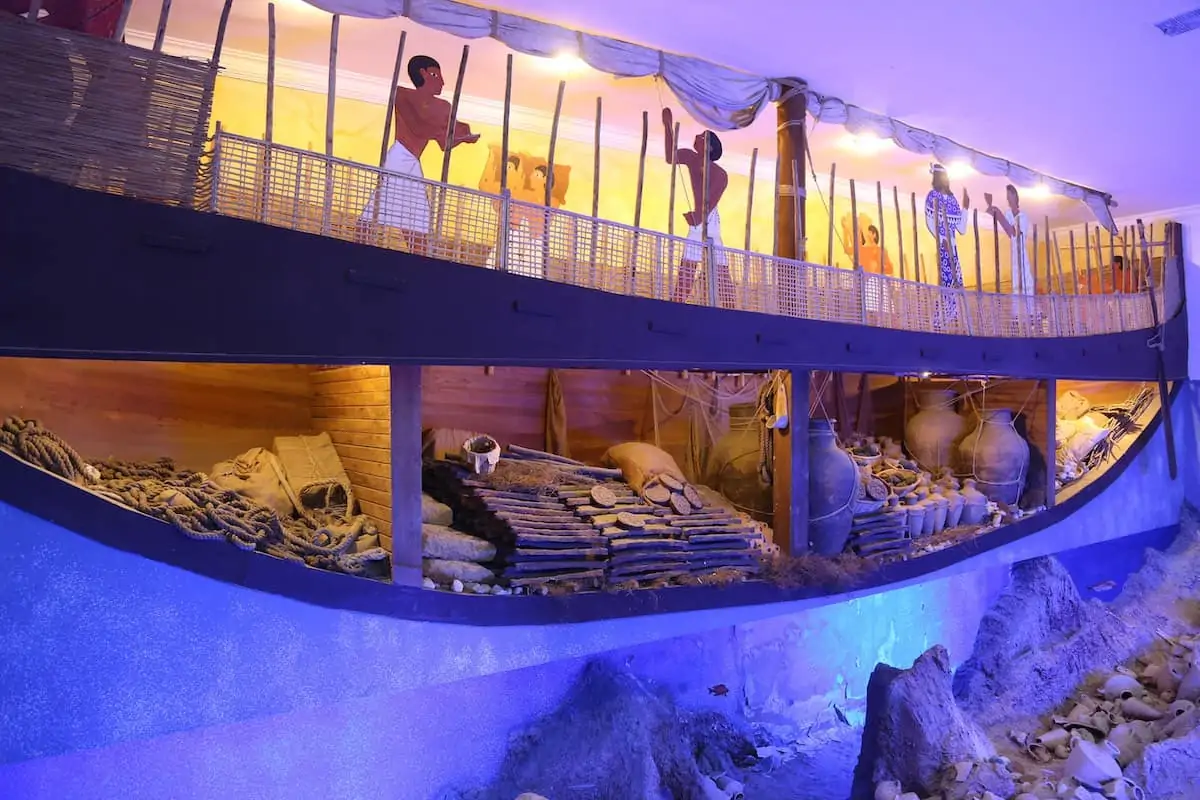 Inside Bodrum Castle, you'll find the Underwater Archeology Museum, which features a fascinating selection of lagan, which is a nautical term used to describe ship cargo that has sunk to the sea floor.
The Museum itself was established in Bodrum Castle in 1964 and the idea, as the name suggests, is to showcase underwater artifacts as well as the history of the ancient city of Halicarnassus.
The museum itself has 14 exhibition halls, which include various goods cast overboard or lost cargo later found during underwater excavations. Exploring the mysterious stories of the past in this museum is a fun thing for families to do in Bodrum.
One of these exhibitions is the Glass Hall, which displays objects made from glass that date back as early as 1400 BC, found from shipwrecks in the region.
🌟 Insider Tip: Be sure to see the Carian Princess exhibit. It offers insights into a female who lived 2,400 years ago and whose sarcophagus lay hidden until 1989 when it was unearthed during excavations. From the coins and jewellery in the burial chamber, it appears she was a woman of great wealth.
4. Learn About Turkish Music at Zeki Müren Arts Museum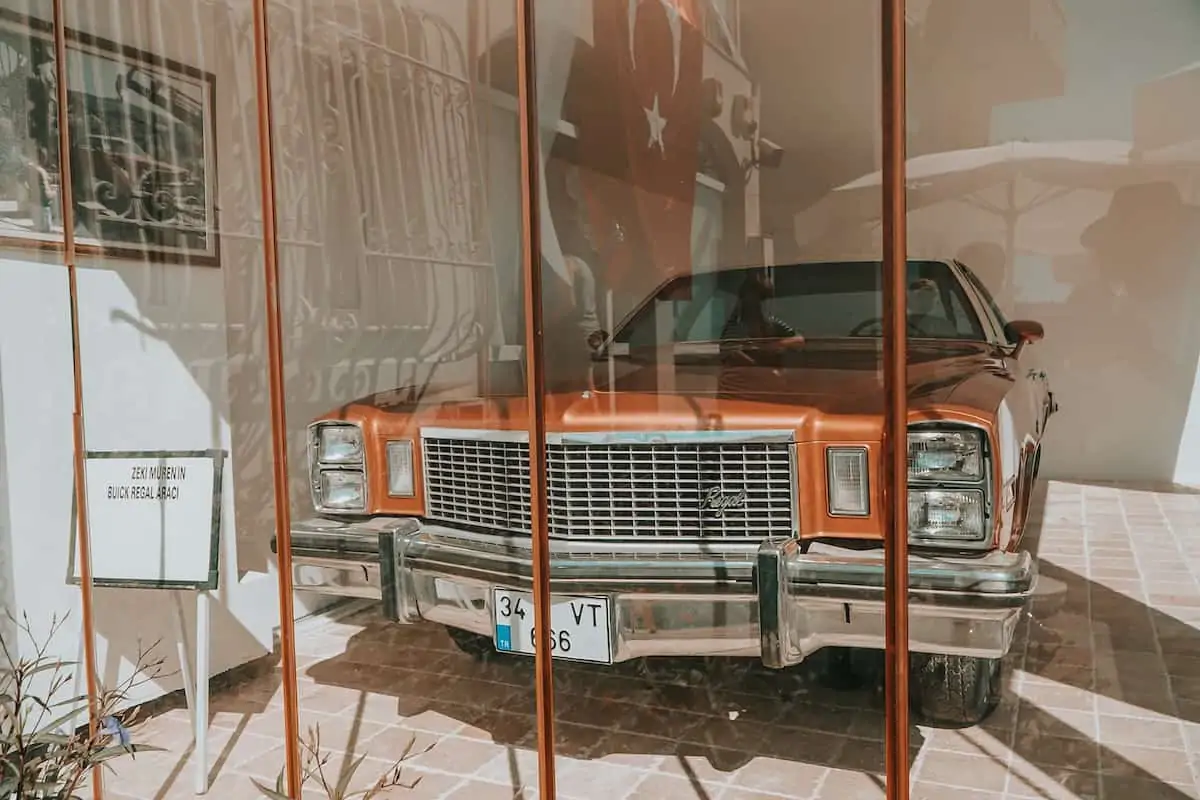 One of the more unusual things to do in Bodrum is get immersed in popular culture at the two-storey museum dedicated to legendary Turkish star Zeki Müren (1931-1996).
Often called a cross between Liberace and Elton John, he's famous as a singer, composer, songwriter, actor and poet.
With his car still parked in the garage and atmospheric music playing, the museum feels more like his home and that he's just stepped away from it for a moment.
5. Take a Turkish Cooking Class in Bodrum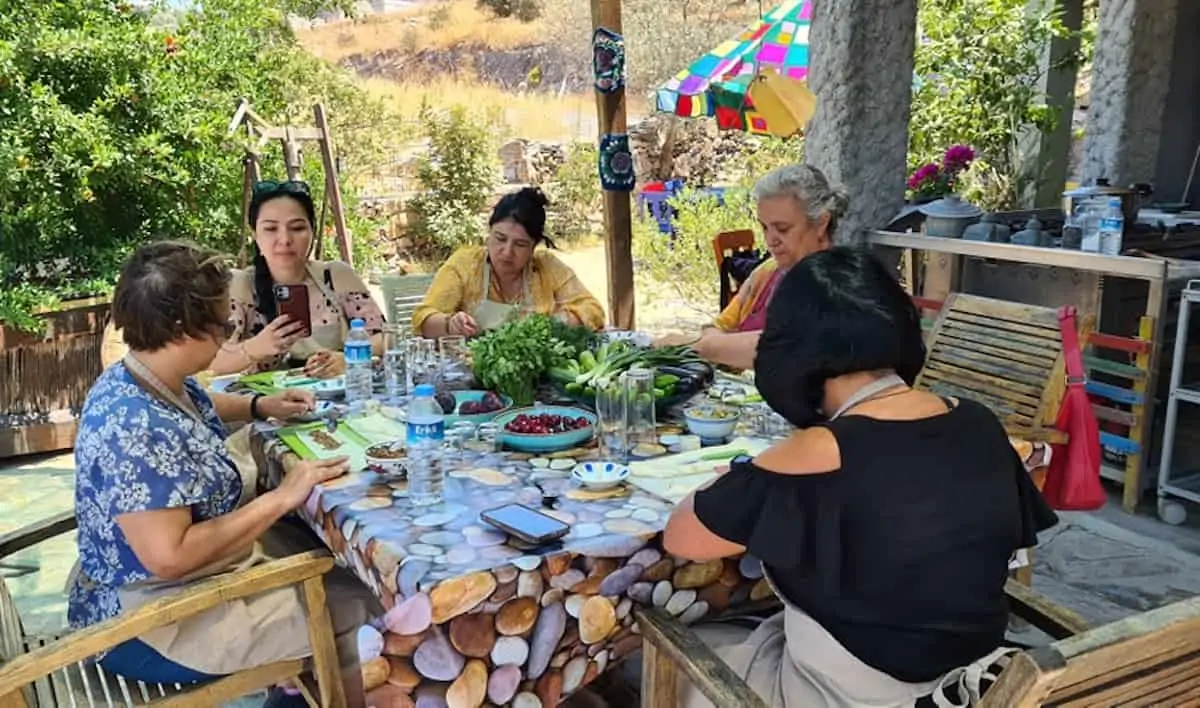 Turkish cuisine is a unique melting pot of different traditions and cultures that makes Turkey is one of the world's great culinary destination.
If you're a foodie looking for a fully immersive Turkish experience then you should definitely spend some time with Chef Asli Mutluat at Cooking Classes Bodrum.
The variety of classes this well-established school offers includes a one-day cooking class plus a market visit, a foodie day in Karaova, which includes a vineyard visit, and even a class to teach you how to make baklava.
The company specializes in Aegean Turkish cuisine, so is primarily based on olive oil dishes, vegetables, and herbs with specialties such as mastering eggplant.
Time your visit for November and you can even participate in harvesting olives in a village orchard!
Check prices for a Farmer's Market Visit and Turkish Cooking Class on Viator.com.
6. Learn about Olive Oil at a Turkish Olive Oil Factory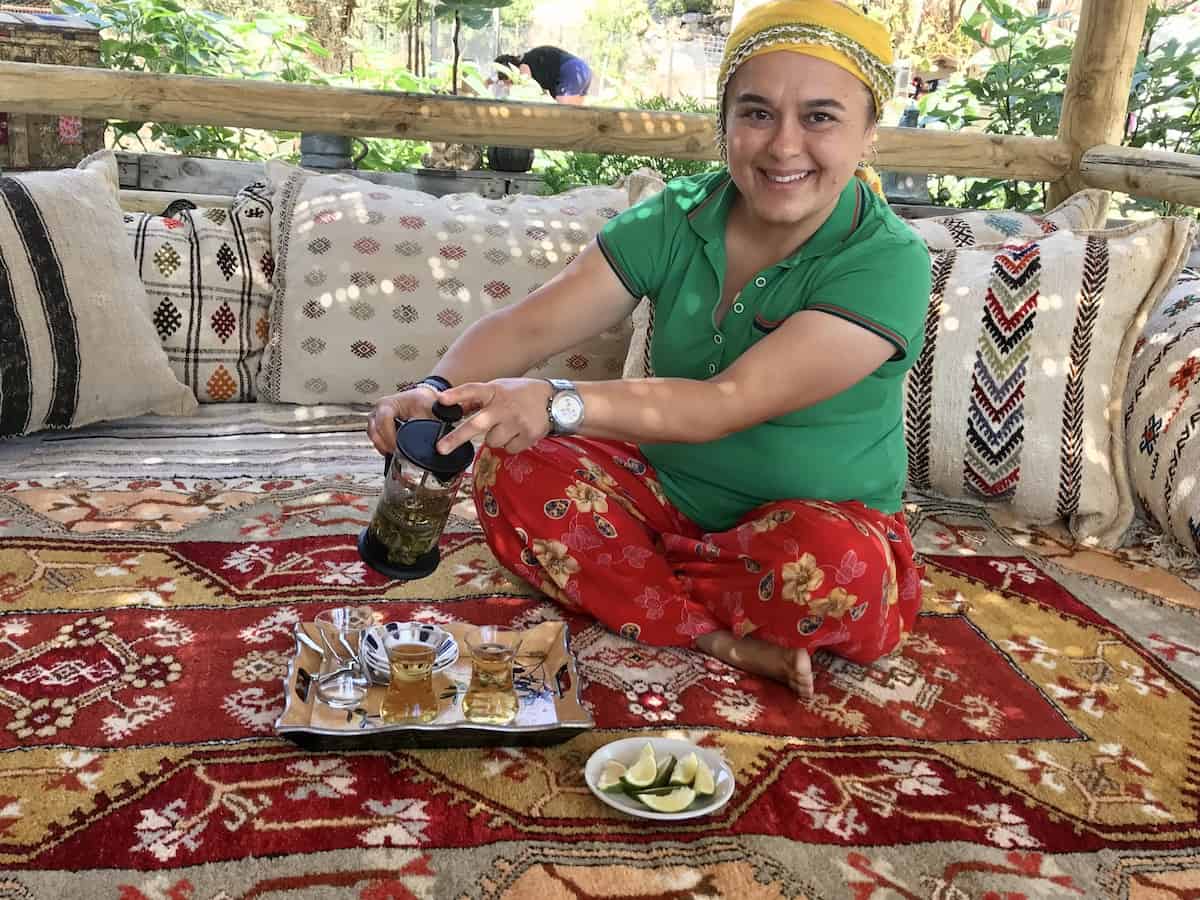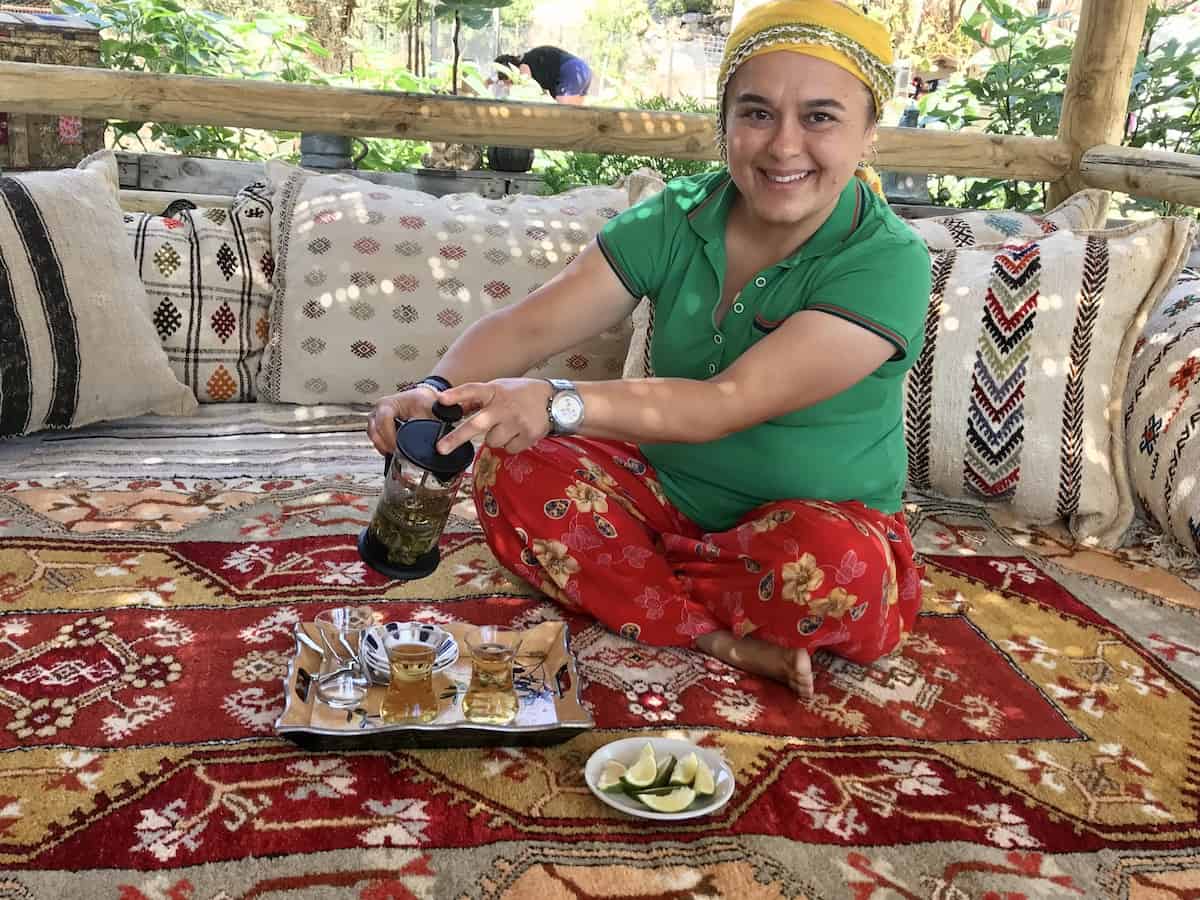 To sample Turkish olive oil straight from its source head inland to the Bodrum Peninsula's interior.
There you will find a timeless landscape dotted with olive trees and unique white-domed water cisterns used for collecting rainwater.
Once there, make sure to sample some extra-virgin olive oil at the family-owned Bekiroğlu Olive Oil Factory.
They have been producing olive oil for four generations and offer tours and tastings that share both the history and culture of their journey.
🌟 Pro Tip: If you're interested in olive oil, be sure to add the city of Sparta, Greece to your bucket list. It's home to the acclaimed Olive Oil Museum of Sparta.
7. Get Your Adrenaline Pumping with Watersports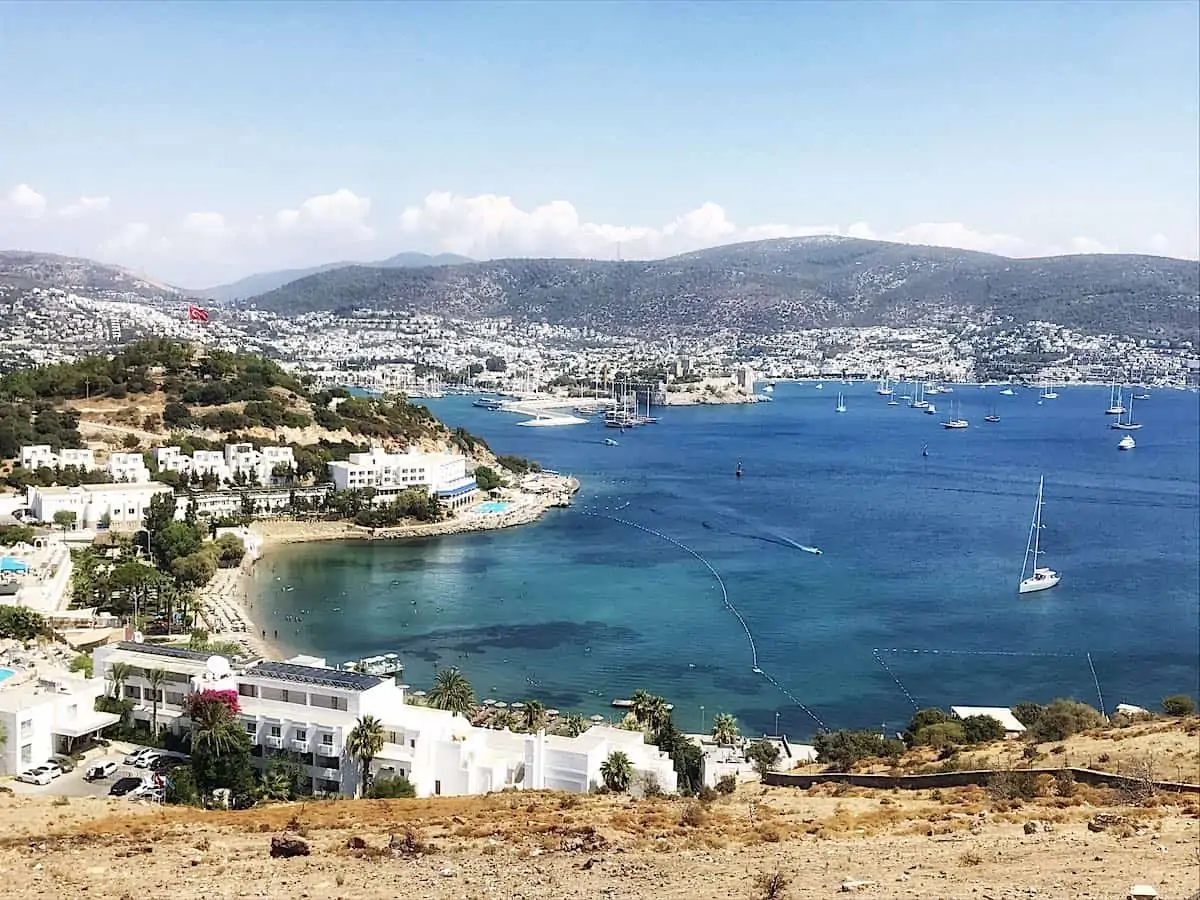 Bodrum is located at the junction of the Aegean and Mediterranean sea and is home to 67 different beaches. There is a beach for every need, many of them ideal for watersports.
If you are looking to go kite or windsurfing then Fener beach is the perfect spot because it is located just opposite the island of Kos and therefore is a little windier.
Another option is Gümbet Beach which is popular for people who are looking to scuba dive, windsurf, water ski, jet ski, and even parasail. One of the best diving sites in Bodrum is located right in front of Gümbet Beach.
With its golden sand and calm waters, Camel beach is especially popular among families. Bitez Beach is another beautiful Bodrum beach to consider if you're looking for clear waters, soft sand and sun beds set right at the water's edge.
8. Walk in the Footsteps of Alexander the Great at Myndos Gate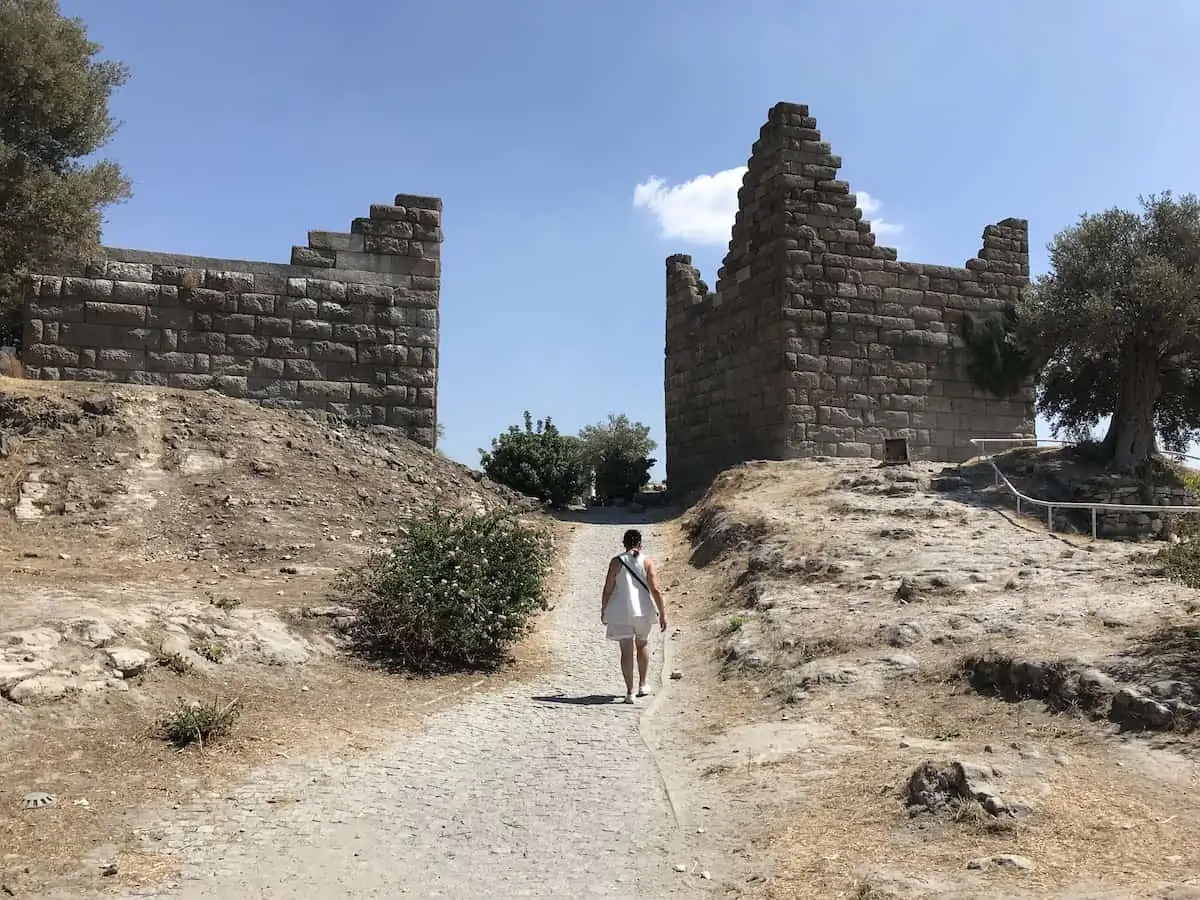 Once known as the Greek city of Halicarnassus, Bodrum was home to the Carians, the Greeks, and the Ottomans before becoming part of modern Turkey. The town itself features many ancient ruins that are well worth a visit.
A good place to begin explorations into these ruins is west of Bodrum's town center at the impressive Myndos Gate.
This monumental structure was constructed in the 4th century B.C. by King Mausolos.
Walk in the footsteps of Alexander the Great as you step through the enormous gate that once formed part of the ancient city wall that surrounded Halicarnassus.
9. Marvel at One of Seven Wonders of the Ancient World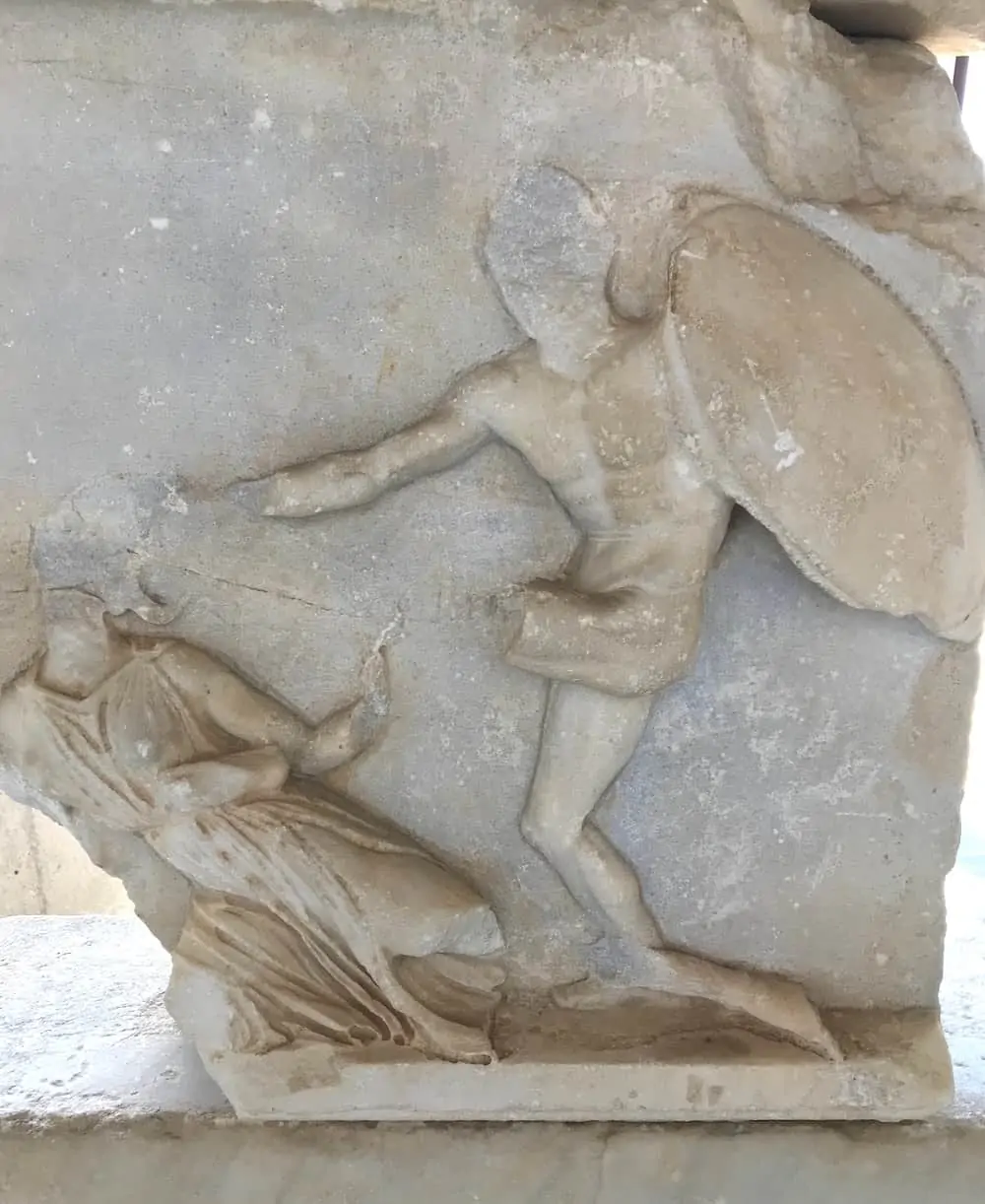 One of the major attractions in Bodrum is the Mausoleum of Halicarnassus, considered one of the Seven Wonders of the Ancient World.
The Tomb of Mausolus was built between 353 and 350 B.C. by Artemisia in honour of her husband.
While the original decorative sculptures are housed in the British Museum, the podium and column fragments remaining at the archeological site provide a sense of its impressive scale and size.
10. Catch a Concert at Bodrum Amphitheatre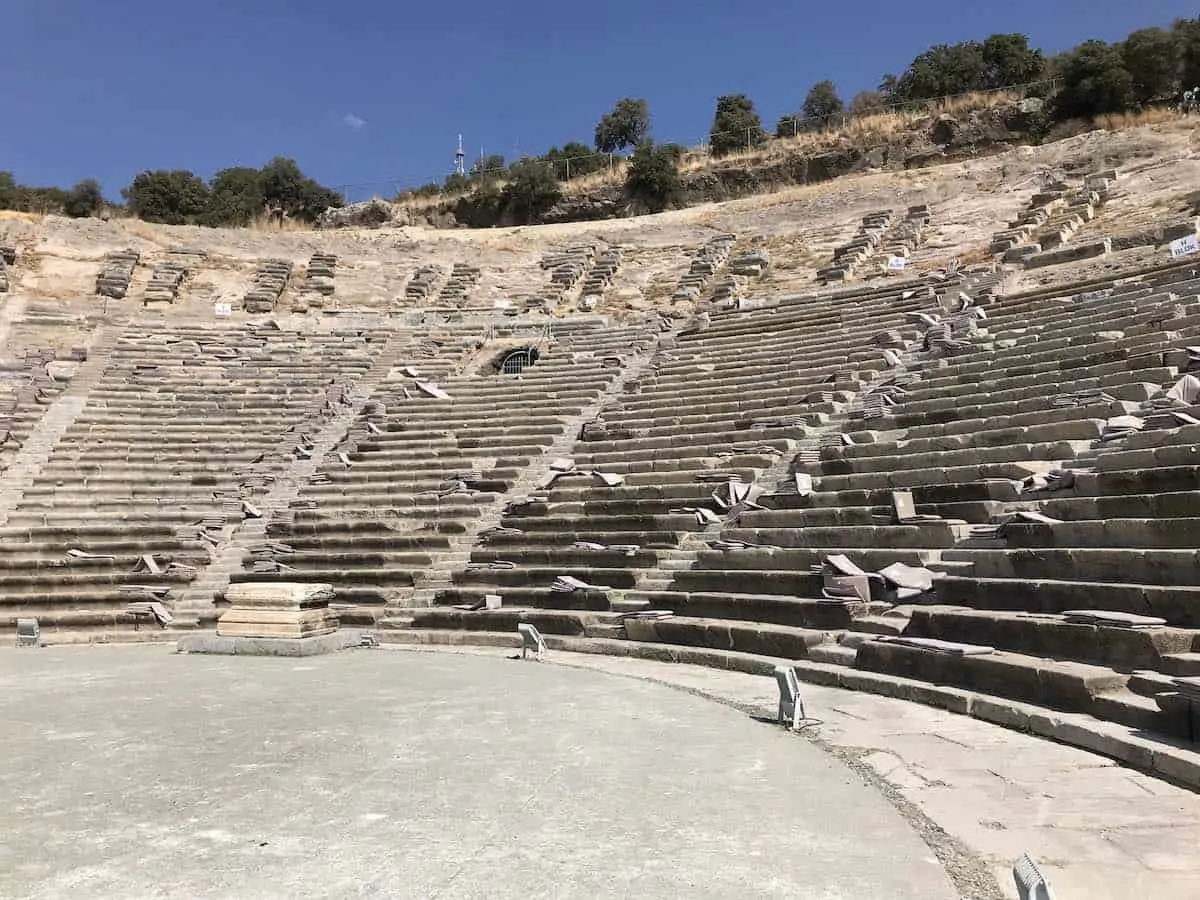 Another must-see tourist site is Bodrum Amphitheatre, a coliseum that once hosted gladiator fights and theatrical performances.
Also known as The Theatre at Halicarnassus and the Bodrum Antique Theatre, it dates to 4th-century BC and the reign of King Mausolos.
Today, it's a popular venue for summer music concerts, theatre, and artistic performances.
🌟 Insider Tip: At the top of the amphitheater's audience seating you can catch panoramic views of Bodrum, the harbour and the coastline.
11. Enjoy Dining and Nightlife at Bodrum's Restaurants, Bars and Nightclubs
Bodrum has long been a magnet for celebrities. After a long day, these A-listers often head out for some sunset dining and cocktails at their favourite nightclub.
A romantic spot to wine and dine is Ayana Mes, where you can enjoy catch of the day seafood (grilled, baked in salt), lamb kebabs and traditional Turkish mezes set right at the water's edge.
Once you've wrapped up dinner, one of the top things to do in Bodrum is to party until the sun comes out. And there is no better place to start than on Bodrum Bar street, which is the nickname for Cumhuriyet street.
This long street that starts in the square in front of Bodrum Castle goes east along the coast. It's filled with a range of nightlife spots including Veli Wine Bar, known for its live music. It's also reportedly the oldest bar in Bodrum.
Another option for nightlife is Gumbet Bar street, one of Bodrum's best party streets filled to the brim with spots to dance and drink the night away.
It's safe to say that no matter what direction you head, you'll probably come across a nightclub to suit your tastes.
If you are into hard rock, check out Kule Rock City while whisky drinkers should try the Gekko Cocktail and Whiskey Bar. Those looking to dance should shimmy on over to Club Mood Bodrum. For a truly unique experience, head out to sea on the Club Catamaran.
To rub shoulders with celebrities head an hour outside Bodrum to MaçaKızı, a chic hotel in Türkbükü with sky high prices and an eclectic vibe that draws an exclusive clientele.
12. Photo Op at Bodrum's Stone Windmills
One of the major landmarks to see is located on a hilltop overlooking Bodrum and Gumbet Bays.
Here you'll find a collection of 18th-century stone windmills, which were in use until the 1970s and faced northwest to catch the breezy coastal winds.
Although the windmills are just shells of their former glorious selves, they do provide a unique dash of ambiance to the landscape especially during sunrise and sunset.
Related: You can also see windmills in Mykonos and Naxos, Greece.
13. Shop for Souvenirs on Bodrum's Winding Streets and Bazaars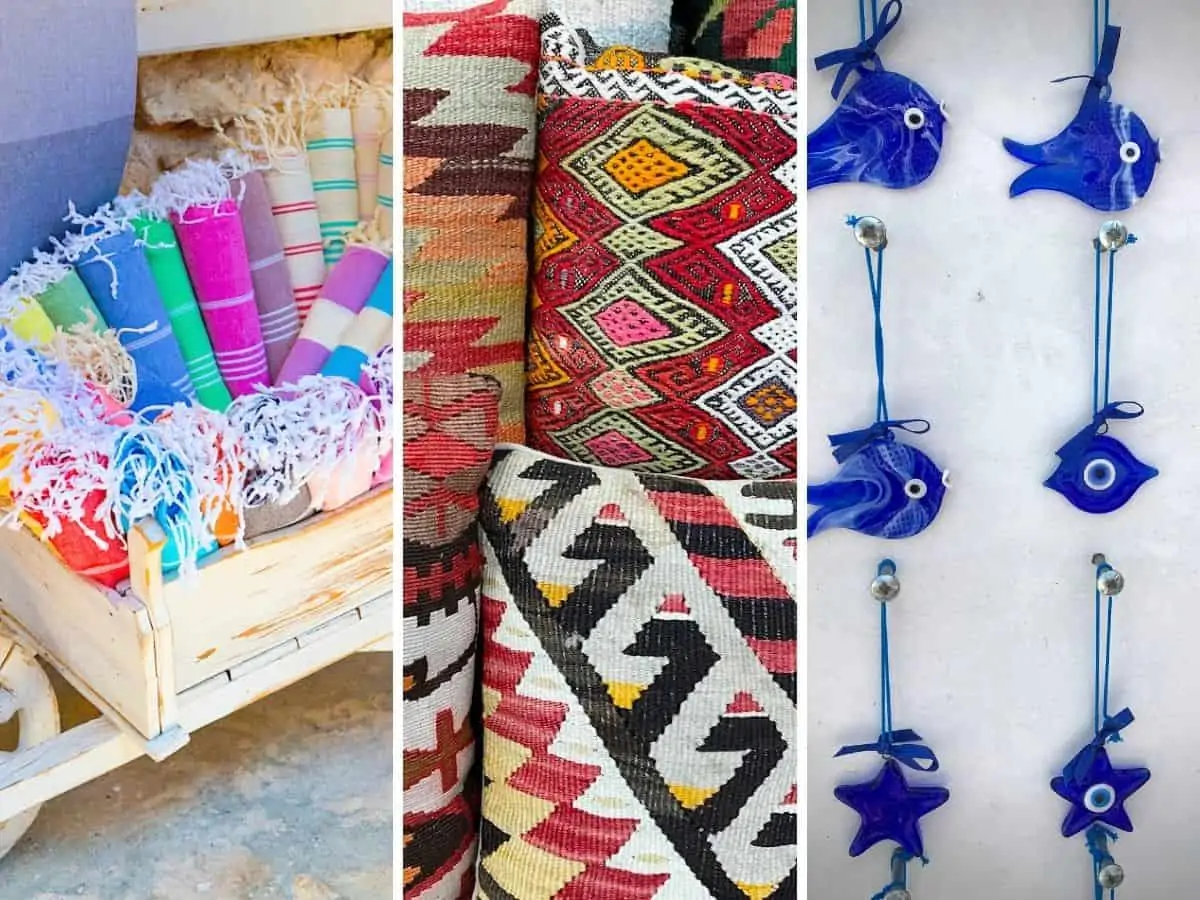 If you love shopping locally, then one of the top things to do in Bodrum is wandering the winding streets and popping your head into every nearby shop.
Keep a look out for celebrities! Mick Jagger, Kate Moss, Bill Gates, Beyoncé and many other A-listers frequent Bodrum by yacht or private jet.
The local markets, indoor and outdoor bazaars and small shops are filled with handcrafted Turkish souvenirs like blown glass Nazar (amulets for fending off the Evil Eye), cotton hammam towels, handwoven pillows and olive oil soap.
If you are looking for something truly unique to the town, why not buy a pair of handmade Bodrum leather sandals.
14. Cruise the Turquoise Coast on a Luxury Gulet (Wooden Boat)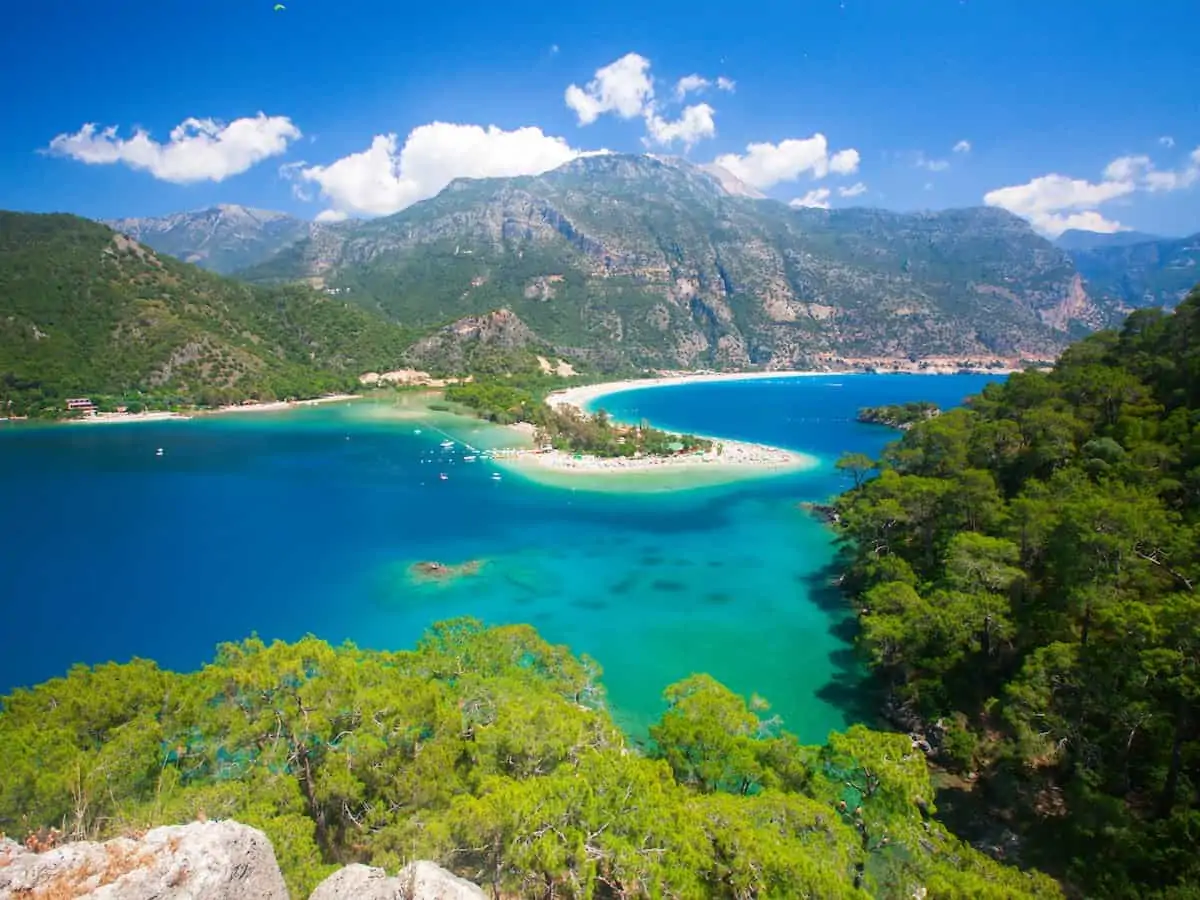 Another memorable experience includes sailing on a luxury gulet (wooden boat) through the Aegean Sea and south along the zig zag coastline to the Mediterranean.
Known as the Turquoise Coast, it features pristine beaches, hidden coves and translucent waters. Whether you opt for a multi-day cruise or week long cruise, these "Blue Cruises" are unforgettable private yacht charters.
While gliding through Turkey or the Northern and Southern Dodecanese Islands of Greece, you'll sample fresh-caught seafood, kebabs and fabulous Turkish cuisine stopping at islands, small villages and beaches accessible only by boat.
You can even take a ferry from Antalaya to Cyprus and enjoy a few days soaking up the sun and enjoying Cypriot cuisine. The trip takes around 1.5 hours.
15. Experience a Turkish Bath Ritual at a Bodrum Hammam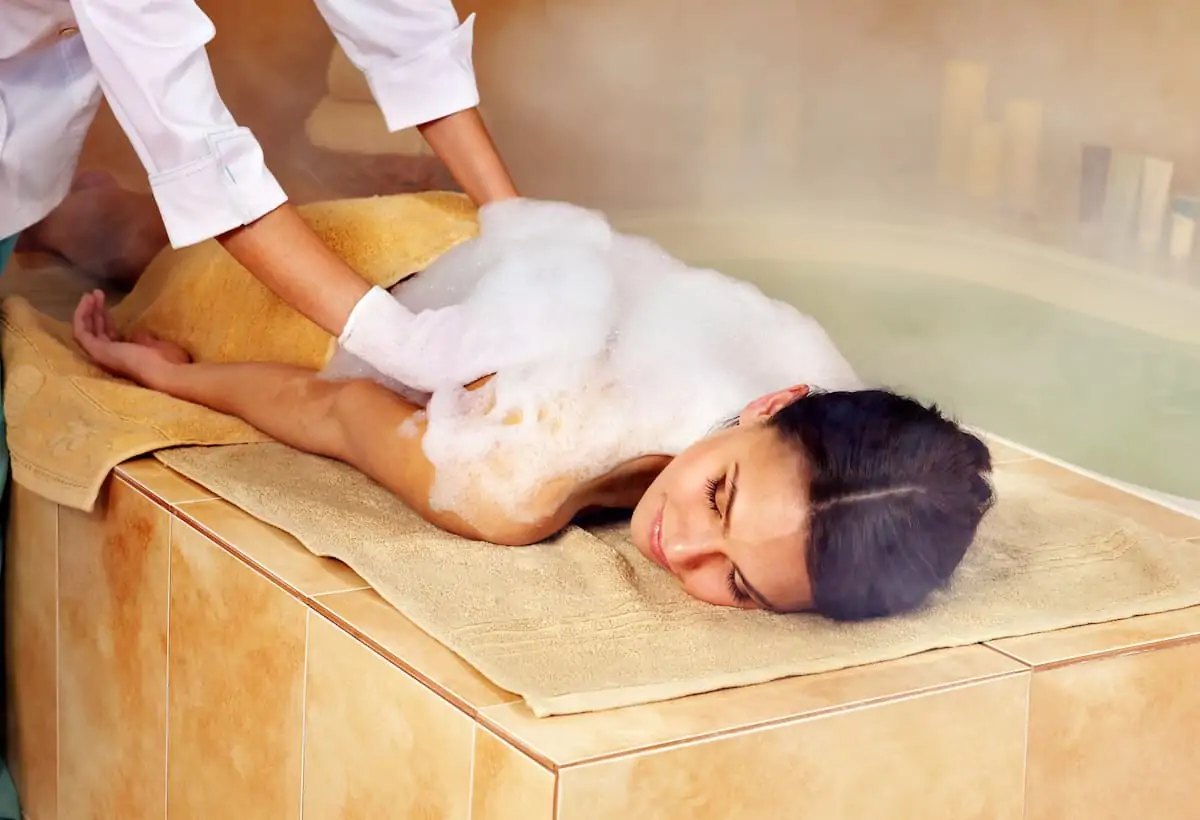 While it might not be the most typical tourist attraction, a Turkish hammam or hamam is a unique cultural experience well worth adding to your bucket list of things to do in Bodrum.
This famous Turkish ritual begins with the bather soaking in a steam room, sauna or pool. A hammam attendant then rinses, vigorously exfoliates and massages your entire body with a foam scrub. The scrub is then followed by a massage with oil, a face mask and rest in the tiled hamam sipping tea or water. The entire process takes 1.5 to 2 hours.
It's more of a deep cleansing ritual rather than a relaxation ritual so don't expect to drift off to sleep. Rather, you'll come away invigorated. Your skin will be glowing, rid of impurities and dead skin, and your muscles fully relaxed.
Bitez Hamam (highly rated among first-time visitors), Bardakci Hammam (historic), Queen Hamman and Sensum Spa are just a few of the many hammams in Bodrum.
Cost of Traditional Turkish Bath at Bitez Hamam: Private sauna, Turkish bath, full body scrub, hair wash, full body massage with soap, face mask, tea and water. 30 Euros or with full body oil massage 55 Euros

16. Marvel at the Rock Tombs of the Kings of Kaunos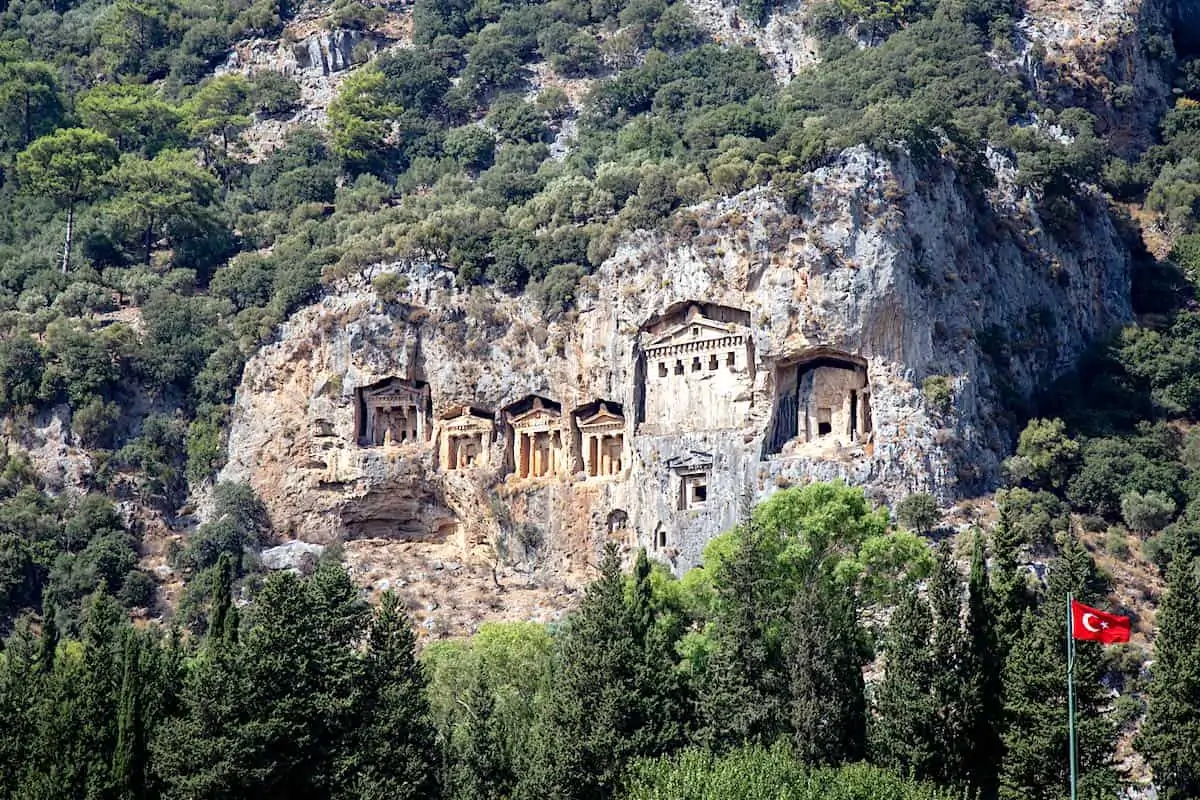 Shorter cruise options include day trip sailing excursions that include stops in Dalyan to view the weathered facades of rock tombs cut from the sheer cliffs in ancient Kaunos circa 400 BC.
Once an important sea port for merchant ships travelling between East Mediterranean and Aegean Sea, Kaunos has been cited by UNESCO for its historic ruins and cultural background.
The cruises often include time for a therapeutic mud bath and a swim at a hidden beach.
🌟 Insider Tip: The Greek island of Kos is just 14 kilometers away by boat.
17. Sip Wine at Karnas Vineyards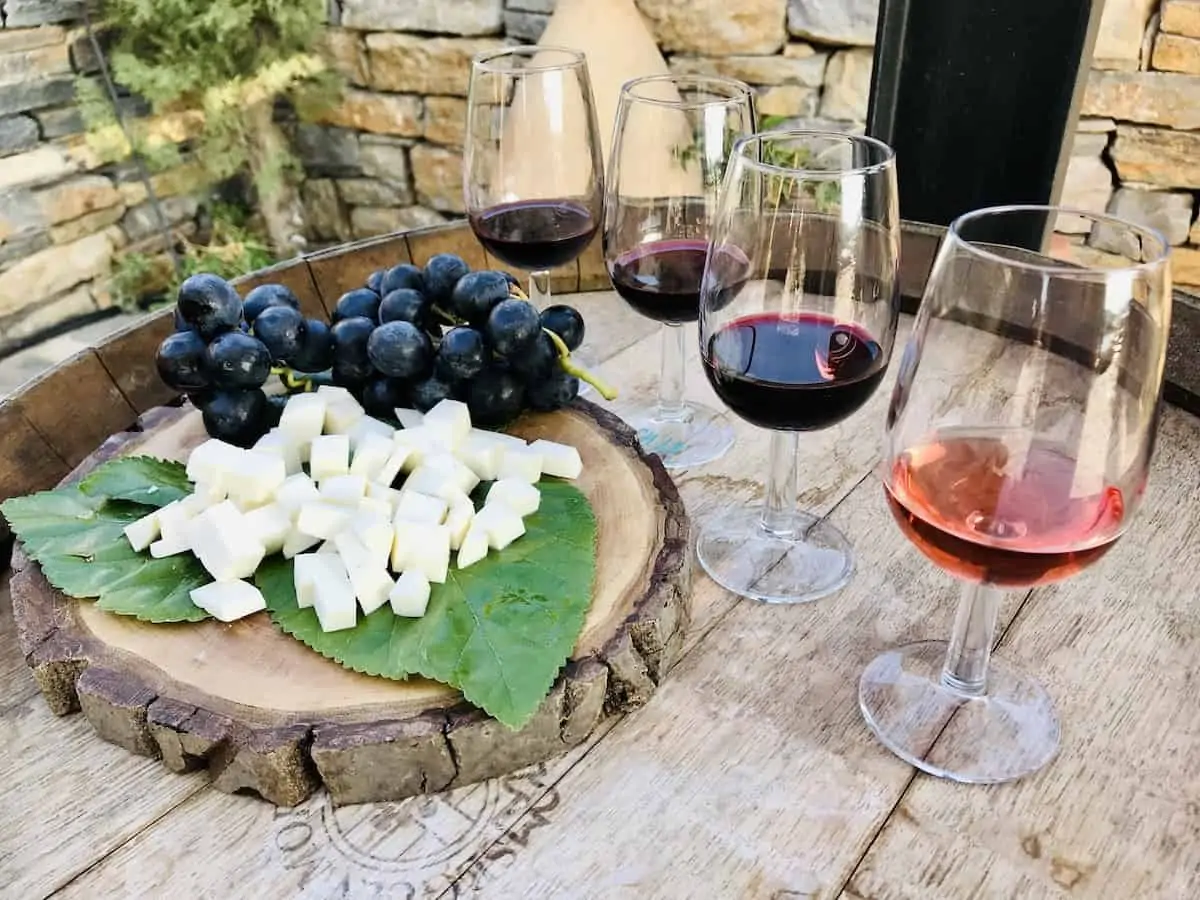 Be sure to plan a visit to Karnas Vineyards to enjoy a tour and tasting of Turkish wine amid picturesque vineyards.
The vineyards are located around 25 minutes from the city of Bodrum and their unique calling card is that they are the home to the first vineyard to plant the Zinfandel variety in Turkey.
You can also tour the wine cellar of the historic building, learn about their carefully crafted wines and sample locally produced cheeses, olives and dried fruit .
18. Shop for Genuine Turkish Kilims (Rugs) at Etrim Hali Carpet Cooperative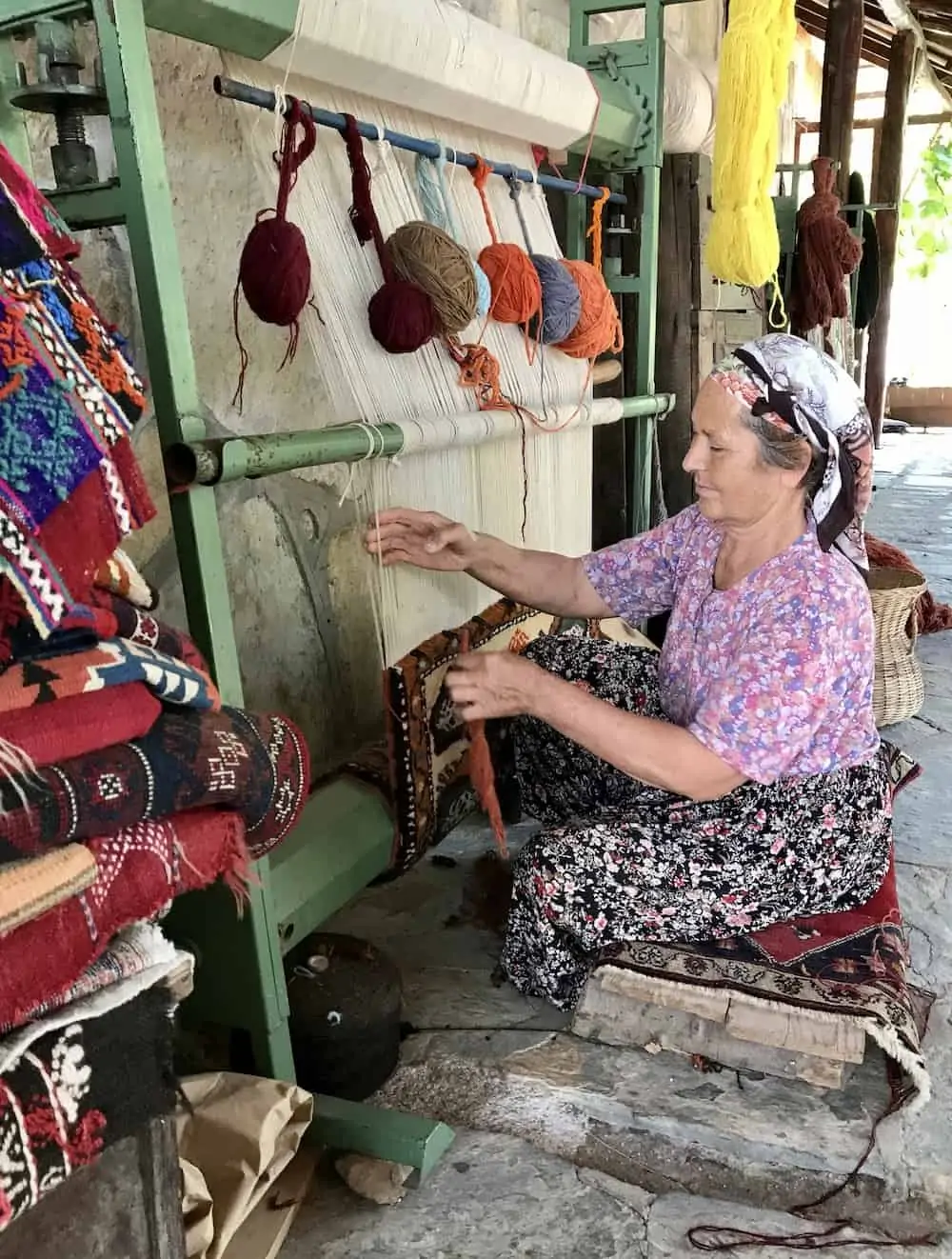 A kilim is a flat tapestry-woven carpet or rug and they vary in size, colour, and artistry, drawing inspiration from the weather's creativity, nature, and classic motifs.
One of the top things to do in Bodrum is visit the Etrim Hali Carpet Cooperative is located in the village of Etrim, about 24km from Bodrum. It's known for producing beautiful hand-knotted and woven carpets.
Engin Başol, owner of Etrim Hali Carpets has roots in the area dating back 500 years. The cooperative works directly with artisans in the area, thus cutting out the expensive middleman. You can learn about weaving methods, sample local cuisine and purchase a kilim.
You'll feel good knowing your money is going straight into the hands of the people who made your beautiful carpet. Your work of art can even be safely shipped to your home.
19. Sample Regional Cuisine at a Lokanta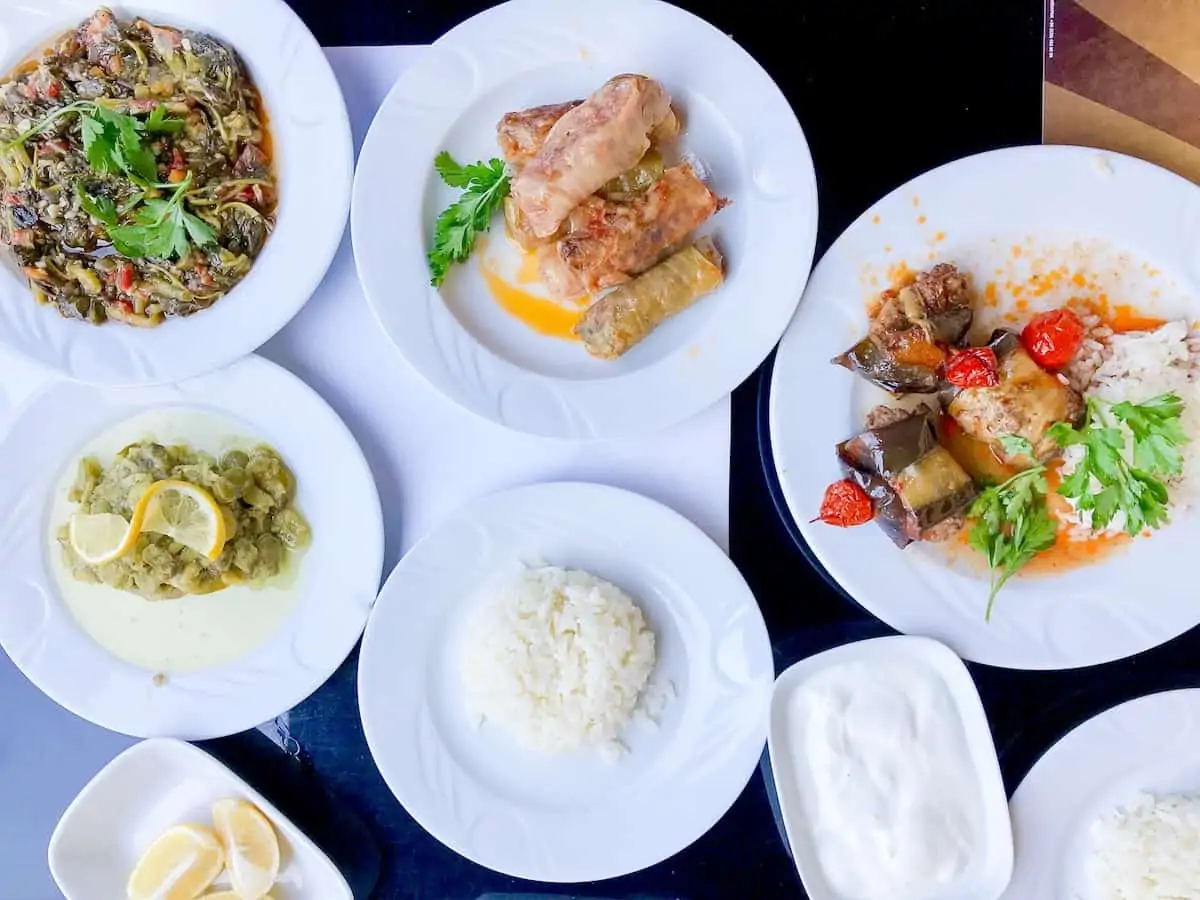 One of the top things to do in Bodrum for food lovers is to sample traditional Turkish cuisine.
While there are many restaurants to choose from, Ana Oğul Lokantasi (restaurant) in Turgutreis (Tel: 0252 382 80 03 ) is a fantastic spot to sample authentic local dishes at very reasonable prices. You can eat indoors or outside on the terrace.
The menu varies daily but often includes specialities such as kabak çiçeği dolması (stuffed squash blossoms), zeytinyagli dolma (stuffed grape leaves) as well as stews and seasonal vegetables.
If you're not sure what to order, take a peek at the steam table in the open kitchen.
Don't miss tasting tel kadayif, a dessert of shredded dough baked in syrup and topped with nuts.
20. Take a Jeep Safari into the Rugged Backcountry
If you need to take a break from the beach, then why not take a Jeep Safari Day Tour in the hills above the coast of Bodrum?
Spend the day in the sun exploring the area surrounding the coast, swimming in rivers, adventuring into caves, and enjoying a delicious traditional Turkish lunch.
Check rates and availability of a Jeep Tour from Bodrum on Viator.com.
21. Soak Up Some Culture with Kumda Kahve (Sand Coffee Ritual)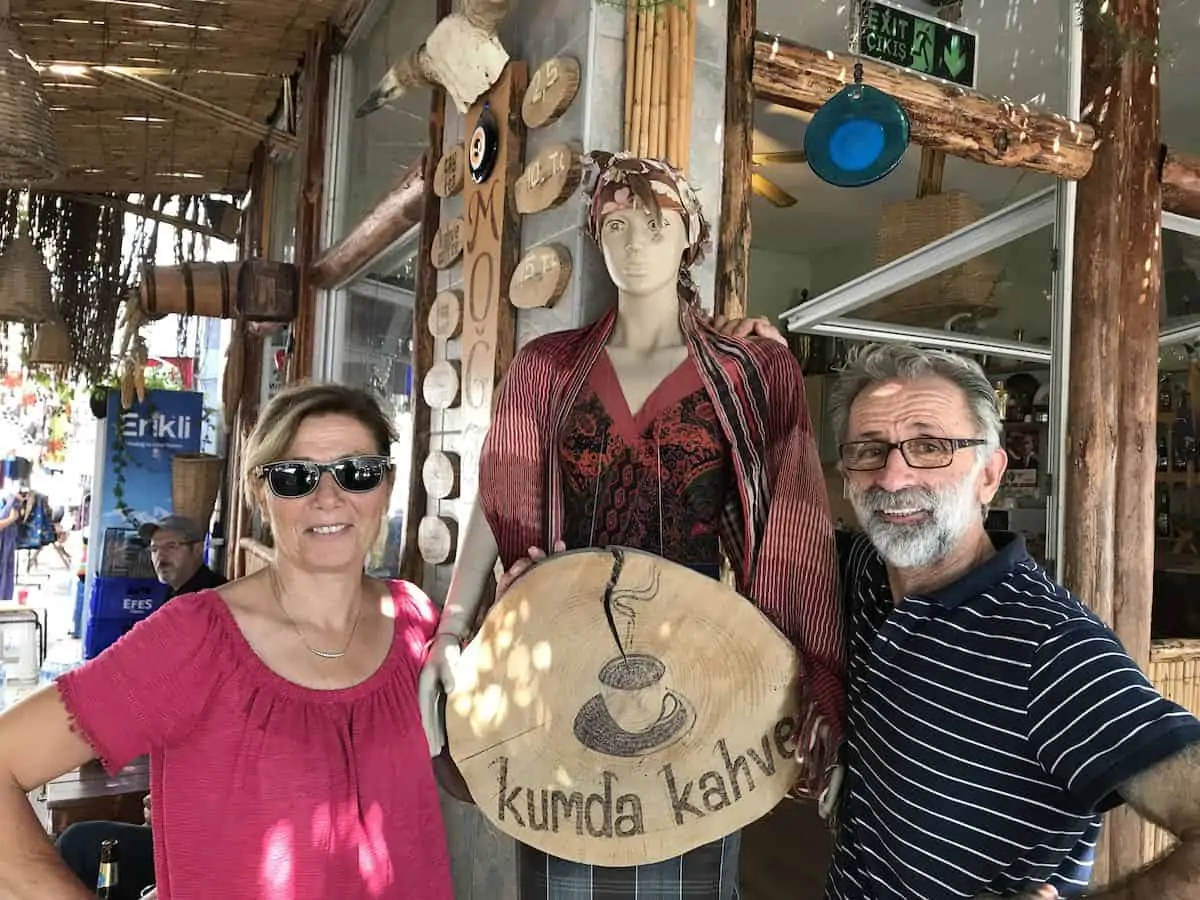 In Turkey, drinking tea and coffee is a way of life. Throughout the small towns and cities across the country, you'll see men sipping tea at an outdoor tables, maybe playing a game of backgammon or cards.
Near Bodrum, in the resort town of Turgutreis you can experience a traditional Ottoman coffee ritual of coffee made by the hot sand. (It's located at corner of 7016 sk and 7015 sk Turgutreis)
This unique method of making Turkish coffee involves brewing coffee in a metal pan filled with sand, heated by fire. The heat for brewing is adjusted by the depth of the coffee immersed in the sand.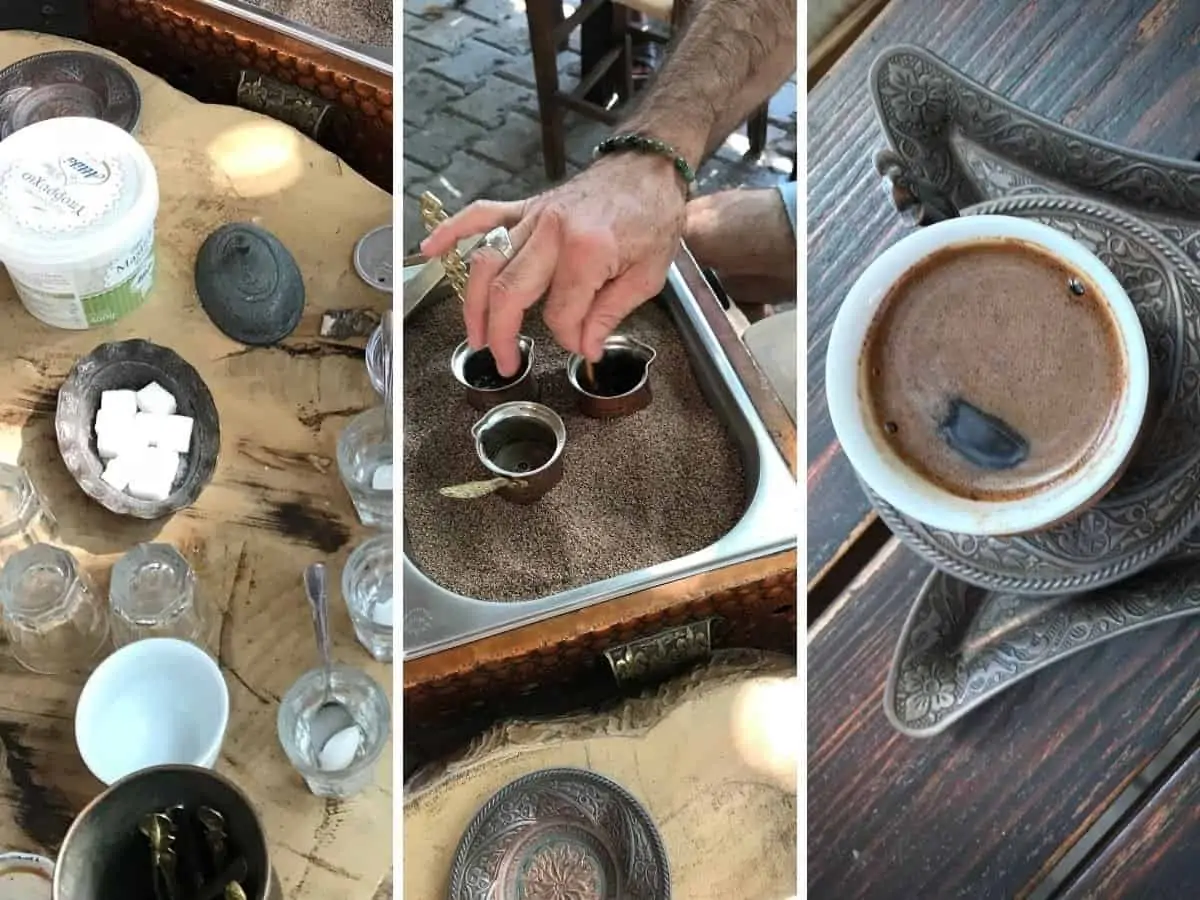 Frequently Asked Questions About Bodrum
Where is the Best Place to Stay in Bodrum?
There are several posh hideaways dotted throughout the peninsula. Featuring private plunge pools, overwater bungalows and unmatched personal service, the amenities at these hotels easily rivals those you can find on the famously popular Greek islands of Mykonos and Santorini.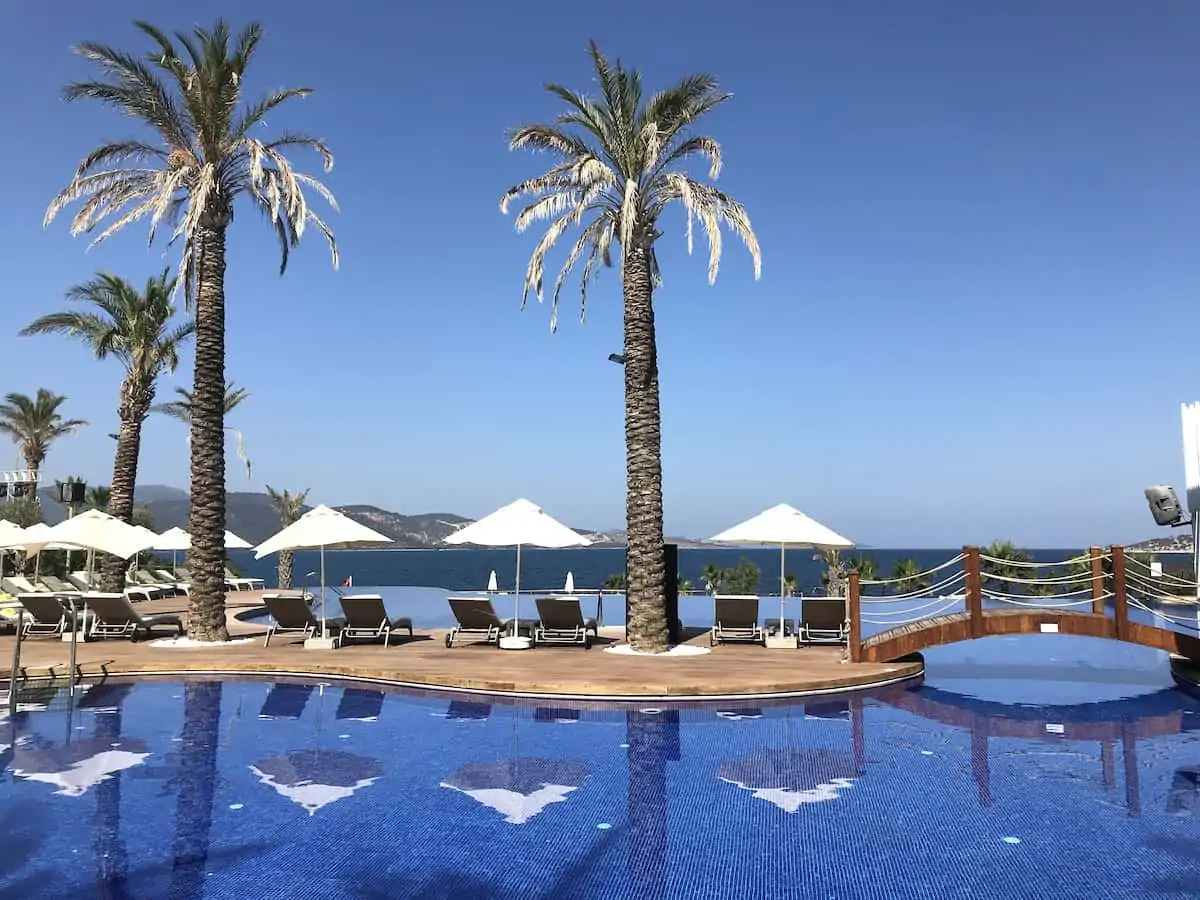 Options include the Mandarin Oriental Bodrum overlooking the aptly-named Paradise Bay while the Kempinski Hotel Barbaros Bay Bodrum features a quiet location overlooking Gokova Bay.
We stayed at Be Premium, a five star resort, featuring 134 suites and exclusive Maldivian-style villas with butler service, ta own private swimming pool, exclusive use of an overwater beach cabana as well as many other perks.
It's located on Zeytinlikahve Cove on Torba Bay a short distance from Bodrum City. Beyoncé also stayed in Torba Bay, at Hotel Rixos Bodrum, another private white sand beaches with azure waters.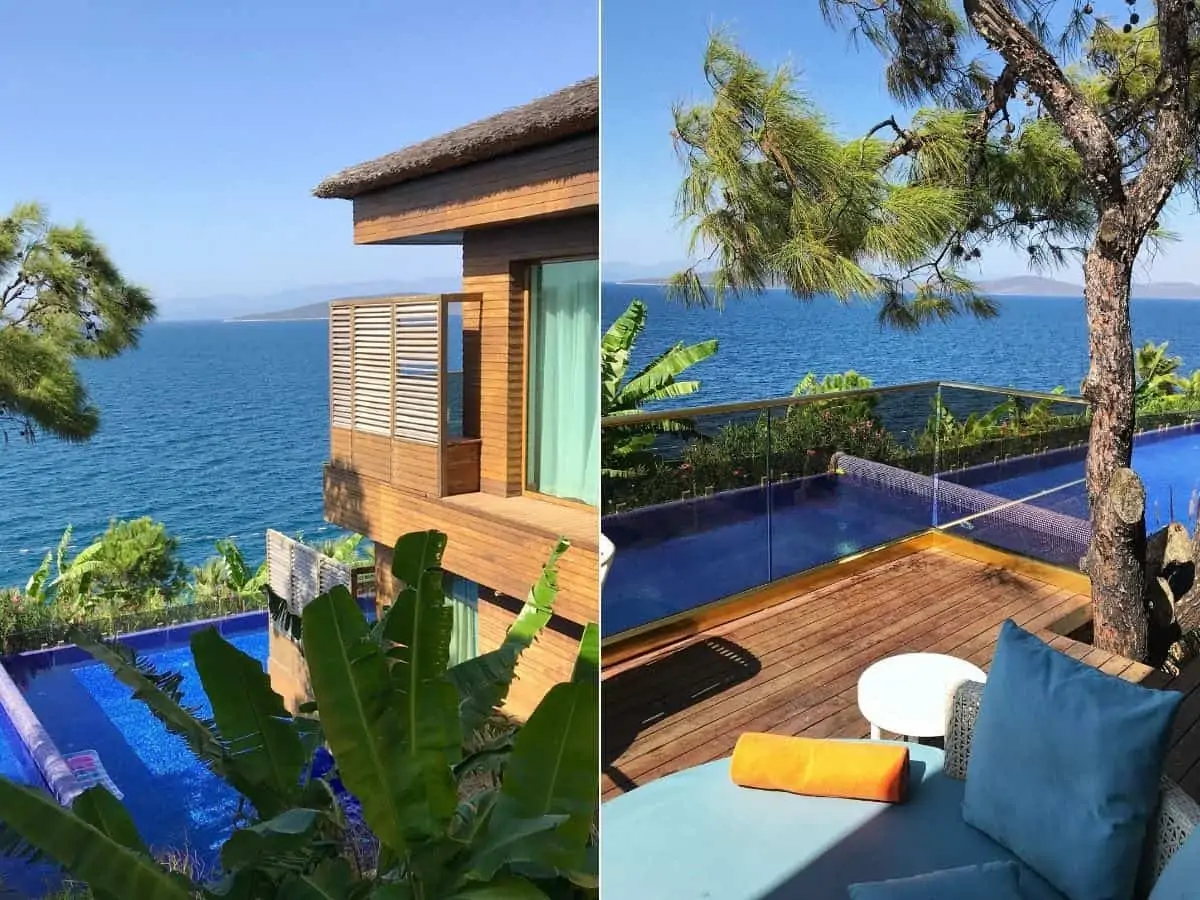 New hotel options include Bodrum Loft, contemporary upscale villas with artistic flair. Also new is Radisson Collection Hotel set on its own beach on Aspat Bay.
Check rates and availability at Be Premium Hotel in Bodrum ( formerly The Bodrum by Paramount Hotels & Resorts) on Booking.com
Also look into Oza Boutique Hotel in Gümüşlük and the SU Hotel in Bodrum. They're highly rated and cost less than $150 USD per night.
Official Turkey Tourism website
www.turkeytourism.ca
How to Get to Bodrum
Fortunately, it's very easy to get to Milas-Bodrum Airport. A member of the Star Alliance network, Turkish Airlines offers flights to 248 destinations, including direct flights from Toronto, New York and Boston to Istanbul. It's possible to transfer the same day to Bodrum. A direct flight from Istanbul via Turkish Airlines takes an hour and 10 minutes.
But it's well worth overnighting in legendary Istanbul to soak up its charms. Enjoy views of the Bosphorus, stay in a historic palace hotel, explore its bazaars and witness its incredible architecture. Depending on your departure city and destination you may qualify for the Turkish Airlines Free Stopover Accommodation Service. It's subject to availability.
Turkish Airlines Business Class passengers enjoy gourmet meals, priority check-in, access to the award-winning Turkish Airlines Airport Lounge, the latest in-flight entertainment system, fully-reclining seats and many other perks.
By Car: You can also get to Bodrum by car (8 hours) or bus (11-13 hours). If you're driving from Istanbul and interested in history, it's well worth making a stop at the ancient ruins of Troy, near the village of Tevfikiye on the Turkish Aegean coast near the Dardanelles Strait.
This article was originally published in 2021 but was substantially updated in 2023.
Other Top Things To Experience in Turkey
FAQs
How Far is Bodrum from Istanbul?
Bodrum is 283 kilometres from Istanbul. It's closer than Antalaya, another popular beach destination.
Is Bodrum Expensive?
Yes, much like other celebrity hot spots like St. Barts and Saint Tropez, Bodrum can be an expensive holiday destination. Bill Gates reportedly spent 80,000 TL ($10,000 USD) on dinner with friends!

But you don't need to be a billionaire to enjoy a vacation in Bodrum. It's possible to eat economically at local restaurants. And try to plan your vacation for outside the peak summer season.

Look into three-star and mid-range boutique hotels as they cost much less than the ultra-luxury hotels.
How Many Days Do You Need in Bodrum?
In three days you can see the major attractions, but five days is the perfect amount of time to spend in Bodrum. The extra two days will provide you with time to relax on its beautiful beaches and take a boat excursion.
Do US Citizens Need a Visa to Travel to Turkey?
Yes, US, UK and Canadian citizens (as well as many other countries) need a valid visa to travel to Turkey. Get an e-visa easily and quickly online PRIOR to travel at www.evisa.gov.tr/en
Save to Pinterest!
Dividing her time between Canada, Guatemala and Mexico (or the nearest tropical beach), Michele Peterson is the founder of A Taste for Travel. Her award-winning travel and food writing has appeared in Lonely Planet's cookbook Mexico: From the Source, National Geographic Traveler, Fodor's and 100+ other publications.
Read more about Michele Peterson.