We may earn income from links in this post. Please read this Disclosure for details.
After a month of volunteering in Guatemala, I needed a getaway. My apartment in Panajachel, while cute and colourful, was, after all just one room.
So, I set out to find a hotel pool day pass in Panajachel where I could spend the day lounging around a swimming pool, sipping a cocktail and enjoying the views of Lake Atitlan.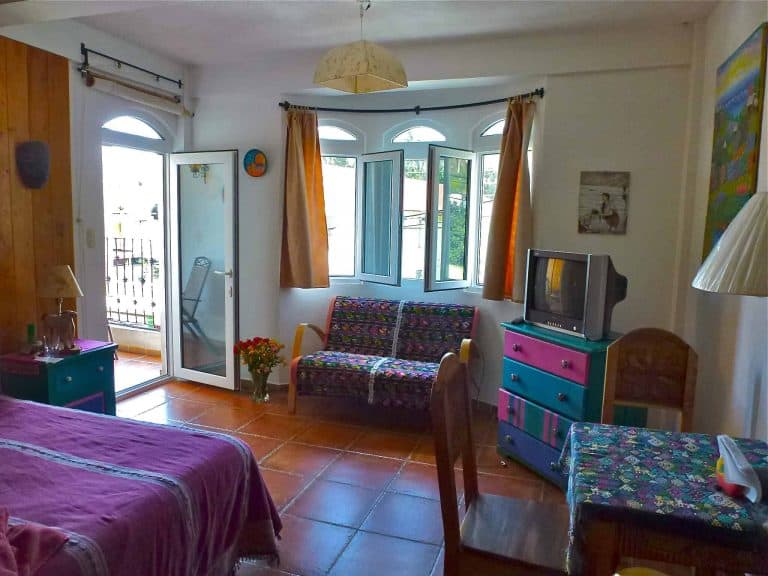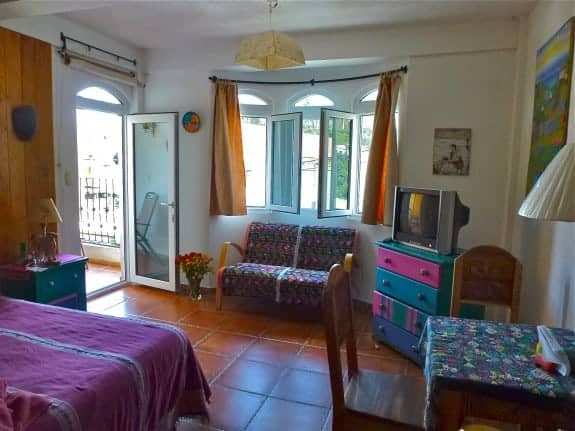 My requirements were simple: a swimming pool and a lounger where I could read a paperback and soak up the sun. Given I was travelling solo I also wanted a secure setting.
Related: Read more about safety in 21 Top Tips for Safe Travel in Guatemala.
If I could order a cocktail or two, all the better. After scouting around, I came across some hotel gates that looked like they held a bounty of luxe experiences behind their wrought iron railings.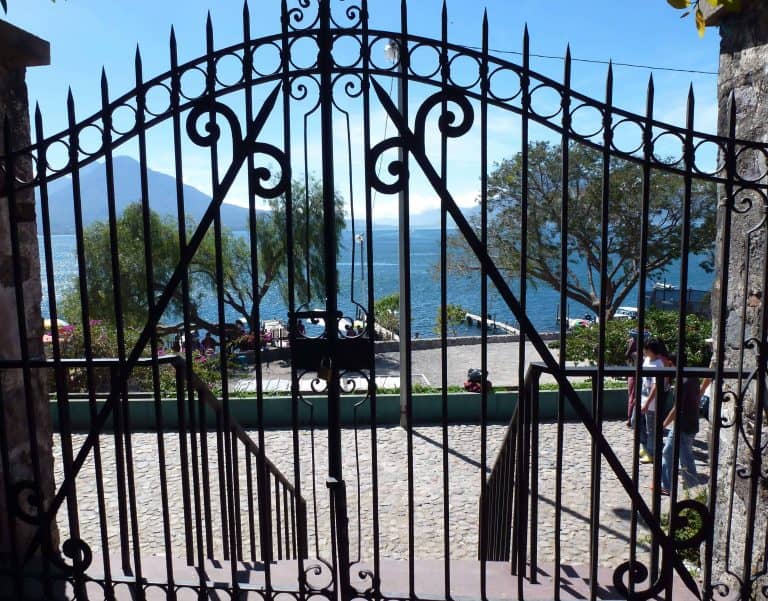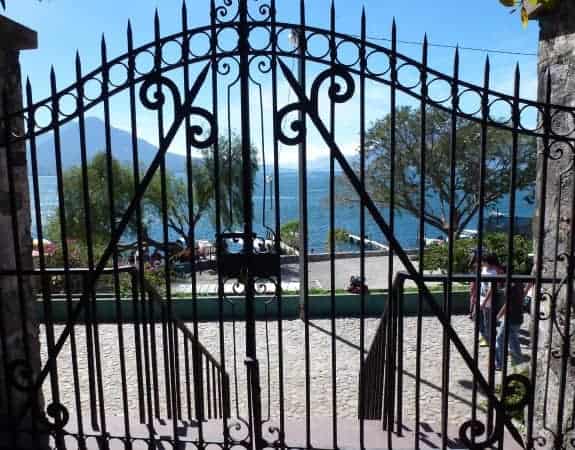 Indeed, I'd hit the jackpot. Hotel Porta del Lago offered everything I was looking for – a large freeform swimming pool, incredible views of Atitlan, Toliman and San Pedro volcanoes, plenty of loungers, a gymnasium and even a spa.
The onsite restaurant and bar offered a wide range of food for purchase including traditional Guatemalan dishes such as jocon de pollo as well as snacks such as guacamole with taco chips.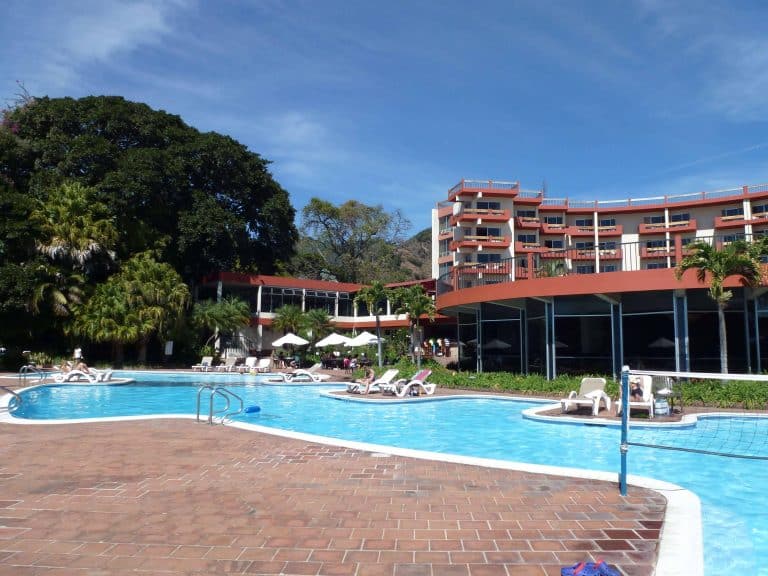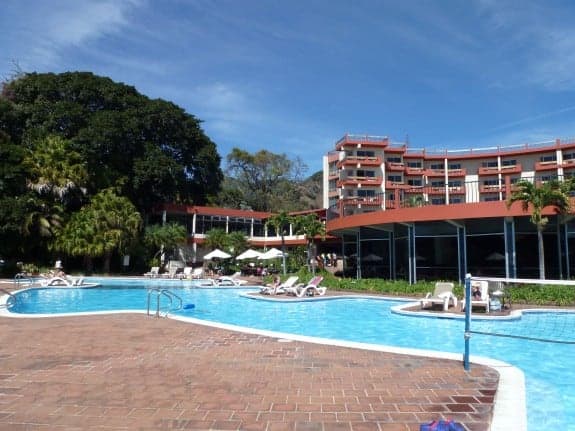 "We only sell memberships by the month, " said the friendly but efficient front desk clerk.
This could be a problem I thought as I didn't have that much time.
"How much does that cost?" I asked.
"$35 USD a month but we can sell you a half-month pass for $17," he said doing the quick calculations from quetzals to dollars.
"Count me in," I said.
And after much stamping of official looking papers, in duplicate and triplicate, I had a Hotel del Lago Membership Card in hand and was able to spend the day lounging in comfort poolside.
During my visit there were few other visitors. However it's worth noting that during peak periods such as Guatemalan holidays such as Semana Santa and Christmas, this hotel, like many others in Guatemala is packed to overflowing.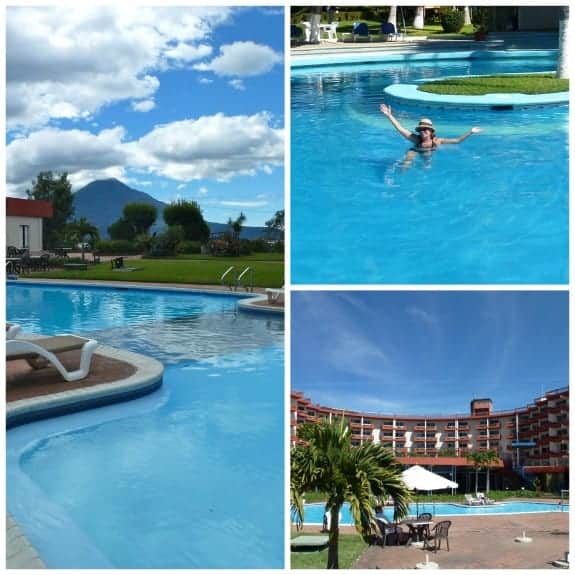 Details on Getting a Hotel Pool Day Pass in Panajchel
Here's what you need to know if you're considering a day pass to Porta Hotel in Panajachel:
A monthly membership costs 280 queztals (around 35 USD). Visa credit cards are accepted;
Your Membership card entitles you to use the gym, the pool, change rooms with showers and sauna;
Once you have your Membership Card in hand, proceed to a little office beside the pool where an attendant registers your name and card on a master list. After that you won't need to show your card again;
You can rent a towel for 5 Q at the front desk;
The water in the large, freeform swimming pool is chilly but refreshing once you've baked in the sun for awhile;
Don't expect to see the hygiene standards posted poolside enforced. Although the resort seems clean — the servers wear hairnets and there is plenty of hand sanitizer at the restaurant– strangely enough I saw a family of five eating hamburgers and guacamole while in the pool;
Arrive early to get a lounge chair during peak season. The servers will happily help you move your lounger into the shade once you've had your fill of sun;
A one-hour massage treatment costs 336 Q. Book one day in advance (definitely on my list for next visit);
You can order food, drink and yes, even cocktails in the pool area while enjoying your day pass. Your Membership Card gets you a 10% discount off food and beverages (excluding alcohol);
Prices are subject to change without notice.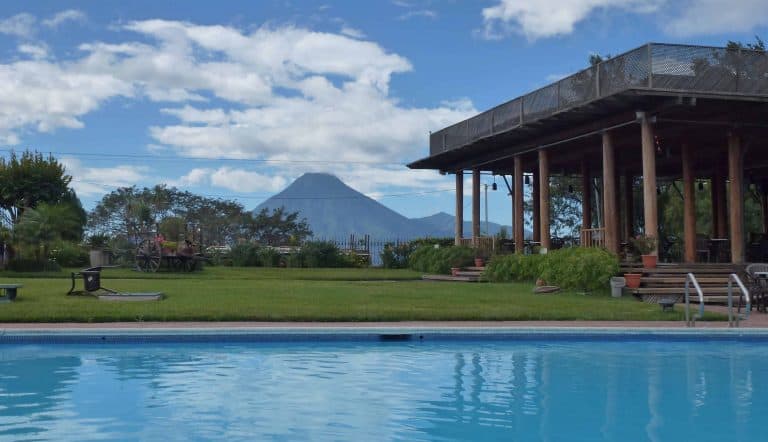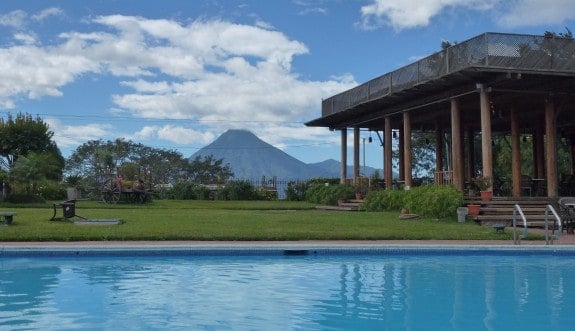 Check rates and availability of Porta Hotel del Lago, Panajachel, Guatemala on Booking.com.
Travel Planner
Bella Guatemala Travel offers organized tours with experienced, accredited guides to Lake Atitlan's weaving villages as well as several other attractions in the country including Tikal, Antigua and Guatemala City.
Address: 2 Avenida 06-17 Zona 2 Panajachel, Solola
Phone: (502) 22440700
You Might Also Like:
Dividing her time between Canada, Guatemala and Mexico (or the nearest tropical beach), Michele Peterson is the founder of A Taste for Travel. Her award-winning travel and food writing has appeared in Lonely Planet's cookbook Mexico: From the Source, National Geographic Traveler, Fodor's and 100+ other publications.
Read more about Michele Peterson.