We may earn income from affiliate advertising links in this post. Please read our Disclosure Statement for details.
Although I'm here volunteering in Guatemala, sometimes a girl needs a break. My apartment in Panajachel, while cute and colourful, is, after all just one room. So, last week I set out to find a swanky spot to hang out for the day.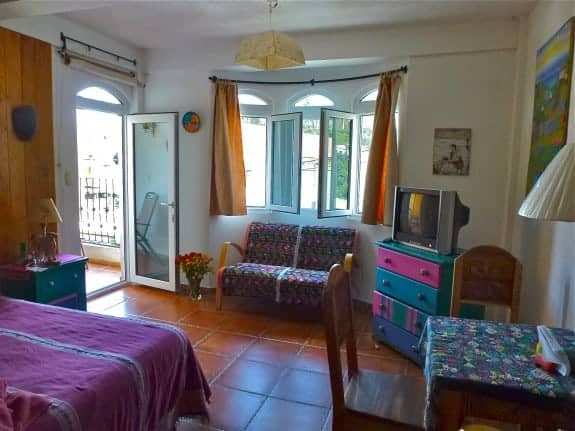 My requirements were simple: a swimming pool and a lounger where I could read a paperback  and soak up the sun. If I could order a cocktail or two, all the better. After scouting around, I came across some gates that looked like they held a bounty of  luxe experiences behind their wrought iron railings.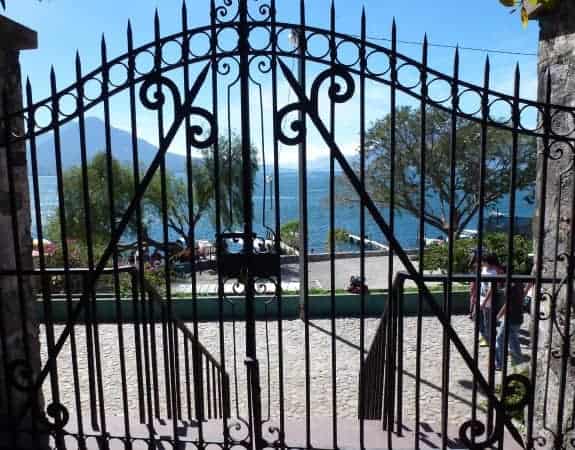 Indeed, I'd hit the jackpot. Hotel Porta del Lago offered everything I was looking for – a large freeform swimming pool,  incredible views of  Atitlan, Toliman and San Pedro volcanoes, plenty of loungers,  a gymnasium  and even a spa. Inspired by my travel writer pal Wandering Carol's luxury travel blog, a spa seemed like an absolute must.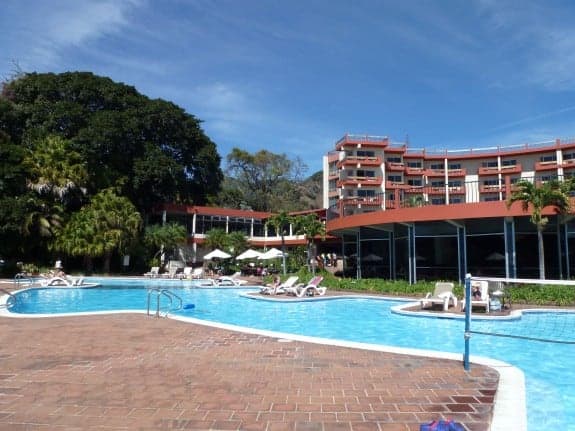 "We only sell memberships by the month, " said the friendly but efficient front desk clerk.
This could be a problem I thought as I didn't have that much time.
"How much does that cost?" I asked.
"$35 USD a month but we can sell you a half-month pass for $17," he said doing the quick calculations from quetzals to dollars.
"Count me in," I said.
And after much stamping of official looking papers, in duplicate and triplicate, I had a Hotel del Lago Membership Card in hand.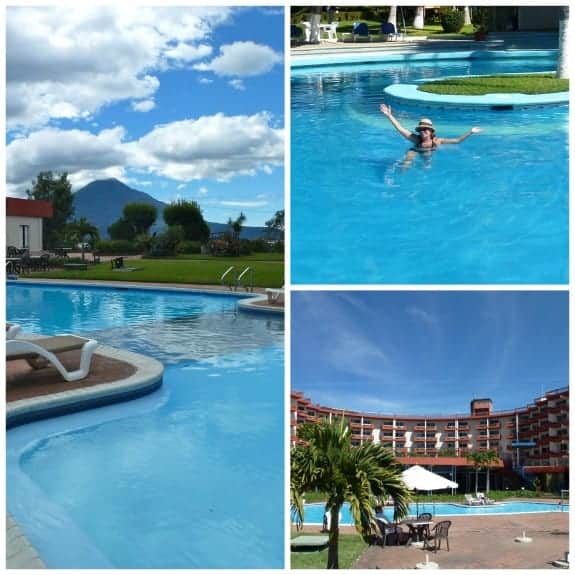 Here's what you need to know if you're  considering a Hotel Porta Del Lago Resort Day Pass in Panajachel:
A monthly membership costs 280 queztals (around 35 USD at today's exchange rate). Visa credit cards are  accepted;
Your Membership card entitles you to use the gym, the pool, change rooms with showers and sauna;
Once you have  your Membership Card in hand, proceed to a little office beside the pool where an attendant registers your name and card on a master list. After that you won't need to show your card again;
You can rent a towel for 5 Q at the front desk;
The water in the large, freeform swimming pool is chilly but refreshing once you've baked in the sun for awhile;
Don't expect to see the hygiene standards posted poolside enforced. Although the resort  seems clean — the servers wear hairnets and there is plenty of hand sanitizer at the restaurant– strangely enough I saw a family of five eating hamburgers and guacamole while in the pool;
Arrive early to get a lounge chair during peak season. The servers will happily help you move your lounger into the shade once you've had your fill of sun;
A one-hour massage treatment costs 336 Q. Book one day in advance  (definitely on my list for next visit);
You can order food, drink and yes, even cocktails in the pool  area while enjoying your day pass.  Your Membership Card gets you a 10% discount off food and beverages (excluding alcohol);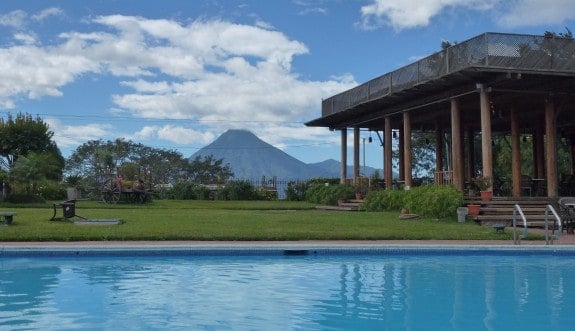 Travel Planner 
Address: 2 Avenida 06-17 Zona 2 Panajachel, Solola
Phone: (502) 22440700
For more ideas of what to do in Panajachel and Lake Atitlan, Guatemala, check out the Ultimate Guide to One Month in Panajachel, Guatemala