We may earn income from links in this post. Please read this Disclosure for details.
Looking for an unforgettable Mother-Daughter cruise on the Rhine and Moselle Rivers?
Whether you're celebrating a special occasion or looking for a girls getaway with plenty of bonding opportunities, a European river cruise offers the perfect mix of relaxed pace, stunning scenery and inspiring excursions.
My adult daughter and I just returned from a journey along Germany's Rhine and Moselle Rivers with Emerald Cruises.
It was a Mom and Daughter trip of a lifetime. Read on to find out why!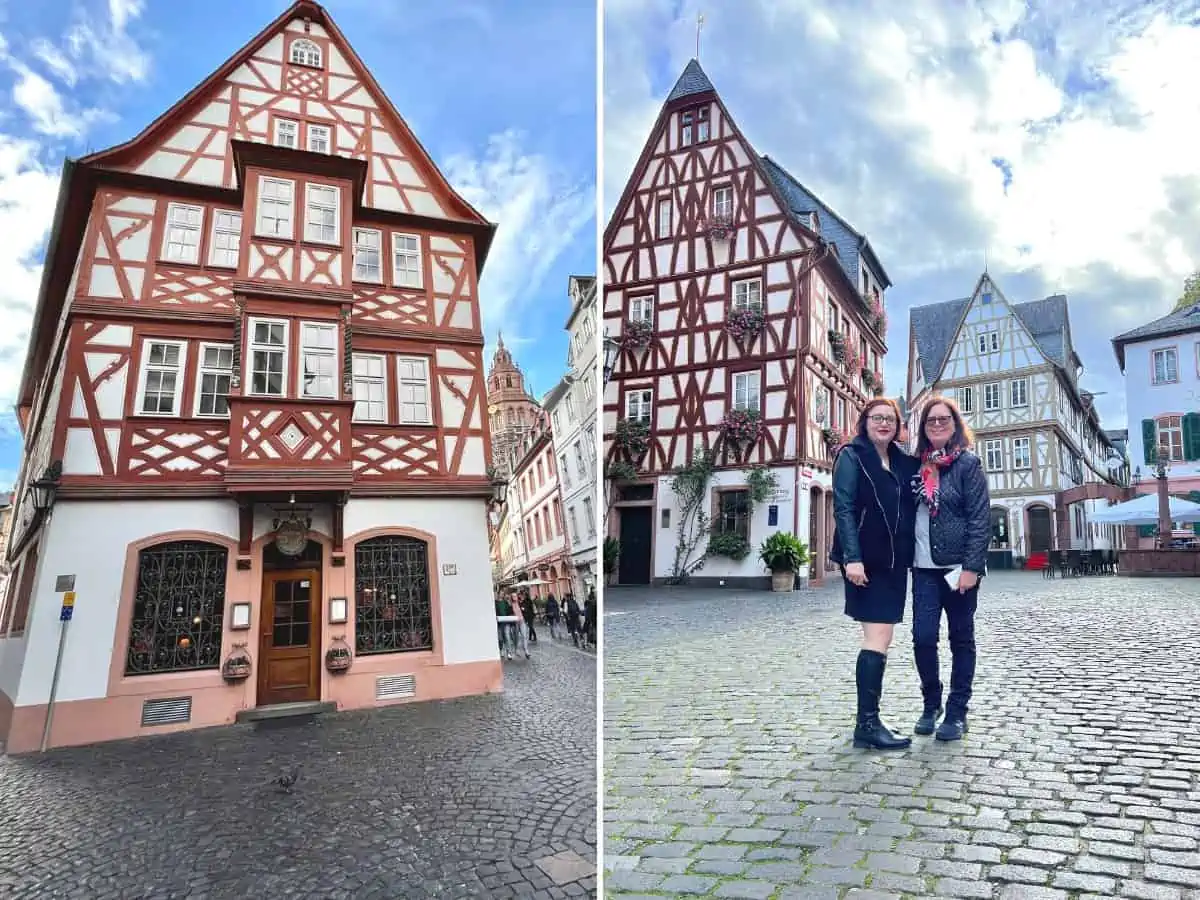 Jump to:
Why Choose the Rhine & Moselle for a Mother-Daughter Cruise?
While Mediterranean and Caribbean cruises can cover quite a few countries in a short period of time, river cruises are known for their leisurely pace.
And that was a big draw for our first post-pandemic trip together. My daughter and I loved the idea of unpacking once and seeing a lot in a short period of time.
We also wanted to experience a European culture that felt very different from our home in Canada.
While we enjoyed our mother-daughter Caribbean getaways, this time we wanted a fairytale destination, a place of myth and legend, with stunning scenery.
Something similar to our barge cruise through the Scottish Highlands, hopefully with a bit less rain.
Just kidding – we did love Scotland too! It's one of the best countries if you're looking for memorable European barge cruises.
The itinerary of Emerald Cruises' 8-Day Legendary Rhine & Moselle included ports of call in Mainz, Rudesheim, Bernkastel-Kues, Cochem, Koblenz, Trier, Wiesbaden and Frankfurt, Germany.
It's an especially scenic region of Europe and features 36 castles on one stretch of the Rhine alone!
Although we weren't sure what to expect, it didn't take long for the magic to begin.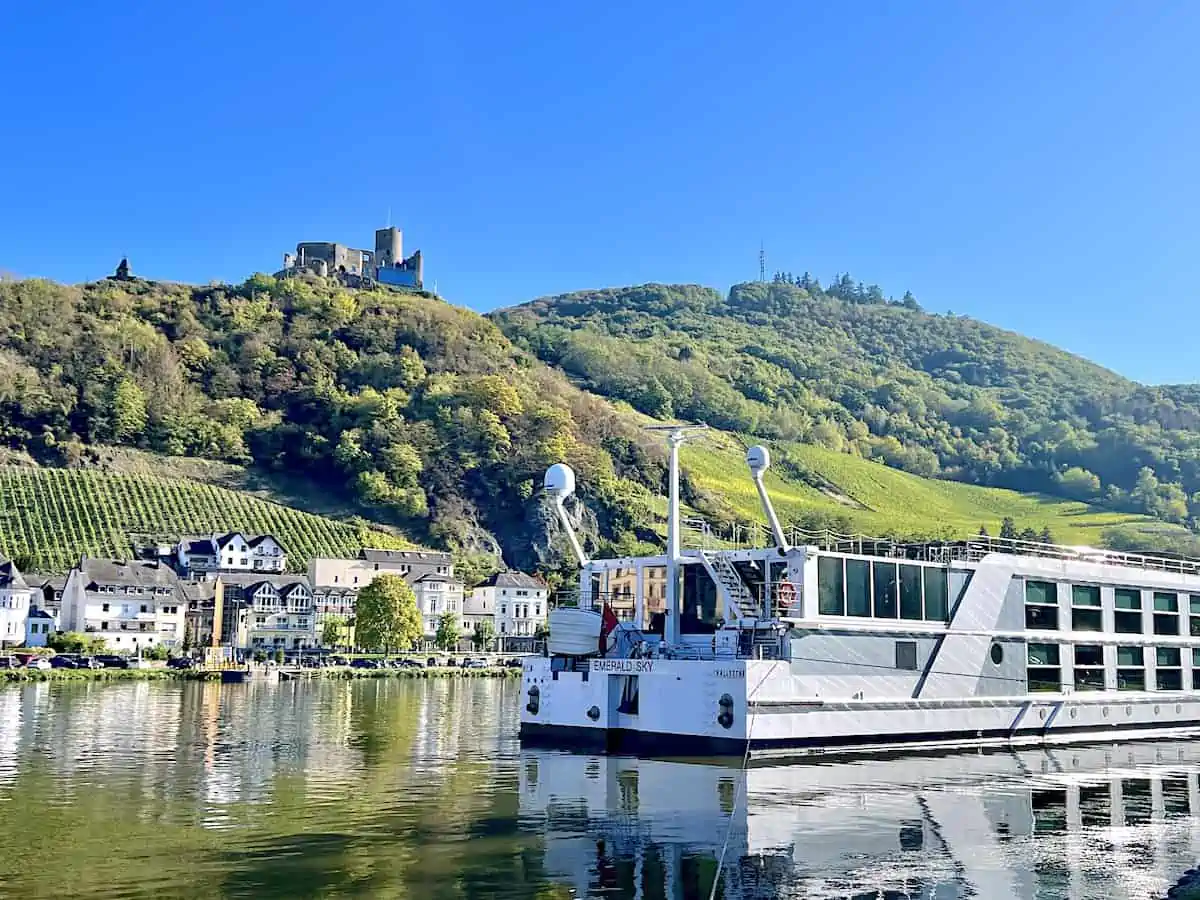 Standing on the sun deck of the Emerald Sky as we sailed along on the Moselle River near Bernkastel-Kues my daughter and I scanned the horizon for Landshut Castle.
Built in 1277, the stone ruin is where, according to local legend, Archbishop Boemund II was miraculously cured of a grave illness by drinking a glass of Riesling wine from a local vineyard. He promptly granted the name 'Doctor' to the vineyard.
Today, centuries later, we're sipping a Doctor wine from grapes grown in those very same vineyards.
This magical mix of folk tale and gastronomy was just one of many experiences that captured our imagination on this cruise and why we think it's the perfect choice for a Mother-Daughter trip.
Scenery on the Rhine and Moselle Rivers
There's no better way to experience this storied landscape than by river ship. This itinerary is especially scenic with its storybook villages, vineyard-clad hills and valleys.
You'll see loads of castles, ruins and fortresses. The Middle Rhine is so historic it's actually a UNESCO Heritage Site.
There are Roman ruins too! The UNESCO-designated Trier City Gate is just one of the several famous landmarks in Germany you'll see.
River ships dock in the heart of most towns on this itinerary. This means most excursions are done by foot rather than coach.
Danube vs Rhine River Cruise
Choosing between an 8-day Rhine/Moselle River cruise and a Danube River cruise depends on your preferences and what you're looking to experience. I've done both and here are some factors to consider when making your decision:
A Danube cruise begins and ends in larger cities. If you do as we did, you'll have the opportunity to spend a few days in Munich (and visit centuries-old beer halls in Munich's fascinating neighbourhoods) and/or Budapest (and soak in thermal waters at the Széchenyi baths).
On a Rhine cruise you'll begin in Mainz (via Frankfurt) which has lots of things to do but is not as high wattage as famous cities such as Vienna along the Danube.
The Moselle is a much smaller river. It's easy to step off your river ship into a small village and immerse yourself in its charm.
Expect more long bus rides on a Danube cruise (such as an excursion to Salzburg).
There are more wineries on the Rhine and Moselle Rivers.
You'll cover more countries on a Danube cruise.
A Rhine River cruise takes you through regions with a strong focus on medieval and Roman history. A Danube River cruise, on the other hand, showcases the history of the Austro-Hungarian Empire.
Emerald Sky – Features, Cabins, Amenities
Built in 2014, the Emerald Sky is one of the line's six Star-Ships that travel the Rhine-Main-Moselle-Danube rivers on itineraries from eight to 15 days. It holds 182 passengers in its spacious cabins.
Designed to dock directly in the heart of Europe's river towns, the riverboat features a contemporary design throughout the ship and staterooms. Its intimate size makes it feel like a boutique luxury hotel.
It features a soaring lobby atrium, innovative heated swimming pool that transforms into a cinema as well as a fitness area, a Sun Deck with a putting green and several seating areas to enjoy the views.
Our stateroom featured an indoor balcony with a sliding glass window that opened electronically with the flip of a switch to lower the upper half of the window.
The design is an ingenious way to create indoor/outdoor space without losing floor space. We could often see swans gliding past our window and enjoy the stars at night.
A major advantage of the cabins on the Emerald Sky is the generous storage space. It's the largest I've seen on a river ship. There are six deep drawers, a large closet, a bed side table and a shelf as well as plenty of under the bed storage.
The cabin layout worked perfectly for this mother-daughter travel duo who almost always travel with full-size suitcases.
Emerald Cruises Inclusions
Another perk we appreciated with Emerald Cruises is that all gratuities are included in the price of the river cruise. This means no surprises at the end of the trip and stress-free planning.
In addition to included onboard meals, complimentary beer, wine and soft drinks are served with lunch and dinner.
During our cruise, there were often impromptu complimentary wine tastings to enjoy as well!
The cabin stewards refill the bottles of purified water daily. Coffee, tea and water are available all day in the Horizon Bar & Lounge as well as the Pool zone.
Wifi, gratuities, daily excursions, transfers and port charges are also included in the fare.
Ship Menus and Food
Ship life aboard the Emerald Sky is a memorable experience filled with delicious, locally-inspired cuisine as well as regional red, white and sparkling wines.
The Reflections Restaurant on the Vista Deck is the setting for the breakfast and lunch buffets and a la carte evening meal. It's a light-filled modern space.
Emerald Sky Lunch Menu
During our sailing, the lunch menu on the Emerald Sky featured an appetizer buffet of fresh salads with house-made dressings plus hot and cold appetizers such as soup.
There was a pasta station, a choice of three entrees (served at the table) as well as a sandwich of the day.
At least six desserts were available at the buffet and often included a selection of local cheeses and fresh fruit.
Executive Chef Igor Pitonak's lunch menu also included delicious regional specialties such as kalbsbraten (veal roll with mushroom sauce), spatzle and scheiterhaufen (bread pudding).
Emerald Sky Dinner Menu
The Reflections Dinner Menu was a sit-down affair with unreserved seating. Most guests wore dressy casual attire for dinner, with men in collared shirts and women in dresses or pretty sweaters. There were few suits or ties.
The Dinner Menu featured four appetizer choices, four choices of entrees and a dessert plus fruit, cheese and ice-cream.
Highlights included braised beef roulade & spatzle, seared halibut with bouillabaisse sauce and a chateaubriand at the Farewell Dinner.
Guests could opt for the always-available Emerald Menu Classics of Caesar or garden salad, salmon or grilled chicken breast or sirloin steak served with steamed vegetables and steak frites. The Emerald Classic dessert was banana foster.
My daughter raved about the vegetarian menu options (the best vegetarian entrees we've seen on any cruise line).
There were exciting and satisfying plant-based menu options available at every meal.
For example, one day's lunch was a spicy tofu piccata followed by dinner of a crispy spinach pancake with gorgonzola sauce.
A daily tea time in the Horizon Bar & Lounge featured a variety of tea sandwiches, fruit and pastries served buffet-style. It was a welcome bridge between lunch and dinner.
Emerald Cruises Drinks Packages
A highlight of cruising this part of Germany is the opportunity to sample a variety of fabulous wines.
The Moselle and Middle Rhine are located in the heart of wine country. Their valleys are home to Germany's most prized white wines especially those made of Riesling grapes.
So in between tramping through vineyards, exploring ancient wine cellars and stopping in weinbars (winebars), you'll also enjoy wine tastings onboard the Emerald Sky and during shore excursions.
If you think you're more of a pinot grigio or chardonnay wine fan, you're sure to switch to team Riesling after this cruise!
But it's not all about wine!
Draft beer, wine and soft drinks are available at lunch and dinner and included in the all-inclusive fare.
For more flexibility there are three Upgraded Drinks Packages available at extra cost. The drinks menu and costs vary by itinerary but here's a quick overview.
Extended Package ($21 CAD per person per day)
Select wines by the glass, draft beer and soft drinks throughout the day.
Non-Alcoholic Package ($15 CAD per person per day)
Unlimited access to soft drinks, bottled drinks and mocktails throughout the day.
Premium Drinks Package ($40 CAD per person per day)
Unlimited access to a selection of cocktails, mocktails, long drinks in the lounge and dining room. The bar menu on the Emerald Sky includes premium brands such as:
Scotch Whisky (Ballantine's, Dewars's, Chivas, Johnny Walker Red and Black).
Single Malt Whisky (Glenfiddich, Glenfardis, Glenmorangie).
Canadian Whisky (Canadian Club).
Bourbon (Jim Beam, Makers Mark, Jack Daniels).
Coffee Specialties such as Irish Coffee, Bailey's Coffee and Rudesheimer Coffee, the Rhine specialty featuring Asbach brandy.
A selection of mocktails and classic cocktails such as Margarita, Long Island Iced tea, Pina Colada, Campari and Orange, Mojito, Sidecar, Manhattan and more.
If you don't upgrade to the Premium Drinks Package the cost per drink range from 4.20 Euro to 9.20 Euro (including VAT).
Let's Talk About the Coffee Machines on Emerald Sky
If your mother-daughter duo are coffee enthusiasts who appreciate a delicious, flavourful cup of premium coffee (ideally as soon as your feet hit the ground in the morning) you'll swoon for the coffee available on the Emerald Sky
From frothy cappuccinos to deep, dark and delicious espresso this is quite possibly the best coffee on a river ship anywhere.
It's available self-serve or from serving staff.
Located on the Horizon Bar & Lounge and on the Pool Deck, the WMF (the initials stand for Württembergische Metallwarenfabrik) coffee machines are manufactured in Germany.
They produce a java worthy of what you'll find in your local neighbourhood independent coffee shop.
Legendary Rhine & Moselle Itinerary and Ports
If you're looking for a destination that will suit different personalities, there really is something for everyone on this Emerald Cruise in Germany.
My daughter is generally interested in independent explorations (aka shopping) while I gravitate towards cooking classes, scouting out the local food and learning about history.
The itinerary of the Legendary Rhine and Moselle suited us well. The towns were small enough to take an included tour, split up for independent explorations, meet up for coffee and then head back to the Emerald Sky. No long bus rides or transfers.
This cruise begins and ends in Frankfurt. Here are a few of the highlights at the ports of call:
Mainz
Our itinerary began in Mainz, strategically located on the Rhine around 40 kilometres from Frankfurt.
While best known as Germany's wine capital, there are so many things to do in Mainz it's worth arriving a day or two earlier as we did.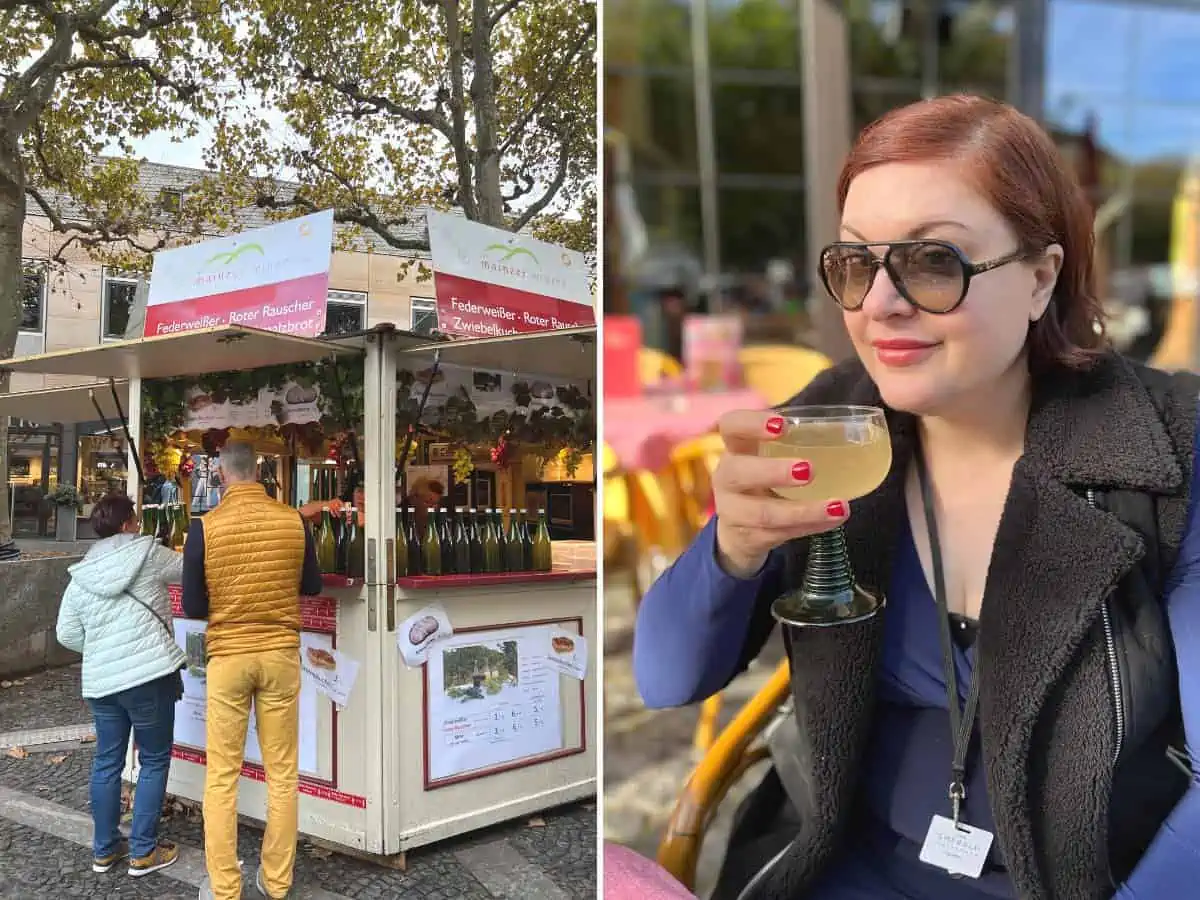 Not only were we able to step inside the soaring 12th century Mainz Cathedral but we had plenty of time to explore Old Town's cobblestone streets lined with half-timbered medieval buildings, fountains and wine taverns.
Foodie Tip: Stop into Winehaus Wilhelmi (Google Map) to sample the famous Rhineland dish of spundekas, cream cheese topped with white onion and served with tiny pretzels.
Don't miss Vinotek Wangenrot wine bar (Stefansplatz 1) where you can sample fine regional Rieslings as well as Niersteiner Domtal, Liebfraumilch and Scheurebe wines.
Rüdesheim am Rhein
The history and scenery of the 65-kilometre stretch of the Middle Rhine is so significant it's a designated UNESCO World Heritage Site.
The Emerald Sky's cruise director broadcasts live commentary explaining the landmarks so you can lounge on the sundeck while enjoying the highlights.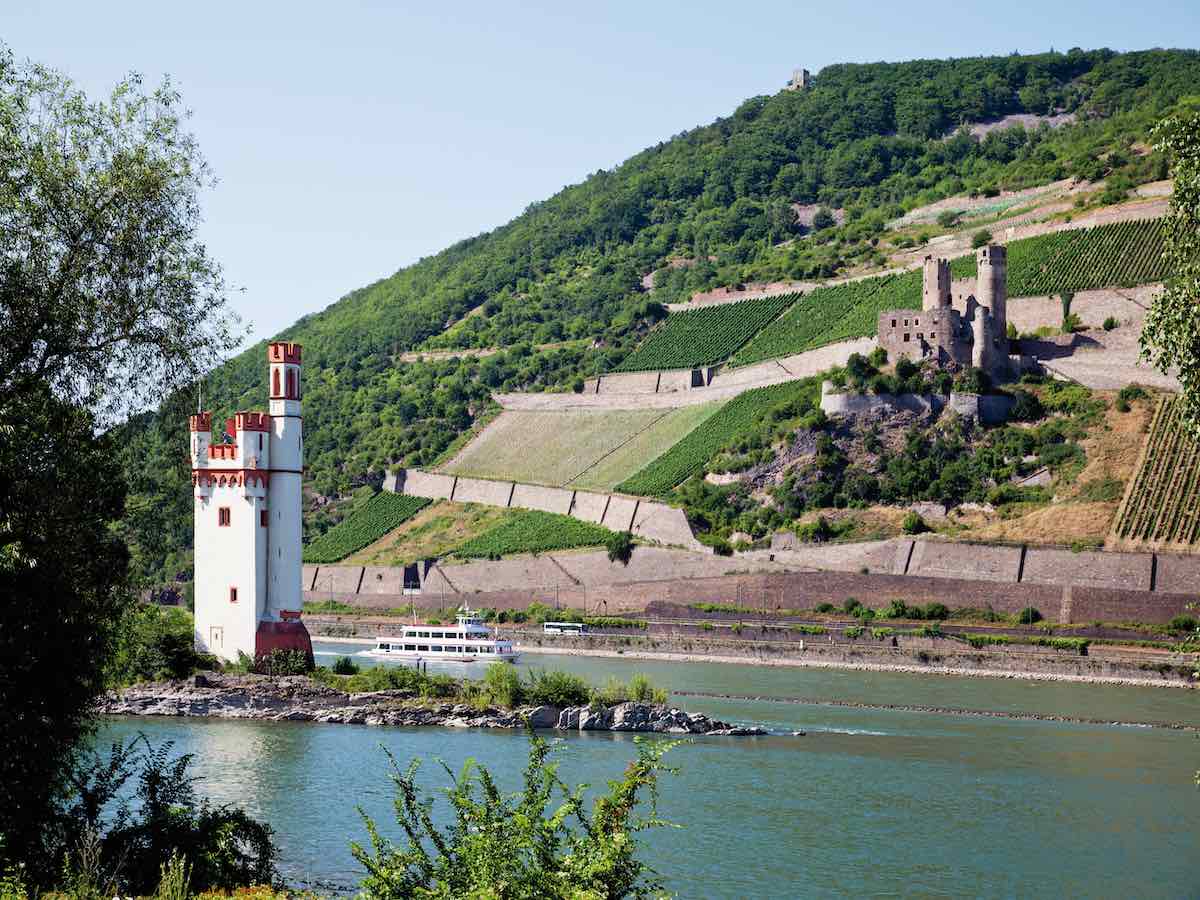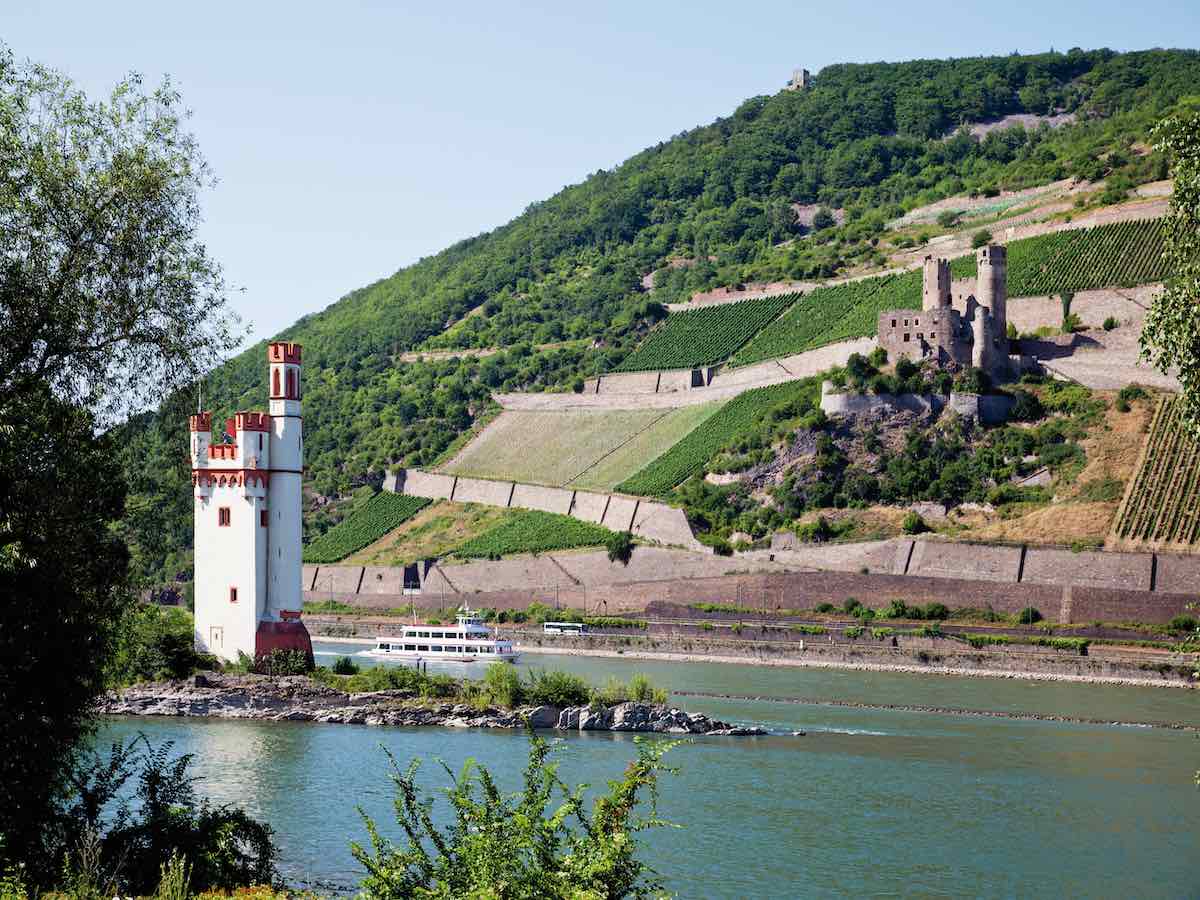 Although it's diminutive, it's impossible to miss the Mouse Tower. The turreted stone structure is set in the middle of the Rhine near Rüdesheim am Rhein.
Also impressive is the 13th century Castle Ehrenfelsert, a moody ruin that once served as a defensive outpost.
Our included excursion took us to Kloster Eberbach. Founded in 1136 it was once one of the largest monasteries in Germany.
Surrounded by ancient vineyards, the Romanesque former basilica appears plucked from a Grimm's Fairytale.
It's so atmospheric it appeared in the film Name of the Rose as well as the trailer for Season 5 of the fantasy-drama series Game of Thrones.
Its vineyards, once the largest in medieval Europe, continue to produce quality wine.
We spent a leisurely morning exploring its cloisters, wine cellars and sampling fine Riesling and Pinot Noir wines.
Foodie Tip: Be sure to sample a mug of traditional Rüdesheimer coffee onboard the Emerald Sky. This decadently sweet drink features the local Asbach brandy, sugar and whipped cream.
Koblenz
For thousands of years, travellers have been wowed by Koblenz where the Rhine joins the smaller Moselle.
Its symbolic and military significance is marked by the presence of a towering bronze equestrian statue of Kaiser Wilhelm I (1797-1888) the first emperor of Germany.
While I took a cable car ride to the Ehrenbrietstein Fortress to soak up the spectacular views of the city, my daughter visited Marksburg Castle, an intact, medieval fortress filled with displays depicting life in the Middle Ages.
Cochem and Berkastel-Kues
The villages of Cochem and Bernkastel-Kues on the Moselle were our favourite stops on the itinerary! Here, even the wines come with their own legends.
Cat wine was one of the first wines we discovered while exploring Bernkastel-Kues, a cobblestoned delight of winding streets filled with restored half-timbered buildings. Apparently Cat Wine was named by three wine merchants who came to the village of Zell and, unable to narrow down their choice of the best wine, approached a wine barrel protected by a ferocious black cat.
They took this as an omen that the barrel contained the best wine and marketed the wine as Zeller Schwarze Katz (Black Cat from Zell) giving rise to the cat-shaped bottles of wine found in the wine shops along the Moselle.
Another included excursion with Emerald Cruises took us high above the Moselle to Reichsburg Castle, the residence of the royal Stauffen family from 1151 to 1204. From its Great Dining Hall filled with Renaissance and Baroque furniture to its ivy draped courtyard this atmospheric castle is a must-see on any cruise of the Moselle.
During Emerald's included excursion to Reichsburg Castle, we were treated to a wine tasting and a performance of medieval music.
Foodie Tip: In Cochem, head straight to Senfmuhle Mustard Museum (Google Map), one of Europe's oldest mustard mills. Founded in 1810, they continue to produce specialty mustards including the original version, a honey mustard, a beer mustard and a Christmas mustard featuring gingerbread spices.
Sample them all and then load up your suitcase. The gift packs of mustard in pottery jars make tasty souvenirs.
Trier
Founded by the Romans in 16 BC, Trier is Germany's oldest city and it's filled with historic monuments. The most famous landmarks are the Porta Nigra, a colossal gateway made of sandstone, the Cathedral (a pilgrimage site that contains holy relics such as the cloak worn by Christ before his crucifixion) and the Marktplatz, a collection of Gothic buildings set around a pretty Renaissance fountain.
Foodie Tip: Be sure to try a piece of zweibelkuchen (onion pie) and a glass of federweisser, a new wine that bubbles noisily due to ongoing fermentation.
Wiesbaden and Frankfurt
Famous for its thermal spas and gambling, the magnificent city of Wiesbaden is one of the most prosperous centres in Germany. It reached its heydey in the early 1900s when it was the summer residence for Kaiser Wilhelm II as well as European nobility, wealthy aristocrats and literary greats such as Dostoevsky.
Foodie Tip: This is the place to dive into the bubbly world of sekt – Germany's fruit-forward, off-dry sparkling wine! Wiesbaden is the home of Henkell, the famous producer of sparkling wines.
Emerald Sky Fitness and Spa Treatments
No mother-daughter cruise is complete without spa treatments and the Emerald Sky features a spa treatment room and a Wellbeing Coach who is also a skilled massage therapist.
There's a Fitness Room, early morning yoga on the Pool Deck daily and Included EmeraldACTIVE excursions that range from hikes to cycling. Healthy menu options include assorted fresh fruit, salad bars, steamed vegetables and grilled meat so it's easy to opt for lighter dining choices.
The in-room bathrobes and slippers make it this cruise feel as though you're on a Mother-Daughter Spa getaway. Our Panorama Balcony Suite (cabin C235) was located near the aft of the ship so was just steps to the treatment room and pool zone.
On many days we clocked 20,000 steps while sightseeing so it was fabulous to unwind under the skilled hands of Jelena, the Wellbeing Coach.
Entertainment and Onboard Activities
A river cruise has much more subdued entertainment than an ocean cruise. You're not going to see the rock bands, casinos and glossy cabaret shows you'll find on ocean cruise ships. Find out more ocean cruise entertainment in our review of Holland America's New England Cruise from Boston to Quebec City.
Instead, the entertainment is more destination-focused. Entertainers might join the cruise at a port or lock, perform their show and then depart the ship.
During our cruise, the entertainment included a live music performance by a violinist, German language lessons, a disco night, star-gazing and even a fun cooking class with Chef where we learned how to make a delicious regional specialty, Riesling Potato Soup.
The ports are a key attraction on a river cruise. It's definitely possible to head into town for some evening entertainment such as dining, live music and even nightclubs. Our cruise director even hosted a pub night.
Final Thoughts on this Mother-Daughter Cruise on the Emerald Sky
For a mother-daughter vacation in Europe, the Emerald Sky offers a luxury experience with spacious staterooms, stunning scenery, locally-inspired cuisine, attentive service and fascinating excursions.
Top it off with the relaxed pace of the Legendary Rhine & Moselle itinerary which offers lots of bonding opportunities and you've got a mother-daughter trip of a lifetime.
Book online at www.emeraldcruises.com, with your Travel Agent or call 1-855-222-3214.
Frequently Asked Questions
Where is the Best Place for Mother-Daughter Trip?
The best place in Europe for a mother and daughter trip is Germany. Not only does it have fairytale castles and epic scenery but there are wine tastings, a rich culture, loads of outdoor activities and charming villages to visit.
Where does the Moselle River meet the Rhine?
The smaller Moselle meets the mighty Rhine at Koblenz, Germany, a strategic river junction since Roman and prehistoric times.
What is the Most Picturesque River Cruise in Europe?
A cruise along the Moselle is one of the most picturesque river cruises. Not only does the Moselle River follow a meandering path between Koblenz and Trier but the river valley is clad with vineyards and villages that seem lifted from a storybook.

It's an incredibly pretty landscape with very little industrial development to mar the scenery.
What is the Best Month to Take a Moselle and Rhine Cruise?
Spring or autumn are ideal times to take a cruise on the Moselle and Rhine Rivers.
Save to Pinterest!
Dividing her time between Canada, Guatemala and Mexico (or the nearest tropical beach), Michele Peterson is the founder of A Taste for Travel. Her award-winning travel and food writing has appeared in Lonely Planet's cookbook Mexico: From the Source, National Geographic Traveler, Fodor's and 100+ other publications.
Read more about Michele Peterson.