We may earn income from links in this post. Please read this Disclosure for details.
Mexican craft beer is on the rise and one of the newest and most exciting destinations for craft beer aficionados is the state of Oaxaca.
Recently, there's been a surge of interest in and availability of small-batch, artisanal beer all the way from Oaxaca City to Puerto Escondido and Mazunte on the Pacific Coast.
For craft beer fans like me, that's great news!
A Short History of Beer in Mexico
Beer is one of the world's oldest fermented beverages–some say that a hymn to the goddess of brewing was even discovered on a Sumerian clay tablet dated to 1800 BC.
French and Germans perfected those early beer making techniques of using natural ingredients of barley, yeast, water and hops up until the 12th century with the rise of brewing guilds, beer was valued as a method of avoiding health risks of drinking contaminated water.
While the tradition of beer-making in Mexico dates to 1542 when Emperor Carlos V of Spain granted permission to open a cerveceria in the Americas. Mexico quickly established a reputation as a nation of beer lovers and exporters. However, the Mexican beer industry has been dominated by two multinational corporations which produce 99% of the beer.
Big brands such as Corona, Sol and Victoria became synonymous with good times. Launched in 1925, and produced by Cervecería Modelo, Corona Extra is one of the world's top-selling beers.
It's a lager beer, pale in colour with a touch of sweetness and virtually no hoppiness, the ingredient that contributes to the bitter taste of beer.
Inspired by British and American craft beers and growing interest in artisanal beer worldwide, the first Mexican craft beer breweries launched in Mexico City and Monterrey in the mid 1990s.
Since 2013, following the resolution of the Federal Commission of Economic Competition (COFECE) regarding non-exclusivity in beer distribution in Mexico, the Mexican craft beer industry has exploded.
It's becoming the world's #1 exporter of craft beer according to a recent report by Deloitte Mexico. There's no sign of a slowdown in growth.
Also growing is the acquisition of independent breweries by large industrial producers. Most notable was the acquisition of Cucapa, Cerveceria Tijuana, Bocanegra and the family of brands of Cerveceria Mexicana by Anheuser-Busch InBev followed by a partnership between Heineken and Primus.
Fortunately the number of new craft breweries continues to expand, as does demand for Mexican craft beer. Mexican beer micro breweries are creating exciting new products known for their nuances of flavour, unique brand identities and diversity of styles.
Mexican Craft Beer Tastings, Tours and Breweries in Oaxaca
One of the regions of Mexico experiencing an explosion of independent micro-breweries is the State of Oaxaca. I had the opportunity to explore the Oaxaca craft beer scene as part of the launch of the inaugural Spirit of Oaxaca Mexico: Mezcal & Beer Lovers' Cultural Tour .
Led by Oliver Dawson a beer expert who established his career at The Upper Canada Brewing Co., Toronto's original micro-brewery and Alvin Starkman, co-owner of Oaxaca Culinary Tours, the seven-day tour introduced us to mezcal, pulque (a popular fermented beverage made from agave) and cerveza artesanal artisanal beer.
We also explored special cuisine during Day of the Dead festivities and explored the tradition of temazcal ( sweat lodges) in Oaxaca City.
One of the pleasures of Mexican craft beer is the diversity of taste. During our tour, participants were tutored on the distinctive flavors of fresh, natural ingredients such as barley, wheat and hops during a special event at La Olla restaurant in Oaxaca City.
There, Chef Pilar Cabrera created a four-course menu paired with Tempus beer, Mexico's first altbier, a traditional style German ale, brewed by Primus Brewery.
Another top spot for sampling International and Mexican craft beer in Oaxaca City include the Taberna Los Inmortales where you'll find beer brewed everywhere from Russia to the state of Oaxaca.
You can also enjoy Mexican craft beer from The Beer Truck Company often parked along with a variety of food trucks in the San Felipe del Agua neighbourhood north of the historic centre.
By far, the largest selection of Mexican craft beers in Oaxaca City can be found at the Alhondiga Reforma Mercadito Gourmet.
Not only can you find bottled Mexican craft beer from brands such as Cerveceria Tierra Blanca, Cerveceria Calendula and Cerveceria Mula, but you can also find Alhondiga draft craft beer on tap in styles such as IPA, stout and amber.
Oaxaca's First Micro-Brewery Teufel Cervezas Artesanales
Another of the stops along the Oaxaca beer-tasting route was at Oaxaca's first micro-brewery, Teufel Cervezas Artesanales, perched above a lush valley in San Andres Huayapam.
Brewmaster Fernando Bolaños and his wife Fernanda Suelto spent six years in Germany honing their brewing skills.
Their ever-evolving line of award-winning beer includes Babalao a medium-bodied ancient ale featuring malted blue corn and Portfirio Porter Mezcal, definitely worth a try.
Very popular among their intriguing craft beers is Chica Mala. This Imperial Red Ale with the lovely aroma of rosita de cacao, an ingredient more typically seen in the chocolate-maize drink known as tejate.
Although demand for their beer is high, Teufel is committed to small-batch quality. If you're in Mexico City, you can sample their beer at Pujol restaurant, a worthy food destination in its own right.
Craft Beer in Puerto Escondido, Oaxaca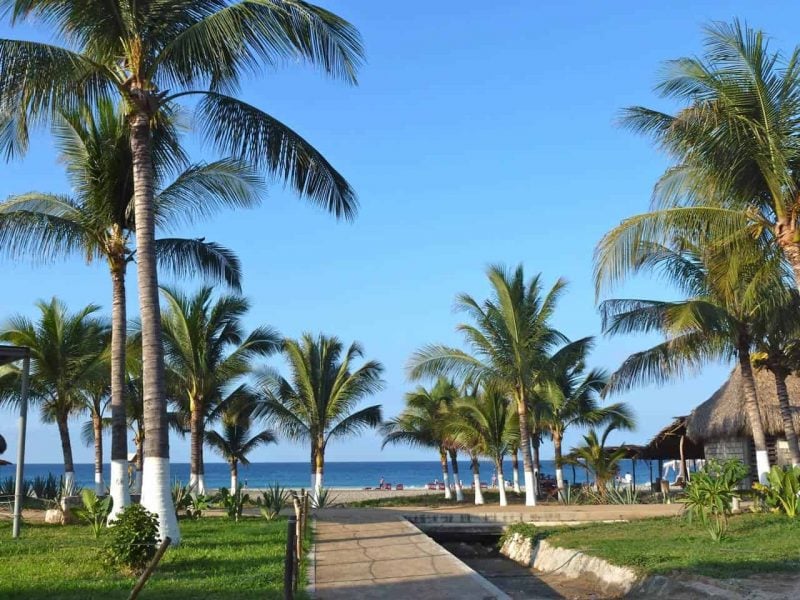 Some of this fine-quality artisanal beer is now making its way to the beaches of Puerto Escondido on the coast of Oaxaca.
Unlike Playa el Carmen on the Caribbean coast where several restaurants and bars sell a wide range of International and Mexican craft beer and Puerto Vallarta where Los Muertos brewing is well-established, choices for craft beer are slimmer in Puerto Escondido.
But to the delight of craft beer fans, there's a new micro-brewery producing quality craft beer in Oaxaca.
Biercito Brewery
This nano-brewery is a German-Mexican fusion producing four permanent styles of beer — Escondida Blonde Ale, a Mexican Pale Ale, La Alemana Hefeweizen, and the Oaxaca de Noche Stout.
It's operated by Alex, a German expat and Adelina, a local Mexican (who also owns and operates the luxury boutique hotels Casa Lili and Quinta Lili.
The meticulous brewing techniques at Biercito Cerveza Artesanal produces a consistently high quality Mexican craft beer despite the challenges of brewing in a tropical climate.
ONE LOVE and other Hip Eateries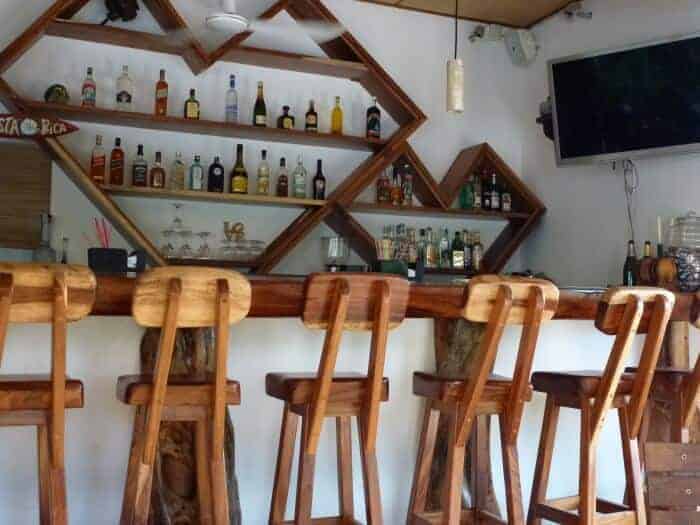 Now you can find many of those brands at ONE LOVE restaurant in La Punta. One Love is also home to a hostel that's a popular place to stay in Puerto Escondido.
Almoraduz Restaurant
Other spots serving artisanal craft beer include Almoraduz Restaurant, one of Puerto Escondido's best restaurants.
Chef Quetzalcoatl Zurita Bustamente, who is a firm proponent of locally-sourced cuisine, offers several craft beers such as Bendito, a nano-cerveceria beer (claro and oscuro) brewed in Santa Catarina Juiquila, located between Oaxaca City and Puerto Escondido.
It's an important pilgrimage site for the revered Virgin of Juiquila. Visiting the shrine is one of the top things to do in Puerto Escondido.
Craft Beer in Huatulco
Other top spots to sample craft beer in Oaxaca include Cervecería Carros Chocados and Agua Bendita Gastropub in Huatulco south of Puerto Escondido.
This casual bar-restaurant serves Oaxaqueña and Mexican cuisine along with a wide selection of Mexican craft beer, much of it from the state of Oaxaca. However, it seems they may not have survived the pandemic so double-check before visiting.
Your best bets are now Guns and Beers or La Crema Bar facing the zocolo in La Crucecita, the commercial heart of the Bahias de Huatulco resort area.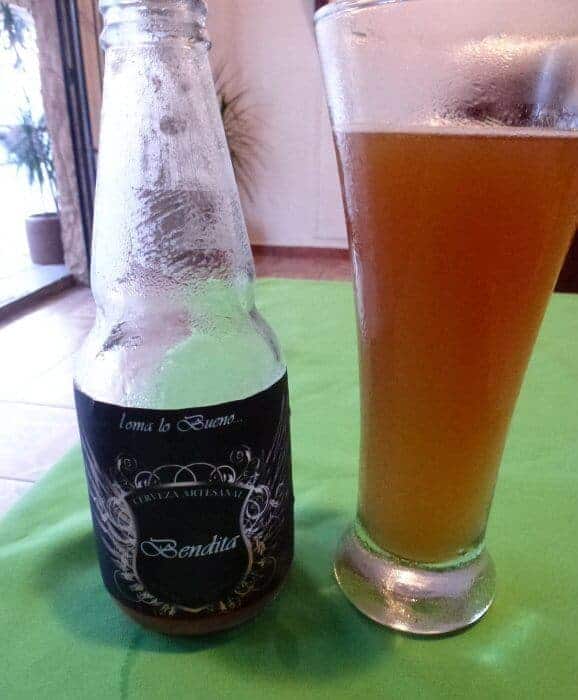 So, the next time you're thinking of having a beer, think small (and big taste) and reach for one of the new artisanal Mexican craft beers from Oaxaca.
Learn more about what to drink in Oaxaca in A Beginner's Guide to Mezcal.
Dividing her time between Canada, Guatemala and Mexico (or the nearest tropical beach), Michele Peterson is the founder of A Taste for Travel. Her award-winning travel and food writing has appeared in Lonely Planet's cookbook Mexico: From the Source, National Geographic Traveler, Fodor's and 100+ other publications.
Read more about Michele Peterson.