&nbsp
French style: inspiration from Rhone-Alpes, France
There's nothing like summer in the Rhône–Alpes region of France. The images of sky blue tablecloths, crystal wine glasses filled with rosé wine and pure lakes will stay with you long after you return home. Not only do the French have fabulous food and wine (check out my story on the cuisine of the Rhône–Alpes in the Summer 2014 issue of Taste & Travel magazine for more), but they have great style and flair. Here are five ways to bring the feeling of southeastern France into your home and kitchen.
#1  Pop of Colour
Much the way the French focus on one colour in their window boxes (hello red geraniums), adding a splash of brilliant red to a dish stimulate appetite and creates a feeling of excitement and energy. So go ahead and go rouge.
#2 Landscape Layering
The beautiful medieval village of Annecy is known as the "Venice of the Alps" due to its network of canals, historic buildings and alpine lake. I loved how this pretty lunch salad echoed the colours of the town itself. Try using landscape as the inspiration for your next dish.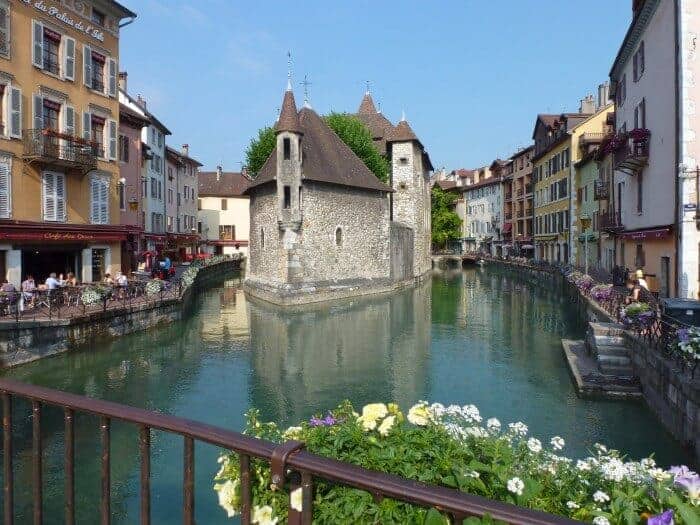 #3 Flair on a budget
The French know that chic doesn't have to be expensive. Whether it was a row of bright red umbrellas against the backdrop of the French Alps or a magenta pink napkin that echoed the beet gazpacho at the Rest'o de la Plage, a beachside restaurant on Lake Annecy, I learned that drool-worthy style doesn't have to cost a lot of money.      
#4 Composition 
French style can be summed up in one word, composition. Even a simple post-lunch coffee can be presented with drama if you consider the artistic elements of line, space and texture when arranging spoon, cup and sugar.
#5 Garden inspiration
 The Garden of Five Senses in Yvoire is the former kitchen garden of the medieval Château d'Yvoire. It changes with the seasons and offers  inspiration for sight, sound, smell, textures and colour. I loved how local restaurants in the village used vegetables to hold salad. It's an easy idea I plan to try at  home assuming I can convince my husband to grow zucchini at a size somewhat smaller than my thigh.  
Free Zinio Subscription Offer 
If you'd like to explore more about the cuisine of the French Alpes, read my feature story about cycling and eating my way through the Rhone-Alpes in the Summer 2014 issue of Taste & Travel magazine. You can purchase this glossy magazine packed with recipes, travel tips and inspiration on newsstands or purchase a subscription for $25 for one-year online. For a limited time, you can also get a free one-year Zinio subscription to Taste & Travel magazine on iPad/iPhone, Android and Windows 8. Visit the Taste & Travel website for details.