We may earn income from links in this post. Please read this Disclosure for details.
Learn about Bahamian culture and enjoy a traditional breakfast hosted by a volunteer ambassador in the people-to-people Bahamas program in Freeport, Grand Bahama.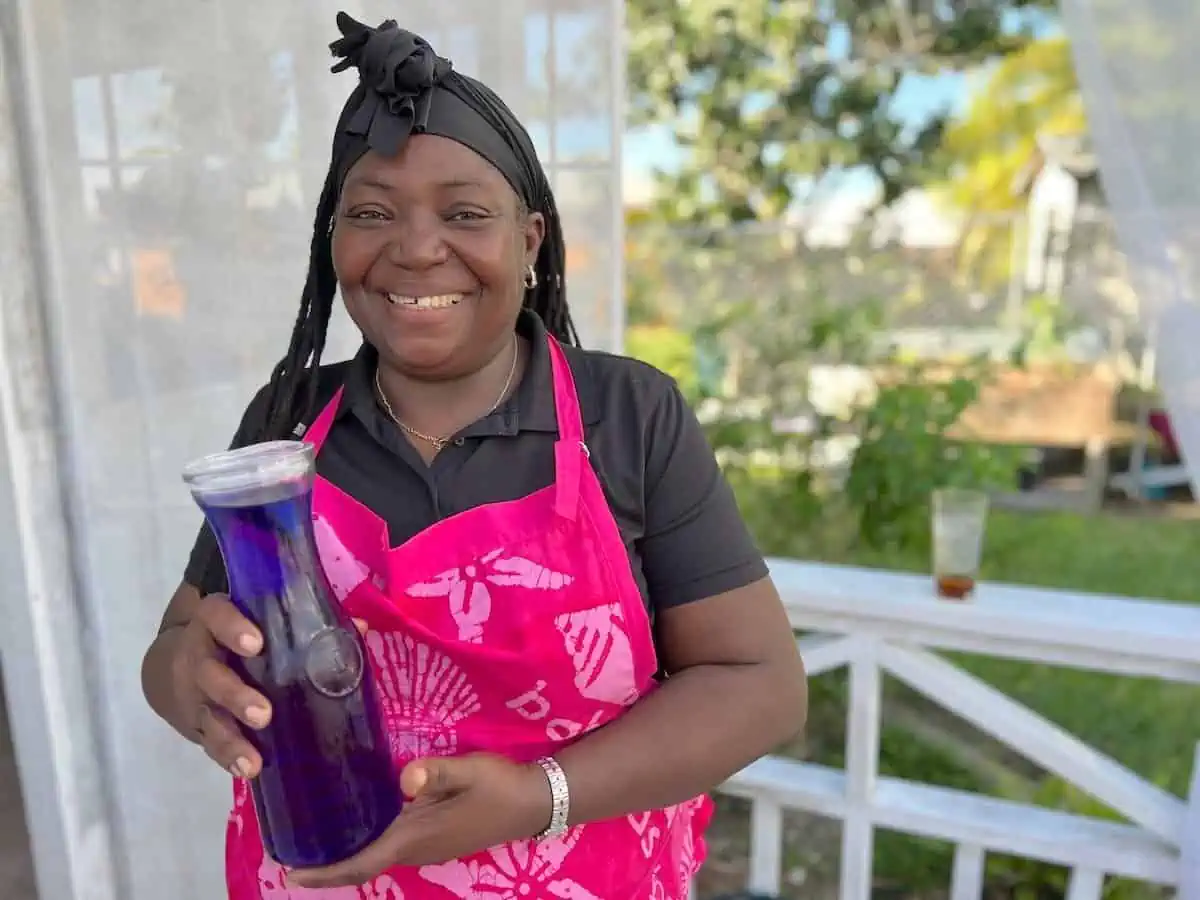 It's 8:30 a.m. on a sunny Friday morning in January when we pull up to the Freeport home of Collete Williams and are ushered to the back patio for a traditional Bahamian breakfast.
Cast iron skillets of warm Johnny cake are already on the table, as well as plates of sliced Johnny bread.
It's an ongoing debate which is better, but the only real difference between Johnny cake and Johnny bread is apparently that one is mixed like a batter and the other is kneaded like a bread.
I help myself to three kinds of homemade "bush tea" — iced hibiscus tea, iced butterfly pea tea that turns from deep blue to lavender when you add lemon (because of the change in pH levels), and hot fever grass and ginger tea.
"Any Bahamian knows you don't leave the house without eating, mama will tell you — even if you just leave with some tea and bread," says Williams by way of welcome.
"But you don't leave out of the house with your stomach empty."
There's zero chance of that happening for today's People-to-People breakfast experience, part of a complimentary program that matches curious visitors to Grand Bahama with volunteer local "ambassadors."
I've spent 25 years writing about food, testing recipes and authoring cookbooks, and love to get into other people's kitchens and hear their culinary secrets.
It's rare to be invited into a stranger's home for a meal. So this experience promises to be memorable.
The People-to-People Bahamian Breakfast Menu
Two homemade hot sauces — Run Ya Mouth and Bongie on Fire — stand at the ready.
Chafing dishes on a side table are filled with stew fish (snapper) and chicken souse — the Bahamian chicken soup that's eaten for breakfast, lunch and dinner.
And canned corned beef has never looked so good. It's dolled up with bell peppers, onions, garlic, tomato paste, bay leaves, thyme and rosemary.
All that we're waiting on is yellow grits to go with the corned beef.
For that, we pop into the kitchen to watch the final preparations.
"Corned beef and grits," says Williams with a proud grin.
"Listen, I want you to know if you all don't eat it up, I have my baby. That's her favourite dish. All I have to do is make one call and matter of fact she will be down here quicker than you guys can get back."
What is the People-to-People Bahamas Program?
This People-to-People program has been offered here on about half a dozen islands for about four decades, explains Bahamas Ministry of Tourism executive Cestina Nixon.
"The program Is an experience that's designed to give an insight of how the Bahamians live and to give a personal encounter with our culture."
The program's four main themes are culinary, culture, natural wonders and family activities.
In order to participate, travellers fill out an online form before they visit. They share their travel dates, age, gender, occupation and family makeup. The hope is to be matched with a local for a few hours.
Some people might be invited into a home.
Others might visit a beach, attend the famous Wednesday night fish fry or take an island tour.
The program itself is free. But you pay your own way if a restaurant meal or other costs are involved.
Pre-pandemic, Grand Bahama made about 40 matches a year and it's just starting to be built back up.
"We have very hospitable people," Nixon explains.
Locals are "Ambassadors" for Bahamian Culture
Our volunteer ambassador, Collete Williams, spent her career in the tourism industry and is an empty nester now that her three children are grown.
"I love to share my culture with other people," she enthuses.
She enjoys hosting and entertaining people. She also loves gardening, cooking and baking.
"I eat, sleep and drink Bahamian culture."
Today, she's feeding about a dozen guests, mostly travel writers like me from Canada as well as local tourism officials.
We make quick work of breakfast. And as people linger, I ask for a garden tour.
Williams lovingly shows off virtually every plant from cauliflower and Lacinato kale to pigeon peas, herbs, papayas, bananas and even a lone pineapple.
I can only imagine the endless delicious meals she makes from this bounty.
Before we head out to continue exploring Grand Bahama, Williams asks us to weigh in on the Johnny cake versus Johnny bread debate.
She loves the softer Johnny cake with chicken souse and the sturdier Johnny bread with stew fish.
Why limit yourself to just one when they're both fantastic, I say, and Williams explodes with approving laughter.
The People-to-People Tea Party in Bahamas
Several times a year, there's a free People-to-People tea party with storytelling, music, entertainment, pastries, sandwiches and "bush" teas, such as the two teas I enjoyed at Collete's people-to-people breakfast.
The People-to-People breakfast takes place at the historic Government House in Nassau, Bahamas. A courtesy shuttle is provided from local hotels in Nassau for visitors wanting to attend.
⭐️ Foodie Tip: Make a similar bush tea at home with our recipe for iced sorrel ( hibiscus) tea!
More Caribbean Breakfast Experiences You'll Love
FAQs
What organization is responsible for the People-to-People program?
The Bahamas Ministry of Tourism is responsible for the People-to-People program. They match local volunteer "ambassadors" with visitors interested in the four main experience themes of culinary, culture, natural wonders and family.
What is a typical Bahamian breakfast?
A typical Bahamian breakfast features "Fire Engine" (canned corned beef), stew fish, chicken souse, grits and Johnny cake or bread.
Save to Pinterest!
Jennifer Bain is a recovering newspaper food and travel editor who now travels the world in search of quirk. Based in Toronto and with a retreat on Fogo Island in Newfoundland and Labrador, she's an award-winning freelancer who has written two cookbooks and two travel books. View her portfolio at JenniferBain.co