We may earn income from links in this post. Please read this Disclosure for details.
The Grand Prix Hotel is proof that a budget hotel near Mexico City airport doesn't have to be scary. I spend a lot of time in Mexico City airport when travelling to Puerto Escondido because the Air Canada flight from Toronto (YYZ) arrives after all the connecting flights have departed.
And because I'm usually hauling two suitcases full of sheets, towels, cookbooks, computers, cameras, blenders, bottles of balsamic vinegar and other long-stay essentials, it's not really an option to drag it all to a trendy hotel in Mexico City's centro historico.
So, I usually end up in a hotel within or connected to Terminal One such as the Marriot Courtyard, Camino Real or the Hilton.
But recently, even though I registered for price drop alerts, nothing was available under $175 a night. I just couldn't force myself to pay that much for one utilitarian stopover.
So I decided to place an $85 bid on Priceline for a 3.5 star near Benito Juárez International Airport (MEX) thinking one of my preferred hotels would miraculously appear. I input my credit card details, pressed enter, crossed my fingers and opened my eyes to discover I'd purchased one non-refundable night at The Grand Prix Hotel. A hotel I'd never heard of.
Here's my review and some tips on what you need to know about The Grand Prix Hotel if you're looking for a budget hotel near Mexico City's Benito Juárez International Airport (MEX):
1. You're going to learn to love the colour purple. Everything about this hotel is purple from the decor to the uniforms. Remember this because you'll need it once you're in the Arrrivals area in Terminal One at Benito Juárez International Airport because that will be the colour of the logo on the shuttle van. You need to phone the hotel at 52 (55) 5648 0066 or 01-8004726317 and ask the shuttle to pick you up. If you don't have a Mexican cell phone, then stop at the Information Booth (near Puerta or Door 6 ) and the staff at the booth will call the hotel for you.
2. The Hotel Grand Prix shuttle van will arrive at Puerta 4 (Door 4 in Terminal 1). Watch for the purple Grand Prix racetrack logo and a driver in a (you guessed it) – purple uniform. I was relieved to see that the shuttle van was clean and well-maintained. I was also relieved that it arrived quickly so I didn't have to stand around with my mega-sized luggage for more than 5 or 10 minutes.
3. The shuttle ride itself took about 10 minutes to travel the 4 km to the hotel. You'll pass other airport area hotels such as the Fiesta Inn and the Ramada.
4. Check-in was quick and my room was ready upon arrival. I was given a WIFI code for complimentary in-room WIFI (free wireless with a great signal earns a hotel mega bonus points in my books).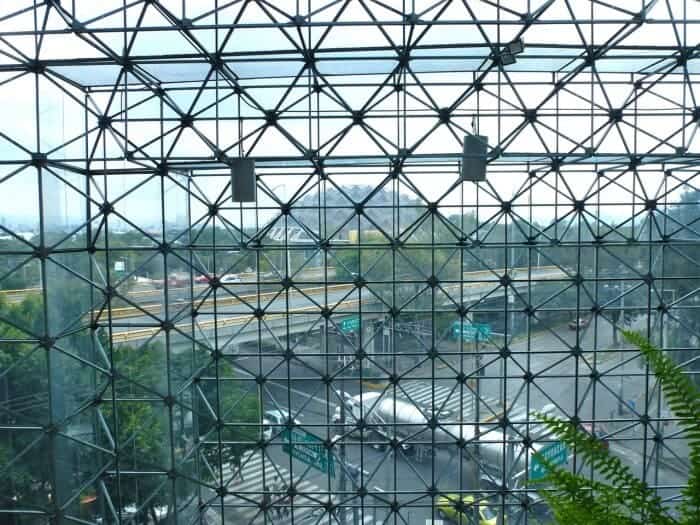 5. The courtyard in the hotel lobby is quite attractive. It's actually even possible to see the geodesic dome of Palacio de los Deportes ( Sports Palace), a building designed by renowned architect Felix Candela (known as the poet of concrete – he also created the emblematic Oceanographic building in Valencia). The striking building was used to host basketball competitions during the 1968 Mexico City Summer Olympics and is still used today for music concerts and other events.
6. Try to request a room at the back of the building for the quietest stay. Those two major thoroughfares in front of the hotel are busy and noisy. The hotel is close to the Sports Palace Dome, Foro Sol Autodrome and Autodromo Hermanos Rodriguez NASCAR racetrack so can see lots of traffic during events. My rear-facing room on the 4th floor overlooked a quiet neighbourhood of residential, office and apartment buildings with a range of mountains in the distance.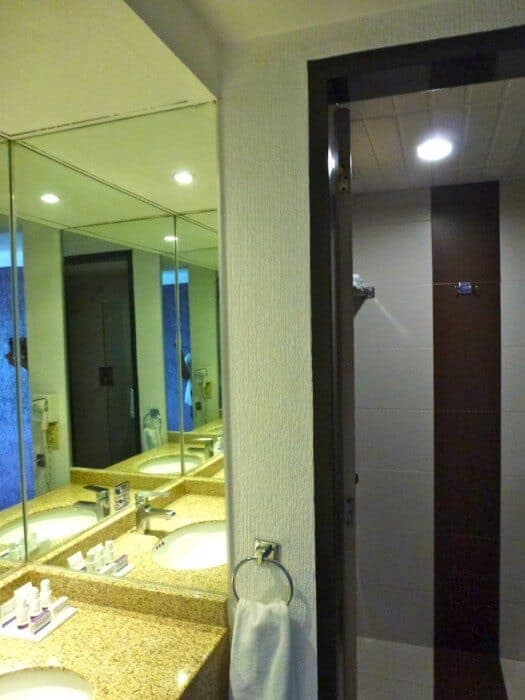 6. The room came equipped with a King-sized bed with white linens and purple accent pillows, two bottles of water, a flat screen Philips TV, ironing board, a spacious in-room safe that fit a MacBookPro and two cameras. Plus the room had a large window that opened for fresh air — which in my books vaulted it past the Hilton Airport for air quality. My only gripe was that the towels could have been fluffier. Hardly a deal breaker. I didn't find out until later that the hotel had a fitness centre so can't report on what it was like.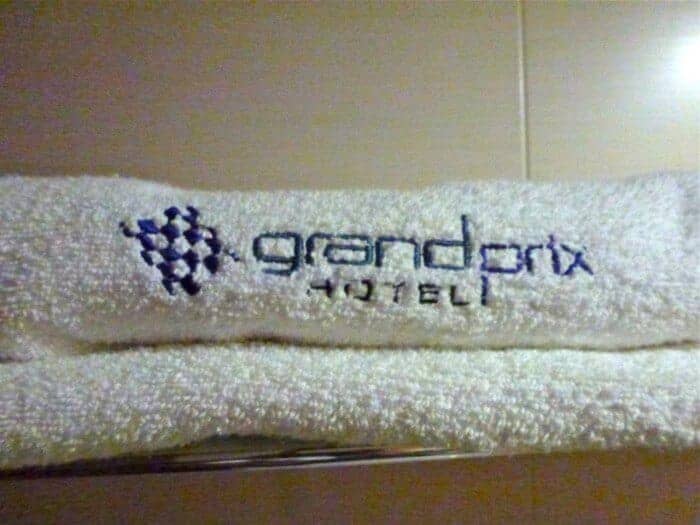 7. The neighbourhood is busy by day with students and office workers rushing to and fro so it's safe to walk around. There are loncherias, vendors selling fruit and an OXXO store within steps of the hotel for anything else you might need. If you don't want to go out, there's room service.
8. A simple buffet breakfast is available in the main floor dining room for 90 pesos. Service in the restaurant was terrible but I didn't care because I was checking out at 9:00 am and the rest of my stay had been fine.
9. The shuttle van back to the airport leaves on the hour and half hour and was on-time. Even during rush hour, the trip to the airport didn't take any longer than 15 minutes.
At a price between $79 and $100 USD a night ( including tax), the Hotel Grand Prix is a good option if you're looking for a budget hotel near Mexico City's Benito Juárez International Airport. You might even gain a new appreciation for the colour purple by the end of your stay.
Travel Planner
Grand Prix Hotel Website: www.hotelgrandprix.com.mx
Address: Av. Rio Churubusco No. 200
Email: sugerencias@hotelgrandprix.com.mx
I've found rates as low as $50 USD a night on Booking.com for a one-night stay.
Check rates and availability at the Grand Prix Hotel Mexico City on Booking.com.
Dividing her time between Canada, Guatemala and Mexico (or the nearest tropical beach), Michele Peterson is the founder of A Taste for Travel. Her award-winning travel and food writing has appeared in Lonely Planet's cookbook Mexico: From the Source, National Geographic Traveler, Fodor's and 100+ other publications.
Read more about Michele Peterson.