We may earn income from links in this post. Please read this Disclosure for details.
Warm up to winter with this Bourbon Hot Toddy inspired by the classic American spirit of the Kentucky Bourbon Trail. In addition to being an ideal holiday or cold-weather drink, a hot toddy is popular for soothing sore throats and colds.
While it's not going to solve any medical conditions, its soothing warmth of honey, spices and lemon might help you feel better!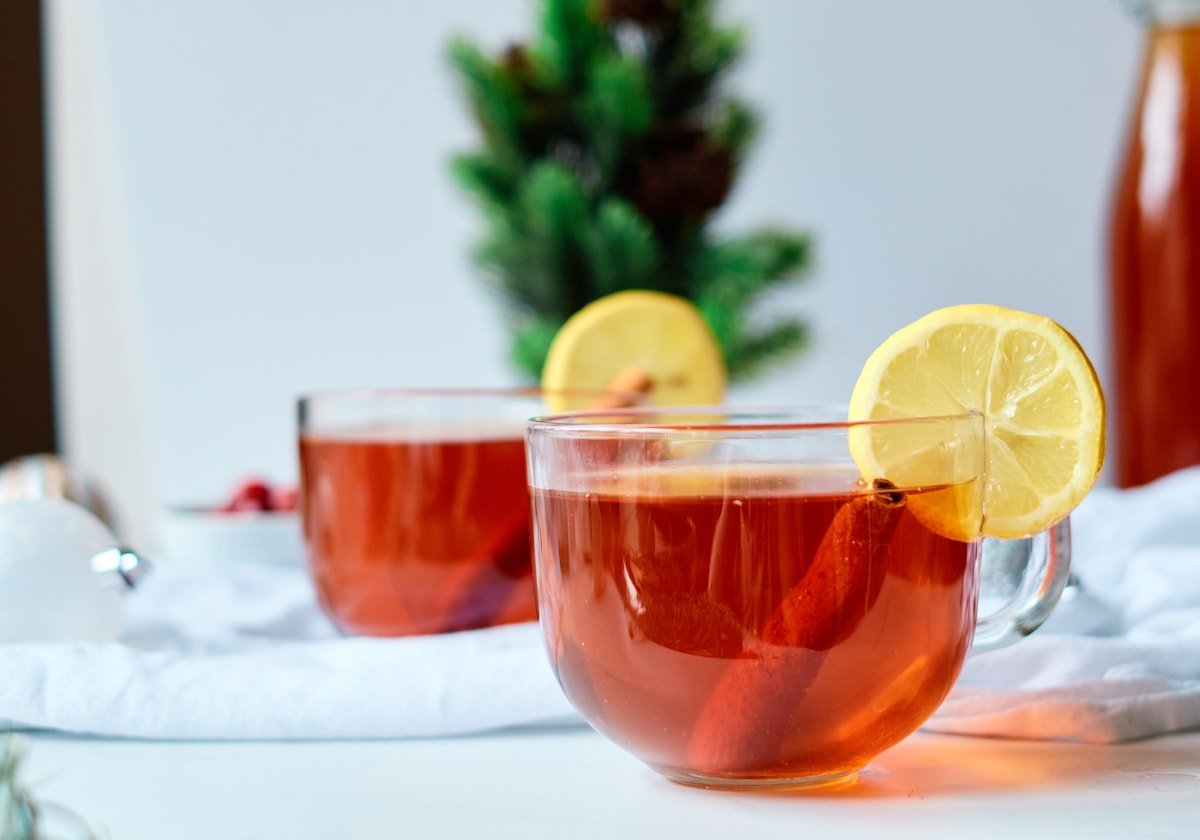 Why This Recipe Works
A hot bourbon toddy is a hearty, warming drink for the holidays or during cold weather.
The soothing mixture of bourbon, honey, aromatic spices and hot water in old-fashioned toddies were originally intended for medicinal purposes. While drinking a steaming toddy likely won't cure what ails you, it will definitely warm you up!
A toddy is the perfect warm bourbon drink to enjoy curled up next to a crackling fire in wintertime.
No complicated techniques or ingredients needed.
It's versatile! Customize this seasonal hot toddy with your favourite spices, maple syrup and/or apple cider.
A Bit About Kentucky Bourbon and Bourbon Cocktails
The Kentucky Bourbon Trail features a stop in Lawrenceburg, Kentucky. During my visit I met Master Distiller Jimmy Russell at Wild Turkey Distillery and learned about the craft of distilling fine bourbon.
He explained how bourbon is made according to time-honored traditions. The process begins with Kentucky corn, selected rye and barley malt, fresh limestone spring water and heritage yeast.
The mash then goes through several phases of cooking, fermenting and distilling. Then, it's stored in hand-selected, charred white oak barrels and aged to maturity.
By law, bourbon must be distilled from no less than 51% corn, but the actual crafting of taste is in the hands of the Master Distiller.
It's the distillation process, ageing and mix of grains in the mash that makes a difference in the flavour of each brand, contributing rich and complex notes of cinnamon, vanilla, caramel and even tobacco.
One of the most intriguing products at Wild Turkey Distillery is American Honey, a smooth liqueur made of pure honey and premium Kentucky bourbon.
It's so versatile, American Honey can be enjoyed straight up after dinner, chilled in the freezer or on the rocks.
Best Type of Bourbon to Use for a Hot Toddy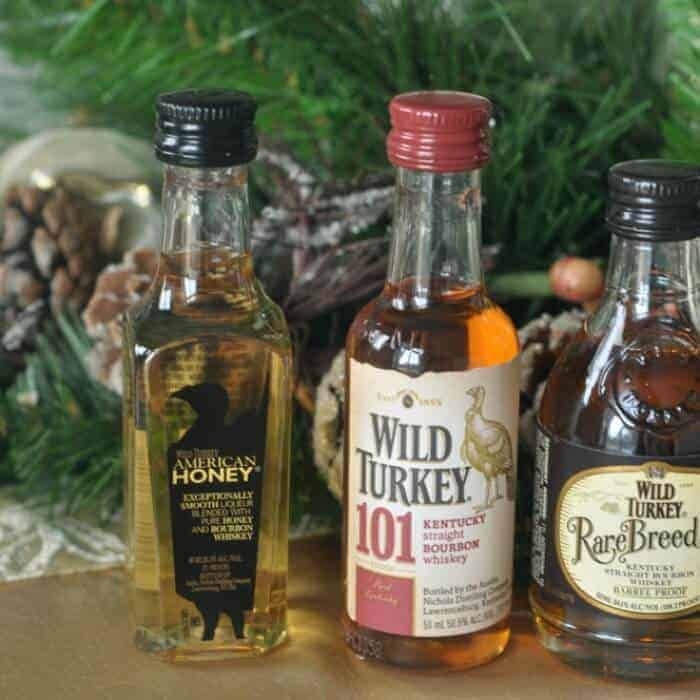 What is the difference between honey bourbon and bourbon? Honey bourbon is a liqueur of pure honey and bourbon whiskey. Bourbon is simply pure Kentucky bourbon.
Honey bourbon is much sweeter than bourbon.
This recipe calls for American Honey Bourbon liqueur (or another brand such as Evan Williams Honey Bourbon). But if you don't have honey bourbon, just substitute a good quality bourbon or whiskey.
Bourbon lovers have a large selection of great brands to choose from. While I love exploring unusual and experimental spirits such as a smoky Scottish Whisky like Tomatin's Cù Bòcan from the Scottish Highlands, the best bourbon for a hot toddy is a smooth sweet bourbon.
Here are the best bourbon brands to consider for a Hot Bourbon Toddy:
Four Roses Small Batch Bourbon
Buffalo Trace Kentucky Straight Bourbon,
Woodford Reserve Kentucky Straight Bourbon,
Wild Turkey 101 Proof Bourbon.
Bulleit Bourbon (the high rye content gives it a spicy note),
Koval Bourbon (it features millet rather than rye in the mash so is fruitier rather than spicy).
I'm a fan of Four Roses bourbon. Its warm, caramel notes, sweetness and smooth character makes it one of the best bourbons for hot bourbon drink.
Importance of Nutmeg in a Bourbon Hot Toddy
It's important to use fresh nutmeg when making your Bourbon Hot Toddy. In this easy recipe, bourbon meets fresh nutmeg from Grenada, the Spice Island of the Caribbean.
Not only do you get the fantastic aroma and flavour punch of freshly ground nutmeg but it add a boost of wellness to your drink. Nutmeg is a soothing spice offering many benefits.
Its properties offer a calming effect that's good for insomnia and an aid for indigestion. It even treats bad breath!
So if you're looking for a warm bourbon drink that's soothing for a sore throat reach for some fresh nutmeg.
It's easy to add nutmeg to your hot toddy (and many other recipes).
I recommend purchasing a Microplane zester/grater. It's much better than trying to use a spice grinder because a little bit of fresh nutmeg goes a very long way and if you use a spice grinder, much will go to waste .
It's easy to grate fresh nutmeg. Once you have your ball of nutmeg, crack it open with a mallet.
Remove the shell and, holding your microplane at a 45 degree angle, grate as much nutmeg as you'd like.
Store the remaining unused nutmeg in the refrigerator once it has been cracked open.
Ingredients
Main ingredients include:
Honey: Clover, wildflower or dandelion honey are the best types of local honey to use in a hot toddy. Buckwheat honey is wonderful (and nutritious) but its intense molasses and malty flavour is a bit overwhelming.
Honey Bourbon: Honey bourbon is a blend of honey liqueur and Kentucky bourbon whiskey. Its mellow sweetness provides a sweet smoothness to the drink. You can also use bourbon and just add more honey if you prefer more sweetness.
Fresh Grated Nutmeg: The warm, nutty flavour of nutmeg enhances the creamy, caramel notes of the bourbon. It's also especially aromatic.
Fresh Lemon: The fresh lemon juice and slice of lemon as garnish add bright, fresh citrus overtones.
Boiling Water: Filtered water is always the best choice for any cocktail.
The Best Glassware for Hot Drinks
For everyday use and entertaining, you don't need any special equipment to make a hot toddy.
You can actually prepare this hot drink in any heat-resistant glassware that holds 8-12 oz (240-360 ml) of liquid.
I often prepare hot toddy drinks in the gluhwein mugs I picked up in Mainz during a cruise of Germany's Christmas Markets. So if you have a favourite holiday mug go ahead and use it!
For a classic look, a clear, footed Irish Coffee glass or a mug are the most popular choices for toddy glasses when entertaining.
Any heatproof mug is suitable for all hot mixed drinks so feel free to use whatever you have on hand!
How to Make a Bourbon Hot Toddy
Please scroll down to the recipe card for the exact quantities of ingredients and the full method.
1. Boil fresh filtered water. Allow the boiled water to rest for one minute.
2. Once you've got your heatproof mugs in place, pour the bourbon, honey, fresh lemon juice and grated nutmeg into the mug. Stir well.
3. Then, pour the boiled water into the mug. Stir again.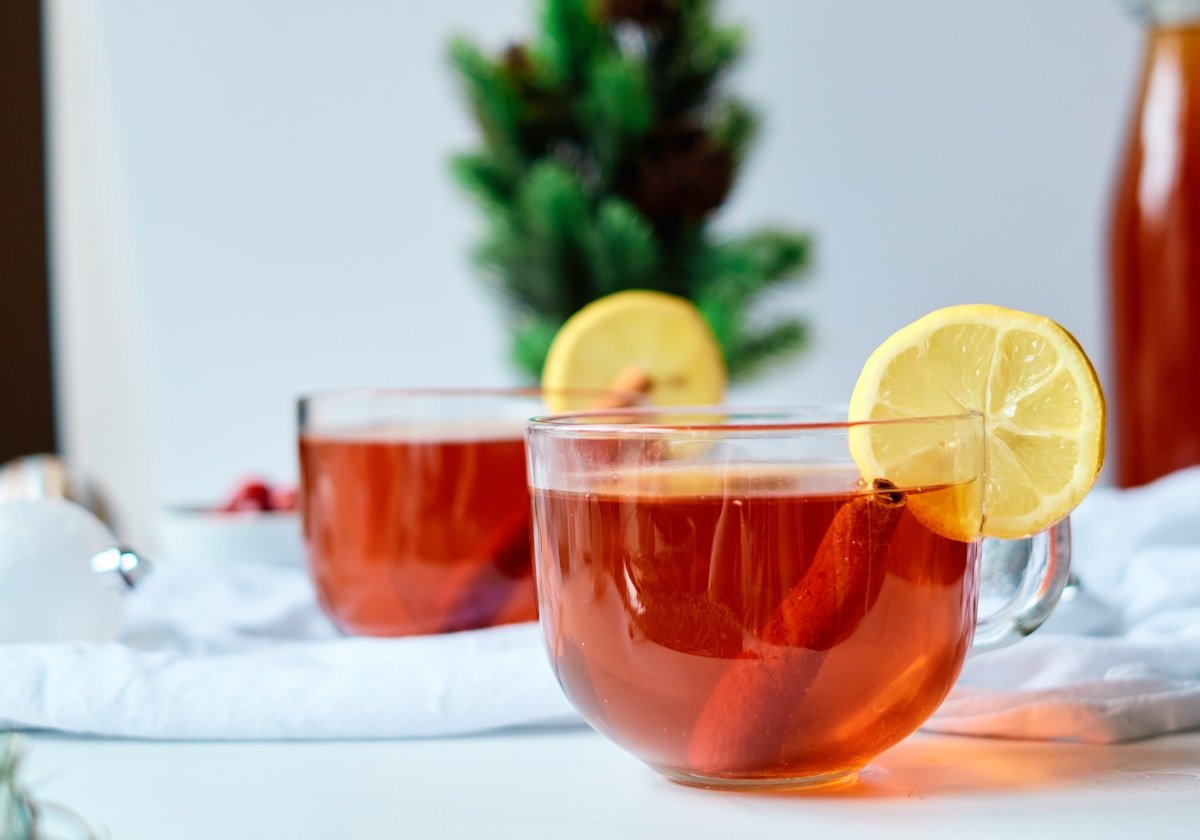 4. Garnish with a twist or slice of lemon and a cinnamon stick. You can even stud the lemon with cloves if you're feeling fancy.
If you'd like to make your hot toddy without lemon, a slide of fresh orange is a great option.
5. That's it! Sip carefully and enjoy the winter weather.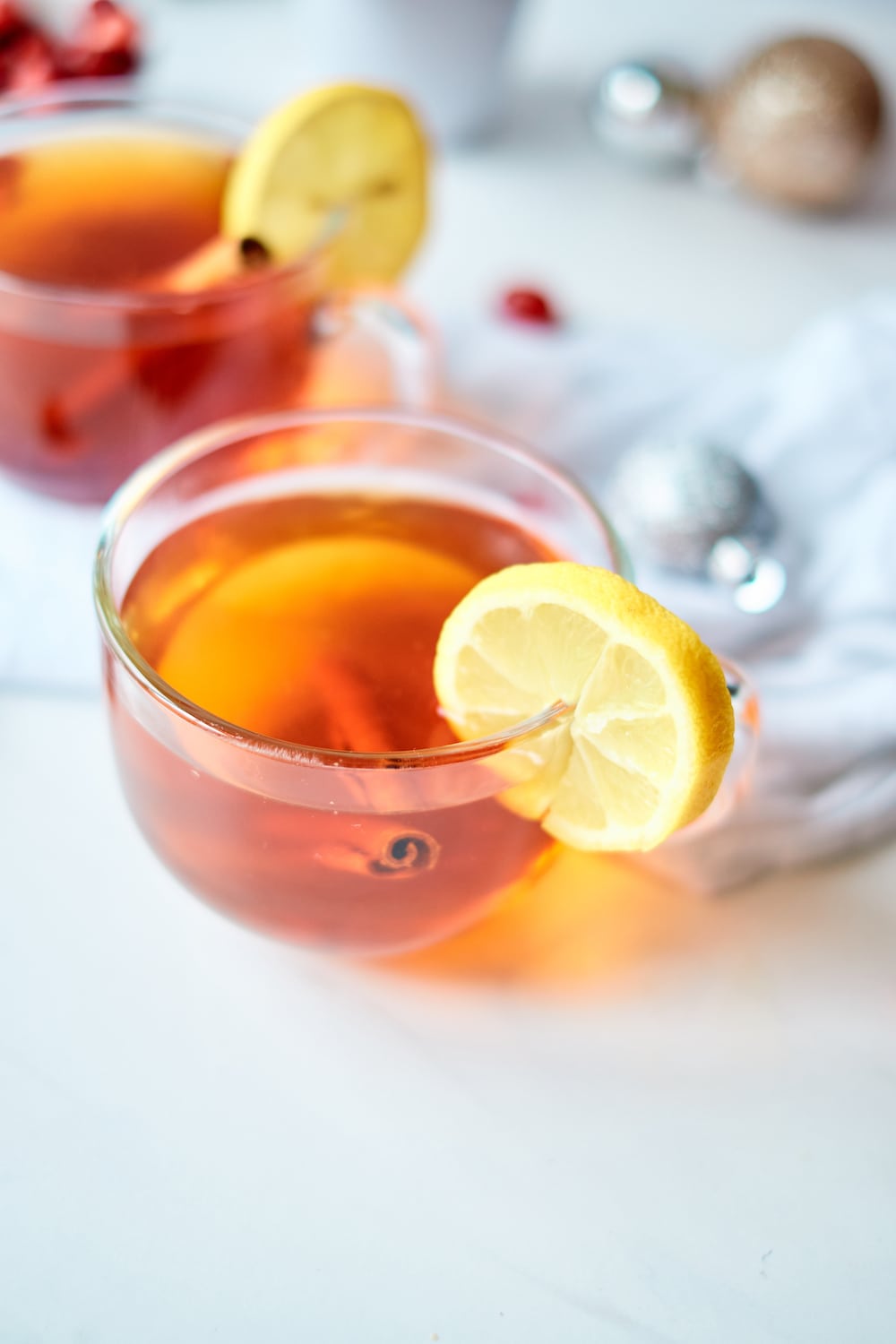 Variations
Customize this seasonal hot toddy with your favourite spices such as cinnamon, star anise and cloves.
For a Maple Bourbon Toddy, swap in maple syrup for honey. The buttery maple flavour is delicious from autumn through spring. Garnish with a piece of maple fudge and a twist of orange peel on a cocktail stick.
Swap apple cider for boiling water. Just heat to boiling in the microwave. Garnish with a slice of fresh apple or a dried apple ring.
For Hot Bourbon Tea, prepare some orange pekoe tea (follow brewing instructions in our Christmas Tea recipe) and swap it in for the boiling water.
More Amazing Cocktail and Bourbon Recipes
Print
Bourbon Hot Toddy
Warm up with this classic bourbon hot toddy. The lemon and honey combination makes this warm bourbon drink popular for soothing a sore throat or cold in winter.
Ingredients
3

ounce

honey bourbon liqueur

or if using bourbon whiskey, add an extra tablespoon of honey

2

Tablespoons

honey

3

Tablespoons

lemon juice

fresh

1/8

teaspoon

fresh nutmeg

grated

2 1/2

cups

boiling water

2

cinnamon sticks

2

twists of lemon or orange peel
Instructions
Boil fresh filtered water. Allow the boiled water to rest for one minute.

Pour half the bourbon into each heatproof mug or glassware.

Add half of the honey, lemon juice and grated nutmeg to each mug. Stir well.

Pour boiled water into the mug.

Stir until the honey is dissolved.

Garnish each mug with a twist/slice of lemon and a cinnamon stick.
Notes
If you don't have fresh nutmeg, just substitute dried nutmeg.
Bourbon or rye whiskey is a good substitute for honey bourbon liqueur...just add more honey to taste.
Substitute apple cider for the lemon juice.
Substitute a slice of orange for the lemon as garnish.
Note: Nutritional values are estimates only.
Nutrition
Calories:
179
kcal
|
Carbohydrates:
23
g
|
Protein:
0.4
g
|
Fat:
0.2
g
|
Saturated Fat:
0.1
g
|
Polyunsaturated Fat:
0.01
g
|
Monounsaturated Fat:
0.01
g
|
Sodium:
17
mg
|
Potassium:
60
mg
|
Fiber:
3
g
|
Sugar:
18
g
|
Vitamin A:
15
IU
|
Vitamin C:
17
mg
|
Calcium:
55
mg
|
Iron:
0.5
mg
Save to Pinterest!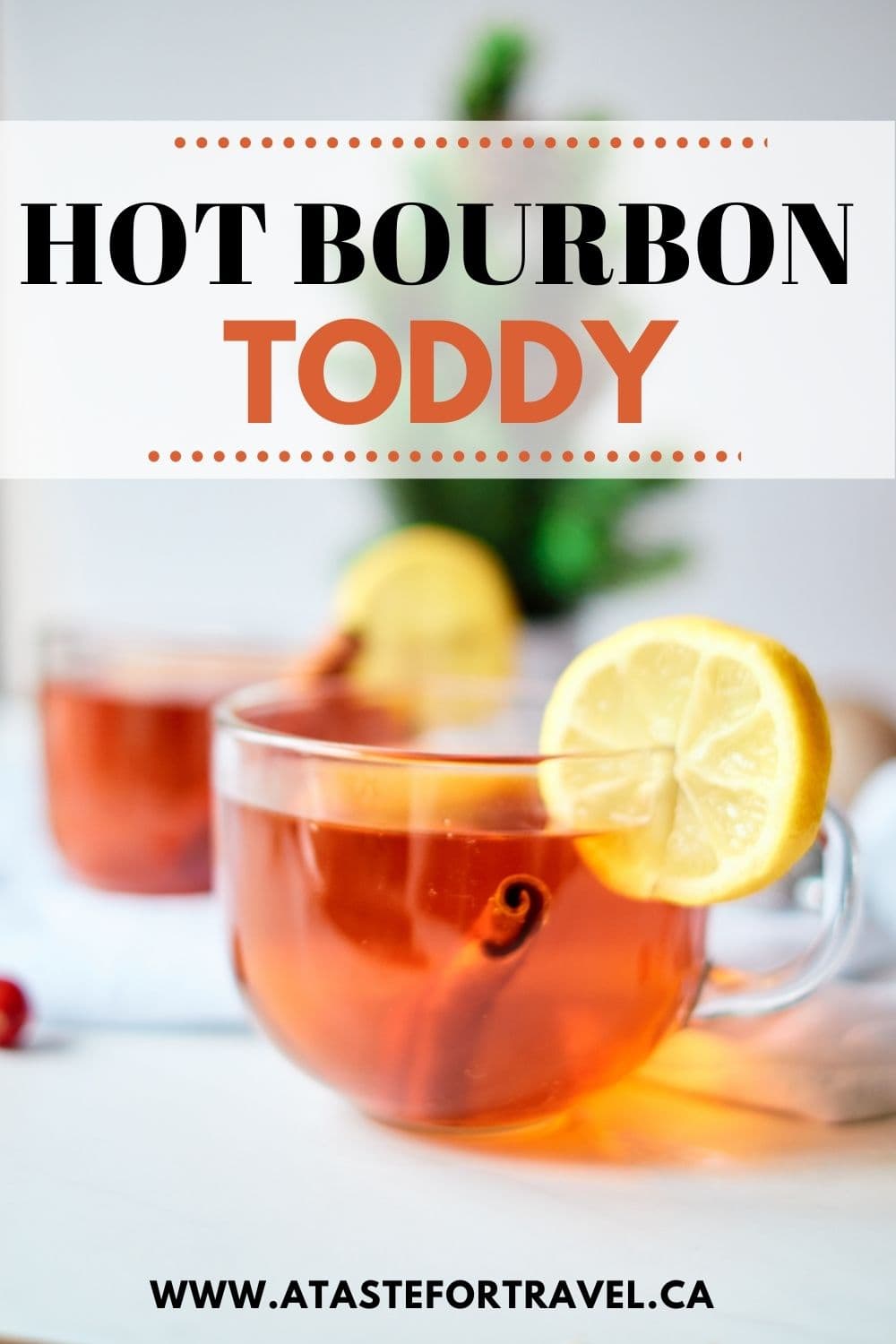 Is bourbon good for a hot toddy?
Bourbon is the perfect spirit for a hot toddy as its warm, caramel notes pair nicely with the sweetness of natural honey and fresh lemon flavour. A honey bourbon liqueur is another good option.
Can you heat up bourbon?
While you can certainly warm bourbon up it's not necessary to heat it to make a hot toddy. Adding boiling water to the hot toddy mixture of spices, honey, lemon and bourbon heats the bourbon enough for a very warm drink.
Love this recipe? Please leave a 5-star 🌟🌟🌟🌟🌟rating in the recipe card below & a comment further down if you REALLY like it. Thanks!
Dividing her time between Canada, Guatemala and Mexico (or the nearest tropical beach), Michele Peterson is the founder of A Taste for Travel. Her award-winning travel and food writing has appeared in Lonely Planet's cookbook Mexico: From the Source, National Geographic Traveler, Fodor's and 100+ other publications.
Read more about Michele Peterson.