The Dreamweavers Exhibition and Sale, Puerto Escondido's annual cultural celebration is back! And it's bigger and better than ever.
The 10th annual 2019 Dreamweavers Exhibition and Sale will be taking place on January 20, 2019 and you don't want to miss it.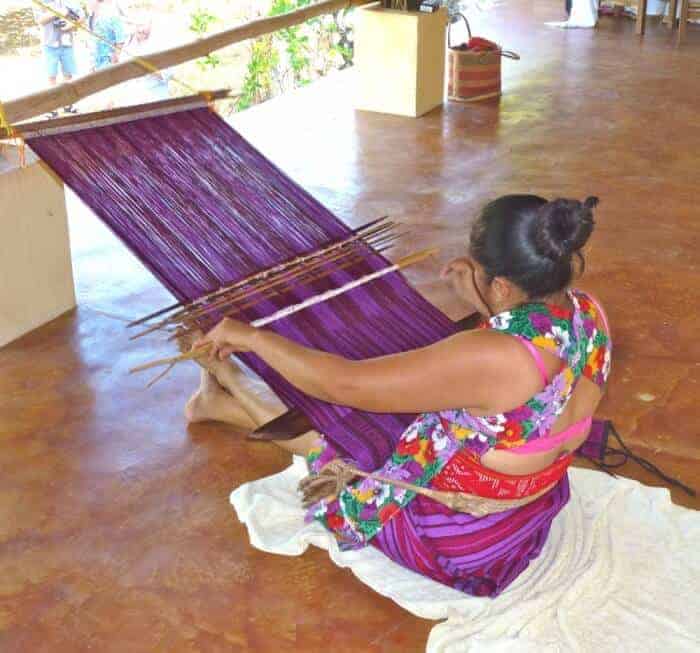 This cultural event features weavings from the Tixinda Cooperative in Pinotepa de Don Luis, a community high in the mountains above Puerto Escondido, Oaxaca, Mexico. With each purchase you'll be helping the women of this community preserve an ancient tradition and support their families.
Read more about harvesting Tixinda dye in our first-hand account of a journey with one of the shell-dyers in our post on Quest for Mexico's Sacred Snail of Mexico 
The women of the Tixinda Cooperative weavers create magic on their backstrap looms, weaving colourful huipils (tunic dresses), bed linens, table cloths and smaller items such as wallets, purses and pillows. The dyes are all-natural and quite rare.
They use yarn dyed blue from the anil (indigo plant), red from crushed cochineal (cacti bugs) and Tixinda, the sacred purple dye "milked" from a rare Purpura sea snail found in a remote bay between Huatulco and Puerto Escondido. It can take the milk from 1000 snails to dye one reboso (shawl). The weaving is rare, beautiful and highly-prized by collectors.
Other Highlights of the Dreamweavers Exhibition  in Puerto Escondido
But the event isn't just about weaving. Over the past decade, attendees have discovered museum quality work created by other master artisans such as Irene B. Aguilar Alcantara, Josfina Aguilar and other members of the Aguilar family, renowned folk art craftspeople from Ocotlán de Morelos.
You can read about their work on Friends of Oaxacan Folk Art but Irene is best known for her sculptures of musicians, Frida Kahlo, "women of the night" and catrinas, the elegantly dressed female figures for Day of the Dead.
The  mermaids, fantastical figures and Virgens of Soledad all captured moments of daily pueblo life and evoked the whimsical humour of Mexican folk art ceramics.
The Dreamweavers Exhibition and Sale also invites special guests to participate. In past events, attendees have been able to purchase work by PINTANDO PASOS, a community of painters in Oaxaca who are preserving Mixteco traditions in modern ways and have been featured in Rolling Stone magazine and leading museums.
In 2018, there was an opportunity to assist communities in Oaxaca through an Earthquake Relief Sale featuring the Ikoot Weavers from San Mateo del Mar. The coastal town in the Tehuantepec District was badly damaged during the September 2017 earthquake and purchases of their weavings helped in their economic recovery.
New for 2019
In 2019, there will also be lots to experience at the Dreamweaver Exhibition and  Sale. There will be Special Guest Artist Flora Maria with her beautiful jewelry designs as well as documentary films, music and even dance.
Guadalajara -based jewelry designer Flira Maria who designed a line of silver and semiprecious stone jewelry inspired by the caracol purpura and 30% of her sales will go to help save the endangered sea snail.
Travel Planner
The annual Dreamweavers Exhibition and Sale will held on Sunday January 20, 2019 at the beautiful Hotel Santa Fe's  Cafe Cafetal on Playa Zicatela
Admission: free.
Time: 10:00 am – 4:00 pm ( arrive early for the best selection)
Payment: Take cash in pesos.
Interested in more information about what to do, see and experience in Puerto Escondido? Check out these posts:
8 Weird Foods to Try in Puerto Escondido, Mexico
Riding Horseback to Atotonilco Hot Springs in Puerto Escondido
Swimming with the Stars in Oaxaca's Bioluminescent Lagoon