We may earn income from affiliate advertising links in this post.
There are so many things to do in French Alps. Whether you cycle, hike or just take in the view, France's French Alps or Rhône-Alpes region offers a wealth of memorable culinary experiences along with its outdoor adventure.
And, as I discovered, the departments of Savoie and Haute-Savoie, tucked in the east beside Switzerland and Italy, are blessedly free of the serenity-crushing crowds and scorching summer temperatures of Europe's better-known destinations.
Curative Waters of Évian-les-Bains
I began my explorations in Évian-les-Bains, a gracious town on the shores of Lac Léman, a large body of crystal blue water known as Lake Geneva by the Swiss. This spa town has been a popular refuge for royalty, celebrities and literary figures since the discovery of the curative powers of its waters in 1789.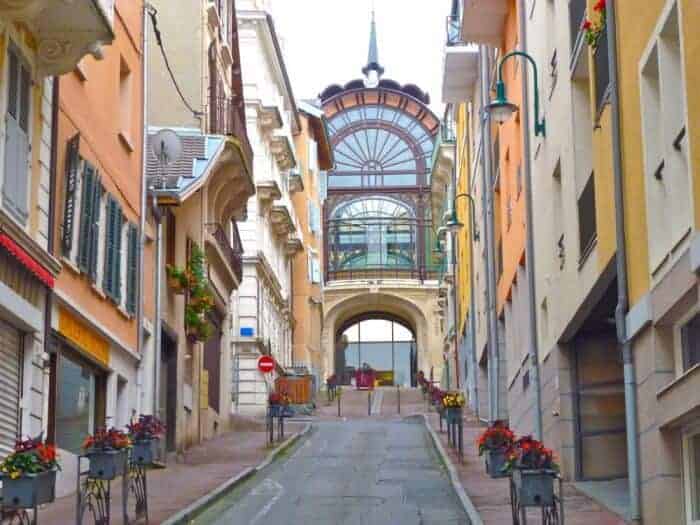 Evian water is sourced in the mountains and is naturally filtered through layers of limestone and sand becoming so pure it was once sold only in pharmacies. Today, it's still possible to sip (and soak in) the healing waters.
I stroll the waterfront promenade, stopping to rehydrate with the velvety smooth mineral water at the free public tap in the historic heart of town. The Chachat spring, once known as St. Catherine's Fountain, is the most famous of Evian's springs and was discovered in 1790.
It might seem weird to walk around such a stylish town with an empty mug in your hand but if you want to sample the water ( and you should — it's known to protect against urinary tract ailments) you'll need a cup or a wide-mouth bottle to collect it.
Light Lunch at Riva Restaurant at Hilton Évian-les-Bains
After admiring sights such as the Palais Lumiere, the Theatre and the Neo-Byzantine style Casino (a must for any spa town) all built between 1883 and 1912, it's time for a quick lunch at Riva restaurant at the Hilton Évian-les-Bains.
Lunch is a beautiful combination of a delicious composed salad served in a grilled strip of zucchini (read my French Style Lessons in the Rhone-Alpes for more on this creative salad) and fresh fruit tart.
Stroll the Promenade
After lunch, I do as the locals do and go for stroll along the restored Évian-les-Bains promenade with its historic carousel, outdoor swimming pool, music gardens and public ferry boats. Created by the Rhone glacier 15,000 years ago, Lake Geneva is the largest lake in western Europe.
It's so wide at Evian and Lausanne Switzerland, it feels more like an ocean than an inland lake. Along the promenade, I'm joined by tiny French poodles, as well-coiffed as their stylish owners, that prance beside me past formal flower beds along the scenic route.
Fine-dining at Hôtel Royal Evian
For dinner, it's time for some glam, so the top choice is Hôtel Royal Evian set amid lush gardens on a hill overlooking Lac Leman. Built in 1905, its Belle Epoque beauty is showcased within Les Fresques brasserie where the pastel ceiling frescoes have been carefully restored to their original splendour by the French National Heritage Department.
With such stunning views and warm temperatures, the terrace is the place to eat in summertime. It offers the undisputed best view in Evian. The wine list includes a wide selection of red, whites and rose wines from the vineyards of Savoie. La Jacquere is the most common white grape variety grown in Savoie vineyards and it produces a wine that tastes as fresh and clean as a breath of alpine meadow.
Watch for Apremont, Chignin, Abymes, Jongieux and Cruet wines — they're well worth ordering when you're in the French Alps as they can be tough to find and/or expensive outside France. Of course, it's always possible to order French champagne, made in the Reims area of France.
Learn more about the grapes, fermentation and bottling of French champagne in this detailed Introduction to French Champagne.
In thee brasserie, Chef Patrice Vander Stichelen offers a contemporary French menu that shines with fresh local ingredients including a spectacular variety of lettuce and fish such as sea bream, sole, perch and the sublime omble-chevalier (Arctic Char) sourced from the icy depths of Lac Léman.
Meaty mains include lamb with French rosemary and knife-cut Charolais beef tartar with chips. Starters include options such as crab claws on lettuce and French caviar with cream and blinis. All of it prepared simply but with fresh, quality ingredients — the secret to culinary perfection. Dessert is a cheese tray (more on that later).
Take a Water Taxi to Yvoire
Next, it's time to continue my food tour and visit the medieval city of Yvoire, so I settle in for a leisurely cruise in a sleek water taxi to head further south along the shores of Lake Geneva.
If you enjoyed this post, subscribe to my A Taste for Travel blog to read more about the top things to do in the French Alps.
Travel Planner
Rhône-Alpes Tourism: www.rhonealpes-tourisme.com
Evian-les-Bains: Hôtel Royal Evian features lavish rooms, a golf course, fine dining options and resort-style amenities such as indoor and outdoor swimming pools, tennis courts and a 47-hectare park, it's like staying at a luxury resort. A free shuttle service is available to the casino, historic centre and waterfront — it's too far to walk.
Hilton Evian-les-Bains offers contemporary rooms (many with balconies with views), an outdoor swimming pool, fine dining and the Buddha Bar Spa (linked to the avant-garde hotel restaurant in Paris) and plus a very handy location where you can walk to everything in clouding the thermal baths. In summer, shuttle service is available from Geneva, Switzerland. Book early and you can get a room for under $200 USD a night.
Take a sightseeing cruise of Lake Geneva or water taxi between Evian and Yvoire by contacting hippos.leman@yahoo.fr