We may earn income from links in this post. Please read this Disclosure for details.
Wondering where to stay near Mexico City Airport? If you have an overnight layover at Mexico City International airport, you don't have to spend a fortune to get a hotel offering value, great customer service, safety and style.
Over the past 15 years I've passed through Aeropuerto Internacional Benito Juárez dozens of times while enroute to beach destinations such as Puerto Escondido, Huatulco and Cancun.
While I usually try to add a few days to hang out in the Roma Norte neighbourhood or explore Mexico City's attractions like the canals of Xochimilco sometimes there's only time for a one night layover.
That means it's time to pick an airport hotel.
With more than 50 million passengers a year, Aeropuerto Internacional Benito Juarez Ciudad de Mexico (Airport Code MEX) is Latin America's busiest airport and can be confusing for first-time visitors.
So it's wise to have your airport hotel booked in advance and know where you're going.
Whether you're looking for a luxury hotel inside the airport, a cheap hotel with a free shuttle to the airport or a midrange hotel with a shuttle (and an outdoor swimming pool), here are my top choices for the best hotels near Mexico City Airport.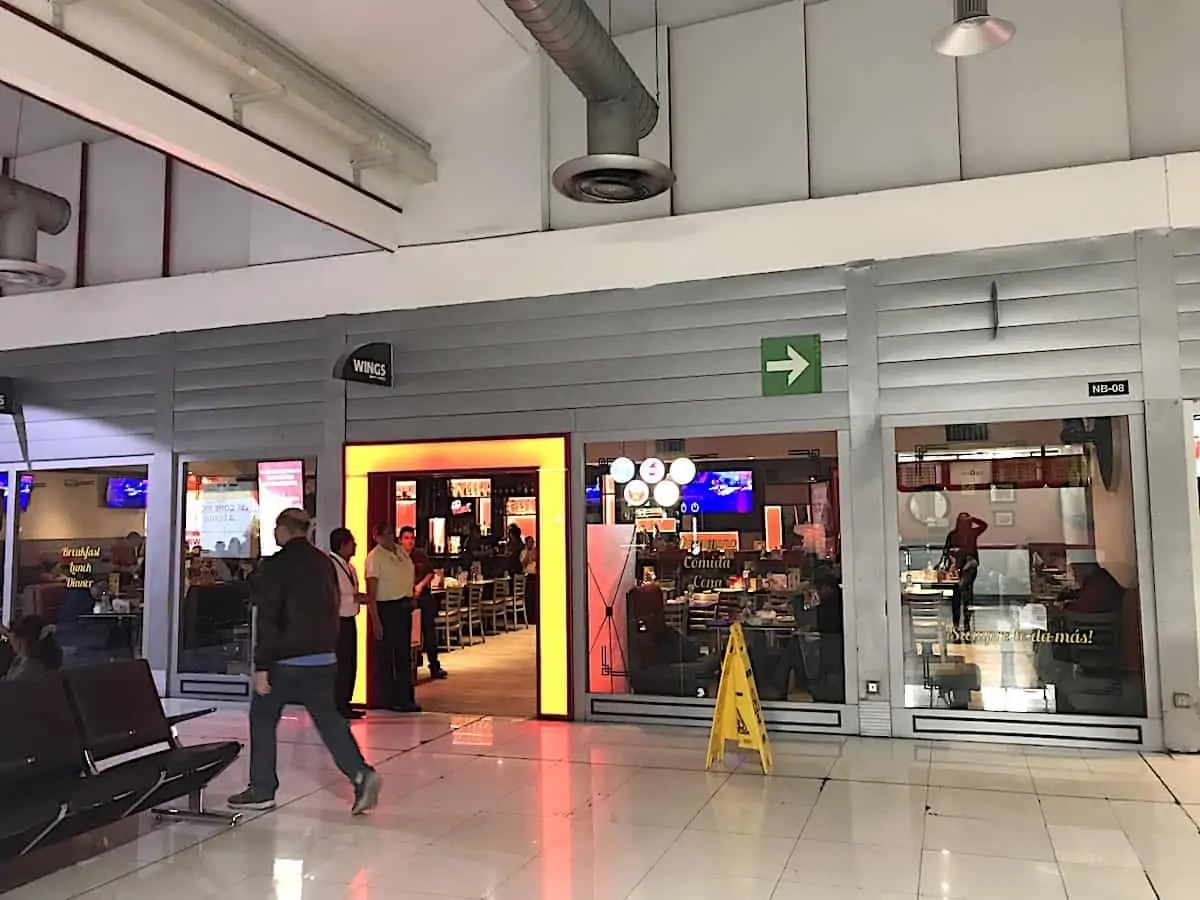 1. Best Luxury Hotel Inside Mexico City Airport – Courtyard by Marriott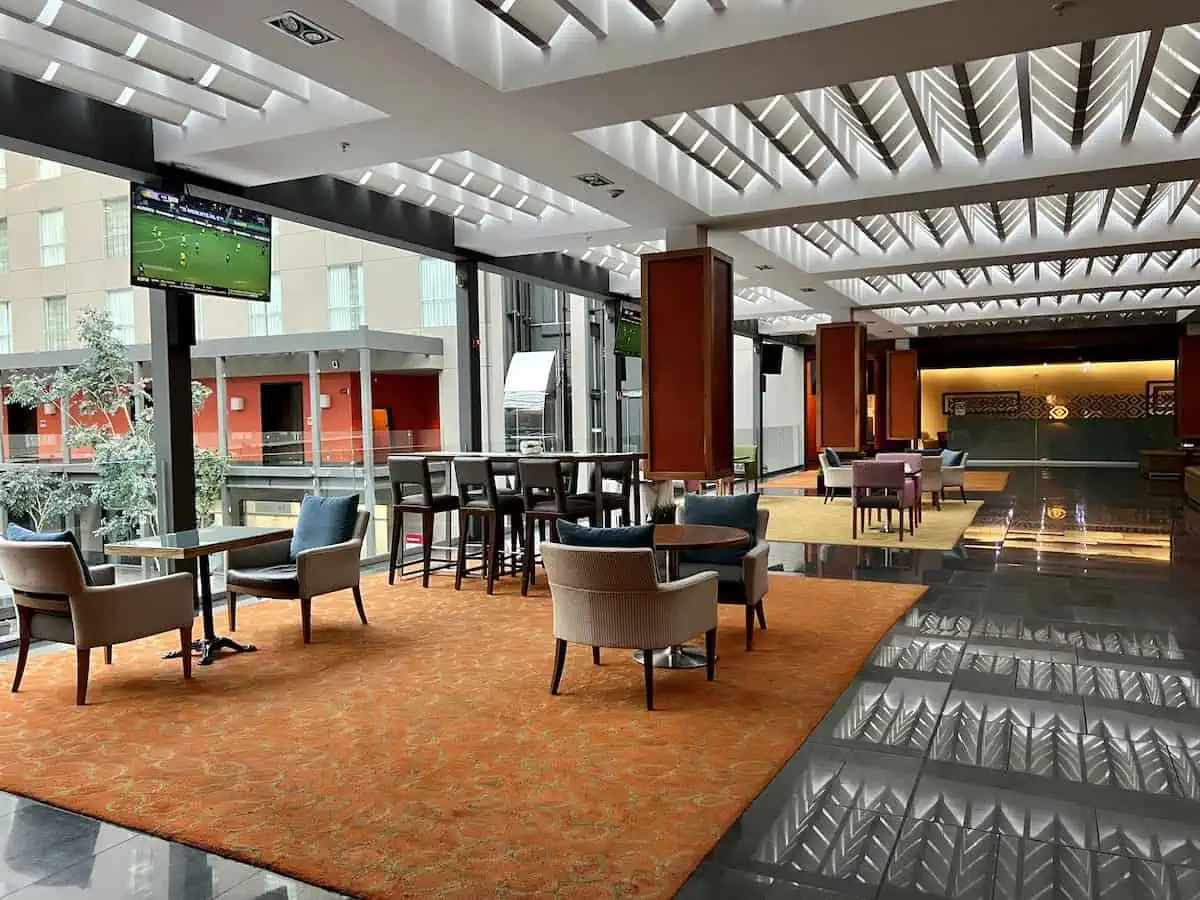 In the superior category, the Courtyard by Marriott Mexico City Airport is my recommended choice for the best airport hotel in Mexico City.
Connected by walkway on the second level above Puerta (Door 7) in Terminal One of Benito Juárez International Airport this sleek 5-storey hotel is part of the Courtyard by Marriott collection.
This hotel is well suited for travellers looking for convenience, safety and style without leaving the airport. The hotel's focus is on business travellers and amenities include spacious rooms, stylish lobbies, fitness centres and plush bedding.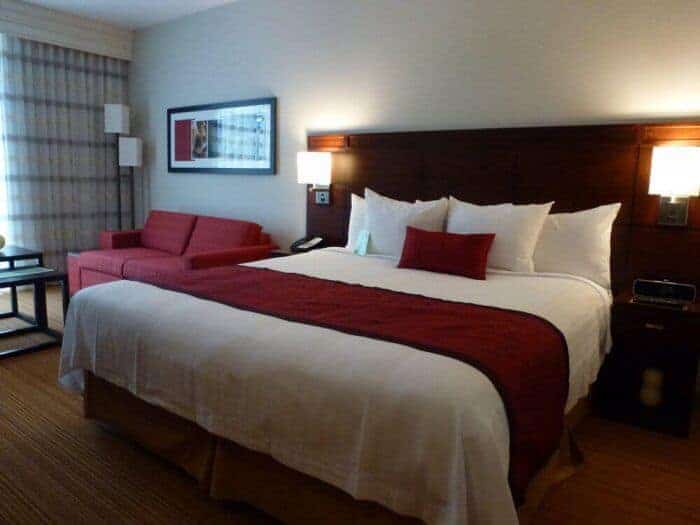 Opened on April 1, 2012, the Courtyard Marriott Mexico City Airport launched with an unbeatable combination of competitive pricing and services.
Although prices have increased since it first opened, it's still your best choice if you want a hotel inside or connected to the Mexico City airport.
It's superior to the comparably priced Hilton Mexico City Airport and Camino Real Aeropuerto, both somewhat dated properties that are showing their age and can have spotty service.
If you have domestic connections, the Courtyard by Marriott hotel is located in Terminal One so is more convenient than NH Hotel. For those with connections to other cities in Mexico, it offers easy access to VivaAerobus and Interjet check-in counters.
The hotel has 271 rooms and 17 suites. It's also conveniently located to rapid transit if you'd like to explore the many attractions of Mexico City.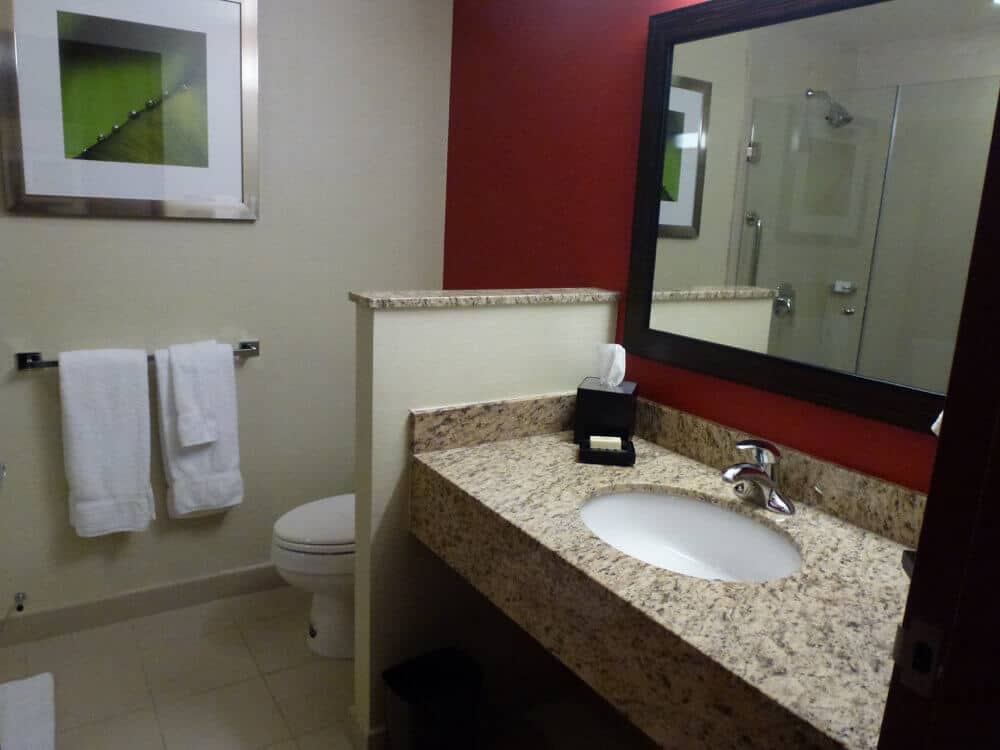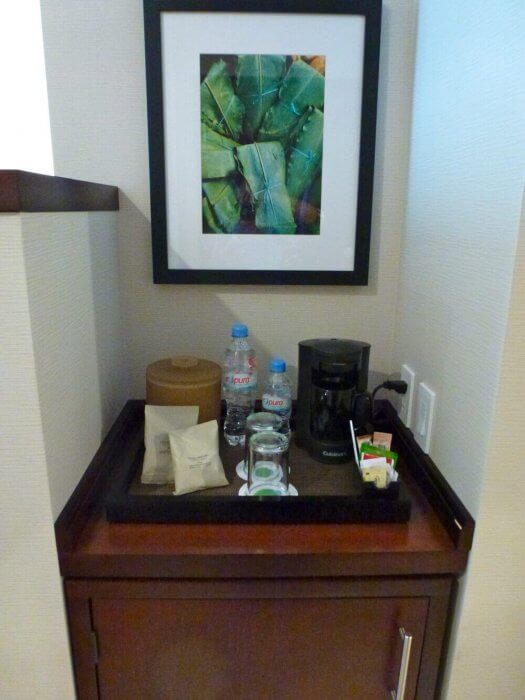 What You'll Love at this Luxury Mexico City Airport Hotel:
Free internet in guest rooms and complimentary wireless in all public areas
Handy option if you arrive late, are a nervous solo traveller, are travelling with a family or require an ADA accessible room.
Free shuttle service to Terminal 2
Well-equipped Fitness Center
Free in-room bottled water and coffee
Complimentary coffee in the lobby 5 am – 10 am
Stylish lobby, library and business centre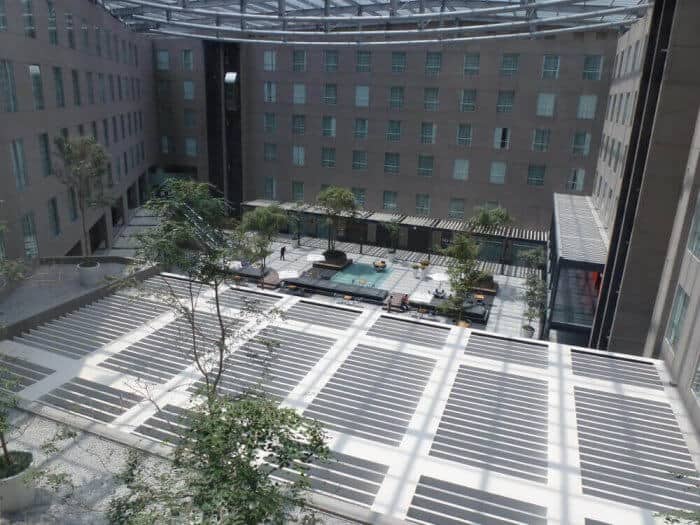 TIPS: Avoid rooms 101-129 due to traffic noise
How to Find the Courtyard by Marriott in Mexico City Airport
If you haven't been to Benito Juarez Mexico City Airport Terminal One before you might not even realize there are two levels.
To access the Courtyard Marriott you need to get to Level 2 of Terminal One. There are ramps and an elevator near Puerta 7 ( Door 7). Once you're on the second level, follow the walkway to the Marriott.
Check rates and availability at Courtyard by Marriott Mexico City Airport on Booking.com.
2. Best Hotel near Mexico City Airport with Free Shuttle – Fiesta Inn Aeropuerto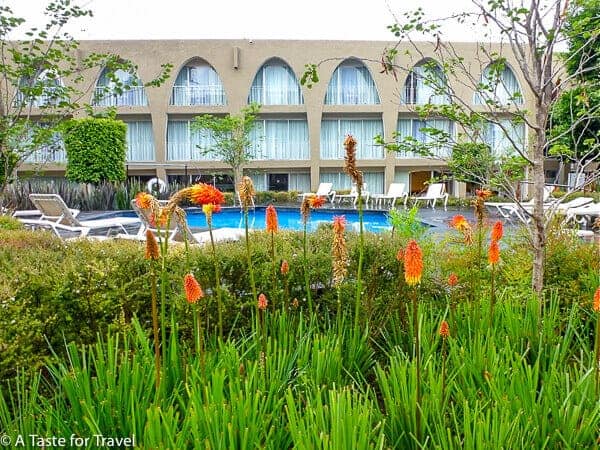 If you are prepared to stay outside the immediate perimeter of Mexico City Airport, you can cut your hotel bill by 30% and score a hotel that comes with plenty of bells and whistles.
I have to admit that at first glance I was rather reluctant to stay at the Fiesta Inn Aeropuerto. Not only was it not directly connected to the airport, but its photos didn't look very appealing.
But on a recent trip, I was pleasantly surprised. The Fiesta Inn Aeropuerto is now one of my favourite places to stay at Mexico City Airport.
It's the best airport hotel for families at Mexico City Airport thanks to the swimming pool and spacious rooms.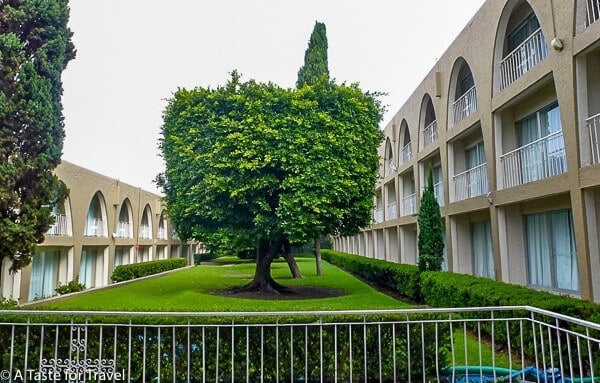 What You'll Love:
Free airport-hotel shuttle departs from Puerta 4 on the Main level. There is an attendant waiting (look for the young men/women with clipboards) who will confirm your reservation and/or record your name. They call the shuttle and in my case, it arrived in five minutes.
The Fiesta Inn is five minutes from the airport and is within a secured compound.
Decor is modern and stylish.
Front desk staff speak English and were very professional and helpful at check-in.
Free WIFI
Quiet rooms with windows that open. Unlike some hotels within the airport, air quality is excellent.
Outdoor swimming pool and lush gardens.
Room was spotlessly clean, free bottled water was supplied and room service is available.
Best of all was the breakfast buffet, featuring hot Mexican specialities, strong coffee, fresh juice, tortillas, toast and virtually everything you'd ever want to eat to fuel yourself for the next leg of your journey.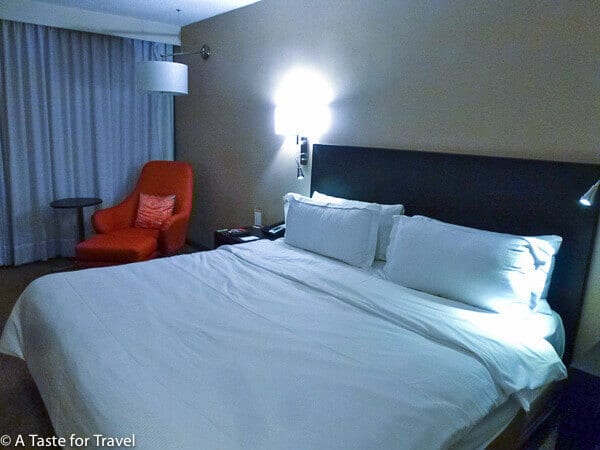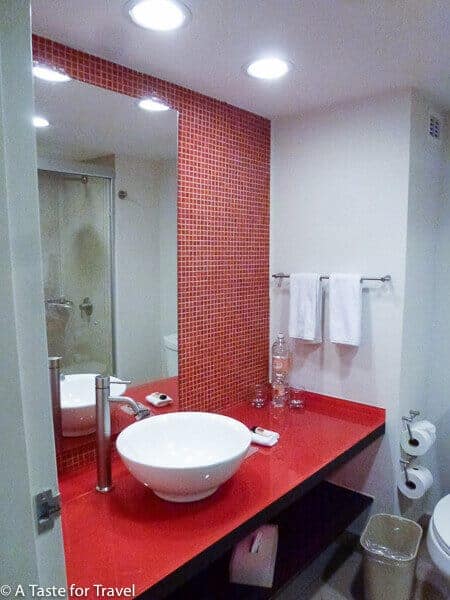 If you're travelling solo, on business or travelling with a family, it's definitely worth considering. It's also a good option if you want to go into Mexico City for dinner and drinks in the Roma Norte neighbourhood as it offers easy access for Uber or Didi car service.
Or check prices and availability of a private Mexico Airport Transfer to Mexico City on Viator.com.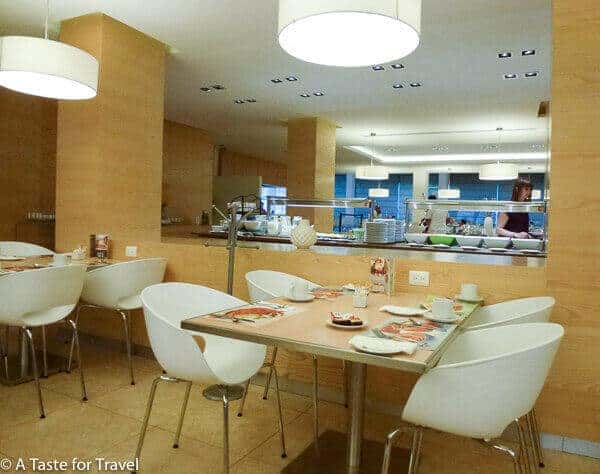 Check rates and availability at Fiesta Inn Aeropuerto Mexico City on Booking.com.
3. Best Cheap Hotel near Mexico City Airport with Free Shuttle – Grand Prix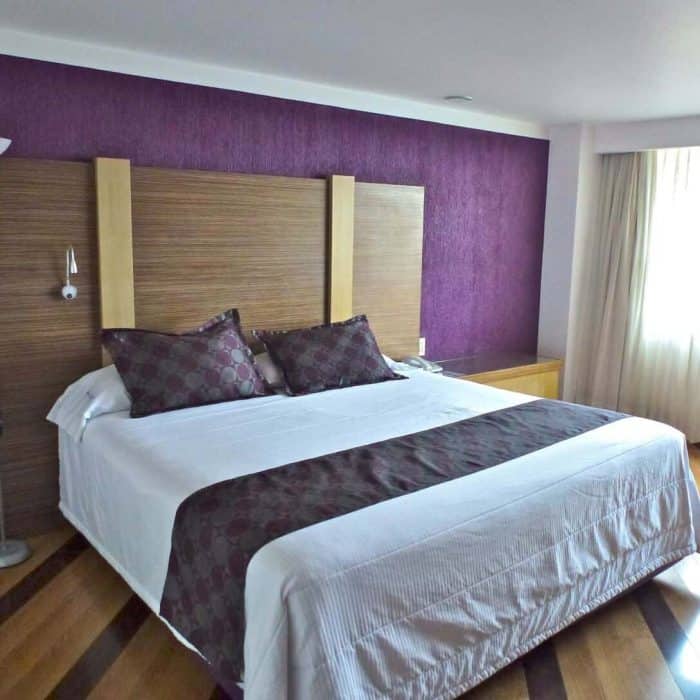 For budget travellers, the nearby Hotel Grand Prix, is a very economical option and is also available via a free airport shuttle.
It is five minutes further away from the airport than the Fiesta Inn but on my most recent visits, the service was not to the same standard.
Dining options are also limited but there are several street food stands and grocery stores within easy walking distance.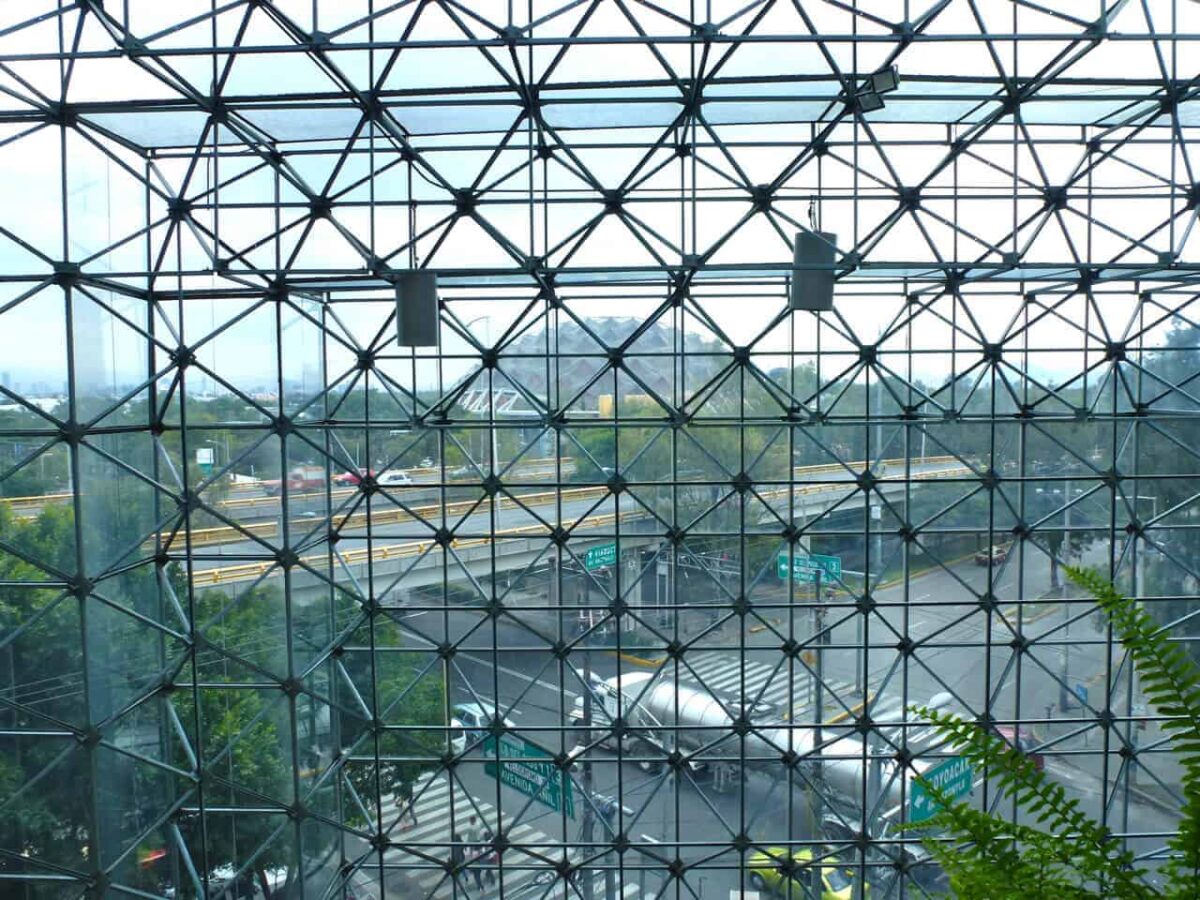 Read our full and very detailed review of the Grand Prix: A Budget Hotel Option near Mexico City Airport for more information.
Check prices and availability of Grand Prix Hotel Aeropuerto CDMX on Booking.com.
izZzleep Hotel – Another Option for a Long Layover at Mexico City Airport
Note that If you've got a long layover but don't need to overnight, it's worth looking into the Mexico City pod hotel which allows you to sleep inside a capsule for a much cheaper cost than staying in any of these hotels.
The world's tiniest hotel experience — capsules — have just arrived at Mexico City International Airport! Already popular in Japan and New York City, the concept of sleeping capsules are aimed at travellers on the go.
Mexico City Airport's izZzleep Hotels features capsules as well as a private luggage storage area and bathrooms with shower facilities.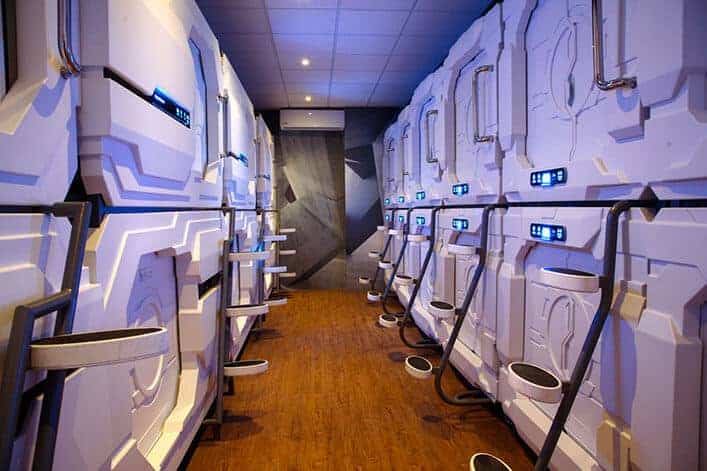 Located in Terminal 1, the izZzleep hotel pod capsules are designed for travellers with long connections, people on a budget or those looking for a quick refresh.
So if you're looking for a place to chill out for a few hours, to overnight or even just have a quick shower, one of the new izZzleep capsules might be just what you need.
Fast Facts about izZzleep Hotel Capsules at Mexico City Airport
In Terminal 1, the izZzleep pods are located beside the Marriot Courtyard Hotel which is on the upper level of Mexico City Benito Juarez (MEX) It's close to the bus terminal and fast food court zone.
In terminal 2, the izZzleep pods are located on the lower level just past Wings. Check locations on these maps.
You can reserve your izZzleep capsule in advance.
Maximum of one person per pod so even if you're honeymooners you'll need to book two capsules.
Minimum age is 12 years old and each individual must stay in his/her own capsule
No food or drink allowed
It's open 24 hours/7 days a week
Options include Night (overnight), Nap ( 2 hours and up) or Shower
Minimum stay is 2 hours
Each of the hotel pod capsules come equipped with a flat screen TV, WIFI, linens, a closet and AC
Handy location to the Aerotren (Skytrain) and the Bus Station
Cost for the izZzleep Hotel at Mexico City International Airport?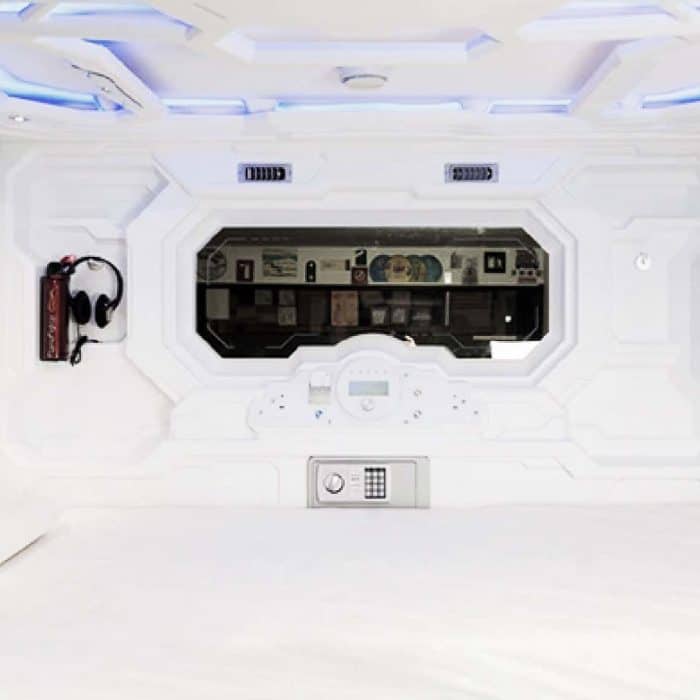 It's worth researching the cost of your stay at the izZzleep pod hotel as in some cases, it might be cheaper to book a budget airport hotel. It's often possible to find a nice budget hotel for under $65 USD which can be a better option if there are two or more travellers in your party.
Check prices and availability at izZzleep pod hotel Mexico City Terminal 1 on Booking.com.
Check prices and availability at izZzleep pod hotel Mexico City Terminal 2 on Booking.com.
Travel Tips and FAQs
How Far is Mexico City Airport from the City Centre?
Mexico City Benito Juarez airport is 11 kilometres away from the city centre. It's possible to take the Metro by walking down the stairs in Terminal 1 and walking to the Terminal Aérea station. It's on Line 5, running from Pantitlán to Politécnico.
Is Staying at an Airport Hotel Worth it?
Staying at an airport hotel is well worth it if you're arriving late at night, have a busy travel schedule or are tired from a long journey. They can also be the safest option if you don't speak the language of the country or are an inexperienced traveller.
What Hotel is Closest to Mexico City Airport?
The closest hotels to Mexico City Airport are located within the airport and connected to the Benito Juarez Airport by walkways. This means you don't even need to leave the airport and go outside. Courtyard by Marriott, Camino Real, NH Hotel (Terminal 2) and Hilton are all located within Mexico City Airport or connected by walkway.
While this post was originally published in 2015, it was updated in 2023 with new details, photos and information after a hotel inspection.
Save on Pinterest!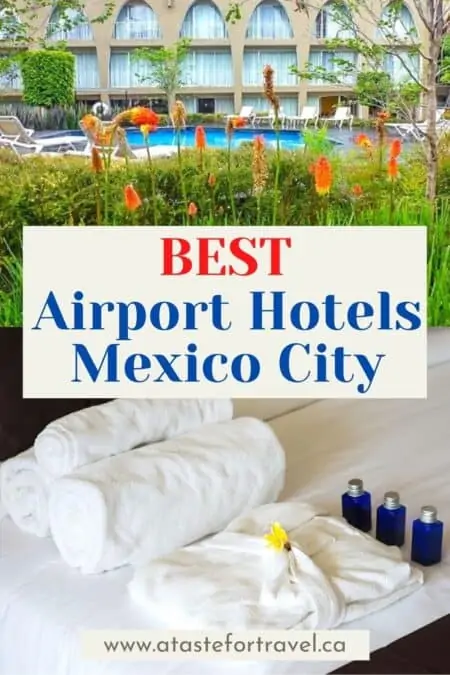 Dividing her time between Canada, Guatemala and Mexico (or the nearest tropical beach), Michele Peterson is the founder of A Taste for Travel. Her award-winning travel and food writing has appeared in Lonely Planet's cookbook Mexico: From the Source, National Geographic Traveler, Fodor's and 100+ other publications.
Read more about Michele Peterson.