We may earn income from advertising links in this post. Please read our Disclosure Statement for details.
Last February, avoiding Montreal's sub-zero temperatures, I spent my birthday basking in the sun at Dreams Riviera Cancun Resort & Spa near Puerto Morelos on Mexico's Caribbean Coast.
Some highlights involved snorkeling, "zip-biking" and hiking at Xel-Ha Aqua Adventure Park in Riviera Maya, golf-carting to the sea turtle farm on Isla Mujeres, and bonding with a spider-tailed monkey at Oscar & Lalos restaurant. As you can probably tell, I just love animals!
Our stay at Dreams Riviera Cancun Resort & Spa was nothing short of magical. The beautiful property, first-class amenities and over-the-top service lived up to high expectations associated with the Dreams brand of resorts.
I especially enjoyed the hot tub on our balcony (yes, even in the scorching heat, I am Canadian, after all). The swim-up pool bar 'Manatees' was the perfect place to cool off and enjoy a frozen cocktail to lively music in the afternoons.
The sun was sizzling, the margaritas were flowing, and then there was the food.
For one reason or another, all-inclusive resorts often have difficulty catering to alternative diets, but this is certainly not the case here. Upon hearing I was vegan, Dreams' resident chef, the world-renowned chef Erik Villar insisted to meet up with me and ask me what my favourite dishes are. He wanted to make sure my vacation was an unforgettable food experience. It certainly was.
One of my biggest pet peeves about being vegan is the lack of alternative milks available for coffee in common places, but the Coco Café (which I always love and look for when staying at Dreams) had both almond and soy milk along with a slew of other options. This was very exciting for me, as I am a certified iced-latte fiend.
As for meals, every restaurant at the resort has a separate gluten-free/vegetarian menu on hand, simply ask the server upon arrival. This is little detail is awesome because it means those of us that simply can't eat the usual seafood/steak/chicken options won't have to get stuck with a boring old salad while on holiday.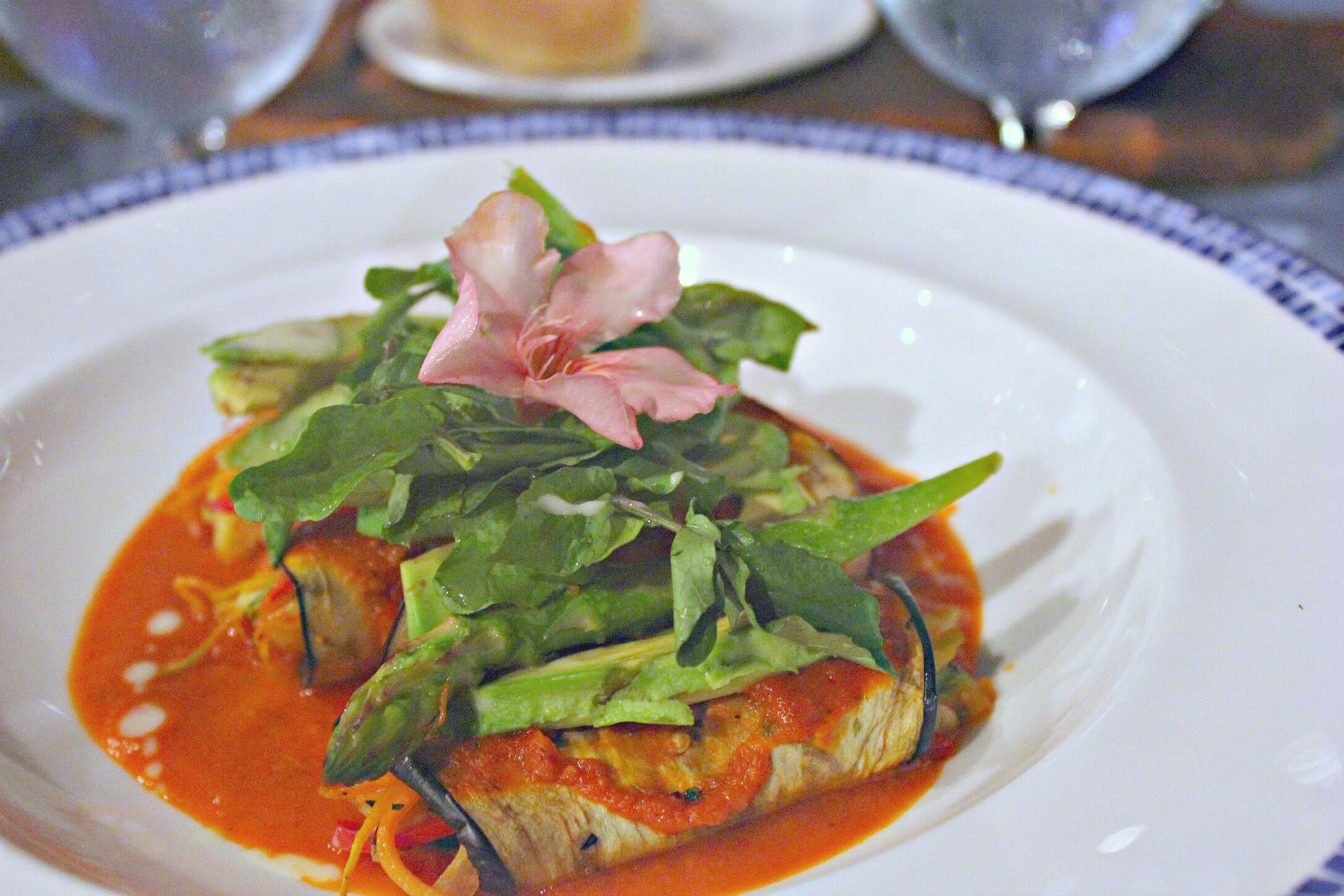 One thing I'll never forget about this trip was the vegan eggplant cannelloni at Oceana. It was an artistic take on traditional stuffed cannelloni, I enjoyed the sweet tomato sauce and the perfect combo of slightly crunchy asparagus with ripe avocado.
Needless to say, I ate like a queen for the duration of my time at Dreams (French, Italian, and of course, Mexican), but my pick of the week would certainly have to be the Japanese Teppanyaki style themed-restaurant, Himitsu. Our cook was hilarious, he flipped veggies into our mouths (and into his hat) with a spatula as we sat around the flaming grill.
A good stir fry is expected anywhere, but who knew you could get mouth-watering sushi in Mexico? The cucumber avocado sushi topped with sweet and juicy papaya dipped in spicy chili sauce was quite literally out of this world.
But it wasn't just about the sushi–all of the meals, the drinks, the sunset views, the beach, the entertainment and the wonderful staff all work together to make Dreams Riviera Cancun Resort & Spa, the stuff (vegan) dreams are actually made of.
For more vegan and vegetarian travel ideas by the Vegan Vacationista, check out these posts:
Aruba: Finding Vegan Heaven at Bucuti Resort in Aruba
Kauai: 3 Top Vegan Eats on Kauai