We may earn income from affiliate advertising links in this post. Please read our Disclosure Statement for details.
Bacalao a la Vizcaina is a delicious Spanish salt cod dish from the Basque region of Spain, that's popular in Bilbao as well as Mexico, Guatemala and throughout the rest of Latin America. Although this bacalao seco (dry salt cod fish) dish is most popular on Christmas Eve and at Easter, you can enjoy it any time of the year.
This Basque-stye dish has its roots in northern Spain. A top spot to enjoy this traditional dish at its source is in Bilbao, the Basque Country's biggest city and one of the top cities to visit in Spain for food fans.
For an unforgettable experience, head to Bilboa's historic city centre to sample pintxos and bowls of steaming bowls of authentic Bacalao a la Vizcaina, featuring the region's signature red pepper.
Spanish Bacalao is Popular in Latin America
In Guatemala, Mexico and the rest of Latin America, bacalao Spanish-style is especially popular for Christmas, New Year's Eve and Semana Santa, the week leading up to Easter Sunday. It's a must-eat during Lent when Guatemalans purchase the thin slabs of pescado seco (dried cod) in the mercados around Antigua and other towns in Guatemala.
In parts of Latin America, Bacalao a la Vizcaina is also known as pescado a la vizcaina but whatever you choose to call it, it's a delicious way to enjoy fresh or dried cod fish. It's one of the top dishes my Guatemalan mother-in-law makes before her pilgrimage to the shrine of the Black Christ at the Basilica in the town of Esquipulas Guatemala each Easter.
Travel Tip: Check out our compete guide to the Best Festivals and Celebrations in Guatemala and sample this dish in Guatemala during Semana Santa.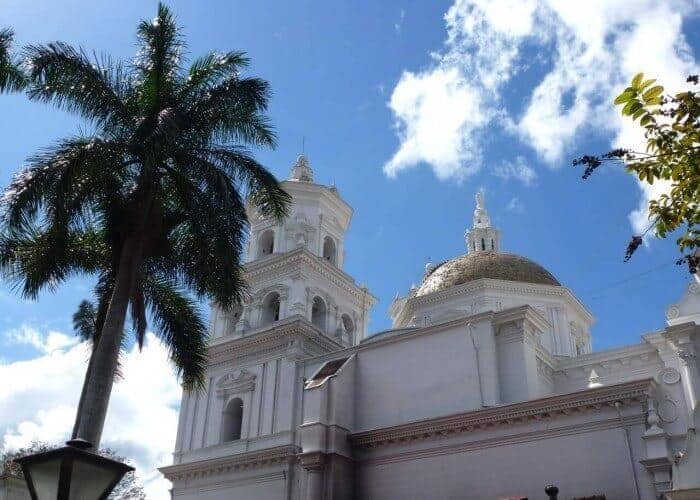 Buying and Soaking Salt Cod for Bacalao Guisado
The key to success in using bacalao is soaking it long enough to remove the salt. The first time I made bacalao fish, I didn't start the process of soaking the salt cod early enough and the dish was too salty.
When I visited the fish market in Punta Delgada in the Azores, I learned that it's best to begin the process four days in advance.
During Lent and the weeks leading up to Easter, it's possible to purchase dried salt cod at Italian, Portuguese and even supermarkets across Toronto. In our neighbourhood, the best source for salt cod is Maselli's (906 Danforth Ave at Donlands TTC Station) a family-owned Italian grocer.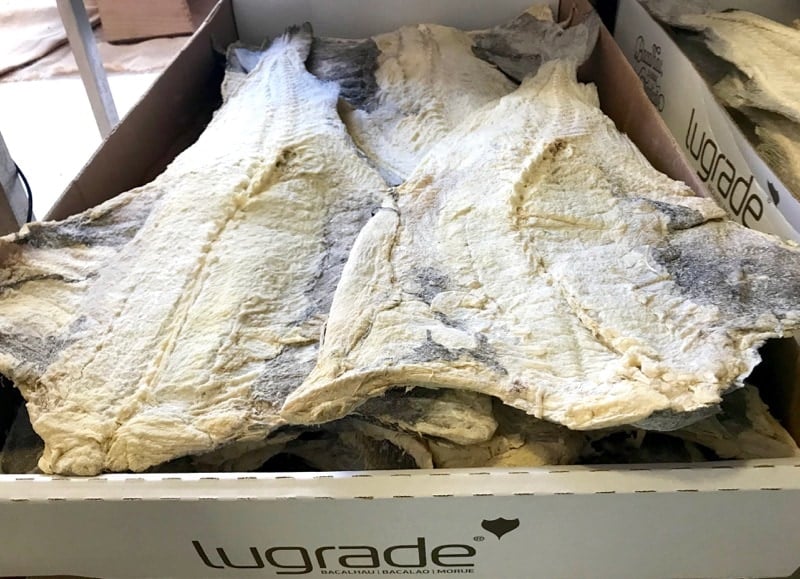 The key is choosing salt cod is to purchase a piece of fish that isn't too thin. You don't want to buy only the tail. Instead, look for a middle piece of the filet.
This means you need to do your salt cod shopping early as the ideal sizes will disappear quickly and you may be left with filets of salt cod as large as yoga mats. While at the Italian grocer, pick up some green olives to add to your bacalao a la vizcaina.
Begin the process of soaking the salt cod four days before you want to prepare the dish. Place the salt cod in a rectangular glass Pyrex dish and cover it with cool water. Place it in the refrigerator and allow it to soak in the water for 24 hours. Drain off the salty water, add more fresh cool water and return to the refrigerator. repeat this process every day until you are ready to prepare the dish.
How to Make Pescado a la Vizcaina vs Bacalao a la Vizcaina
The process of drying and salting cod is said to preserve and intensify the flavour of cod. But if you can't find salt cod, or are in a rush and don't have time to soak and drain the salt cod multiple times, then you might be interested in Pescado a la Vizcaina, a variation that's very popular in Guatemala. In the Guatemalan version of the classic Basque dish, you substitute a firm, white fish for the salt cod.
Be sure to select a fish that is firm enough to be battered. Haddock is a good option as it is thick and will hold its shape well. Sole, tilapia and basa are all too thin and soft to make Pescado a la Vizcaina Guatemalteco.
Ingredients for this Bacalao Recipe
How to Make Bacalao a la Vizcaina
After soaking the salt cod and draining it, dry it thoroughly, prepare the batter then dip each piece of salt cod in the batter and fry it until the batter is nicely browned. While it's browning, dice the potatoes and cook them until soft but not mushy.
Fry the battered salt cod until browned in vegetable oil over medium-high heat.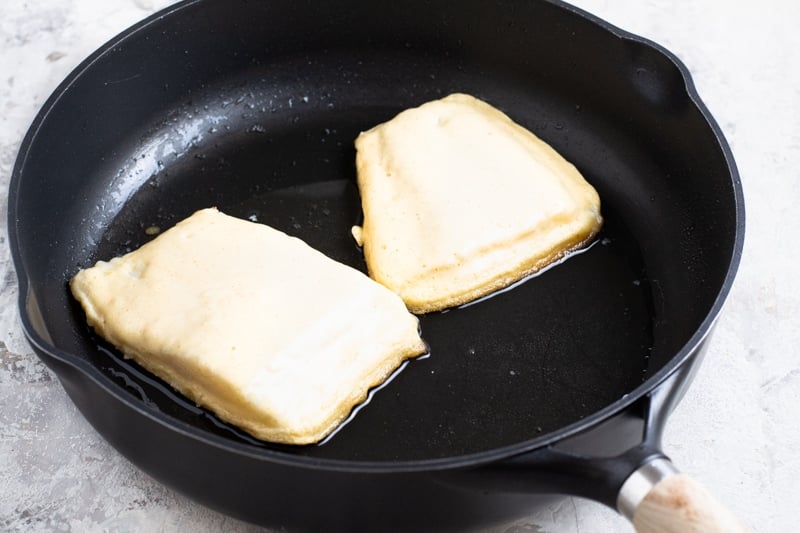 Then prepare the tomato sauce. It's also possible to prepare the sauce in advance. If you've prepared it in advance, add it to a deep frying pan.
Then, bring it to a low simmer when you're ready to batter the fish. Once the tomato sauce is simmering, add the cooked potatoes, olives and salt cod in batter to the sauce.
Sprinkle the finished dish with chopped fresh parsley.
Serve Bacalao a la Vizcaina immediately so the batter doesn't soak up too much of the sauce and get soggy.
Tips for Making Pescado Seco Envuelto en Huevo – Salt Cod in Batter
This version of Bacalao a la Vizcaina features battered salt cod known as pescado seco envuelto en huevo. There is another variation of this bacalao recipe popular in Mexico, where the salt cod isn't battered but is cooked in the sauce and then shredded.
For best results, cut the salt cod into pieces about the size of the palm of your hand or smaller.
The batter for pescado seco envuelto en huevo for this recipe is the same one used to make chile rellenos ( stuffed peppers) so it's worth learning.
Once you've made the batter, use it immediately. If you allow it to sit, it begins to separate and loses its volume.
Enjoy as part of a Christmas or New Year's Eve Menu with ponche de frutas, a hot holiday fruit punch. It also goes well with Arroz Verde, a light and fluffy spinach rice pilaf
Bacalao a la Vizcaina - Spanish-style Salt Cod in Batter
A battered salt cod dish popular at Easter in Spain, Mexico, Guatemala and El Salvador
Keyword:
Easter, salt cod, Spanish recipe
Ingredients
1

large

piece dried salt cod

2

eggs

4

Tablespoons

white flour

1/8

teaspoon

achiote

5

Tablespoons

vegetable oil

4

potatoes

chopped into pieces and cooked until soft but not soggy

1/2

cup

green pitted olives

salt and pepper to taste

1

raw onion chopped

1

clove

peeled garlic

2

cups

fresh Roma tomatoes

peeled or use canned

1

bay leaf

1/8

tsp

achiote

1/8

tsp

thyme

handful chopped parsley
Instructions
Begin soaking the whole piece of salt cod in water three days prior to the day you want to prepare the dish

Replace the water daily and be sure to cover the salt cod completely. I placed it in the refrigerator to soak

Puree the onion, garlic, tomato and water in a food processor until a fine consistency

Pour a tablespoon of oil into a large frying pan and add the tomato sauce, herbs and achiote.

Simmer the sauce while preparing and cooking the cod

Drain, rinse, pat dry and then cut the salt cod into pieces about 3 x 3 inches square. The sizes of the pieces will vary based on the shape of the fish

Sprinkle the fish with two tablespoons of flour and pepper

Separate egg whites and beat until stiff

Beat egg yolks until creamy

Combine egg whites, egg yolks, two tablespoons of flour, achiote and pepper, beating for a minute or two until batter is creamy

Heat five tablespoons of oil in a frying pan until it reaches a medium high temperature

Dip each piece of salt cod in batter and fry in oil until browned (3 minutes), then remove and allow it to drain on paper towels.

Repeat until all the fish is cooked. Try to work quickly so the batter doesn't begin to separate.

Place the fish in the tomato sauce and add the potatoes and olives

Cover and heat thoroughly at a medium temperature (5-10 minutes)

Sprinkle with parsley and serve
Recipe Notes
You can speed up the soaking of the salt cod by using slightly warmer water.
Once you've made the batter, use it immediately so it doesn't lose volume.
The tomato sauce can be prepared in advance and reheated when you're ready to add the fish and olives. 
Nutrition Facts
Bacalao a la Vizcaina - Spanish-style Salt Cod in Batter
Amount Per Serving
Calories 376
Calories from Fat 198
% Daily Value*
Fat 22g34%
Cholesterol 82mg27%
Sodium 335mg15%
Potassium 1023mg29%
Carbohydrates 37g12%
Protein 9g18%
Vitamin A 445IU9%
Vitamin C 30.8mg37%
Calcium 94mg9%
Iron 7.9mg44%
* Percent Daily Values are based on a 2000 calorie diet.
Although this dish is most popular at Easter and Christmas, you can enjoy salt cod at any time of the year.
Save to Pinterest!