We may earn income from links in this post. Please read this Disclosure for details.
Rome's Termini neighbourhood is not only a terrific base for a vacation in Rome, it's also an emerging food destination and one of the city's most underpriced neighbourhoods.
But if a person relied only on the advice within major guidebooks, they'd avoid Rome's Termini neighbourhood like the plague of Cyprian. According to Frommer's, the area surrounding Stazione Termini is "seedy, filled with gas fumes from cars and buses, plus a fair share of weirdos." Strangely enough, that sounds a lot like my neighbourhood in Toronto!
Perhaps I have a soft spot for offbeat 'hoods, but after staying for several days in the Termini neighbourhood in northeast Rome, I think it is the best place to stay in Rome if you're looking for convenience, a budget hotel in Rome and spectacular views. Avoiding it completely would be a big mistake.
For more things not to miss in Rome, read 3 Mistakes You Don't Want to Make in Rome.
Here's what I discovered about choosing a hotel near Rome's Stazione Centrale Roma Termini and why I think you should check the Termini neighbourhood out. It just might become your next best place to stay in Rome.
1. Best Hotel with a View in Rome – Bettoja Hotel Mediterraneo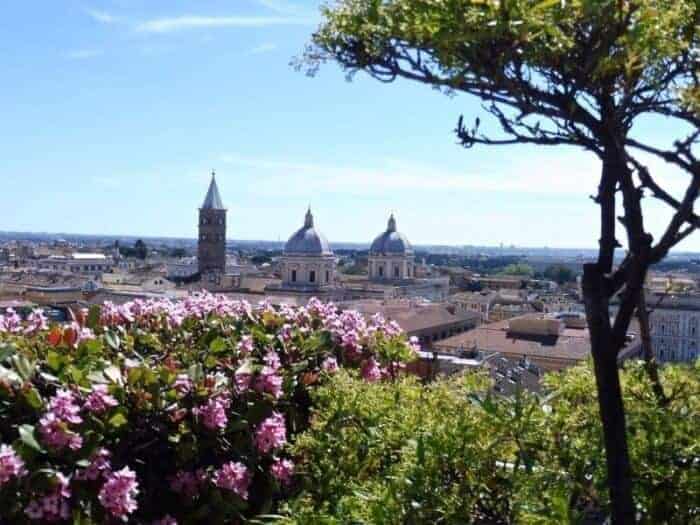 The Termini-Esquilino neighborhood wraps around Esquiline Hill, the highest of Rome's Seven Hills, and offers magnificent views of Rome's skyline from many vantage points.
I stayed at the Bettoja Mediterraneo Hotel, an Art Deco hotel designed by Architect Mario Loreti in 1936.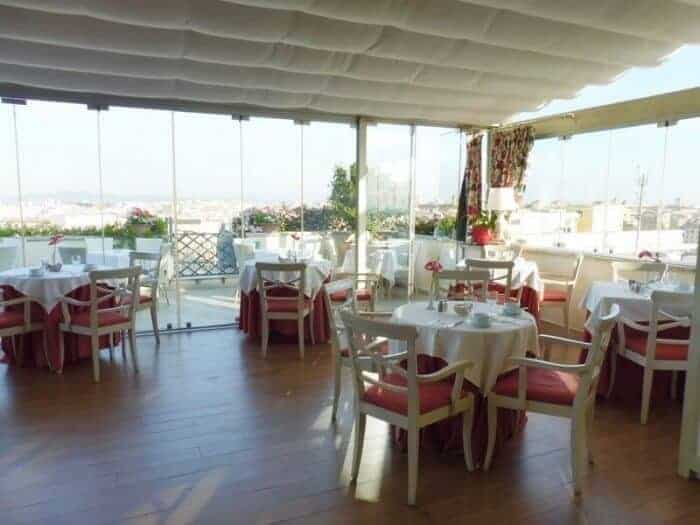 It celebrated its 80th anniversary in 2016, so it's been around for awhile– due in large part to the fact that it's family-owned, has a rich culinary heritage and offers a handy location. It's an especially handy hotel to stay if you're enroute to the beaches of Puglia as the Rome-Brindisi train leaves from Termini Station.
A fantastic buffet breakfast with views of the skyline is included
If you want to save even more money the Bettoja Hotel Atlantico (a three-star hotel also part of the Bettoja collection) is connected to Hotel Mediterraneo and shares the same rooftop breakfast patio.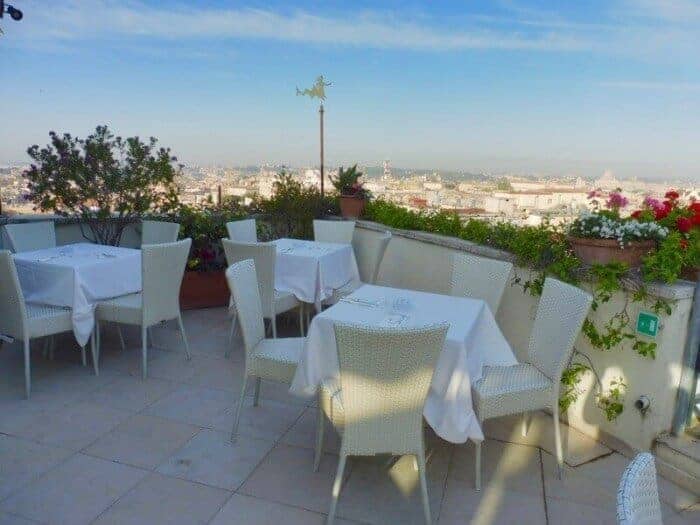 Click here to check for the lowest price on Bettoja Mediterraneo Hotel on Hotelscombined.com, an award-winning, free search engine that compares major hotel booking sites and save you time and money.
2. Termini is Walking Distance to Rome's Major Sights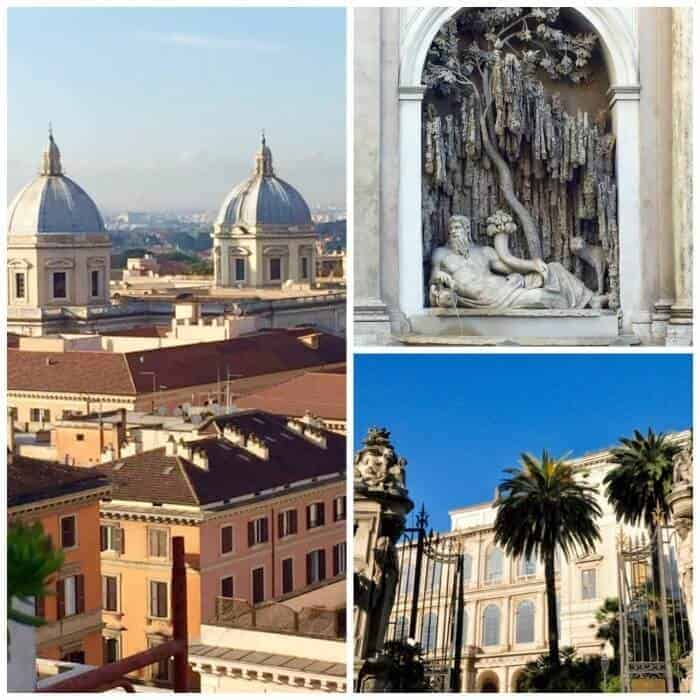 There's plenty to see around the Termini neighborhood. I like to walk, so found it a very easy walking distance to Palazzo Barberini (Read this post on 3 Mistakes You Don't Want to Make in Rome for why you shouldn't miss this often overlooked museum), the Colosseum and Roman Forum, the National Museum of Classical Art, the Basilica of Santa Maria Maggiore (founded in 420 AD) and even the Trevi Fountain.
The Termini neighbourhood also has its own unique attractions including a special cat sanctuary at the Piazza Vittorio Emanuelle II. Rome is a haven for cats and visitors are welcome to visit some of the famous ones such as the Largo di Torre Argentina cat sanctuary in Rome.
It's also possible to walk from Termini to the Spanish Steps via Piazza Navona, albeit well-fuelled by pasta, gelato and spring artichokes.
3. Termini is an Emerging Food Destination
The neighbourhood is also close to the bohemian streets of Monti, one of central Rome's oldest residential neighbourhoods and a great spot for street food, cucina povera and al fresco bars.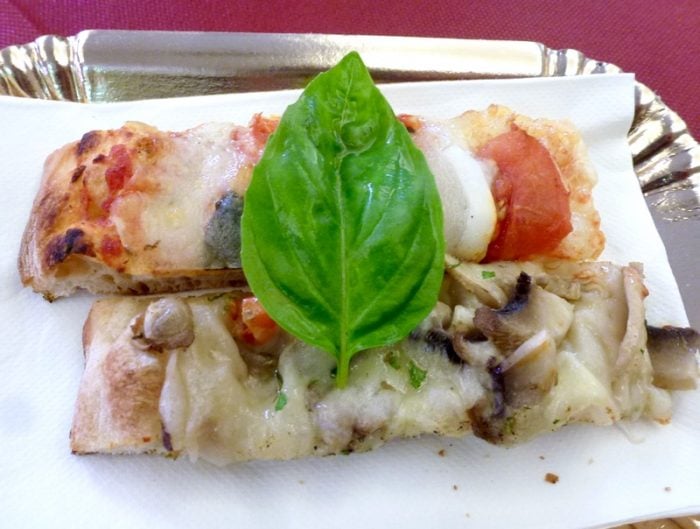 It's also a 5 minute walk to the new Mercato Centrale Rome market, a collection of artisanal eateries under one roof.
You're going to want to try Spaghetti alla Carbonara and an Aperol or Campari cocktail when in Rome so Termini is a great neighbourhood to try it in.
Read more about food in Italy in Traditional Italian Food: 25 Must-Try Regional Foods of Italy
4. Termini is a Budget Neighbourhood in Rome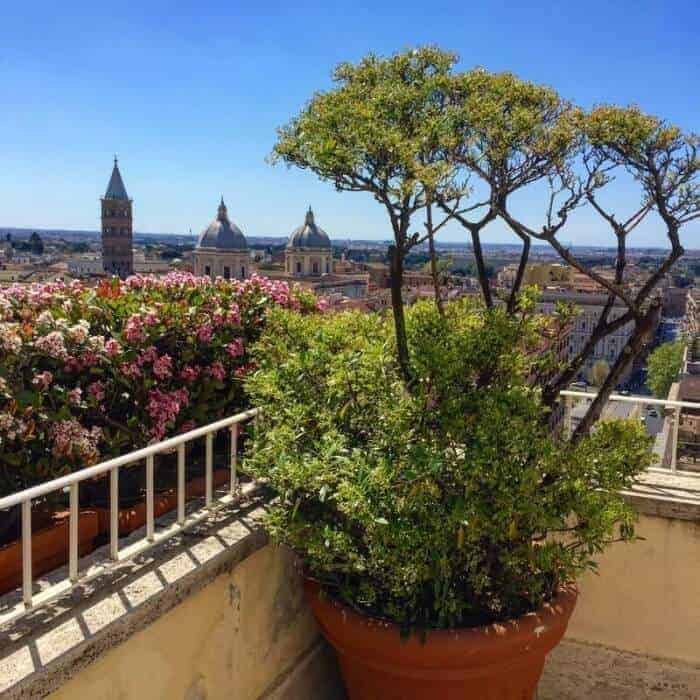 I did a quick comparison of prices and found that a hotel in Termini costs 30-40% less than an equivalent hotel near the Spanish Steps or Piazza Navona. You also get more for your money in terms of inclusions such as breakfast, WiFi, view and room size.
Due to repairs being done at my original hotel room at Bettoja Hotel Mediterraneo, I got lucky and was upgraded to a terrace suite. I doubt there is a room with a better room for the price in Rome.
The rooftop bar has such spectacular views, it's considered one of the top places to go in the evening in Rome.
It would be perfect for honeymooners or anyone looking to celebrate a special occasion. Check out this terrace room: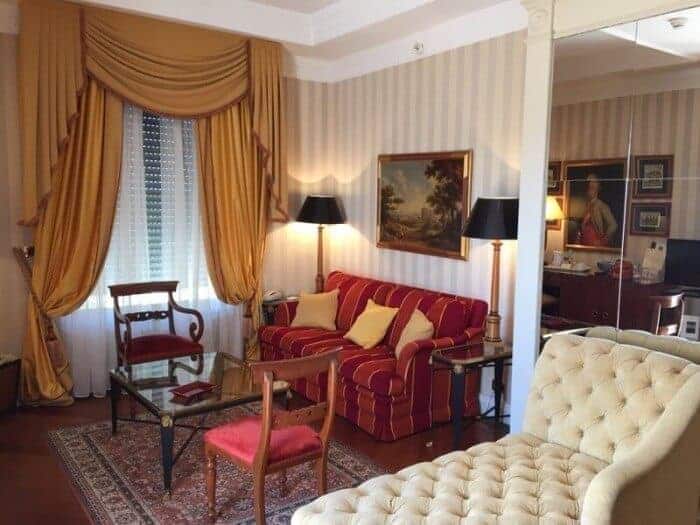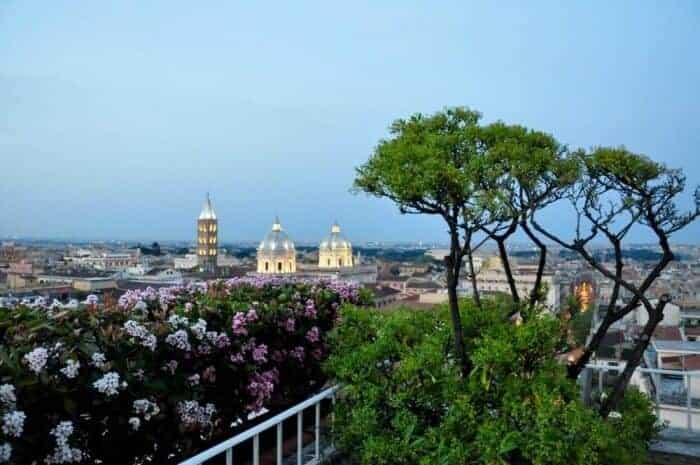 Breakfast at this hotel was also one of the best breakfasts I enjoyed in Rome. Not only was the view fantastic but the same breakfast is enjoyed if you're staying at Hotel Atlantico, the lowest price of the three hotels in the Bettoja Collection.
A continental buffet-style breakfast is generally included at most hotels. While tipping in Rome is not required at buffet restaurants, a tip of around 10% is appreciated for good service.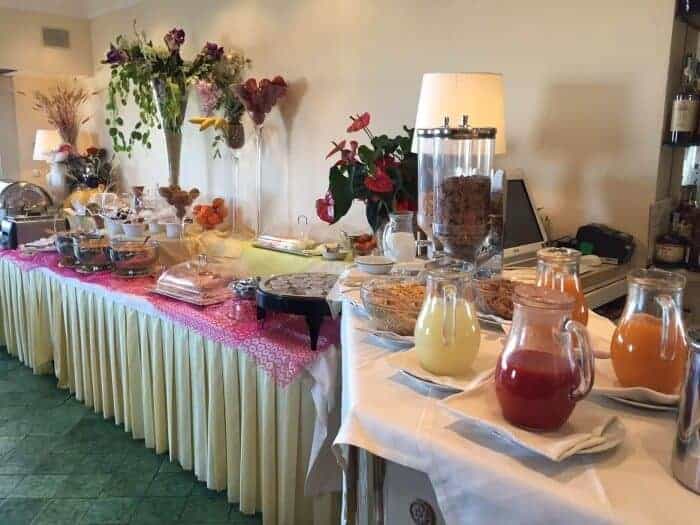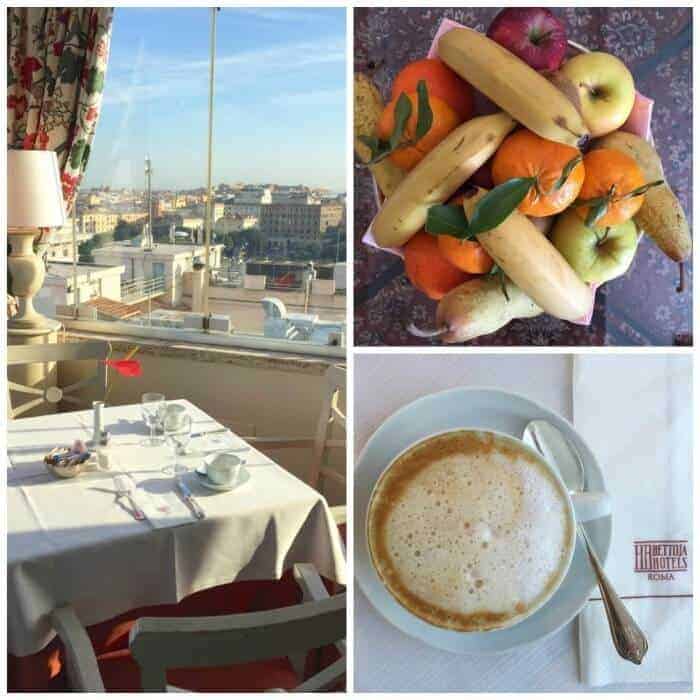 I also found costs to be much lower here than they were in other neighbourhoods such as the Spanish Steps and Piazza Navona. For example, a birra all spina ( beer on tap) was generally around 5 Euros and services such as hair salons were half the price of elsewhere.
If you're looking for tips on cutting costs and budget tips on travelling in Italy, check out this itinerary for 2 Weeks in Italy.
Tip: For a blow-out or hairstyling while you're in the Termini and Esquilino neighbourhood, I recommend the hair salon at 17 Via Filippo Turati. It's a busy, bustling spot but the stylists are fast and you'll get in within minutes. Cost for wash, blow-dry and style = just $20 Euros plus tip.
5. Easy Transportation Connections around Rome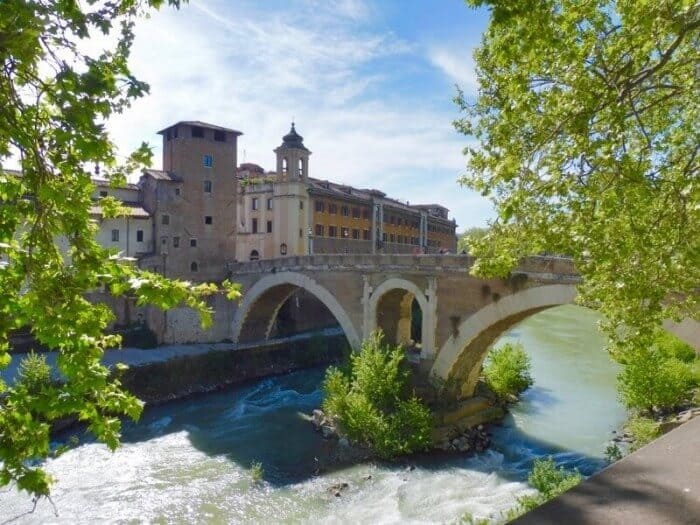 When I wanted to go to the Trastavere neighborhood for my Twilight Trastavere food walking tour with Eating Europe, I hopped on the H-line bus in front of Termini Station. For 1.50 Euros, the Dei Capasso bus (Platform H) took me to Ponte Cestio in about 15 minutes.
Learn more about getting to Termini Station and around the city in this Rome Travel Guide.
Tip: Buy your ticket in advance from the bar or kiosk across the street. The Line B of the Metro also passes through this neighborhood so it's easy to get to the Testaccio neighbourhood if you're interested in exploring this mecca for foodies. The Cavour and Termini Metro stops are handy to all of the Bettoja hotels.
Read this post about the Eating Italy Walking Tour of Rome ( and get a 15% Promo Code)
6. Best Place to Stay in Rome if You Want to Avoid Tourists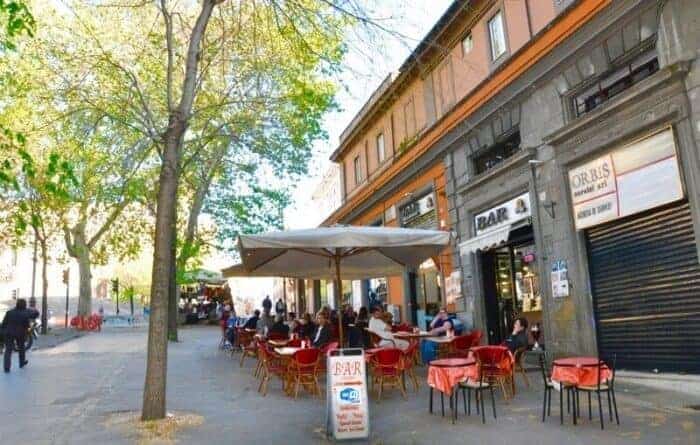 You won't see statues at every turn in the Termini neighborhood, but it's not completely devoid of appeal. There are lots of street cafes, bars, leafy parks and of course, the magnificent Santa Maria Maggiore church to be enjoyed.
And best of all there were no crowds of tourists. I found it completely safe to walk around at night. I only wish I'd spent more time in the neighbourhood. But I'm already planning a return visit.
This post contains affiliate links. Please read our Disclosure Page for details.
Subscribe to the A Taste for Travel blog to hear more about Rome. You'll also receive access to a 15% discount code you can use on Eating Italy Food Tours, half-day excursions ideal for exploring the Testaccio and Trastevere neighbourhoods.
For more tips on Rome, check out this great post on Major Sights to See in Rome from Karolina & Patryk.
Save to Pinterest!