We may earn income from links in this post. Please read this Disclosure for details.
Looking for the best vegan restaurants in Honolulu? Enroute to Australia, my partner Wes and I stopped in Hawaii for a few weeks to enjoy the luscious green islands of paradise.
While there, we discovered there's a wealth of fabulous places to eat in Oahu. And vegans aren't left out!
Here's my guide for the best restaurants in Honolulu for breakfast, lunch, and dinner out if you're vegan, vegetarian, or simply looking to try something new.
1. Best Vegan Breakfast in Honolulu: Le Jardin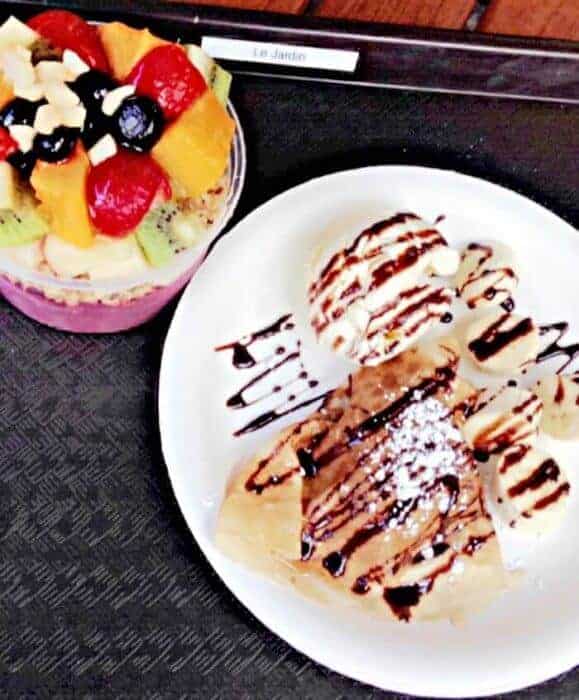 After a stop to scout out the vegan food scene on Kauai and then chatting up some locals for recommendations on the best vegan food to eat in Oahu, we headed to Le Jardin in Honolulu.
If you're a fan of refreshingly cold acai bowls in 30-degree weather, this is the place for you. Le Jardin takes the acai smoothie bowl to a whole new level, adding a full fruit salad on the top.
They offer mango, apple, kiwi, blueberry, and banana over crunchy granola and frozen acai. I got mine with soy milk. This tiny counter also serves sweet dessert crepes and Hawaiian fruit smoothies at reasonable prices.
Fun tip: If you visit this area on a Tuesday or Thursday, you can also stock up on some exotic fruits, chocolate, coffee, and crafts at the vibrant Waikiki Farmers Market while you're at it. It's got some of the best vegan food in Honolulu.
2. Best Vegan Lunch: Simple Joy Vegetarian Cuisine

We stumbled across this humble vegan restaurant on our way downtown and were so glad we did. It's definitely one of the best vegan restaurants in Honolulu.
Tucked away from the hustle and bustle of the tourist strip, Simple Joy specializes in south-east Asian style food as well as American and Italian dishes.
I tried the breaded soy "chickun" nuggets which were so much like the real thing I ordered a second batch. I also ordered the teriyaki kabobs as per the server's recommendation.
The kabobs were a little salty, slightly chewy, and made from lemongrass soy protein sided with a generous serving of stir-fried veggies. A nice choice if you're tired of the same ol' tofu chunks on a stick.
3. Best Vegan Dinner: The Down Beat Diner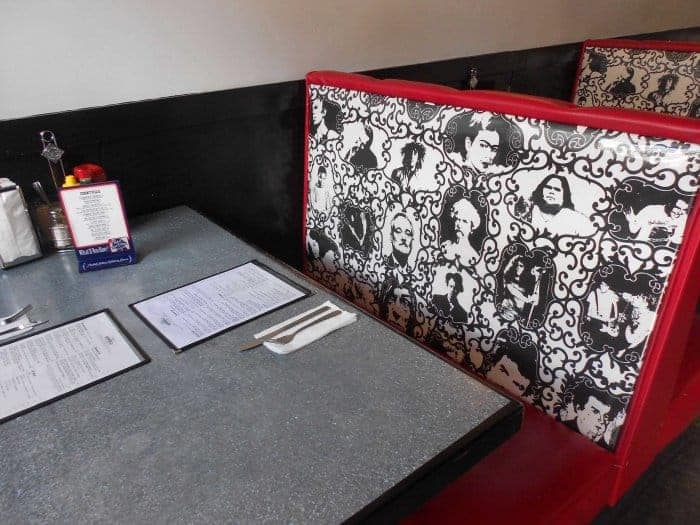 Located in Old China Town, The Down Beat is a trendy American retro style diner with an alternative twist. This establishment is split into a small local music venue on one side, and a diner with a full bar on the other.
It's creatively decorated with old-fashioned black and white booths featuring portraits of celebrities such as Bill Murray and Michael Jackson.
Most importantly (to me), almost every dish on the menu can be made vegan on request and that makes it one of the best vegan restaurants in Honolulu. After a sweltering day of sun bathing at Ala Moana Beach, I was ready for a frosty caramel milkshake (coconut milk base).
Then came the real treat, vegan hot wings! The "wings" were crispy on the outside with a melt-in-your mouth tenderness and not too spicy. Made from wheat gluten and soy proteins, they come with a side of homemade ranch and shall go down in history as one of my favorite mock meats of all time. Add a veggie burger with some curly fries to top it off and you will be one happy camper.
Bonus features: All day breakfast, vegan spare ribs, and live music 6 nights a week.
If you haven't already done it, there are so many things to do in Hawaii you need to add it to your bucket list. It's definitely a foodie paradise.
From snacks like edamame beans spiked with chile flakes to sweet haupia, a coconut-milk favourite at luaus and potlucks, there are many popular Hawaiian dishes to try that also happen to be vegan-friendly.
Each island offers its own flavour and Oahu has a little bit of something for everyone. It's worth planning to spend at least a week in Oahu to experience it all.
Whether you're a hiker, a surfer, a foodie, or simply a sun-bather, Honolulu, Oahu is worth a visit.
Save to Pinterest!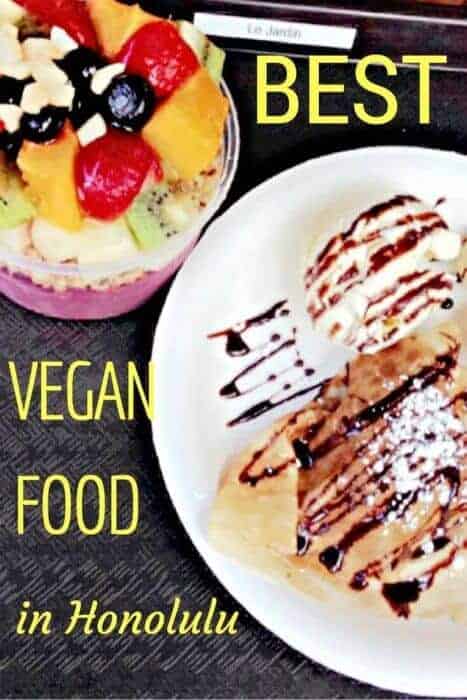 Jessica Percy Campbell is a world traveller currently based out of beautiful British Columbia. She loves to experience the latest and greatest of plant-based alternatives wherever she goes. Always venturing off the beaten path for unique local businesses and the hidden gems of vegan life, you can keep up with @veganvacationista on Instagram.
Learn more about Jessica Percy-Campbell.