We may earn income from links in this post. Please read this Disclosure for details.
Looking for the best perogies Toronto has to offer? If you're of Ukrainian heritage like I am, a platter of the tender dumplings known as perogies or pierogies are an important part of every Easter, Christmas or holiday celebration. While they are time-consuming to make perogies at home, fortunately it's possible to buy homemade perogies in Toronto. Here's every thing you need to know about finding the best homemade Ukrainian perogies for sale in Toronto.
In Ukraine, the spring rituals of my ancestors included decorating eggs with artistic designs, taking Easter bread to be blessed by the priest and an unusual dance in which young maidens were doused with water by village swains. I was keen to revive all three traditions but could only manage to convince my husband to participate in one. That was eating perogies.
So, I contacted Natalie's Kitchen, a Ukrainian catering company located in The Huculuk Centre in Etobicoke and placed an order for perogies as well as Paska, the round-shaped Easter bread my mother used to make. She'd bake it in coffee cans and decorate the loaves with crosses, braids and candles.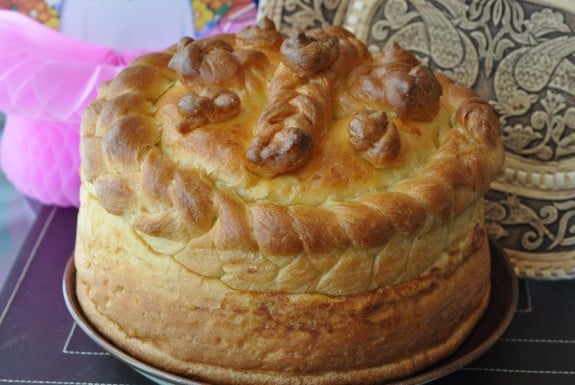 "Would you like pyrohy with your order?" asked Julie Hladen, Natalie's Kitchen boss. I thought of the tender potato dumplings my Grandma used to make, and answered yes.
"How about holubstii?" she asked.
"Ok, sure, I'll try them too," I said, dreaming of cabbage rolls. It's spring. Why not celebrate with some Easter feasting? "And throw in some beet horseradish too."
We headed out to Natalie's Kitchen early Saturday morning.
"We're driving 45 kilometres for a loaf of bread?" he groused.
"It's not just bread, we're getting lots of Ukrainian food," I said. " And besides, we've driven 50 kilometres for tamales."
"But that's different," he sputtered.
I did wonder if it would be worth the trek. I'd tried pierogies from St. Lawrence Market, on Bloor Street West and from Polka European Deli. None were as good as the ones you could get in Winnipeg, Manitoba. We arrived at the building in Etobicoke.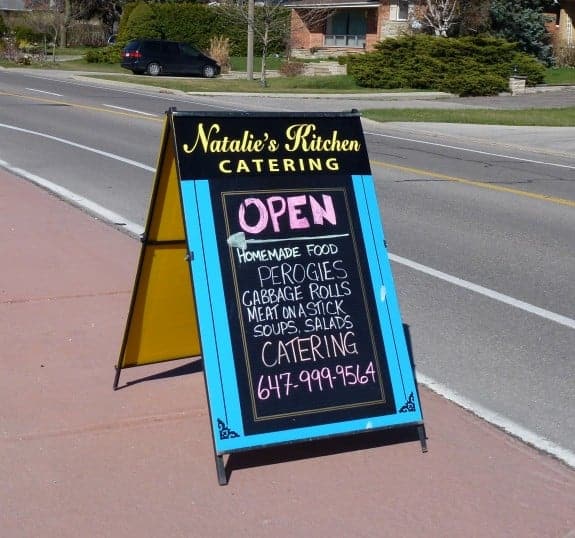 "Are you sure you've got the right address? asked my husband. "It looks like a church."
"That's a good sign," I said. In Winnipeg, church basements are the next best source for perogies if you don't have your own Baba.
Best Perogies Toronto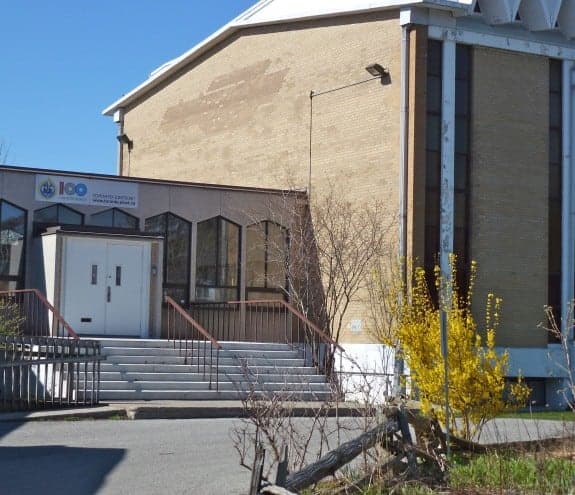 Inside, the kitchen was bustling and there was a line-up of patrons waiting to pick up orders.
But the sure sign of authenticity was stacked in the cooler in containers labelled studenetz.
"What is it?" asked my husband, peering at the grey globs behind the glass.
My mother used to serve the jellied pork hock dish on special occasions. Made with meat scraped off the hoof and chilled in clear gelatine, the slices would quiver on the table, their grey mass looking like scary Jell-O.
Just then Julie stepped forward with the Paska.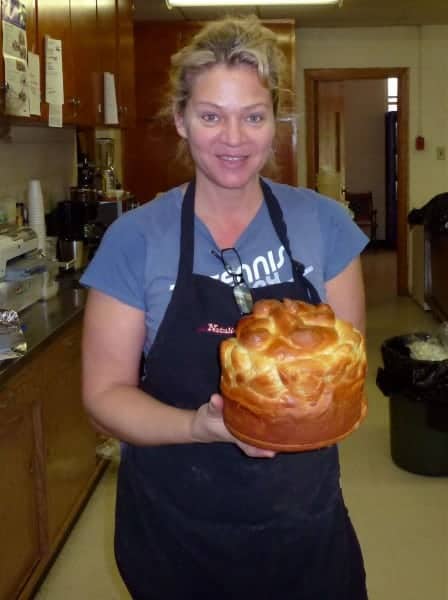 Decorated with a cross on top, it was still warm and gave off a heady fragrance of rich butter, egg and yeast. The perogies were perfect too.
What to Serve with Perogies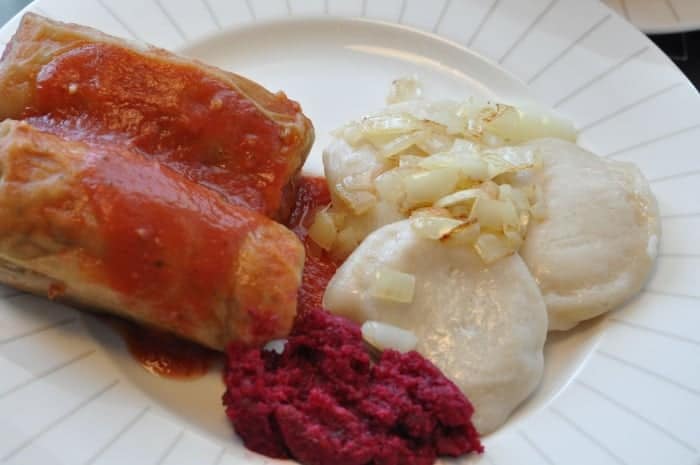 This year Paska and perogies. Next year the spring maiden dance.
Travel Planner
Natalie's Kitchen
516 The Kingsway, Etobicoke< ON
(647) 999-9564
Open Tuesday, Wednesday, Thursday and Friday (Sometimes Saturday mornings)
YOU MIGHT ALSO ENJOY
Top Things Every First-Time Visitor to Toronto Must Do
Warming Up to Winter at the Niagara Ice-Wine Festival
Brie Pizza Inspired by the Cheese Train in Toronto
Dividing her time between Canada, Guatemala and Mexico (or the nearest tropical beach), Michele Peterson is the founder of A Taste for Travel. Her award-winning travel and food writing has appeared in Lonely Planet's cookbook Mexico: From the Source, National Geographic Traveler, Fodor's and 100+ other publications.
Read more about Michele Peterson.