We may earn income from links in this post. Please read this Disclosure for details.
Want to live like a local in Playa del Carmen, Mexico? If you're dreaming of finding the perfect short term rental in Playa del Carmen, but don't want to spend a fortune or make a bad choice, read on.
For the past several years, I've spent a lot of time on Mexico's Caribbean Coast and here's what I've learned about Playa del Carmen vacation rentals including how to find a nice apartment, how much to budget and how to avoid problems.
If you're planning on spending the winter in Mexico, be sure to check out our tips on cooking in a vacation rental in this post on How to Cook in an AirBnB (Without Losing Your Mind).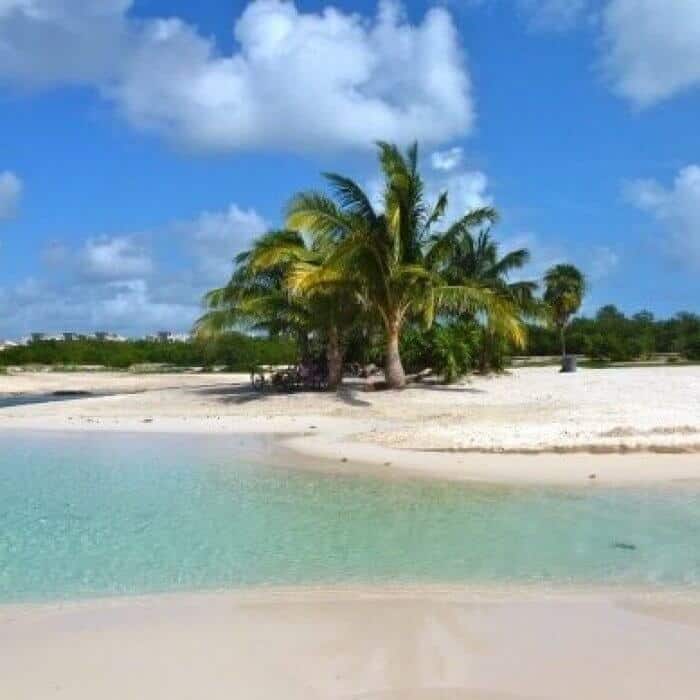 Why Digital Nomads and Expats Are Choosing Playa Del Carmen, Mexico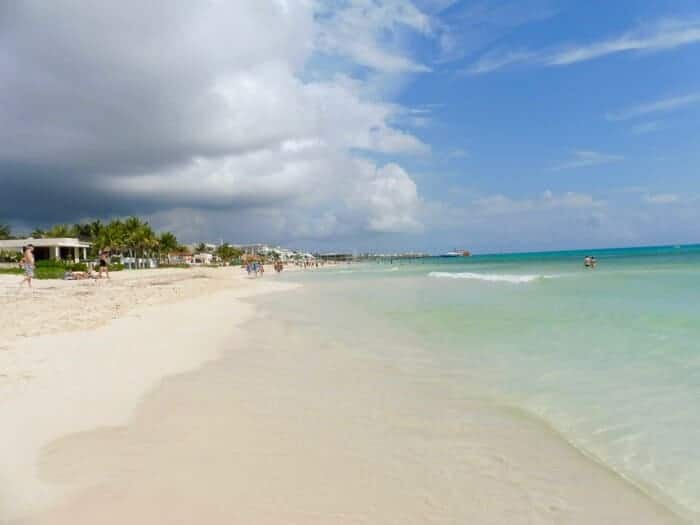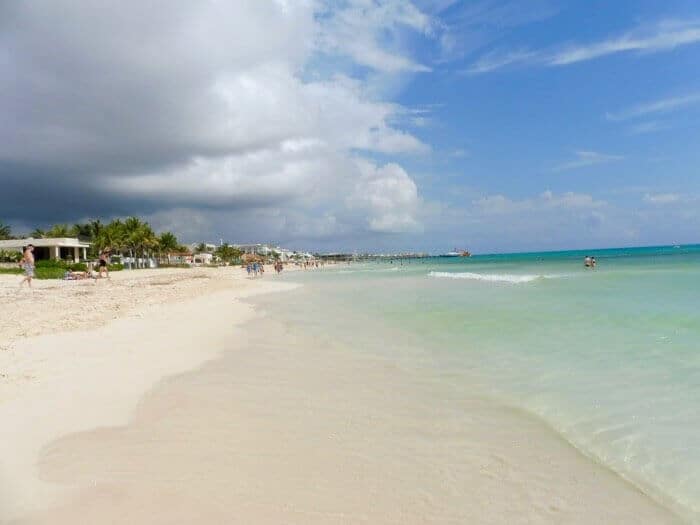 One of Mexico's fastest growing cities, Playa del Carmen's draws include dreamy white, sand beaches, turquoise blue waters and a palm tree-fringed coastline. It's also a popular jumping off point for visiting Mayan archeological sites such as Chichen Itza and Cobá, colonial cities of Valladolid and Merida as well as the many natural wonders of the Yucatan Peninsula such as cenotes (sinkholes), coral reefs and jungle.
Update: Read our post about the impact of sargassum seaweed on Cancun, Playa del Carmen and Tulum.
Its combination of affordability (compared to Europe or the US), growing number of co-working spaces and reliable high-speed internet service makes it especially appealing to digital nomads– location-independent people who work remotely.
For a travel writer like me, Playa del Carmen is one of the best places to live in Mexico for digital nomads. It offers an almost-perfect combination of reliable WiFi, proximity to Cancun International Airport and beachy lifestyle.
Although more expensive than other beach destinations in Mexico such as Puerto Escondido or Mazunte on the Pacific, it's affordable enough that as I can live very comfortably on less than $400 USD per month (plus housing).
Day-dreaming about becoming a digital nomad? Learn how to earn income while travelling the world with this list of top jobs for digital nomads.
Where is Playa del Carmen?
Playa del Carmen is located 45 minutes southeast of Cancun on the Caribbean Coast of Mexico north of Tulum. It's easily accessible from Belize, Guatemala, Chiapas and Cancun via ADO bus, colectivo (shared mini-vans) or private shuttle.
It's also close to several luxury all-inclusive resorts and hotels, including some of my favourite upscale resorts in Mexico such as Paradisus Playa del Carmen La Perla, Secrets The Vine Cancun, Dreams Playa Mujeres, Grand Velas Riviera Maya and more.
How Much Does it Cost for a Monthly Rental in Playa del Carmen
When it comes to budget, the price you'll pay depends on the season, the length of time you will be renting and the location. Generally, you'll pay less for Playa del Carmen vacation rentals if you rent for a longer periods of time, outside of high season (Holiday periods and January-March) and further away from the beach.
Budget: $500-$1000 USD a month (generally long-term rentals only)
Mid-range: $1,000 – $2,500 USD a month (short-term rentals and easily available)
Luxury: $3,000 USD a month ( easily available)
Your needs may vary, but my wish list for a 3-month stay in Playa del Carmen is usually a one-bedroom or studio self-contained apartment located near 5th Avenue no further north than 46th (CTM), with AC, excellent WIFI, within a 5 minute walk to the beach, proximity to the bike path, major grocery stores, restaurants and bars. It must have a swimming pool, a private balcony or terrace and be located on an upper floor within a low-rise building.
Ideally it should be within a safe neighbourhood suitable for a solo female traveller and be relatively new without any history of insect infestations. My budget is between $1,000 and $2,000 a month for a short-term rental. Phew! Sounds like a big wish list doesn't it?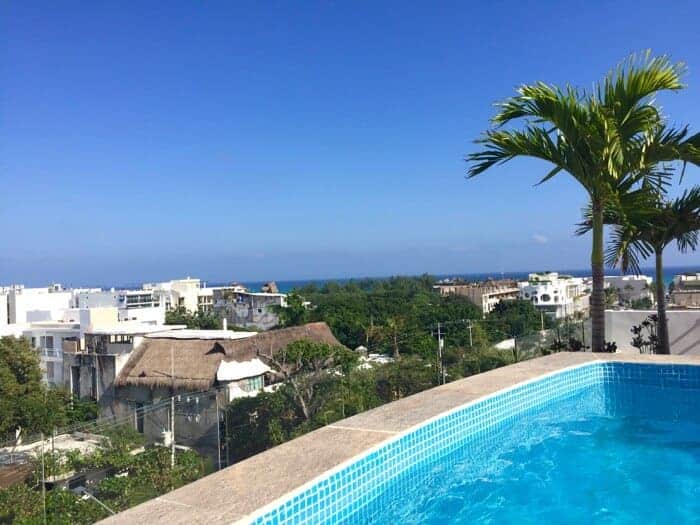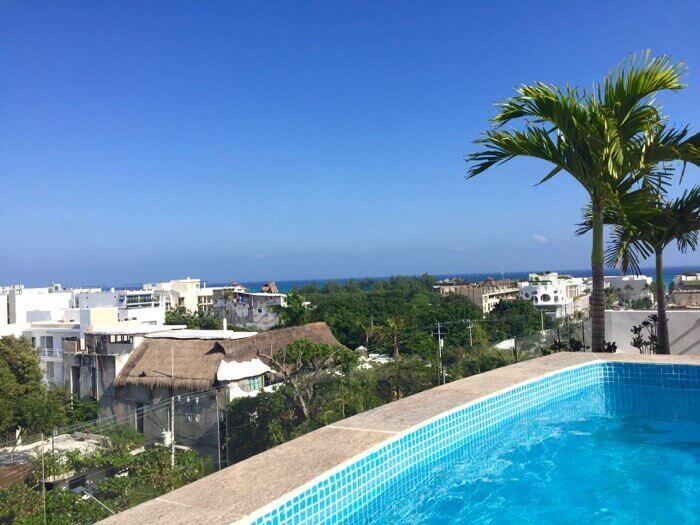 Sound impossible? Not really. Playa del Carmen is experiencing a condominium building boom (just listen to those hammers pounding night and day!) and there are a growing number of apartments available to purchase or rent.
And unlike other beach destinations in Mexico such as Puerto Escondido, it's even possible to find last-minute short term rental accommodation during peak periods. Read on to learn what you can expect for a mid-range apartment rental in Playa del Carmen.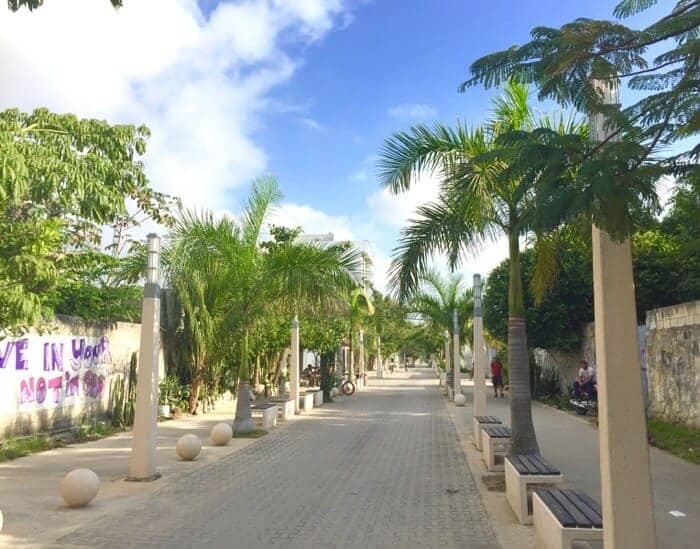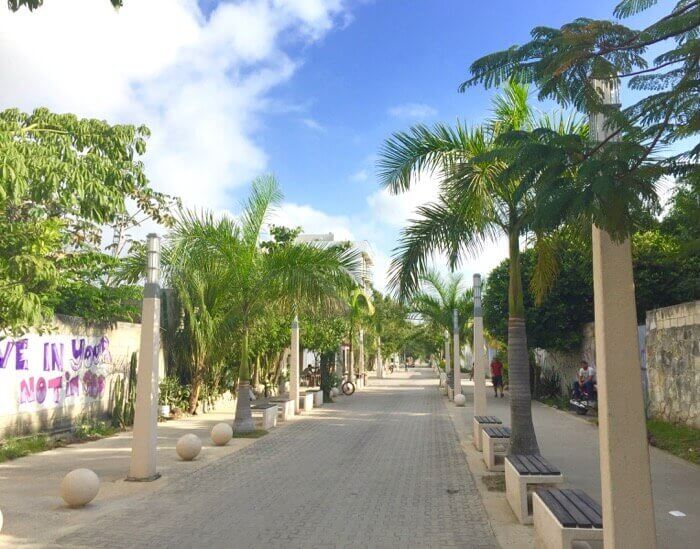 How to Find the Best Short Term or Long Term Rental in Playa del Carmen
Here are a few examples of vacation rentals I've stayed in within the mid-range monthly budget of $1,500-$2500 in high season.
Real-Life Example #1 Suites Coral: A Studio with rooftop swimming pool, kitchen, balcony and AC
One apartment rental in Playa del Carmen that's small but well-located is Suites Coral is located in the Nueva Quinta (or New 5th Avenue) neighbourhood on Calle 46 ( also known as CTM) between 5th and 10th which means you're an easy walk to restaurants and beautiful Caribbean beaches yet far enough away from the boom-booming of Playa del Carmen's nightclub scene.
Check prices and availability for Suites Coral Playa del Carmen on Booking.com.
I rented my condo from Elizabeth at Renting Playa, who was a fantastic resource both when searching for an apartment and during my stay. Prices quoted range from $50 – $120 USD a night depending on the season. Ask about discount on monthly rates.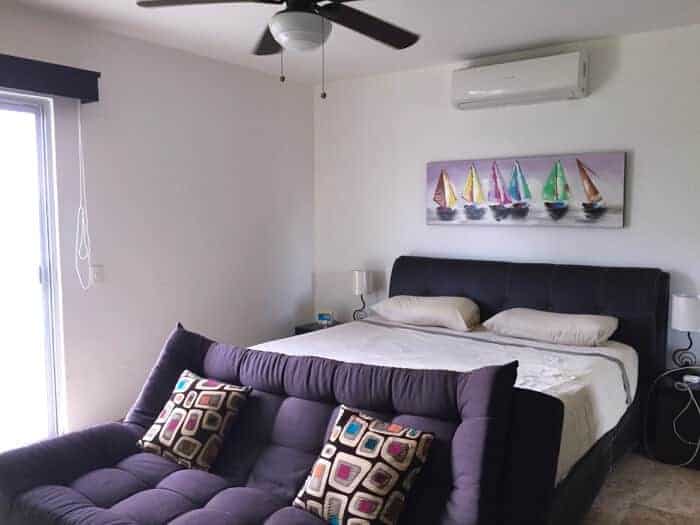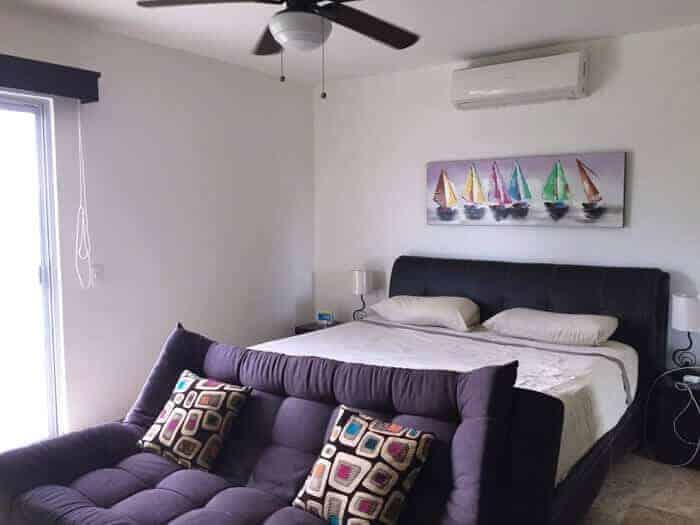 I have noticed other condos available for rent within the same building such as Pool Paradise listed on Airbnb. Pool Paradise on Airbnb appears to be a street-facing unit while my condo faced south towards the rear of the property.
However, the views from the rooftop terrace and swimming pool would be the same.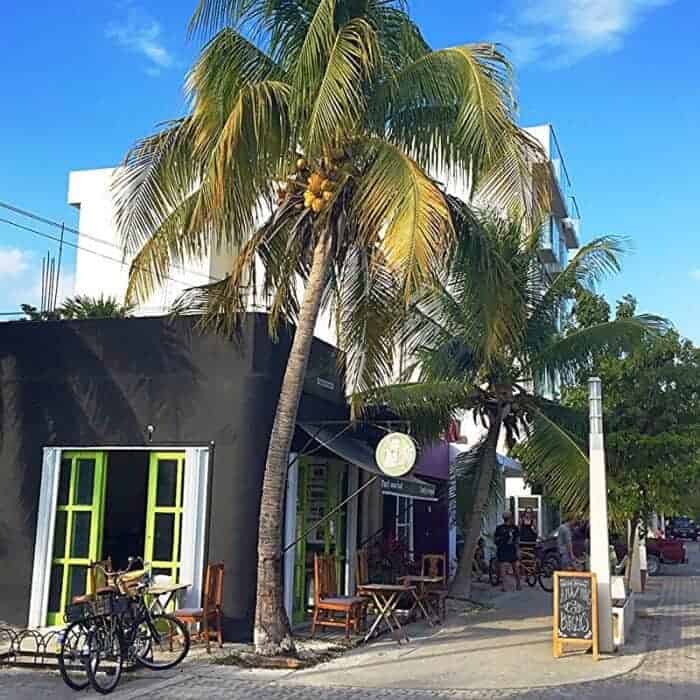 Positives:
The location of Suites Coral within the Zazil-ha neighbourhood is quiet (apart from occasional construction noise), it's just a two minute walk to Playa del Carmen's beaches, handy for shopping as there's an OXXO next door, a fruteria a few doors away and several large grocery stores within easy walking distance.
The building has a secure entrance (from door is locked with access by key or buzzer). As a solo traveller, I felt very safe walking the streets in the neighbourhood both during the day and night
Wifi signal was excellent ( reliable, good speed ) which meant I was able to work online without interruption.
This studio had great AC, a small balcony to enjoy morning coffee, balcony doors with screens, which is important to me as I don't want to get mosquito bites. Read my post on 12 Ways to Avoid Dengue, Chikungunya, Zika and other Mosquito-borne Illnesses.
My studio apartment at Suites Coral was modern, clean and insect free. I didn't see any cockroaches, bed bugs or other pests during my stay.
There are lots of fantastic restaurants within a few minutes walk of CTM and Quinta Avenida. Check out my post on Best Places to Eat in Playa del Carmen for some recommendations.
The elevator is handy if you're carrying groceries and aren't up to climbing stairs

Negatives:
For me, a negative with Suites Coral was that the kitchen was very small and minimally equipped. The kitchen utensils, pots and supplies were basic and the refrigerator bar-sized which meant there wasn't much space for storing food. Not a problem for a short-term stay but if you're planning a long-term stay and like to cook, that could be an issue.
Weekly housekeeping was not included with my unit. I paid extra to get housekeeping however the cost was reasonable at 300 MXN pesos for each cleaning.
AC is billed as an extra cost according to usage. In my case amounted to less than $15 for the month as I didn't use the AC very much because the studio enjoys a good breeze from the balcony.
Real-Life Example #2 La Dolce Vita: one-bedroom apartment with rooftop swimming pool, kitchen, terrace and AC
La Dolce Vita is a well-managed, low-rise, 8-unit apartment building in the Colonia Hollywood neighbourhood of Playa del Carmen. We rented a Kingsize one-bedroom Apartment with jacuzzi, large wrap-around terrace on Airbnb and enjoyed a weekly/monthly discount on the rate.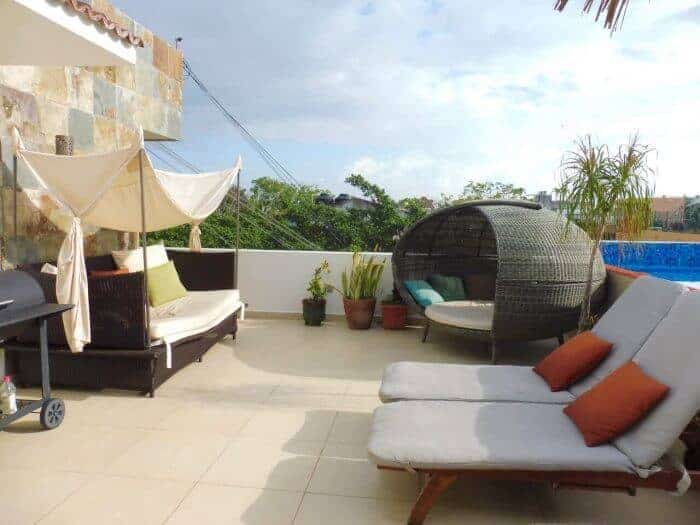 Positives:
The AC worked perfectly in the bedroom and kitchen and there was no extra charge for using it
Rooftop terrace was nicely decorated and the swimming pool was relatively large
A continental breakfast is included in the rate. Although we only used it only once– until we were able to pick up groceries– it would be handy for people planning a short-stay.
The host was very helpful and arranged an airport taxi pick-up, offered plenty of insider tips on restaurants to eat at and day trips to enjoy. Check out the post on XPU-Ha: One of the Best Undiscovered Beaches on Riviera Maya for one of our favourite day trips.
The apartment was spacious and the neighbourhood was safe, convenient and handy to restaurants, beach clubs and beaches.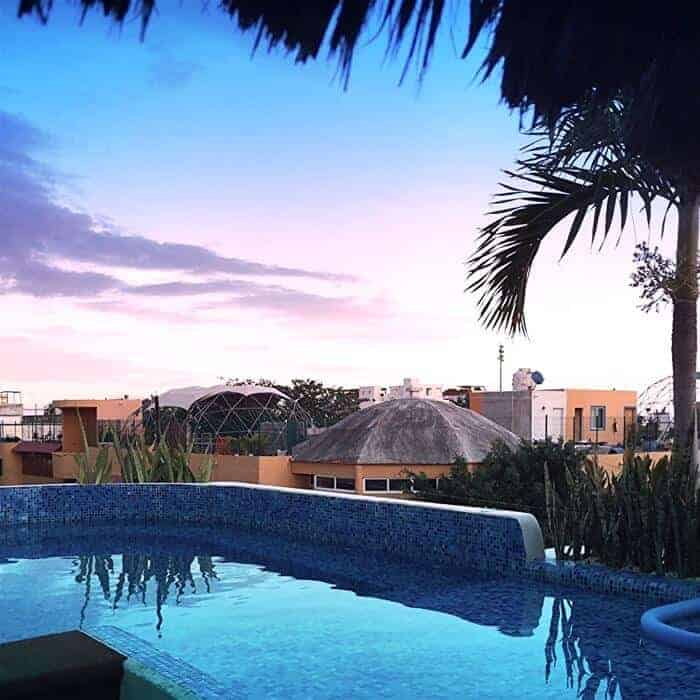 Negatives:
There was a fair bit of construction noise in the neighbourhood but this has definitely diminished since our stay. I recently walked past the building and construction on the apartment across the street is almost complete.
The linens were a bit tired looking so I requested newer towels and was happy with the replacements.
So, whether you're looking for a budget, mid-range or luxury home away from home next winter, there is plenty to choose from in Playa del Carmen Mexico. Check out the details below for more information, tips and resources to help make your stay on Mexico's Riviera Maya as enjoyable as possible.
RELATED: Backpacking Mexico: What you Need to Know
Travel Guide to Playa del Carmen Vacation Apartments
How to Get to Playa del Carmen Vacation Rentals: You can take an ADO bus to and from Cancun Airport but if your flight arrives in the evening or if you're travelling solo and are unsure of where you're going, it's handy to book a private shuttle van that will pick you up at the airport and deliver you directly to your apartment rental. Both Renting Playa and La Dolce Vita offer a shuttle service that costs between $65 and $75.
Or, you can use Happy Shuttle, a shuttle van service that offers one-way pickup for $65. The driver was on-time, the vehicle was new (and had AC) and best of all, the driver was experienced with Playa del Carmen and knew where he was going. Often, if your driver is from Cancun there's no guarantee that he or she will be familiar with Playa del Carmen beyond the major hotels. Overall, the booking process and service at Happy Shuttle was excellent.
Laundry: It's quite economical ( around 14 MXN a kilo) to get your laundry washed in Playa del Carmen so it's not necessary to have a washing machine and dryer in your apartment. I never spent more than 100 pesos($5 USD)for a week's worth of laundry including bedding and towels. Plus, there's something wonderful about picking up fresh, clean clothes that are nicely folded rather than spending a sunny day standing by a washing machine.
Electricity: The cost of electricity is expensive in Mexico ( it's the priciest utility in the country) so it's worth asking if electricity is included in your rental rate especially if you plan to use the AC. If electricity is not included in your monthly rental rate, ask about the cost per kilowatt and be sure to take a photo of the meter when you check-in.
Water: It's especially convenient, much less expensive and more eco-friendly to have a large bottle of water supplied with your rental unit rather than lugging home a container of purified from OXXO every day. Ask if water delivery is included in your short-term rental rate .
Facebook Resources: Join the Facebook Group: Real Estate for Expats in Playa del Carmen to see listings of vacation rentals, short and long term rentals and house sales in Playa del Carmen, Akumal, Puerto Morelos and Puerto Aventuras. You can also post your needs (budget, location, size etc) and landlords will respond with what's available https://www.facebook.com/groups/589843537856986/
Official Riviera Maya Tourism Board: Get travel information, handy maps, tips on accommodation and more at the Official Riviera Maya Tourism Board in Quintana Roo.
Renting Playa: The rental agency Renting Playa offers a wide selection of rentals for all budgets, as well as last-minute discounts and helpful, honest advice. You can also email Elizabeth directly at Elizabeth@RentingPlayadelCarmen.com
Where to Buy House Supplies: If your condo or apartment isn't as fully equipped as you would like, it's worth investing a few dollars at the Tiangus or Sunday Flea Market in Playa del Carmen.
This street market takes place on Calle 54 between Avenida 10 and 30 although it also spills out onto surrounding streets and stretches down to Quinta Avenida. Pots, pans, kitchen linens, kitchenware such as cutting boards, garbage bins, food storage containers, clothing and virtually everything else you could dream up is for sale here.
It's also an interesting food destination as you can enjoy BBQ shrimp on a stick, fresh mango smoothies and even chapulines de maize, the gigantic version of the dainty spiced and toasted grasshoppers popular in Oaxaca. The Sunday Flea Market begins around 10:00 am and ends around 3:00 pm.
YOU MIGHT ALSO LIKE:
Valladolid: Why Everyone is Raving about this Colonial Town in Mexico's Yucatan
Where to Eat Now in Playa del Carmen, Mexico
Ultimate Guide to Beach Rentals in Puerto Escondido Mexico
Best Undiscovered Beaches in Mexico: XPU-Ha Beach
Day Pass to Luxury at Secrets The Vine Cancun
Save to Pinterest!

Dividing her time between Canada, Guatemala and Mexico (or the nearest tropical beach), Michele Peterson is the founder of A Taste for Travel. Her award-winning travel and food writing has appeared in Lonely Planet's cookbook Mexico: From the Source, National Geographic Traveler, Fodor's and 100+ other publications.
View more posts by Michele Peterson Read more