We may earn income from links in this post. Please read this Disclosure for details.
If you're trying to decide on the best restaurant to choose for Summerlicious, Toronto's popular price fixe food festival, you won't be disappointed with dinner at Nota Bene Restaurant. 
If you're not familiar with the Summerlicious food festival, it's a two-week event promoted by the City of Toronto featuring more than 200 of Toronto's top restaurants offering three-course prix fixe menus at one of three price categories
Lunch: $18 | $23 | $28 or Dinner: $28 | $38 | $48 (subject to change annually)
Along with One at the Hazelton Hotel in Yorkville, Nota Bene is one of the best restaurants to enjoy during Summerlicious. It opened in 2008  and quickly vaulted to several "Canada's Best New Restaurant" lists.
Nota Bene is helmed by Executive Chef David Lee, who built a stellar reputation at hot spots such as Centro, Splendido and Carbon Bar.
The interior has since been remodelled and the menu has evolved, but it continues to be beloved by food fans due to its exceptionally-prepared contemporary cuisine and fresh, locally-sourced ingredients.
How to Score a Reservation at the Best Summerlicious Restaurants
The biggest challenge of Summerlicious is getting a dinner reservation for the restaurant of your choice.
Did you know that Aeroplan members can make advance reservations at Summerlicious participating restaurants a day before the general public? I didn't!
This perk is a new benefit for Aeroplan members and is very handy for scoring prime-time reservations at  top restaurants such as Nota Bene during Summerlicious, Toronto's summer restaurant promotion.
Not yet a member of the Aeroplan Loyalty Program? It's easy and free to enroll here.
With our Aeroplan reservation in place at Nota Bene, we breezed past the Saturday night crowds on busy Queen St. West and were whisked to our reserved table for two. It was hard not to gawk at the glam decor.
The sleek yet welcoming design channels a zen vibe through a creative mix of  textures, colours and light harmoniously imagined by  +tongtong  studio (known for projects such as the W Hotel Hoboken, The Drake and Cafe Belong).
Our plush seats offered views of the modern open kitchen, the glossy indigo-hued ceiling with reflections evoking the night skyline and an airy collection of tumbleweeds, affixed on the ceiling for a splash of fun.
We began our meal with Nota Bene's Build-Your-Own Gin & Tonic menu. Guided by our knowledgeable server, our choice of gin was Whitley Neill, featuring nine botanicals including Baobob fruit and cape gooseberry from Africa.
The gin was paired with a Mediterranean tonic and served with a DIY garnish of grapefruit, cucumber and hibiscus. Despite our enthusiasm for dropping hibiscus flowers into the cocktail to watch it morph into a pretty shade of pink, we didn't manage to destroy our creation and our G & T  turned out to be a deliciously refreshing and ideal for a summer evening. Definitely put Whitley Neill gin on your must-try list!
Unable to resist the lure of the Tunisian Octopus on Nota Bene's regular menu, my dining companion opted for selections from the main menu while I explored the Summerlicious offerings. I only veered off-menu briefly when I learned of the special appetizer option, a dish of Ontario white asparagus, itself such a rarity at the end of asparagus season in Ontario that I had to have it. I wasn't disappointed with my choice, it was beautifully prepared and tasted as fresh as a spring breeze.
Our memorable Nota Bene dining experience continued with a side order of the shoshito peppers, slim hot peppers blistered in oil and sprinkled with sea salt, a snack that reminded of Pimientos de Padron, one of my all-time favourite dishes from Galicia, northern Spain.
Not only do the shoshito peppers at Note Bene offer the same sizzling bite of flavour with unexpectedly hits of heat every 10th pepper or so, but they are just as addictive as their northern counterparts.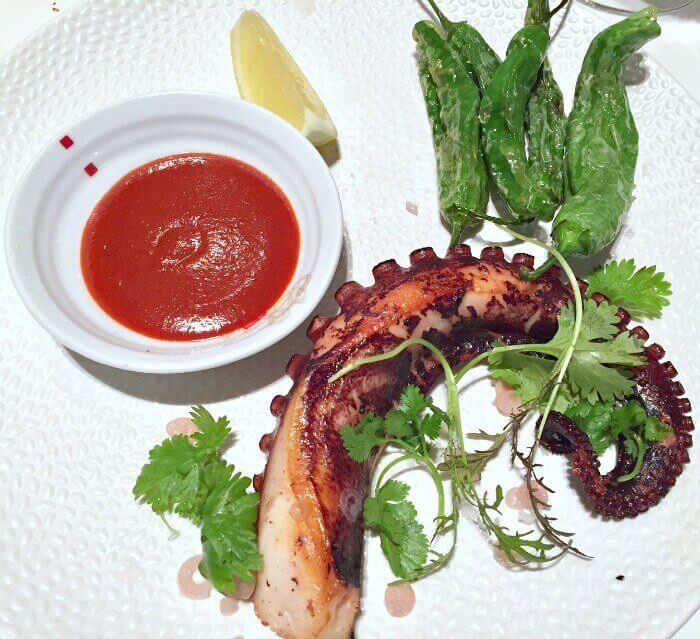 My choice for a main from the Summerlicious menu was Ragu Bolognese — prepared with rapini, olives and pancetta over a tender Pappardelle pasta — a dish that instantly transported me back to Tuscany, Italy. I was also impressed by the forkfuls of the Tunisian Octopus I was able to spear from my companion's plate. It was incredibly tender and delicate tasting.
Our dessert choices were Ontario Strawberry Trifle featuring fresh-picked sweet local strawberries and a cheese plate including Bleu d'Élizabeth, a mellow, earthy blue cheese from Quebec. It was an evening of exceptional cuisine with dishes presented in a contemporary way, without the distraction of molecular embellishment, an approach that really allowed the ingredients to shine. Nota Bene's Summerlicious menu is a taste of summer with a dash of global flair. It's also fantastic value at $48 (plus gratuity)
The Complete  $48 Summerlicious Dinner Menu at Nota Bene Restaurant in Toronto for 2017
Nova Scotia Lobster Tom Yum Soup
coconut milk, Thai chilies, lemongrass
or
Bigeye Tuna Tartare
soba noodles, wakame, watermelon, shiso
or
Ontario Tomato & Goat Gouda Salad
shoshito peppers, sunflower seed vinaigrette
or
Crisp Duck Salad
green papaya, cucumber, fish sauce, chilies, Asian herbs
---
Charcoal Grilled Flat Iron Steak
chimichurri rojo, sweet corn succotash, rosemary-thyme ash
or
Arctic Char Filet
wilted greens, coconut broth, coriander, pineapple & jicama salsa
or
Perciatelli Pasta
farmer's market tomato sauce, burrata pugliese, basil
or
Ragu Bolognese, Pappardelle Pasta
rapini, olives, pancetta
---
Ontario Strawberry Trifle
Victoria sponge, Hewitts' cream
or
Sorbet
pineapple compote, coconut tapioca pearls
or
Artisanal Canadian Cheese
buttermilk crostini, fruit compote
Travel Planner
Aeroplan: I usually use my Aeroplan reward points to book travel to sun destinations in Mexico and the Caribbean which means I often forget about the other important benefits of being a member of the Aeroplan Loyalty Program. For example, there's the Aeroplan Member Donation Program which allows members to donate reward miles to Canadian-based charities. Aeroplan members can also redeem  Reward Miles to shop for Activities and Merchandise from luggage to sporting events. Plus, there are many more benefits waiting to be explored. Join the Aeroplan program at www.aeroplan.com
Visit Toronto and Ontario Travel Tourism: Pick up free maps, tourist booklets packed with information and get advice at the Tourism Toronto and Ontario Travel visitor information centres.
City of  Toronto Summerlicious: Reservations are a must for this popular summer food celebration. Browse restaurants and get contact details on the Full List of participating Summerlicious Restaurants in 2017.
Nota Bene: One of Toronto's top restaurants, Nota Bene is located at 180 Queen St. West at University Avenue,. The nearest TTC subway station is Osgoode. Be sure to make a reservation if you're hoping to dine during Summerlicious. Dress is smart casual to elegant. Nota Bene is also planning a Tasting Menu for $79 during summer 2017 so check the Nota Bene website for details.
For more suggestions on what to do in and around Toronto, check out these posts:
The Ultimate Guide to Visiting Toronto
Plunge into Winter at Le Scandinave Spa, Blue Mountain
A Food-Lover's Guide to Muskoka