We may earn income from links in this post. Please read this Disclosure for details.
There are plenty of reasons to visit Australia's North Queensland — year-round warm weather, lush tropical rain forests, and scuba diving trips to the Great Barrier Reef just to name a few.
But if you ask me, one of the best things about Queensland is that it's home to wild sea turtles! Last month, I took the short ferry ride from Cairns to Fitzroy Island for a day of fun in the sun. I ended up having an incredible sea turtle encounter at Fitzroy Island National Park.
If it's your first trip to Australia, check out this handy list of things to know before travelling to Australia with tips on money, visas and travel within the country by car and regional airlines.
Since 2013, the Fitzroy Island Turtle Rehabilitation Center has offered an educational tour of their facilities where guests can learn more about the Great Barrier Reef's beloved sea turtles and what resident marine biologists are doing to save them.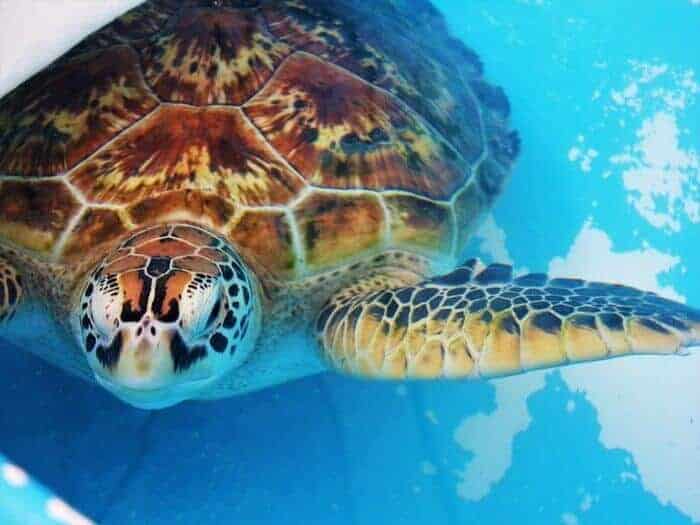 Fitzroy Island National Park
During my visit, I was lucky enough to meet Rinnie, an adolescent green sea turtle just a few weeks before her triumphant return to the ocean. Rinnie was initially found almost two years ago over 500 kilometres down the coast of Queensland after being trapped in an oil spill.
Having ingested a dangerous amount of crude oil, Rinnie was transported up to the Cairns Turtle Rehabilitation Center courtesy of Qantas Airlines who help save injured sea turtles by flying them to the rehabilitation centers with VIP treatment all the way.
Rinnie first needed to spend a few weeks in the ICU before being transferred to her temporary home at Fitzroy Island. As soon as she started to recover, it didn't take long before her funky personality began to unfold. Unlike some of the other more reserved turtles at the center, Rinnie enjoyed receiving lots of attention from tourists and even loved having her back scratched by the crew.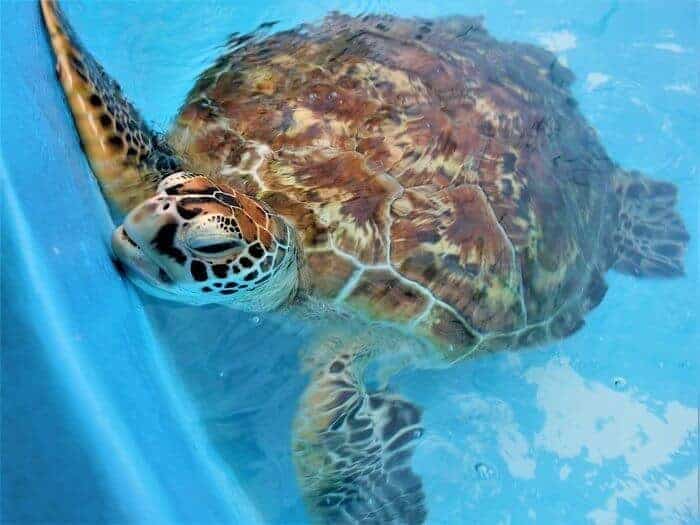 Turtle Rescue at Fitzroy Island National Park
After almost two years of medical treatment and thousands of squid snacks later, young Rinnie was released back into the ocean earlier this month by her caretakers. It was a joyous moment for all as she swam off at full speed without sticking around for photos or goodbyes. Rinnie was healthy, happy, and raring to go!
With an impressive 85% success rate of rehabilitating turtles, Rinnie was one of the center's many lucky patients that make it back home to the sea after rehab. Turtles can live to over 100 years old and don't reach sexual maturity until they're in their 30's, so Rinnie has her whole life ahead of her. She has been equipped with a state-of-the-art satellite tracker that will help researchers understand more about turtle behavior for the next 900 days.
We wish Rinnie the sea turtle the best of luck on her journey and would like to extend a huge thank-you to the volunteers and marine biologists at Fitzroy Island Turtle Rehabilitation Center for all their hard work and dedication on saving sea turtles!
3 Ways You Can Help Save Sea Turtles
What can you do to help save the population of sea turtles around the world?
Donate to hard-working organizations who make it their mission to save our turtles. Initiatives such as the Cairns and Fitzroy Sea Turtle Rehab Centers are non-profits that rely on donations for costly vet bills, food, and extensive care for endangered sea turtles.
Volunteer for an important cause. Want to contribute to something meaningful? Volunteers help with cleaning tanks and feeding the turtles while learning valuable information along the way.
Say no to plastic bags, cups, and straws. One of the biggest challenges to sea turtle survival is plastic consumption. Turtles are curious creatures that will take a bite out of just about anything, and many attempt to eat plastic floating in the sea. Plastic is impossible to digest and causes them to experience an illness known as floaters syndrome. This is when an object takes up space in their digestive tract that causes air to become trapped inside their bodies. The trapped air keeps turtles floating at the surface where they cannot find food and eventually starve to death unless they are rescued.
Travel Planner
Fitzroy Island: A quick 45-minute ferry ride from Cairns, Fitzroy Island makes for a lovely day trip for all to enjoy. Immersed in natural beauty, the small coastal island is made up mostly of Fitzroy Island National Park. Attractions include the unofficially clothing-optional Nudey Beach, fantastic snorkelling right off the shore, kayaking tours and an exhilarating rain forest hike to a lighthouse lookout over the sea.
World Ranger Day: July 31 is World Ranger Day and recognizes park rangers, their ranger associations, as well as the International Ranger Federation, an organization that ensure the world's terrestrial and marine parks, and the flora and fauna that live in them, are protected from vandalism, poaching, theft, exploitation or destruction. www.internationalrangers.org
To learn more about visiting the Turtle Rehabilitation Center and saving sea turtles, check out the website on the Turtle Rehabilitation Center. The turtle rehab tour takes about an hour and costs $8.80 for adults and $5.50 for children.
Where to Stay: Fitzroy Island Resort is located between the beach and rainforest so makes an ideal base for exploring.
For more information on getting to Fitzroy Island: www.fitzroyisland.com
Tourism Queensland, Australia: www.queensland.com
For more tips on eco-adventure and vegan-inspired travel to the world's best sun destinations, check out these other posts, visit her Vegan Vacationista website by Jessica Percy-Campbell or subscribe to the free A Taste for Travel newsletter.
Kauai: 3 Top Vegan Eats on Kauai
Aruba: Finding Vegan Heaven
Mexico: Escape to Gecko Rock Resort, Oaxaca
Pin for Later!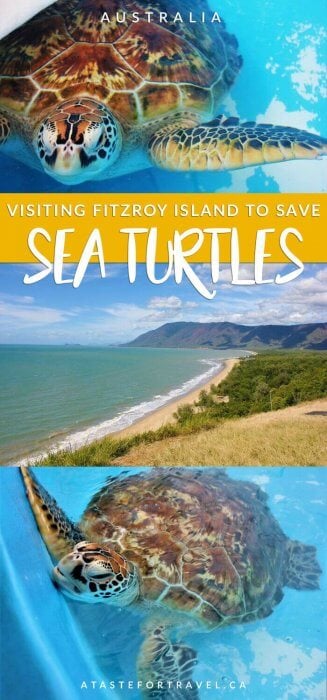 Jessica Percy Campbell is a world traveller currently based out of beautiful British Columbia. She loves to experience the latest and greatest of plant-based alternatives wherever she goes. Always venturing off the beaten path for unique local businesses and the hidden gems of vegan life, you can keep up with @veganvacationista on Instagram.
View more posts by Jessica Percy-Campbell Read more