We may earn income from advertising links in this post. Please read our Disclosure Statement for details.
Although it's one of the world's top shore diving destinations, there are many more things to do in Bonaire besides scuba dive. Part of the ABC islands of the Lesser Antilles that also include Aruba and Curacao, Bonaire is an extraordinary Caribbean destination for people looking for something beyond the same old beach vacation.
Whether you're visiting the island on a cruise, planning a week long vacation or on a Caribbean girlfriends getaway, here's my personal guide to the top things to know about Bonaire and what everyone should do on their first visit to this fascinating island.
1. Go Snorkeling from Shore in Bonaire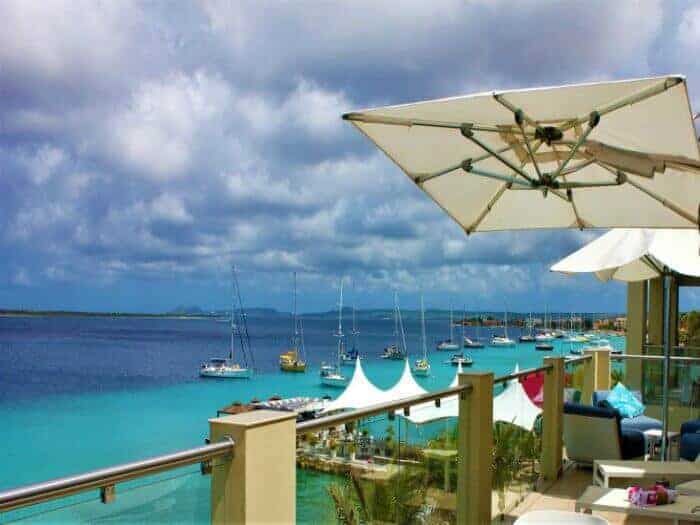 My mother (travel writer Susan Campbell) and I booked a fully-equipped 3-bedroom penthouse apartment with Terramar Luxury Apartments through SunRentals Bonaire conveniently located in the heart of Bonaire's capital, the small town of Kralendijk.
The water visibility was so clear, we could literally see blue parrot fish swimming in the sea from our second story balcony, which alone spanned enough space to host a party of 20 people.
The second half of the week was spent a five-minute drive away at Divi Flamingo Beach Resort and Casino. This all-inclusive resort features world-class snorkelling steps away from the beach bar and can accommodate vegan and specialty diets if you let them know in advance.
Insider tip: Sunwing has seasonal direct flights from Toronto to Bonaire. Flying time is 5 hours 10 minutes.
2. Book a Snorkel Excursion
Since 1979, Bonaire's coral reef has been legally protected as a national marine park. Since then, Bonaire has been internationally recognized as the shore diving capital of the world. Even if you're not a diver, the good news is you can snorkel some of the healthiest reefs you will ever see in your lifetime.
One of the top things to do in Bonaire is to take a yacht trip with Epic Tours, where a great husband and wife duo will send you on a "drift snorkel." This means instead of sticking in one place, you take a relaxing swim with tropical fish and let the current carry you along the reef as the boat follows behind.
We booked a private morning sail and I was lucky enough to snorkel alongside a hawksbill sea turtle within five minutes of jumping into the water! We finished the trip with some delicious Dutch apple pie and a couple of cold beers while listening to music by Bob Marley.
The Chill and Grill tour which starts later in the day includes BBQ surf and turf dinner on the yacht. Did I mention they have free WIFI aboard? Now that's my kind of snorkel trip.
3. Marvel at Bonaire's Pink Lake
Looking for a unique photo-op for your Instagram page? One of the top things to do in Bonaire is to take a short drive to the Salt Flats of Pekelmeerto see something truly spectacular: calm turquoise seas and pink salt lakes surrounded by white salt pyramids that look like snow.
Even more exciting than this other- worldly landscape is that wild flamingos frequent the salt pond area, and you might get to see them standing around or flying off in a flock. They are a little skittish and like to keep their distance from humans, so bring your binoculars to fully appreciate these majestic birds.
4. Eat a Healthy Lunch at GoGreen Restaurant
Bonaire may be a seafood lover's paradise, but for vegan dining, the pickings can be slim. That said, I have to appreciate that some restaurants we visited such as It Rains Fishes and Cuba Compagnie did go out of their way to veer off the menu to accommodate my vegan diet with some decent dishes, mainly pasta and stir-fry. Lunch at the island's only vegetarian restaurant, GoGreen, was my favourite place to eat.
In this cute and modest open-air lunch spot, Tina Woodley, holistic fitness instructor and legendary female body builder, cooks up a storm of healthy organic food. I tried the hearty lentil soup and kofta (soft veggie meatballs) with masala sauce (pureed tomato and coconut cream) with turmeric rice, steamed veggies and feisty homemade hot sauce. GoGreen's menu changes daily, so keep an eye on their Facebook page and be sure to reserve a spot in advance.
5. De-stress with Sunset Yoga
One of the roughest parts of constant travel is the strain it can put on the body. Crumpled up in airplanes for hours on end and lugging around heavy suitcases is a great way to make your body feel miserable, especially in the neck and shoulder region. That's why I'm always on the hunt for great yoga teachers to help me stretch and get me feeling centered when I'm visiting somewhere new.
I enjoyed a much-needed hatha flow class at Divi Flamingo Resort and Casino as our fabulous teacher Lolymar of Lolys Yoga set the tone for a fun workout. We watched the sun dip into the sea over the horizon as Lolymar directed a refreshing practice with wise words of advice: "You're only doing yoga! Don't take it too seriously, remember to smile!"
Insider Tip: Non-guests of the hotel are welcome to attend drop-in classes for a $15 fee.
6. Head to Kralendijkto Enjoy Nightlife in Bonaire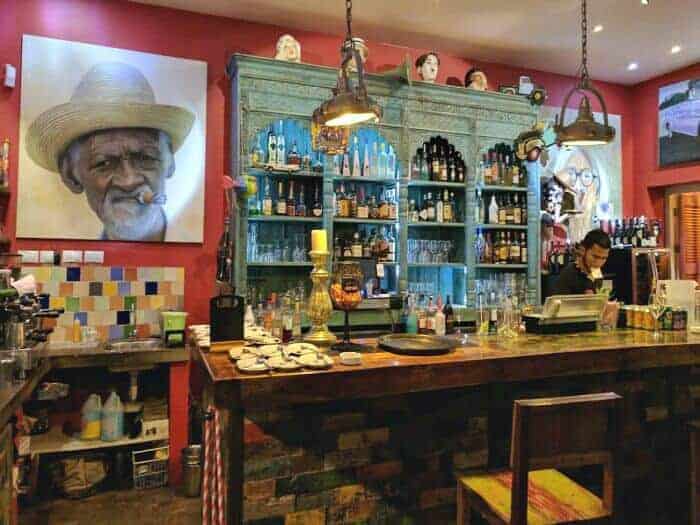 Bonaire's capital city of Kralendijk certainly isn't very big, but that doesn't mean the nightlife spots aren't a lot of fun! Laid-back locals, friendly staff and unique Cuban inspired-decor makes Cuba Compagnie a fab spot to grab a drink on their large outdoor patio.
My mom and I especially enjoyed sharing stories over a couple of cocktails here at the end of a long day out on the sea. We had a good laugh at the fact that there are virtually no Cuban dishes on the menu at this Cuban restaurant, but the fresh mint mojitos and lime margaritas kept us coming back for more.
For those who like to really let loose (not me), one of the top spots for nightlife on Bonaire is to visit Cuba Compagnie on Thursday which is Latin Dance night at this buzzing local hub.
7. Sip a Cactus Cocktail
One of the top things to do in Bonaire is head to the interior of the island to discover Rincon, Bonaire's original main town (only 20 kilometres away).While you're there, check out Cadushy, an artisan distillery and tasting garden to sample their wares, the most interesting being a unique liqueur made from cactus!
Bonaire isn't a lush tropical island; in fact, it's desert like arid in the interior and liberally studded with cacti. Cadushy produces the only spirit in the world made from cadushy cactus.
So, what does this green liqueur taste like? Surprisingly smooth! Of course, there are no needles in it, but the cactus juice with fresh limewater has a light, sweet/sour and tart taste. Simply served on ice or cut with some soda water for a cool refresher, one of the top things to do in Bonaire is enjoy this exotic drink at one of the island's many bars and restaurants.
Travel Planner
More information on Bonaire: See the Official Tourism Bonaire website. You can save on hotels and accommodation for Fall travel with Bonaire Tourism's Fall Festival. Check their Twitter feed @BonaireTourism for some great deals and ideas of things to do on Bonaire.
Getting to Bonaire from Aruba: A popular option is to take a flight with Inselair Although it's only a 20-minute flight between the islands, connections involve a long stopover in Curacao which makes it a half-day ordeal. Divi Divi Air offers connections between Curacao and Bonaire.
Direct Flights to Bonaire from Canada: Sunwing began launching direct seasonal flights to Bonaire from Toronto in December 2017.
Direct Flights to Bonaire from the US: United Airlines offers nonstop flights from Houston (year-round) and Newark (seasonal) to Bonaire. Delta offers nonstop flights from Atlanta to Bonaire year-round.
Hurricane Status: Another of the top things to know about Bonaire is that it is located outside of the hurricane belt so was not affected by either Hurricane Irma or Hurricane Maria. Get a status update on which islands were affected and their rebuilding efforts at the Caribbean Travel Update website.
For more travel tips for the ABC Dutch Caribbean Islands, check out these posts on:
Renaissance Private Island: A Top Luxury Experience in Aruba
6 Girlfriend Getaways You'll Love
Finding Vegan Heaven at Bucuti & Tara Beach Resort
For more tips on eco-adventure and vegan-inspired travel to the world's best sun destinations, check out these other posts, visit the Vegan Vacationista website by Jessica Percy-Campbell or subscribe to the free A Taste for Travel newsletter.
Save to Pinterest!