We may earn income from links in this post. Please read this Disclosure for details.
Planning a trip to London and looking for an Eating London Food Tours discount code? You've come to the right place. We've got a special 15% discount available for subscribers and information on both of the Eating London Food Tours.
Why Take an Eating London Food Tour
London is one of the world's great food cities and boasts a long, rich culinary history. From indulging in an elegant Afternoon Tea to enjoying the city's world famous fish and chips, there's much to enjoy for food lovers in London.
But if you have only two or three days in London, it's tough to pack all the food experiences on your wish list into one short itinerary. A food tour is a handy and affordable way to immerse yourself in the flavours, history and culture of London's diverse culinary scene.
That's where an Eating Europe (also known as Eating London) Food Tour comes in. Under the guidance of a local food expert, you'll sample many of the must-try dishes in a few short hours and have an opportunity to experience neighbourhoods you might not otherwise visit.
On these tasty tours, you'll enjoy nine (or more) food tastings at a range of restaurants, markets, shops and pubs in London. Your experiences can include everything from sipping port at a historic wine bar in London to browsing its fascinating food markets – you won't miss out on anything.
A Taste for Travel subscribers enjoy a 15% discount on all of the Eating Europe Food Tours of London so read on to learn more about taking a food tour of London.
The Best Neighbourhoods in London for Food Lovers
To soak up the best sights, history and atmosphere of the British capital, your best option is to stay in one of the luxury hotels in Central London.
During my most recent visit to London, I stayed at the Egerton House Hotel in Knightsbridge, part of the Red Carnation Hotel Collection, and was thrilled with its prime location near the Victoria and Albert Museum as well as its sumptuous decor.
I even enjoyed Afternoon Tea in my suite!
For more ideas on ways to experience insider London, check out this guide of things to do in Brixton, London.
When you're out and about exploring London, check out this post on Unique Things to do in London for ideas on activities that are absolutely free.
The second new Eating Europe London Food tour Brick Lane – Flavors of India and Beyond is a guided walk focusing on Indian cuisine. Did you know there are 10,000 "curry houses" across the UK?Or that London actually has the best curry outside of Asia?
In this 2.5 hour culinary journey through London's exciting Brick Lane neighbourhood, featuring nine tastings, participants will indulge in the many different flavours of "Banglatown" while exploring the dynamic art scene of this unique South Asian neighbourhood.
RELATED: While exploring London, check out this list of the Best Views in London – 13 Sky-High Spots
More about Eating Europe Food Tours
Eating Europe Tours operates many other tours in neighbourhoods across Europe including Italy, Amsterdam, Prague, Florence and Venice. My first experience was their Taste of Testaccio tour, where under the guidance of a local resident of Rome, our group spent almost a full day exploring and eating our way through the backstreets of Rome — shopping in the Testaccio market, sipping espresso in local cafes, learning how to identify real gelato and eating Cacio e Pepe, Carbonara, and Amaratriciana pastas ( yes all three!) during a leisurely lunch set within a restaurant carved into a mountain created of ancient Roman terracotta jars.
It was a day of culinary experiences I could never have found on my own.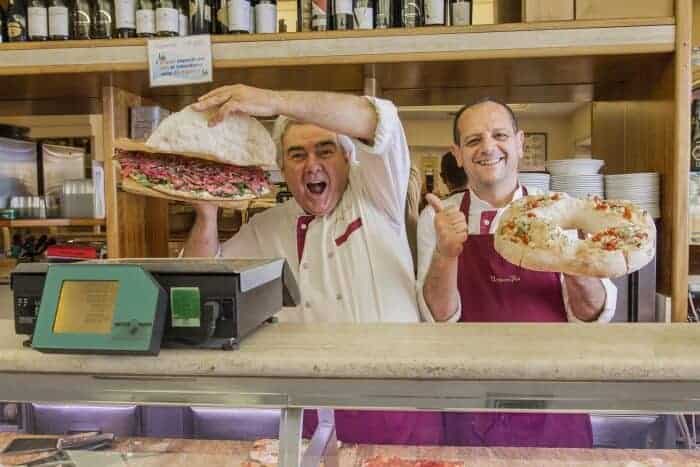 How to Get a Discount Code for Eating London Food Tours
So, I was thrilled to hear that Eating Europe has extended their 15% discount for A Taste for Travel readers for their Eating Europe Food Tours . I hope you'll take advantage of this promo offer (good until the end of 2021) and enjoy a tasty immersion into the local food scene with your Eating London Food Tours Discount Code.
Join hundreds of other food fan subscribers by signing up for the FREE A Taste for Travel newsletter. You'll receive one monthly update with travel tips, inspiration, discounts, giveaways and other special subscriber features direct to your in-box, plus you can subscribe at any time.
Once you subscribe you'll receive an email with access to a special Subscriber-Only page where you'll find the Eating Europe Food Tours Discount Code exclusive for Subscribers to the A Taste for Travel blog. If for any reason, you need help subscribing, just contact us at info@atastefortravel.ca

Once you have your discount code, book here for:
London Docks – Historic Pubs, Food and Beer Tour
Brick Lane – Flavors of India and Beyond
Travel Planner
Eating Europe: Book well in advance as these popular tours fill up fast. Wear comfortable shoes and bring a shopping tote as you're going to want to buy food souvenirs along the way. Learn more at: Eating London Food Tours
Check out this post
Visit London: For more information on what's new in London, visitLondon.com
Other Things to Do in London: Check out this list of the Top 15 Things a First-Timer Should Not Miss in London for some fantastic inspiration, travel tips and ideas. If you want to explore independently, check out these three unique places to eat and drink in London for some insider tips.
---
YOU MIGHT ALSO ENJOY:
Planning a trip to Europe? Don't miss out on a great meal. Check out these tasty posts and you'll be sure to catch all of the best local food experiences:
Exploring the Wonderful World of Wedgwood in Stoke-on-Trent
5 Most Beautiful Castle Hotels in Ireland
---
Save to Pinterest!
Dividing her time between Canada, Guatemala and Mexico (or the nearest tropical beach), Michele Peterson is the founder of A Taste for Travel. Her award-winning travel and food writing has appeared in Lonely Planet's cookbook Mexico: From the Source, National Geographic Traveler, Fodor's and 100+ other publications.
View more posts by Michele Peterson Read more