We may earn income from links in this post. Please read this Disclosure for details.
It's very common to associate sailing with navigation expertise and a certain proficiency that one must have in order to sail on holiday, but this is simply not true!
Travelling the world and exploring by boat could not be easier with companies such as Nautal who help you to find the ideal boat rental and also offer sailing with a skipper or even an entire crew.
So if you're not particularly interested in the navigation part of sailing, put your feet up, enjoy the view and soak up the sea air as you cruise in paradise.
There are a large variety of boat rentals available in Spain, ranging from catamarans ideal for family vacations as well as yachts and motorboats for luxurious adventures or jet skis and RIBs (Rigid Inflatable Boat) which sailing enthusiasts can hire to explore a specific island for a day.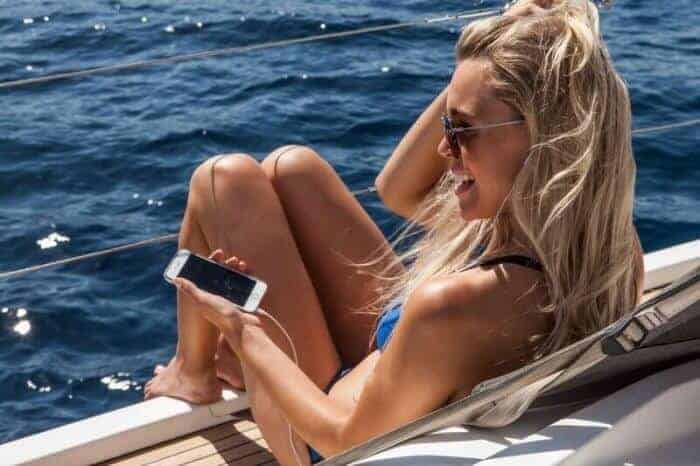 Alternatively, if you want to improve your sailing techniques, you can still sail with a skipper and learn the ropes a little more.
But before you go stock up on the proper sailing gear including boating jackets, scarfs, phone cases and gear for sailors and boaters of all experience levels. Also think about boat snacks to take for a day on the water.
But if you do happen to be an experienced sailor, there's no need for you to sail with a skipper (unless you're feeling lazy!).
Sailing the Balearic Islands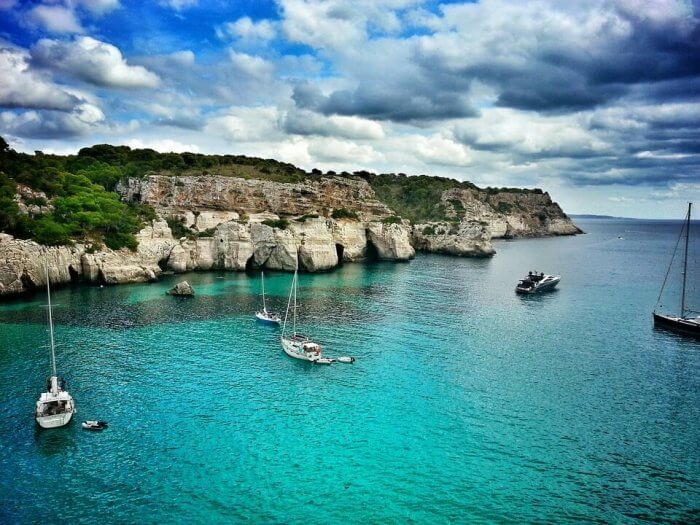 In recent years, the Balearic Islands have been a hit amongst travelers, mostly due to the diversity of its heavenly islands. Ibiza is renowned as one of the world's most famous party islands where it's all the rage to host your own boat party.
Or, you can opt to simply spend the day cruising the warm summer waters, treating the Balearic Sea as your own exclusive swimming pool and losing yourself in its vibrant nightlife later in the evening.
Naturally, you don't have to be a party animal to visit this magnificent island and enjoy its sensational stretches of golden sand on the coast. Take a stroll in the old town, Dalt Vila, and absorb the historic ambience of the fortified city.
Formentera, Spain and its bohemian vibes are also a top choice among holiday goers wishing to unwind in paradise.
This island has wonderful markets and little towns where you can dine in cozy restaurants and spend your mornings drinking coffee in cute cafes as the sun starts to warm up the day.
Sailing the Costa Brava, Costa Dorada and Canary Islands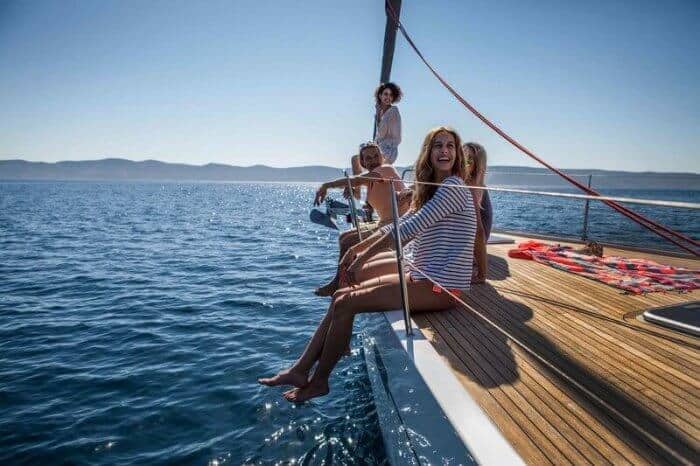 Though the Balearic Islands may be a popular destination on the travel checklist, other coastal locations such as the Costa Brava, Costa Dorada and Canary Islands are also a hit. These regions all benefit from fabulous summer weather, where you can almost always be guaranteed a blue-sky holiday fantasy.
If you do plan to visit the Canary Islands and love to bask in the sun, don't miss exploring the beaches of Fuerteventura. There are more than 150 beaches on this island so there will surely be one to suit your mood and personality.
It's also possible (and highly recommended!) to go scuba diving on Gran Canaria due to wealth of caves and other fascinating underwater features to explore.
When sailing in Spain, the north of the country is regarded as slightly more choppy and changeable in terms of weather, but locations such as Santander are notable for their addictive surf and attract many a surfer in the summertime.
If you're sailing with the family and looking to add on a few nights at an all-inclusive resort either pre-or post trip, check out this awesome guide to all-inclusive family resorts with two bedroom suites in Europe.
Whale-watching in Spain
The Bay of Biscay is also a top destination for those who wish to sight the dolphins and whales who inhabit in the waters here. Whale watching is not often thought of as a touristic activity in Spain, yet while sailing in Spain you can spot dolphins and whales in various coastal areas of this celebrated Mediterranean country.
For example, near the Gibraltar Strait, the Alboran Sea is the perfect spot for renting a boat in a summer hotspot such as Marbella, and venturing out to spot marine life in its natural habitat.
Sightseeing in Spain
Another option is to enjoy both worlds, spotting marine life while sailing and then spending time onshore enjoying the beach lifestyle, soaking up history and exploring destinations such as Torremolinos, located on the western shore of Malaga on the Costa del Sol. Malaga also happens to be the birthplace of Pablo Picasso, so it's worth factoring in time to visit the museum of his art works.
So, whether it's the most convenient form of keeping all your things in one place and travelling via your own form of transport where you can sunbathe while on the move, or because the idea of a boat party is on your wish list, with boat agencies such as Nautal, sightseeing on the move is a relaxing and pleasurable experience!
Travel Planner
Nautal Boat Rental: For an incredible experience, discover the coast of Spain and the Mediterranean on a boat from Nautal Boat Rental. Nautal is an intermediate charter agency based in Europe with 19,000 boats in 22 countries. So whether you want to rent a sailboat in Barcelona, a yacht in Ibiza or a schooner in Turkey, you'll be sure to find the perfect boat for your European vacation.
Valencia: While in Spain, experience the excitement of Europe's fireworks extravaganza Las Fallas Festival of Valencia taking place each year between March 15-19th.
Beaches: While sailing, you'll have an opportunity to discover why Spain's beaches are considered some of the most beautiful in the world. Learn about the 10 most beautiful beaches in Spain to help plan your trip.
Dividing her time between Canada, Guatemala and Mexico (or the nearest tropical beach), Michele Peterson is the founder of A Taste for Travel. Her award-winning travel and food writing has appeared in Lonely Planet's cookbook Mexico: From the Source, National Geographic Traveler, Fodor's and 100+ other publications.
Read more about Michele Peterson.