We may earn income from links in this post. Please read this Disclosure for details.
An exciting new oceanfront villa community has arrived in Puerto Escondido and is proving popular with purchasers looking for a central location, modern architecture and fantastic views.
With an open design that's a fusion of outdoor living and contemporary interior space, the villas at La Escondida Pacific Oceanfront Villas and Condos are the kind of luxury digs that would be at home on a clifftop in Spain or a hip enclave of Los Angeles.
But this exclusive collection of 16 villas (and 16 condos in Phase 2) is actually located in Puerto Escondido, Oaxaca, Mexico.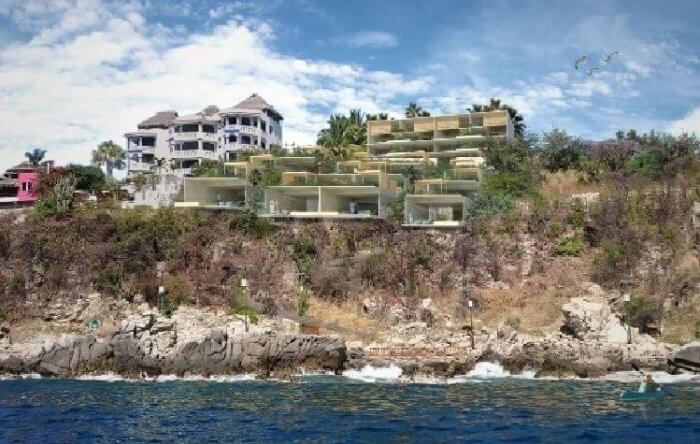 When I lived in the condominiums next door, I often imagined what the ocean views might be like from the La Escondida property. So I was thrilled to get an inside look during the construction phase.
La Escondida adapts to the terrain and faces out to the sea offering unobstructed views of the Pacific, the coastline and distant horizon.
Beach homes in Mexico have long been associated with traditional architecture. But these new villas are a contemporary reinvention of what it means to live by the ocean. I suspect La Escondida will set a new standard for oceanfront living on Mexico's Pacific Coast.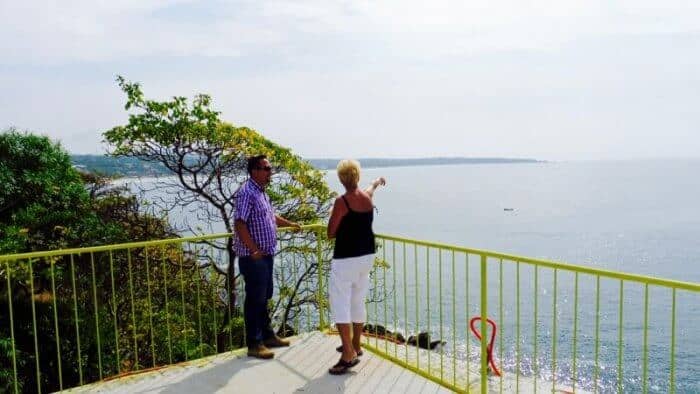 Architecture of La Escondida Pacific Oceanfront Villas
La Escondida is also generating buzz due to the reputation of the architect Francisco Pardo. London's Wallpaper magazine named AT103, the architectural firm founded in 2001 by Julio Amezcua and Francisco Pardo, one of the World's 50 Hottest Young Architects Practices.
It was ranked by Icon Magazine of London as one of the world's leading architecture firms and their work has been featured in Architectural Digest. All of which adds up to an exciting addition of world class architecture to Puerto Escondido's landscape.
Puerto Escondido is fast becoming a hot spot for innovative architecture. La Escondida joins other works by titans of the design world such as celebrity architect (and Pritzker prize winner) Tadao Ando who designed Casa Wabi the artist retreat founded by Mexico-born, Brooklyn-based artist Bosco Sodi.
Other innovative architectural homes include Casa Tiny by architect Aranza de Arino and Casa Zicatela, a stunning project combining interior water features and stepped walls modelled on a Mesoamerican ballcourt.
Construction Building Quality
Quality building in Puerto Escondido means being aware of seismic activity, wind patterns and tropical weather patterns. The construction phase of La Escondida was extensive as it involved substantial investment in construction designed to withstand damage from the forces of nature.
Interiors of the Villas of La Escondida
During my pre-opening tour, I was struck by the soaring light within the open living space within the villas. It was possible to see sky and sea from virtually every corner of the units. Soaring ceilings, smoked glass and elevated walkways made it feel as though I was walking on the clouds.
In February 2019, I stopped by to see a few of the completed suites. I could easily imagine myself splashing in that ocean view swimming pool or entertaining family and friends on the breezy deck.
In the evenings the views of the lights of Zicatela would be especially pretty.
The common areas of the oceanfront complex will include a restaurant-bar, a large swimming pool sundeck overlooking the Pacific Ocean, a tennis court and ping-pong tables.
Features of each unit include:
Private terraces and pool with sea view
Stone flooring throughout
Granite kitchen countertops
Kitchen island with an open concept and ideal for entertaining
Custom kitchen cabinetry
Air conditioning in bedrooms ( optional in the living room)
Custom built-in beds in the bedrooms and living room
Luxury finishes such as a sliding glass wall that ingeniously creates indoor/outdoor living space
Assigned storage unit
Assigned parking spot
Location of La Escondida Pacific Oceanfront Villas and Condos
Unlike other luxury developments (many of which are located outside Puerto Escondido), one of the most appealing features of La Escondida is that it's centrally located within the heart of town near the Mirador. It's located next door to Eglantina Condominiums at the base of Calle Tercera Poniente overlooking the Pacific.
Walk to Puerto Escondido Restaurants and Beaches
This means that the La Escondida Pacific Oceanfront Villas and Condos complex is easy walking distance to the upscale Rinconada restaurant strip, a collection of popular restaurants such as Almoraduz (Oaxacan gastronomy), el Cafecito for breakfast, and Turtle Bay (don't miss the fish tacos). The complex is also near Espadin Restaurant known for its stunning sunset views of turquoise-hued Carrizalillo beach.
Read our post on 9 Tips for the Perfect Romantic Getaway in Puerto Escondido
In the opposite direction, residents of La Escondida can easily walk to Playa Principal and the Adoquin, the lively evening pedestrian zone featuring crafts, Oaxacan street food and music.
I often walked from the Mirador to Playa Principal to Zicatela Beach where I'd watch the surfers and then make a stop for a Happy Hour cocktail at Fresh.
On Fridays it was worth the walk to Dan's Cafe for the best Baja-style fish tacos in town. It's an easy return trip by taxi that doesn't cost more than 40 MXN pesos.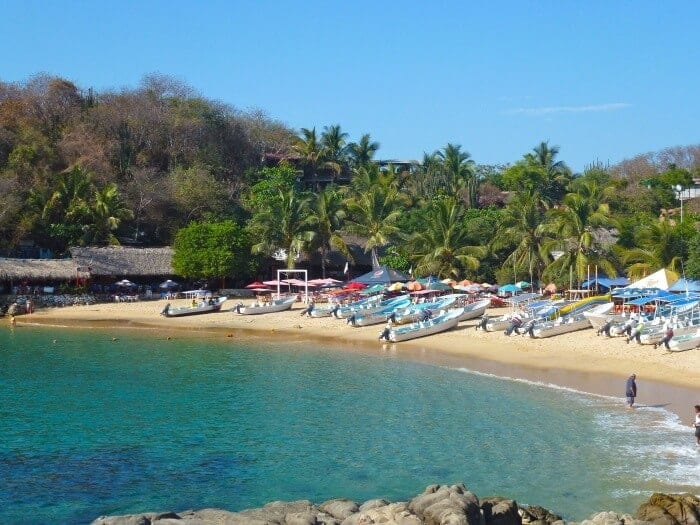 A quick turn around the corner from La Escondida Pacific Oceanfront Villas and Condos is beautiful Manzanillo Beach, where environmentally-sustainable tourism guidelines are in place to help maintain the water and beach quality.
Playa Angelito is next door with its seafood restaurants, beachside shops, boats for excursions for dolphin or whale watching and fishing.
Read more about Puerto Escondido beaches in Beginner's Guide to Puerto Escondido beaches.
Getting Around By Car and Bus
All units at La Escondida come with parking spots but if you want to live like a local, the municipal bus stops a five-minute walk away at the corner of Calle Quinta Sur and Calle Tercera Poniente.
The bus will take you past El Faro ( the lighthouse) and then to the Benito Juarez Mercado with stops along the way. Yoga classes, a gym and banks are also conveniently located nearby.
Details of La Escondida Pacific Oceanfront Villas
Villa units range in size from:
Smallest at 1245 sf (Interior) + 565 sf (Exterior) for a total area of 1810 square feet
Largest at 1356 sf (Interior) + 903 sf (Exterior) for a total area of 2259 square feet
Closing costs apply. Note: Prices can change without notice.
Phase Two will feature a tower of 12 apartment condos and four penthouses
Phone: 954-559-7707 or 413 714-3023
Address: 3a-5Poniente Puerto Escondido Oaxaca Mexico
Email: info@laescondida.lat
Rentals: To inquire about renting, call or message Ellie at 503-310-6038 via WhatsApp.
Directions: Proceed to Calle Tercera Poniente 3a until you are almost at the Mirador. You need to turn left BEFORE you get to Eglantina (the blue and white building).
Website: Here's a link to a website for the project: La Escondida Pacific Oceanfront Villas
And that's not the end of things to do in Puerto Escondido! Read our Essential Puerto Escondido Travel Guide for more information on hotels, beaches, things to do, day trips and more in Puerto Escondido. Or go directly to these posts:
9 Tips for a Perfect Romantic Getaway in Puerto Escondido, Oaxaca
Beginner's Guide to Puerto Escondido Beaches
8 Weird Foods to Try in Puerto Escondido
Dividing her time between Canada, Guatemala and Mexico (or the nearest tropical beach), Michele Peterson is the founder of A Taste for Travel. Her award-winning travel and food writing has appeared in Lonely Planet's cookbook Mexico: From the Source, National Geographic Traveler, Fodor's and 100+ other publications.
Read more about Michele Peterson.