Tucked away next to Aruba's iconic 200-year old Old Dutch Windmill and just a stone's throw away from Palm Beach's high-rise resorts is one of the top restaurants in Aruba to check out in 2018. The name of this unpretentious establishment is "Delicious" and Chef Annelotte Ellis is the owner. 
Update: Unfortunately Delicious is now closed. Watch here for an update Chef Annelotte Ellis' next culinary adventure
We first shared news about this exciting new restaurant project in late 2017 (read more and get a vegan Easy Siboyo Tempera Recipe ), so we were happy to hear that Chef Ellis' dreams came to fruition and Delicious is now officially open. 
Annelotte comes from a clan of legendary local chefs–her family is well-known for their restaurant Papiamento, a highly acclaimed authentic Aruban establishment that opened in the early 80's. It's among the top restaurants in Aruba for authentic cuisine and historic atmosphere. 
An award-winning pasty-chef herself, Chef Ellis' artistic prowess is evident in the presentation of her dishes. She is known for her creativity and artistic design in the kitchen, with many of the dishes featuring edible flowers and sculptural details as garnishes. 
Check out her version of  linzen (lentil) curry stew with fresh red beet dressing on gluten free puff pastry with fried plantain, pepper flowers, local Aruban flowers, red pepper dressing and lemon dressing. You'll never look at stew quite the same way again.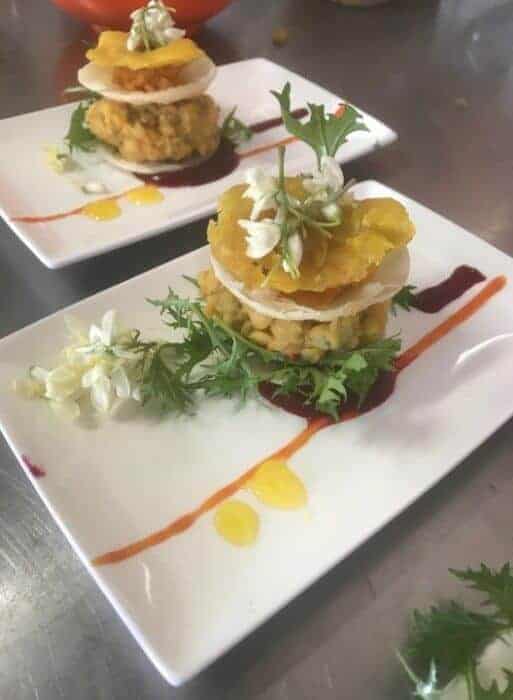 Chef Ellis earned a following of devoted food fans while helming the kitchen as the private chef of Aruba Ocean Villas in Savaneta where we first met her. I am still dreaming about the deep-fried vegan brie Annelotte made for me there! But we knew she had always dreamt of opening her own place… and now she has.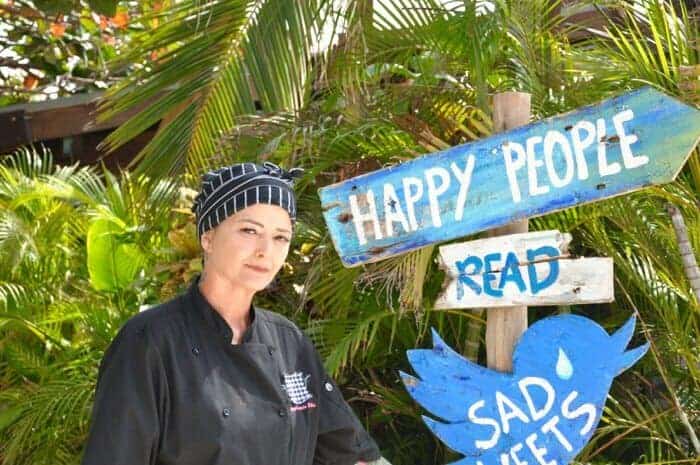 Though it is a very tiny enclave, with a few tables inside and a few more outside tucked beneath the famous historic red windmill, it is the ideal place for Annelotte to begin to carve out her own culinary legacy on this island.  And she's still experimenting with where she wants it to go.
As a true artist, Chef Ellis is a great fan of surprises and her free spirit cannot be pigeon-holed into any one specific style. Her focus is on fresh, local ingredients and she follows her intuition and goes where creative inspiration takes her. For a unique culinary adventure, show up with an appetite and an open mind. You will not be disappointed.
Why This Spot is the One to Watch on Aruba this Year
Annelotte's enthusiastic sense of originality is refreshing so it's no wonder the local community is excited to see this new restaurant hit the scene, especially with her family's culinary pedigree. And if you're vegan, you will be over the moon here-but be sure to call ahead to let her know you're coming as they are still working on a permanent menu.
What we do know for sure is that the menu promises to include some fabulous vegan options. I was lucky enough to stop by the new Delicious in December 2017 during their soft opening where I indulged in a decadent piece of vegan sweet potato cheesecake. Incredible.
And now there's plenty of buzz from influencers in Aruba's vegan community since my visit.  Changemaker and vegan activist @VeganAruba posted this update following her visit to Delicious.
Chef Ellis' creativity is also showcased in the eclectic handmade décor of the restaurant (think avant-garde mannequin art, zebra print lampshades and DIY dreamcatchers). This cute little eatery may just be getting on their feet, but with Chef Ellis on board we can expect Delicious to become a serious culinary force to be reckoned with in 2018. It's also a promising new addition to the vegan food scene in Aruba. 
All of which adds up to Delicious being one of the top restaurants in Aruba to try right now. But remember it's tiny! So call ahead.
Travel Planner
Details: Delicious offers indoor and outdoor seating and is typically open for lunch and dinner. It is also equipped to cater events and special occasions. Beer and wine are available.
Reservations are recommended. Phone number: +297 565 0522
Location: It is located beside the Old Dutch Windmill on LG Smith Boulevard 330 Lok 3 Aruba
Vegan Cuisine: It's best to call in advance for vegan cuisine.
Aruba Tourism Authority: Get travel tips, maps, and other visitor information on the official Aruba Tourism Authority website.
More posts by Jessica Percy-Campbell
For more tips on eco-adventure and vegan-inspired travel to the world's best sun destinations, check out these other posts on vegan travel or visit the  Vegan Vacationista website by  Jessica Percy-Campbell.
Florida: Vegan Festivals, Food and Cocktails in Florida Keys and Miami  
Cancun: The Stuff Vegan Dreams are Made Of 
Kauai: 3 Top Vegan Eats on Kauai 
Aruba: Finding Vegan Heaven 
Panama: Secrets Playa Bonita Panama: A Paradise for Nature Lovers 
Bonaire: Top 7 Things Every First-Time Visitor Should Do on Bonaire 
Honolulu: Best Vegan Food in Honolulu
Disclosure: A Taste for Travel participates in affiliate advertising programs. By providing handy links to our affiliates, we may earn a commission. All opinions are our own and we only link to companies and products that we trust and believe in. Read more on our Disclosure Page.   Thank you for supporting our website!