Planning a trip to Puerto Escondido, Oaxaca Mexico? You've come to the right place. This page has all of  our Puerto Escondido posts, travel tips, advice and recommendations for hotels, safety, restaurants and day trips in one handy place. It ties all our blog posts together, making it easier for you to find the information you need for the best vacation possible in Puerto Escondido.
by Michele Peterson

Ultimate Travel Guide to Puerto Escondido
How This Guide Can Help You
My Puerto Escondido experience
Why choose Puerto Escondido vs other beach destinations in Mexico
Hotels and resorts in Puerto Escondido
Beaches in Puerto Escondido
Crime and safety in Puerto Escondido
Restaurants in Puerto Escondido
Worth-it day trips on the Oaxaca Coast including Mazunte, San Agustinillo, Roca Blanca
Things to do including sea turtles, coffee excursions, horseback riding
Costs in Puerto Escondido
Puerto Escondido Real Estate
Puerto Escondido Surfing
Study Spanish in Puerto Escondido
My Puerto Escondido Experience
I first discovered Puerto Escondido Oaxaca in 2003 while studying Spanish in Oaxaca City and have been returning ever since. Along with my Guatemala-born husband we've owned a home there, rented condo apartments, stayed with friends and enjoyed stays in budget to luxury hotels in virtually every neighbourhood. Puerto Escondido is an ideal jumping off point for travels to Chiapas and Guatemala (Check out the post Night Bus to Guatemala for the inside scoop on taking the bus to Lake Atitlan,  Guatemala).
A former investment executive turned travel writer, I author the Fodor's Guide to Oaxaca's Coast, Lonely Planet's cookbook Mexico: From the Source, the Puerto Escondido Travel Essentials  iPhone app (currently under redevelopment), the Puerto Escondido Travel Essentials Facebook  page and have written about Oaxaca for magazines and publications such as enRoute, WestJet and TravelAgeWest. I want you to enjoy exploring Puerto Escondido as much as we have!
Why Choose Puerto Escondido vs other Beach Destinations in Mexico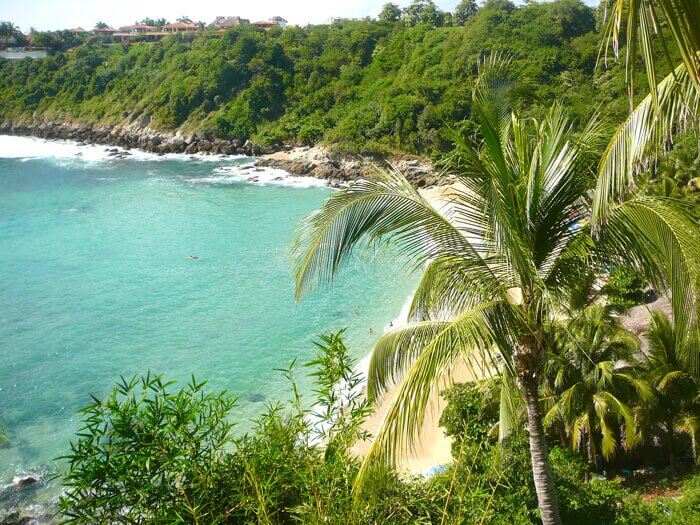 Set against the backdrop of the Sierra Madre Sur Mountains, the coastline around Puerto Escondido Oaxaca has remained untouched by mega-development. Unlike the manicured all-inclusive luxury resorts of Cancun-Riviera Maya it offers an authentic Mexican experience that will appeal to travellers interested in speaking Spanish, shopping in traditional markets and meeting locals.
Many visitors are drawn to Puerto  Escondido because of the Mexican Pipeline, an epic wave break with a reputation that attracts serious surfing aficionados from Australia to California. But it's not just about the surf. "Puerto's" population of 55,000 is made up of expats, fishing families, wellness devotees and adventure lovers, co-existing in laid-back harmony in neighbourhoods tucked around the palm-tree fringed bays.
Puerto Escondido is also a prime destination for food lovers. The cuisine is drawn from a rich indigenous heritage and features lots of fresh seafood as well as an abundance of fresh fruit and vegetables. Its 400 restaurants offer a diverse culinary mix with Italian, Middle Eastern, Thai and Oaxacan cuisine just a few of the unique tastes you'll find.
The world's great cities are characterized by their markets and the Benito  Juárez Market ( also known as Mercado Principal) is Puerto's cultural and economic heart. The sprawling, but surprisingly orderly, market stretches an entire city block and spills out onto surrounding sidewalks on busy days. You can eat lunch, chat with vendors, meet up with friends or just soak up the authentic Oaxacan atmosphere.
Puerto Escondido is also growing in popularity among couples planning a romantic getaway, destination wedding or honeymoon. The predictable sunny weather, picturesque Pacific Coast backdrops and affordability as well as a growing crop of luxury hotels and resorts makes it a good alternative to Cancun, Riviera Maya and Puerto Vallarta.
9 Tips for a Romantic Getaway in Puerto Escondido 
Massage Therapy in Puerto Escondido 
Finding the Best Prices on Hotels, Condo Apartments and Homes in Puerto Escondido
If you want to rent a condo, villa or other vacation property in Puerto Escondido, here are a few resources to get you started. Before you begin, be sure to read the Beginner's Guide to Puerto Escondido Beaches so you know which neighbourhood you are interested in. And for the best choice, begin your search early. Although Puerto Escondido Oaxaca is still under the radar for many travellers, its beautiful beaches, thriving food scene and rich culture draw a loyal crowd who book their favourite rental property a year or more in advance.
Read more: 
Ultimate Guide to Finding a Vacation Rental in Puerto Escondido  
 Best Time to Travel to Puerto Escondido Oaxaca
January to March are the most popular months for visitors from Canada and the United States, which means demand for accommodation is at its peak as are prices. April and May are very hot and humid (expect 35 C and up) while August, September and October are the rainiest months, with many of the local restaurants closed for business. November and  December (excluding Christmas) are  great times  to visit. The weather is sunny and warm (but not  too hot) and prices are often at low season rates.  November is also the time for the Fiestas de Noviembre (described below)
Fiestas de Noviembre
Originally created to drum up tourism during the low season, the Fiestas de Noviembre have grown to become one big celebration, drawing top performers and competitors. During the event, Puerto Escondido ramps up the party factor city-wide with fishing competitions, cultural dance extravaganzas, beauty pageants, processions, freestyle motocross and surfing competitions. Most events are free, except for the fishing competitions such as the International Sailfish Tournament, where there's big prize money to be had. For example, if you're tempted to grab your speargun and join the Harpoon Fishing competition has an entry fee of 500 pesos.
November is also the start of the whale-watching season, just one of many awesome outdoor adventures you can experience in Puerto Escondido. 
The Muestra Gastronómica event is a popular event and features culinary creations from the beach's most popular restaurants, each competing for gastronomic fame. After the judging is complete, guests can stroll the stalls purchasing tastings of competing dishes, food products and special cuisine. There are also swimming competitions, open to locals and visitors alike. Fiesta de Noviembre celebrations take place November 1-30th in various neighborhoods and beach locations across town
Best Beaches in Puerto Escondido
Puerto Escondido's is home to five main beaches, each with its own personality.  Your top choice if you're in town for just one day  should be Playa Carrizalillo as it's the most swimmable, the prettiest and the cleanest. Manzanillo Beach is a second option as it has fewer stairs and has Blue Flag certification. Read the Beginner's Guide to Puerto Escondido Beaches for details on all five main beaches.
Carrizalillo Beach
Scramble 167 stone steps down a cliff and you'll be rewarded by the calm, clear waters of Puerto's prettiest (and best swimming) beach. The sheltered crescent-shaped bay is ideal for snorkelling and its upscale cliff-side villas are popular among couples looking for a romantic getaway. Be sure to bring your camera. Loungers are available to rent or come free with a minimum drink or food purchase per person. Access to the walkway to the Playa Carrizalillo's stairs is through an orange archway on the Rinconada near  El Cafecito.
Bacocho Beach and Villa Sol Beach Club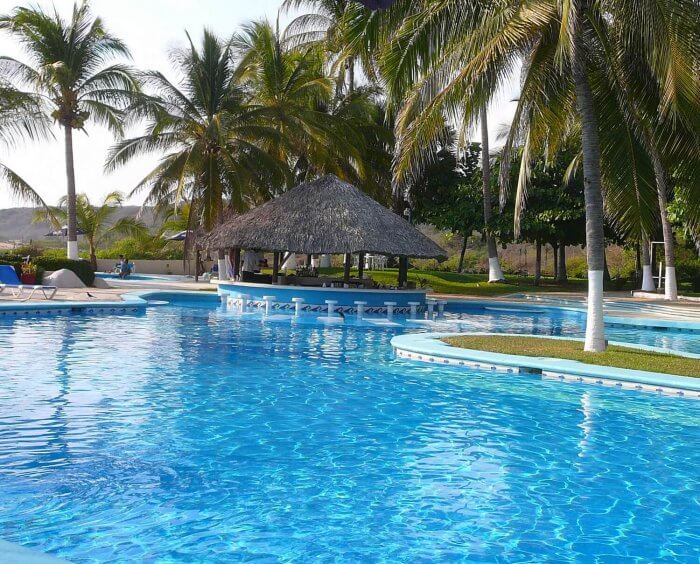 If you've rented a condo without a swimming pool, no need to worry. You can enjoy a resort-style getaway at  Club de Playa Villa Sol at Bacocho Beach. With two pools (one a large freeform and the other for kids), a swim-up pool bar, sprawling landscaped gardens and towering palm trees you'll feel as though you're at swanky resort.  The best part? Admission is less than $5. Lounge by the pool, order cocktails, play beach volleyball or take a stroll along wave-swept Bacocho Beach. This is also a top spot for turtle nestings and releases. 2 X 1 cocktails during Happy Hour 12:00-1:00pm. The Beach Club is now home to the fine dining beachfront restaurant Pez Gallo. To get there take a taxi to Bacocho Beach, just past the Posada Real Cocos Beach Club. Ask staff to call you a taxi when it's time to leave. It's a steep climb back up the hill.
Read More:
Beginner's Guide to Puerto Escondido Beaches 
Roca Blanca Beach: Day Trip to Untouched Mexico 
Crime and safety in Puerto Escondido
Puerto Escondido Oaxaca enjoys a reputation as a safe destination for tourists. But it pays to use common sense when visiting. Here are some tips:
Lifeguards rescue 800 people from drowning each year. Heed red flag warnings and don't enter the water on dangerous beaches ( Zicatela, La Punta, Bacocho).
The rainy season (May-November) brings afternoon showers which can increase biting insects and associated risks such as dengue fever. Use insect repellent with DEET and wear long sleeved shirts and pants. Read 12 Ways to Protect Yourself from Dengue, Zika and Chikungunya virus
Walking alone at night on the beach isn't a good idea anywhere so don't make a habit of it here.
Keep hydrated and avoid the midday sun.
Robberies have been reported on the Andedor Escenico  and the stretch of beach between La Punta and Brisas de Zicatela so carry little cash with you when you go.
Avoid driving at night, keep valuables hidden from view, keep a full tank of gas and carry a copy of your passport if you are travelling by vehicle.
Avoid taking the overnight bus from Puerto Escondido to Mexico City. It passes through the state of Guerrero (listed by the U.S. State Department as one of Mexico's most violent states) and a serious armed robberies have been reported. Airlines such as Viva Aerobus and Interjet are economical ways to get to Puerto Escondido.
Businesses can vary their hours without notice, construction or strikes can cause detours and some restaurants even change location each season. It's always worth asking around before heading out.
Many businesses have no street numbers and are shown as s/n. This app has tried to accurately pinpoint location and provide landmarks for reference but it's always worth carrying a business card from your hotel so you can easily return back should you become lost or disoriented.
Read more:
12 Ways to Protect Yourself from Dengue, Zika and Chikungunya virus
Restaurants in Puerto Escondido
At Almoraduz Restaurant on the Rinconada, chef/owners Shalxali and Quetzalcoatl Zurita are the creative forces behind dishes and cocktails that are a spin on traditional Oaxacan cuisine. Sample local ingredients such as Istmeño cheese, tepiche (a flavourful herb) and beef tongue in chapuline (toasted chile grasshopper) sauce.  This might be your only chance to sample a hibiscus margarita featuring local mezcal, so if it's available, be sure to order it.
If you have time for just one restaurant, Espadin should be top of your list. Located within the picturesque boutique hotel Villas Carrizalillo on a cliff overlooking the beach of the same name, it offers a memorable dining experience. Fish dishes are stand-outs (even the fish sandwich with its latticework of Baja style chipotle sauce is a winner) but Chef Patricio Sandoval, founder of the well-known Mercadito restaurants in Chicago, New York and Miami, has many other popular dishes on the menu such as the roasted beet salad, chicken in mole negro and shrimp tacos.  Espadin is a type of agave so it's not surprising that the restaurant-bar also carries a wide selection of high-quality mezcal.
Read more:
7 Epic Breakfasts in Puerto Escondido 
It's Easy to Fall in Love with One Love Restaurant: A Review of One Love Restaurant Vegan Food 
Weird and Wonderful Foods to Try in Puerto Escondido
Cooking Class with The Mexycan ( and a recipe for salsa verde) 
Chowing down on huauzontle at Jardin de Rafaela Restaurant 
Day Trips from Puerto Escondido including Mazunte, San Agustinillo, Roca Blanca
Day Pass to Dreams Huatulco ( Bring the Kids)
Roca Blanca Beach: Day Trip to Untouched Mexico 
Escape to sea-turtle country at Gecko Rock Resort 
Top Things to Do in Puerto Escondido
Have you ever dreamed of swimming with dolphins? Whether you're on a romantic getaway or a vacation with the kids, according to marine mammal experts, if you love dolphins and whales, you really have only one choice – and that's to swim with dolphins that are free and not held in captivity.
Puerto Escondido Oaxaca is an ideal place for interacting with dolphins, sea turtles and whales in their natural environment. You can be right in the middle of the marine action, watching hundreds of dolphins cavort  in the water and if you're keen, don a snorkel mask and jump in the water with them.
Puerto Escondido is on a major migratory path for whales so you're also likely to see humpback whales and many species of dolphins such as spinners and white-bellies. I've even seen migrating whales while I floated in the swimming pool at Eglantina condominiums.
Another top thing to do in Puerto Escondido is to swim in the bioluminescent Manialtepec Lagoon, a magical experience where you'll be surrounded by blue, glowing, phosphorescent plankton.
Puerto Escondido is also a hub for projects helping to preserve Mixtec traditions by supporting the Tixinda Weaving Cooperative and coordinating educational tours such as shell-dying trips and the sale of Dreamweaver textiles.
Another top activity is to take one of Gina's Foodie Tours beginning at the Marina where you'll chat with local fishermen and tuck into a typical breakfast of nopal cactus, tortillas and beans. Then it's off through the backstreets of Puerto visiting a traditional chocolate grinder, the homes of women making tamales and Benito Juarez Market where you'll explore the indigenous stalls, learning how to identify epazote, pimiento gorda and nance. Book in advance at Gina's Tourist Information booth on the Adoquin.
Read More:
Swimming with the Stars in Puerto Escondido's Bioluminescent Lagoon 
Horseback riding to Atotonilco Waterfall and Hot Springs 
Alligators, Iguanas and more in Barra de Navidad 
7 Awesome Natural Wonders in Puerto Escondido  
Harvesting the Purpura Sacred Sea Snail with Mixteco Weavers  
Celebrating Day of the Dead in Puerto Escondido 
Celebrating Australia Day in Puerto Escondido 
Massage Therapy in Puerto Escondido
Costs and Money in Puerto Escondido
Unlike other parts of Mexico, US dollars are not widely accepted in Puerto Escondido.You will need to get a small supply of Mexican pesos either at home before you depart, at the airport in Mexico City or upon arrival.
How to use an ATM in Puerto Escondido
Save money and reduce hassles by choosing your ATM machine ( cajero automatico) wisely. Some tips:
The debit card from US home banks will be accepted in most bank ATM machines in Puerto. Look for the Cirrus and Plus symbols. Some problems have been reported with Canadian chip cards and may require a call to your home bank to resolve.
Cash advances from a VISA or Mastercard are also possible in ATM machines and will save you the hassle of showing your passport at the teller.
Many ATMs have separate doorways from the bank's main entrance. If there is someone inside using the bank machine, it is expected you will wait outside until they are finished and then enter the room.
Check which currency you are requesting. 500 MXN pesos won't buy you much if you were planning on $500 USD.
Expect to pay between 25-50 pesos for an ATM fee in addition to what your own bank charges. It pays to shop around. Banamex's fees are often the lowest. Scotia Bank in Huatulco charges one of the highest fees 99 pesos.
Choose banks with funds to accommodate large withdrawals as charges will rack up quickly if you make multiple small withdrawals instead of one large one.
If you receive a message from the ATM saying "Your card could not be accepted" it doesn't necessarily mean there's a problem with your card. The machine could have limited funds. Try a smaller withdrawal or come back later. If that fails, you may need to contact your home bank.
Avoid ATMs located outside a bank (such as those on the Zicatela strip) as transaction problems have been reported and are difficult to resolve.
Follow usual precautions when protecting your PIN number and if you have made a large withdrawal consider transportation directly to your hotel rather than wandering around with a large amount of cash.
If your card gets "eaten" by the machine, wait 10 minutes to see if it will ejected and if it doesn't materialize, you will need to speak with a teller inside the bank. This problem seems to happen more frequently after hours so try to do your banking during the daytime.
It is prudent to have more than one way to access funds. Carry a debit card and a credit card for cash advances as a back up. Unlike other parts of Mexico, US dollars are not widely accepted.
Puerto Escondido Immigration Services
Spend any time at all in Puerto Escondido and you'll soon be dreaming about owning your own home on the beach or becoming a Permanent Resident. Instead of struggling with the ever-evolving (and growing) documentation requirements of Mexico's tax and immigration laws, it's best to count on an expert to guide you through the process. After all, the less time you spend on paperwork the more time you'll have to enjoy life in paradise. Born and raised in Canada, immigration whiz Helena of Immigration Services by Helena has lived in Mexico for 20 years and during that time has amassed a wealth of experience assisting clients with immigration and other documentation needs.
Assistance offered by Immigration Services by Helena include:
1. Documentation procurement, guidance and completion for Temporary and Permanent Residence Visas
2. Notifications to Immigration Authorities on changes of address, marital status, workplace or nationality
3. Translation
4. Tax Registration
5. Assistance at immigration offices in Puerto Escondido
6. Document procurement and legalization of documents issued in Mexico, including birth and marriage certificates
7. Assistance with real estate transactions
8. Exit and Entry Permits
9. Outbound visas
10. Other compliance requirements and cooperation with authorities within Mexico's highly complex and rapidly changing regulatory framework
Contact her by email at lucysonido@hotmail.com for cost estimates. 9:00 am – 5:00 pm Monday-Friday
Puerto Escondido Surfing
Thanks to the Mexican Pipeline, an epic wave break at Zicatela beach, Puerto Escondido is a mecca for serious surfers. If you're tempted to get your board shorts on and carve a wave of your own, you're wise to go with a pro. The waves are as ferocious as they are legendary. Reaching heights of 20 feet, they're not for the timid or inexperienced. Fortunately, there are plenty of surf schools in Puerto Escondido to choose from. Here are a few of the best:
Zicazteca Surf School, run by surf pro Julio Soto Novola, features a two-hour class with transportation, surf board, rash guard and board shorts for the ladies (so you needn't worry about losing a bikini). Julio is also an accomplished surfboard artist and muralist (check out his work at Fish Taco & Beer resto).
On Zicatela beach, Jose Ramirez, a former lifeguard (look for him at the surf shop at Bazaar), also comes highly recommended. Oasis Surf School is another top choice, combining Spanish and Surfing lessons all-in-one.
When planning your trip, note there are two surfing seasons. The rainy season sees the most wave action and international surfing tournaments while the dry season (November-April) has more manageable waves. Get Surf reports with swell heights, wind and tide info or watch the HD Surf Cam at Surfline.
Study Spanish in Puerto Escondido
Oasis Surf and Language School
Even your pre-schooler can take Spanish classes at this professional language school located in the Rinconada neighbourhood. The school offers Beginner, Intermediate and Advanced classes as well as specialized Medical Spanish for health care professionals. A full slate of cultural activities is available, including a Learn-to-Surf program.
 Newbie surfers will be equipped with everything needed to start surfing: surfboards, rash-guards, transportation to the beach and the surf instructor. All instructors have Level 1 Surf Coaching Course and Red Cross First Aid Course training. The surf boards are made by Roger Ramirez who owns the Oasis Surf Factory and Surf School. The school can also arrange Volunteer experiences if you'd like to give back to the community and practice your new lingo at the same time.