WELCOME TO A TASTE FOR TRAVEL
Welcome to A Taste for Travel! If you love food, drink and sun destinations you've come to the right place. The travel tips, healthy global recipes and itineraries in this online travel magazine are designed to help you discover the best of Mexico, the Caribbean, Latin America, Canada and Europe – and a few other places in between!
Our Story
OUR READERS
Our readers are highly-engaged culinary adventurers who are passionate about travel and world cuisine. We care deeply about our readers and welcome all comments and feedback.
MENTIONED IN NEWS
We've appeared in the world's leading publications, reaching an estimated readership of 1.5 million people annually. Find us quoted in Business Insider, Lonely Planet, Holland America, Reader's Digest, Parade and more.
RECOGNITION
Our award-winning writing has been recognized by the North American Travel Journalists Association  and we were honoured to receive The Caribbean Tourism Organization's award for best Canadian Travel Blog!
COLLABORATIONS
We've collaborated with tourism boards, hotels and resorts as well as destination marketing organizations. Contact us to learn more about how we can help showcase your destination.
MICHELE PETERSON
PUBLISHER and EDITOR  
Dividing her time between Toronto, Mexico and Guatemala (or the nearest tropical beach), Michele Peterson de Sanchez is an award-winning writer, editor and publisher who specializes in travel and cuisine. After a successful career as an investment executive, she swapped briefcase for flip flops and now travels the world seeking out the most amazing food, drink and sun destinations. She's worked on projects in Bolivia, Honduras, Russia and Guatemala and believes in the power of culinary tourism to drive sustainable development and support cultural heritage.
Much of her writing is focused on the historical, cultural, political and personal stories behind food. They've been shaped by more than 25 years  exploring Latin American cuisine. A member of the Travel Media Association of Canada, her work has appeared in Lonely Planet's cookbook Mexico: From the Source as well as 100+ publications including National Geographic Traveler, Conde Nast, Fodor's, 55 Plus,  the Globe & Mail and best-selling book anthologies. Visit her personal website for sample clips or see her professional resume on LinkedIn.
Recent posts by Michele Peterson

SUE CAMPBELL
CONTRIBUTING EDITOR
Sue Campbell is a multi-award-winning Canadian travel writer who is a leading expert on the Caribbean, Mexico and other tropical hot spots.
Her work has appeared in major guidebooks, magazines and online publications including Fodor's, Reader's Digest, USA Today 10Best, Forbes, Montreal Gazette, Globe & Mail, Touring Bird (owned by Google), Delta Sky Magazine and many more. Check out some of her published print work here.
Recent posts by Sue Campbell
MARK STEVENS & SHARON MATTHEWS-STEVENS
CONTRIBUTORS
Mark Stevens and photographer/partner Sharon Matthews-Stevens are a multiple-award-winning team who have provided stories and pictures for outlets from Canadian Yachting to the Washington Post. Together they've swum with sharks in Bahamas, dogsledded in the Yukon, cooked in the mountains of Morocco and reported from at least 40 Caribbean islands. Visit their portfolio at Travel Write Click 
Recent posts by Mark Stevens
FRANCISCO JAVIER SANCHEZ
MANAGING EDITOR & CONTENT CURATOR
With his background in agriculture, environmental sustainability and social justice, Francisco Sanchez is a photographer and content creator who is passionate about the interrelation between food, tourism and heritage. He studied at the University of San Carlos in Guatemala  and the University of Winnipeg.
When not producing content for leading print and online publications such as enRoute onAir, Fifty-five Plus Magazine, Ottawa Wedding, The Montrealer and Canadian World Traveller, he's testing recipes, researching stories or whipping up  the world's best guacamole.
Recent posts by Francisco Sanchez

JESSICA PERCY-CAMPBELL
COLUMNIST
Jessica Percy-Campbell, aka The Vegan Vacationista, is a Canadian world traveler seeking to discover the best plant-based options on the planet. With the belief that vegan travel shouldn't have to be a struggle, Jessica sets out to find the best veg-friendly food in the sunniest of destinations.
From Aruba to Australia and everywhere in between, Jessica lives to experience fantastic restaurants, scenic hikes, animal sanctuaries, taco trucks, coffee joints and the funkiest beach towns the world has to offer.
Recent posts by Jessica Percy-Campbell
HEATHER KOROLUK
CONTRIBUTOR
Heather Koroluk is a Toronto-based freelance travel writer and photographer. She loves exploring and showcasing the world of luxury travel, vegetarian cuisine, soft outdoor adventure, spa and wellness as well as high-end fashion. Her work has been published in Canadian World Traveller magazine and Taste & Travel International.
Recent posts by Heather Koroluk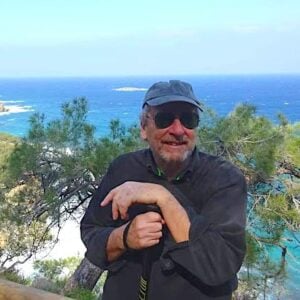 Rick Powell
CONTRIBUTOR
Canadian by birth, Rick Powell has lived in Vancouver, in England and most recently in Cyprus. His writing includes fiction and non-fiction, as well as articles for international and local magazines. Stane Street, his historical travelogue, was recently published in England and his first historical mystery thriller, The Missing Prisoner, is available on Amazon.
Recent posts by Rick Powell

Could this be you?
WRITER
We are always looking for talented storytellers and photographers to join our team. Contact us!

Could this be you?
RECIPE DEVELOPER
We are always looking for talented storytellers, food stylists and photographers to join our team. Contact us!