We may earn income from links in this post. Please read this Disclosure for details.
In this fennel au gratin recipe from Puglia, Italy fresh fennel topped with almonds is baked and served alongside a delicious mousse of ricotta forte or strong ricotta, a typical product of the Salento Region. It makes a light and easy first course or side that's also gluten-free!
Why is Fennel is So Popular in Puglia, Italy?
Fennel season is fall and winter in North America but it's popular year-round in the Salento region of Puglia, Italy. During my time at the Festival of San Martino in Salento in November, I enjoyed fennel in various dishes.
The aromatic herb with a faint anise taste appeared grilled, fresh and in braised form at almost every meal.
A few months later, during the wonderful festival Tavola di San Giuseppe (Tables of St Joseph) celebration in Minervino di Lecce in Puglia, an event that takes place on March 18 and 19th each year, I discovered that fennel bulbs are also rich in symbolism.
During this religious festival, families create a Tavola di San Giuseppe in their home according to precise rules and traditions. The tables are carefully laid out with 13 places, representing the Holy Family and 10 saints.
Dignitaries, family and guests are then invited to enjoy an abundance of regional foods including ritual bread, pasta and chickpeas (their yellow hue representing the colour of spring), lampascioni or pickled onions (representing the transition to a new season) and fennel (representing purity).
Why is fennel also popular throughout the Mediterranean? Packed with fiber and loaded with vitamin C and potassium, it has a wealth of culinary and medicinal uses.
It's especially well known as a digestive aid because certain essential oils within fennel stimulate the production of gastric juices and absorption of vitamins and minerals. They also reduce inflammation.
This makes fennel ideal to include in a first course or appetizer and popular in traditional recipes throughout Puglia.
One of the best places to try an upscale version of this traditional recipe of the Salento region of Puglia is at the historic Palazzo Ducale Venturi in the heart of the small town of Minervino di Lecce.
At this 16th century palace that has been converted into a luxury boutique hotel, Executive Chef Donato Marsella prepared the fennel with ricotta forte which created a heavenly combination between the sweet anise, the earthiness of toasted almonds and the pungent, sharpness of the ricotta forte.
Chef Marsella generously agreed to share his recipe for finocchio grantinato alle mandorie or Fennel Au Gratin with Almonds. It's surprisingly easy to make and so delicious, it makes the perfect first course or side dish. And, unlike other au gratin dishes, it happens to be gluten-free.
I'm sure his recipe will inspire you to include fennel in your meal planning and enjoy this heart-healthy bulb more often!
How to Choose Fennel
The key to the success of this dish is fresh fennel. When shopping for fennel try to choose firm, young fennel without any brown spots or blemishes.
Fortunately, fennel will last a week ( or even longer ) in the refrigerator so it's not a fussy vegetable you have to worry about rushing home to cook before it spoils.
Related: In Puglia, the only other vegetable I saw more of than fennel was chicory, most notably the famous chicory of Galantina … known as puntarella because of its pointy shoots. Check out my easy recipe for pure di fave e cicoria, another traditional dish of the Salento region that combines both chicory and fava in creamy perfection
What is Ricotta Forte and Where Can You Buy it?
Another key ingredient to Fennel Au Gratin is the ricotta forte. But don't be daunted by this ingredient, if you haven't heard of it. Ricotta forte or strong ricotta is a typical product of the Salento Region of Puglia and unlike regular ricotta which is enjoyed fresh, ricotta forte (also known as skuanda and scuant) is ricotta cheese that is fermented by bacteria and yeast for several days, then salted and cured. What develops is a unique cheese with a very intense flavour that's creamy, spicy and slightly bitter.
In the cucina povera or "peasant style" of cooking in Puglia, ricotta forte is traditionally added to pasta sauce or slathered on bread to boost the taste of simple foods.
Ricotta forte is such a special product it's even been recognized as a geographic Prodotto agroalimentare tradizionale (PAT), an official approval granted to traditional Italian regional food products similar to a denomination of origin (DOP), by Italy's Ministry of Agriculture, Food, and Forestry.
The good news for those of us who don't live in Puglia is that it's easy to buy ricotta forte outside of Italy. Ricotta forte isn't sold in the dairy department of the supermarket like regular ricotta. Instead, it's sold in jars with a really long expiry date and doesn't require refrigeration unless opened. This means it's easily available in Italian specialty stores, gourmet shops or online on Amazon.
If you don't have ricotta forte, it's possible to substitute gorgonzola, blue cheese or a soft goat cheese for ricotta forte. If you do so, increase the amount of cream you use in this recipe. Ricotta forte is a very spreadable cheese and is almost the consistency of thick Greek yogurt.
Instructions for Fennel Au Gratin with Ricotta Forte Mousse
To make this Puglia recipe for fennel au gratin created by Executive Chef Donato Marsella of the luxury boutique hotel Palazzo Ducale Venturi gather all of your ingredients including bulbs of fresh fennel, blanched almonds, ricotta forte and cream cheese plus the cherry tomatoes and edible flowers for garnish. There are only five main ingredients … further proof that this is a very simple recipe to make!
First, cut off the fronds of the fennel and slice the bulbs lengthwise with a sharp knife. Set aside some of the fronds to garnish the completed dish.
Then, braise the fennel in boiling salted water until tender but still crisp. Drain and plunge the fennel into ice water to stop the cooking process.
Drain and place the cooked fennel in a bowl while you prepare the almond gratin and the ricotta forte mousse.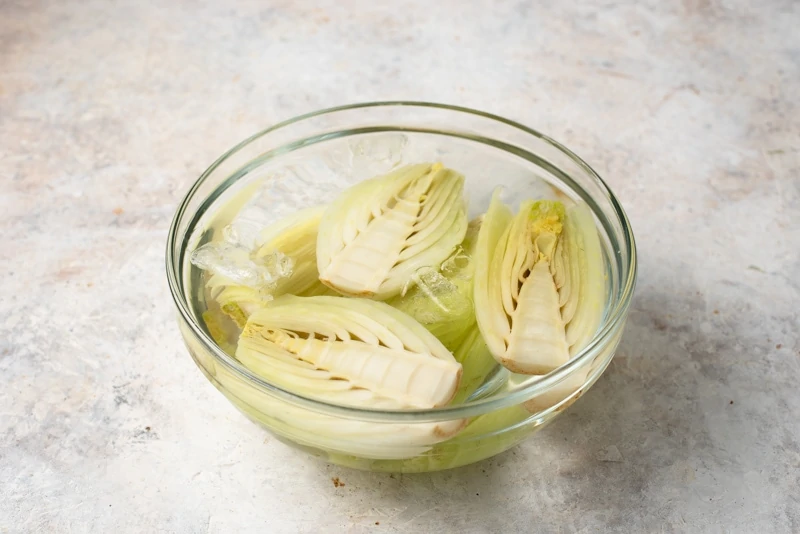 Chop half the almonds into small pieces and crush the remaining half of the almonds into a tiny pieces until it almost forms a powder.
Place the fennel on parchment paper and arrange the chopped almonds over top. Then sprinkle a tablespoon of extra virgin olive oil over the almonds and fennel.
Next up is preparing the mousse. Mix the ricotta forte (or a strong cheese such as blue or gorgonzola if using) with the cream cheese in a food processor.
Process the cheeses together with the added table cream and blend until smooth and creamy. The mixture should be soft enough to spread easily.
Once your cheese mousse is prepared, place it in the refrigerator for 10 minutes while the fennel is baked.
Bake the fennel and almonds for 10 minutes at 425 F or until the almonds are browned and crispy.
Once the fennel and almonds are browned remove from the oven and plate the dish. Using a pastry bag with a large nozzle or a wide spoon, spread the ricotta forte mousse on the plate in a swoosh form. Then position the fennel topped with browned almonds beside it and garnish with sliced cherry tomatoes, edible flowers and fennel fronds.
Serve immediately.
You can pair this Fennel au Gratin with Ricotta Mousse with one of the wonderful white wines of the Salento Region. Some top choices for Salentine Vini Bianchi include Matisse and Libbeccio (Unione Agricole di Melissano) as well as the exceptional wines produced by Menhir Winery in Minervino di Lecce.
Print
Fennel au Gratin with Ricotta Forte Mousse
Fresh fennel topped with almonds is baked and served alongside a delicious mousse of ricotta forte or strong ricotta, a typical product of the Salento Region of Puglia, Italy. It's an easy first course that's also gluten-free!
Ingredients
3

fennel

200

gr

almonds

blanched

salt and pepper

to taste

5

ml

olive oil

extra virgin
Ricotta Mousse
200

gr

ricotta forte

or substitute gorgonzola cheese

300

gr

soft cream cheese

room temperature

100

ml

cream

10% cream
Instructions
Slice fennel lengthwise into thick slices and then blanch in boiling water, drain and cool on ice

Prepare a baking sheet with parchment paper, arrange cut fennel in the shape of a heart, brush with olive oil and add salt and pepper to taste

Pulverize half of the almonds and chop the remaining half of almonds into large pieces/ slices. Sprinkle the fennel with the almonds and drizzle with a little olive oil

Bake at 220 C or 425 F for 10 minutes until the almonds are browned
Ricotta Mousse
Place the ricotta forte cheese in a mixer and blend with the cream cheese and cream at a maximum speed for five minutes until the mixture is soft and homogenous.

Cool in the fridge for 10 minutes
Assembly
Create a curl with a pastry bag and arrange the fennel au gratin beside it and garnish with fennel fronds, an edible flower and havled cherry tomatoes.
Notes
If you substitute gorgonzola or a firmer cheese for ricotta forte you'll need to add a bit more cream to get a smooth consistency.
Don't overcook the fennel - it should be slightly crisp and firm rather than soggy so it holds its shape when plated.
Nutrition calculations are estimates.
Nutrition
Calories:
368
kcal
|
Carbohydrates:
7
g
|
Protein:
11
g
|
Fat:
34
g
|
Saturated Fat:
13
g
|
Cholesterol:
71
mg
|
Sodium:
151
mg
|
Potassium:
252
mg
|
Fiber:
2
g
|
Sugar:
2
g
|
Vitamin A:
800
IU
|
Calcium:
156
mg
|
Iron:
1.1
mg
More Thoughts about Food and Recipes in Puglia
You can sample fennel au gratin at its source in Minervino di Lecce, Puglia in southern Italy. Here are some resources to help you plan your trip:
This post contains affiliate advertising links. Read our Disclosure Statement for more information.
Official Puglia Website: www.viaggiareinpuglia.it
Palazzo Ducale Venturi: Palazzo Ducale Venturi is a 16th century fortified palace that has been restored as a luxury boutique hotel and spa. During the restoration, workers uncovered impressive star-vaulted ceilings, bedrooms adorned by impressive frescoes and a secret passageway built–according to local legend–to facilitate liaisons between the Duke Venturi of Minervino and the Abbess of a nearby convent. The restaurant is open to guests of the hotel.
Check rates and availability of Palazzo Ducale Venturi.
Minervino di Lecce: If you'd like to learn more about this charming town near Lecce in Puglia, visit the Minervino di Lecce website.
Cantine Menhir Salento: Part of the Cantine Menhir Salento vineyard is devoted to ancient primitivo vines while the remaining is comprised of new vines including minutolo, aleatico, malvasia nera, susumaniello, and negro amaro. Be sure to visit Origano, their gourmet food boutique and wine bar if you visit Minervino di Lecce.
Dividing her time between Canada, Guatemala and Mexico (or the nearest tropical beach), Michele Peterson is the founder of A Taste for Travel. Her award-winning travel and food writing has appeared in Lonely Planet's cookbook Mexico: From the Source, National Geographic Traveler, Fodor's and 100+ other publications.
Read more about Michele Peterson.