We may earn income from links in this post. Please read this Disclosure for details.
There's a dizzying array of choices when it comes to luxury all-inclusive resorts in Cancun and Riviera Maya, Mexico.
But when it comes to choosing the absolute best of the all-inclusive resorts near Cancun, the ones we'd love to return to (and recommend to friends and family), certain resorts rise to the top of our list.
In addition to must-haves like all-inclusive luxury accommodation, meals, drinks, activities and room service as well as cleanliness, safety and service, these hotels have unique ingredients that make them extra special.
Here are our top picks for the very best all-inclusive resorts in Cancun and Riviera Maya to visit now.
1. Breathless Riviera Cancun: Best Adults-Only for Singles
Selected by Tropical Hotspot Expert, Sue Campbell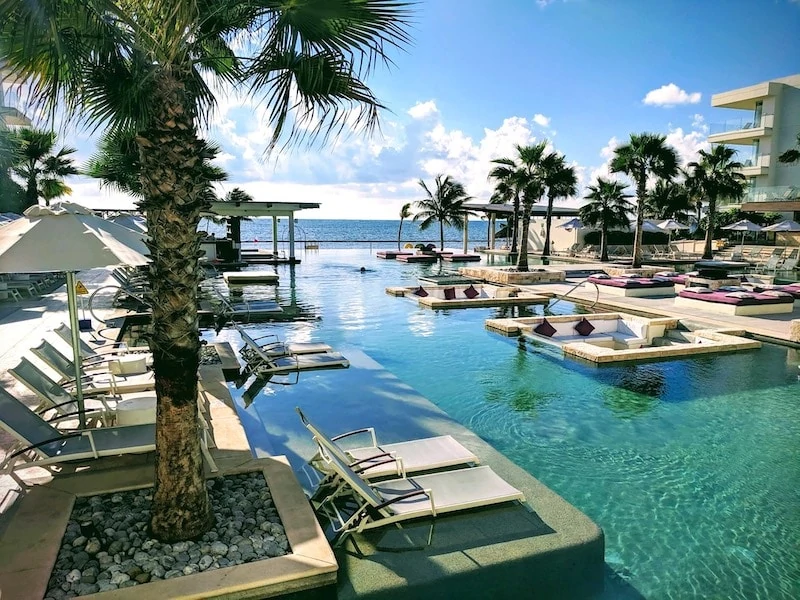 Why Go: It's worth it to venture 20 minutes away from Cancun's hotel zone to discover this Riviera Maya gem just outside of Puerto Morelos.
Breathless Riviera Cancun Resort & Spa offers an ideal oasis for laid-back luxury or high-energy partying ( or easy-going in-between) in one all-inclusive resort.
One could say that there's a pool for every pleasure and personality. Choose from the main Energy pool, the relaxing xhale club pool and the electric-thumping pool in the xcelerate Party Zone.
Hop from one vibe to the other depending on your mood. Singles, couples and groups of friends will be comfortable at this adults-only resort.
Choosing your accommodation location really depends on your preferred holiday style.
Pro Tip: If you'd like to avoid the high energy sounds from the party areas on your deck, choose the xhale Club wing.
For extra couples' appeal, these stylish and spacious suites feature Jacuzzis or a swim-out channels. There's access to every zone including a deluxe private pool, private bar with elevated snacks, and dedicated concierge services.
No matter which wing you choose at Breathless Riviera Cancun, all guests enjoy the Breathless signature Unlimited Luxury® offerings. This includes dining at 10 gourmet options, high-end spirits at nine bars, beach and pool wait service.
Our personal favourite is 24/7 room service via a 'secret box' where you need never see the server if you don't want to.
Special All-Inclusive Resort Amenities
The Breathless adult-only, all-inclusive brand was designed to appeal to a modern, trendsetting millennial niche with high-tech conveniences. A personal iPad supplied in each room commands all ambient and comfort controls. That even includes room service.
Although resort activities and events like foam pool parties and champagne parades hosted by hot DJs are the norm, this location will also appeal to older travellers (or others looking for tranquility) thanks to quiet zones set throughout the resort.
For couples, the massive Relax Spa by Pevonia, set on its own floor with a wonderful water circuit and superb choice of treatments, is another huge draw.
Insider Tip: Though you'll love dining at any of the a la carte restaurants on site, don't miss the weekly Saturday beach BBQ by the sea.
A multitude of meats and vegetables are grilled Argentinean style to melt-in-your-mouth perfection. Tables in the sand, great music, and a generous buffet of sides and tempting desserts make it an ideal tropical evening out.
This is one of the best Breathless Resorts for a girls getaway! Browse other ideas for girlfriend getaways in the Caribbean.
Check prices and availability at Breathless Riviera Cancun Resort & Spa on Booking.com.
2. Hyatt Zilara Cancun: Best Hyatt All-Inclusive for Couples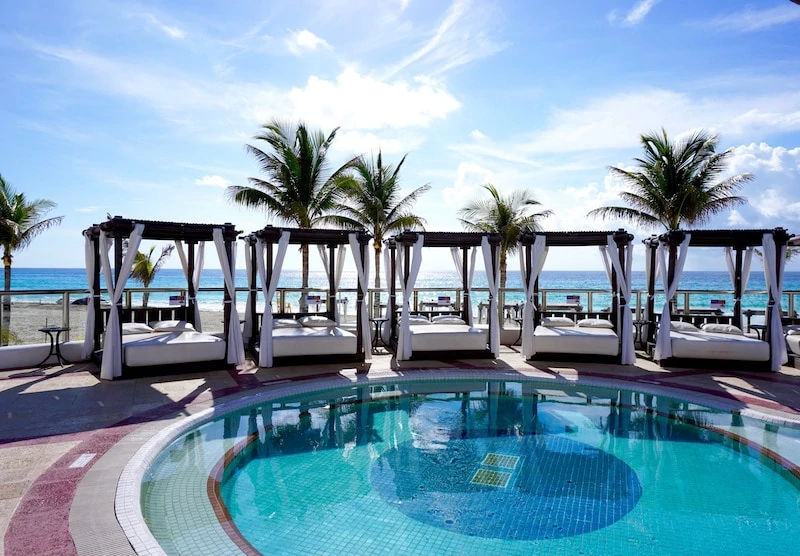 Why Go: Set on the widest stretch of sand in the hotel zone, this adult-only, all-inclusive luxury resort recently unveiled a redesign of its wellness programs, spa facility and culinary offerings which vaults it to the top of our list of the best all-inclusive resorts.
Being set on a wide stretch of beach means it experiences much less of an impact from sargassum seaweed and beach erosion.
Another appealing feature of the Hyatt Zilara Cancun is that all of the suites feature fantastic ocean views. Although this property is older than some of the other resorts in Cancun, it scored a prime location and features much larger suites than many of the newer builds.
For example, the balconies are large enough to actually enjoy. Many even have hammocks so you can really soak up the tropical atmosphere.
I'm also a big fan of the Hyatt Zilara's 24-hour in-suite dining with a "magic box" for discreet room service delivery. After all, who wants to get dressed for room service?
Healthy dining options are available throughout the resort's 11 restaurants, bars, lounges and cafes which makes this property especially appealing to vegan, vegetarian and gluten-free diners.
Foodie Tip: Food fans should opt for an evening at the Chef's Plate where a six-course organic set menu of haute cuisine available with no surcharge for select room categories
This luxury property also appeals to all ages of adults – from 30-somethings to baby boomers.
Special All-Inclusive Resort Amenities
With activities such as foam pool parties, hands-on cooking classes in a real kitchen theatre (no demos here) and morning ashtanga and vinyassa yoga on the beach, there is something for everyone to participate in. The fact that so many of the activities are included makes the Hyatt Zilara one of the best value all-inclusive resorts in Cancun.
The wellness offerings are exceptional at the Hyatt Zilara Cancun and contribute to a creating a vacation experience where you actually come back feeling healthier than when you arrived.
The hydrotherapy circuit, available complimentary to guests, with its hot and cold zones of plunge pools, whirlpool, sauna, steam room and more, is the heart of the Hyatt Zilara Cancun's newly renovated three-story Zen Spa.
Guests can soak up the therapeutic benefits of mineral-rich waters, take a spa treatment and then relax on lounge chairs within a beautiful, new space.
Working out is also a pleasure in the resort's stunning Sky Gym featuring modern fitness equipment such as treadmills, weights and strength training machines. The full-length, outdoor infinity lap pool offers fantastic views.
Check prices and availability at Hyatt Zilara Cancun on Booking.com.
3. Hotel Xcaret Arte: Best Luxury All-Inclusive for Art and Nature Lovers
Why Go: Opened in July 2021 by Grupo Xcaret, Hotel Xcaret Arte is designed exclusively for adults. It features 900 suites, seven restaurants by acclaimed chefs, 10 bars and a spa with an indoor/outdoor hydrotherapy circuit.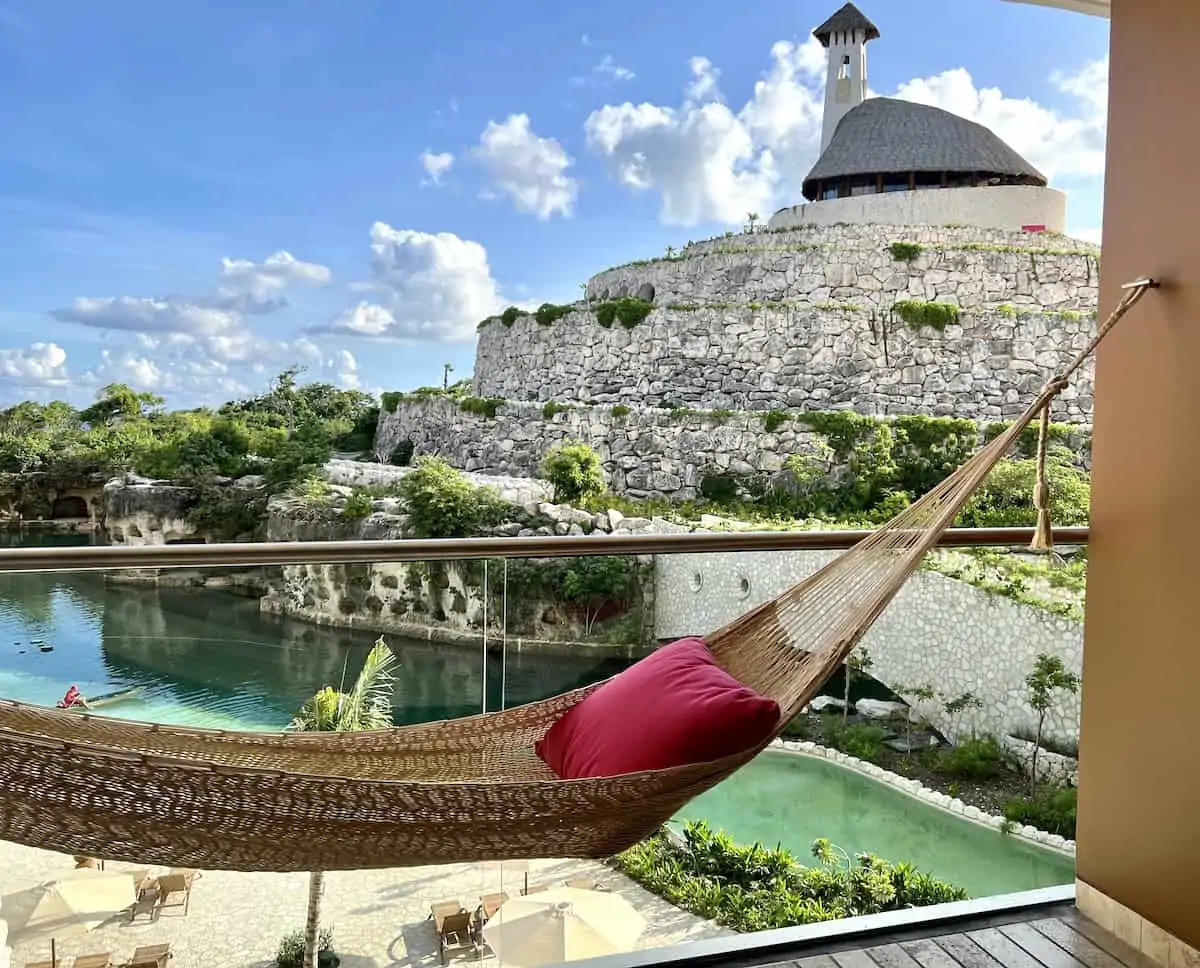 Set amid Caribbean coves, cenotes and underground rivers, the luxury hotel provides resort guests with all-inclusive access and transportation to a vast range of eco-adventure attractions and experiences.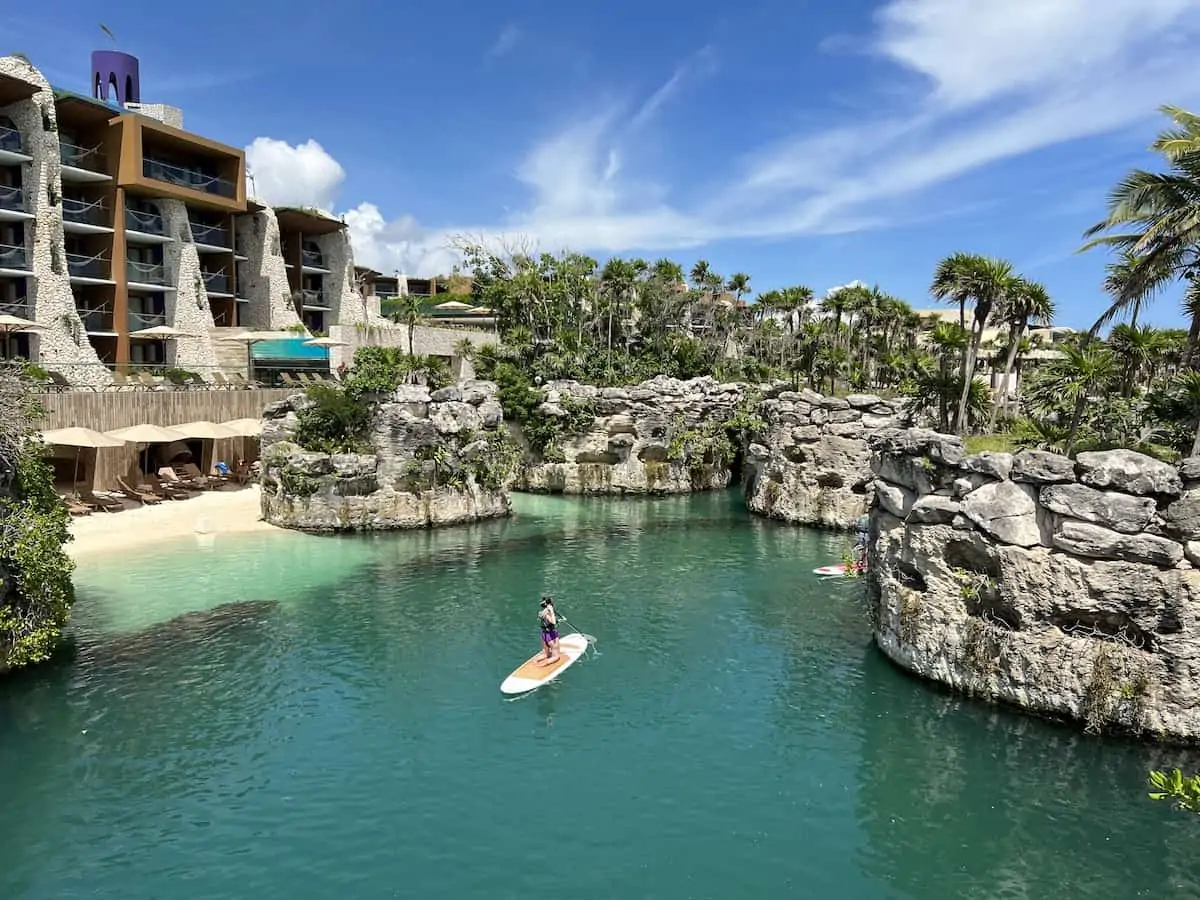 Go zip-lining at Xplor, float on a gondola at Xoximilco (one of the top things to do in Cancun), snorkel at Xel-ha, go rafting at Xavage and plunge into the mysterious world of underground cenotes.
The only limit is your stamina.
Yet this architecturally stunning resort will also appeal to art and culture lovers. It's designed in zones of "Casas" inspired by Mexican cultural traditions.
This means resort guests can take hands-on workshops on themes of textiles, dance, painting, pottery and cooking.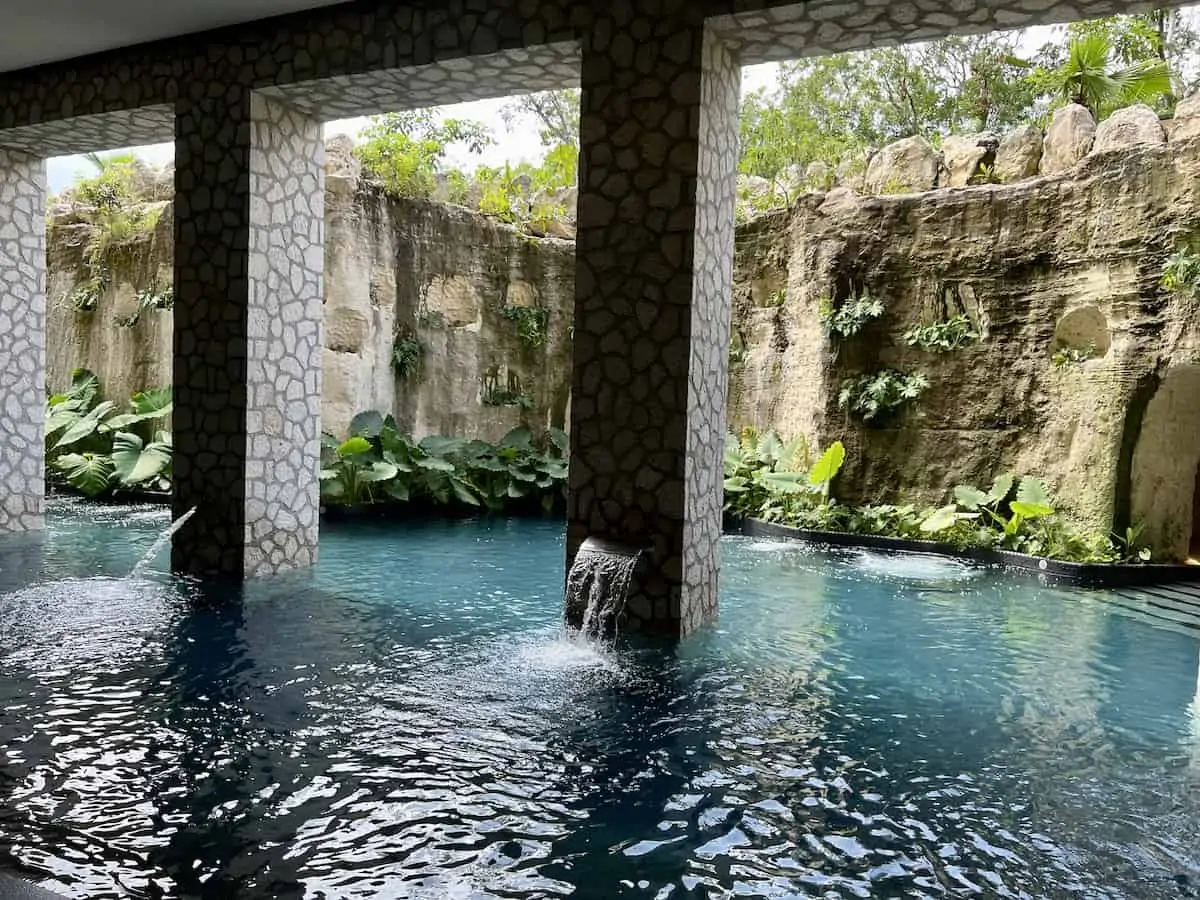 Unwinding is easy thanks to Mulak Spa and its wellness zone featuring hot and cold indoor and outdoor hydrotherapy pools.
Check rates and availability at Hotel Xcaret Arte in Playa del Carmen on Booking.com.
4. Secrets Aura Cozumel: Best All-Inclusive Resort on Cozumel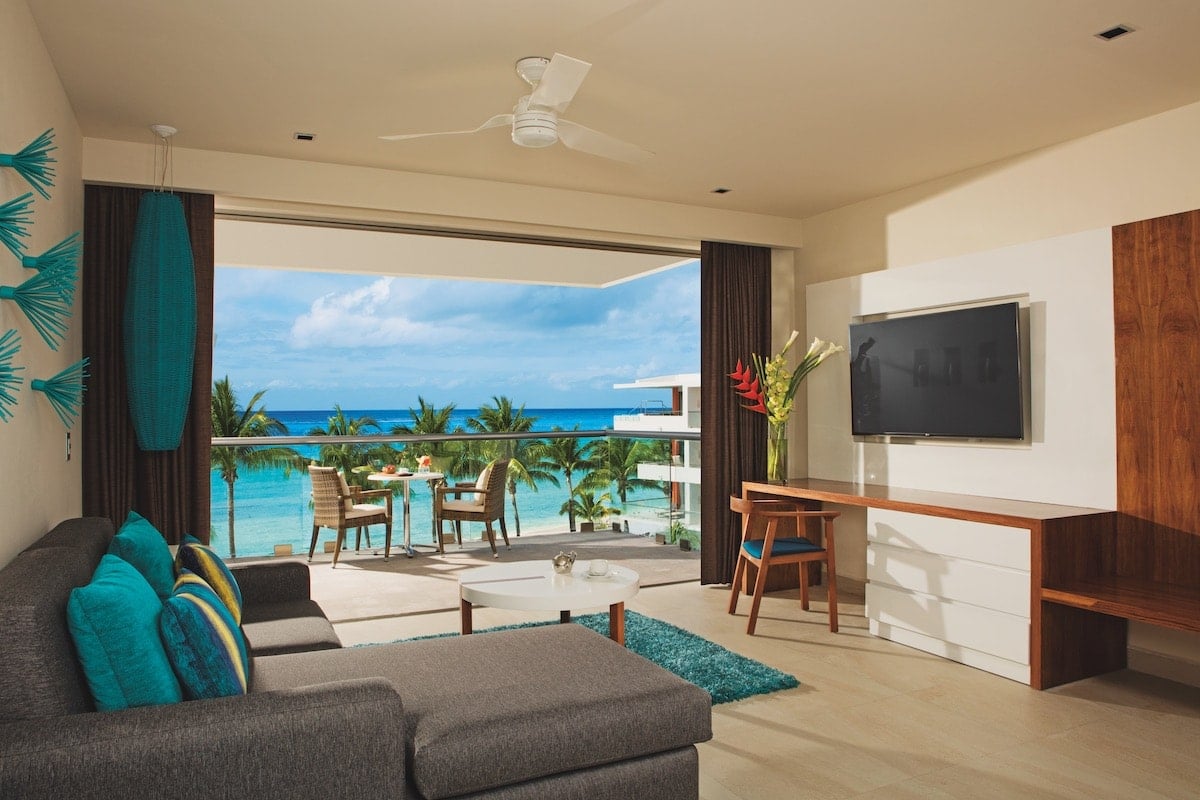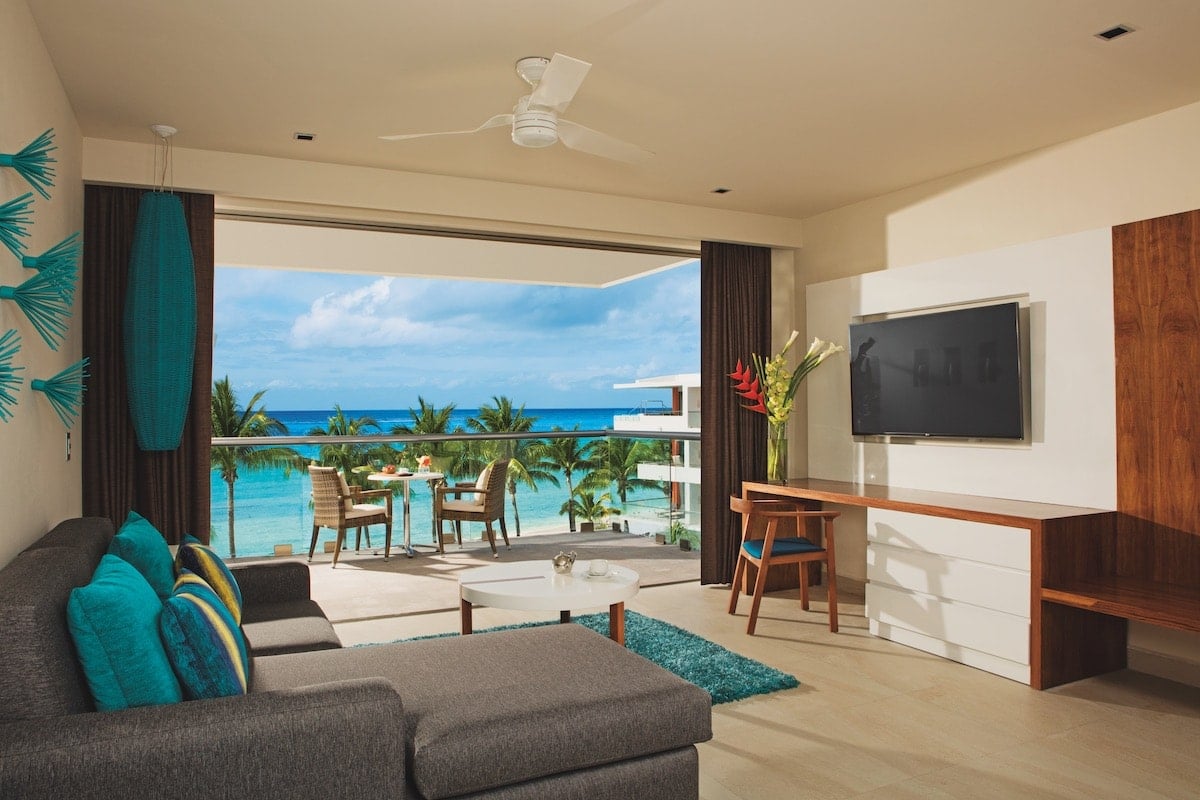 Why Go: With just 266 suites, adult-only Secrets Aura Cozumel offers an intimate boutique-style resort experience but with all the 5-star perks.
You'll enjoy 24 hour room service, turn-down service, a full-service spa, loads of suite options ( love those swim-out suites) and terraces or balconies.
Set on the largest beachfront on Cozumel, there's no shortage of quiet spots to play island castaway or enjoy a range of water sports. The eight onsite restaurants means there's a wealth of dining options to choose from as well.
Hotel guests also enjoy privileges at neighbouring Sunscape Resort. Five bars and loungers round out the offerings.
Being on Cozumel island away from the buzz of Cancun, offers a Caribbean vibe but with all the conveniences of easy access to mainland Mexico and its attractions.
For couples looking for off-resort adventure, Secrets Aura Cozumel makes an ideal base for scuba diving excursions, snorkelling tours or simply renting a jeep to explore Cozumel.
The island is home to two archaeological sites, including San Gervasio dedicated to Ixchel, the Mayan goddess of fertility.
Check prices and availability at Secrets Aura Cozumel on Booking.com.
5. Grand Velas Riviera Maya: Best Playa del Carmen Family Resort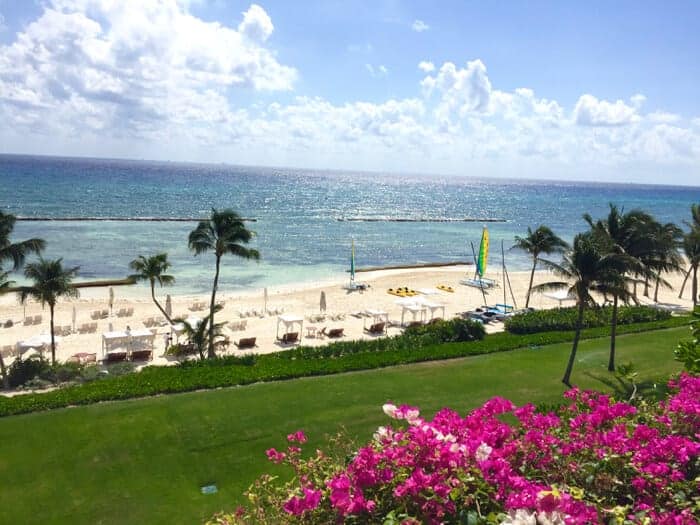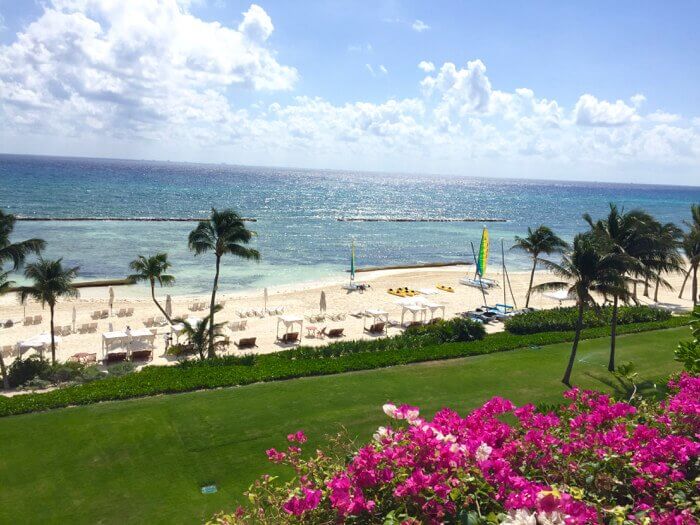 Why Go: This luxurious resort makes our list of the Best All-inclusive Resorts in Cancun and Riviera Maya because of its superior setting and cuisine.
Although its spaciousness, lush setting and spa make it appealing for foodie couples, its family-friendly amenities also vaults it to the top of out list as the best resort for families near Playa del Carmen.
The setting of Grand Velas will make you feel as though you've been transported to a jungle retreat.
Set amid mangroves, towering Yucatan rainforest and meandering streams, the Grand Velas Riviera Maya Playa del Carmen also features a huge infinity swimming pool and spa zone.
Special All-Inclusive Resort Amenities
Fine cuisine is a highlight of a stay here. Grand Velas Riviera Maya has launched a new DIY ceviche bar at the resort's oceanfront Azul restaurant. Assisted by a resort chef, guests can craft their own ceviche. Choices include tuna, salmon, scallops, squid and shrimp.
Fun Fact: Grand Velas was the romantic backdrop for the couples retreat episode in the Netflix series 'Love Is Blind' season one.
Check prices and availability at Grand Velas Riviera Maya on Booking.com.
For more all-inclusive resorts for families, check out our Best All Inclusive Resorts in Mexico for Families.
6. Secrets The Vine Cancun Resort & Spa: Best for Sophisticated Urban Couples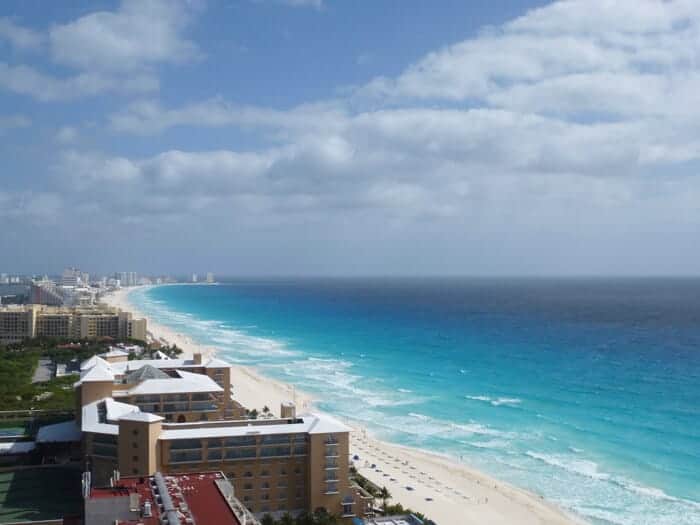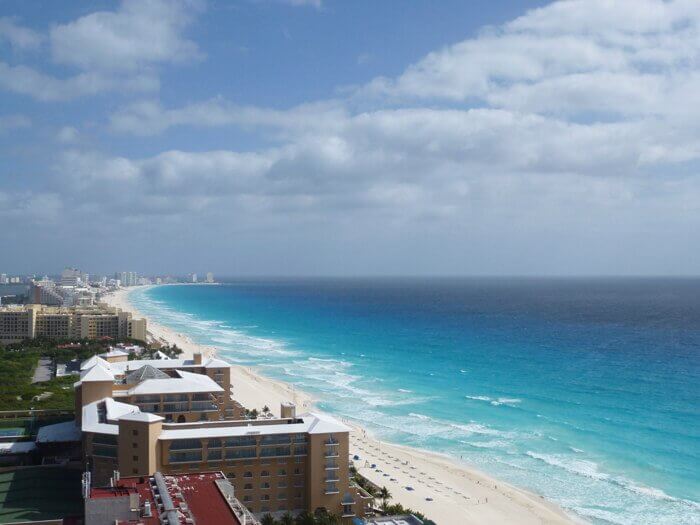 Why Go: This sophisticated yet playful adults-only high-rise hotel towers over the beach in the heart of the Cancun's lively Hotel Zone.
It's unique in so many ways we had to add it to our list of Best All-Inclusive Resorts in Cancun and Riviera Maya.
Secrets The Vine Cancun was designed by The Rockwell Group (the same award-winning architectural group that designed Nobu Hotel in Las Vegas) so it offers drama at every turn.
One of the features we love is the east-west positioning of the glass and white metal 18–story facade. This means guests enjoy fantastic ocean views as well as the rare opportunity to watch both sunrise and sunset.
Read our full review of Secrets The Vine Cancun to see interior photos and pool shots.
Special All-Inclusive Resort Amenities
Being in the heart of the Cancun hotel zone has lots of advantages. You're steps away from the fantastic Museo Maya de Cancun, one of the best museums in Mexico.
It's the most important museum by Mexico's National Institute of Anthropology and History since the construction of the Museo del Templo Mayor in 1987.
You can easily hop over to Isla Mujeres, an island ringed with white sand that rarely suffers from sargassum seaweed.
Check prices and availability at Secrets The Vine Cancun on Booking.com.
RELATED: 7 Romantic Things to Do in Cancun
7. Paradisus La Perla: Best All-Inclusive Playa del Carmen Resort for Couples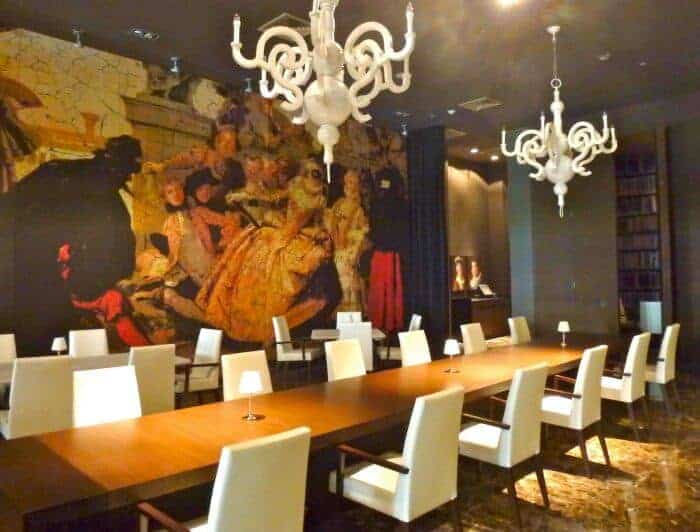 Why Go: This glamorous all-inclusive is set amid shimmering water gardens, sculptures and artwork within walking distance or taxi to Playa del Carmen. This makes it easy to get out and go exploring Quinta Avenida, Playa del Carmen's pedestrian zone.
Opt for the Royal Service upgrade and you'll enjoy many worthwhile extras.
Special All-Inclusive Resort Amenities
Bold, playful, experimental–an evening at Passion by Martin Berasategui is not your ordinary dining experience.
Overseen by the esteemed Spanish chef (who has garnered 8 Michelin stars), it's an unforgettable foodie experience. This makes Paradisus La Perla Playa del Carmen one of our picks for the best all-inclusive resorts in Riviera Maya.
This is a good all-inclusive resort for a multi-generational family trip. It's located next door to family-friendly Paradisus La Perla where there's even a family concierge at the Reserve room category.
Opt for the tasting menu, a sensory journey through the tastes, textures and ingredients of the best of molecular cuisine. You won't soon forget imaginative dishes such as smoked tuna tartare and tempura truffled egg yolk with seaweed cream.
Check prices and availability at Paradisus La Perla on Booking.com.
8. Zoetry Paraiso de la Bonita, Puerto Morelos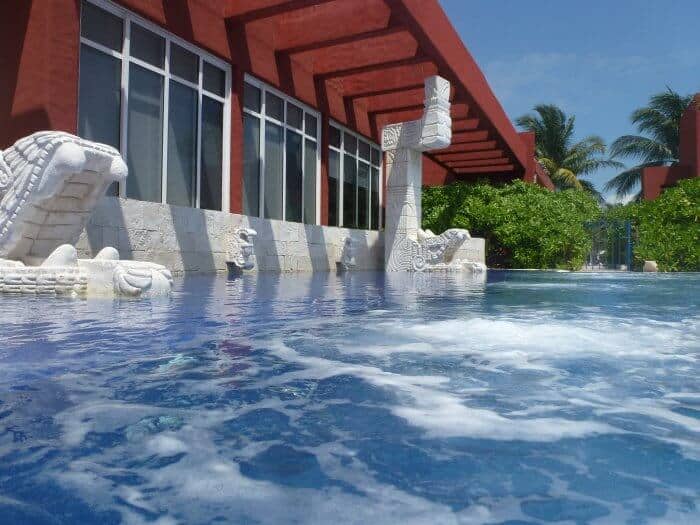 Why Go: Imagine owning your own Caribbean luxury villa and you get a sense of what staying at Zoetry Paraiso de la Bonita, an all-inclusive resort in Puerto Morelos, is like.
Each of these low-rise villa suites is uniquely decorated with original artwork, Indonesian furniture and rich tapestries. They come decked out with expansive terraces, many with plunge pools.
The entire Zoetry resort is located within the protected Puerto Morelos Marine Park. Included in the all-inclusive rate are life enrichment experiences as well as an extensive wellness program. The cuisine is so healthy and delicious, you will come away from your vacation feeling refreshed and rejuvenated.
Special All-Inclusive Resort Amenities
One of the reasons Zoetry Paraiso de la Bonita is one of our top choices for the best all-inclusive resorts on the Riviera Maya is the unlimited access to the resort's Thalasso pool featuring natural seawater.
The first Thalassotherapy spa in Mexico, the facility also offers an indoor Jacuzzi circuit, steam room and seawater pool overlooking the Caribbean.
The spa menu includes a range of specialized hydrotherapy treatments. Choose from massage, mani–pedis, mud baths, seaweed and anti–aging treatments from eEsteemed lines such as Valmont and Natura Bissé.
Check prices and availability at Zoetry Paraiso de la Bonita on Booking.com.
Want to know more? Read about my first-hand experience in 8 Detox Secrets from Zoetry Paraiso de la Bonita
Tips on Planning a Cancun Riviera Maya Vacation
Due weather conditions, the size of the beaches and quality of the water along the Mexican coast stretching from Cancun to Tulum can vary from day to day.
You may see large quantities of sargassum grass (seaweed) which isn't the most attractive sight if you're expecting to see clear blue waters! Storm surges can also wash away or add sand in sections of the beach which changes the width of the beach itself.
Most luxury resorts have programs in place to rake away the sargasso grass and haul it away (with the exception of the protected zones of Puerto Morelos) and create breakwaters with sandbags. Check out our Cancun Riviera Maya Seaweed Update.
Resort Day Passes in Cancun
Interested in a resort but not ready to book an overnight stay? Here are some top resorts worth checking out on a Day Pass:
Day Pass to Secrets The Vine Cancun
More All-Inclusive Resorts and Hotels You'll Love in Mexico
FAQs
What is the best month to visit Riviera Maya?
The best month to visit Riviera Maya is in February. The water temperature is warm, the weather consistently sunny and you're outside of the peak sargassum seaweed season (May to October) and the official Caribbean hurricane season of June 1 to November 30th, with peak activity generally happening between August and October. You'll also avoid the Spring Break crowds of March.
What does all-inclusive mean in Riviera Maya?
It means that your room rate includes beverages (alcoholic and non-alcoholic), meals such as breakfast, lunch and dinner as well as resort activities such as poolside classes, non-motorized watersports and entertainment. Ultra or unlimited all-inclusive luxury is a step above all-inclusive and include a la carte dining, premium alcohol, specialty coffees, exclusive access to butlers, included tipping and hydrotherapy circuits.
Which all inclusive resorts in Riviera Maya are romantic?
Paradisus La Perla, Hotel Xcaret Arte and Grand Velas are the most romantic all-inclusive resorts in Riviera Maya. Grand Velas even served as the setting for the couples' retreat episode of the "Love in Blind" series on Netflix.
Is Cancun safe?
In August 2017, Mexican authorities seized gallons of illegal alcohol after discovering an illicit manufacturer was supplying some tourist attractions, hotels and bars in Cancun and Playa del Carmen with tainted alcohol. Officials shut down operations at several bars as alcohol was expired, unlabelled and kept in unsanitary conditions.
Save to Pinterest!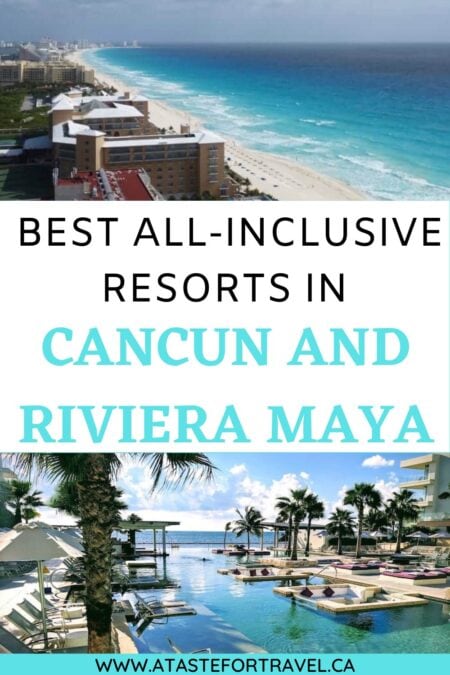 Dividing her time between Canada, Guatemala and Mexico (or the nearest tropical beach), Michele Peterson is the founder of A Taste for Travel. Her award-winning travel and food writing has appeared in Lonely Planet's cookbook Mexico: From the Source, National Geographic Traveler, Fodor's and 100+ other publications.
Read more about Michele Peterson.