We may earn income from links in this post. Please read this Disclosure for details.
Looking for a day pass to a Cancun all-inclusive resort the whole family will enjoy? Get a Day Pass to Dreams Playa Mujeres Golf Resort and Spa Cancun and you'll enjoy a fantastic day of all-inclusive luxury ideal for beach-loving couples and families.
Not only does Dreams Playa Mujeres boast one of the largest water parks in Mexico, but it's set on a long, white sand beach just 15 minutes north of the city of Cancun.
NOTE: If you're looking for an all-inclusive Cancun day pass for adults-only, check out our guide to How to Get a Resort Day Pass to Secrets The Vine Cancun .
It's one of our top picks for the Best Couples Resorts in Cancun-Riviera Maya.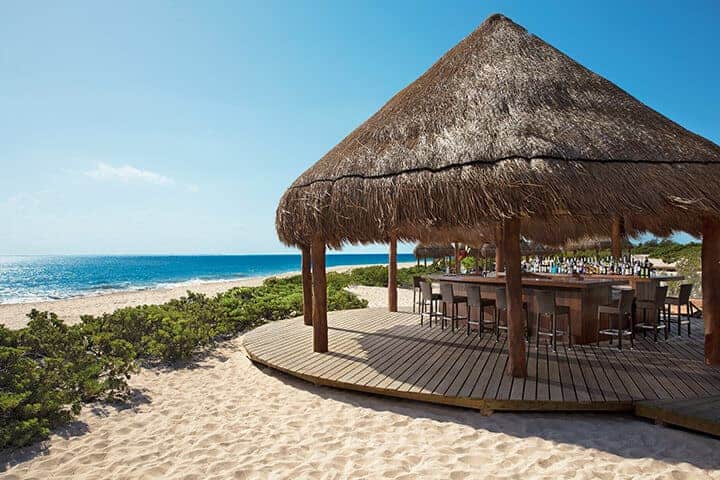 What is a Day Pass to an All-Inclusive Resort?
When resorts are not fully booked, they make Day Passes available to guests who are not overnighting at the hotel. With a Dreams Cancun Day Pass, while you don't get to overnight at the resort or get a hotel room, you do get to enjoy the delicious food, drink and all-inclusive benefits that come with the five-star luxury Dreams Resorts & Spa brand.
If you have a long airport layover, want a day of luxury or simply want to check out one of the newest all-inclusive Cancun resorts for an upcoming vacation or special event such as a destination wedding, honeymoon or milestone birthday, a Cancun day pass is an excellent option .
Here's a complete guide to Dreams Playa Mujeres Cancun Resort if you're looking for an all-inclusive Day Pass near Cancun International Airport (CUN).
Enjoy the Beautiful White Sand Beach at Dreams Playa Mujeres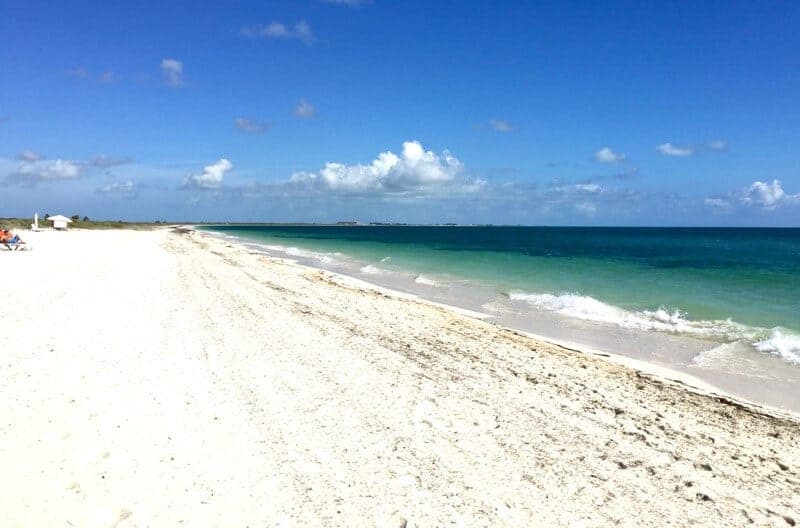 Opened on November 30, 2016 Dreams Playa Mujeres is located within the gated community of Playa Mujeres which is a long white sand beach facing the island of Isla Mujeres.
Note that it is NOT on the actual island of Isla Mujeres itself which means you don't need to take a ferry.
Instead, it's on a peninsula, a very long sand spit that ends at Isla Blanca, facing Isla Mujeres which makes it easily accessible via 35 minute taxi ride from Cancun International Airport or 10 minutes from downtown Cancun.
There are a few other resorts, such as Excellence Playa Mujeres, family-friendly Finest Playa Mujeres and Secrets Resort & Spa on Playa Mujeres but for now, it's relatively secluded and free of crowds.
The sand is white, soft and mostly free of sargassum seaweed. But it's worth checking the latest seaweed conditions in Cancun Riviera-Maya to be sure.
Playa Mujeres is a popular spot for kite-surfing so do expect some wind depending on the season.
Enjoy Three Levels of Swimming Pools at Dreams Playa Mujeres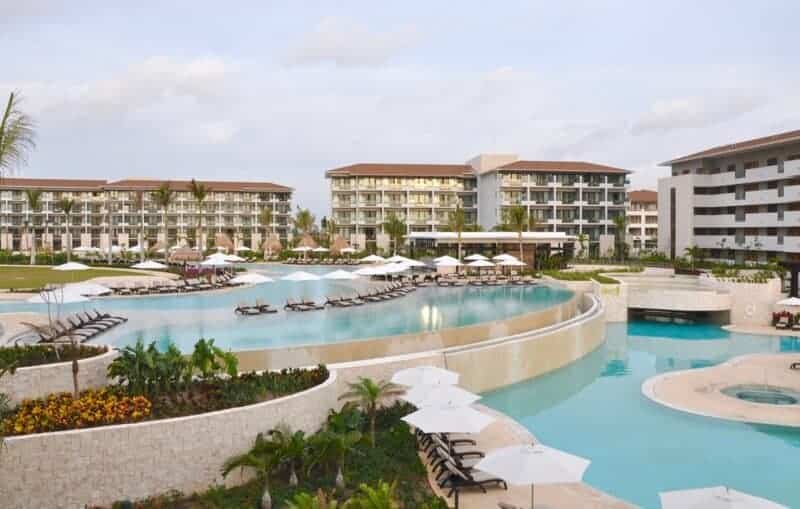 This all-suite resort features 502 luxury suites wrapped around a vast expanse of of three terraced swimming pools, six whirlpools, a water park and two children's pools.
There is also a Lazy River exclusive to Preferred Club members (not available on this Cancun day pass). In total, there's a whopping 65,000 square feet of swimming pools to keep you entertained.
The Day Pass Hospitality area is conveniently located near the Water Park.
Dreams Playa Mujeres is large but not so huge you need a golf cart to get around. Everything you need for a Day Pass is within easy walking distance — important if you only have a day to spend on a property. You want to spend your time on the beach or around a swimming pool, not riding a golf cart.
When we visited, the resort was at 85% occupancy yet didn't feel crowded. Even though it's family-friendly, there are lots of quiet places to relax on a lounger or enjoy a romantic dinner. It definitely is suitable for romantic getaway in Cancun.
Free WiFi is available throughout the property and worked perfectly during our stay.
Fitness Centre is very modern with AC, drinking water and new equipment
There's a full slate of entertainment activity including beach volleyball, pool volleyball, aerobics and more.
Sample Delicious Food and Drink on this Cancun Day Pass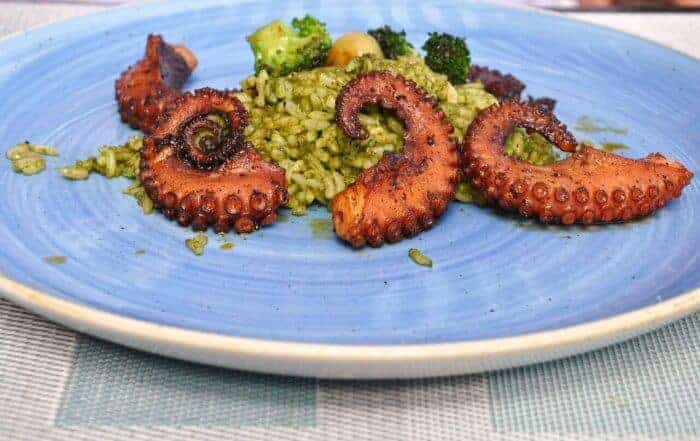 In addition to the poolside wait service, this all-inclusive Dreams Cancun Day Pass gets you:
All-inclusive access to the the World Cafe buffet grill (complete with kid's section), That's a Wrap featuring an outdoor terrace, Tides poolside grill as well as our personal favourite, Maris where you can dine on ultra fresh seafood such as ceviche, seafood cocktails and grilled catch of the day.
The Dolce ice-cream parlour and cafe is a hit for all ages.
The all-inclusive options include a collection of 13 bars and lounges conveniently located throughout the property with highlights such as a sports bar, a juice bar, two swim-up bars and Crazy Straws, a drink bar for kids ages 3 to 12. The Grotto Bar is open 10:00 am to 6:00 pm, the Interlude Lobby Bar open 10:00 am to 1:00 am, the Mermaid and Sandlegs Bars 10:00 am to 10:00 pm and Sands Bar 10:00 am to 6:00 pm.
Update on Swimming with Dolphins at Playa Mujeres
When I visited Dreams Playa Mujeres, there was no Delphinus dolphin enclosure on Playa Mujeres beach so I can't comment on the visual effect this structure has had.
However, international scientific authorities state that swimming or interacting with captive dolphins is damaging to their health.
According to Whale and Dolphin Conservation, a leading UK charitable organization, captive dolphins have a lower survival rate than they do in the wild. They are unable to communicate, roam and play as they would in the wild. The stress of their confinement causes behavioral abnormalities, illness and lowered resistance to disease.
Sea pens close to shore may contain only very shallow water, which can get hot in the sun and be affected by hurricanes. As well, proximity to resort beaches with pollution from sunscreen and other contaminants also increases the risk of dolphin illness and even death. Dolphin sea pens may even harm the local marine environment as dolphin waste can contribute to excessive algal growth.
Captive dolphin attractions often assert they are conservation facilities and that captive-bred dolphins should be exempt from animal welfare and scientific concerns. However, research shows that captive-bred dolphins face the same risks and reduced life expectancies as wild-caught dolphins.
If you do want to interact with dolphins, World Animal Protection Organization recommends you look for a responsible dolphin or whale watching excursion as an alternative to a captive dolphin encounter.
Cancun Day Pass Travel Planner
Resort Address: Lote RTH–7-7-PM-11, Mza 1, Sm3, Playa Mujeres, Zona Continental Municipio, Isla Mujeres, Quintana Roo. NOTE: Dreams Playa Mujeres is NOT located on the island of Isla Mujeres. It's situated within the gated community of Playa Mujeres on the mainland facing the island.
Dreams Playa Mujeres Cancun Day Pass Cost: The all-inclusive Dreams Cancun Day Pass is $120 USD per day per person. The cost for children is $60 USD. Remember this includes food, drink and access to the general resort facilities. Like other day passes does not include access to an overnight hotel suite.
The price for a Dreams Cancun Day Pass can change at any time. You should phone or email the resort in advance to confirm the cost. Also make sure they are issuing day passes. During peak occupancy periods many resorts will temporarily discontinue day passes. Note that a Dreams Cancun Day Pass is not guaranteed to be available.
Contact Information: Email: info.drepm@secretsresorts.com or info@amresorts.com
Check prices for an overnight stay at Dreams Playa Mujeres Golf & Spa Resort.
Phone: +52 998 283 3600 and 1-866-2Dreams.
Interested in a Resort Day Pass at other sun destinations in Mexico or the Caribbean? Check out these blog posts:
Aruba: Enjoy a day of luxury in a VIP cabana at Renaissance Private Island Aruba.
St. Kitts: Work or Play? A Day Pass to Carambola Beach Club on St. Kitts
Huatulco, Mexico: Day Pass ( take the kids!) to Dreams Huatulco
Guatemala: Day Pass to luxury in Panajachel, Guatemala
Subscribe to the A Taste for Travel newsletter for travel tips, discounts and inspiration!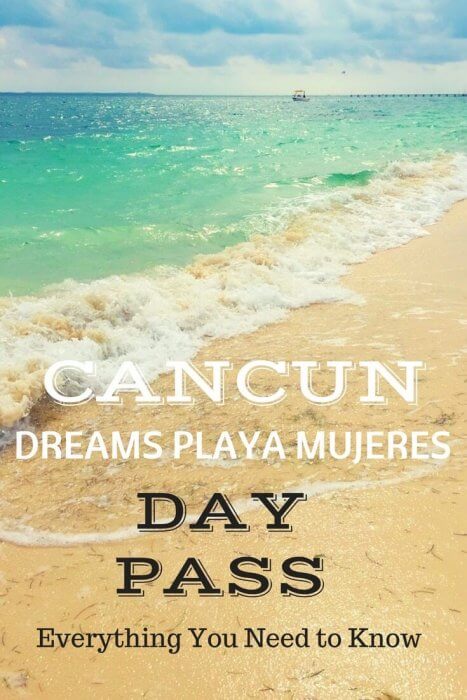 Dividing her time between Canada, Guatemala and Mexico (or the nearest tropical beach), Michele Peterson is the founder of A Taste for Travel. Her award-winning travel and food writing has appeared in Lonely Planet's cookbook Mexico: From the Source, National Geographic Traveler, Fodor's and 100+ other publications.
Read more about Michele Peterson.