We may earn income from links in this post. Please read this Disclosure for details.
Looking forward to discovering the best things to do in Aruba?
You're not alone! With its alabaster beaches with warm, clear waters, balmy year-round weather and location outside of the hurricane belt, it's no wonder this little Dutch Caribbean island welcomes over a million visitors per year.
What can you do beyond working on your tan and sipping a tropical cocktail once you get to Aruba? Lots!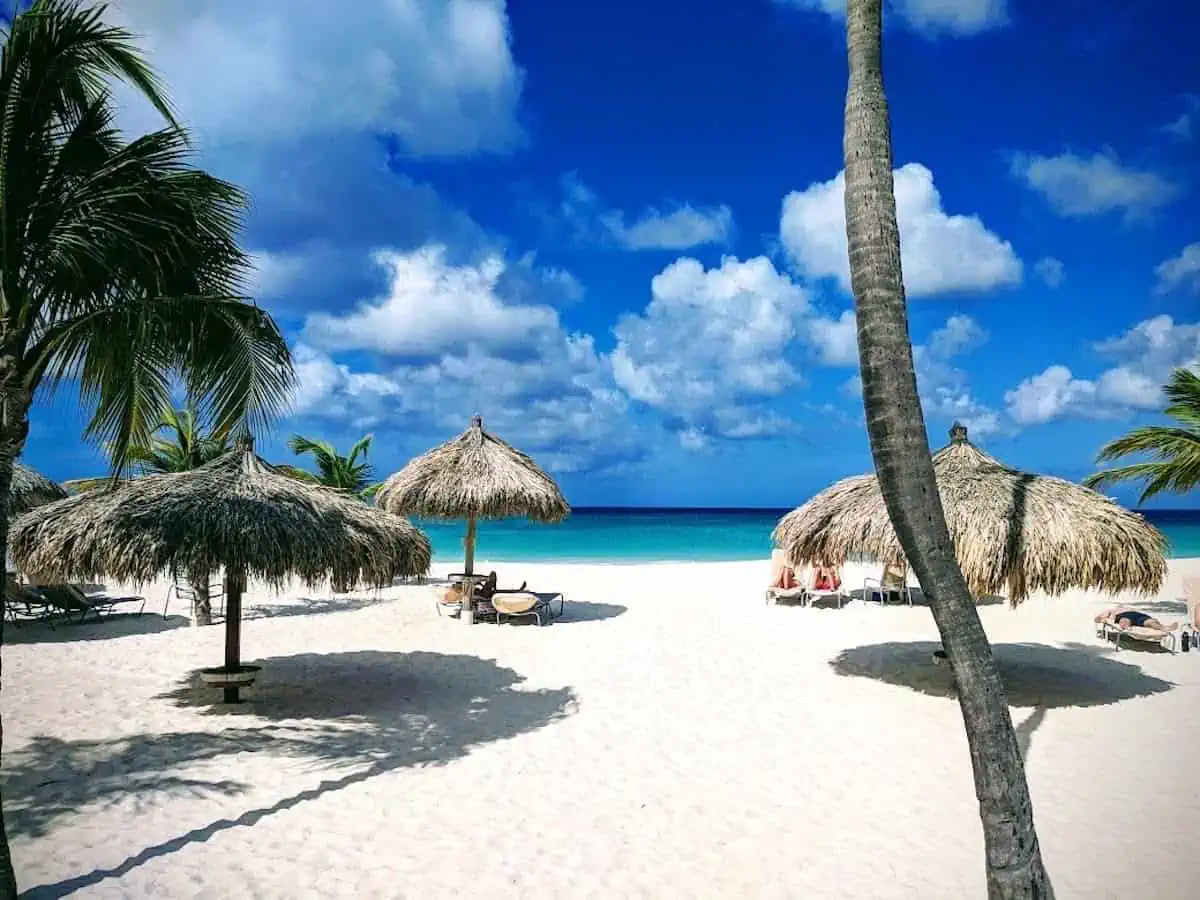 During my over two decades of visiting this island and writing for magazines like Aruba Nights and Fodors' guidebooks, many of the locals have become lifelong buddies.
Together we've scouted out the very best places to go and things to do in Aruba. Lots of the activities we've listed are non-touristy and unique to this island. Many are free too!
So, read on to discover why One Happy Island should be high on your radar for future travels, and the top things to do in Aruba once you arrive.
1. Go Beach Hopping in Aruba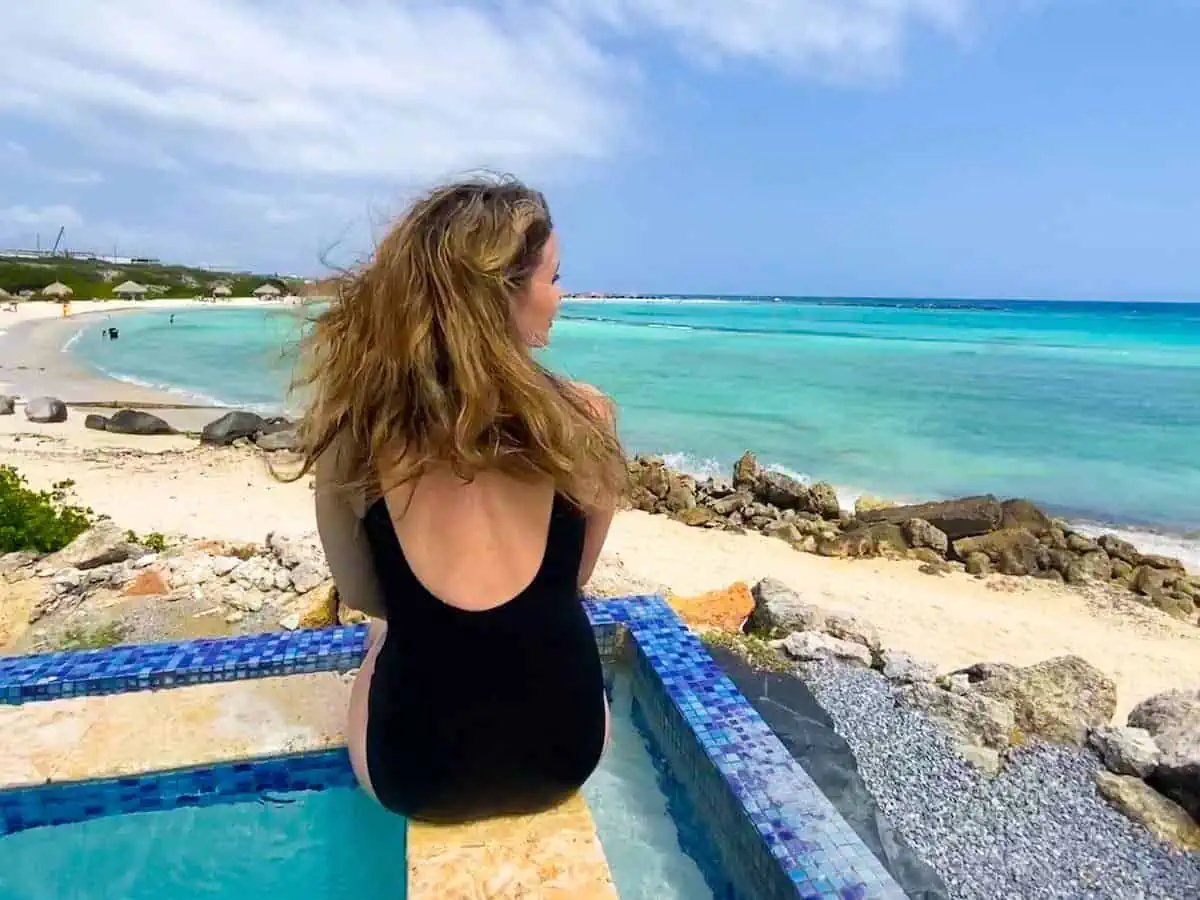 Every one of Aruba's glorious beaches are open to the public free of charge. There's no gated security keeping anyone from enjoying the Caribbean Sea and seafront anywhere.
So, it would be a shame not to go forth like Goldilocks and try out as many different stellar stretches of sand as you can.
Many of Aruba's most popular and best beaches like Palm, Eagle, Arashi, and Druif are easily accessible by public bus throughout the main resort area.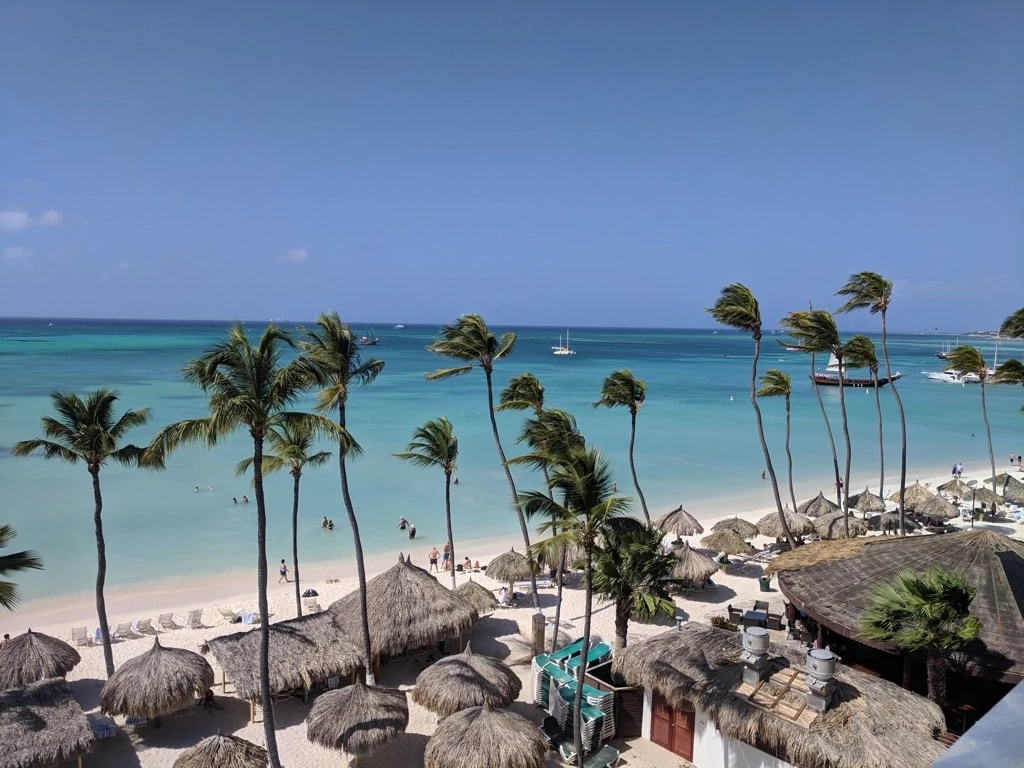 However, some stellar spots like Mangel Halto and Baby Beach, known for its calm waters and home to Rum Reef Bar & Grill (Google Map) require a car, but they are worth the drive.
Check for the best car rental rates at Discovercars.com
Or take a Full-Day Island Tour that includes major attractions as well as a stop at Baby Beach.
If you go to Baby Beach, be sure to make a stop at Zeerovers Aruba in Savaneta close by. It's one of the best seafood shacks in the Caribbean.
🌟 Insider's Tip: Aruba has the best quality aloe in the world. It's especially soothing to use if you get too much sun. See how this healing cactus-like plant is transformed into products with a visit to the Aruba Aloe Factory.
2. Flamingle with Flamingos on a Private Island
Contrary to some marketing you might have seen, Aruba is NOT a haven for wild flamingo spotting.
They're not native to this island, and there are only two places to get close to a small captive flamboyance of them (a flock of flamingos is called a flamboyance).
One great spot is on Flamingo Island, a private reserve of Renaissance Wind Creek Aruba Resort. Non-guests must purchase a day pass to Flamingo Beach.
Or you can spend a day at all-inclusive De Palm Island. Not only will you see some of these pretty pink birds, you'll also enjoy scads of extra activities like water parks, snorkel tours with giant neon blue parrotfish, all-inclusive food and drink, and more.
🌟 Insider's Tip: If you want to see flamingos in the wild, your best bet is to visit the neighbouring island of Bonaire.
Check rates and availability at Renaissance Wind Creek Aruba Resort on Booking.com.
3. Commune with Local Critters at the Donkey Sanctuary
Wild donkeys meandering in the countryside are often a surprise to visitors. Left behind by the Spanish, they were left to fend on their own once they were no longer needed for transportation.
Now, they need human help. The Donkey Sanctuary Aruba is a wonderful non-profit refuge run by volunteers, it was built for donkeys that cannot fend for themselves in the wild for whatever reason.
Admission is free, but donations are always appreciated, as are carrots and apples as treats for the donkeys.
If you're an animal lover you can also adopt a donkey. Your donation goes to its feed and care for an entire year.
Visiting the donkey sanctuary is one of the best free things to do in Aruba. It makes a wonderful outing for the whole family on the island of Aruba.
🌟 Insider's Tip: For any donation you can book a 'donkey hugging' session. The Dutch do a similar wellness enhancing regime called "koe knuffelen" (cow hugging.) Apparently, it greatly relieves stress!
4. Discover 'Monumental' Dining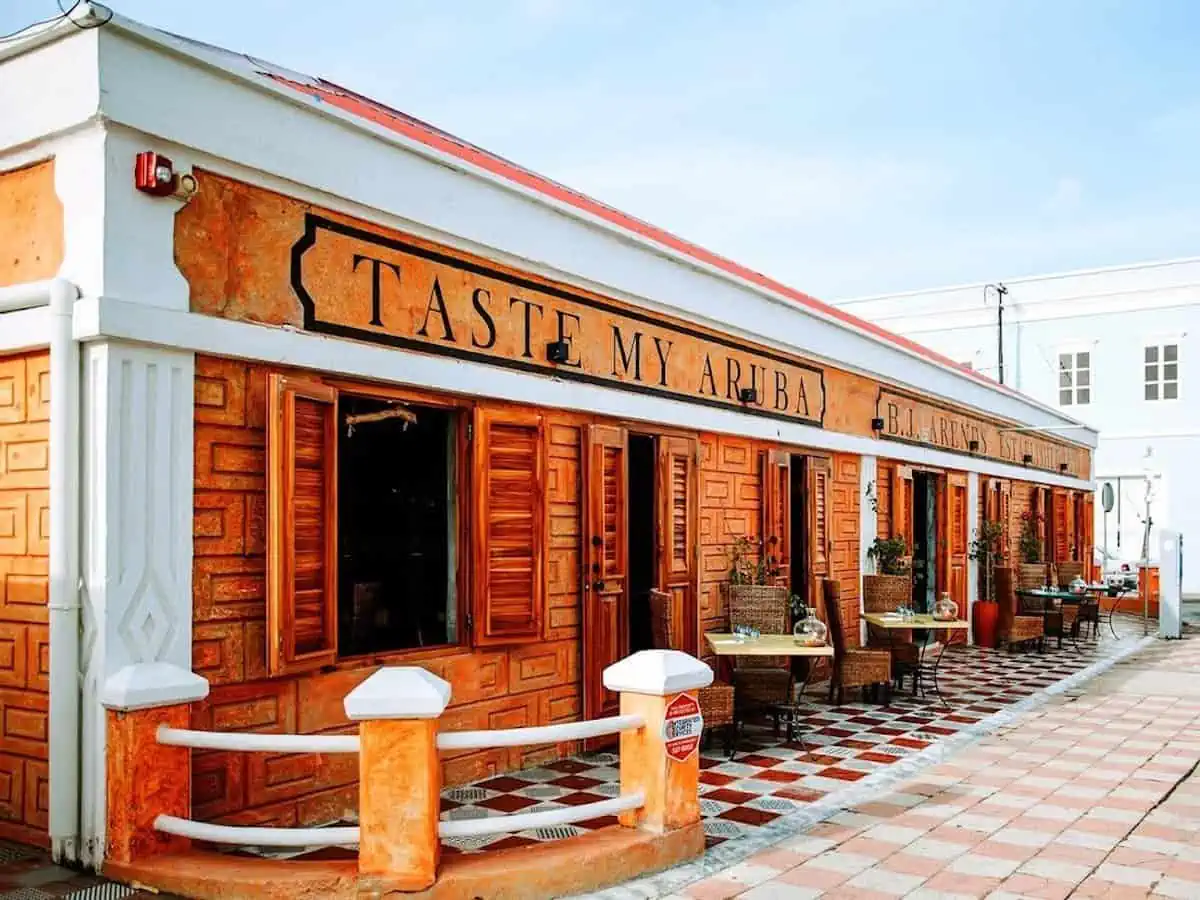 Some beautifully restored century-old buildings (called 'monuments' on Aruba) have become restaurants. Here are a few:
Taste My Aruba: Housed in a sprawling wooden structure downtown, this food emporium is dedicated to sourcing local yet presenting contemporary takes on authentic classics.
It's one reason why this stretch of old downtown is fast becoming the new restaurant row.
Papiamento: Dine poolside at the Ellis family home, an old Aruban `cunucu' (country) house. Or dine inside among a mini-museum of Dutch antiques. Their Wine Vault is also seriously impressive.
Quinta Del Carmen: Enjoy Dutch comfort food in the massive courtyard of this grand mansion and marvel at the antiques inside. They boast a gorgeous tapas and cocktail garden, too.
🌟 Insider's Tip: The historic 200-year-old Dutch windmill De Olden Molen now has dining, too!
5. Snorkel a Shipwreck from a Pirate Ship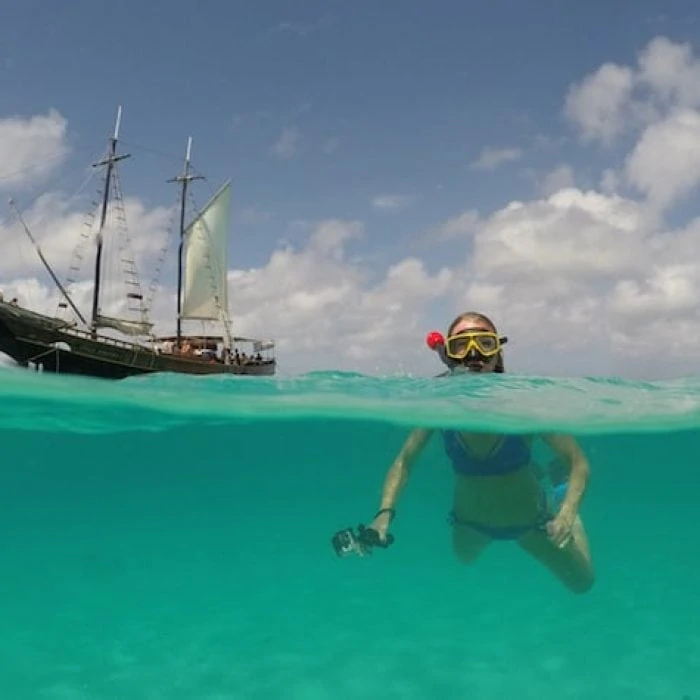 It's rare to be able to see a shipwreck without diving into the depths, but this one lies in only 30 ft. of water.
The SS Antilla was a 4,000 ft. long German freighter sitting just offshore of Palm Beach that was purposely scuttled by its captain when Germany declared war on the Netherlands.
Today, it makes a handy home for all kinds of fish and coral. It's easily visible while snorkeling the crystal clear waters.
Most party/snorkel boats stop at the Antilla wreck, but Jolly Pirates adds some extra fun with a buccaneer-themed staff and rope swing acrobatics.
🌟 Insider's Tip: If you're not up to doing a double somersault into the sea from the rope, no worries, you can piggyback on one of the crew to do so!
6. Ride the Free Trolley in Oranjestad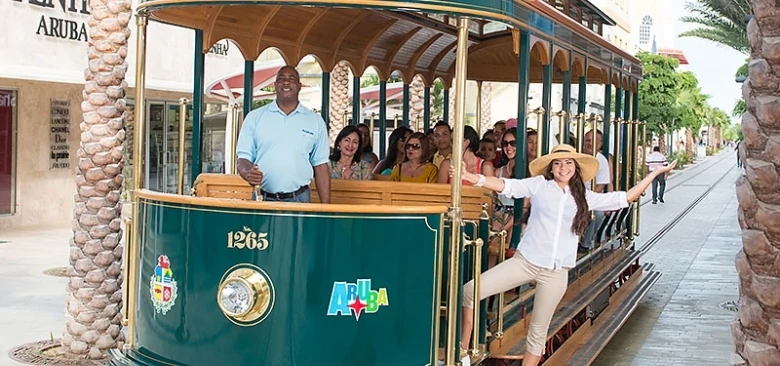 One of the best free things to do in Aruba when visiting on a cruise is to catch the eco-trolley from the cruise ship terminal to explore Oranjestad.
It travels into the main downtown area around every half hour (saves you a hot walk) and you can get on and off as you please free of charge.
There are four trolleys and they all run on electric batteries which makes them an eco-friendly mode of transportation. Choose a double-decker trolley to get great photos from the top.
🌟 Insider's Tip: Get off at the Renaissance Mall and explore further on foot to find newly rejuvenated stretches of Main Street for great local food and drink spots like The House of Pastechi and Coffee Break Aruba. Catch the next trolley back.
7. Take a Walking Tour of Oranjestad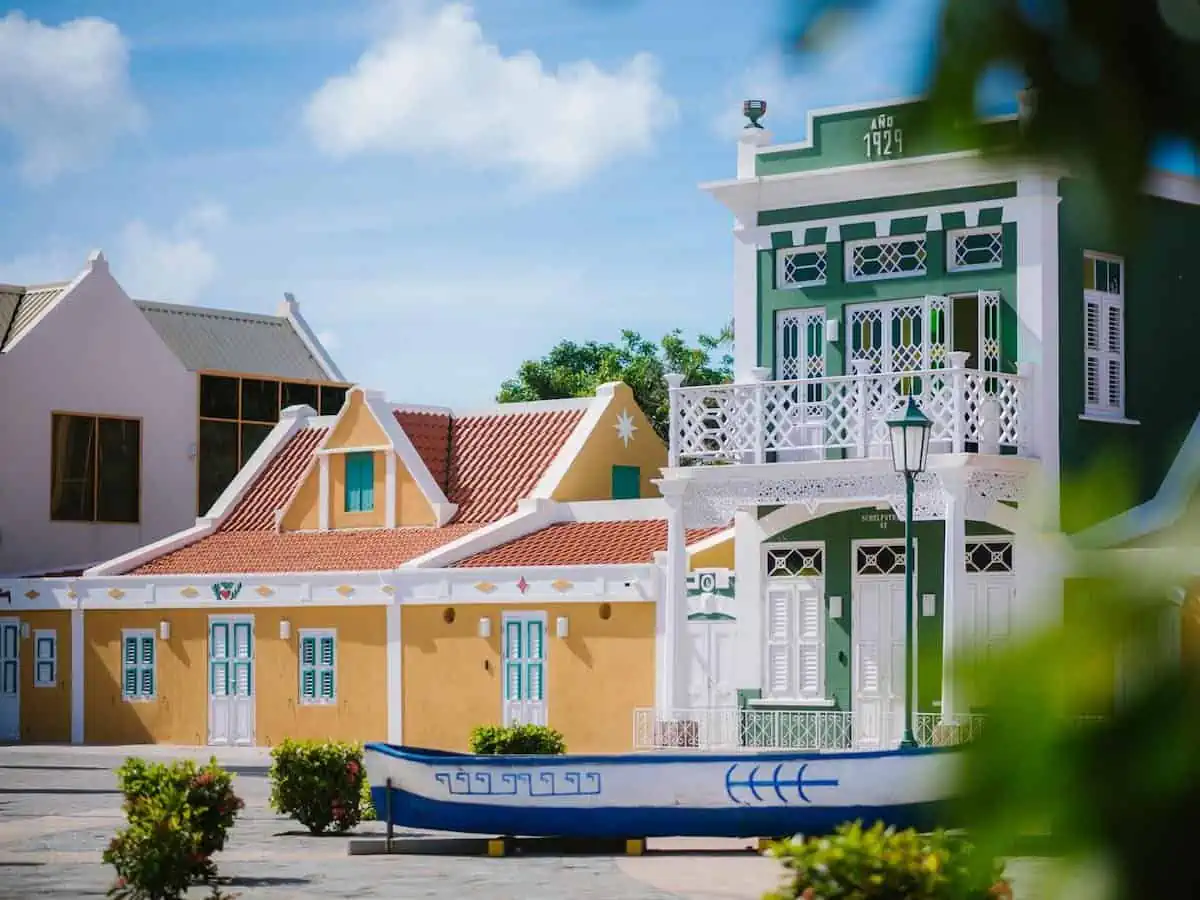 Many visitors never go behind the marina area to really explore what makes this charming little capital tick.
And if they do venture behind the Renaissance Mall or the famous pink Royal Plaza, they really don't know what to look for.
That's why I highly recommend a guided, informative stroll through Oranjestad with Aruba Walking Tours that also includes a demonstration of local cooking.
They also do a great foodie tour at night, visiting various restaurants for a progressive dinner throughout downtown.
🌟 Insider's Tip: the National Archaeological Museum (pictured above) is on this tour, but it is also one of the best free things to do in Aruba.
There's no admission, and the modern, air-conditioned structure with a modern array of interactive exhibits is enjoyable and enlightening.
8. Shop for Made-in-Aruba Souvenirs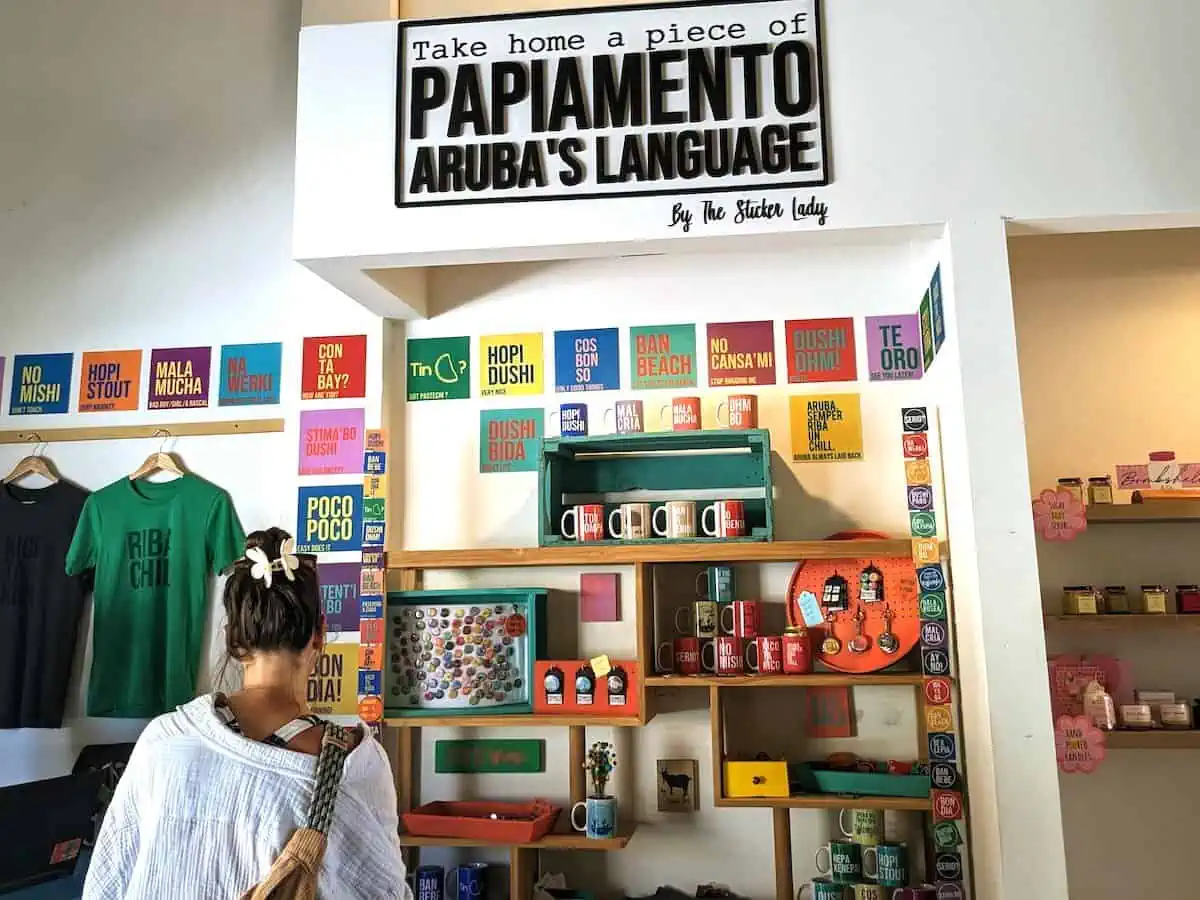 If you're seeking authentic island made souvenirs rather than generic knick knacks made in China, skip the wharf side stalls.
Instead, find the bird mural decorated mini mall aptly-named ArubaMade across the street.
All souvenirs there are locally made and often the creators are on site. They also make mini-Dutch pancakes, johnny cakes (a must-try with local food in Aruba), homemade ice cream, locally roasted coffee, and more on site.
Regular local arts and crafts pop-up fairs are also ideal for authentic souvenirs. Find one at Renaissance Marketplace every Friday night.
There you'll find lionfish jewelry , calabash lights, sea glass art, and more. Look for the HAP2B Designs there to create custom t-shirts with your Aruba-themed slogan of choice; they deliver to your hotel.
🌟 Insider's Tip: Bring cash, few stalls take cards.
9. Witness a Butterfly Metamorphosis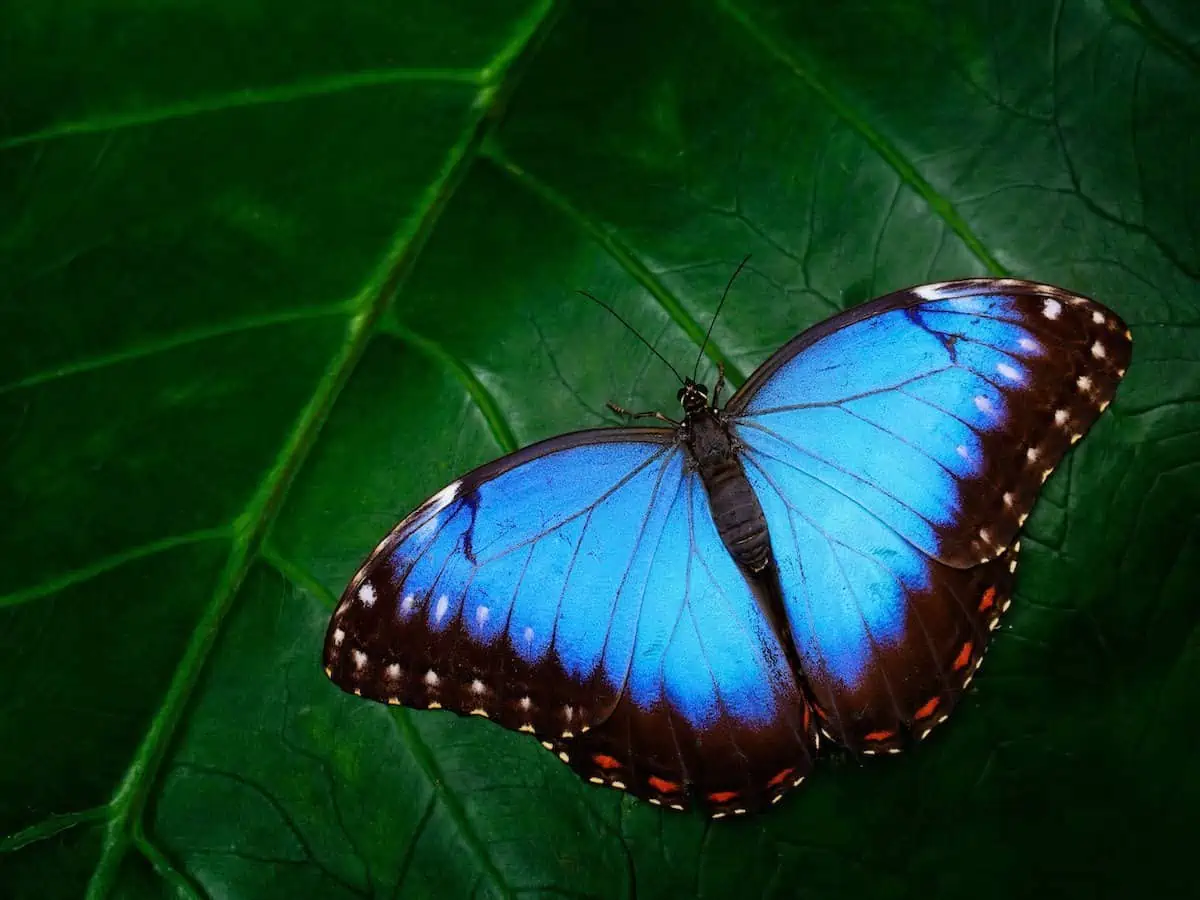 Visiting The Butterfly Farm Aruba is the one the best things to do in Aruba for all ages. This enchanting tropical oasis is full of colourful butterflies and mammoth moths, brilliant blooms, and even a bubbling koi pond.
You can explore on your own, but a guided tour is far more enlightening, they take place every half hour or so.
For an especially unique experience, wear bright colours so the butterflies might land on you. And go early in the morning when they are most active.
Mornings are also the most likely time to see a butterfly emerge from its cocoon on their chrysalis wall. They also have a lovely alfresco café.
🌟 Insider's Tip: Your initial admission is good for as many free return visits as you like!
10. Savour a Unique Chef's Table Experience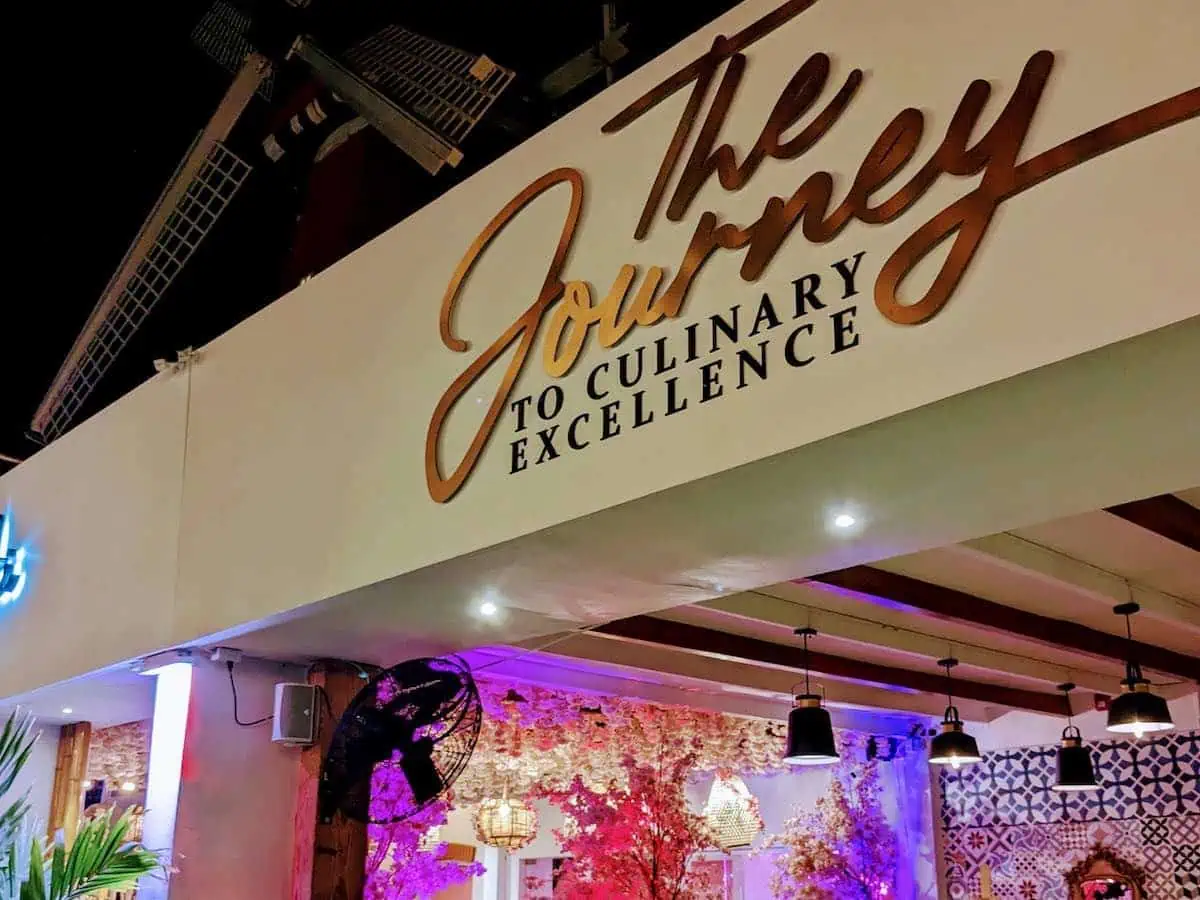 For a small island, Aruba has a bounty of Chef's Table experiences, each with its own unique take on gourmet dining with culinary masters.
Most offer wine pairing at an additional cost, and some can accommodate dietary restrictions.
I've not done them all yet, but I always have an exceptional experience at Infini which also has new outdoor sampling events each weekend on their Eagle Beach patio.
Here are all the venues: The Journey Aruba, 2 Fools & a Bull Gourmet Studio, Senses Fine Dining, Carte Blanche, Ever-Restaurant Aruba, Koal Aruba, The Kitchen Table Aruba, Royal Chef's Table Restaurant (formerly "Fred's".)
🌟 Insider's Tip: Papillon has a weekly 'Secret Garden' off-property experience but plans to expand to host them at their restaurant soon as well.
11. Discover Incredible Outdoor Art in San Nicolas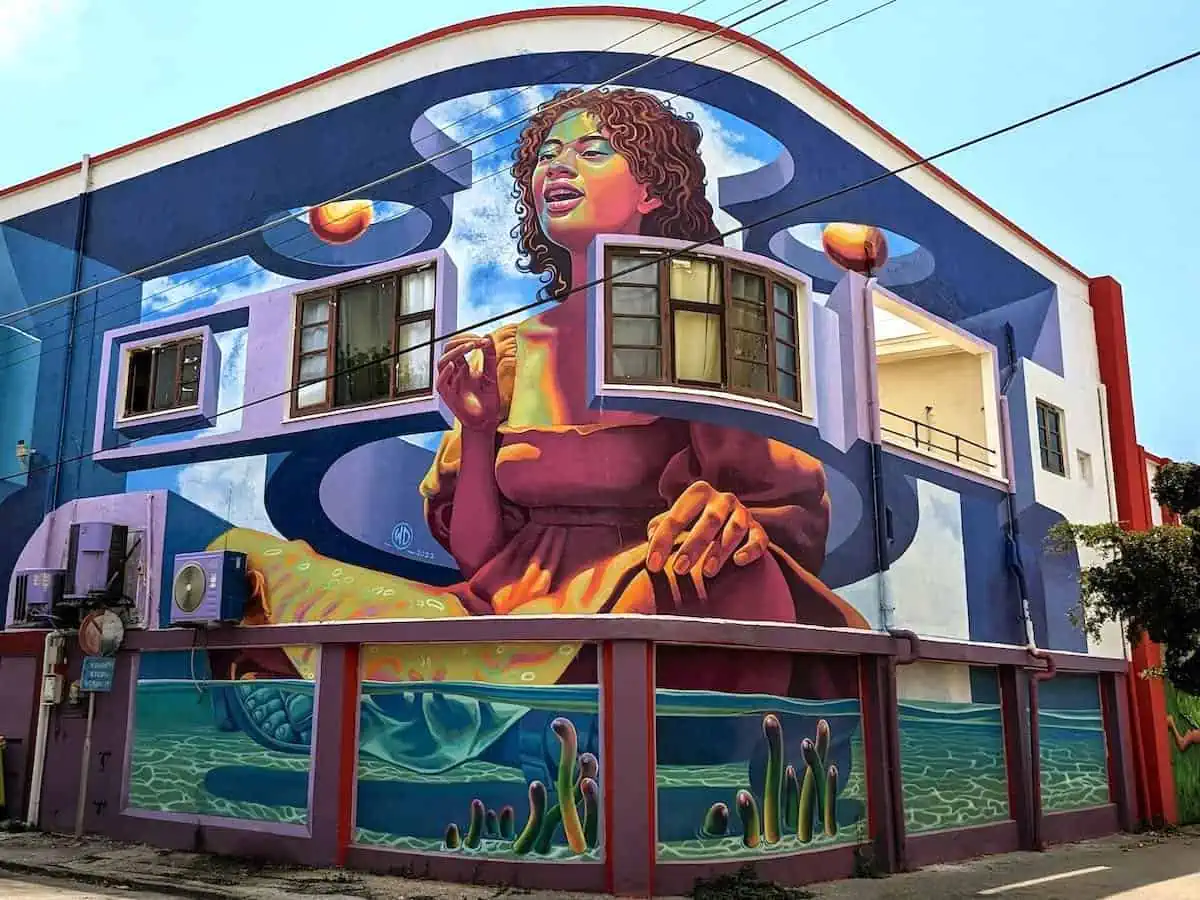 Thanks to the ArtisA Foundation and local and visiting artists from the world over, the old oil refinery town of San Nicolas is now a living gallery.
It wasn't that long ago the little community – once the economic hub of the island- was sadly in danger of becoming a ghost town. Not anymore.
Brainchild of local Tito Boliver, inspired by the outdoor art in Colombia, he started the annual Aruba Art Fair, and the rest is history.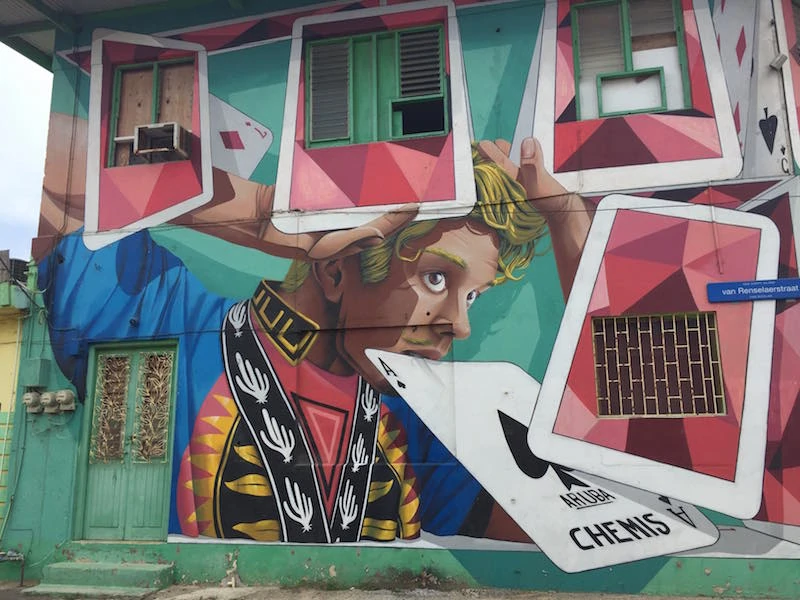 It's now one of the most popular Aruba attractions.
Each time I visit I marvel at all the new art. The outdoor art grid is growing so rapidly that it might eventually rival Wynwood Miami!
🌟 Insider's Tip: Not free, but well worth the cost is to take an informative guided trek through the art with Aruba Mural Tours.
12. Take an Eco-tour to the Famous Natural Pool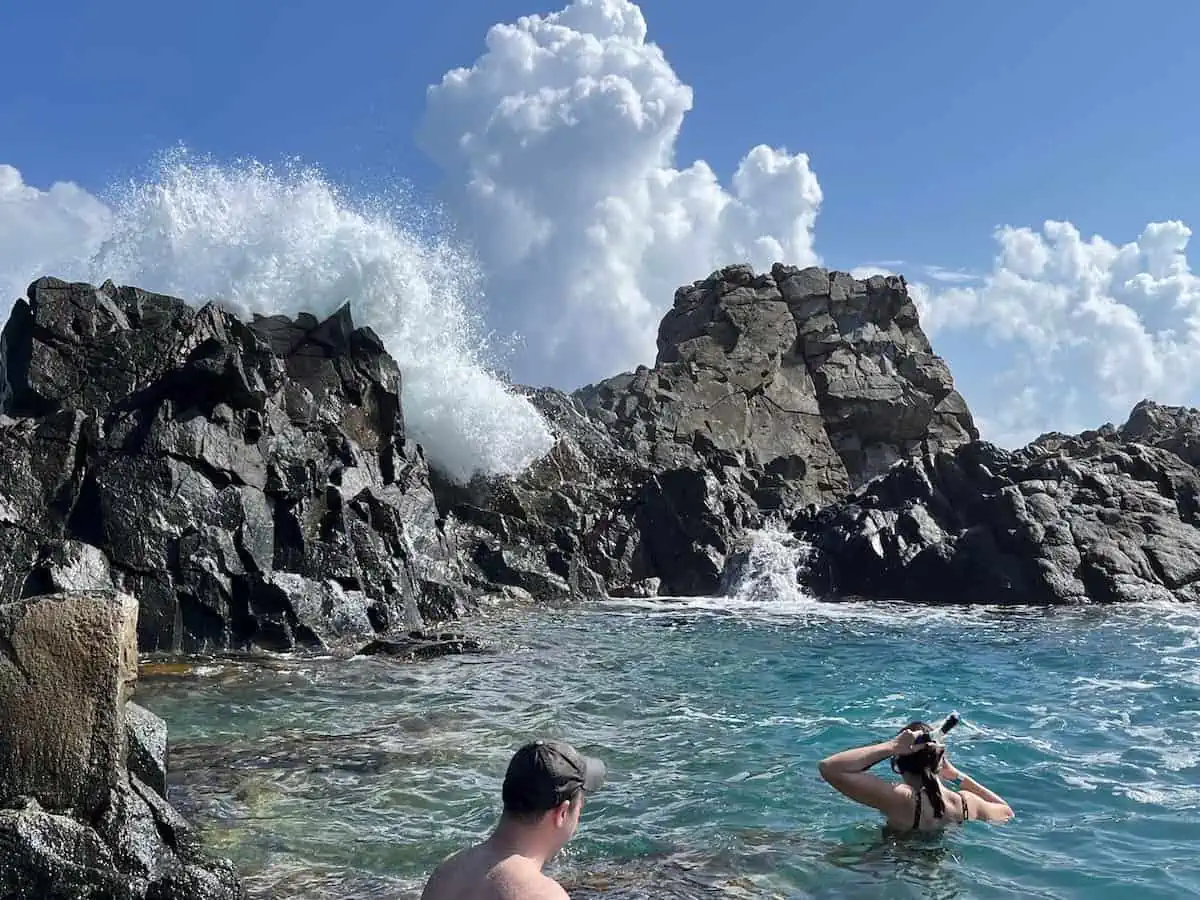 Truth be told, I'm not a big fan of motorized tours of the natural areas on this island. Though there are responsible operators, the vehicles can harm the environment and run over sea turtle nests and hidden habitats of ground dwelling creatures.
That's why I'm glad Aruba Nature Adventures makes it their business to take visitors exploring in an eco-friendly way.
Join them for a hike to the famous natural pool "Conchi" in Arikok Park (includes snorkeling equipment).
Or discover the Spanish Lagoon mangrove trail with an informative guide.
They also do birdwatching tours, meditation and sunrise yoga outings, kayak and snorkeling tours, and more. Lunch is often included.
🌟 Insider's Tip: The volcanic rock formations around the pool are VERY slippery, listen to your guide about how to approach the water safely.
13. Spelunk with Ancient Spirits in Aruba's Caves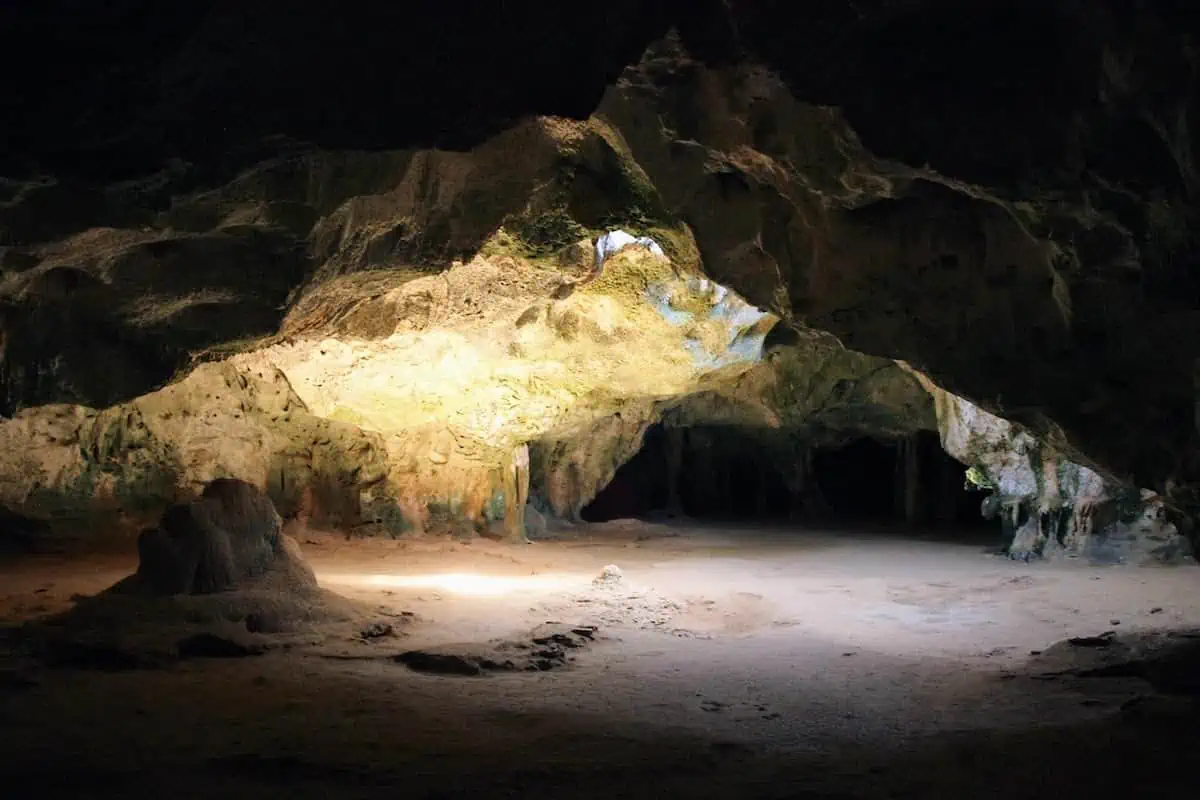 Other must-visit natural attractions within Arikok National Park are the ancient caves.
Quadirikiri Cave holds a stunning array of stalagmites and stalactites, but better yet, it also has two natural skylights that make for ethereal photos.
And Fontein Cave has messages from the past via rock drawings left by the Arawak Indians, Aruba's original inhabitants.
Park rangers are stationed outside each one to give free tours within and answer all your questions.
Note that all attractions within Arikok National Park are free to visit once you have paid the original conservation fee at the visitor's centre: adults: $15, children under 17-free!
🌟 Insider's Tip: Wear closed-toed shoes, it's not flip-flop friendly terrain. Expect to see colonies of bats.
14. Get Photo Gold at Bushiribana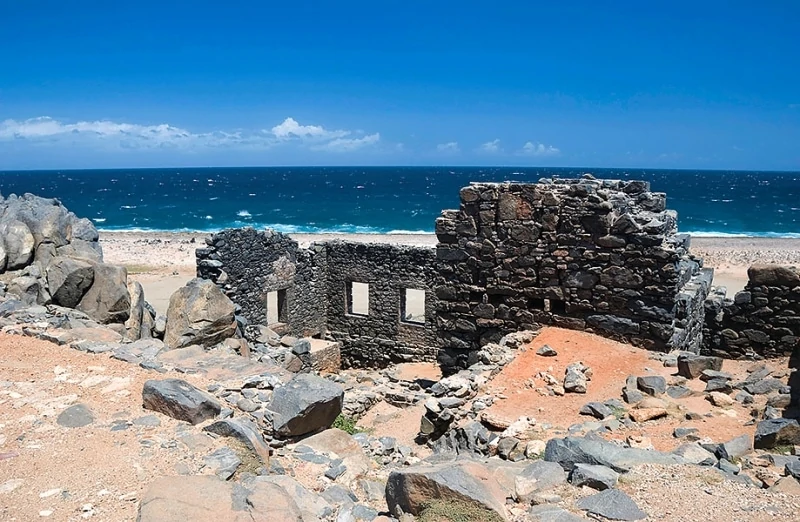 Did you know that this island had a mini gold rush in the 1800s, and the ruins of two smelters remain? The most photogenic is the one by the sea called Bushiribana, and you are welcome to climb it.
Climbing the Bushiribana Gold Mill Ruins is one of the most unique free things to do in Aruba. Go early to avoid crowds and the hot tropical sun.
🌟 Insider's Tip: The second gold mine ruin is out near Frenchman's pass at the tip of Spanish lagoon. Just follow the wooden sign for the Balashi gold mines.
There you will find what is left of the mill buildings all overgrown with foliage and surrounded by stone staircases that also make a romantic setting for fabulous photos.
Check prices and availability of a Half-Day Island Tour including the California Lighthouse, Casibari rock formations, the Bushiribana gold mill ruins and Aloe Vera Factory on Viator.com
15. Refresh Your Spirit on High at Alto Vista Chapel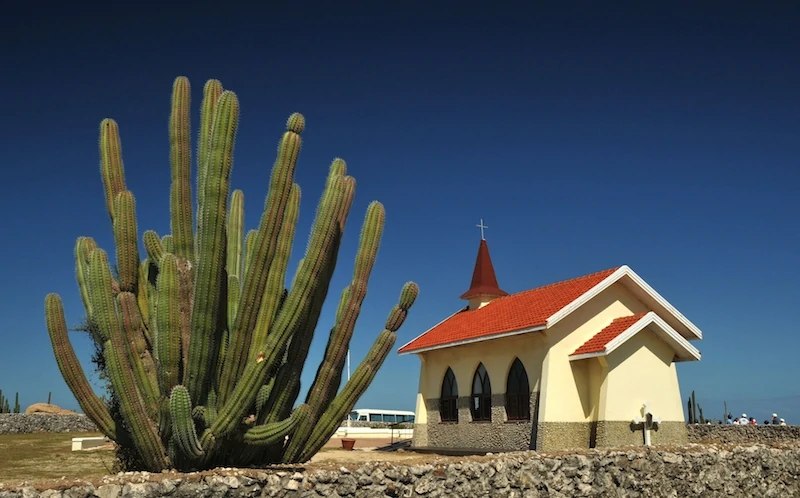 One of the top attractions in Aruba is the high summit site of Alto Vista Chapel, Aruba's oldest Catholic church.
It's as heavenly now as it was when first chosen as a spot for spiritual reflection by the Spanish in 1750. (The current church was erected in 1952.)
Alto Vista means high view, and there's a lovely peace labyrinth (a landscaped meditation circle) behind the church where you can find focus and refresh your spirit.
The Interior of the church is also beautiful and open to the public.
🌟 Insider's Tip: Not free, but the Aruba Marriott Resort & Stellaris Casino has a new wellness experience with private roundtrip transfer to the chapel, a picnic basket, Aruba Aloe products, yoga mats, and a massage for two.
16. Ride a Paso Fino on a Horseback Riding Tour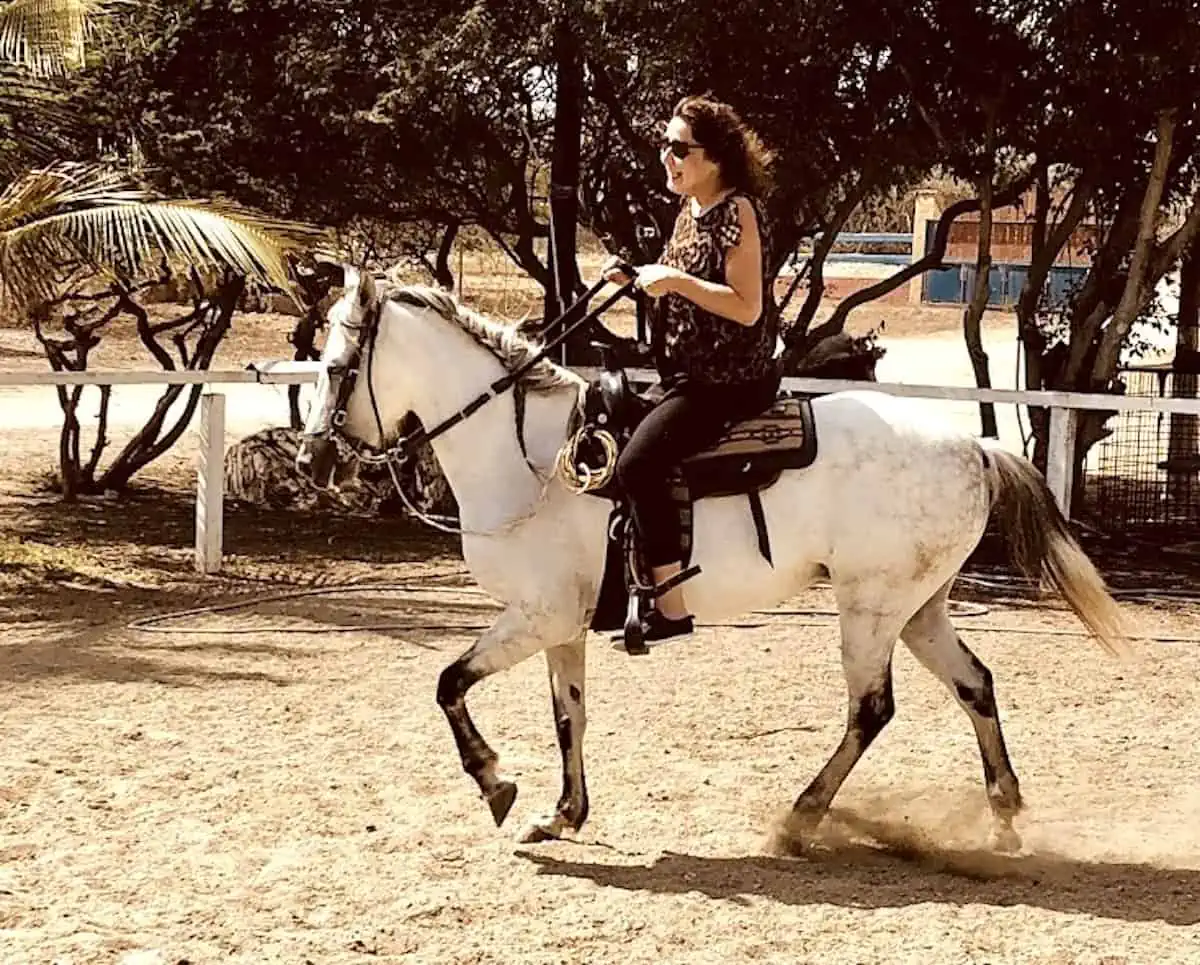 I especially love horseback riding in Aruba because most of their horses are Paso Finos meaning "fine step."
They don't bounce up and down like a jackhammer when they trot; their back remains parallel to the ground.
Demure but hearty little steeds, they were left behind by the Spanish. And in the 17th century, Aruba was a very important horse-trading port due to their quality stock.
Make sure you ask for one if you take a horseback riding tour. Your body will thank you the next day!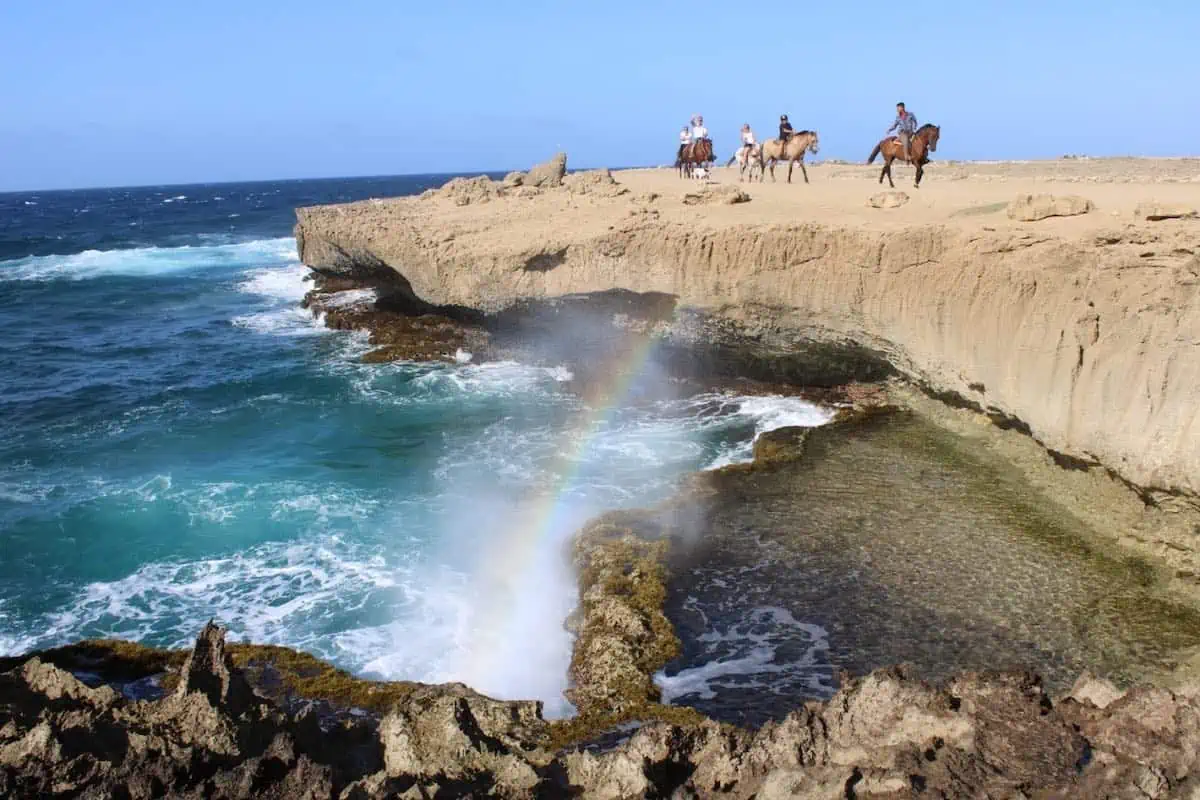 Rancho de la Ponderosa and The Gold Mine Ranch are good choices for operators, but new Hoofs of Hope also looks promising.
🌟 Insider's Tip: The blue ceramic horses dotting downtown Oranjestad are a tribute to Aruba's horse-trading past, see: https://www.paardenbaai.com/main/horses/
17. Feast Atop the California Lighthouse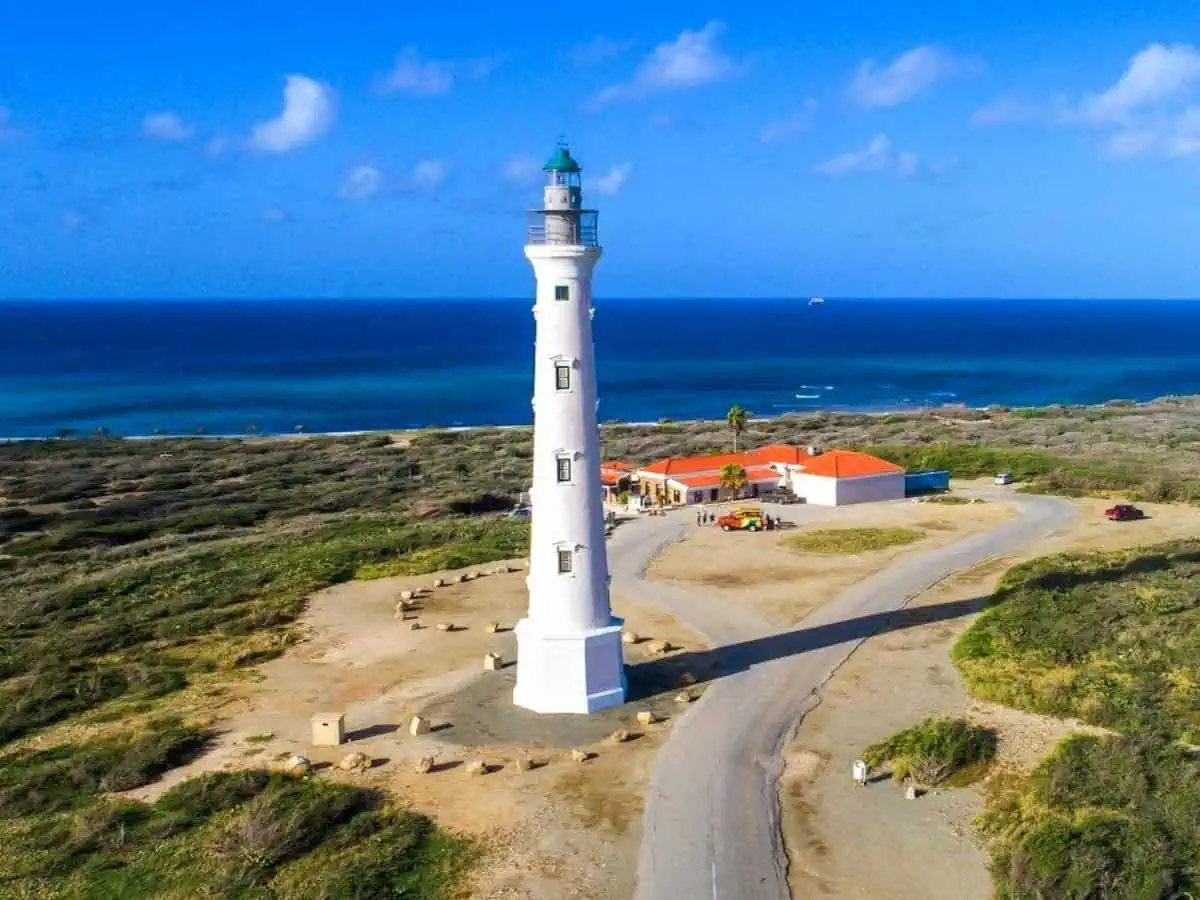 The California Lighthouse is a legendary Aruba landmark hard to miss on the northwest coast.
The California Lighthouse was built to warn ships after an American freighter (The Californian) struck the coast and sunk in 1891.
Built in 1916, it was completely renovated in 2016 to celebrate its 100th anniversary.
Glorious views like this one await early birds at Aruba's iconic landmark lighthouse in Noord. But if you're not up to rising with the sun, it affords different Insta-worthy ops all day long as well.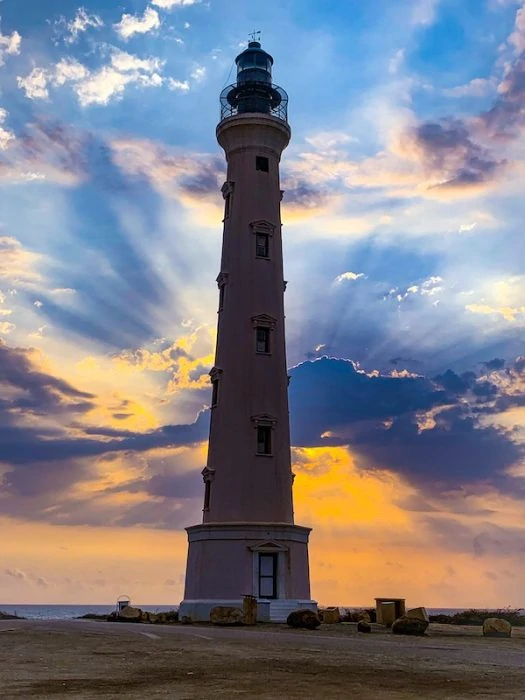 Visitors are welcome to climb the spiral stairs to the top ($5 charge) for incredible panoramic island views of turquoise water and sunsets. But you can also feast at the top!
Experitours offers one of only two lighthouse dining experiences in the world. They offer catered breakfast in the little meshed-in cubicle built for only two (makes it more romantic).
Two seatings are available for private dinners. One is for the sunset and the other one for the starlight. If you don't want the 3-course menu, you can request a charcuterie board instead.
🌟 Insider's Tip: Don't be surprised to see starry-eyed couples strolling at sunset there. The California lighthouse is one of the most popular places to propose on the island.
Check prices and availability of a Half-Day Island Tour including the California Lighthouse, Casibari rock formations, the Bushiribana gold mill ruins and Aloe Vera Factory on Viator.com
18. Harness the Wind in World Class Conditions
The shallow waters and constant gentle trade winds off Hadicurari (also known as Fisherman's Huts Beach) just beside the Ritz-Carlton Aruba provides the perfect conditions for beginners to learn how to windsurf, kite board, and try the new sport of wing foiling.
Many first-rate operators offer lessons like Vela Aruba. This is also where the annual Aruba Hi-Winds event takes place attracting world class competitors.
🌟 Insider's Tip: Local windsurfing legend Sarah-Quita Offringa trained here and often practices at Hadicurari on her time off.
At press time, she was a 20-time world women's freestyling champion, though she might have added more titles since.
She was kind enough to give us a personal intro lesson a few years back, and we got up on our first try!
19. Try Sailing in the Sand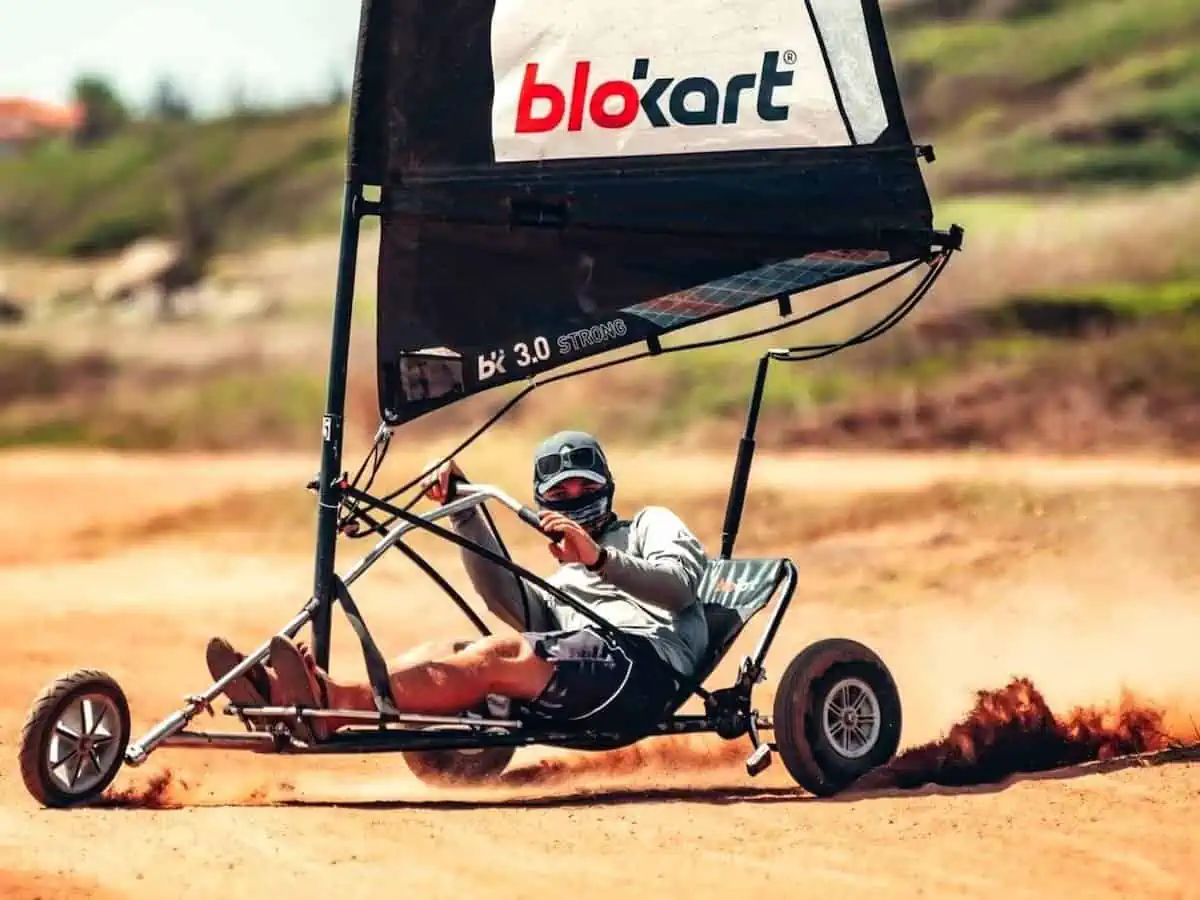 For a unique thing to do in Aruba, why not try the bizarre sport of land sailing?
"Blokarting" as some call it (from the makers of the carts) is popular in Australia, but to the best of my knowledge, the only place you can try it in the Caribbean is in Aruba and Bonaire.
It's like sailing in a boat, the sails are wind driven, but it runs on wheels in the sand. Aruba's constant trade winds and flat sandy stretches make it an ideal spot to learn.
Aruba Active Vacations is the only outfit to offer it, and their instructors are top-notch. Helmets are included. Note: It's only offered to those 14 years of age and older.
🌟 Insider's Tip: Aruba Active Vacations also offers a wide range of land and water sports, tours, rentals, and instruction.
20. Learn to Dive in a Day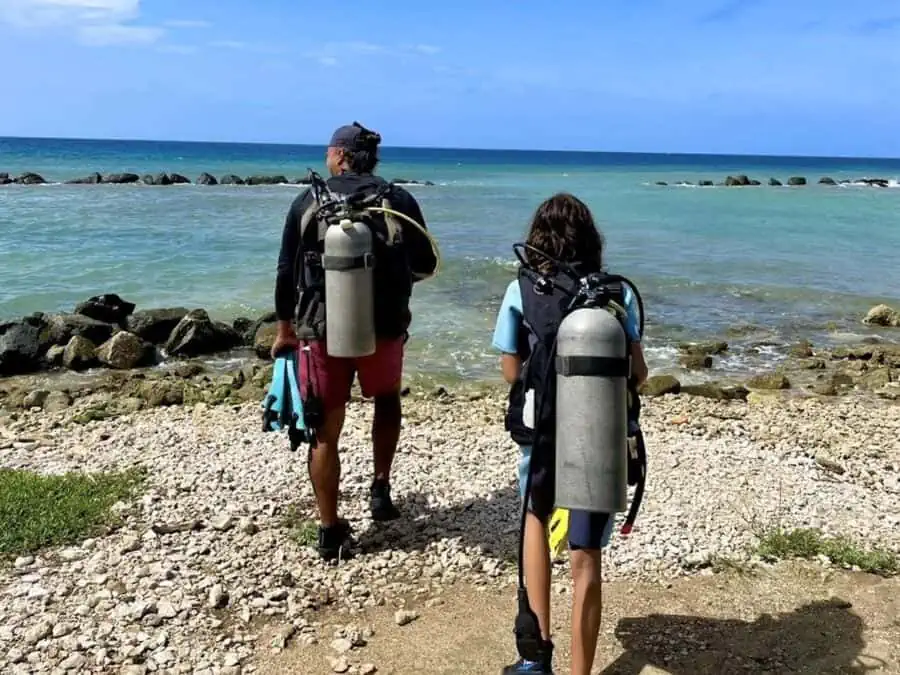 If you've always wanted to learn how to scuba dive but were hesitant to invest so much of your holiday time and money to become PADI certified during your tropical vacation, then an Intro to Dive course might be for you.
JADS Dive Aruba offers a PADI Discover Scuba Diving Course that includes a theory lesson conducted by a PADI Instructor including a skills portion, equipment rental, and one guided shore dive on the same day.
Mangel Halto Beach is their preferred launching spot where shallow waters lead to a small shipwreck just off the coast. No experience required for a dive up to 40 ft below.
🌟 Insider's Tip: My young adult daughter and her boyfriend did this and were absolutely thrilled with the experience.
21. Dare to Tandem Skydive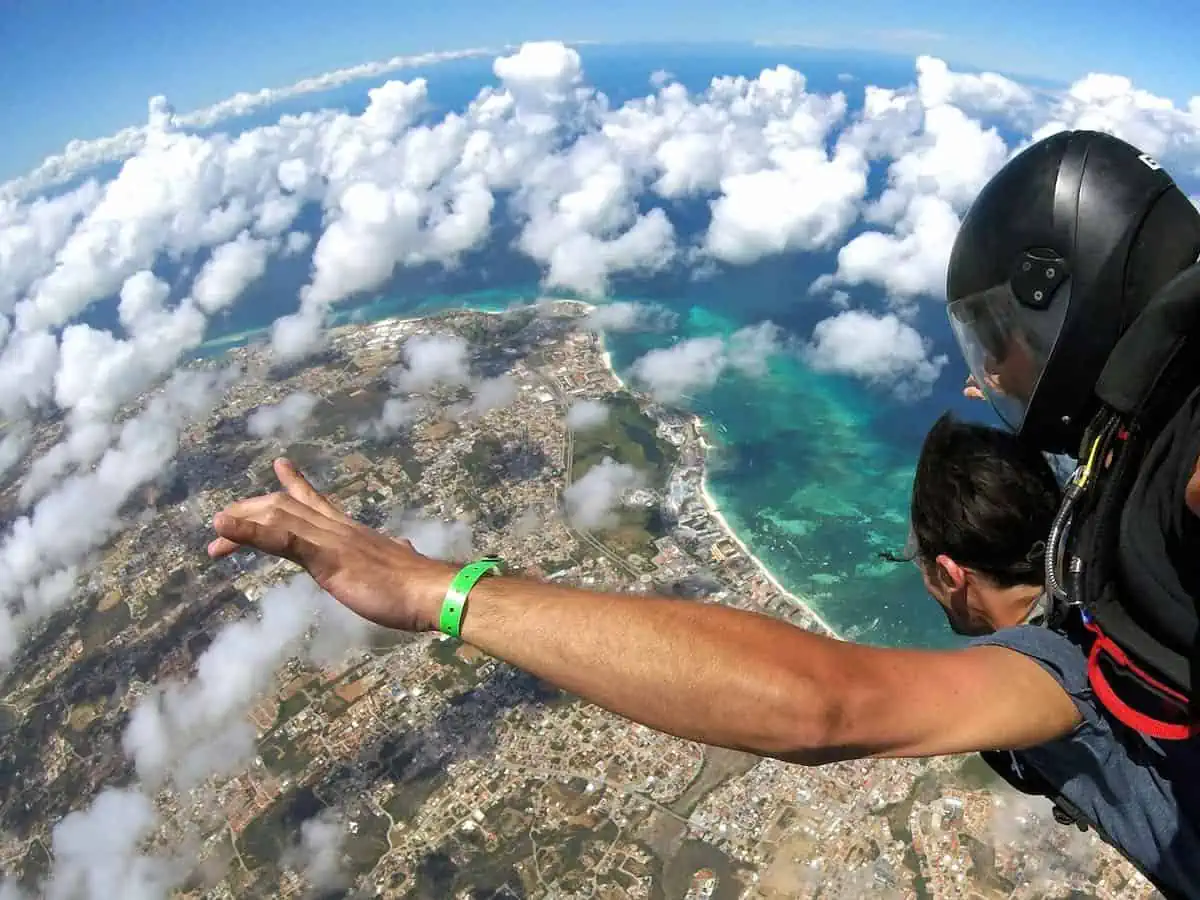 I haven't yet summoned the courage to do this yet, but it's on my bucket list.
And I do know people who've done it and can't stop talking about how exhilarating it is.
But if I WAS going to jump out of a perfectly good plane, the tandem mode is the only way to go. It's definitely at the top of the list for an adventurous thing to do in Aruba.
In continuous business for some 25 years, SkyDiveAruba has helped thousands of visitors make their high-flying dreams come true.
Their safety standards are first-rate, and their Cessna 182 plane is specifically designed for skydiving.
🌟 Insider's Tip: Tours include transportation to and from most local hotels.
22. Embrace the Beat with Free Nightlife in Aruba
One of the top things to do in Aruba at night is to enjoy free live music in the common square at Renaissance Marketplace on the marina.
It's very convenient to get to if you're staying in one of the major resorts or timeshares in Aruba.
Many of the cafes and restaurants there also often have their own live outdoor bands, and Cuba's Cookin' has live music 7 nights a week, and often offers free salsa lessons to customers, too.
Music wafting from a gazillion alfresco bars and restaurants along 'the strip' a mile of venues across street from the high-rise hotels encourages impromptu sidewalk dancing.
And Paseo Herencia (Google Map) has free nightly light and water shows set to music.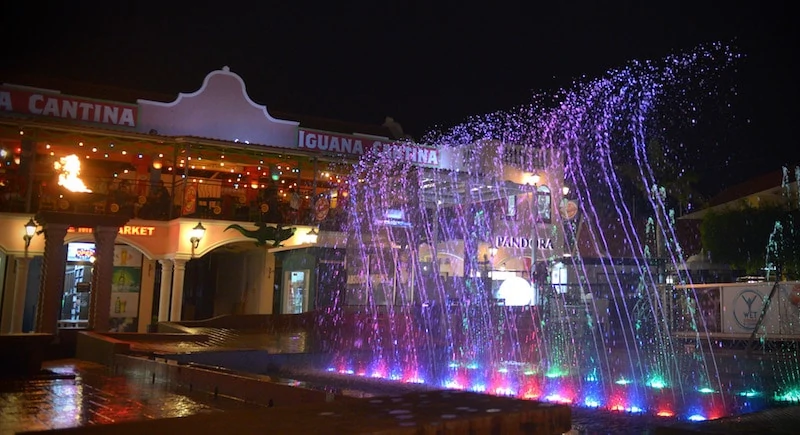 View it from their old-fashioned public stone amphitheatre where they also often host free music and dance shows, especially around holidays.
In Oranjestad, there are many spots for budget bites and cheap snacks where you need not order a full meal to enjoy the establishment's hospitality.
🌟 Insider's Tip: If you head to the sands of Palm Beach after dark you're bound to be drawn to the pulsating rhythms coming from MooMba or Bugaloe, some of Aruba's best beach bars!
23. Renew Your Vows for Free!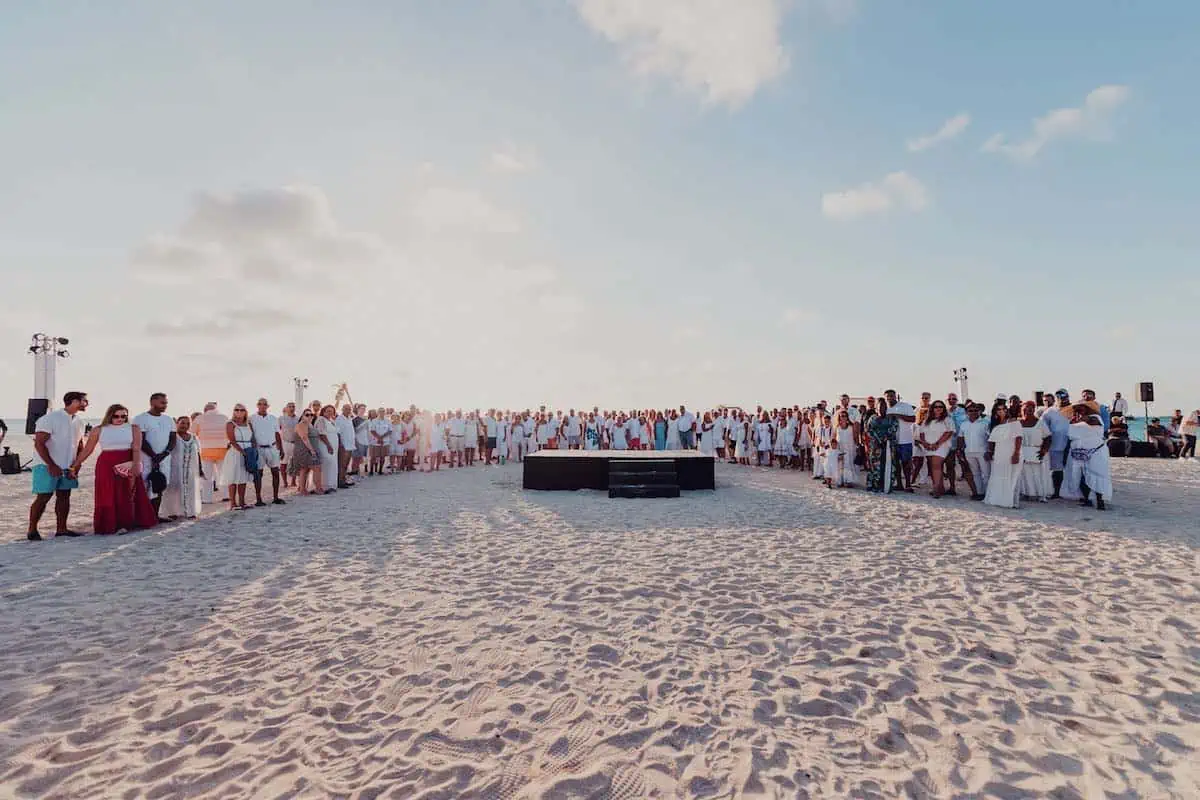 When it comes to finding memorable things to do in Aruba for couples, renewing your vows is definitely one of the most unforgettable!
This island is so in love with love, that each summer they invite couples from around the world to descend upon Aruba and recommit to each other in the largest vow renewal in the Caribbean.
And beyond the bonus of it taking place on one of the most beautiful beaches on the planet, the unique barefoot ceremony and champagne toast at the gala after party with Carnival style entertainment is free!
The annual Aruba I Do Vow Renewal Ceremony also partners with resorts and businesses during that time to offer all kinds of incredible specials, packages, and deep discounts for many island activities.
🌟 Insider's Tip: Participants must register ahead on the official website.
24. Go Birdwatching at the Bubali Bird Sanctuary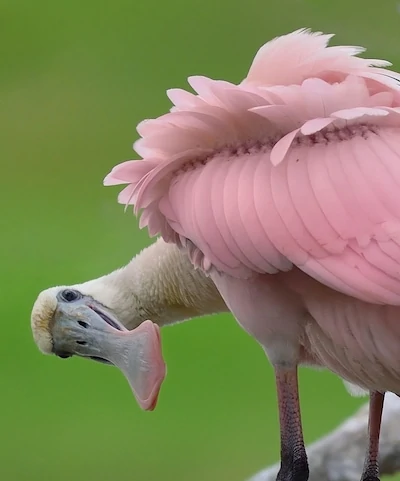 Take the trail off the beaten path into the Bubali Bird Sanctuary wetlands, a protected migratory bird region that separates Palm Beach from Eagle Beach.
If you're looking for a landmark, it's near the big red Dutch windmill.
To get a perfect perch, there's a tall covered wooden structure that provides a bird's eye view to spot the plethora of winged wonders that stop by this area during their annual migrations.
If you're lucky, you might even spot a roseate spoonbill! Be sure to bring binoculars.
🌟 Insider's Tip: If becoming a better birdwatcher is on your bucket list or you want to work on completing your life list, take a tour there with Bird Watching Aruba.
25. Climb the Otherworldly Casibari Rock Formations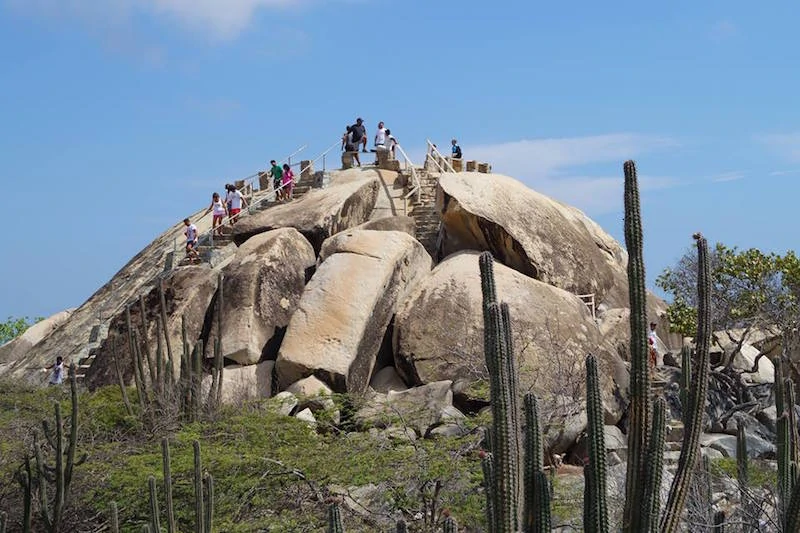 One of the most unique attractions in Aruba, these other-worldly looking rock formations crop out of the blue in the island's arid interior.
They invite visitors to explore them from all angles with manmade staircases and tunnels dug throughout. There is no admittance charge to Casibari. And photo-ops are excellent at this unique point of interest in Aruba.
There is also a similar rock formation nearby at Ayo Aruba, but no manmade stairs. However, they are also worth a visit to view the ancient Arawak petroglyphs carved into the rocks there.
Check prices and availability of a Half-Day Island Tour including the Casibari rock formations, the Bushiribana gold mill ruins, the California Lighthouse and Aloe Vera Factory on Viator.com
26. Hike the Mountain called "The Haystack"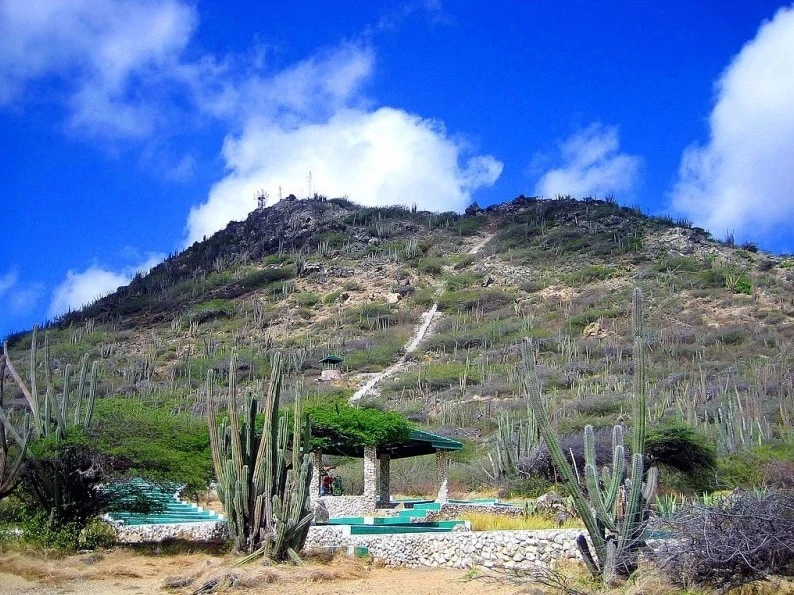 Another climb worth making for fabulous photos is Mt. Hooiberg.
Mt. Hooiberg–which means haystack in Dutch–is not the highest peak on the island at 541 ft. (Mt. Jamanota in Arikok Park at 661 ft. earns that honor) but it's the only mountain with a built-in stone staircase that makes it easier to hike.
For outdoor adventurers, hiking Mt. Hooiberg is definitely one of the best free things to do in Aruba. The only thing you will spend traversing the 500 stairs is your energy. Expect to spend lots of it as the trek is hot and the climb mostly vertical.
Bring water, wear sunscreen and a hat, and take your time to the top where you will be rewarded with a magnificent panoramic view of the island.
On a clear day you can also spot Venezuela in the distance.
27. Flock to a Free Festival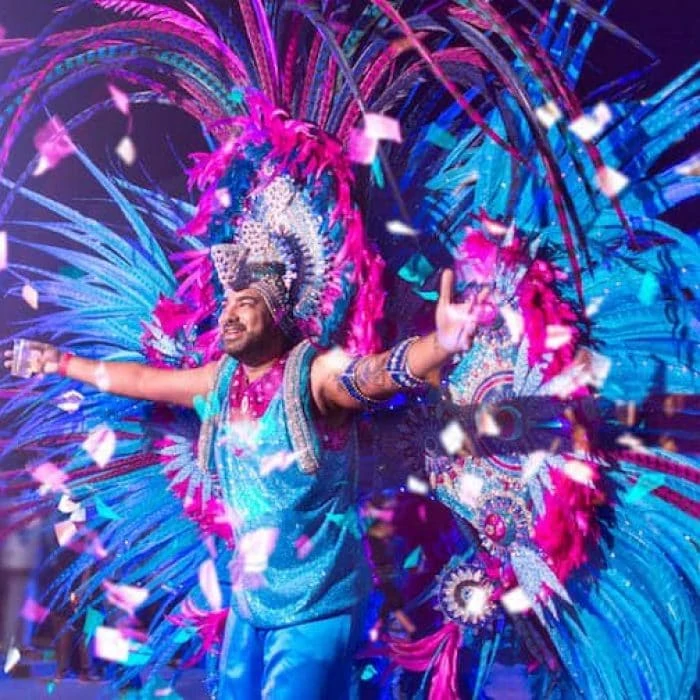 Aruba's almost two-month long ongoing annual Carnival is overloaded with free entertainment for locals and visitors alike.
Exciting parades, pageants, concerts, and celebrations abound all over the island starting in January and running through to the first week of February.
There are lots of other annual festivals based around music, food, arts, and culture, and sports events like major beach tennis and golf tournaments, windsurfing competitions, and regattas.
They also come with music and street and beach parties welcoming all, too. Visit Aruba Events Calendar.
🌟 Insider's Tip: Though not free, a fun thing to do in Aruba is attend the weekly Bon Bini Festival at Fort Zoutman in downtown Oranjestad.
It's well worth the price for its local music, culture, dancing and eats. It takes place Tuesday nights at 7 pm. Admission is $15.
Bucket List Places to Stay in Aruba
Though this island has lots of first-rate accommodations for every kind of traveler, here are my picks for the most unique places to stay in Aruba if you're seeking bucket list-worthy abodes.
Stay in a Splurge-Worthy Overwater Villa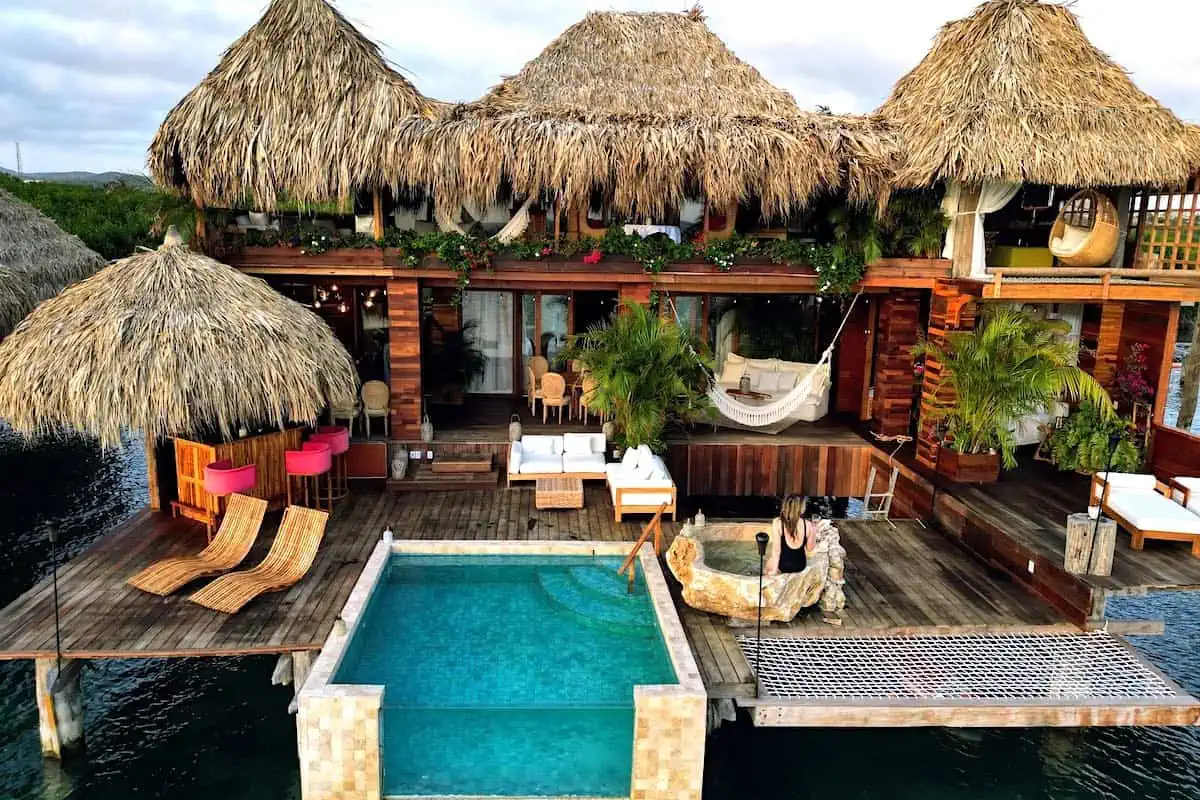 Did you know that Aruba has South Pacific style overwater villas?
Tucked away in the tiny fishing village of Savaneta you'll find a collection of insanely beautiful overwater bungalows at adult-only boutique resort Aruba Ocean Villas.
The most lavish options are sprawling affairs with dipping pools and glass-floor cut outs, private sea access with clear kayaks and paddle boards for personal use, scads of luxe amenities, and some have private Jacuzzis.
There are also smaller beach villas, bamboo cabins, and even a treehouse stay. And all are individually decorated by the local owner/artist herself.
Dining is at their Old Man and the Sea restaurant, and breakfast is included.
🌟 Insider's Tip: I've stayed in most of these villas, and I can attest to the fact that "splurge-worthy" is a very appropriate description.
Go Glamping in the Desert
Secluded among forests of cacti in the wild arid outback off the north coast lies a surprise for the eyes. It's impossible not to spot the brilliant silver camper gleaming in the sun once you know where to go.
It appears like a mirage. But it's real.
This is the Aruba Airstream Experience, one of the island's most unique eco-stays. And though it's in the middle of nowhere, it's not that far from easy access to supplies. And it's not without its creature comforts.
This is glamping at its best. The two-bedroom abode includes a BBQ, a kitchenette, a saltwater pool, a hot tub, and a deluxe outdoor shower.
Did I mention it's air-conditioned too? Surreal.
🌟 Insider's Tip: Pack your hiking shoes. There are great hiking trails nearby.
Cocoon in a Casita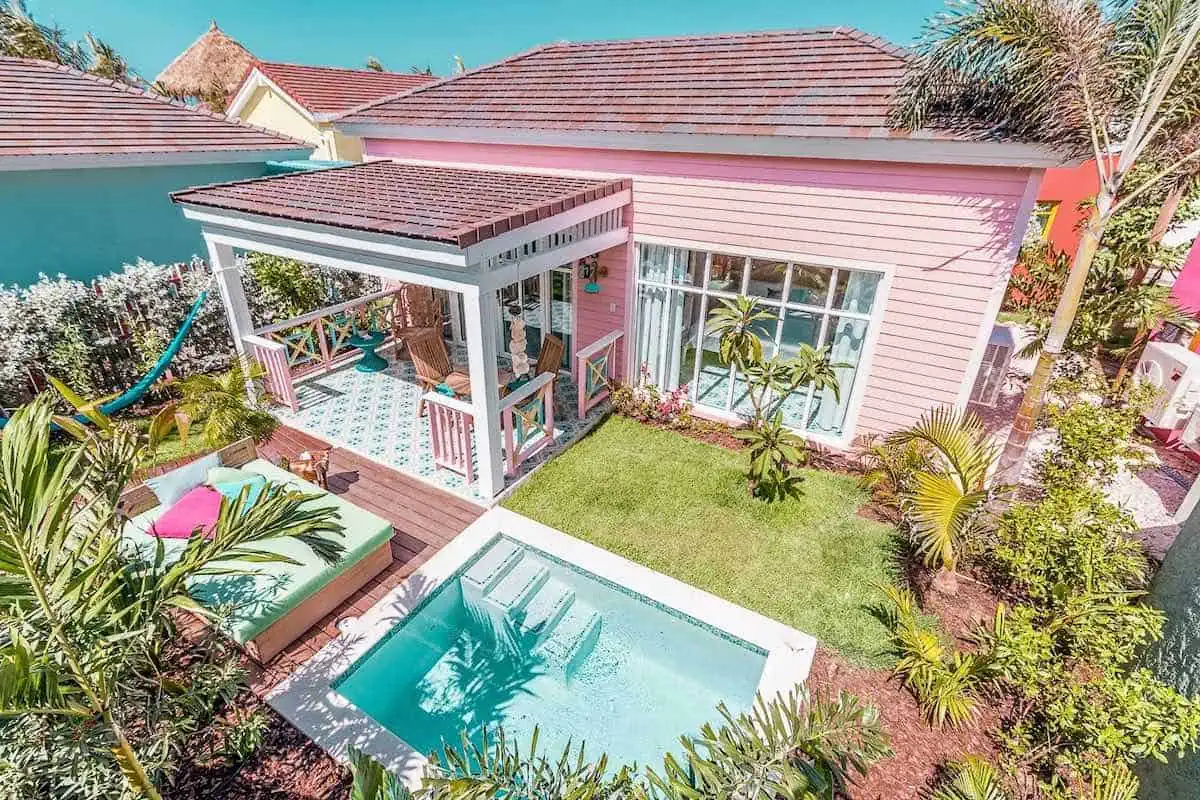 Imagine a beautifully landscaped community of colorful cottages (casitas) woven together with a wooden boardwalk and surrounded in bright, tropical foliage.
That's Boardwalk Boutique Hotel Aruba, a welcoming family-run operation set in a lush, former coconut plantation.
Choose from 46 fully equipped individually decorated private casitas with hammocks, BBQs, and kitchenettes for self-catering. There are also on-site food and beverage options that include vegan fare.
If you book the villa with private plunge pool, you can enjoy a floating breakfast! It's one of our top choices for brunch in Aruba.
They have two lovely pools, and their own dedicated beach zone on stunning Palm Beach, easily accessible on foot or via their cute complimentary shuttle.
Some stand-alone deluxe casitas offer extra amenities like an outdoor shower. There's one with its own dipping pool, and one set atop a panoramic palapa.
🌟 Insider's Tip: Guests must be 12 year of age and over.
FAQs
What are some non-touristy things to do in Aruba?
Some of the best non-touristy things to do in Aruba include visiting the donkey sanctuary, doing some Bubali bird watching and taking an eco-hike to the natural pool (most visitors go by motorized ATV tours).
How many days in Aruba is enough?
A minimum of three days is enough to spend some time on one of the beaches and see a few attractions in Oranjestad. To explore other parts of the island such as Baby Beach and San Nicolas as well enjoy excursion such as snorkelling, you need a minimum of one week.
What is Aruba best known for?
Aruba is best known for its beautiful beaches and year-round sunny, warm weather. The island receives the most days of sunshine in the Caribbean.
This article was originally published in 2018 but was updated and substantially expanded in 2023 after new onsite research visits and inspections. Prices can change without notice.
Other Aruba Travel Ideas We Love
Save to Pinterest!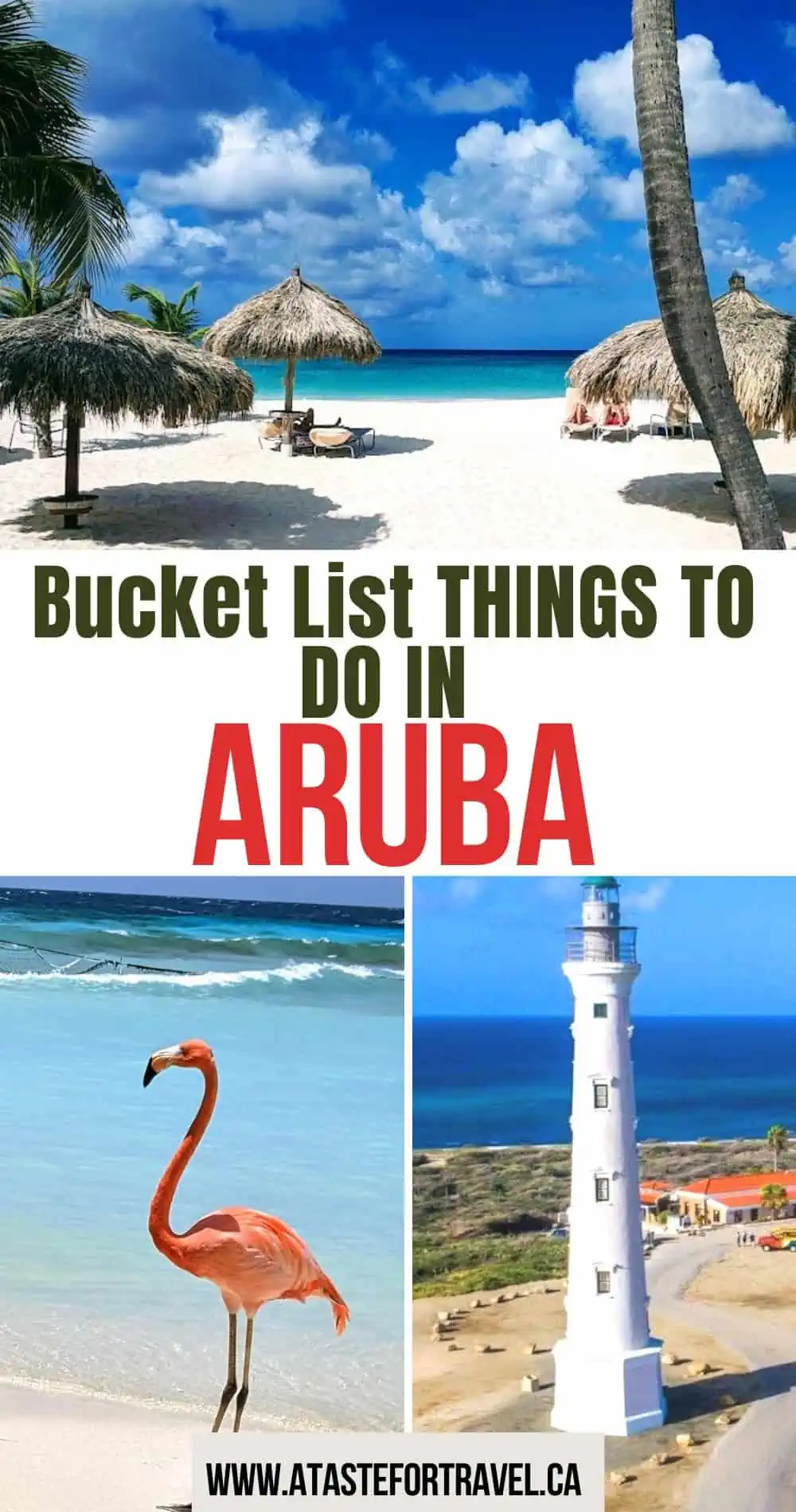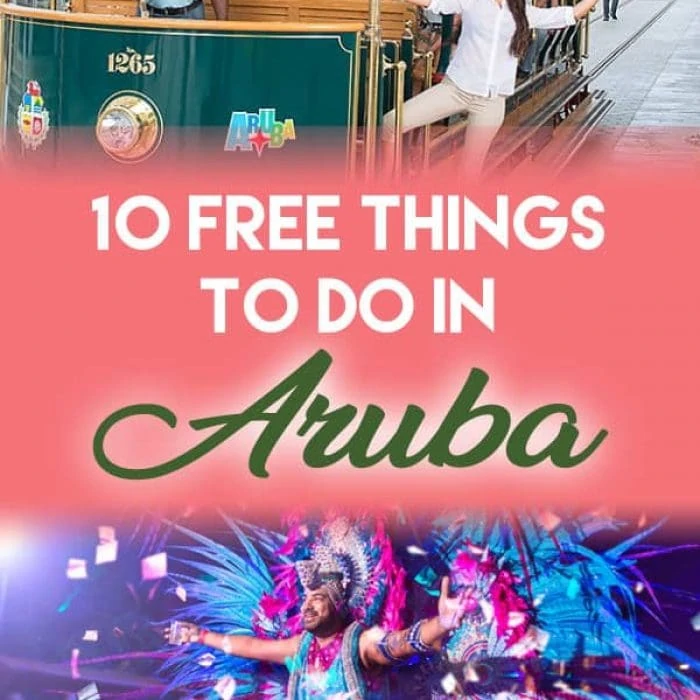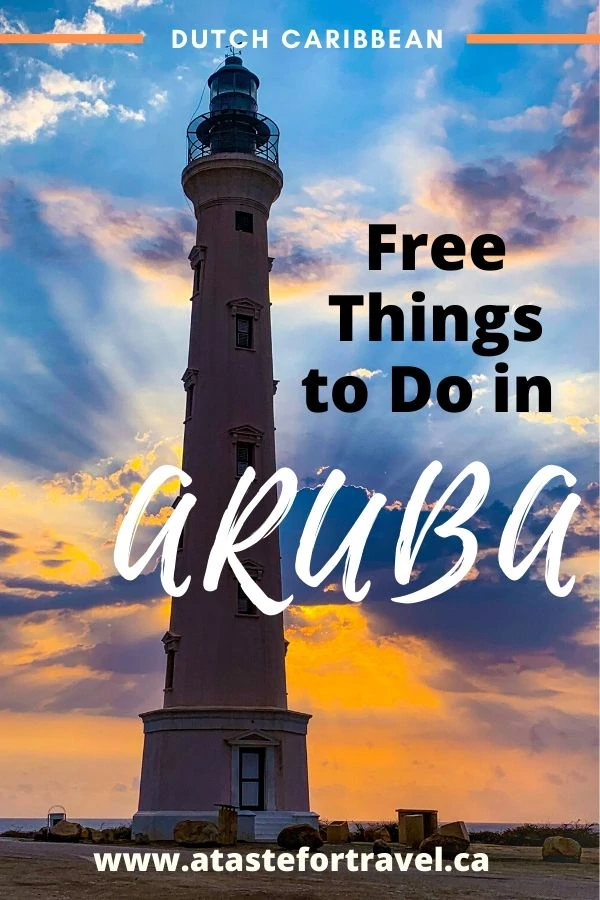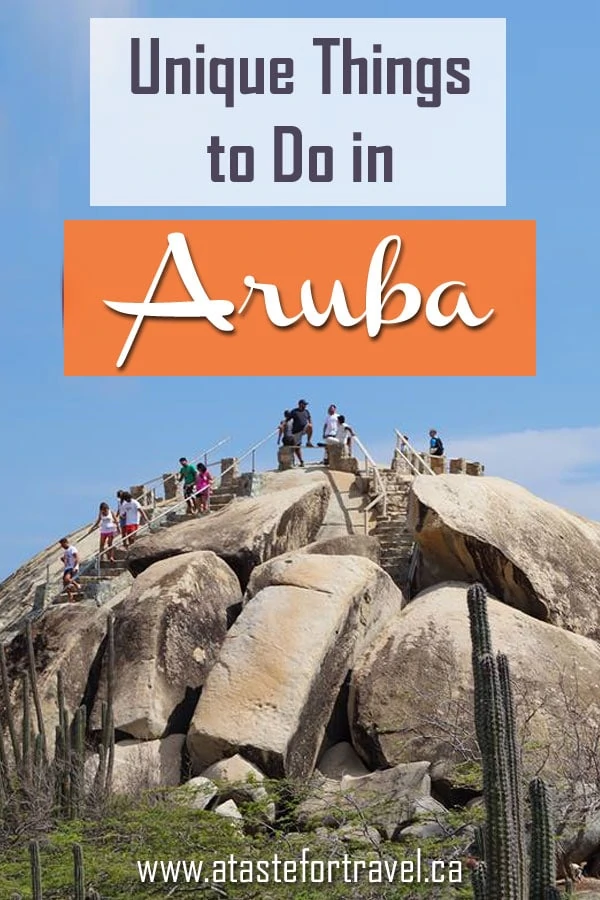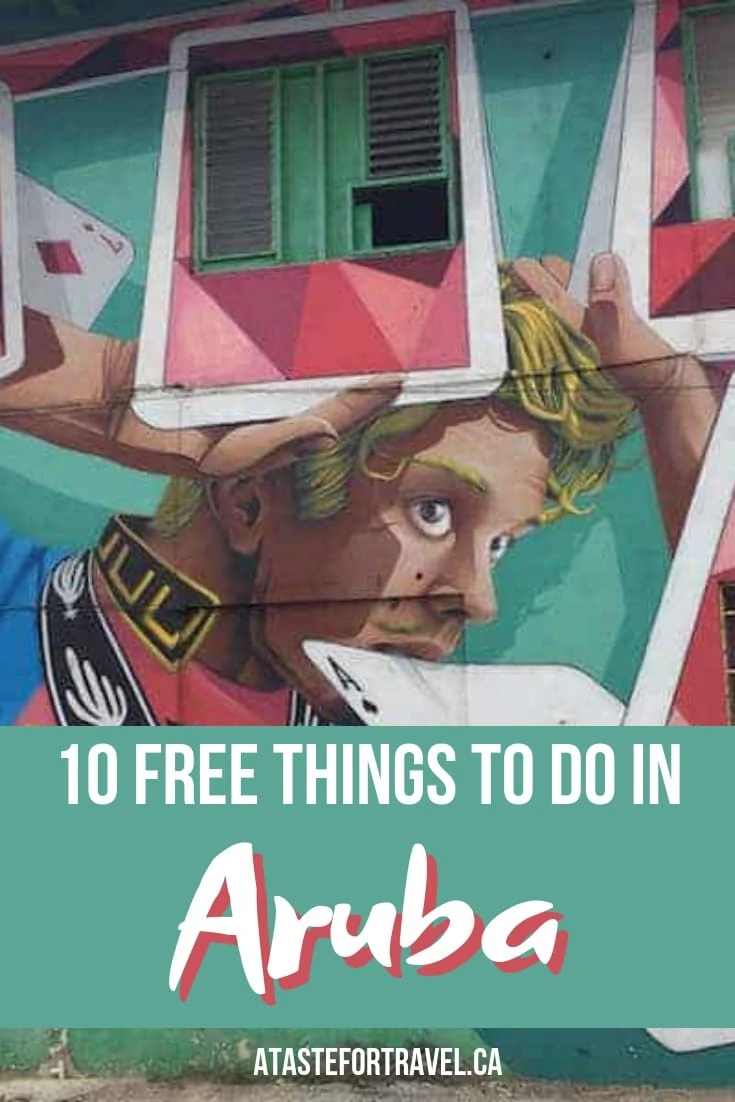 Sue Campbell is an award-winning Canadian travel writer specializing in the Caribbean and other tropical hot spots.
She's authored major guidebooks for Fodor's (Aruba, Bonaire, Curaçao, Saba) and countless magazine articles about the Dutch Caribbean for their on-island guides and websites.
Her work has appeared in Reader's Digest, USA Today 10Best, Forbes, Montreal Gazette, Globe & Mail, Toronto Star, National Geographic, Afar, Business Insider, Journey, Matador, Delta Sky Magazine, Costco Travel and many more. Follow her journeys on social here.
Learn more about Sue Campbell.