We may earn income from links in this post. Please read this Disclosure for details.
Looking for free things to do in Aruba? Although Aruba is famous for its beautiful white sand beaches and luxury resorts, it doesn't have to be expensive to vacation here!
Some of the best attractions and activities on this sunny island in the Dutch Caribbean happen to be totally free!
During my two decades of visiting the island and writing about it for magazines like Aruba Nights and Fodor's guidebooks, I've discovered scads of cool things to do beyond the beaches that won't cost you a thing.
And who doesn't like free? Read on for some unique and fun ideas for the best things to see and do in Aruba on a budget.
1. Watch the Spectacular Paseo Herencia Water Show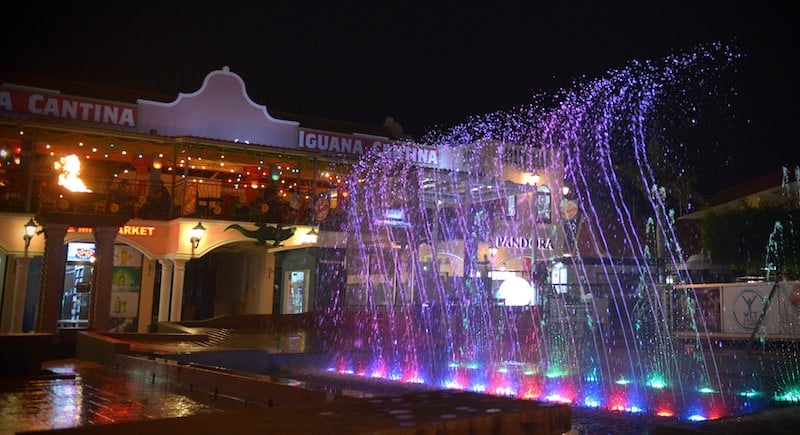 This water fountain light show is one of my absolutely favorite free things to do in Aruba at night and I encourage all first-time visitors to go and check it out. The colonial style courtyard at Paseo Herencia Mall is just off the Palm Beach tourist strip and holds enchanting entertainment for families and adults via their magical "liquid fireworks" show in the water fountain.
Three times a night ( at 7:30, 8:30 and 9:30 pm) the fountain spouts to the skies in brilliant neon colors in a synchronized water ballet to music. View it from their old-fashioned public stone amphitheatre where they also often host free music and dance shows, especially around holidays.
Insider Tip: A brand-new gourmet cheese and wine spot called Melt Away Cafe is just the thing for decadent gooey grilled cheese "tostis" and fondue, and of course Dutch cheese is always so "Gouda" any way you eat it! Pair your bites with a great selection of quality vintages by the glass. It's an ideal place for great eats beside the fountain when you don't want to spring for a full meal.
2. Ride the Oranjestad Trolley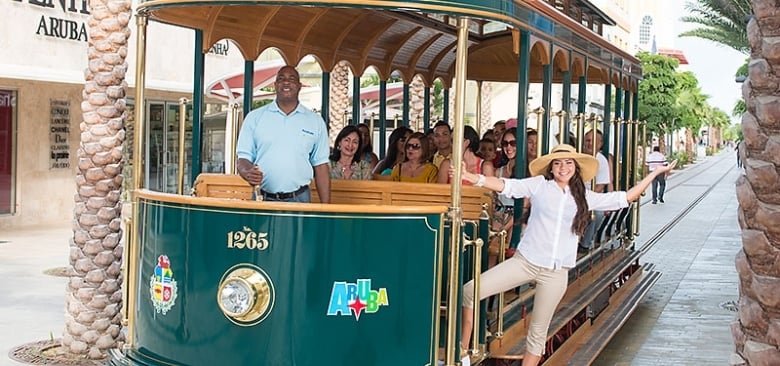 A wonderful way to explore Oranjestad the newly renovated downtown capital of Aruba is on an eco-friendly tram through the back streets and with nine stops so you can soak up the colorful, colonial charm and decide where you might want to return to later. Riding the Oranjestad Trolley is one of the best free things to do in Aruba on a cruise.
The trolleys are free to the public and you can hop on and off as you please. Choose a double-decker if you want a great vantage point from the open-air top level or enjoy shaded seating below to beat the heat. The trolleys run about every half hour and begin at the cruise ship terminal.
Best Place to Eat in Oranjestad: A brand new café called Taste My Aruba is located in the beautifully restored 100-year-old mansion that houses Cosecha the island's premier art collective foundation. This lovely little spot excels in offering up the best of authentic local treats yet often with a very creative twist and at prices that won't break the budget. They also team up with Cosecha to offer an Arts and Farmer's Market "under the stars" once a month.
For more ideas on the best (and budget-friendly) places to eat in downtown Oranjestad, read Eat Like a Local in Downtown Oranjestad, Aruba.
3. Enjoy Oranjestad's Free Outdoor Concerts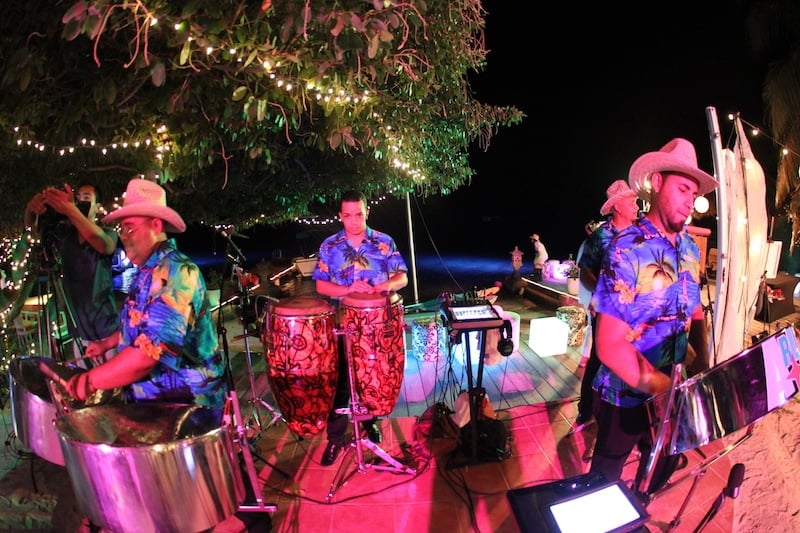 One of the top things to do in Orangestad at night is enjoy some live music. There's always free live music at night in the common square at Renaissance Marketplace on the Oranjestad marina. It's very convenient to get to if you're staying in one of the major resorts or timeshares in Aruba.
It's a wonderful spot to simply meander and take in the al fresco nightlife. The vibe is enchanting with the sparkling lights over the water. Many of the cafes and restaurants there also often have their own live outdoor bands as well.
In Oranjestad, there are many spots for budget bites and cheap snacks where you need not order a full meal to enjoy the establishment's hospitality.
Try Café the Plaza for Dutch tapas or Cuba's Cookin' where their new Back Door Bar on the mall walkway serves up specially priced snack platters for two and discounted cocktails. They have nightly live Latin music, too.
Insider Tip: Outside of Djiespie's Place in the back streets of downtown Oranjestad every Friday night starting at 6pm there is free live music and a big dancing-in-the-streets local affair where visitors are more than welcome to join in.
4. Explore the San Nicolas Aruba Art Walk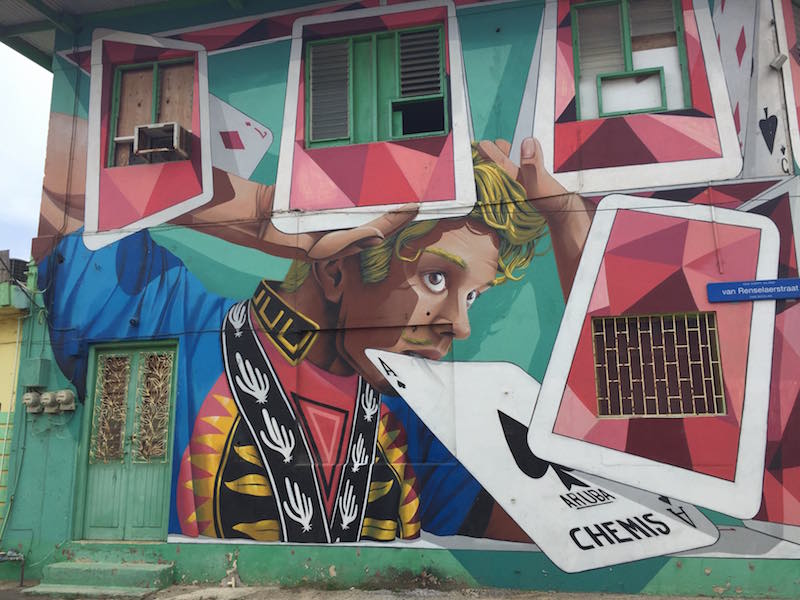 Thanks to the annual Aruba Art Fair, now in its third year of operation, the Art Walk is one of the best free things to do in Aruba in September. The streets, alleys, and buildings of old refinery town San Nicolas have exploded in stunningly bright colors and larger than life outdoor art exhibits and murals left behind by the international creators who participate in the festival each year.
It's a must-see in Aruba. Stroll through the streets of San Nicolas to view the massive 3-D and tromp d'oeil installations, ceramic creations, incredible sculptures and wall murals at every turn, with more being added each year. The San Nicolas Art Walk is home to the most Instagrammable places in Aruba.
For a self-guided tour, there is an online Map of the San Nicolas Art Walk to learn where they are, discover more about each piece and choose the best Instagram and photo spot. With the popularity of the new art walk, many new snack spots and cafes are cropping up there now for budgets eats and fast refreshments.
Insider Tip: Adding to the list of fun things to do in San Nicolas, there are now two new free entertainment festivals each month. You might want to bring some cash for eats, treats, drinks and arty souvenirs!
Meet San Nicolas – A Free Entertainment Festival
Meet San Nicolas brings local music, food, art, dance and more to the main promenade of Sunrise City the first Thursday of every month from 6:30pm-10pm. And entrance is free!
Island Festival – A Free Mini-Carnival
Island Festival is like a mini-carnival bringing the spirit of the parades, music, and colorful costumes to the streets with lots of extras for all ages to enjoy and is also free. It takes place the last Wednesday night of each month from 7pm-10pm.
5. Climb the Otherworldly Casibari Rock Formations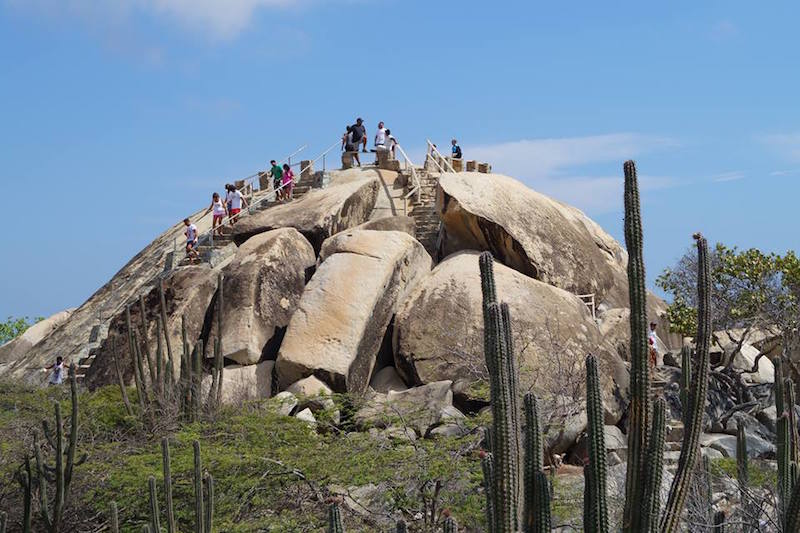 One of the most unique attractions in Aruba, these other worldly looking rock formations crop out of the blue in the island's arid interior. They invited visitors to explore them from all angles with manmade staircases and tunnels dug throughout. There is no admittance charge, and photo ops are excellent at this unique point of interest in Aruba.
There is also a similar rock formation nearby at Ayo Aruba, but no manmade stairs. However, they are also worth a visit to view the ancient Arawak petroglyphs carved into the rocks there.
Insider Tip: Casibari Café, a crazy, colorful restaurant across the street from the rock formations is also flanked by the same weird geology and sports all kinds of bizarre décor like an old English telephone booth and statues of celebs like The Blues Brothers and Elvis!
For lunch, enjoy chicken satay sticks, gourmet paninis and creative salads. By night, the cafe morphs into a BBQ and grill for dinner. If you're there on a Thursday, stay on for a treat because that's all-you-can-eat-ribs night, and the colored neon lights highlighting the odd rocks give it an absolutely surreal alien vibe after dark. It's worth adding this attraction to your list of things to do in Aruba at night. Closed Sundays.
Love outdoor adventure? Check out our picks for 7 Epic Adventures in Aruba.
6. Commune with Rescued Donkeys at the Donkey Sanctuary
A visit to the Donkey Sanctuary is one of the top things to do in Aruba for families and animal lovers of all ages. The friendly four-legged critters at the Aruba Donkey Sanctuary are always happy to receive visitors, especially if you bring a few treats like apples and carrots.
This non-profit foundation is free of charge to visit, but of course donations are always welcome. Interact with the donkeys up close and you can also adopt a donkey (virtually) at their ranch or on their website to sponsor its care for a year.
Originally brought by the Spanish, Aruba's donkeys were left to roam wild once they were no longer needed for transportation. But they often need human help when they fall ill or become injured. This donkey rescue and sanctuary ensures that those in need have a safe forever home.
Insider Tip: On your way to the Donkey Sanctuary, stop by Mauchi Smoothies in Savaneta. It's a roadside stand with great organic fare as well as healthy smoothies and snacks gleaned from the local area and owner Maureen Laaf Ras's garden. Burgers, quesadillas and hot dogs available, too! The very good prices make this a great place to eat on a budget.
7. Experience a Heavenly View at Alto Vista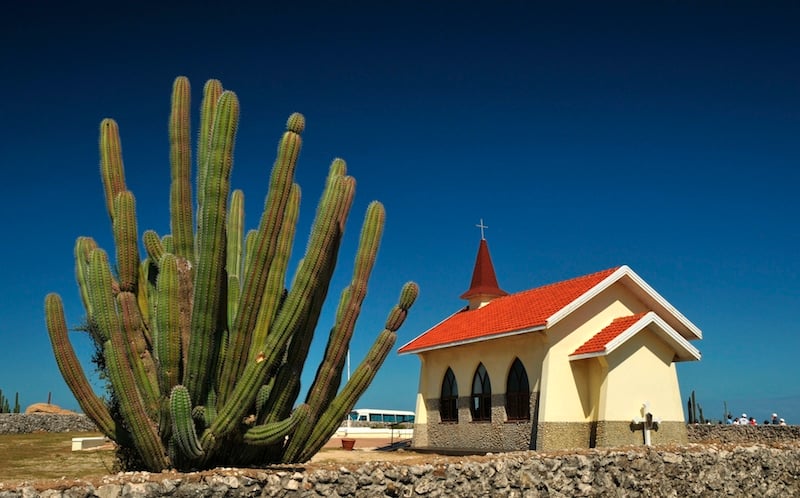 One of the top places to go in Aruba is the Alto Vista Chapel. The high summit site of Aruba's oldest Catholic church dates back 250 years, and though the original church was built in 1750, the one standing there now was erected in 1952. But the lookout is still as heavenly as it was when first chosen as a spot for spiritual reflection.
Admission is free, and the interior of the chapel is charming, though very tiny, so the best time to visit before flocks of tourists arrive on their island bus tours is early morning and very late afternoon.
Alto Vista means high view and this spot is also called Pilgrim's Church since it's the site where the annual Good Friday Easter pilgrimage from Oranjestad concludes.
Mass is held on Tuesdays at 5:30 pm, and is conducted in Papiamento.
Insider Tip: Make sure to have a few dollars handy to buy fresh coconut water from the famous coconut man out front who will chop a fresh one open for you.
8. Celebrate Carnival in Aruba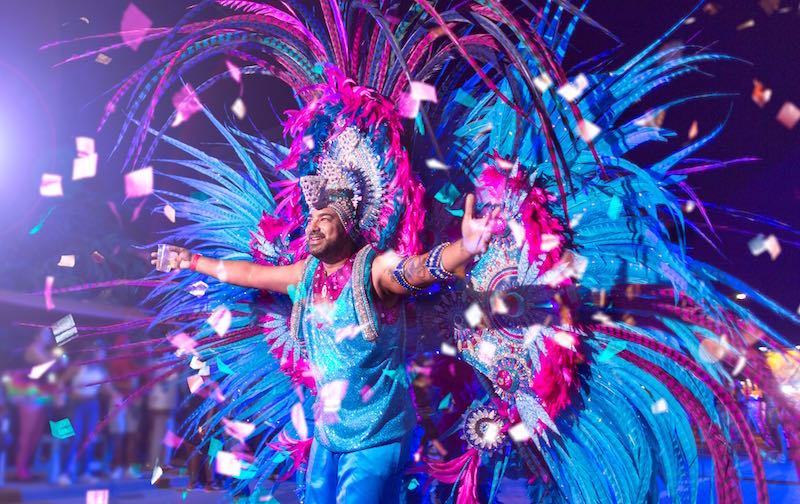 Aruba's almost two-month long ongoing annual carnival is awash in free entertainment for locals and visitors alike, parades, pageants, concerts and celebrations abound all over the island starting in January and running through to the first week of February. It's definitely the most fun thing to do in Aruba in January at night.
Best bets for super spectacles and surreal sights and sounds are the night time Lighting Parade in San Nicolas and the day time Grand Parade in Oranjestad. For updated carnival events and times visit Aruba Carnival on Facebook.
Insider Tip: Everyone is welcome to join in the road march "Jump Up" parade in San Nicolas which is also dubbed the "pajama party" since it begins at 4am with the sunrise, and many folks attend in their PJs!
9. Hike the Mt. Hooiberg Haystack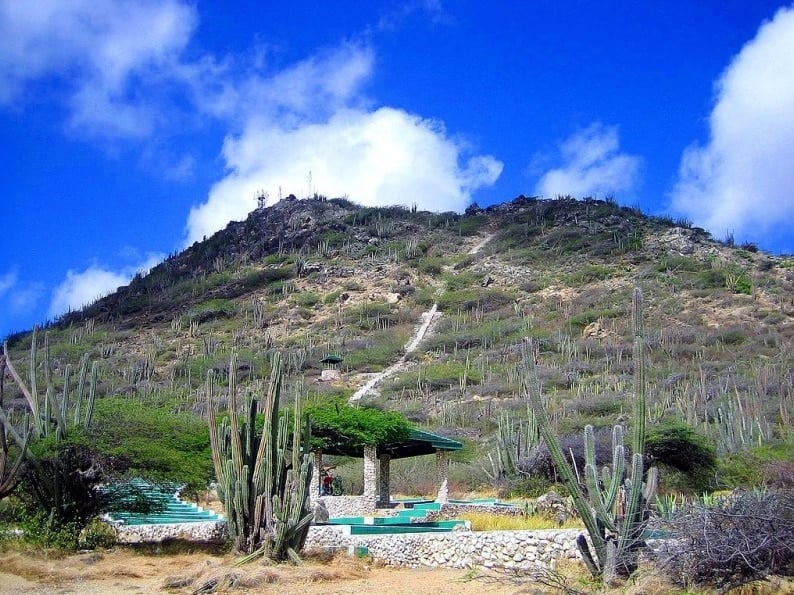 Mt. Hooiberg–which means haystack in Dutch–is not the highest peak on the island at 541 ft. (Mt. Jamanota in Arikok Park at 661 ft. earns that honor) but it's the only mountain with a built-in stone staircase that makes is easier to hike.
For outdoor adventurers, hiking Mt. Hooiberg is one of the best free things to do in Aruba. The only thing you will spend traversing the 500 stairs is your energy. Expect to spend lots of it as the trek is hot and the climb mostly vertical.
Bring water, wear sunscreen and a hat, and take your time to the top where you will be rewarded with a magnificent panoramic view of the island. And on a clear day you can also spot Venezuela in the distance.
Insider Tip: Reward your efforts with some sweet treats from famous Bright Bakery nearby. It's on the way and home to Aruba's best authentic local baked goods.
10. Strike Photo Gold at Bushiribana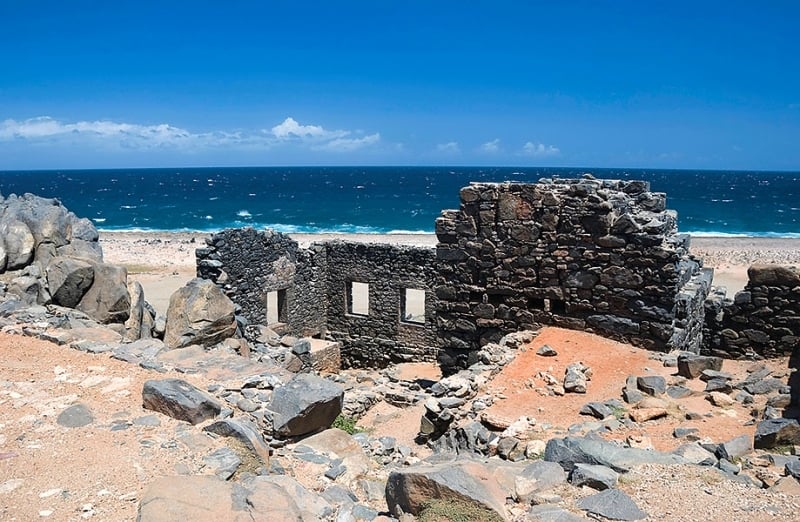 Though the Spanish came looking but never did find it, gold was discovered on Aruba after they left! It's well worth a sightseeing drive out to the northern coast to explore the ruins of the old Bushiribana gold mill facing the sea.
The remnants of the old stone walls contain full window frames which make excellent frames for your photos as well. The striking contrast of the black rock windows looking out onto the impossibly aqua sea is a popular setting for unique wedding photos as well.
Insider Tip: There is actually a second gold mine ruin out near Frenchman's pass at the tip of Spanish lagoon. Just follow the wooden sign for the Balashi gold mines.
There you will find what is left of the mill buildings all overgrown with foliage and surrounded by stone staircases that also make a romantic setting for fabulous photos.
11. Go Birdwatching at the Bubali Bird Sanctuary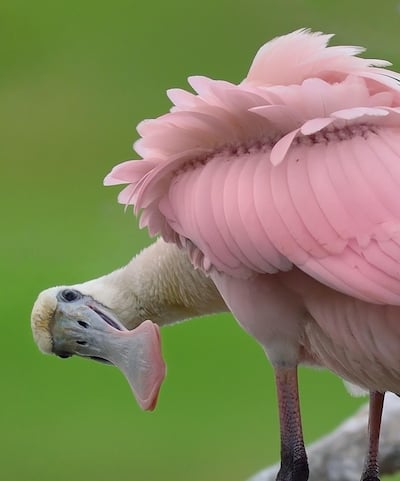 Take the trail off the beaten path into the wilds of the marshy Bubali wetlands – a protected migratory bird sanctuary that separates Palm Beach from Eagle Beach. If you're looking for a landmark it's near the big red Dutch windmill.
Within the wetlands, there's a tall covered wooden perch that provides a bird's eye view to spot the plethora of winged wonders that stop by this area during their annual migrations.
You never know what kind of fine-feathered friends you might encounter. Over 80 species of birds regularly pass through here, but if you're really lucky you might even spot a wild flamingo or a roseate spoonbill. Be sure to bring binoculars.
If becoming a better birdwatcher is on your wish list or you want to work on completing your birdwatching life list, then be sure to contact Michiel Oversteegen, a professional at Bird Watching Aruba. Although the guided birding tour is not free, it offers great value and is well worth it if you are serious about ornithology and wildlife photography.
12. Catch a Sunrise at California Lighthouse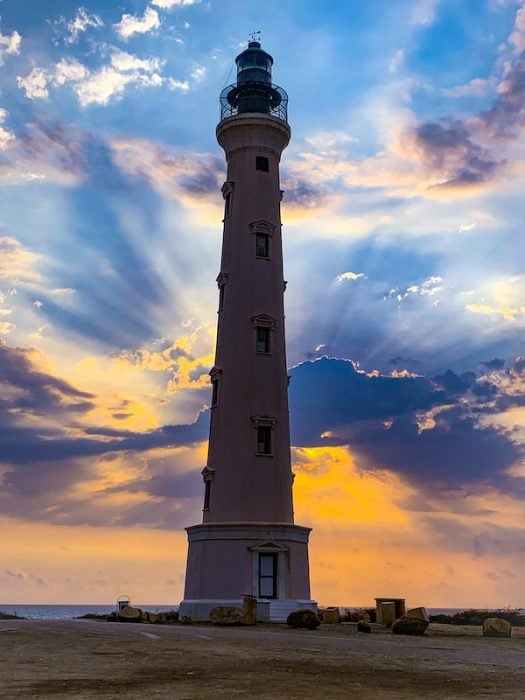 Glorious views like this one await early birds at Aruba's iconic landmark lighthouse in Noord. But if you're not up to rising with the sun, it affords different Insta-worthy ops all day long as well.
The California Lighthouse was built to warn ships after an American freighter (The Californian) struck the coast and sunk in 1891.The structure was restored to its former glory in 2016 to celebrate its 100th anniversary, and the interior opened to the public then as well.
You can climb the spiral staircase to the top, but that's not free. It will cost you $5, but well worth the price for incredible panoramic views.
Insider's Tip: Don't be surprised to some starry-eyed couples strolling at sunset there. The pristine and primal natural region surrounding the lighthouse is one of the most popular places to propose on the island.
13. Get Free Gifts and Other Great Aruba Deals on Attractions
Check out these extra ideas for cheap things to do, free gifts and other ways to save money on your next holiday in Aruba:
You can get all kind of free stuff with the coupons you'll find in the free on-island guides like Aruba Nights and Island Gourmet magazines. Or check out their online printable coupons at Nights Publications. These discount coupons are ideal if you're visiting Aruba on a cruise as there are two casinos near the cruise ship terminal.
Nights Publications' magazines are filled with valuable coupons for free gifts you can get while shopping at retail stores, bars, restaurants as well as activities (including a free admission to the Aruba Butterfly Farm). You can even download them online ahead of time. The Nights Publications magazine for Curacao is also handy if you're looking for budget-friendly things to do on Curacao.
If you don't use the coupon and decide to pay for admission, your first admission to the Aruba Butterfly Farm is good for as many complimentary return visits as you like during your holiday.
A Budget Travel Guide to Free Things to Do in Aruba
Aruba Tourism Authority: Get maps, travel advice on points of interest in Aruba and other valuable resources on the official tourism website. Check the official Aruba Tourism Authority site for details on attractions and sightseeing.
Aruba Safety and Vaccinations: In accordance with guidelines of the World Health Organization (WHO), Aruba has introduced a policy requiring travellers from select countries to have proof of vaccine against yellow fever effective March 1, 2018.
Exceptions include people with certain medical conditions as well as those 60 years of age and older.
Where to Stay: Check out our five favourite hotel hideaways in Aruba.
ENJOY THIS POST? YOU MIGHT ALSO LIKE:
Save to Pinterest!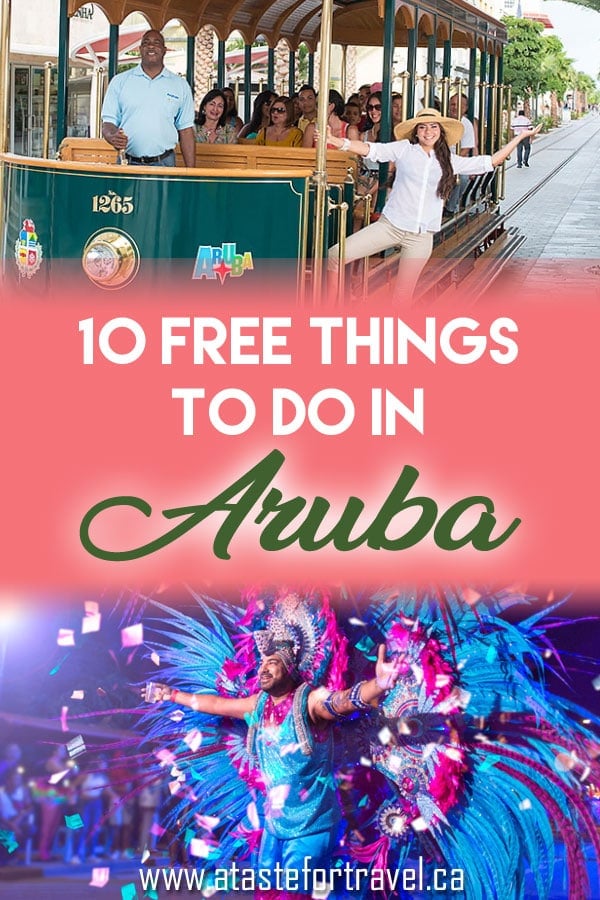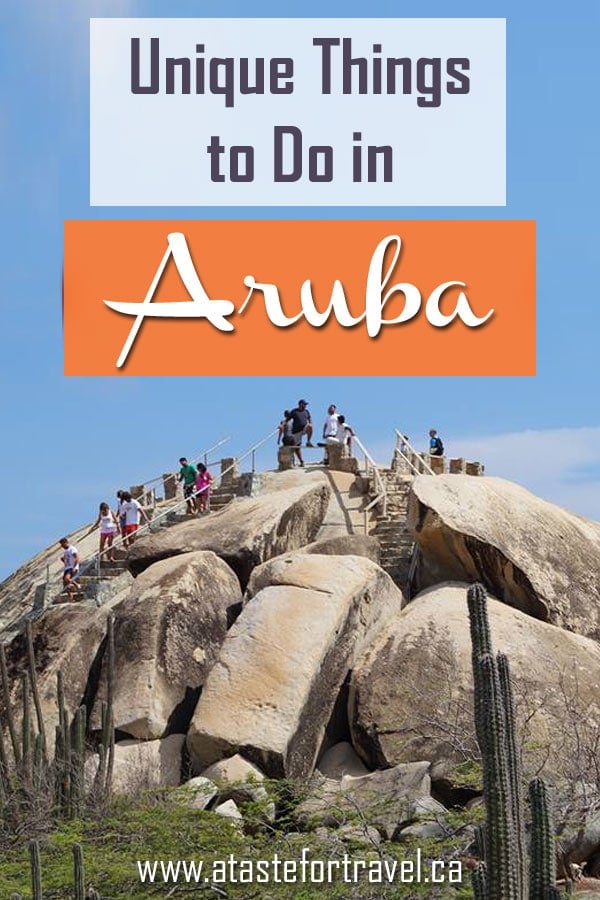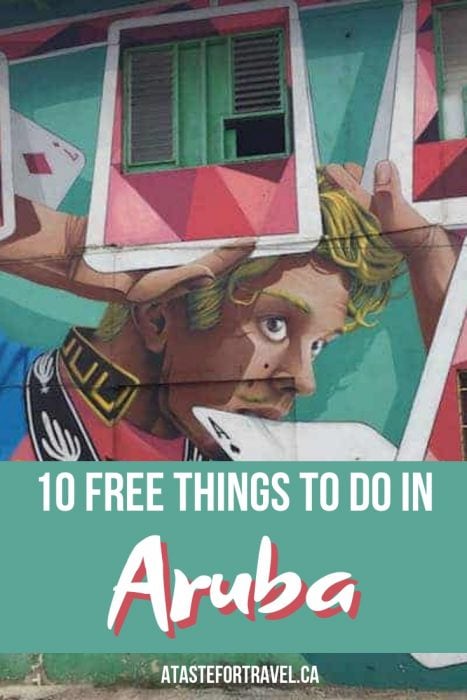 Contributing Editor Sue Campbell is an award-winning Canadian travel writer specializing in the Caribbean and tropical hot spots. She's authored major guidebooks and magazine articles for Fodor's (Aruba, Bonaire), Reader's Digest, USA Today 10Best, Forbes, Montreal Gazette, Globe & Mail, Delta Sky and many more. Follow her journeys on Instagram and Twitter @Suectravel
Learn more about Sue Campbell.