We may earn income from links in this post. Please read this Disclosure for details.
If you're looking for healthy snacks and appetizers to enjoy on a boat, we've got you covered! These delicious boating snacks are easy to make, portable, no-mess and nutritious.
Popular with all ages — from toddlers to seniors — they're perfect for short boat excursions, sailing trips or a full day of entertaining on a pontoon boat.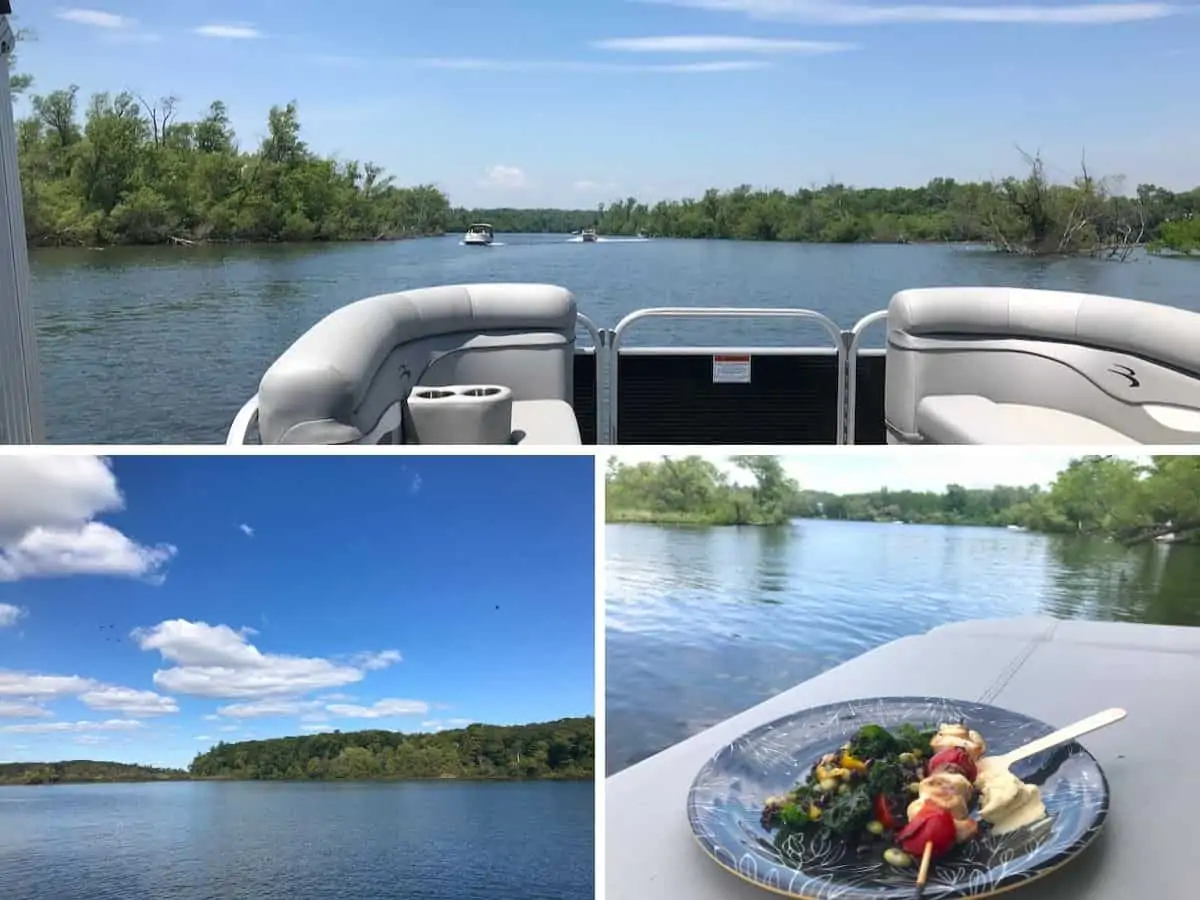 In boating season in Ontario, we usually spend full days on the water fishing for bass or walleye, swimming off sandbars or just cruising around looking at turtles, eagles, loons and other wildlife.
When it's time to eat, we drop anchor on the leeward side of an island or in a protected cove away from passing watercraft.
While our pontoon boat (a Bennington 20 SV) seats 8 comfortably (and has a cute table and lots of cup holders), it doesn't have a refrigerator. That means all of our boat food has got to fit into soft-sided coolers.
So, much as with our tortilla wrap boat lunch recipes, the boat snacks we bring must be compact, ready to eat and resistant to spoilage.
Check out: The Best Boating Cocktails to Try at the Cottage This Summer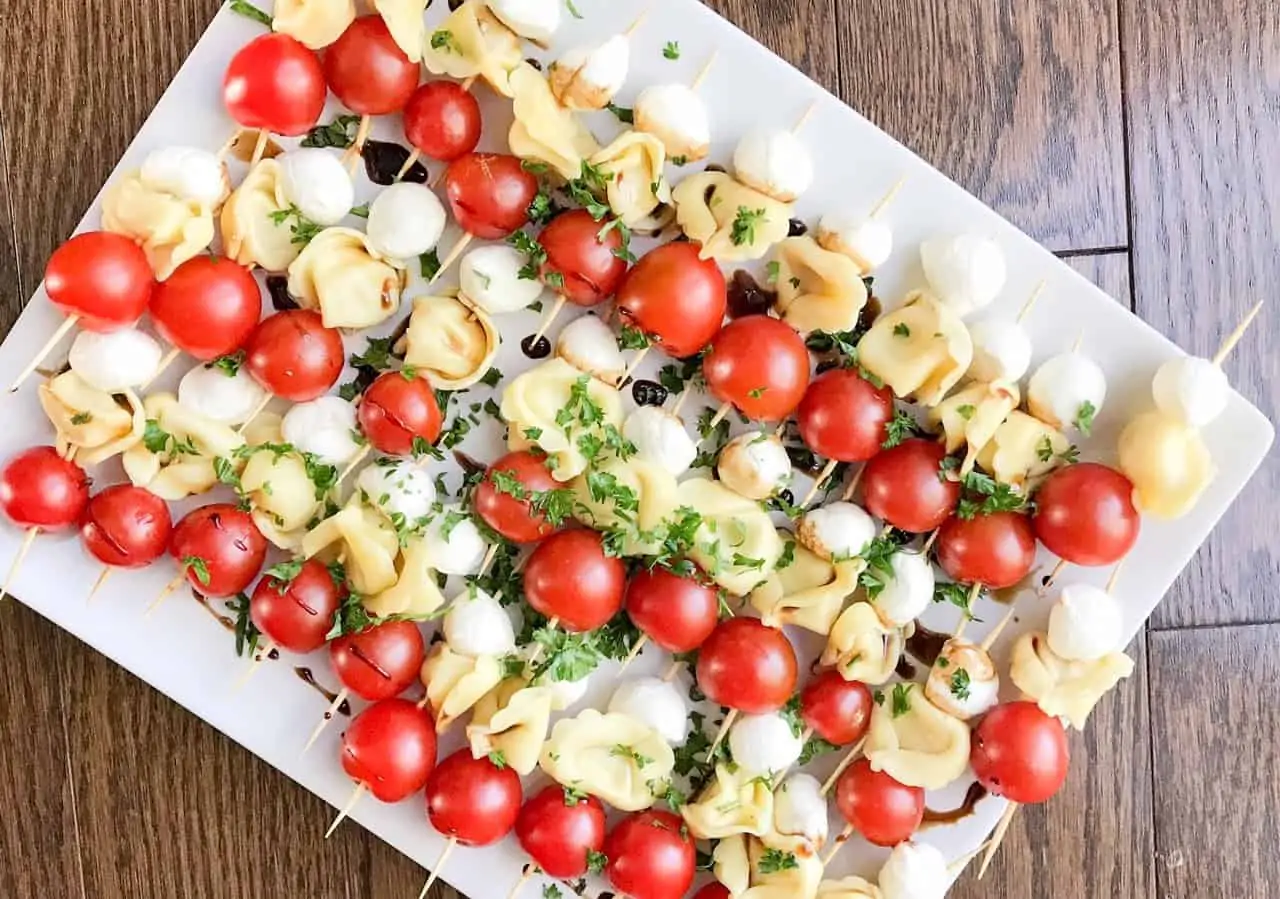 Best Snack Foods for a Day on the Water
Here are our favourite boat snack ideas to take to the lake on a boat ride or a yacht party:
Tortellini Skewers: Tortellini skewers make a handy finger food for boating. These 3-ingredient appetizers are simple to prepare and fun to serve. Simply thread cooked tortellini, baby bocconcini, cherry tomatoes and basil leaves on small wooden skewers. Drizzle the skewers with a balsamic glaze or basil pesto just before serving. For a spicier version, add folded slices of spicy salami and pitted olives to the skewers to make an Italian Antipasto style skewers.
Mini Babybel Cheese: Mini Babybel cheese rounds are an easy boat food snack because they travel so well and are popular with all ages including toddlers. This semi-soft ripened cheese is also packed with protein and calcium. Try a variety pack of the original, gouda and Swiss Babybel cheeses to switch it up.
Tinned Fish: Canned fish is nutritious, ready-to-eat and portable as the serving-sized tins are virtually indestructible. If you're not ready for the strong flavour of canned sardines, try a craft seafood like Scout's canned Ontario rainbow lake trout. These delicate filets are topped with herbaceous dill in cold-pressed sunflower oil.
Spiced Snack Mix: For on-the-go food on a boat, stock up on individual packages of spiced nuts. Or, whip up some homemade vegan Chex Mix or homemade trail mix.
Fresh Grapes and Cherries: For a vegan snack a good choice is fruit. Try fresh grapes and cherries, pre-washed and stored in a portable container. A handy hack is to reuse old creamer bottles for storage. No more squished fruit or pesky flies!
Rice Crackers: Choose low-salt rice crackers for the healthiest option. Remove the crackers from the plastic packaging and transfer to a plastic storage container so the cellophane package doesn't blow away when you're boating. You can also use empty Pringles potato chip containers to prevent crackers from getting crushed.
Hummus or Bean Dip. For an easy boat snack, stock up on store-bought original hummus or make your own with this healthy vegan Kale Pesto Hummus Recipe. Be sure to keep the container well-sealed until ready to serve.
Hard-boiled Eggs: Hard-boiled eggs are a classic healthy snack for boat days. Not only are they an excellent source of protein (and keto snack) but according to popular fishing lore, crushed egg shells attract fish pike perch and pickerel. So if you're having a slow day on the water, peel the eggs and sprinkle some shells overboard. You'll soon discover if it's true that chumming with egg shells really does attract fish!
Cheese Straws: A classic snack food in the UK and North America these delicious bites are a crispy twists of cheddar cheese, butter, flour and cayenne. Try variations of types of cheese, spices and even nuts.
Pickled Eggs: Pickled eggs are another delicious boat food option. You can make them at home with this easy, no-canning method. All you need is a nice big jar, hard-boiled eggs, and a brine to make classic pickled eggs for your boat trip.
Cheese Curds: Go local with cheese curds in a bag. These deliciously salty, cheese bites make a great picnic food. Just pick up a bag on your way to the lake and enjoy their fresh, squeaky flavour when you arrive. In Northumberland County, look for cheese produced by the Empire Cheese Factory. Originally built in the late 1870s, today it's a cooperative that produces a variety of hand-crafted, award-winning cheeses. Visit their factory store in Campbellford or a local retailer.
Veggie Sticks: Vegetable sticks make healthy and nutritious boating snacks. Simply cut up your veggies of choice (cucumbers,, carrots, jicama, celery) and pack them in a container with a few pieces of ice. Serve sprinkled with Tajín, the Mexican chili/lime seasoning or make your own spice mixture at home.
Granola Bars: I'm not a huge fan of most granola bars as the wrappers often blow away and the bars tend to crumble. For a sweet treat that's sturdy and also curbs hunger cravings, pop some Mid-Day Squares in your boat cooler. Crafted in Montreal, these plant-based treats are packed with protein, fiber and other goodness like Omega-3. The chocolate topping is gluten-free, vegan, organic, dairy-free, non-GMO and soy-free. Order a variety pack of the Fudge Yah, Almond Crunch and Busta Peanut flavours and watch them disappear!
Popcorn: Homemade popcorn makes a delicious and healthy boat snack that needs no refrigeration. Try this quick and easy recipe for Parmesan Popcorn – it's ready in under 10 minutes!
Pasta Salad: Pasta salads travel well and do double duty as both appetizers and sides to sandwiches, kebabs and wraps. For food safety, opt for a salad that contains no mayonnaise. One of our favourites is this easy Greek Orzo Salad. Or try this Classic Italian Pasta Salad or chilled Guatemalan Beef & Mint Salpicon Salad.
Boating Appetizer and Finger Food Recipes
For something more substantial than a snack, these boating appetizers and finger foods can double as a light lunch or dinner party food. This list of boat food ideas will make your summer!
These savoury bites are perfect for taking on a boat ride whether you've got a pontoon boat, a runabout, a bass fishing boat or any other recreational boat that doesn't have a galley or cooking facilities. They're all healthy and mess-free.
Serve them cold or at room temp as directed in each recipe.
Save to Pinterest!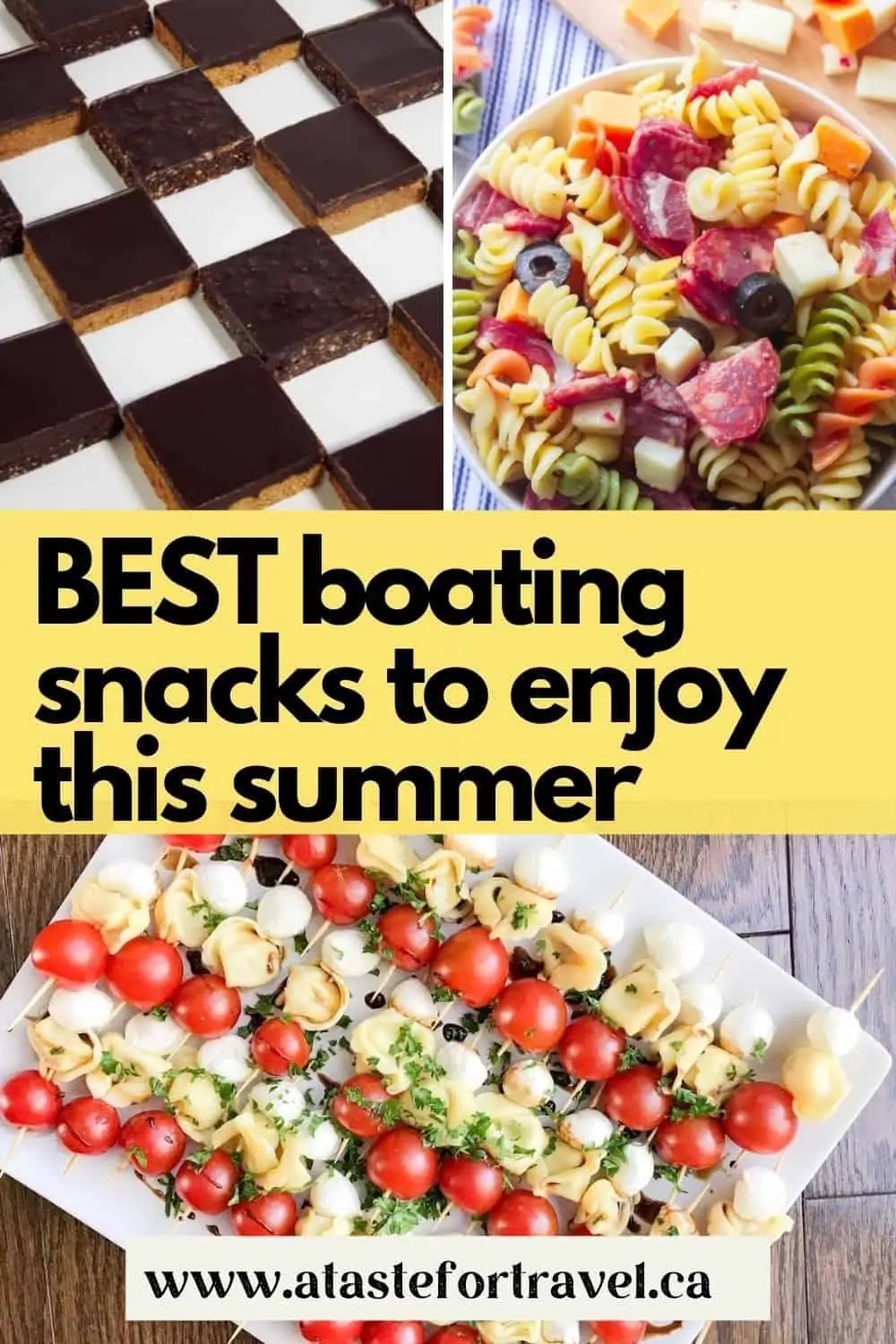 Dividing her time between Canada, Guatemala and Mexico (or the nearest tropical beach), Michele Peterson is the founder of A Taste for Travel. Her award-winning travel and food writing has appeared in Lonely Planet's cookbook Mexico: From the Source, National Geographic Traveler, Fodor's and 100+ other publications.
Read more about Michele Peterson.