We may earn income from links in this post. Please read this Disclosure for details.
This quick and easy recipe for Guatemalan guacamole featuring ripe avocados is a traditional appetizer and snack throughout Guatemala.
It will take you less than five minutes to make and is the perfect dip for tortilla chips or topping for tacos. It's the easiest Guatemalan recipe you'll ever find!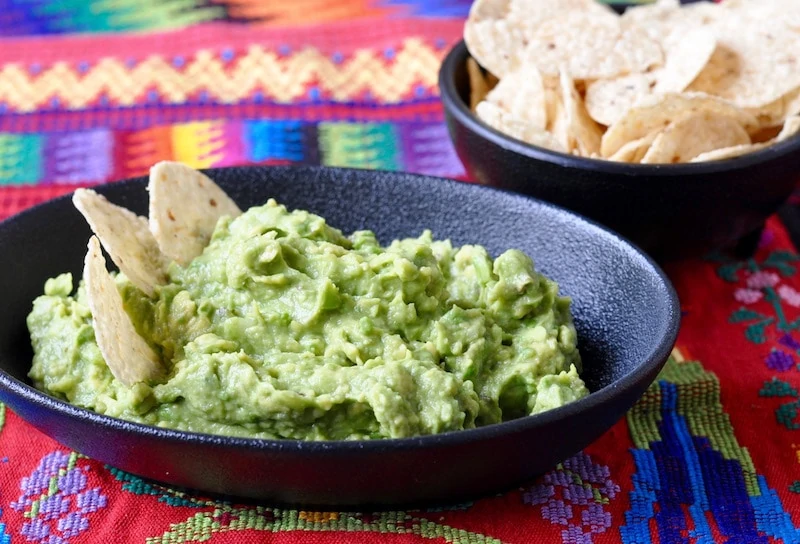 Authentic Guatemalan Guacamole is Easy to Make
It's a tradition to have avocados almost daily in Guatemala. It's definitely one of the most popular typical foods of Guatemala. Serving guacamole is a must at family celebrations in Guatemala and during Guatemalan holidays.
My mother-in-law in Zacapa, Guatemala makes a bowl of guacamole fresh before almost every meal. Her simple recipe — which features just a few perfect ingredients — really allows the buttery and slightly sweet flavour of ripe avocado to shine.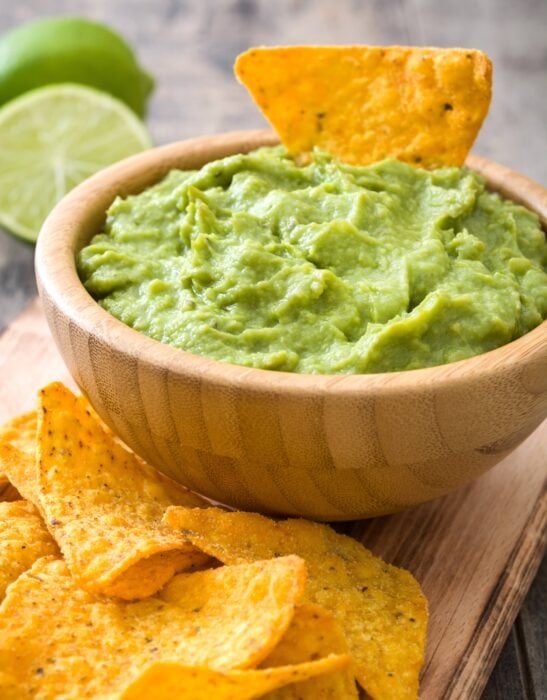 Although she uses a stone molcajete (mortar and pestle) to make her guacamole, you can easily just use a fork and non-metallic bowl to whip some up for yourself at home. You don't need any special equipment.
This is definitely one of the easiest Guatemalan recipes to make. It literally takes just five minutes!
Guacamole Ingredients
The key to making a perfect Guatemalan guacamole is quality ingredients. Choose avocados that are firm but not mushy. If you're shopping in a mercado in Mexico or Guatemala, you can ask the vendor to select an avocado "para hoy" and she'll pick one the perfect ripeness.
If you happen to purchase avocados that are too ripe, you can use them in our recipe for Creamy Avocado Salad Dressing.
If you're shopping in a supermarket in the US or Canada, look for Hass type of avocados. Hass avocados are small and dark skinned rather than the large green, glossy avocados. The large ones are used for salads, soups and eaten sliced, as they are too firm and not creamy enough for Guatemalan guacamole.
Should you cut open an avocado and discover its black or fibrous, throw it away or compost it. There's nothing you can do to salvage it. If you add it to your guac you'll ruin the whole batch.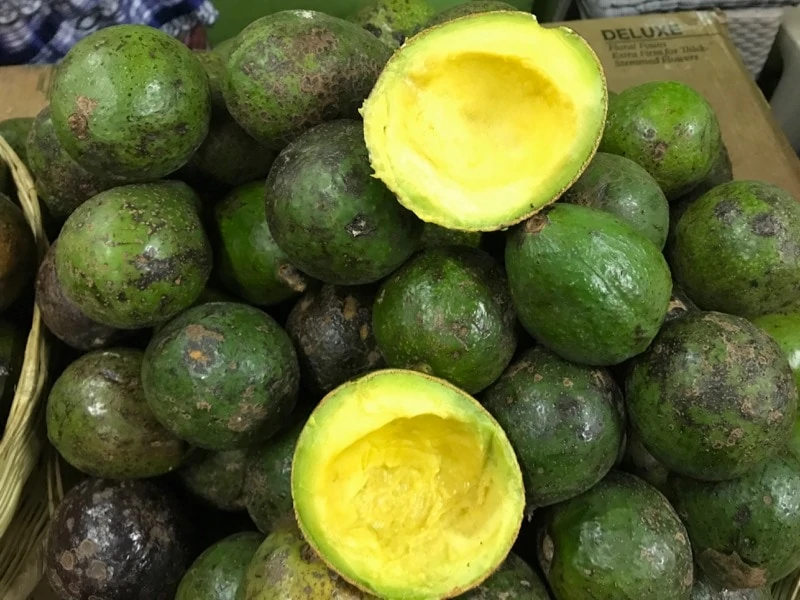 Try to use Mexican sea salt or, as an alternative, kosher salt.
Your best choice of onion is a mild white onion, not yellow (which has too much bite) or red which is too mellow and discolours the guacamole.

Using fresh lime juice really enhances the flavour of guacamole. It also makes it possible to use less salt – always a good thing if you're watching your blood pressure. While it's easy to find ripe, juicy limes in the food markets of Latin America, in parts of the U.S. and Canada it's not so easy. When shopping for fresh limes, choose limes that are bright green rather than yellow. Try to select limes that feel heavy for their size rather than light for their size as the heavier the lime is, the more juice it contains.

To get every last drop of juice from your limes, I recommend using a citrus press. You don't need anything fancy or battery -powered. Just a handy manual tool that adds some muscle power so you get the maximum amount of juice from your limes will do.

My favourite is the Zulay Lemon Lime Squeezer. This economical citrus press is a 2 in 1 manual juicer made with sturdy industrial aluminum and non-toxic certified lead-free coating. It's safe, reliable and easy-to-clean. Plus it produces juice with NO seeds.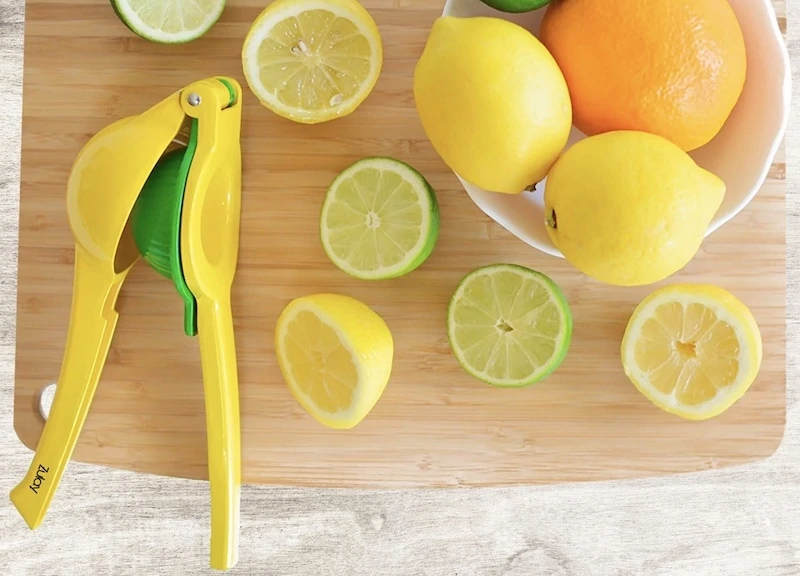 If you can't find fresh limes, you can substitute lime concentrate mixed 2 to 1 with water.
If you find yourself short of avocados, you can add a few coarsely chopped, seeded tomatoes to make the recipe go further.
An authentic traditional Guatemalan guacamole does not contain jalapeño peppers, cilantro, parsley or mint.
What's the Difference between Mexican and Mediterranean Oregano?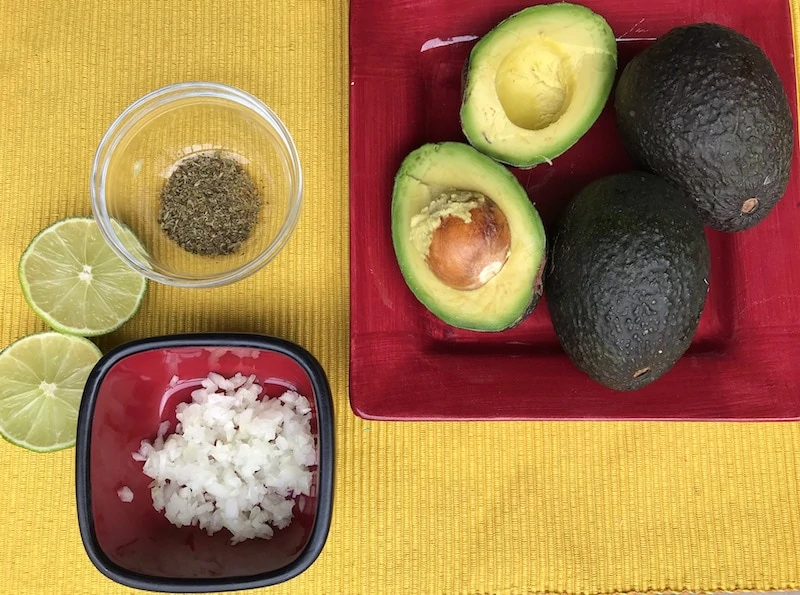 The secret ingredient to a successful Guatemalan guacamole is the addition of dried oregano. Oregano is an important part of an authentic Guatemalan guacamole. It adds a fresh, grassy depth of flavour. But only use a little so it doesn't overwhelm the flavour of the avocados.
It's equally important to use the right kind of oregano. Mexican and Guatemalan oregano is a completely different species than Mediterranean oregano. According to the pros at Spice Inc, origanum vulgare or Mediterranean (Greek) oregano is a member of the Lamiaceae (mint) family, while Mexican oregano is Lippia graveolens a member of the Labiatae or verbena family, of which marjoram is also a member.
Mexican Oregano is more citrusy than Greek or Mediterranean oregano. This makes it ideal for giving a boost of acidity to guacamole without making it tart. If you don't have Mexican oregano, you can substitute Greek oregano, just use a little less.
Other Easy Guacamole Guatemalan Appetizers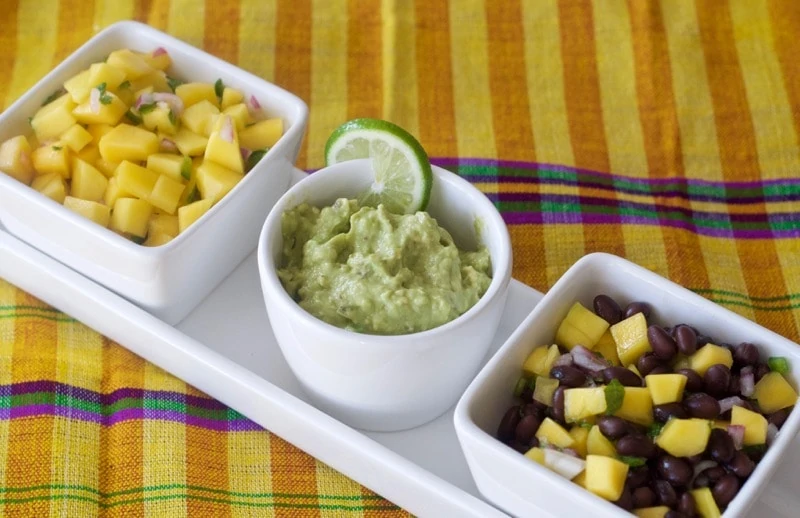 Because guacamole is so easy to make, it's a popular appetizer at parties during Guatemalan festivals and special occasions. If you're studying Spanish at one of the language schools in La Antigua or in your home country, guacamole is an easy Guatemalan recipe to bring to class.
Other popular and very easy Guatemalan appetizers include chojín ( a fresh radish and chicharron salad) and shrimp ceviche de cameron, served in individual bowls with saltines and hot sauce on the side.
But beyond being served with tortilla chips or on tostadas, avocados are so readily available and inexpensive in Guatemala, it's also popular to serve guacamole (along with frijoles revueltos and queso de Zacapa) at mealtimes spread on tortillas fresh from the comal.
From breakfast to late night snacks, people enjoy avocados as an add-on to everything from albondigas soup to salpicon de res tostadas. It's rare to see Guatemalan food served without avocado making an appearance somewhere on the table!
Planning a Christmas, New Year's or other holiday season party? Check out our Top 25 International Holiday Appetizers for some easy recipes!
How to Make this Authentic Guacamole Recipe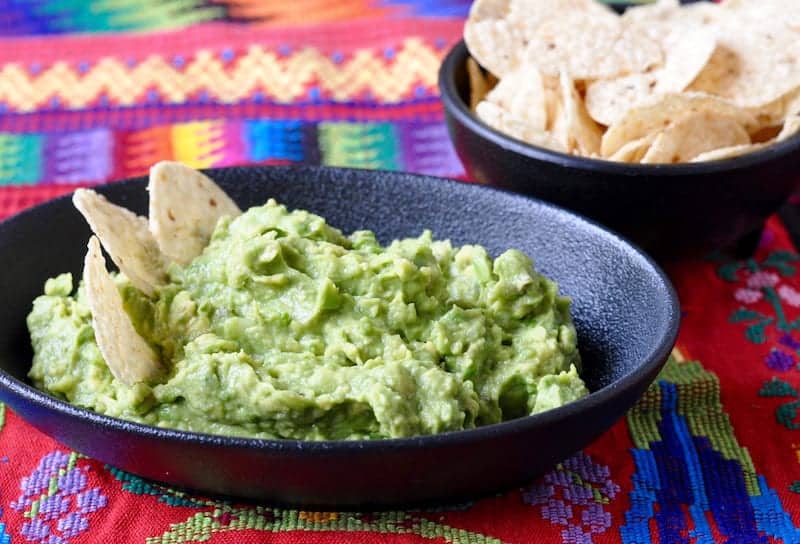 Note that there's usually no "e" when spelling guacamol in Guatemala and Cuba, but I've spelled it as guacamole here to avoid confusion! Guacamol and guacamole are exactly the same.
If you try this Guatemalan Guacamole recipe, please be sure to rate the recipe and let me know how the dish turns out in the comments below. I'd love to hear from you!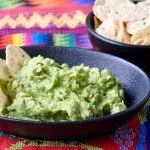 Print
Easy Guatemalan Guacamole
This quick and easy recipe for Guatemalan guacamole will take you less than 5 minutes to make and is the perfect appetizer with tortilla chips or as a side with tacos.
Ingredients
3

avocados

peeled and pits removed

1 1/2

Tbsp.

white onion

finely chopped

1

tsp.

dried oregano

Mexican or Greek

1

fresh

lime

1/2

tsp.

sea salt
Instructions
Mash avocados with a fork in a non-metallic bowl until an almost smooth consistency.

Stir in oregano, white onion and lime juice.
Notes
Serve immediately or store briefly in the refrigerator covered in plastic wrap.
If you keep the avocado pits in the guacamole while storing it, it seems to help prevent the guacamole from turning black as quickly.
Nutrition
Calories:
246
kcal
|
Carbohydrates:
14
g
|
Protein:
3
g
|
Fat:
22
g
|
Saturated Fat:
3
g
|
Sodium:
249
mg
|
Potassium:
746
mg
|
Fiber:
10
g
|
Sugar:
1
g
|
Vitamin A:
240
IU
|
Vitamin C:
15.5
mg
|
Calcium:
38
mg
|
Iron:
1.3
mg
Enjoy this Recipe? You Might Also Like These Easy Guatemalan Recipes:
Jocón – Chicken and Tomatillo Salsa Verde Stew
Pulique: A Ceremonial Chicken from A Mayan Cooking Class in Guatemala
Green Bean Fritters or Tortitas de Ejote Guatemalteco
Pescado Seco Envuelto en Huevo or Bacalao a la Vizcaina
Christmas Eve Salad or Ensalada de Nochebuena
Tortitas de Berro or Watercress Omelettes
Save to Pinterest!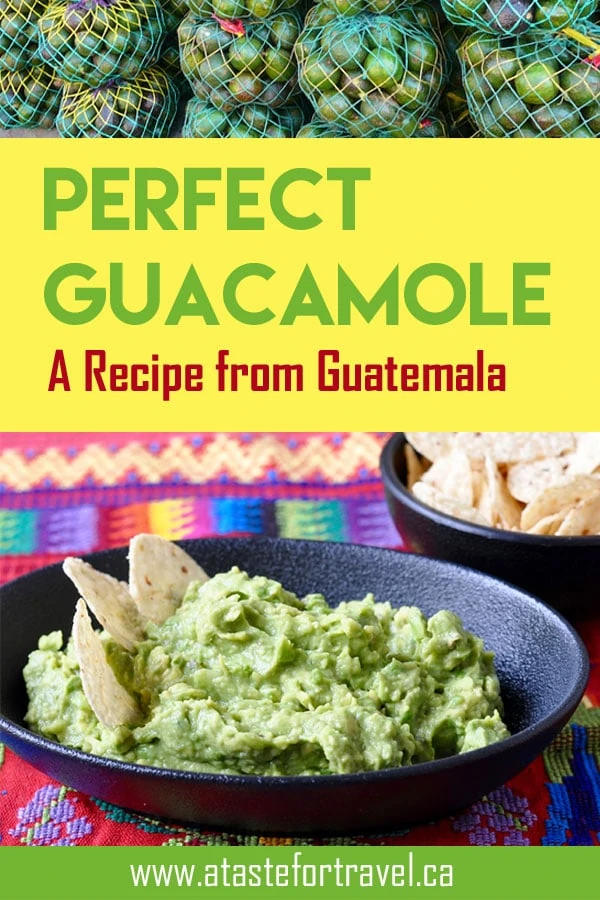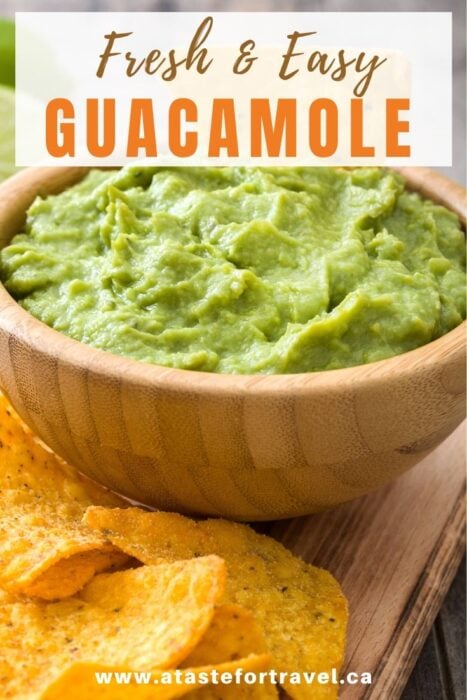 Dividing her time between Canada, Guatemala and Mexico (or the nearest tropical beach), Michele Peterson is the founder of A Taste for Travel. Her award-winning travel and food writing has appeared in Lonely Planet's cookbook Mexico: From the Source, National Geographic Traveler, Fodor's and 100+ other publications.
Read more about Michele Peterson.