We may earn income from links in this post. Please read this Disclosure for details.
Popular throughout Guatemala and El Salvador, these tortitas de berro con huevo (watercress pancakes) are gluten-free and vegetarian.
Packed with vitamins, they're tiny bite-sized omelettes that are super easy to whip up for a healthy breakfast or brunch.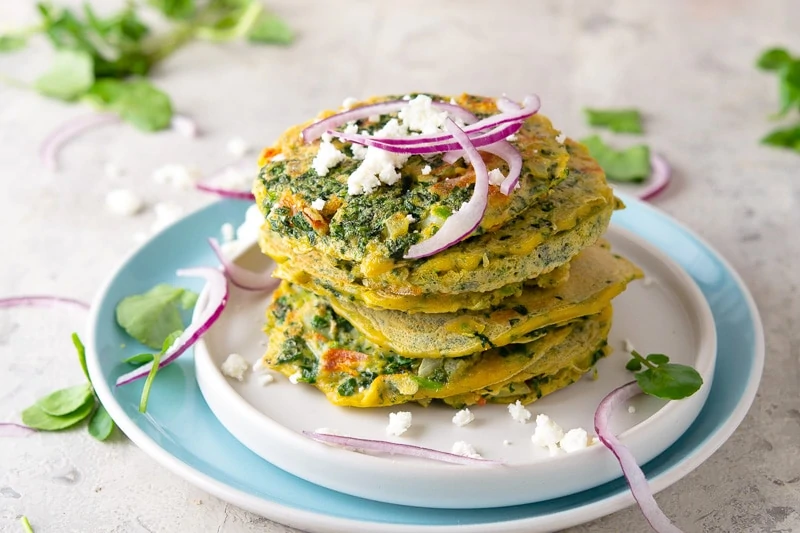 Tortitas de berro are the perfect way to take advantage of the huge bunches of crunchy fresh watercress you can find in the outdoor fruit and vegetable markets throughout Mexico, Guatemala and the rest of Latin America. It's one of our favourite weekend breakfasts!
Eat a few of these bite-sized watercress omelettes and you'll also be starting your day off with a healthy boost, as watercress is a rich source of vitamins and minerals such as vitamins K, C and A — super important for building bones and eye health. You'll positively bound out the door to start your day.
If you're looking for an economical, vegetarian and easy lunchtime meal featuring cooked watercress, you'll definitely want to add this tortitas de berro watercress recipe to your list of everyday favourites.
How to Prepare Fresh Watercress
Be sure to rinse your watercress thoroughly. Separate the branches of watercress and rinse to remove any traces of grit. Then chop off the tough ends of the stalks.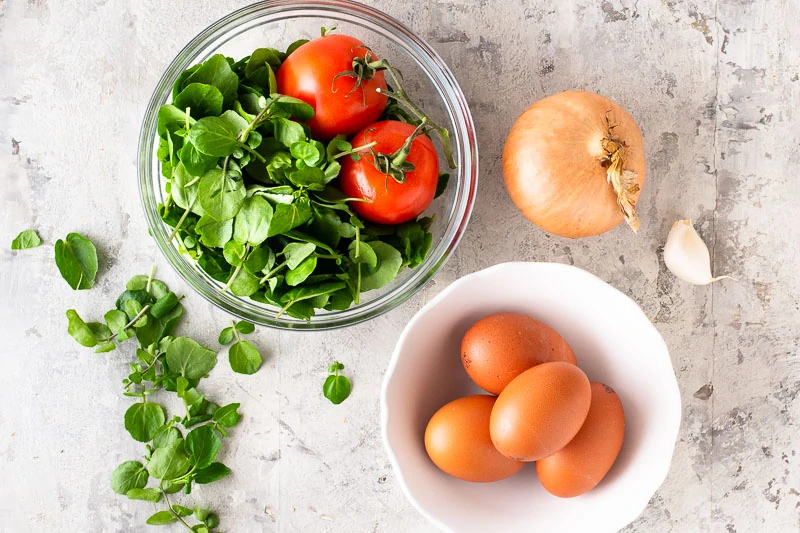 If you're in Mexico or Latin America, it's wise to disinfect the watercress in an antibacterial vegetable wash solution that will reduce the risks associated with consuming contaminated fruit or vegetables.
Because watercress is a leafy vegetable that is cultivated under water there is the potential for contamination from bacteria. While cooking watercress (or any vegetable) will kill most forms of bacteria, I like to take extra precautions and disinfect any produce that might be suspect.
The most popular brand is of antibacterial wash in Mexico is Microdyn. You can purchase it at major supermarkets or Walmart and even larger OXXO stores. A small bottle lasts a very long time as you just use a few drops per gallon.
The bottles are so tiny, I pack one in my carry-on bag whenever I travel so I can purify water for drinking or disinfect fruit and vegetables as needed.
To prepare this recipe for tortitas de berro, prepare your Microdyn solution (generally 10 drops per 1 litre of water but read the instructions on the bottle for the proportions) and then soak your watercress in the Microdyn and purified water solution for 15 minutes ( or the specified time period on the bottle), drain and use as described in the recipe below.
How to Cook Fresh Watercress Omelettes
Once you've cleaned the fresh watercress (and disinfected it if necessary) then it's time to cook it. You can use either the entire watercress stalks with the ends trimmed or, if they are especially tough, just the leaves.
Cooking the watercress is fast as it's quite tender, so it will take just three to five minutes.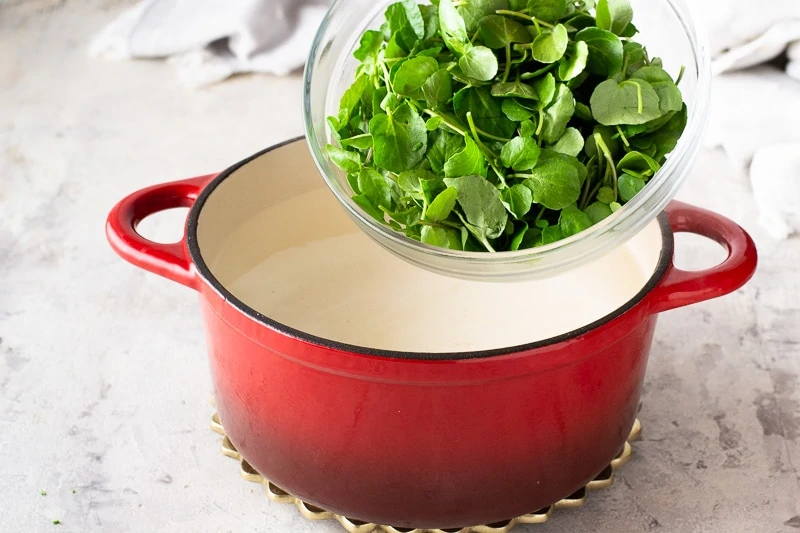 Once tender but not mushy, drain the watercress and allow it to cool enough so you can squeeze out the excess moisture with your hands.
This is an important step. If you leave in too much water, your batter will be watery and won't form properly.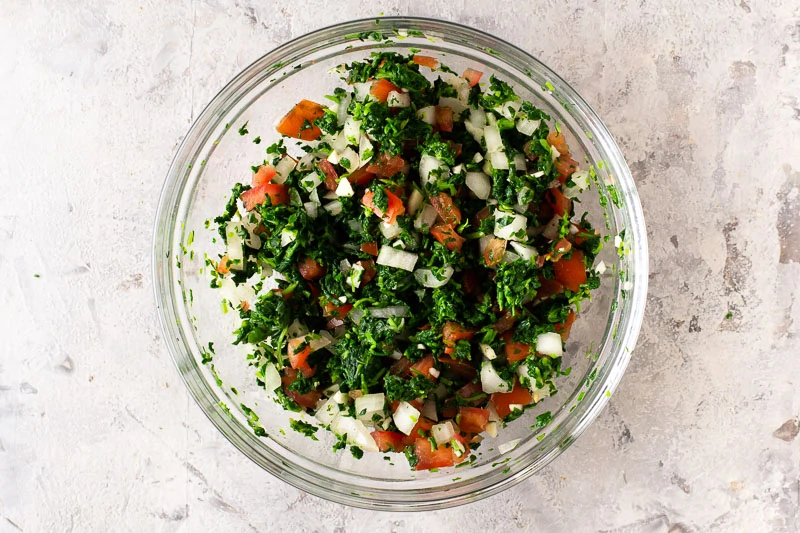 After removing as much water as you can, place it in a food processor or chop it finely by hand. I'm a big fan of the Braun MQ777 Multiquick 7 Hand Blender as it cleans easily, is compact and trouble-free to use.
And best of all, it chops the vegetables finely without making them mushy.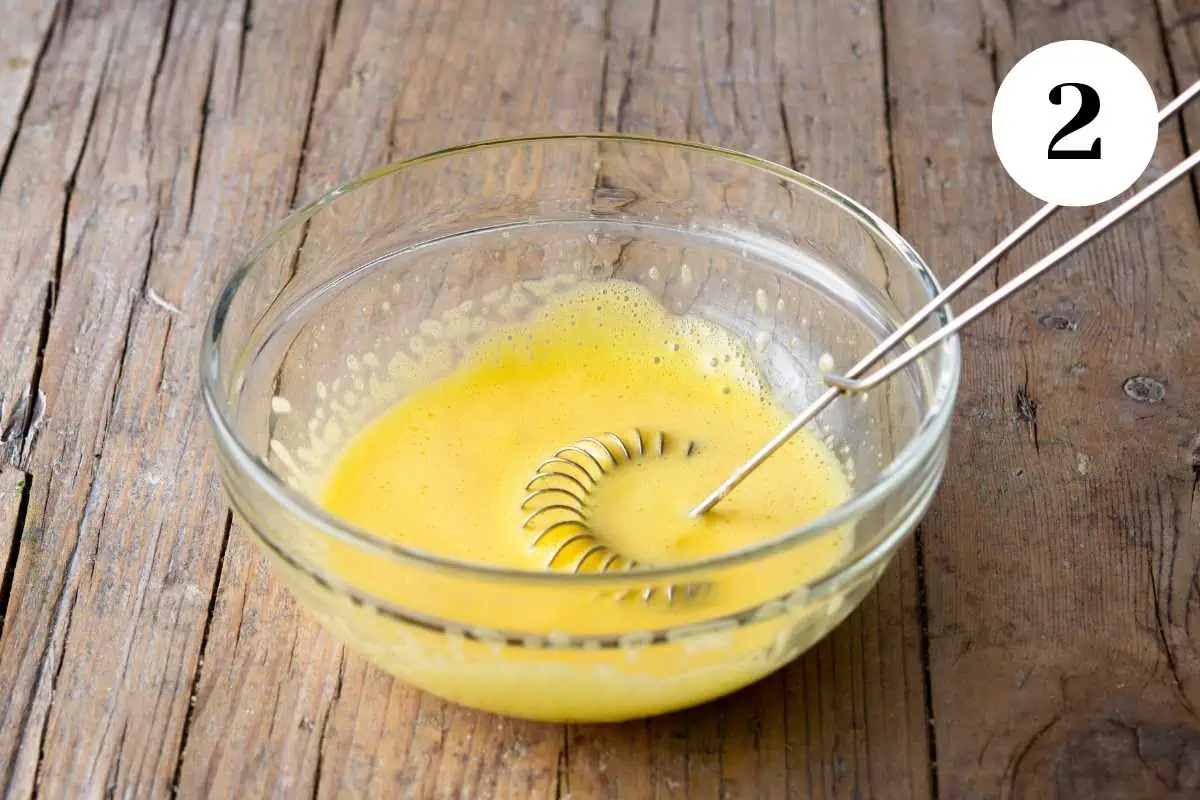 Then beat the eggs in a large bowl until frothy. Add the chopped, drained watercress, tomatoes and onion to the beaten eggs.
Once you've mixed the beaten eggs with the chopped watercress, onion, tomatoes and garlic, it's easy to fry up a batch of these fritters on a non-stick griddle. But any large frying pan will work well.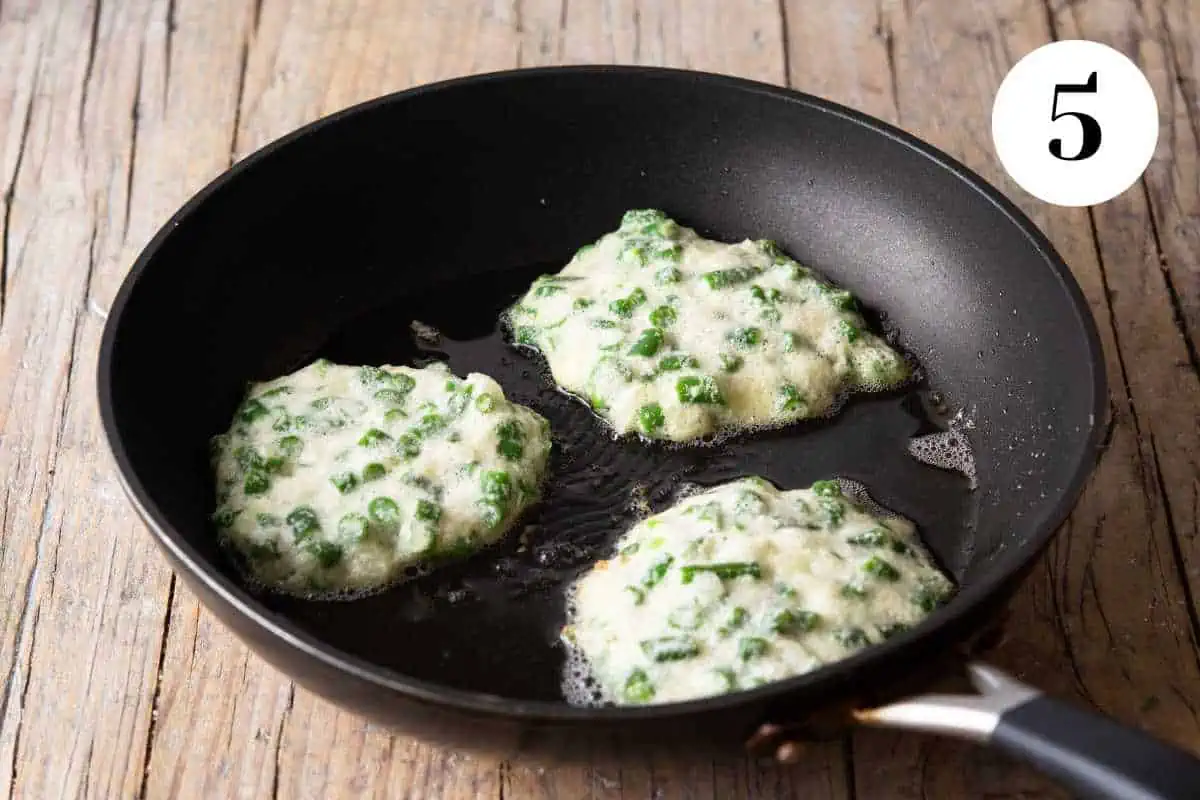 The key to making them crispy is to try not to pack too many fritters into the pan or onto the griddle at the same time.
The method for this recipe is very similar to making Tortitas de Ejote – Guatemalan Green Bean Fritters so that's another variation worth trying.
Tortitas de Berro con Huevo / Watercress Pancakes with Egg
Sprinkled with dry. crumbly white cheese from Zacapa, Guatemala and served with black beans, fresh salsa and handmade tortillas, these watercress fritters also serve as a full meal.
If you can't find grated Zacapa or Cotija cheese, use feta cheese (preferably Dodonis) or Parmesan. The peppery taste of the watercress is nicely complemented by the saltiness of the cheese.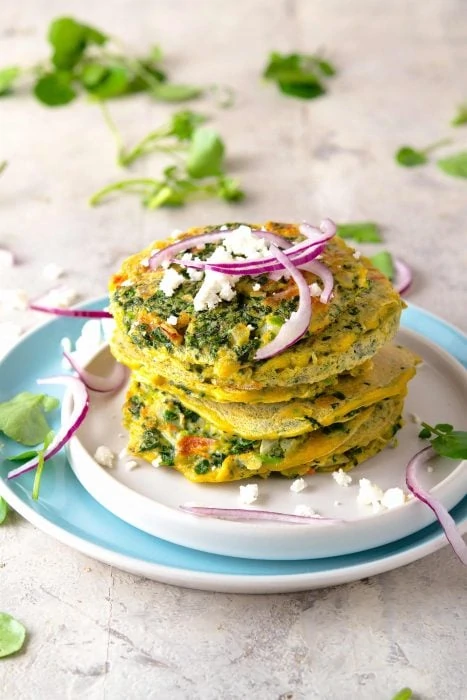 These fritters are one of the most popular Recetas Salvadoreñas and a popular traditional Guatemalan food for breakfast so are likely to disappear as quickly as you can get them onto a plate.
But should you have any leftover tortitas de berro, you can eat them later tucked inside a crusty white French bun like those available from street vendors throughout Guatemala, El Salvador and Mexico.
Serve This Guatemalan Breakfast Dish With:
Print
Tortitas de Berro - Guatemalan Watercress Fritters
These mini watercress omelettes are healthy, full of vitamins and protein and easy to make. They're a traditional food that's popular for breakfast or a light lunch in Guatemala and El Salvador.
Ingredients
2

cups

watercress

fresh with bottom of stems trimmed

4

medium

eggs

2

medium

Roma tomatoes

1

small

white onion

1

clove

garlic

1/2

teaspoon

salt

2

teaspoons

vegetable oil

salt and pepper to taste
Garnish
1/4

red onion

halved and thinly sliced

1/8

cup

cotija, Zacapa or Feta cheese

crumbled
Instructions
Rinse the watercress thoroughly. Be sure to separate the stalks while washing to remove any grit. Chop off the coarse ends of the stalks

Soak in Microdyne solution ( if you're in Mexico or Guatemala)

Cook the watercress in boiling salted water until slightly tender (about 3-5 minutes)

Meanwhile, dice the onion, garlic clove and tomato ( removing seeds) finely.

Beat eggs until foamy

Drain the watercress in a colander, squeezing water out with your hands and then chop in a food processor

Fold chopped watercress, onion, garlic and tomato into egg mixture and stir

Heat oil in a large Teflon frying pan to medium high

Ladle spoonfuls of the watercress egg mixture onto frying pan or griddle and flatten with spoon until the size of a coaster, pushing egg toward centre if it spreads in the pan to keep the shape more or less circular

Cook until browned on bottom,3-5 minutes. carefully turn fritters and cook until browned another 3-5 minutes.

Remove from heat, drain on paper towel and garnish with thinly sliced red onion and crumbly white cheese.
Notes
The key to crispy tortitas is to avoid packing too many fritters into the pan or onto the griddle at the same time.
Using an egg ring helps the tortitas maintain a round shape when frying.
If the watercress is especially watery, adding a tablespoon of white flour to the batter can help keep prevent the fritters from spreading while cooking.
Nutritional information is provided as a courtesy and is not guaranteed to be accurate. It is created by online calculators and although we attempt to provide accurate nutritional information, the figures are only estimates.
Nutrition
Calories:
180
kcal
|
Carbohydrates:
4
g
|
Protein:
12
g
|
Fat:
12
g
|
Saturated Fat:
6
g
|
Cholesterol:
327
mg
|
Sodium:
721
mg
|
Potassium:
284
mg
|
Sugar:
1
g
|
Vitamin A:
1560
IU
|
Vitamin C:
17.7
mg
|
Calcium:
98
mg
|
Iron:
1.5
mg
And that's not the only recipe we've discovered in Guatemala and El Salvador! Subscribe to our blog and you'll get a FREE checklist of Must-try Recipes
Other Guatemalan Recipes You Might Enjoy:
Scrambled Eggs with Tomato and Onion – Huevos Revueltos con Tomate y Cebolla
Cooking Class and Recipe for Pulique (Chicken Stew) from Solola, Guatemala
Recipe for Salpicon de Res 0r Guatemalan Shredded Beef Salad
Save to Pinterest!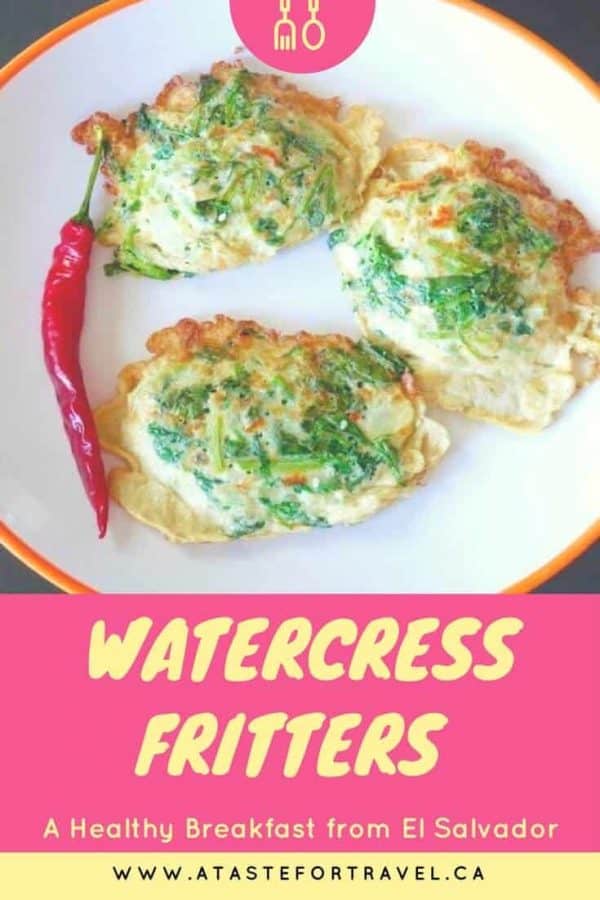 Dividing her time between Canada, Guatemala and Mexico (or the nearest tropical beach), Michele Peterson is the founder of A Taste for Travel. Her award-winning travel and food writing has appeared in Lonely Planet's cookbook Mexico: From the Source, National Geographic Traveler, Fodor's and 100+ other publications.
Read more about Michele Peterson.