We may earn income from advertising links in this post. Please read our Disclosure Statement for details.
Salpicón de Res is a refreshing shredded beef, radish and mint salad that's popular throughout Guatemala, Mexico, Nicaragua and the rest of Latin America. It makes a delicious party appetizer or game day food when topped on tostadas or tucked inside tacos.
If you've got a bounty of mint in your garden and have already drank your fair share of mojito cocktails, it's worth whipping up this recipe for Salpicón Guatemalteco, a refreshing shredded beef and mint salad from Guatemala, Mexico and Nicaragua that's popular throughout Latin America.
What is Salpicón de Res?
Salpicón de res, a shredded beef, radish and mint salad, is a traditional Guatemalan food that's also popular in Mexico, Nicaragua and Honduras. It's served at parties and get togethers year-round and makes the perfect appetizer or side dish for any event because you can make it in advance.
Unlike mayonnaise-based salads that have to stay super-chilled, you don't have to worry about contracting food poisoning while transporting it during hot weather. It should be served at room temperature.
When served on tostadas, salpicón de res is also popular served as an appetizer. Unlike chojin, a similar traditional Guatemalan food also popular as an appetizer but made with chicharron (fried pork rinds), it's not deep fried making it lower in calories and heart-healthier.
Recipe for Salpicon de Res / Receta de Salpicon de Res Chapin
This easy Guatemalan appetizer is excellent for serving a crowd as it begins with a whole roast of beef.
You can also make salpicón de res from leftover pot roast or brisket. Simply chop the leftover roast into small pieces and then add the salad dressing and vegetables according to the recipe instructions below.
Using leftover roast beef doesn't produce exactly the same dish as the traditional, start from scratch recipe. But I promise it will be just as popular and disappear just as quickly!
I use a Dutch Oven so I can place the meat inside with enough water so it's 50% covered with liquid. Then, I can forget about it for a few hours and just wait until it's soft and tender.
You can also choose to cook it in a slow cooker for five to six hours at a low setting.
Tip: If you cook a large roast and have leftovers is to use the extra beef to make machaca con huevo, a spicy beef and scrambled egg dish popular in northern Mexico
While the beef is cooking, you chop the onions and herbs you'll be using. The key is to chop them finely and make sure they're completely dry. Seed the tomatoes.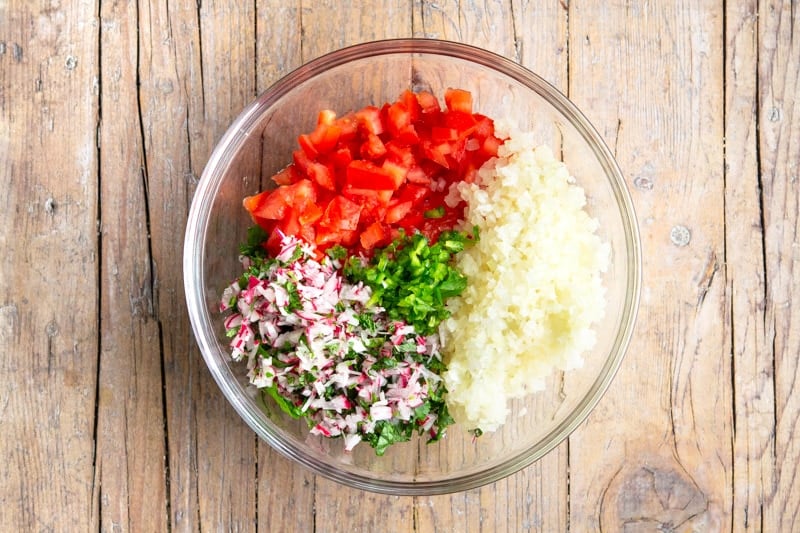 Mix the lime juice and naranja agria ( orange juice) in a separate bowl for the dressing. Naranja agria is an important ingredient as it adds a hint of bitterness to the dish.
It's possible to purchase a small bottle of Goya Naranja Agria from Amazon but you can also substitute unsweetened orange juice and grapefruit juice.
Once the beef is tender, remove it from the liquid (reserve the broth for later to make Sopa de Albondigas Guatemalteco – Healthy Meatball Soup ) and allow it cool enough so you can separate the meat into long strands.
Continue to shred the meat using two forks. It's the same method used when making the popular beef stew hilachas Guatemaltecas. Once the roast is shredded lengthwise, then you can chop the meat into smaller pieces crosswise.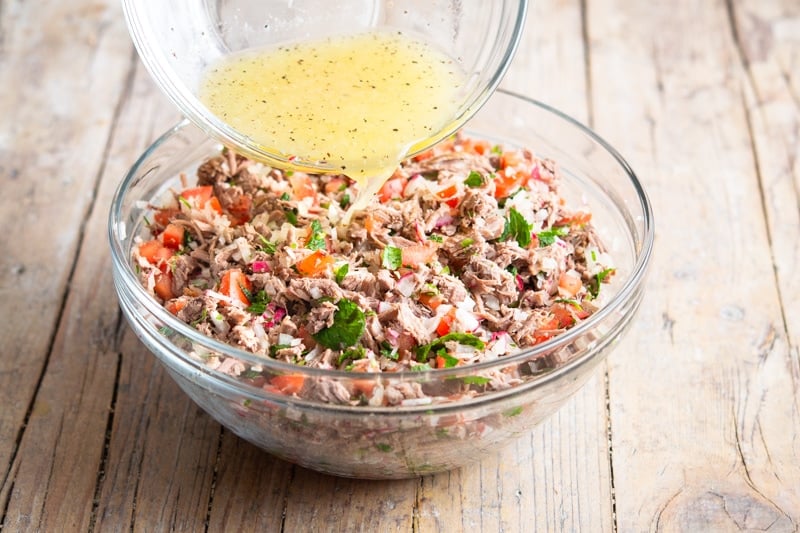 Combine the shredded and chopped meat with the vegetables and stir in the dressing and add salt and pepper to taste.
Serve garnished with avocado or crema drizzled overtop.
If you're looking for a vegetarian appetizer, another easy Guatemalan appetizer to make is tortitas de ejote. Check out our recipe for Green Bean Fritters or Tortitas de Ejote Guatemalteco
History and Variations of Salpicón de Res
I first tried salpicón de res Guatemalteco in the home of my husband's best friend, Juan Carlos. His wife Idalia hails from Chiquimula, a sweltering but picturesque city surrounded by mountains near our family ranch in Zacapa, Guatemala. Her cool radish salad appetizer made an ideal midday snack and featured shredded radishes, which added extra bite and colour.
My sister-in-law claims that people who use radishes in salpicon are "piche" or frugal skinflints who are just trying to extend the recipe. But I suspect it's a variation that came via Nicaragua where radishes are popular addition to shredded beef.
If you do use radishes, reduce the tomatoes or your dish will have too many vegetables. Then, you really will risk being called "piche".
You can find recipe variations of this shredded beef salad across Central America and in Mexico. Many variations of salpicón de res feature an oil and vinegar vinaigrette and oregano rather than mint.
If you're on a mission to use fresh mint from your garden, this traditional recetas guatemalteca will use up a lot of mint.
What Cut of Meat to Use (Carne Para Salpicón Guatemalteco)
In Guatemala and Mexico, you can tell the butcher the dish you're planning to make and he'll give you the exact cut of meat needed for your recipe. In Canada, it's not so easy.
I used a blade roast for this salpicon de res recipe. You can substitute flank steak, brisket or any other cut of meat that's marbled and tenderizes with a long cooking time at a low temperature.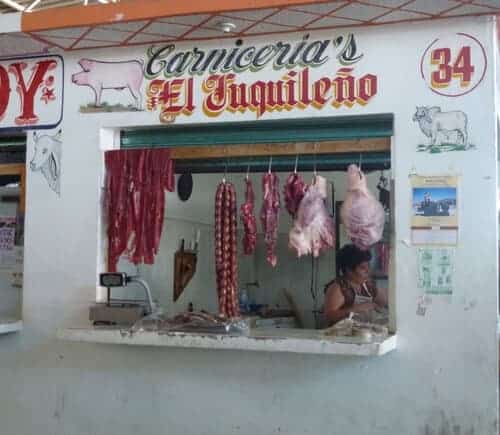 Other Tips for Making Salpicón de Res
Be sure to roast the beef long enough and with sufficient liquid so that it shreds easily.
Shred the beef using your hands or two forks as soon as it's cool enough to handle.
Reuse the beef broth for caldo de res ( beef soup) the next day.
You can vary the proportions of radishes, mint and cilantro according to taste.
Naranja agria (a bitter orange marinade that's popular in Latin cooking) is a preferred ingredient for salpicon de res Guatemalteca. But you can substitute a mixture of unsweetened orange juice and grapefruit juice in equal parts.
Print
Salpicón de Res: Shredded Beef and Mint Salad from Guatemala
Salpicon de Res is a traditional beef and mint salad served as a refreshing first course or appetizer in Guatemala, Mexico and many other countries in Latin America
Ingredients
2-3

pound

blade roast

6

cups

beef stock or water

8

stalks

fresh mint or hierba buena

2

limes

3

Tablespoons

orange juice

preferably bitter orange or naranja agria

1

large

onion

1

jalapeno pepper

4

tomatoes

1

bunch

radishes

5

stalks

fresh cilantro

salt and pepper to taste
Instructions
Brown the beef and place it in a Dutch Oven with water and cook it for 3 hours until tender.

Remove the seeds and pulp and then dice the tomatoes finely.

Mince the onion very finely. You might be tempted to use a food processor to speed things up but don't give into the temptation as it will change the texture of the salad.

Remove the mint leaves from the stalks and chop them finely along with the cilantro and radishes (if using. Discard the stems.

Remove the seeds and interior of the jalapeno pepper and mince the pepper into tiny pieces.

Once the meat has cooled, remove any fat and shred the meat into strips using two forks or your fingers. Then dice the meat into small pieces.

Combine the meat and chopped mint, cilantro, onion, tomato, radishes and jalapeno pepper in a large non-metallic bowl.

In a separate bowl, combine the lime juice from two limes, 3 Tablespoons of orange juice plus salt and pepper.

Pour the lime juice mixture over the meat mixture and toss lightly with a fork.

Chill in the refrigerator for 30 minutes or more and then serve.

Garnish with sprigs of cilantro or slices of avocado
Notes
Be sure to roast the beef long enough and with sufficient liquid so that it shreds easily.
Shred the beef using your hands or two forks as soon as it's cool enough to handle.
Reuse the beef broth for caldo des res ( beef soup)  the next day.
You can vary the proportions of radishes, mint and cilantro according to taste.
Nutrition
Calories:
341
kcal
|
Carbohydrates:
12
g
|
Protein:
35
g
|
Fat:
17
g
|
Saturated Fat:
7
g
|
Cholesterol:
104
mg
|
Sodium:
607
mg
|
Potassium:
1243
mg
|
Fiber:
2
g
|
Sugar:
5
g
|
Vitamin A:
870
IU
|
Vitamin C:
28.5
mg
|
Calcium:
72
mg
|
Iron:
4.3
mg
Looking for more recipes from Guatemala? Check out these authentic recetas guatemaltecas:
Green Bean Fritters or Tortitas de Ejote Guatemalteco
Pescado Seco Envuelto en Huevo or Bacalao a la Vizcaina
Christmas Eve Salad or Ensalada de Nochebuena
Tortitas de Berro or Watercress Omelettes