We may earn income from links in this post. Please read this Disclosure for details.
Chirmol is a fresh tomato sauce popular throughout Latin America that makes a fantastic topping for grilled meats, egg dishes, tacos and hearty soups. This authentic yet fast and easy Guatemalan chirmol recipe takes less than 15 minutes to make and is so versatile it can even be served as an appetizer with tortilla chips.
Make it and you'll understand why chirmol is so popular. The flavour is amazing!
What is Chirmol?
A staple of Guatemalan cooking, chirmol is a sauce featuring juicy charred tomatoes mixed with onions, cilantro, mint and lime. Guatemalan chirmol is so easy to make, delicious and versatile, it's quite possibly the only salsa you'll ever need!
Although this multipurpose sauce is well known in Guatemalan cuisine, it's also popular in Honduras, El Salvador and other countries throughout Latin America. While chirmol tomato sauce is made according to a cook's personal or regional preferences — and can be prepared smooth or coarse, fresh or fried — an important step in making authentic chirmol is charring the fresh tomatoes.
Toasting or browning the fresh tomatoes adds a depth of flavour, enhances the seasonings and reduces the acidity of the salsa. The charring also complements the flavour of the dried chiles often added to chirmol.
The most popular chiles in Guatemala are the fragrant smoke-dried chile Cobanero grown in the highlands of Alta Verapaz around the city of Cobán, Guatemala and the chiltepe pepper, a tiny pepper that packs a powerful punch.
This Guatemalan Chirmol Recipe is not a Hot Sauce
Don't be afraid that this recipe makes a fiery hot salsa! An important fact about chirmol is that it's not considered a hot sauce. While it's sometimes popular in Guatemala to sprinkle dried smoky hot pepper on the salsa before serving, just as often chirmol has no hot pepper in it at all.
For an authentic chirmol, serve a hot pepper such as tiny toasted chiltepes (also known as chiltepin or chile tepin) on the side for extra kick. Each person adds the hot peppers according to their preference and heat tolerance.
If you do decide to add chiltepin peppers, be warned that although they're tiny they are quite hot. On the Scoville scale, a measurement of a chile pepper's heat intensity, chiltepin also known as chile tepin peppers clock in at 60,000 Scoville Heat Units ( SHUs) which places them in between bird's eye chile and cayenne. But each little pepper varies in its heat intensity so you might get a mild one or a scorcher.
Tip: You can substitute dried pequin pepper for chiltepin and chipotle for a chile Cobanero.
The Difference Between Chirmol and Pico de Gallo
The main difference between chirmol and pico de gallo (also known as salsa fresca) is that while the ingredients are virtually the same and the proportion of the ingredients identical, Guatemalan chirmol uses charred tomatoes. This one, easy step transforms fresh tomatoes into something magical.
Chirmol salsa is often darker in colour than pico de gallo due to the charring and toasting of the tomatoes. The heating of the tomatoes also helps the tomatoes to release their juices which adds to the flavour of this sauce. This means chirmol has a thinner consistency than pico de gallo or salsa fresca.
Another difference between chirmol and pico de gallo is that chirmol is generally served at room temperature while pico de gallo is often slightly chilled.
If you're looking for a charred tomato salsa that freezes well, you might be interested in our recipe for Freezer Tomatillo and Tomato Salsa. It can be stored in the freezer for up to three months and adds great flavour to grilled meats, nachos and even breakfast eggs!
Chirmol Guatemalteco vs Chismol Guatemalteco
If you're dining in a restaurant in Guatemala and ask for "salsa" you may get a bottle of hot sauce aka salsa picante or just plain tomato sauce. So, if you want chirmol, you need to be specific.
Wondering how to pronounce chirmol? The pronunciation is "cher-mole" with an emphasis on the first syllable.
For years, I thought I was mispronouncing chirmol. Sometimes I would hear it referred to as chismol or even chilmol. As it turns out, all variations of the word mean the same thing!
How to Make Chirmol Guatemalteco
A traditional Guatemalan chirmol uses fresh Roma tomatoes (or Italian plum). Not only are plum tomatoes full of flavour and budget friendly, but their dense and meaty flesh helps them hold up well with the charring.
Wash, dry and then char the fresh tomatoes over an open flame or dry skillet until dark brown. This toasting technique is used in many traditional Guatemalan dishes and involves lightly toasting or browning the tomatoes over a medium to high heat until charred but not scorched.
​While the tomatoes are browning, roughly chop the onions, cilantro and mint.
After they are browned, roughly chop the tomatoes, without peeling them.
Combine tomatoes, cilantro, mint and onions in a bowl.
Add freshly-squeezed lime juice and stir until combined.
Season with sea salt to taste.
If desired, sprinkle with a dried chile like chile Cobanero or chiltepin just before serving.
That's it! Guatemalan chirmol is so quick and easy to make you can make it in advance. Just store it in the refrigerator for up to three days until ready to use. Or whip some up while you're preparing the rest of your meal.
Variations on this Guatemalan Salsa Recipe
Much like other Guatemalan recipes such as pepián or jocón, there are as many variations of chirmol as there are cooks. While the charring of the tomatoes is the common denominator of every chirmol recipe, there are several variations worth trying:
Add finely-diced fresh avocado to the ingredients in a bowl and mix well.
For a simple, cooked tomato sauce, add some vegetable oil to a frying pan and fry the chopped tomatoes, herbs and vegetables until cooked.
Use chirmol as a delicious base for fresh Guatemalan shrimp ceviche.
How to Serve Chirmol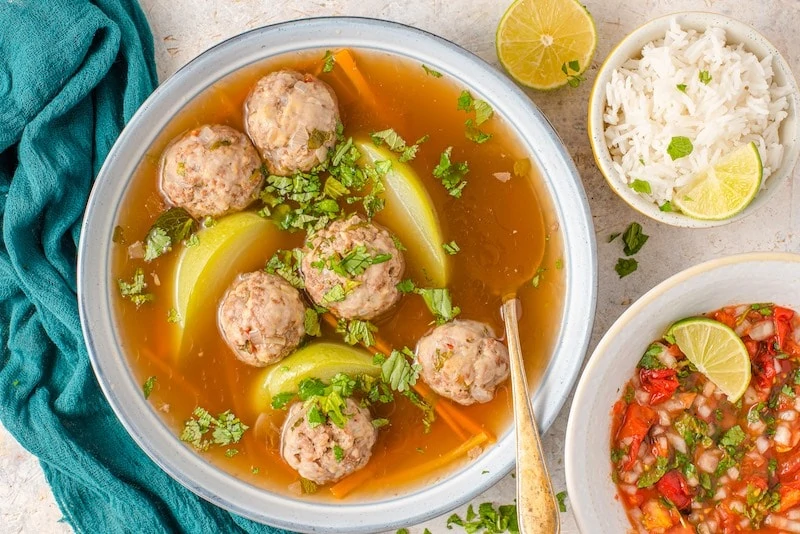 Serve chirmol with grilled meats such as chorizo, chicken, carne asada and steaks such as Grilled Steak in Balsamic Beer Marinade. In Guatemala, pork is generally served with a salsa verde (green sauce) made of miltomates or tomatillos.
Guatemalan salsa chirmol is also popular served on freshly-made tortillas de maize sprinkled with a dry, salty cheese such as queso de Zacapa or Mexican cotija.
You can also serve chirmol with a hearty soup such as sopa de albondigas (meatball soup) along with white rice and tortillas.
For an easy make-ahead appetizer to serve with cocktails, place a cup of chirmol in a 3-part divided serving dish alongside Guatemalan Guacamole and Mango Black Bean Salsa as a trio of salsa dips for tortillas, fried plantain plantain or yucca chips.
YOU MIGHT ALSO LIKE THESE EASY GUATEMALAN RECIPES: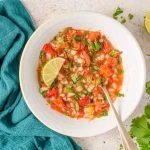 Print
Chirmol - Guatemalan Tomato Salsa
This popular Guatemalan tomato sauce features juicy charred tomatoes mixed with onions, cilantro and mint. It's so delicious and versatile, it's quite possibly the only salsa you'll ever need.
Equipment
Small Mixing Bowl

Knife

Skillet
Ingredients
6

fresh tomatoes

Roma

1/3

cup

onion

white chopped

1

Tablespoon

fresh cilantro

chopped

1

Tablespoon

fresh mint

chopped

1

teaspoon

lime juice

freshly squeezed

1/2

teaspoon

sea salt

chile

Cobán or chiltepe
Instructions
Char the tomatoes in a dry skillet (without oil or liquid), over charcoal on a grill or on a comal at medium-high heat until dark brown.

Finely chop the onions, cilantro and mint.

Roughly chop the tomatoes.

Combine the ingredients in a bowl.

Add lime juice ( chiles if using) and salt. Mix gently with a spoon.

Taste and adjust seasonings, if needed.
Notes
Be sure to char the tomatoes until the skins begin to turn black. The key is to char the tomatoes lightly but not cook them completely.
You can use a BBQ grill or a broiler instead of a skillet or comal.
Another option is to add finely-diced fresh avocado to the ingredients just before serving and mix well.
For a simple, cooked tomato sauce, add a Tablespoon of vegetable oil to a frying pan and fry the chopped tomatoes, herbs and vegetables until cooked.
Chirmol should be served at room temperature.
Make it ahead and store covered in the refrigerator for up to three days.
Please note: Nutritional information is provided as a courtesy and is not guaranteed to be accurate. It is created by online calculators and although we attempt to provide accurate nutritional information, the figures are only estimates.
Nutrition
Serving:
4
g
|
Calories:
23
kcal
|
Carbohydrates:
5
g
|
Protein:
1
g
|
Fat:
1
g
|
Saturated Fat:
1
g
|
Sodium:
296
mg
|
Potassium:
240
mg
|
Fiber:
1
g
|
Sugar:
3
g
|
Vitamin A:
828
IU
|
Vitamin C:
15
mg
|
Calcium:
15
mg
|
Iron:
1
mg
Save to Pinterest!
Dividing her time between Canada, Guatemala and Mexico (or the nearest tropical beach), Michele Peterson is the founder of A Taste for Travel. Her award-winning travel and food writing has appeared in Lonely Planet's cookbook Mexico: From the Source, National Geographic Traveler, Fodor's and 100+ other publications.
Read more about Michele Peterson.