We may earn income from links in this post. Please read this Disclosure for details.
This easy recipe for salsa verde Mexicana — green tomatillo salsa — has a fabulous fresh flavour that will add zip to grilled meats, tortilla wraps or even scrambled eggs.
For the best flavour and texture, make it in a molcajete, the Mexican version of a mortar and pestle!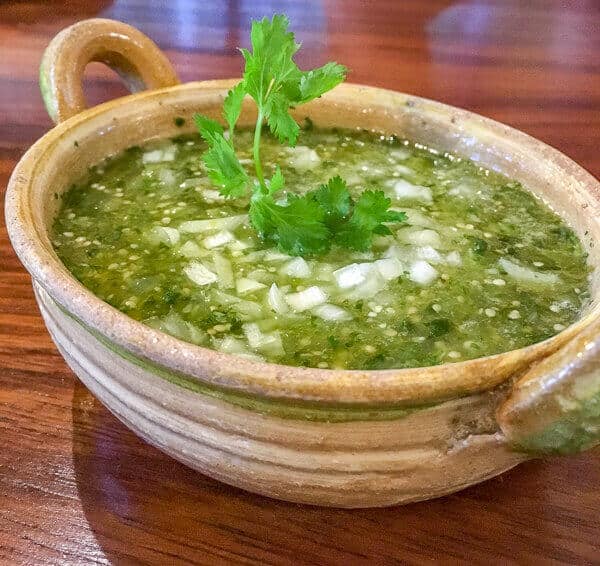 Ideally suited for small batches, salsa verde Mexicana is best made in a molcajete and served immediately.
However, if you have a bounty of fresh tomatillos and tomatoes and are looking for a recipe that uses up a large quantity of the two and is freezer-friendly, then check out my recipe for Freezer Tomato and Tomatillo Salsa.
The Mexykan Private Chef Services in Puerto Escondido
This recipe has been provided by Chef Tony aka The Mexykan in Puerto Escondido. I first tried his version of this popular Mexican salsa when he served it at as an appetizer at a friend's villa on a beautiful stretch of beach outside of town.
While we sipped margaritas and snacked on salsa verde and home-made tortilla chips, a technicolour sun set on the Pacific Ocean.
It was one of those evenings where you were convinced there was no place more beautiful in the world.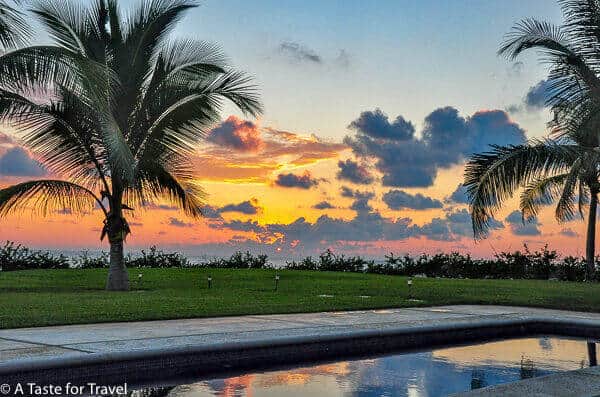 I'm thrilled he agreed to share his recipe straight from The Mexykan kitchen with A Taste for Travel readers.
Salsa Verde Mexicana from Puerto Escondido Oaxaca
This recipe for Salsa Verde Mexicana is actually one of the recipes featured in Tony's popular Traditional Mexican Salsa Cooking Demonstration Class, offered in Puerto Escondido.
His version of salsa verde features tomatillos (also known as miltomates), onion, garlic and chile and is easy to whip up for your next party or gathering.
You can also use salsa verde as a topping for chicken, chilaquiles, Guatemalan black beans and rice or tacos. It's a versatile salsa that's a staple in Mexican cooking.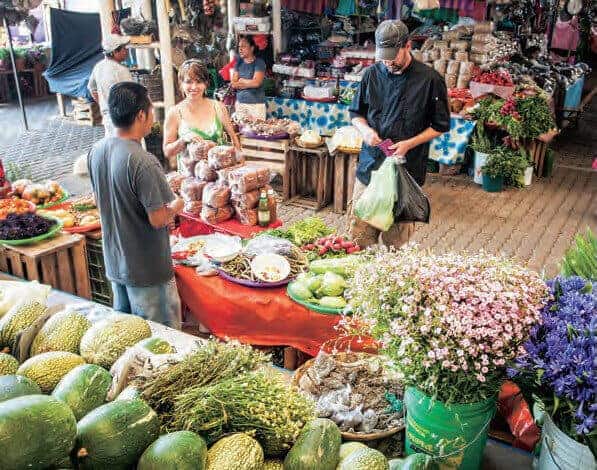 Key Ingredients for Salsa Verde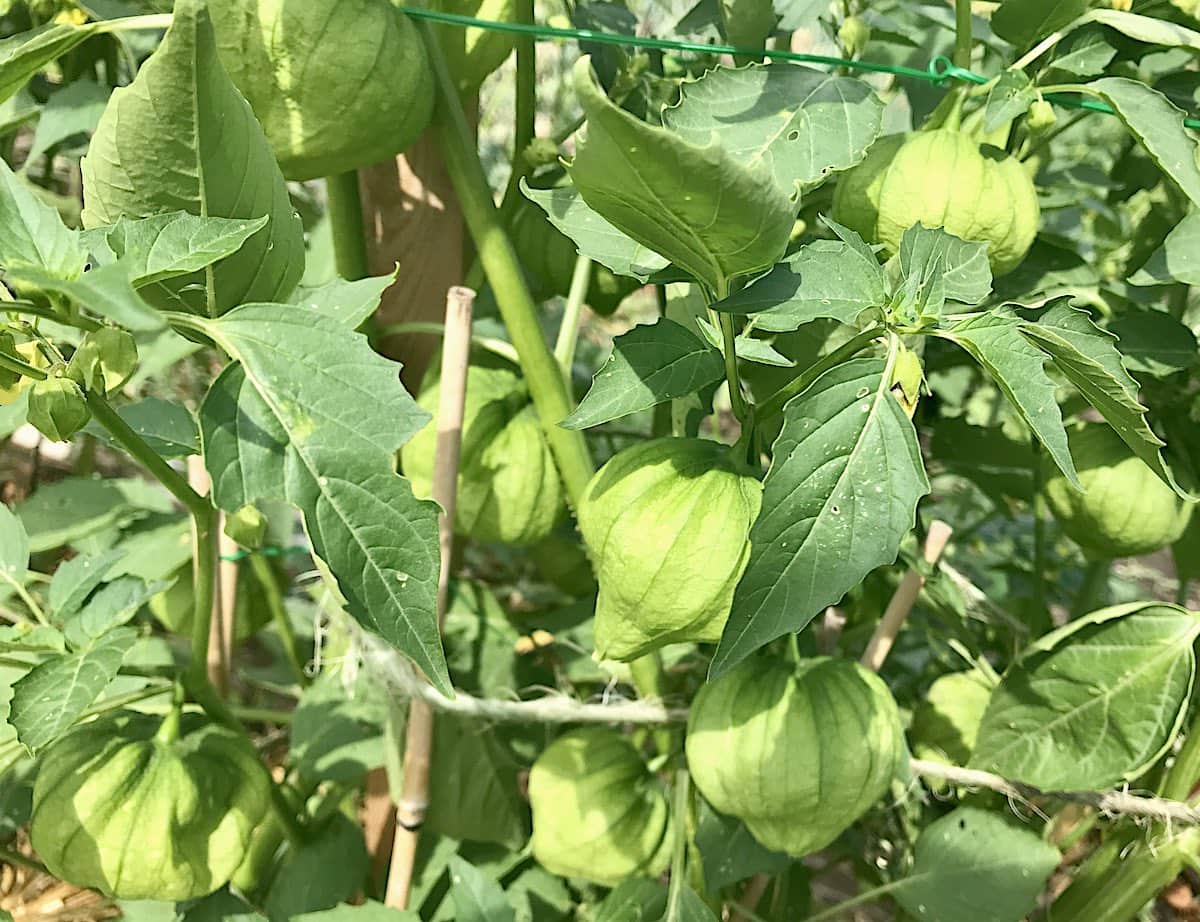 Fresh tomatillos are the most important ingredient in an authentic salsa verde. Also known as the Mexican Husk Tomato, a miltomate and a tomate verde, this round green fruit is packed with nutrition and flavour.
A member of the nightshade family, tomatillos grow on small plants and each of the round fruits is wrapped in a papery husk which MUST be removed prior to eating.
The tomatillos in the photo above still have their husks on them. Some of the tomatillos below have had their husks (also known as lanterns) removed so you can see the difference.
Are Tomatillo Plants Poisonous?
Because the husk (lantern), leaves, and stems of the tomatillo plant are toxic, after husking a tomatillo be sure to wash your tomatillos thoroughly. That will remove the sticky substance on the fruit.
You might also want to wear gloves if you don't want the stickiness to get on your hands. But don't worry if you do.
Although it's annoying, the sticky residue on tomatillos isn't dangerous. It's actually a substance known as withanolides, a naturally occurring chemical compound found within the family of nightshade plants.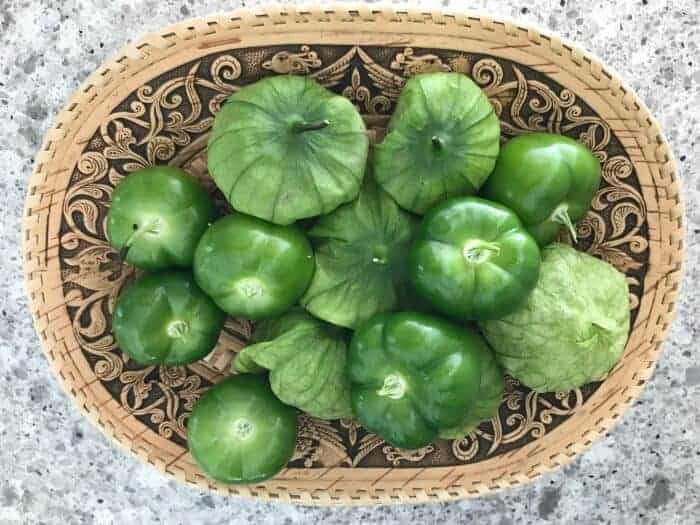 In fact, scientists believe the sticky substance may act as a deterrent for feeding insects while the fruit is ripening. That's a good thing.
What is the Flavour of a Tomatillo?
What does a tomatillo taste like? Tomatillos are tart, acidic and slightly herbal in taste. The riper they get, the less acidic they taste.
When shopping for tomatillos in the market, look for fruit with loose lanterns. The husk should be puffy and have pulled away from the fruit. The husk should be easy to peel off.
When fresh, the fruit of a ripe tomatillo is dark green rather than white. They remain firm when ripe and don't soften as quickly as tomatoes. They also store remarkably well — up to three weeks in a cool area.
Making Salsa Verde Mexicana in a Molcajete
Versatile with just the right amount of kick, salsa verde is a staple in every Mexican kitchen. It's usually made in a molcajete, the Mexican version of a mortar and pestle.
The molcajete refers to the three-legged round bowl while the pestle is known as the tejolote. Both are carved out of basalt volcanic rock.
The advantage of using this traditional tool made of volcanic stone, is that it grinds the vegetables without the heat that is generated by a mechanical blender. The flavours of the ingredients are preserved and not burnt or over-processed.
If you purchase an authentic Mexican molcajete, note that you need to season it before using. Otherwise, you'll get volcanic grit in your salsa and the molcajete will be very hard to clean in the future.
When I purchased mine, the vendor told me to follow these steps in curing a molcajete and tejolote:
Wash the molcajete with water, scrub with a clean brush and dry throughly.
Fill the molcajete one quarter full with dry white rice (or dried maize corn).
Hold the tejolate (or pestle) in one hand with the large side down and the bowl in the other. Use a circular motion to press down on the rice in a grinding motion.
Continue grinding the rice up and down the interior of the bowl of the molcajete until it forms a powder. Be sure to work the rice into the tiny holes in the volcanic stone and along the upper lip while grinding.
Discard the rice powder and repeat the process with the rice twice, discarding the powder each time.
Add two tablespoons of sea salt to another batch of white rice and repeat the process. The powder should now be white not grey in colour. If it isn't, then repeat the process of adding and grinding the rice until it is.
Rinse the molcajete out with water. It's now ready to use!
As you use your molcajete to make salsas and guacamole, it will improve with age, adding a depth of flavour to your salsas much like an heirloom cast iron pan does.
Just remember not to use harsh soap on it or put it in the dishwasher.
How to Serve Salsa Verde
This salsa verde is fantastic for topping on chilaquiles, grilled chicken, Guatemalan black beans and rice or tacos.
It also mades a great dipping salsa for tortilla chips. I also enjoy serving salsa verde at breakfast alongside tortitas de berro – Guatemalan watercress fritters or on huevos divorciados, a classic Mexican breakfast dish served with red and green salsa.
Store salsa verde in the refrigerator for up to three days.
If you try this recipe, please rate it and share your comments or photos by tagging us at #atastefortravel. We'd love to see your photos!
Another tomatillo recipe you might enjoy is Jocon – a traditional Mayan dish popular in the highlands of Guatemala. It also features tomatillos and is absolutely delicious!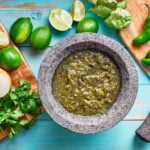 Print
Salsa Verde (Green Tomatillo Salsa)
This easy recipe for green tomatillo salsa, from The Mexykan Cooking Class, has a fabulous fresh flavour that will add zip to grilled meats, tortilla wraps or even scrambled eggs.
Equipment
Blender or Molcajete ( Mexican mortar and pestle)
Ingredients
1.5

cups

tomatillos or miltomate

husked, cleaned and rinsed

1/4

cup

white onion

chopped

3

stalks

cilantro

roughly chopped

1

chile tusta or serrano

4 or to taste whole, stems removed (or chile serrano)

1

clove

garlic

whole

1/2

teaspoon

salt

to taste
Instructions
Cover tomatillos, chiles and garlic with just enough water to cover in a small sauce pan.

Simmer until the tomatillos start to turn a drab olive colour. Be sure not to overcook. They should be soft but not mushy.

Let cool for a few minutes.

Strain the ingredients reserving the water.

Place the salt, tomatillos, peeled garlic, cilantro and chiles into a blender jar, food processor or molcajete (Mexican mortar and pestle).

Blend to a rough textured sauce, add reserved water as needed.

Garnish with chopped white onion.

Salt to taste .
Notes
Don't overcook the tomatillos! They should still have a bright green colour
The amount of hot chile you use depends on your heat tolerance. Start by adding just one and work up from there.
If the salsa verde is excessively tart to your taste, try adding a small amount -- up to 1/2 teaspoon - of white sugar.
Yield 1 cup
Nutritional information is provided as a courtesy and is not guaranteed to be accurate. It is created by online calculators and although we attempt to provide accurate nutritional information, the figures are only estimates.
Nutrition
Calories:
24
kcal
|
Carbohydrates:
4
g
|
Sodium:
329
mg
|
Potassium:
147
mg
|
Fiber:
1
g
|
Sugar:
2
g
|
Vitamin A:
105
IU
|
Vitamin C:
8.1
mg
|
Calcium:
3
mg
|
Iron:
0.3
mg
The Mexykan Cooking Class, Market Tours and Private Classes
Fun Fact: Curious about where the name for "The Mexykan" kitchen comes from and why it isn't "The Mexican" Cooking Class? Chef Tony grew up in southwest Kansas. This part of Kansas was in Mexico until the conclusion of the Mexican-American War in 1848. The name of his kitchen is a hybrid of Mexico Y Kansas aka The Mexykan.
This fun demonstration cooking class includes:
1. Watch, learn the techniques and taste six traditional Mexican salsas prepared by a trained chef.
2. Participate in a "Roll Your Own Taco Party" featuring six traditional Mexican salsas such as this salsa verde.
3. Enjoy fresh guacamole, corn chips, Oaxacan black beans and classic Mexican red rice.
4. Indulge in complimentary, refreshing Margaritas or ice-cold Mexican beer.
5. Sample a rare small-batch mezcal tobalá
6. Sip unlimited ice-cold Mexican agua fresca (fresh fruit water).
7. Cool off with a frozen Mexican nieve, ice or granita
8. Get a printed copy of all of the Mexican Salsa recipes.
If you'd like to register for the class in Puerto Escondido, please visit WWW.THEMEXYKAN.COM for reservations or visit The Mexykan Facebook page
Sign up for the A Taste for Travel newsletter below and you'll even receive a free gift at the class. You can also register by email: chef at TheMexykan.com
Dividing her time between Canada, Guatemala and Mexico (or the nearest tropical beach), Michele Peterson is the founder of A Taste for Travel. Her award-winning travel and food writing has appeared in Lonely Planet's cookbook Mexico: From the Source, National Geographic Traveler, Fodor's and 100+ other publications.
Read more about Michele Peterson.