We may earn income from links in this post. Please read this Disclosure for details.
Planning to travel to Puerto Escondido, Oaxaca, Mexico? Need some advice? You've come to the right place!
Our Puerto Escondido travel blog has all of our posts on getting here, hotels, surfing lessons, safety, resorts, co-working spaces and day trips in one handy place.
It's your one-stop travel guide to the best vacation in Puerto Escondido.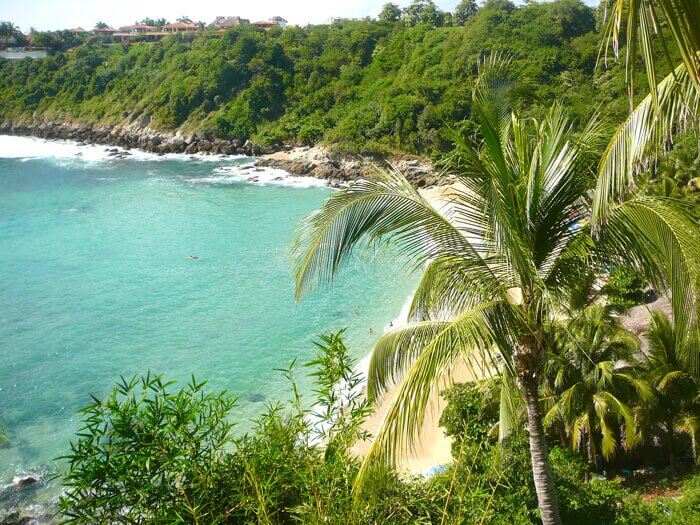 Introduction
I first discovered Puerto Escondido Oaxaca in 2003 while studying Spanish in Oaxaca City. Along with my Guatemala-born husband we've owned a home here, rented apartments, stayed with friends and explored every neighbourhood from Barra to Playa Palmarito.
We want you to enjoy exploring Puerto Escondido as much as we have. So, we've written this Puerto Escondido travel guide and created the Puerto Escondido Travel Essentials Facebook page to help you do just that.
In my career as a travel writer, I've also written about Puerto Escondido for Fodor's Guide to Oaxaca and magazines such as Condé Nast, enRoute, WestJet Magazine, TravelAgeWest and many others.
But I had to leave out some of the best information about the city's restaurants, attractions and hotels due to space considerations. All those insider tips are included here!
Where is Puerto Escondido, Oaxaca?
Located north of Huatulco and south of Acapulco on the Pacific Coast in the state of Oaxaca, Puerto Escondido or "Hidden Port" hasn't always been hidden.
In the late 1960s, the Mexican government and the Inter-American Development Bank identified it – along with Cancun, Huatulco, Loreto, Los Cabos and Zihuatanejo — as potential targets for major tourist destinations.
After much deliberation on climate, beaches and other factors of the six candidate beach towns, they selected Puerto Escondido, Cancun and Ixtapa (Zihuatanejo). The idea was that they would join Acapulco on the world stage of glamorous resorts popular with Hollywood A-listers.
In the 1970s, the newly-formed Fonatur began expropriating land and developing the infrastructure of roads, airports, sewage treatment systems and electricity.
However, due to legal problems securing the necessary beachfront land in Puerto Escondido, by the 1980s Fonatur had abandoned its plans for Puerto Escondido. It set its sights on the Bahias de Huatulco instead.
That explains why today, Huatulco, rather than Puerto Escondido, is the largest managed beach destination on Mexico's Oaxaca coast.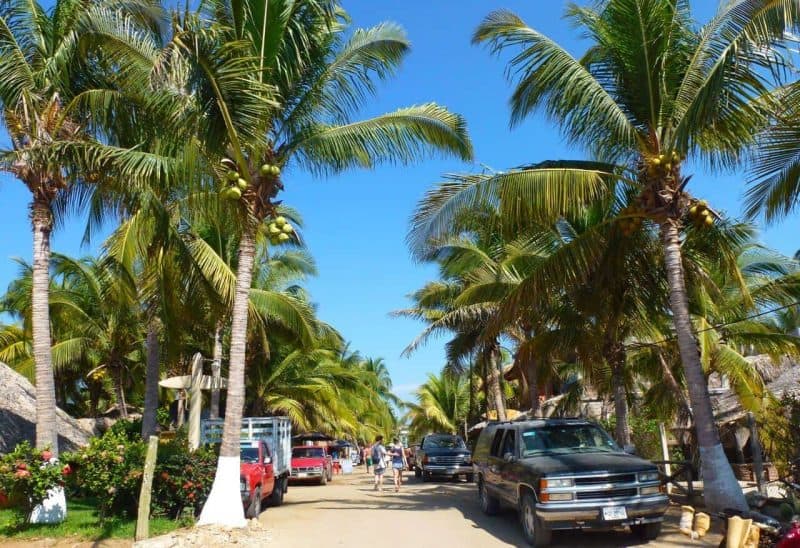 For many visitors, Puerto Escondido's small size is part of its appeal. While other Fonatur destinations have boomed — Cancun received 6.7 million international tourists in 2017 — Puerto Escondido receives a fraction of that. Its total population is just 45,000.
While Cancun and other Fonatur developments in Mexico are home to glossy, all-inclusive resorts and large international airports, Puerto Escondido offers a rustic charm.
What Puerto Escondido is Famous For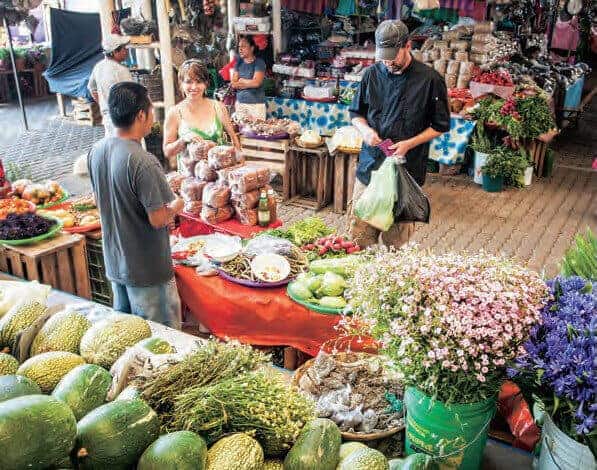 In addition to its abundant sunshine, long beaches and dry climate, there are lots of things to do in Puerto Escondido!
It's best known for its surfing, laid-back lifestyle, fishing, regional Oaxacan cuisine and outdoor recreation opportunities.
A Traditional Mexican Atmosphere
Set against the backdrop of the Sierra Madre Sur Mountains, the coastline around Puerto Escondido Oaxaca has remained untouched by mega-development.
Unlike the manicured all-inclusive luxury resorts of Cancun-Riviera Maya it offers a genuine Mexican experience that will appeal to travellers interested in speaking Spanish, shopping in traditional markets and meeting local residents.
Surfing in Puerto Escondido
Many visitors are drawn to Zicatela beach in Puerto Escondido because of the Mexican Pipeline, an epic wave break with a reputation that attracts serious surfing aficionados from Australia to California.
But it's not just about the surf. "Puerto's" population of 45,000 is made up of expats, fishing families, wellness devotees and adventure lovers, co-existing in laid-back harmony in neighbourhoods tucked around the palm-tree fringed bays.
Co-working in Puerto Escondido
Puerto Escondido is also a growing destination for digital nomads who are drawn to the surfing culture and an alternative to Tulum and Playa del Carmen where they can work while enjoying sun and sea in their spare time.
While internet service can be unreliable in some neighbourhoods, in recent years coworking in Puerto Escondido has grown in popularity with the introduction of Starlink and fiber optic service.
Puerto Escondido's new communal work spaces offer stable, high-speed internet as well as a selection of amenities such as private meeting rooms, printers, lounge areas, AC and kitchens. They offer pretty much everything you need to work remotely.
Selina Hostal, Casa Losodeli and NUU Coworking Rinconada (Google Map) are all good options for co-working spaces in Puerto Escondido. Daily rates range from 190 MXN pesos to 250 MXN pesos for a day. Some such as NUU Rinconada are even open 24 hours for members.
For mobile data on the go, I recommend using one of the Global eSIMs for travellers such as Airalo, an online eSIM store. You can stay connected when you travel throughout the world at very affordable rates.
Check rates for local and regional eSIMs at Airalo.com.
Oaxacan Food and Restaurant Scene
Beyond the outdoor activities, Puerto Escondido is also a prime destination for food lovers. The cuisine is drawn from a rich indigenous heritage and features lots of fresh seafood as well as an abundance of fresh fruit and vegetables.
Puerto Escondido's restaurants offer a diverse culinary mix. Cuisine from Italian, Middle Eastern, Thai and Oaxacan cuisine just a few of the delicious tastes you'll find.
The Benito Juárez Market (also known as Mercado Principal) is Puerto's cultural and economic heart. The sprawling, but surprisingly orderly, market stretches an entire city block and spills out onto surrounding sidewalks on busy days.
Wednesdays and Saturdays are the best days to shop at Benito Juárez Market as that's when the vendors from outside of Puerto Escondido arrive and there's the freshest produce and other goods.
You can eat lunch, chat with vendors, meet up with friends or just soak up the atmosphere.
There's also a new market in town. For fresh flowers, tropical produce, fresh-ground Oaxacan coffee and more, visitors can now also shop at the new Mercado Zicatela. Located on Highway 200 in the Zicatela area on the way to La Punta, it's exceptionally clean and modern.
The best days to shop at Mercado Zicatela are Mondays and Thursdays as that's when the fresh produce arrives.
It's also home to restaurants specializing in Oaxacan regional dishes such as tlayudas, moles and more. The expansive ocean views are a bonus feature of this market.
Breakfast is a great way to offer your support to the vendors and shop owners within the shiny new Zicatela Market, which opened officially for business on November 17, 2018.
Read more:
Take a Cooking Class with The Mexykan
Pluma Hidalgo Coffee Could Be the Best Coffee You'll Ever Taste
Puerto Vallarta vs Puerto Escondido
If you're trying to decide between Puerto Vallarta or Puerto Escondido for your next vacation, although both are located on Mexico's Pacific Coast there are several differences between the two destinations.
Many people say Puerto Escondido is like Puerto Vallarta was 40 years ago.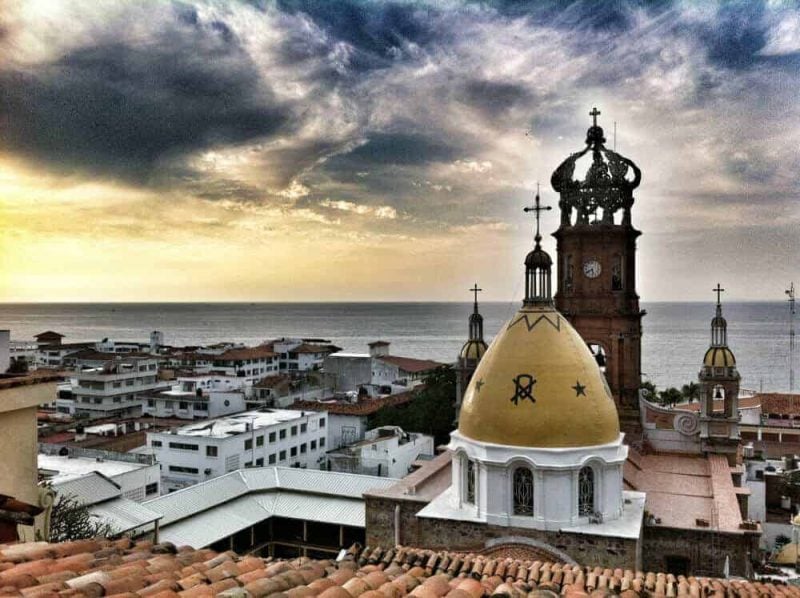 Here are the main factors to consider if you're trying to decide between Puerto Vallarta and Puerto Escondido:
Huatulco vs Puerto Escondido. Which is Better?
Both Huatulco and Puerto Escondido are located in the State of Oaxaca on the Pacific Coast. They're around two hours apart so it's natural to wonder which of the two beach destinations to choose.
I've spent a lot of time in both Huatulco and Puerto Escondido. Deciding which is better depends on the type of vacation experience you're looking to have. Each has its own group of loyal fans and supporters.
Here's a quick summary based on my experience.
Safety and Crime in Oaxaca
Whether you're on a trip to Puerto Escondido for the winter season or a short family vacation, it's worth considering the safety situation.
In January 2023, the U.S. Department of State's Mexico Travel Advisory listed the entire state of Oaxaca as Exercise Increased Caution.
There are restrictions for U.S. government employees for travel in the Isthmus region of Oaxaca, defined by Highway 185D to the west, Highway 190 to the north, and the Oaxaca/Chiapas border to the east.
This includes the towns of Juchitan de Zaragoza, Salina Cruz, and San Blas Atempa. Highway 200 northwest of Pinotepa. These areas are hours away from Puerto Escondido and not often frequented by tourists even on day trips.
The Government of Canada currently has NO travel warnings in effect for the state of Oaxaca.
Is it Safe to Travel to Puerto Escondido? Travel Safety Tips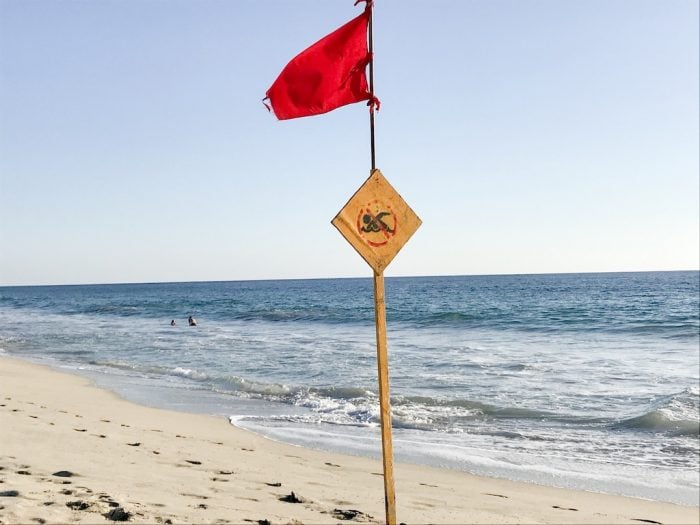 Crime levels increase prior to and during holiday periods so if you're traveling during Semana Santa and Christmas, be extra vigilant.
It's free of drug cartel wars affecting other cities in Mexico. But it pays to use common sense when visiting any time of year.
I've spent months solo in Puerto Escondido without any problems at all. However, that doesn't mean you should abandon caution.
Here are some travel safety tips for Puerto Escondido:
Lifeguards rescue 800 people from drowning each year. Many people actually drown. Heed red flag warnings and don't enter the water on dangerous beaches. The most dangerous beaches in Puerto Escondido include Bacocho, Playa Coral and Zicatela while the safest beaches for swimming are Playa Manzanillo and Playa Carrizalillo, set in a sheltered cove at the foot of a series of steep stairs in the Rinconada area.
Some armed robberies involve the use of motorcycles by assailants. Walk on the sidewalk out of reach of motorcycles to avoid being targeted. And, contrary to the advice to wear a cross-body purse, I don't recommend this. If your cross-body purse is grabbed, you can be dragged behind the motorcycle until the strap breaks and can seriously injured.
Robberies have been reported on the Andador Scénico, a pedestrian walkway that extends from the western end of Playa Principal to a scenic overlook named Sueño Posible (near Eglantina Condominiums). It's often closed for repairs or due to high wave action but even when it's open is very dangerous. Tourists are regularly swept away by the high waves. Carry NO valuables with you if you go.
Wear a money belt or other method of secret pockets to carry small amounts of cash with you. Rather than wear one of the large pouches that screams tourist, try something discreet like the Bushkin Anti-Theft Travel Money Belt that looks like real belt. Or, a Tilley Hat with a secret pocket or an Infinity Travel Scarf with just enough money for the day.
Only carry the amount of cash you need for a day and store the remainder in the hotel's safety box. If you're staying in an AirBnB or a vacation condo, it's worth investing in a portable travel safe to store your valuable. The FlexSafe portable safe, voted gadget of the year for 2019, is lightweight, costs under $65 USD, is slash-proof and can even be strapped to your lounge chair at a swimming pool or beach.
Walking alone at night on the beach isn't a good idea anywhere. So don't make a habit of it in Puerto Escondido.
Businesses can vary their hours without notice, construction or strikes can cause detours and some restaurants even change locations each season. It's always worth verifying the address of your destination before heading out so you don't get disoriented or lost.
When it comes to staying healthy, the rainy season (May-November) brings afternoon showers which can increase biting insects and associated risks such as dengue fever. Use insect repellent with DEET and wear light-coloured, long-sleeved shirts and pants. Read 12 Ways to Protect Yourself from Dengue, Zika and Chikungunya virus.
Keep hydrated and avoid the midday sun. But remember that, much as in most parts of Mexico, the tap water in Mexico isn't always safe to drink so you should stick to bottled water.
Avoid driving at night, keep valuables hidden from view, keep a full tank of gas and carry a copy of your passport if you are travelling by personal vehicle. Avoid car rental insurance problems by reading our post on Pros & Cons of Renting a Car in Puerto Escondido.
When it comes to Puerto Escondido, Mexico crime, avoid the overnight bus from Puerto Escondido to Mexico City. It passes through the state of Guerrero (listed by the U.S. State Department as one of Mexico's most violent states) and a serious armed robberies have been reported. Airlines such as Viva Aerobus are an economical and safe way to get to Puerto Escondido.
Strikes and public protests (often by teachers) are common in the State of Oaxaca and blockades can disrupt public access to roads and airports. Check with your hotel for advice on getting to/from the airport, avoid crowds and don't participate in public demonstrations. In Puerto Escondido, protests are generally non-violent and of short duration.
Watch where you're walking at night. Sidewalks can crumble, collapse or be non-existent. Construction safety standards can be poorly enforced so it's possible to accidentally walk into a hazard. A small inexpensive flashlight or headlamp can be helpful especially if you have issues with night vision.
Stay away from drugs.
Avoid getting drunk. Not only can being intoxicated affect your judgement in certain situations and increase the likelihood of brawls, falls and moped accidents, alcohol-fuelled revellery can seriously affect your safety if you're swimming or pass out in the sun.
Don't open the door to your apartment, condo or hotel room to someone unless you know who it is.
Secure your laptop with a steel cable to a fixed object such as a table within your hotel room or rental apartment. For under $20 you can protect your laptop computer from theft with a laptop security combination lock and steel cable.
Don't lose sight of your luggage, backpack or other valuables, especially in crowded places. Keep personal information on your luggage to a minimum to avoid extortion attempts. Protect your personal information on your baggage tags with Shacke Luggage Tags with Full Back Privacy Cover w/ Steel Loops.
Obtain medical travel insurance and keep the information handy for your safety and security and in case you require any heath care.
Exchange currency only at banks and use ATMs within (not outside) a bank throughout Mexico.
Check bank statements online regularly for fraudulent ATM transactions on your debit or credit card. When choosing a credit card for travel, consider selecting a card with No Foreign transaction fees. Frugal Flyer provides a handy credit card comparison chart to help you decide which card best suits your needs and budget.
Use a licensed and authorized tour guide if one is available. Negotiate prices for tours and travel in advance.
Check weather conditions, travel alerts and travel warnings. Resources include Australia's smart traveler, or the United Kingdoms Travel Advisory service; and register your contact information at the U.S. Department of State and Foreign Affairs and International Trade Canada and North America.
There are crocodiles in the lagoons, rivers and estuaries around Puerto Escondido and the coast of Oaxaca. You might be attacked and seriously injured or killed if you swim in or near these waters.
Low balcony rails are problem around the world and although Puerto Escondido doesn't have any high rises, falling from even a second floor balcony can cause injury or be fatal. In the United States, the minimum code for balcony railings on commercial buildings (such as apartment buildings, condos and resorts) is 42 inches. In Mexico, balcony railings are generally 35.2 inches or lower. This can be a safety hazard if you lean against it.
Sexual assault. There have been reports of sexual assault by surf instructors so check references before you book classes. There have also been sexual assaults during broad daylight on deserted streets.
Ultimately, Puerto Escondido is safe to visit, as long as you follow the advice for travellers as listed above, on government websites, and keep your common sense about you.
Medical Resources in Puerto Escondido, Oaxaca
Note that this information is being provided for your convenience. It should NOT be considered legal or medical advice. We cannot guarantee its accuracy so do your own due diligence before making any decisions regarding your own travel safety and health.
In early 2020, the Centers for Disease Control and Prevention (CDC) issued a Level 3 Travel Health Notice for Mexico due to COVID-19. They recommend you review the Department of State's COVID-19 page before you plan any travel.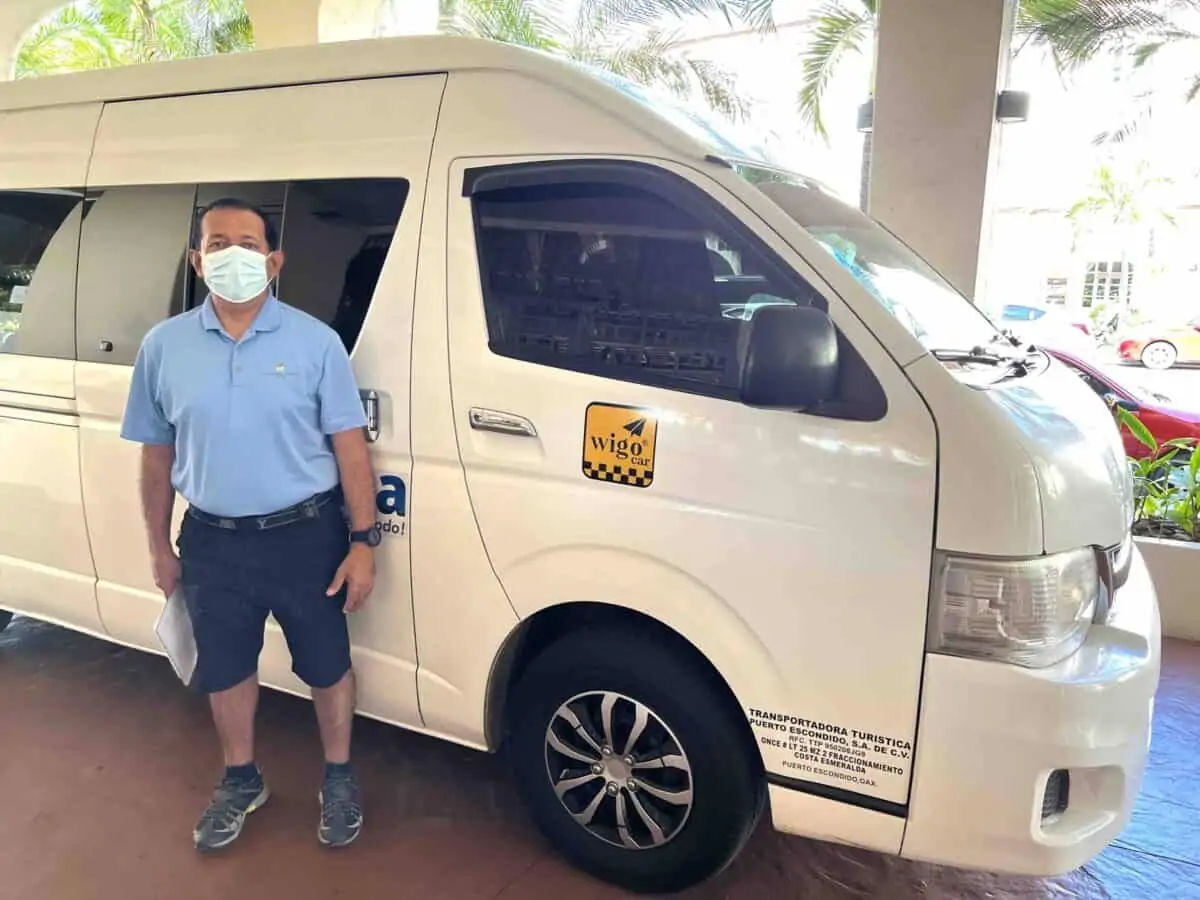 Where to Get Health Updates in Oaxaca
Visit State of Oaxaca Health or call 951 516 3464 They also publish updates on the number of cases on their Facebook page (Spanish only).
In Puerto Escondido, there are two municipal authorities you can check for information updates:
Santa Maria Colotepec Facebook Page (Spanish only)
San Pedro Mixtepec Facebook Page ( Spanish only)
Hotel Association of Huatulco Facebook Page (Spanish only)
The Eye Huatulco Magazine ( English and Spanish)
Where to Get Tested for COVID in Puerto Escondido – PCR and Antigen Tests
A popular place to get a COVID-19 PCR test in Puerto Escondido is Laboratorio Grupo. The cost is 1500 pesos (subject to change) and results are same-day or within 24-36 hours by email. Make an appointment at 951-233-3401 via WhatsApp
Emergency Contact Numbers
If you're considering vacationing in Puerto Escondido it's important to consider that it is a small city in one of Mexico's poorest states.
Medical systems may become overwhelmed and you may not get the medical attention you need. Or you might be taking resources needed by the local people.
Be sure to get Medical Insurance before you travel.
Is Puerto Escondido Cheaper than Other Beach Destinations in Mexico?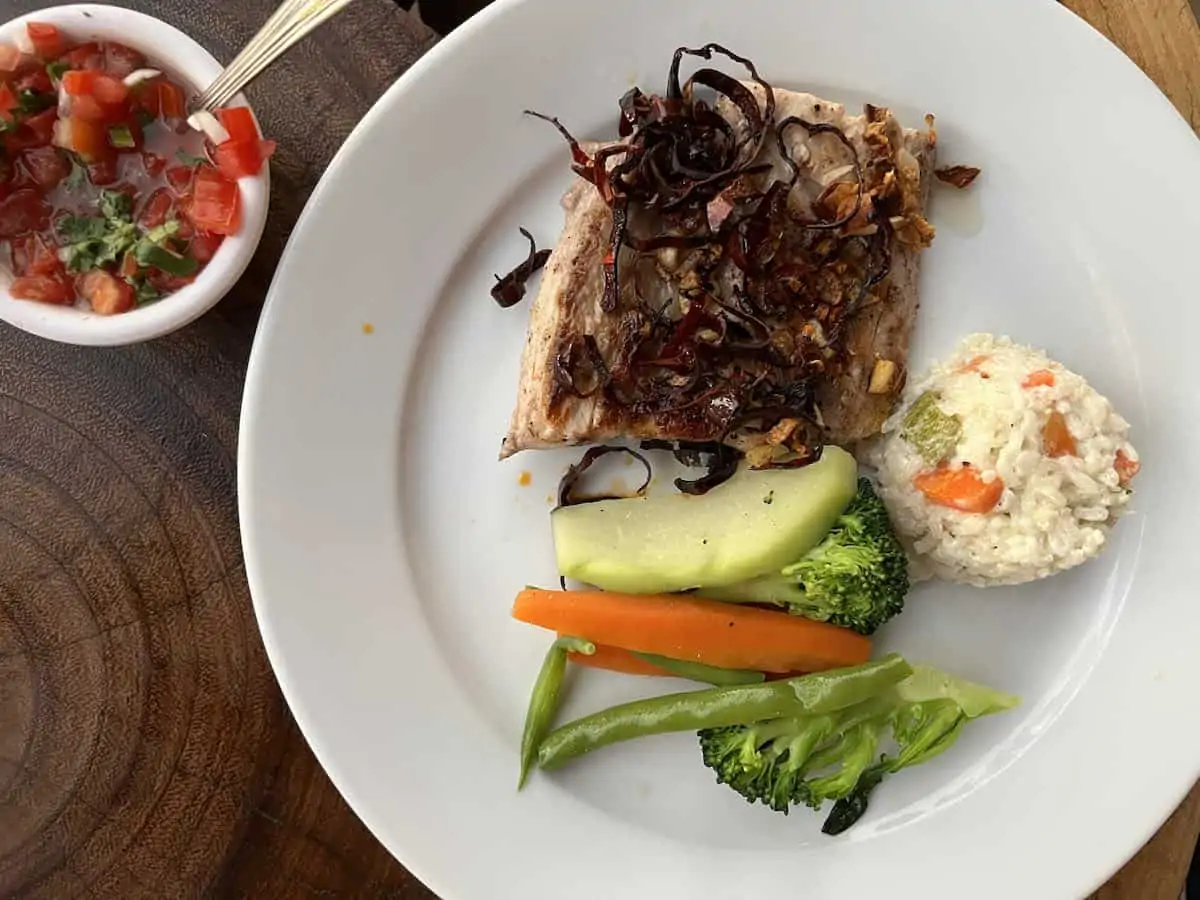 Many budget travellers, retirees and backpackers are drawn to Puerto Escondido due to its lower costs. If you're looking cheap places in Mexico for a beach vacation, it's worth considering Puerto Escondido.
The costs for food, restaurants and daily expenses are generally lower in the state of Oaxaca than other parts of Mexico.
A typical order of filete de pescado a la plancha ( grilled fish filet) at a beach restaurant will cost up to 250 MXN pesos (around $10 USD) and a local beer 40 MXN pesos (under $2 USD). Prices drop considerably the further away from the beach you go.
However, this doesn't necessarily apply to accommodation if you're looking for a winter rental for just a few months. Demand for vacation apartments and homes is high and competition steep.
So prices are quite high compared to Playa del Carmen or Puerto Vallarta where there are a large stock of rentals to choose from.
Read the next section on choosing a hotel, condo or vacation home for tips on finding budget accommodation or a luxury villa in Puerto Escondido.
Where to Stay in Puerto Escondido (Hotels, Condo Apartments and Resorts)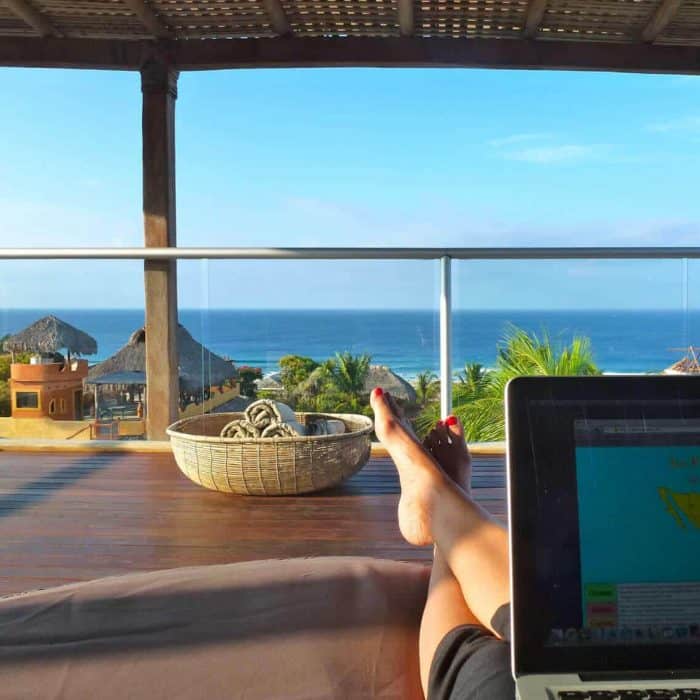 If you want to rent a condo, villa or other vacation property in Puerto Escondido, here are a few resources to get you started.
Before you begin, be sure to read the Beginner's Guide to Puerto Escondido Beaches so you know which neighbourhood you are interested in. That will help determine where to stay in Puerto Escondido.
For the best choice and prices, begin your search early. Browse our accommodation guide for tips on Finding a Vacation Rental in Puerto Escondido
Although Puerto Escondido Oaxaca is still under the radar for many travellers, its beautiful beaches, thriving food and drink scene and rich culture draw a loyal crowd who book their favourite rental property a year or more in advance.
Increasingly, the sargassum seaweed problem in Tulum and Cancun has prompted many people to switch their vacation to Puerto Escondido where there is no problem with seaweed.
Puerto Escondido Weather
April and May are very hot and humid (expect 35 C and up) while August, September and October are the rainiest months, with many of the local restaurants closed for business.
November and December (excluding Christmas) are great times to visit. The weather in Puerto Escondido is sunny and warm but not too hot. Prices are often lower than in high season.
Best Time to Visit Puerto Escondido Oaxaca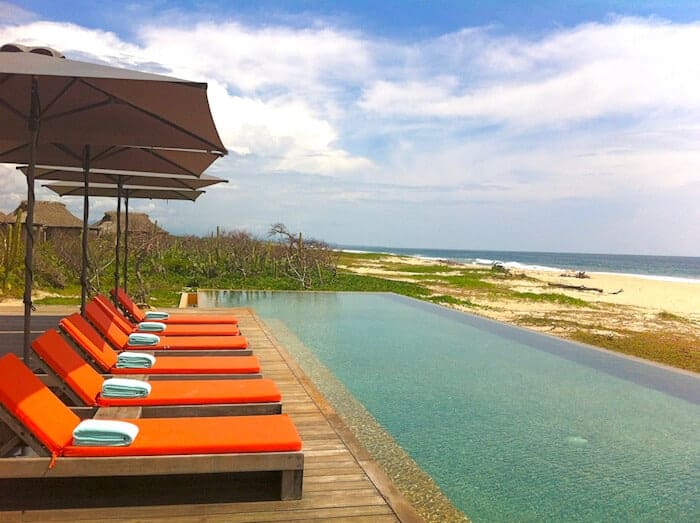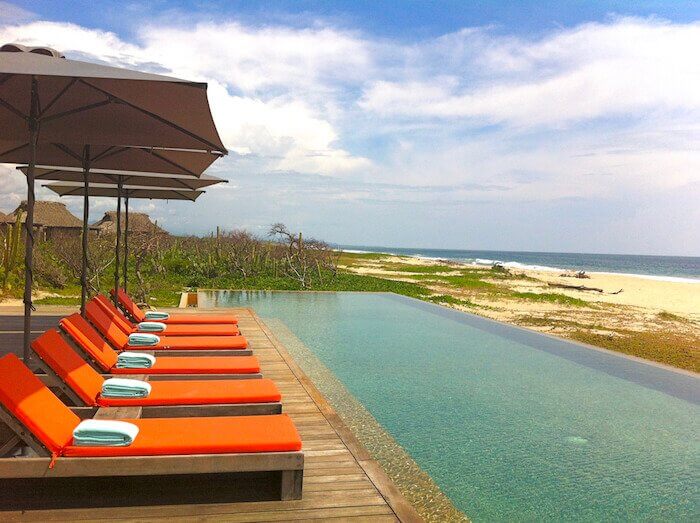 January to March are the most popular months for visitors from Canada and the United States. This means demand for accommodation is at its peak as are prices.
Other peak periods are Christmas, New Years and Semana Santa (Holy Week).
Events and Celebrations in Puerto Escondido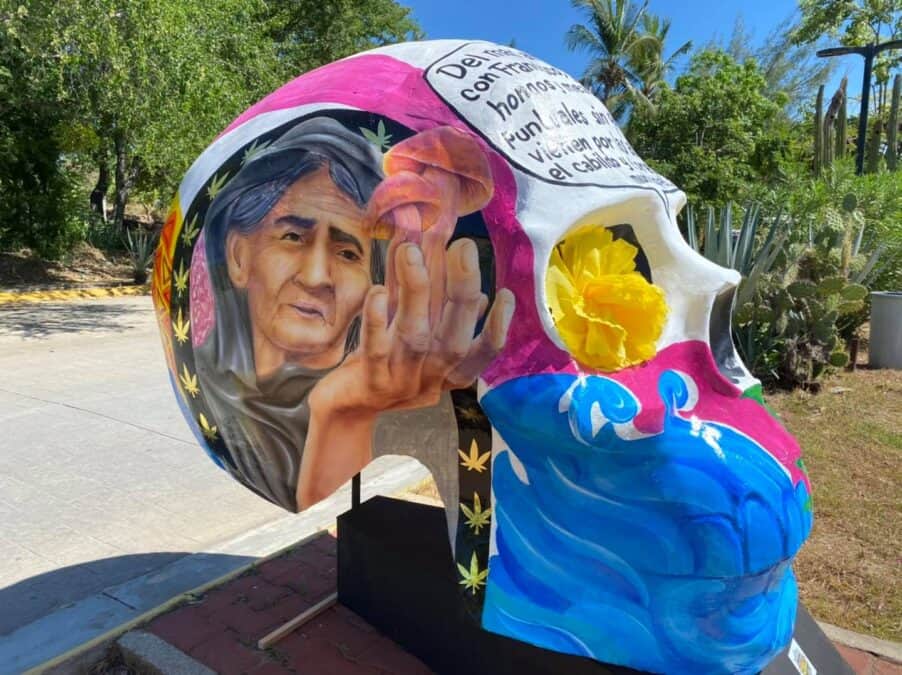 Day of the Dead in Puerto Escondido
Although Day of the Dead or Dia de los Muertos rituals in Guatemala and cities in Mexico such as Oaxaca City and Patzcuaro deservedly get lots of attention, it's also possible to take part in authentic ceremonies for Day of the Dead in Puerto Escondido as well.
While you won't see Day of the Dead celebrated to the same extent as in other cities in Mexico you'll still notice many elements around town. Benito Juarez Market will have vendors selling bunches of marigolds, there will be ofrendas (Day of the Dead altars) and special traditional Day of the Dead foods.
Fiestas de Noviembre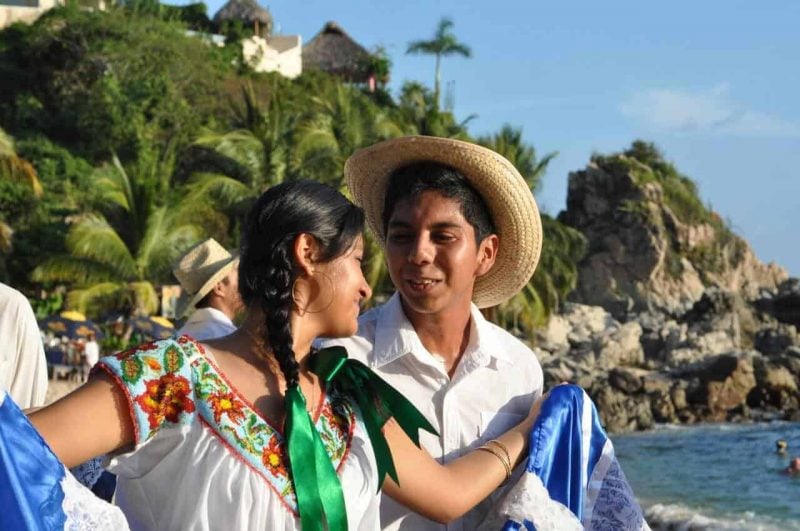 Originally created to promote tourism during the low season, the Fiestas de Noviembre have grown to become one big celebration.
During the event, Puerto Escondido ramps up the party factor city-wide with fishing tournaments, folkloric dance extravaganzas, food festivals, freestyle motocross and surfing competitions.
Most events are free, except for the fishing competitions such as the International Sailfish Tournament, where there's prize money at stake. For the complete Fiestas de Noviembre Puerto Escondido schedule, visit our post on What Everyone Should Know About the Fiestas de Noviembre.
November is also the start of the whale-watching season, just one of many awesome outdoor adventures you can experience in Puerto Escondido.
Dreamweavers Exhibition and Sale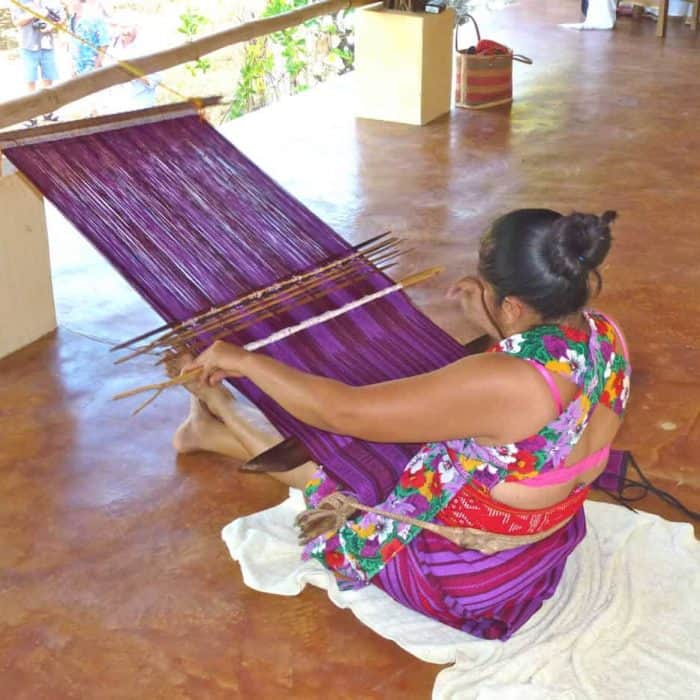 This cultural event in January features weavings from the Tixinda Cooperative in Pinotepa de Don Luis, a community high in the mountains above Puerto Escondido.
With each purchase you'll be helping the women of this community preserve an ancient tradition and support their families.
The women of the Tixinda Cooperative weavers create magic on their backstrap looms, weaving colourful huipils (tunic dresses), bed linens, table cloths and smaller items such as wallets, purses and pillows. The dyes are all-natural and quite rare.
They use yarn dyed blue from the anil (indigo plant), red from crushed cochineal (cacti bugs) and Tixinda, the sacred purple dye "milked" from a rare Purpura sea snail found in a remote bay between Huatulco and Puerto Escondido.
It can take the milk from 1000 snails to dye one reboso (shawl). The weaving is rare, beautiful and highly-prized by collectors.
Read more about harvesting Tixinda dye in our first-hand account of a journey with one of the shell-dyers in our post on Quest for Mexico's Sacred Snail of Mexico
Australia Day in Puerto Escondido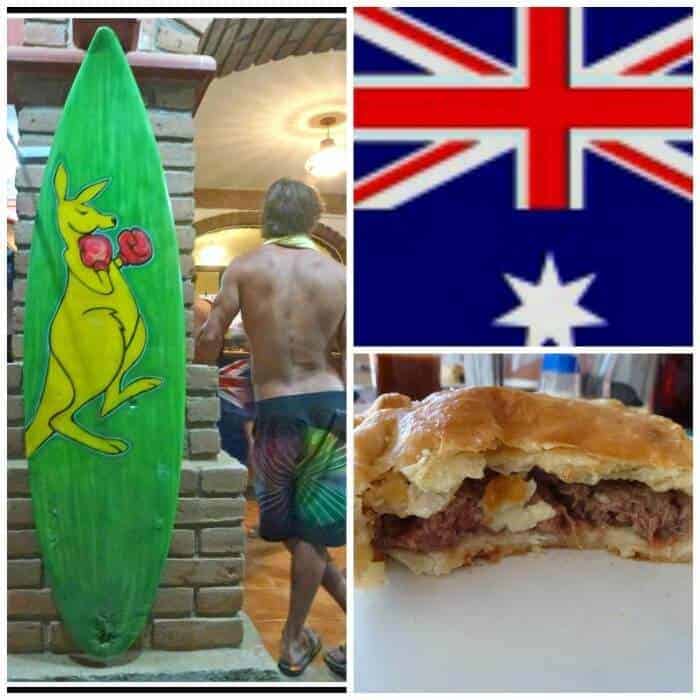 Puerto's ex-pat community is an incredible melting pot of Canadians, Americans, Europeans and Australians — and each of them celebrates their home country's national holiday with their own unique enthusiasm and patriotic pride.
You can party like an Aussie and celebrate Australia Day on January 26th.
This annual holiday commemorates the first landing in Australia by Captain Arthur Phillip in 1788 and Australians celebrate 'Straya Day with plenty of national pride, flying the Australian flag and celebrating in true Aussie style with music, cold beer, grilled meat on the barbie and traditional Australian meat pies.
On Australia Day in Puerto Escondido, there are lots of places to join in the celebrations. Your best bet for authentic Aussie meat pies is at Food Market La Punta.
Best Beaches in Puerto Escondido
Puerto Escondido's is home to seven beaches from the famous surfing mecca Zicatela to the hidden gem Playa Coral. Each has its own unique personality.
Your top choice if you're in town for just one day or a short itinerary should be Playa Carrizalillo as it's the most swimmable, the prettiest and the cleanest.
Access to the walkway to the Playa Carizalillo's stairs (all 167 of them!) is through an orange archway on the Rinconada.
Manzanillo Beach is another good option as it has fewer stairs. Playa Manzanillo has Blue Flag certification.
Read the Beginner's Guide to Puerto Escondido Beaches for details on all the beaches which also include the idyllic beach at Puerto Angelito Beach, Playa Coral and Playa Principal.
Beach loungers are available to rent with a minimum drink or food purchase per person. Or, you can bring your own umbrella and towel such as the sand-free, lightweight Tesalate Beach towel and stake out a spot on the sand for the day.
All beaches are free in Puerto Escondido. The only cost is to use the public washroom.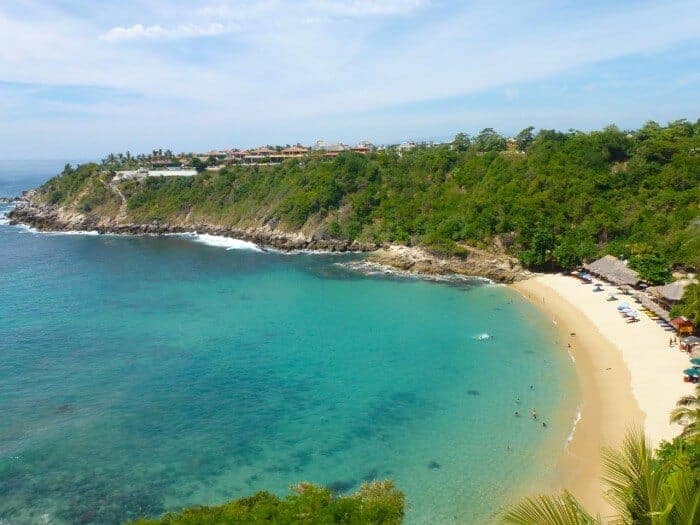 Beach Clubs

in Puerto Escondido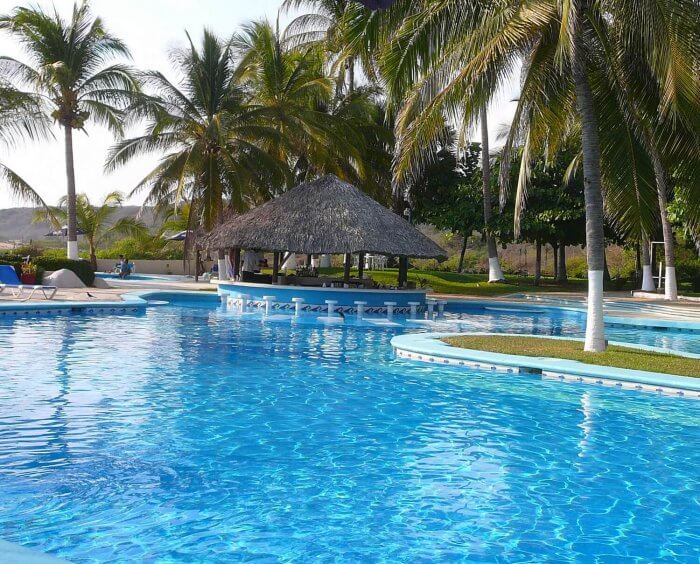 If you've rented a condo without a swimming pool, no need to worry. You can enjoy a resort-style getaway at Club de Playa Villa Sol at Bacocho Beach.
With two pools (one a large freeform and the other for kids), a swim-up pool bar, sprawling landscaped gardens and towering palm trees you'll feel as though you're at swanky resort.
While the price has gone up considerably in recent years (it's now 600 MXN pesos for the day) it can be worth the splurge.
Lounge by the pool, order cocktails, play beach volleyball or take a stroll along wave-swept Bacocho Beach.
This is also a top spot for turtle nestings and releases. 2 X 1 cocktails during Happy Hour 12:00-1:00pm. The Beach Club is now home to the fine dining beachfront restaurant Pez Gallo.
To get there take a taxi to Bacocho Beach, just past the Posada Real Cocos Beach Club. Ask staff to call you a taxi when it's time to leave. It's a steep climb back up the hill.
Read More:
Roca Blanca Beach: Day Trip to Untouched Mexico
10 Best Mariachi Songs For A Day At The Beach
Getting from Oaxaca City to Puerto Escondido
There are basically six ways (eight if you count bicycling or walking!) to get from Oaxaca City to Puerto Escondido on the coast of Oaxaca.
The Sierra Madre Sur mountain range lies in between the two destinations. This means you need to spend some time thinking about your options as none of the routes are particularly pleasant.
But don't let the journey turn you off the idea of combining city with sea. It's totally worth the effort.
Your six main options are to take a private transfer, rent a car, take a shared shuttle van, fly direct in a small Cessna, take the ADO bus or fly to Huatulco and bus it.
Each option has its advantages and disadvantages when it comes to comfort, speed and budget.
AeroTucan Airlines
There are a few small airlines operating small Cessnas that fly from Oaxaca City to Puerto Escondido and Huatulco regularly. One is AeroTucan and the other AeroVega.
While the aerial views of the mountains and cliff faces can be incredibly scenic when the weather is clear, the experience is quite scary when the weather is poor or the winds are strong.
I don't have a fear of flying but have only taken this option twice.
Book your ticket online at the AeroTucan website, with a travel agency in Mexico or at the any of the airports they service. Their flights sell out quickly so if this is your preferred option, book well in advance.
Cost: Flying on AeroTucan is more expensive than the other options. You can spend as much as 3400 MXN pesos ($180.00 USD) for the 45 minute flight.
Aerovega
Aerovega is piloted by Don Vega who has flown the route thousands of times which offers some comfort to those with a fear of flying. You can also take your pet on a flight with Aerovega.
You can contact Aerovega via the AeroVega Facebook Page or by cell at 954-588-0062.
Cost per person is 3,000 MXN pesos to fly one way from Oaxaca City to Puerto Escondido.
ADO Bus Lines
Taking the overnight ADO bus while theoretically a wise option, is actually my least preferred option. This bus departs Oaxaca City and travels along route 190 and then 200 to Puerto Escondido.
It is stated to be a 9 hour ride but each time I've taken it, the reality was that the trip clocked in at 12 hours. The winding roads just made it seem endless.
Cost: The cost is up to 400 MXN pesos (depending on when you book and other factors. Check on the ADO website)
Private Transfer
The most comfortable way to get from Oaxaca City to Puerto Escondido is by private transfer. You'll travel in an air-conditioned, newer vehicle and can enjoy the mountain scenery without the stress of renting a car and driving yourself. It's also less crowded than a shared shuttle and generally travels at a slower, safer speed.
For those with a fear of flying in a small plane, it's the best option. While a private shuttle is more expensive, it can be worth it if the costs are shared with a group.
Check rates and availability of a Private Transfer from Oaxaca City to Puerto Escondido on Viator.com.
Shuttles Between Oaxaca City and Puerto Escondido
Although the prospect of seven hours of travel in a jam-packed "Suburban" on the tortuous, winding highway 175 between Oaxaca City and Puerto Escondido might seem daunting to those weak of stomach, don't despair. You don't need to take one of the aptly named "vomit comets "
Although the highway hasn't changed, the comfort level of travel has. Villa Escondida ( as well as several other shuttler services) offer 7-hour service in a comfortable mini-bus between the two destinations. If you're travelling solo, the departure may be delayed until a minimum of two passengers is reached.
Tip: DO NOT consider this option for night travel or during the rainy season
Reserve your seat in English by phone. They'll also pick you up at your hotel upon request. Villa Escondida offers a helpful seating map so you can reserve your seat in advance.
Unless you have a strong stomach and don't get motion sickness, the preferred seats are closest to the front of the mini-van. Seats 2 and 3 (directly behind the driver) are in top demand.
Daily departures from Puerto Escondido are almost hourly.
Address in Oaxaca City is Galeana No. 420
951 226-7419
Address in Puerto Escondido is Avenida Hidalgo across from Bananorte
954 120-4123 or 954 104-2469
$14 one-way or 300 pesos round-trip ( Subject to change)
Renting a Car in Oaxaca City and Puerto Escondido
Get handy tips on renting a car with details on costs, insurance in Mexico, safety and the best place to rent a car in our Guide to Car Rentals in Puerto Escondido.
I like to check online at Discover Cars to see what's available for the best price first. Then, I go and speak personally to the staff at the car rental agency as sometimes a better deal is available.
Getting to Puerto Escondido – Flights to Puerto Escondido (PXM)
The Puerto Escondido airport code is PXM. You can fly to Puerto Escondido (PXM) from Mexico City (MEX) on Viva Aerobus, Interjet, Volaris or Aeromar.
There are several flights daily and the cost is very low ( between $50 and $100 USD from MEX to PXM) if you book in advance directly on each of the airline's websites.
My personal preference is Viva Aerobus but watch for the extra charges when booking. For example, if you don't print your own boarding pass ( or have an electronic copy) you'll be charged a hefty $12 USD.
Here is the official Volaris website
You can also fly directly to Puerto Escondido from Queretaro Mexico via TAR Airlines.
There are no direct flights to Puerto Escondido from Toronto, Vancouver or Calgary or any other international destination. You will need to either connect in Mexico City or fly directly to Huatulco ( 2.5 hours away from Puerto Escondido) and take a shuttle, taxi or bus.
Depending on the timing of your flight connections, you'll likely need to overnight in Mexico City. These are our recommendations for the 3 Best Mexico City Airport Hotels.
Or, spend a few days in the Roma Norte neighbourhood or head out exploring Mexico City's attractions.
Getting to Your Hotel in Puerto Escondido from Puerto Escondido Airport
There are several car rental companies within Puerto Escondido airport but most people, if they aren't getting picked up by friends, family or their resort, will need to arrange transportation.
After leaving the baggage carousel proceed directly to the kiosk in front of the doors BEFORE you exit the terminal building. There is an ATM in the terminal building if you need to get pesos but it's preferable to exchange money or withdraw money in Mexico City airport.
You can choose to charter a private taxi or go in a colectivo ( shared mini-van). There is quite a big difference in price and the cost varies by which neighbourhood you are headed to. So, know the address (and neighbourhood) of your hotel or vacation rental before approaching the desk.
Sample Cost of a Taxi vs Shared Van (Colectivo) to the Rinconada area (January 2023):
50 MXN pesos colectivo per person
250 MXN pesos private taxi (4-5 people)
You will be given a ticket and as you depart the terminal building, one of the drivers will direct you to the appropriate vehicle. If you have chosen the colectivo option you'll need to wait until the mini-van is full before departing.
Another option is to walk to Highway 200 and hail a taxi, which will cost you 35 MXN pesos and up depending on your destination.
Getting to Puerto Escondido via Huatulco Airport (HUX)
If you don't fly to Puerto Escondido via Mexico City on Viva Aerobus, Interjet or TAR Airlines, you'll most likely arrive at the Bahias de Huatulco (HUX) airport. From there you have many options on how to get to Puerto Escondido, which is more than two hours away.
The most expensive option is by pre-arranged taxi service and the cheapest is by SUR bus. The difference in cost is significant $90 USD vs $3 USD (basically two evenings of dinners and drinks) so it's worth considering the pros and cons of all of the options.
Much depends on how much luggage you have, the number of travellers in your group, your arrival time etc.
Read our complete guide on Getting from Huatulco Airport to Puerto Escondido for a full analysis and step-by step instructions.
Also check out our guide to Huatulco's Best Beaches for some travel inspiration!
Taxis in Puerto Escondido
If you're walking down the street in Puerto Escondido and a taxi honks, it's likely not because you look especially fetching in your bikini.
It's how they signal to you that they are available! Taxis are safe, plentiful and economical in Puerto Escondido.
Cost of Taxis in Puerto Escondido
There are no meters on the taxis in Puerto Escondido. Instead, there are set rates for travel between neighbourhoods. Generally the cost ranges between 35 MXN and 55 MXN pesos depending on whether you're going for a short jaunt from the Rinconada to the Centro, or somewhere further like La Punta.
When taking a taxi in Puerto Escondido, it's important to carry exact change or small 20 and 10 peso bills. If you have only a 200 peso bill and your fare is just 40 pesos then you're going to have a problem at the conclusion of your ride as the driver will not have change or not want to change the bill.
In that case, you'll need to go into a small store and make a purchase in order to get the exact change. Or, forgo getting any change back from your fare.
It isn't customary to tip taxi drivers in Puerto Escondido — although I often do if they've helped me with groceries or are otherwise helpful.
How to Catch a Taxi
To catch a taxi, simply stand at the side of the road in a location where the driver can pull over and hail one. If he sees you, he'll flash his lights signifying he'll be pulling over.
When hailing a taxi, don't hail one with a sign on it that says Mercado or Chila or any other sign. Those are actually shared taxis following predetermined routes. They're most often orange and white in colour rather than the usual green.
Taxi Phone Numbers
It's also possible to phone a taxi to pick you up. This is most often done at restaurants or events. In that case the dispatcher will provide you (or whoever has called ) with the number of the taxi. Watch for the numbered vehicle as the driver will also have your name.
954 582 0990 and 954 582 0876
Weddings and Honeymoons in Puerto Escondido
Puerto Escondido is also growing in popularity among couples planning a romantic getaway, destination wedding or honeymoon.
The predictable sunny weather, picturesque Pacific Coast backdrops and affordability as well as a growing crop of luxury hotels in Puerto Escondido and resorts makes it a good alternative to Cancun, Riviera Maya and Puerto Vallarta.
Food and restaurants in Puerto Escondido
Read more:
9 Tips for a Romantic Getaway in Puerto Escondido
Massage Therapy in Puerto Escondido
Day Trips from Puerto Escondido
One of the top things to do in Puerto Escondido is to take a day trip to one of the beaches or coffee plantations.
There are plenty of attractions near Puerto Escondido that are perfect for day trips. Here are a few of our favourites:
Day Pass to Dreams Huatulco ( Bring the Kids)
Roca Blanca Beach: Day Trip to Untouched Mexico
Top Things to Do in Puerto Escondido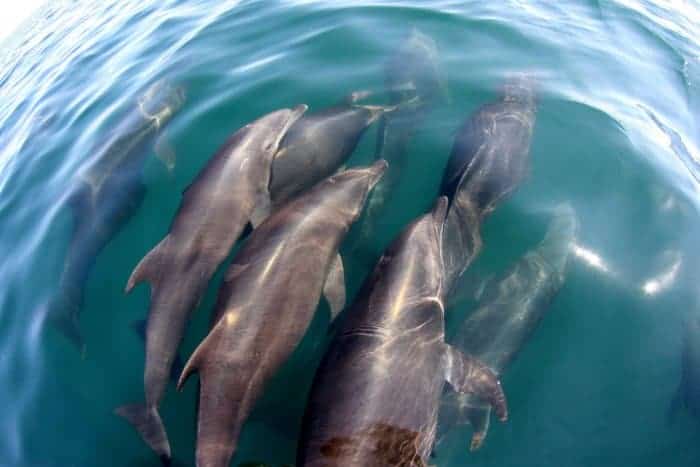 Have you ever dreamed of swimming with dolphins? Whether you're on a romantic getaway or a vacation with the kids, according to marine mammal experts, if you love dolphins and whales, you really have only one choice – and that's to swim with dolphins that are free and not held in captivity.
Puerto Escondido Oaxaca is an ideal place for interacting with dolphins, sea turtles and whales in their natural environment. You can be right in the middle of the marine action, watching hundreds of dolphins cavort in the water and if you're keen, don a snorkel mask and jump in the water with them.
Puerto Escondido is on a major migratory path for whales so you're also likely to see humpback whales and many species of dolphins such as spinners and white-bellies. I've even seen migrating whales while I floated in the swimming pool at Eglantina condominiums.
Other top things to do in Puerto Escondido include swimming in the bioluminescent Manialtepec Lagoon, a magical experience where you'll be surrounded by blue, glowing, phosphorescent plankton.
Be aware that there are crocodiles in the lagoons, rivers and estuaries throughout the world, including Mexico. You might be attacked and seriously injured if you swim in Manialtepec or other lagoons near Puerto Escondido.
Puerto Escondido is also a hub for projects helping to preserve Mixtec traditions by supporting the Tixinda Weaving Cooperative and coordinating educational tours such as shell-dying trips and the sale of Dreamweaver textiles.
Another top activity is to take a food tour. Gina's Foodie Tours begin at the Marina where you'll chat with local fishermen and tuck into a typical Oaxacan breakfast of nopal cactus, tortillas and beans.
Then it's off through the backstreets of Puerto visiting a traditional chocolate grinder, the homes of women making tamales and Benito Juarez Market.
There, you'll explore the indigenous stalls, learning how to identify epazote, pimiento gorda and nance.
Read more about the best things to do:
Horseback riding to Atotonilco Waterfall and Hot Springs
Alligators, Iguanas and more in Barra de Navidad
Celebrating Day of the Dead in Puerto Escondido
Puerto Escondido is an ideal jumping off point for travels to Chiapas and Guatemala (Check out the post Night Bus to Guatemala for the inside scoop on taking the bus to Lake Atitlan, Guatemala).
Costs and Money in Puerto Escondido
Unlike other parts of Mexico, US dollars are not widely accepted in Puerto Escondido.
You will need to get a small supply of Mexican pesos either at home before you depart, at the airport in Mexico City, upon arrival at Puerto Escondido Airport or an ATM machine.
How to use an ATM in Puerto Escondido
Save money and reduce hassles by choosing your ATM machine ( cajero automatico) wisely. Some tips:
It is prudent to have more than one way to access funds. Carry a debit card and a credit card for cash advances as a back up. Unlike other parts of Mexico, US dollars are not widely accepted.
Puerto Escondido Real Estate and Immigration Services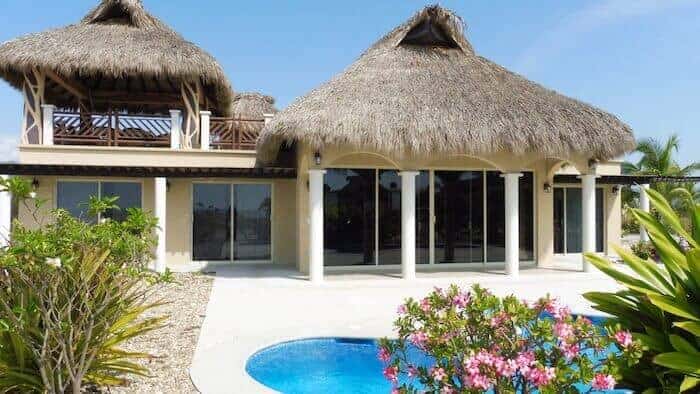 Spend any time at all in Puerto Escondido and you'll soon be dreaming about owning your own Puerto Escondido real estate on the beach or becoming a Permanent Resident.
Instead of struggling with the ever-evolving (and growing) documentation requirements of Mexico's tax and immigration laws, it's best to count on an expert to guide you through the process.
After all, the less time you spend on paperwork the more time you'll have to enjoy life in paradise. Born and raised in Canada, immigration whiz Helena of Immigration Services by Helena has lived in Mexico for 20 years and during that time has amassed a wealth of experience assisting clients with immigration and other documentation needs.
Assistance offered by Immigration Services by Helena include:
1. Documentation procurement, guidance and completion for Temporary and Permanent Residence Visas
2. Notifications to Immigration Authorities on changes of address, marital status, workplace or nationality
3. Translation
4. Tax Registration
5. Assistance at immigration offices in Puerto Escondido
6. Document procurement and legalization of documents issued in Mexico, including birth and marriage certificates
7. Assistance with Puerto Escondido Mexico real estate transactions
8. Exit and Entry Permits
9. Outbound visas
10. Other compliance requirements and cooperation with authorities within Mexico's highly complex and rapidly changing regulatory framework
Contact her by email at lucysonido@hotmail.com for cost estimates. 9:00 am – 5:00 pm Monday-Friday
Surf Lessons and Surf Camp in Puerto Escondido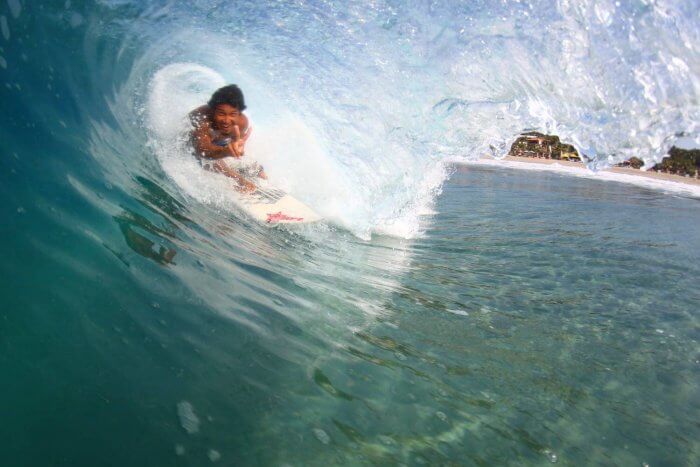 Thanks to the Mexican Pipeline, an epic wave break at Zicatela beach, Puerto Escondido is a mecca for serious surfers. If you're tempted to get your board shorts on and carve a wave of your own, you're wise to go with a pro. The waves are as ferocious as they are legendary. Reaching heights of 20 feet, they're not for the timid or inexperienced.
In Puerto Escondido, surfing is more than just a sport – it's a way of life. Check out these surfing quotes about travel, life and surfing for some inspiration.
When planning your trip, note there are two surfing seasons in Puerto Escondido. The rainy season sees the most wave action and international surfing tournaments while the dry season (November-April) has more manageable waves. Get Surf reports with swell heights, wind and tide info or watch the HD Surf Cam at Surfline.
Fortunately, there are plenty of surf schools in Puerto Escondido to choose from. Here are the top spots for surf lessons in Puerto Escondido:
Zicazteca Surf School
Located on Zicatela Beach and run by surf pro Julio Soto Novola, features a two-hour class with transportation, surf board, rash guard and board shorts for the ladies (so you needn't worry about losing a bikini). Julio is also an accomplished surfboard artist and muralist.
Oasis Surf and Language School
Oasis Surf School is another top choice, combining Spanish and Surfing lessons all-in-one. Newbie surfers will be equipped with everything needed to start surfing: surfboards, rash-guards, transportation to the beach and the surf instructor. All instructors have Level 1 Surf Coaching Course and Red Cross First Aid Course training. The surf boards are made by Roger Ramirez who owns the Oasis Surf Factory and Surf School.
Oasis Surf also offers surf retreats and surf camps in exciting surf destinations such as Oaxaca, Hawaii and the Azores. Check their website for dates www.spanishandsurflessonsmexico.com
Study Spanish in Puerto Escondido
While taking Spanish language classes in Puerto Escondido is not as inexpensive as studying Spanish in Guatemala or Oaxaca City, there is the added bonus of being able to enjoy the beach!
Here are three popular choices for well-established Spanish Language Schools in Puerto Escondido.
Oasis Surf Factory and Language School
Even your pre-schooler can take Spanish classes at this professional language school located in the Rinconada neighbourhood. The school offers Beginner, Intermediate and Advanced classes as well as specialized Medical Spanish for health care professionals.
A full slate of cultural activities is available, including a Learn-to-Surf program. The school can also arrange volunteer experiences if you'd like to give back to the community and practice your new lingo at the same time.
Classes at the Oasis Surf Factory and Language School are held indoors on the Rinconda just steps to beautiful Carrizalillo Beach.
Experiencia Puerto Escondido
Another well established school where you can take Spanish lessons and surf classes is located just off Highway 200 above Zicatela Beach. The breezy location of Experiencia Puerto Escondido on top of a hill makes it a pleasant place to study outdoors. Classes begin on Mondays year-round.
Calli Language School
You'll get plenty of opportunity to practice the Spanish you learn at Calli Language School on the Rinconada. Classes start any day of the week and you can choose from private or group lessons in the air conditioned classrooms.
I hoped you enjoyed this Puerto Escondido Travel Guide! I've tried to make it as complete as possible.
But if you think we are missing anything, please let us know in the comments below.
FAQs
Does Puerto Escondido have a rainy season?
The rainy season in Puerto Escondido begins in May and continues through October. This coincides with the Pacific hurricane season. While there is a risk of tropical storms during this season, quite often the rainfall is intense for short bursts of time and it's sunny the rest of the day. May to October is Puerto Escondido's greenest season.
Why is Puerto Escondido so popular?
Puerto Escondido, Oaxaca is popular for its surfing, laid-back atmosphere, wealth of beaches, abundant sunshine and Mexican culture, including its famous Oaxacan cuisine. It's become increasingly popular as a destination for digital nomads as an alternative to Tulum and Playa del Carmen.
Save to Pinterest!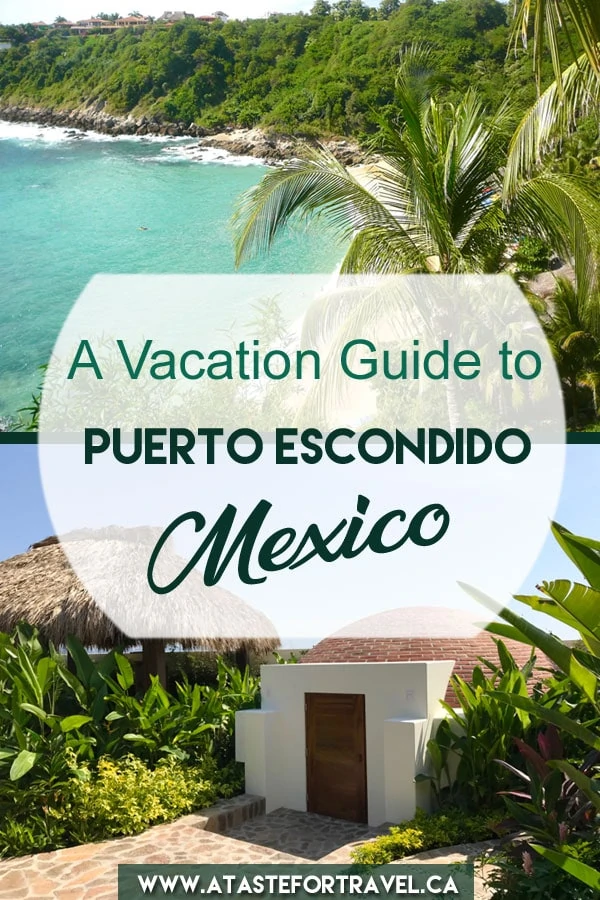 Dividing her time between Canada, Guatemala and Mexico (or the nearest tropical beach), Michele Peterson is the founder of A Taste for Travel. Her award-winning travel and food writing has appeared in Lonely Planet's cookbook Mexico: From the Source, National Geographic Traveler, Fodor's and 100+ other publications.
Read more about Michele Peterson.