We may earn income from links in this post. Please read this Disclosure for details.
Looking for the best Puerto Escondido beaches? In Puerto Escondido, Oaxaca located north of Huatulco, Mexico and south of Acapulco on the Pacific coast of Mexico, there's a beach for every day of the week and mood.
While living in Puerto Escondido, and researching Mexico's Pacific Coast for Fodor's guidebook and Lonely Planet's Mexico from the Source, I spent a lot of time on beaches. And I'm convinced that the beaches in Oaxaca are some of the best in Mexico!
Here's the complete guide to the best Puerto Escondido beaches to suit your travel style as well as the top spots from Bacocho to Zicatela beach for swimming, surfing, snorkelling or just chilling out.
1. Carrizalillo Beach
Best Beach in Puerto Escondido for Swimming, Lounging, Surfing
The name of this beach Playa Carrizalillo (Car-eet-sa-lee-o) might be difficult to pronounce, but scramble 167 stone steps down a cliff and you'll be rewarded with Puerto's prettiest (and most swimmable) beach. It regularly tops the lists of the best beaches in Mexico.
Gentle waves, turquoise waters and sheltered shores make Carrizalillo beach popular with couples and families with kids. It's also quite near Puerto Escondido airport – perfect if you want to hop off the plane and head straight to the beach! There are public washrooms (for a fee) and several restaurants on this beach.
For dining, the Rinconada (the main street above the beach) is home to the best selection of upscale restaurants in Puerto Escondido.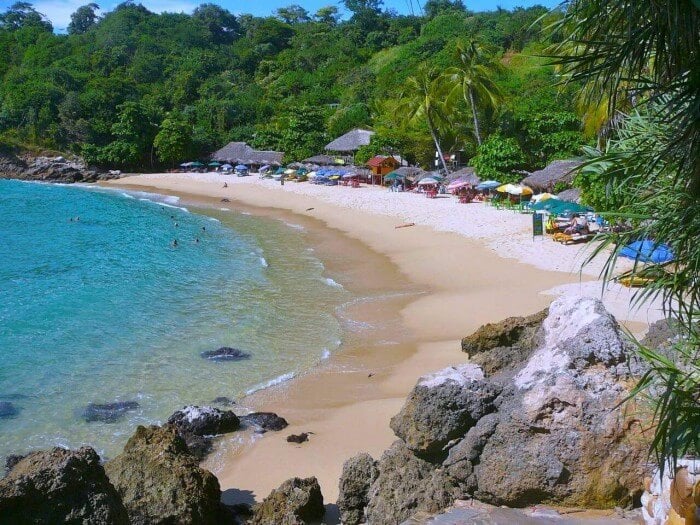 This beach is also a good option for beginner surfers seasonally. There are a few surfing schools nearby, the best known of which is Oasis Surf & Language School, where you can take Spanish classes ( in an air-conditioned classroom!) and learn to surf – the best of both worlds.
Along with Manzanillo Beach described below, Carrizalillo Beach offers the best snorkelling in Puerto Escondido if you're wondering where to snorkel from shore. There are coral reefs and the municipality is making effort to promote sustainable tourism and hopefully achieve Blue Flag status, a designation that recognizes environmentally responsible beach management practices.
For the best snorkelling on this stretch of Mexico's Pacific Coast, your best option is to head south 2.5 hours for snorkelling in Huatulco where the visibility is better and there are more underwater formations.
Check rates and availability at Villas Carrizalillo, a boutique Puerto Escondido hotel.
Many of Puerto Escondido's best condos, apartments and B & Bs are located within walking distance to Carrizalillo Beach. Check out our Ultimate Guide to Puerto Escondido Vacation Rentals for listings.
2. Manzanillo Beach
Best Beach for Lounging, Restaurants, Snorkelling and Swimming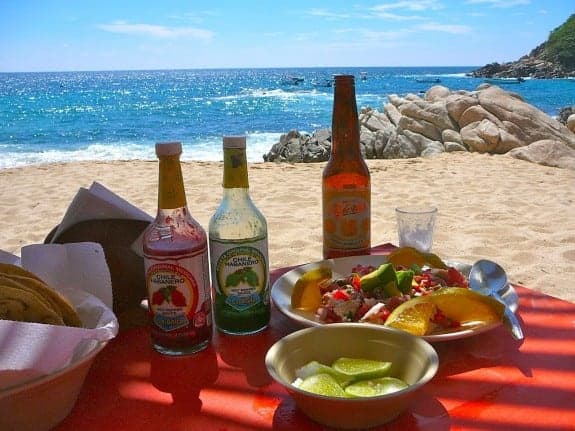 This crescent-shaped Playa Manzanillo beach located near the heart of town shares the bay with the tiny fishing port of Puerto Angelito. It's a favourite with local Mexican families who flock to picnic at the edge of the calm waters or go snorkelling among schools of bright-hued fish.
If you're going to go snorkelling, it's worth considering an eco-friendly sunscreen. Many beach destinations around the world are banning sunscreen due to the damage its chemicals such as oxybenzone and octinoxate can cause to coral reefs and marine life.
Along with Playa Carrizalillo, Manzanillo Beach is one of the best Puerto Escondido beaches for swimming. My favourite spot to sip a margarita is la Palapa de Carrasco, operated by restauranteurs Pablo Carrasco and his wife Isadora Rivero.
Lounge chairs come topped with pillows, rainbow-coloured serapes and big-shade umbrellas so plan to spend a full day. Roving mariachis singing romantic ballads and traditional ranchero songs add to the lively vibe.
Get our playlist of Top Mariachi Songs to Request on the Beach
There are fewer stairs to access Manzanillo beach than Playa Carrizalillo. Plus it's possible to take a taxi to Playa Angelito and walk across the walkway to Manzanillo beach. This makes it a good option for families with small children, those with lots of beach gear or people with mobility issues.
There are some large rocks in the water at Playa Manzanillo, but they can easily be avoided. No dogs are allowed on the beach.
Best Hotel: Hotel Barlovento is within easy walking distance.
3. La Punta Puerto Escondido
Laid-back beach with surfing, budget accommodation and loungers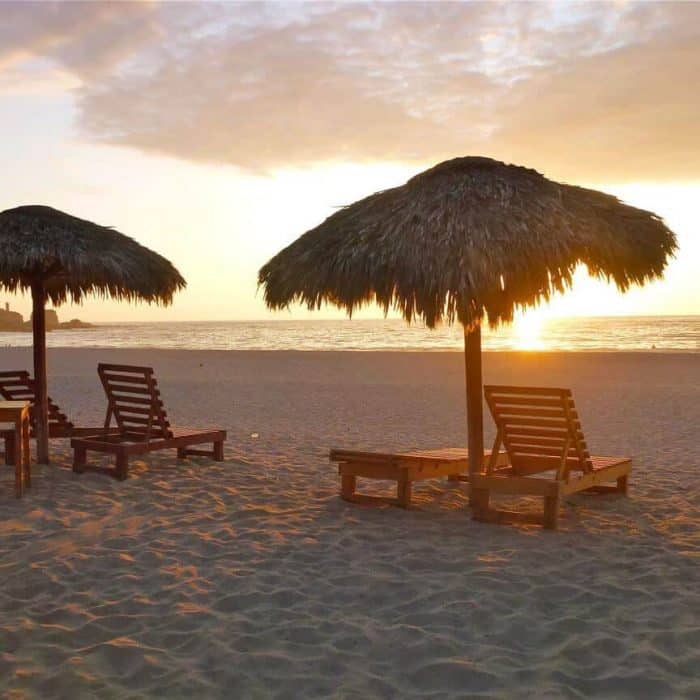 Full moon parties, sandy streets and tattooed surfers toting custom surfboards create a laid-back vibe at La Punta, a remote stretch of beach at the southeast end of town.
It's named for the rocky point that lures sunset lovers, fishermen and photographers. It's also a popular beach for Puerto Escondido surfing and boogie boarding. It's ideal for those who like outdoor activities.
At nightfall, head to One Love Restaurant an eco-chic hostel that has a great onsite restaurant and a hip vibe. La Punta is also the best neighbourhood for vegetarian and vegan restaurants in Puerto Escondido.
Check rates and availability at Hotel Casamar Suites on Booking.com.
Check rates and availability at One Love Hostal Puerto Escondido on Booking.com.
4. Bacocho Beach
Best Puerto Escondido beach for long walks, seclusion and upscale beach clubs with swimming pools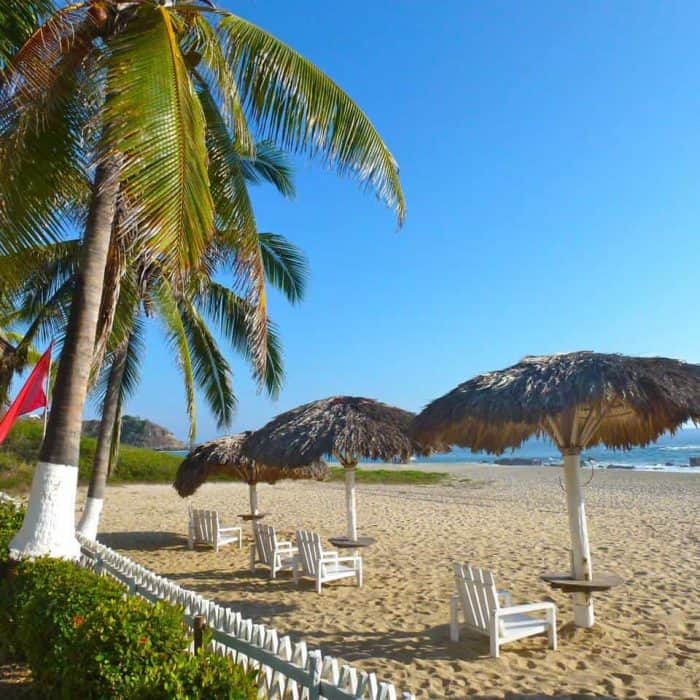 Play castaway on this windswept beach at the edge of town. Interesting rock formations and an almost endless stretch of sand make Playa Bacocho one of the best Puerto Escondido beaches for strolling couples, nature lovers and fitness buffs.
Pack water if you plan to make a dent in the 25-kilometre long expanse of golden sand.
Or choose resort living for a day at Villa Sol Beach Club. With two pools (one a large freeform and the other for kids), a swim-up pool bar, sprawling landscaped gardens and towering palm trees you'll feel as though you're at swanky resort. The cost of admission is 600 MXN pesos per adult and 300 MXN pesos per child.
Happy Hour cocktails are served between 12 noon and 1:00 p.m. It's also a prime turtle nesting beach so you can often witness a sea turtle nesting or participate in a turtle release.
Although Playa Bacocho has no facilities (apart from a lifeguard), you can eat at Pez Gallo restaurant at Villa Sol Beach Club. It's one of our top choices for breakfast in Puerto Escondido.
Check rates and availability at Hotel & Suites Villasol on Booking.com.
Check rates and availability at Hotel Posada Real on Booking.com.
5. Playa Coral
Best secluded beach in Puerto Escondido
Also known as "hidden beach" Playa Coral is popular among locals and those in-the-know. Located next to Bacocho Beach down a steep hill, it features dreamy white sands, clear waters and lofty palm trees yet sees few crowds even in high season.
Getting to Playa Coral isn't the easiest. To get to this hidden beach you have a few options. The first is to walk down a rather steep footpath that can be accessed at the eastern end of Benito Juárez Boulevard on the Rinconada. (see map below)
Access is via a dirt footpath and there are no stairs so it's not suitable for people with mobility issues.
Another way to get to Playa Coral is to access it from Bacocho Beach past Coco's Beach Club, the beachfront restaurant and pool zone for the Posada Real Resort, one of the few all-inclusive hotels in Puerto Escondido. You'll need to cross over some rocks but at low tide, access is quite easy.
While Playa Coral is one of Puerto Escondido's most beautiful and romantic beaches, be sure to bring sunscreen plus your own food and drink as the facilities at the abandoned waterpark onsite are not always available.
Leave valuables at home and use caution when swimming in this area as there is a steep drop-off and the undertow can be strong depending on sea conditions.
Check prices and availability at Las Turquezas Hotel on Booking.com.
6. Playa Principal Beach
Best beach for Mexican atmosphere, fishing boats and convenience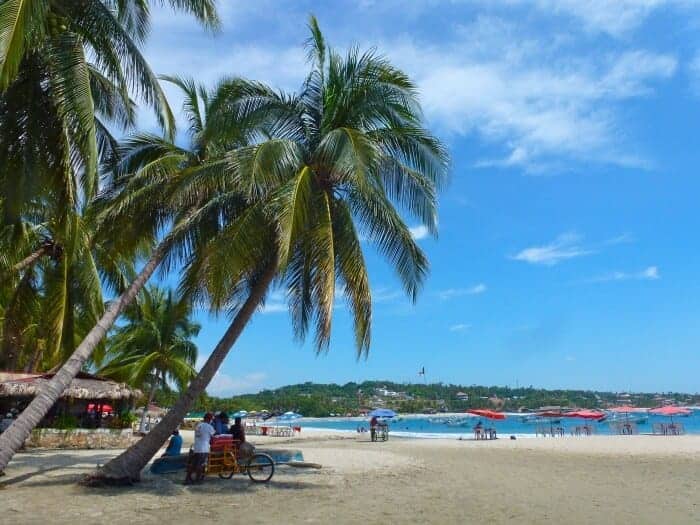 Sun worshippers are drawn to Principal in the heart of town where the beach is narrower which means the water is just a few steps away. Technically, the most traditional of Puerto Escondido beaches, Playa Principal is where pilgrims head after visiting the shrine to the Virgin of Juquila, one of the world's top Catholic shrines. It's also where the annual "Blessing of the Fishes" boat procession takes place each December.
Although this beach isn't the cleanest in town, you can wind up your afternoon by browsing El Adoquin, a lively pedestrian zone of souvenir shops, beach bars and restaurants. It's also quite close to the OCC bus station on Highway 200 so you can easily walk to Playa Principal if you've just arrived.
7. Playa Marinero
Best beach for body surfing, bbq and live music in Puerto Escondido
Technically Playa Marinero and Playa Principal are one continuous beach. But during the rainy season, a lagoon sometimes forms, separating them into two distinct areas.
You can also access Playa Marinero from Calle del Morro via a walkway across from Hotel Santa Fe or between the rock formations home to the "hand sculpture" a popular photo-op
Marinero Beach scores high marks from body surfers and you can rent boogie boards from vendors right on the beach.
Check rates and availability at Hotel Santa Fe on Booking.com.
8. Zicatela Beach – Playa Zicatela
Best Puerto Escondido beach for nightclubs, restaurants, walking, surfing and the "scene"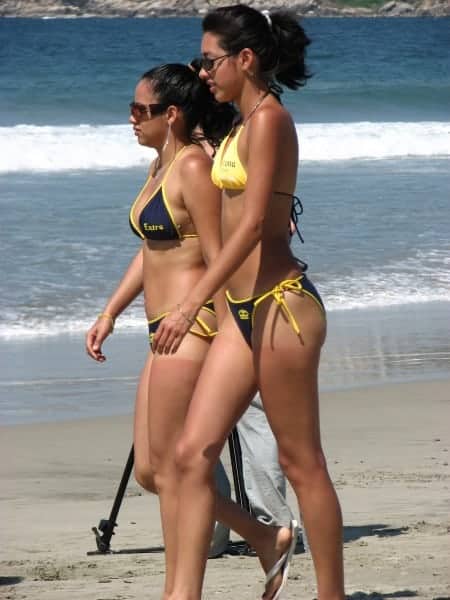 If the Kardashians came to Puerto Escondido this is where they'd hang out. It's one of the most famous beaches of Puerto Escondido and is known as a world-class destination for surfers.
Playa Zicatelas is home to the epic Mexican Pipeline, an unforgiving wave break that draws surfing aficionados from around the world. You can take one-on-one or group surf lessons in English or Spanish, watch international surf tournaments or take a surf tour with a pro.
If you brought your own surf board, such as one of these great travel surf boards featured at GloboSurfer.com, you can get it custom-painted by local artist/surf instructor Julio Soto Noyola.
Or, rent a surf board by the hour, the day or weekly from one of the many surf shops.
You'll find plenty to do on the promenade of the most popular Puerto Escondido beach. Downward dog it at a yoga class, relax in a temazcal (traditional sweat lodge) or lounge in a breezy Bali bed. It's also one of the best places to watch the sunset.
Gnarly waves and a strong undertow make Playa Zicatela dangerous for non-surfers. Depending on the tides, you can flaunt your new bikini in one of the shallow tidal pools.
The main strip, Calle del Morro, is packed with bars and restaurants. You can party until dawn at nightclubs such as Barfly and Playa Kabbalah. Along with La Punta, this is the best place for late-night nightlife in Puerto Escondido.
Check rates and availability at Selina Puerto Escondido on Booking.com.
Check rates and availability at Hotel Rockaway Puerto Escondido on Booking.com.
Save to Pinterest!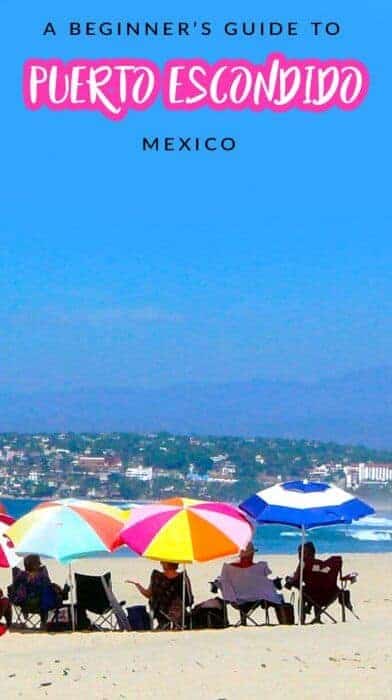 Puerto Escondido Beaches Travel Guide
And that's not the end of our travel tips and things to do in Puerto Escondido Oaxaca Mexico! Read our Puerto Escondido Travel Guide for more information on hotels, things to do, day trips and more in Puerto Escondido.
Like this Post? You Might Also Enjoy:
How to Get from Huatulco to Puerto Escondido
Swimming in Puerto Escondido's Bioluminescent Lagoon
9 Tips for a Perfect Romantic Getaway in Puerto Escondido, Oaxaca City
Food and Drink to Try in Puerto Escondido
Day Pass ( Bring the Kids) to Dreams Huatulco Resort & Spa
7 Reasons to Love Mazunte & San Agustinillo
Dividing her time between Canada, Guatemala and Mexico (or the nearest tropical beach), Michele Peterson is the founder of A Taste for Travel. Her award-winning travel and food writing has appeared in Lonely Planet's cookbook Mexico: From the Source, National Geographic Traveler, Fodor's and 100+ other publications.
Read more about Michele Peterson.