&nbsp
Beginner's Guide to Puerto Escondido Beaches
Trying to decide where to go among Puerto Escondido beaches? In Puerto Escondido, located north of Huatulco Mexico and south of Acapulco on the Pacific coast of Mexico, there's a beach for every day of the week and  mood.
Here's the complete guide to finding the best of Puerto Escondido beaches to suit your travel style as well as the top spots from Bacocho to Zicatela beach to lay your beach blanket, go surfing, do some snorkeling or just chill out.
Carrizalillo Beach: Chill Out
The name of this beach – Playa Carrizalillo (Car-eet-sa-lee-o) might be difficult to pronounce, but scramble 167 stone steps down a cliff and you'll be rewarded with Puerto's prettiest (and most swimmable) beach. it regularly tops the lists of the best beaches in Mexico. Gentle waves, turquoise waters and sheltered shores make these waters popular with couples and families with kids. Its also quite near Puerto Escondido airport – perfect if you want to hop off the plane and head straight to the beach!
Perched on a cliff overlooking the beach is Villas Carrizalillo, the most secluded and romantic Puerto Escondido hotel. Cocktail hour at its Sunset Bar is a classic. Or, buy a dozen fresh-from-the-sea oysters for just $1.00 and you've got the perfect beach snack. Many of Puerto Escondido's best condos, apartments and B & Bs are located within walking distance to Carrizalillo Beach. Check out our Ultimate Guide to Puerto Escondido Vacation Rentals for resources, tips and listings. Along with Manzanillo Beach described below, Carrizalillo Beach offers the best snorkeling in Puerto Escondido if you're looking to do some snorkeling from shore.
For the best snorkeling on this stretch of Mexico's Pacific Coast,  your best option is to head south 2.5 hours for snorkeling in Huatulco   where the visibility is better and there are more underwater formations.
Manzanillo Beach: Viva Mexico!
This crescent-shaped Playa Manzanillo beach located near the heart of town shares the bay with the tiny fishing port of Puerto Angelito. It's a favourite with local Mexican families who flock to picnic at the edge of the calm waters or go snorkeling among schools of bright-hued fish. Roving  mariachis singing romantic ballads and traditional ranchero songs add to the lively vibe.
This beach is one of the best of Puerto Escondido beaches for non-swimmers. My favourite spot to sip a margarita is la Palapa de Carrasco, operated by restauranteurs Pablo Carrasco and his wife Isadora Rivero. Their son, Pablo Carrasco, a friendly guy who also happens to be a  lawyer, is often on hand to welcome guests with a cool drink and the latest scoop on local happenings.  Lounge chairs come topped with pillows, rainbow-coloured serapes and big-shade umbrellas so plan to spend a full day.
RELATED: Top Mariachi Songs to Request on the Beach
La Punta Beach: Barefoot Chic
Full moon parties, sandy streets and tattooed surfers toting custom surfboards create a laid-back vibe at La Punta, a remote stretch of beach named for the rocky point that lures sunset lovers, fishermen and photographers. It's also a popular spot for Puerto Escondido surfing and boogie boarding and is a favourite with those who like outdoor activities. 
At nightfall, head to Osa Mariposa, a beach-bungalow hostel with veggie fare and a hip mescal bar featuring the potent artisanal liquor distilled from agave. La Punta is also tops among Puerto Escondido beaches for vegetarian and vegan cuisine at eateries such as  One Love Restaurant, an upscale hostel that also has great food. 
RELATED: If you're tired of beaches but want to stay on the water, don't miss the boat tours in Manialtepec Lagoon.
Bacocho Beach: Wet and Wild
Play castaway on this windswept beach at the edge of town. Interesting rock formations and an almost endless stretch of sand make Playa Bacocho one of the best Puerto Escondido beaches for strolling couples, nature lovers and fitness buffs. Pack water if you plan to make a dent in the 25-kilometre long expanse of golden sand. 
Or choose resort living for a day at Villa Sol Beach Club. With two pools (one a large freeform and the other for kids), a swim-up pool bar, Pez Gallo a new upscale restaurant, sprawling landscaped gardens and towering palm trees you'll feel as though you're at swanky resort. The cost? Admission is less than $5.
Happy Hour cocktails are served between 12 noon and 1:00 p.m. It's also a prime turtle nesting beach so you can often witness a sea turtle nesting or participate in a turtle release.
Principal and Marinero Beaches: Body Surfing & BBQ
Sun worshippers are drawn to Principal and Marinero beaches in the heart of town. The most Mexican of Puerto Escondido beaches, these shores are also where pilgrims head for purification after visiting the shrine to the Virgin of Juquila, one of the world's top Catholic shrines, and where the annual "Blessing of the Fishes" boat procession takes place each December.
Although these beaches aren't the cleanest in town, they score high marks from body surfers. Rent boogie boards from vendors right on the beach and wind up your afternoon by browsing El Adoquin, a lively pedestrian zone of souvenir shops, beach bars and restaurants. At Brad's Split Coconut, under a set of shady palm trees on Marinero Beach, grab a plastic chair and dig your toes into the sand. Then dive into a rib dinner from his "bone suckin' good" barbecue menu.
Zicatela Beach: The Scene
If the Kardashians came to Puerto Escondido this is where they'd hang out and it is one of the most famous beches of Puerto Escondido. Playa Zicatelas is home to the epic Mexican Pipeline, an unforgiving wavebreak that draws surfing aficionados from around the world, it's also the place to see and be seen. But even if you're not a celeb, you'll find plenty to do on one of the most popular Puerto Escondido beaches. Downward dog it at a yoga class, relax in a temazcal (traditional sweat lodge) or lounge in a breezy Bali bed and watch the tanned and toned crowd.
Gnarly waves and a strong undertow make Punta Zicatelas dangerous for non-surfers. But depending on the tides, you can flaunt your new bikini in one of the shallow tidal pools without too much risk. The main strip, Calle del Morro, is packed with restaurants and you can party until dawn at nightclubs such as Barfly and Playa Kabbalah.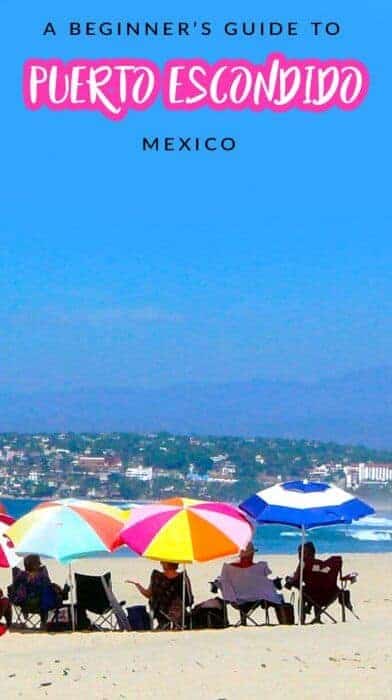 Puerto Escondido Beaches Travel Guide
Disclosure: A Taste for Travel participates in affiliate advertising programs. By providing handy links, we may earn a commission. However our opinions are our own and we only link to companies and products that we trust. Read more on our Disclosure Page. 
And that's not the end of our travel tips and things to do in Puerto Escondido Oaxaca Mexico! Read our Puerto Escondido Travel Guide for world travelers for more information on hotels, things to do, day trips and more in Puerto Escondido.
Or go directly to these posts:
Swimming in Puerto Escondido's Bioluminescent Lagoon
9 Tips for a Perfect Romantic Getaway in Puerto Escondido, Oaxaca City
Food and Drink to Try in Puerto Escondido
Massage Therapy in Puerto Escondido, Mexico 
Day Pass ( Bring the Kids) to Dreams Huatulco Resort & Spa