We may earn income from links in this post. Please read this Disclosure for details.
Wondering about snorkeling in Huatulco? Situated on a sunny stretch of Mexico's southern Pacific coastline and dotted with 36 sheltered beaches, a wealth of dive sites and extraordinary sea life, this region offers some of the best snorkeling in Mexico.
In fact, taking a snorkeling tour is one of the top things to do in Huatulco for people who love outdoor adventure.
I've been exploring the state of Oaxaca since my first visit in 2003. Between living in Puerto Escondido and researching Mexico's Pacific Coast for Fodor's Oaxaca Travel Guide and Lonely Planet's Mexico from the Source, I've spent a lot of time in Huatulco.
It's one of my favourite places to visit! This detailed guide offers tips on where to find the best snorkeling in Huatulco whether you're looking for a guided tour excursion or just planning to snorkel from shore.
Underwater Life at Huatulco National Park
While the Pacific Coast of Mexico is not as well known for snorkeling as the island of Cozumel in the Caribbean, much of the coast of Oaxaca around Huatulco is protected from development.
Declared a national park in 1998, Bahías de Huatulco National Park or Huatulco National Park is one of the largest protected areas in southern Mexico.
This helps support rich marine life and healthy reefs which make for good snorkeling and scuba diving.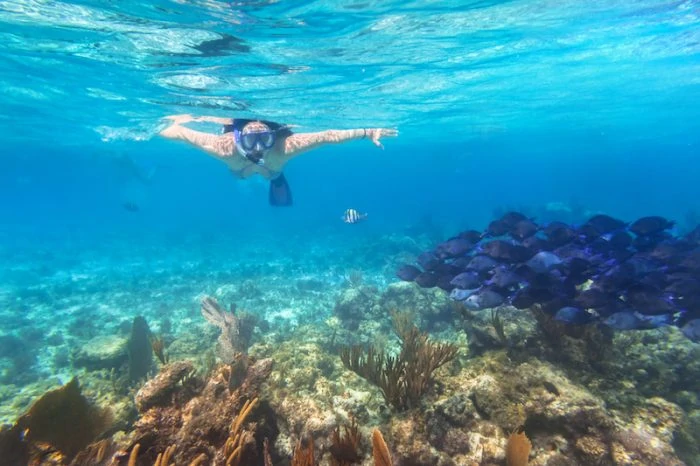 On a Huatulco snorkel tour, you can expect to see olive ridley sea turtles as well as several species of fish including parrotfish, needle fish, grouper, snapper, angelfish as well as manta rays and eagle rays.
You may even see a seahorse, one of the world's cutest fish breeds. They inhabit the waters of the Pacific and are often seen around Huatulco.
It's also possible to snorkel directly from several of Huatulco's top beaches. While you won't see as much marine life as you would on a snorkeling tour it's still a memorable experience.
Choosing the Best Huatulco Snorkeling Tours
There are several types of snorkeling tours in Huatulco.
You can choose from a 7 hour or a 4 hour tour of the Bahias de Huatulco, on either a private or public tour (colectivo) where you'll be sharing a boat with other people.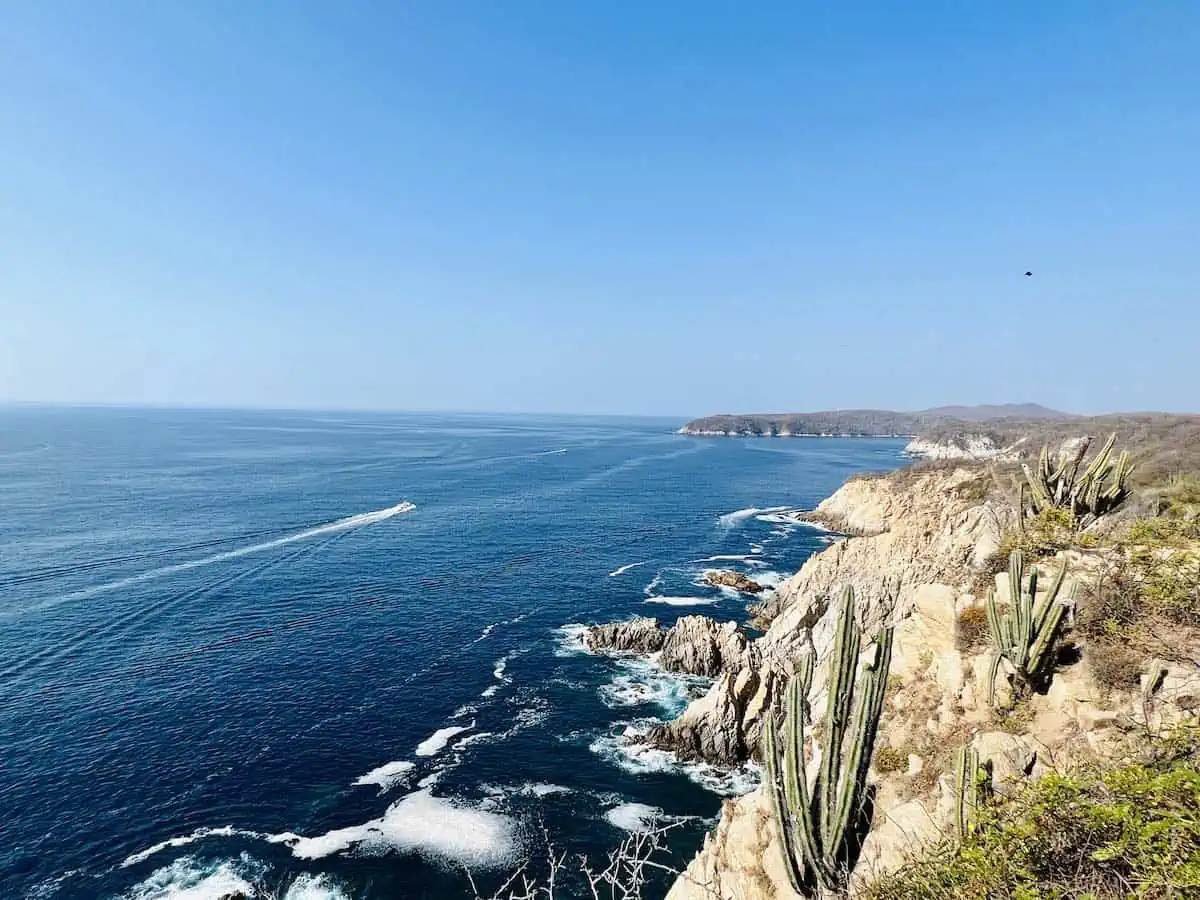 The advantages of taking a boat tour include:
Being able to snorkel in remote bays such as Bahia San Agustin, Bahia de Cacaluta Cacaluta and Chachacual Bay, home to Playa La India, known for its incredible white sand. Many of Huatulco's bays are difficult to access without a boat as you need to hike through the jungle or drive down a dusty trail to find them.
Boat tours include free time for lunch, water sports and relaxing at beach restaurants.
A guide can help identify marine life you might miss on your own.
Snorkel equipment is provided.
You'll enjoy panoramic sightseeing. Highlights include El Faro (lighthouse) and impressive rock formations such as "Bufadero" a large blow hole on the coast.
Check rates and availability of a Full Day Tour of the Bays of Huatulco on Viator.com.
If you're travelling with a family or group of friends, it's worth considering a Private Tour of the Bays of Huatulco.
Not only will you get picked up and dropped off at your Huatulco hotel but a private tour will include a visit to Playa San Agustin.
Check rates and availability of a Private Tour of the Bays of Huatulco on Viator.com.
Other Sightseeing Tours of the Bays of Huatulco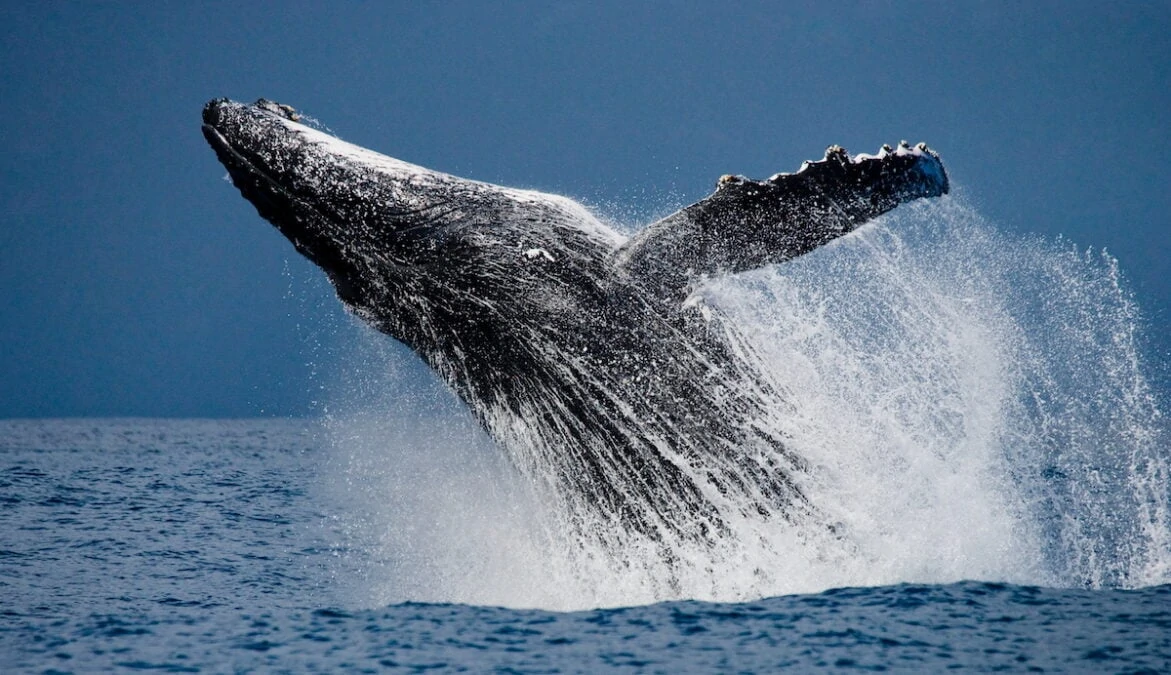 It's also possible to see several species of dolphins on a boat tour of the Bahías de Huatulco.
It's especially exciting to see spinner dolphins, bottlenose dolphins, rough-toothed dolphins and other playful types of dolphins as you travel between the bays.
Another highlight of a tour of Huatulco's bays is seeing migrating humpback whales as they head south in December and return north in March.
Huatulco's Unpolluted Water Offers Prime Snorkeling in Mexico
When it comes to clean, non-polluted waters, Huatulco offers some of the best snorkeling in Mexico.
The beaches in Huatulco consistently receive high marks for cleanliness by SEMARNAT, the government agency that monitors the water quality of the beaches in Mexico.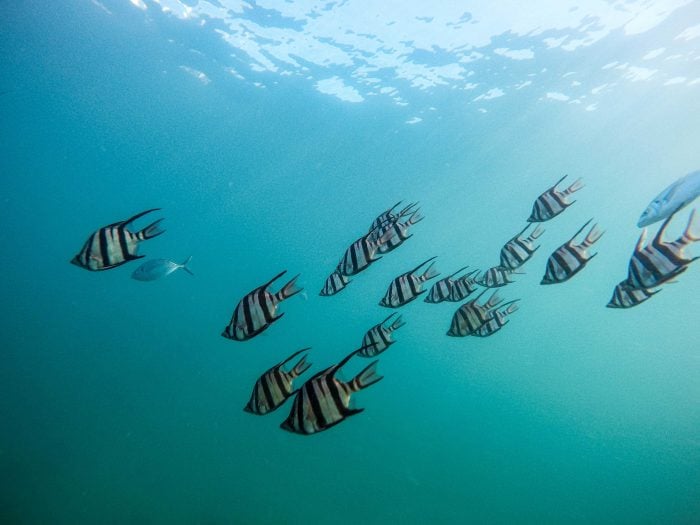 Three times a year they publish water quality results measuring the enterrococcus fecal bacteria levels. A score of more than 200 per 100 milliliters of water means swimming is unsafe and the waters are too polluted for human health.
Under its Clean Beaches Program, the agency monitors 15 beaches and 17 sites within the three main tourism areas of Oaxaca. Generally, the beaches in Huatulco receive the best score for cleanliness.
That's important if you're planning on spending a lot of time in the water or are looking for the best family beaches in Mexico.
To help keep Huatulco's waters clean, be sure to pack biodegradable sunscreen and a rashguard shirt with high SPF protection.
Scuba Diving and Snorkeling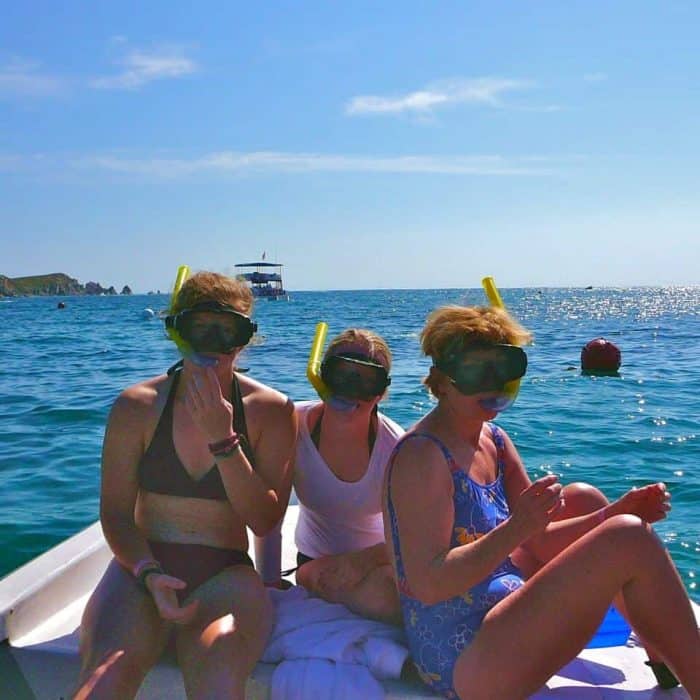 Another option is to take a tour with Hurricane Divers, a PADI Dive Center. During my all-day Snorkel Excursion with a Tour of the Bays with Hurricane Divers, the waters were teeming with a fascinating type of sea creature — sardines!
Compared to swimming with dolphins, swimming with sardines probably doesn't rank high on the lifetime bucket list for most people.
But, as I plunged headfirst into a school of thousands of the graceful acrobats, I discovered that the tiny silver fish has its own special charms. They shape-shifted from a shadowy cloud into a shimmering ribbon of silver that swirled around my body like a wisp of fine silk.
Then, moving in unison, they morphed again – this time into a blanket that blocked out the sunlight and threw the coral reef into darkness. It was really a magical experience.
Importance of Safety
Anyone who has read my post the Beginner's Guide to Snorkeling Grenada's Underwater Sculpture Museum, knows that although I love the ocean, I'm not the most confident swimmer.
When deciding on a snorkeling excursion, it's extra important for me to choose a safe tour operator.
When booking a snorkeling tour in Huatulco look for modern boats with canopies for shade as well as life vests, mobile phones, safety equipment and first aid kits. If you're taking a full day tour, the boat should be large enough to handle the larger waves of the Pacific Ocean in the distant coves.
If you're not an experienced swimmer, study what to do if you find yourself caught in a rip current BEFORE you go.
While most tours do supply snorkeling masks and fins, many people prefer to snorkel with a full-face snorkel mask for comfort, visibility and enhanced protection from water leakages.
If you do, then you'll need to bring your own. If you're considering purchasing a full face snorkel mask, consult this Guide to Buying a Full Face Snorkel Mask comparing different brands.
Snorkeling at San Agustin Beach
When it comes to variety of fish, abundant coral and calm waters, you don't want to miss snorkeling in the Bahia San Agustin.
This western bay in the Bahías de Huatulco area has incredible, sapphire-blue waters and offers the best snorkeling in Huatulco.
Located an hour by boat and a $20 USD cab ride from the luxury hotel zone of Tangolunda Beach, San Agustín Beach is relatively deserted, apart from a few seafood palapas (thatched huts).
It flanks Huatulco National Park, a 119 sq. km. ecological reserve at the base of the Sierra Madre Sur. You can also do as we often do and rent a car to spend the whole day there.
Check for the best car rental rates at Discovercars.com
If you take a full day boat tour, you'll visit Bahia San Agustin as one of the first stops and anchor offshore.
With its sheltered calm waters and underwater visibility of up to 18 metres, even novice swimmers can spot florescent damsel fish, spiny black sea urchins and eels ducking through the crevasses of the coral reef.
Private Snorkeling Tours to Chachacual Bay
Another top place to snorkel in Huatulco is at Chachacual Bay, home to the two beautiful beaches of Playa Chachacual and Playa La India.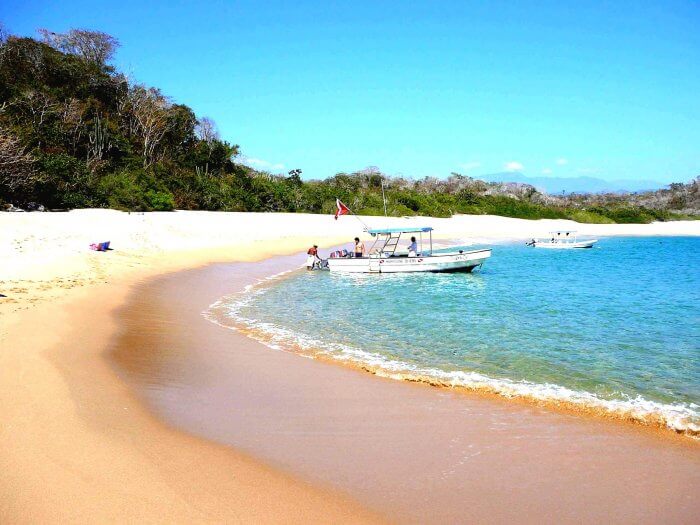 Upon arrival at Chachacual Bay — even more untouched than San Agustín and accessible only by boat — you'll experience the most pristine and private bay in Oaxaca.
Float in shallow waters bursting with blue-spotted coronet fish and yellow-tailed sturgeon. Or, just relax on the white sand of La India and soak up the serenity.
Most boat tours include a brief stop at Chachacual Bay. If you're looking for a quiet, tranquil beach with prime snorkeling, I recommend taking a private yacht tour to Chachacual Bay.
While more expensive than a group tour, an exclusive private yacht tour of the bays allows you to spend more time on these quiet beaches rather than the other busier beaches usually included on full-day group tour.
The privacy and flexible arrival and departure times makes this an especially good option for families or couples on a romantic getaway in Oaxaca.
Check rates and availability of a Private Yacht Tour to Chachacual Bay on Viator.com.
Snorkeling around Cacaluta Island in Cacaluta Bay
Another popular place for snorkeling in Huatulco is Cacaluta Bay. Here a coral plate stretches for 300m at depths of between 2 to 12 metres.
The marine life is so abundant and the coral so colourful around Cacaluta Island, it's known as Las Jardines or the gardens.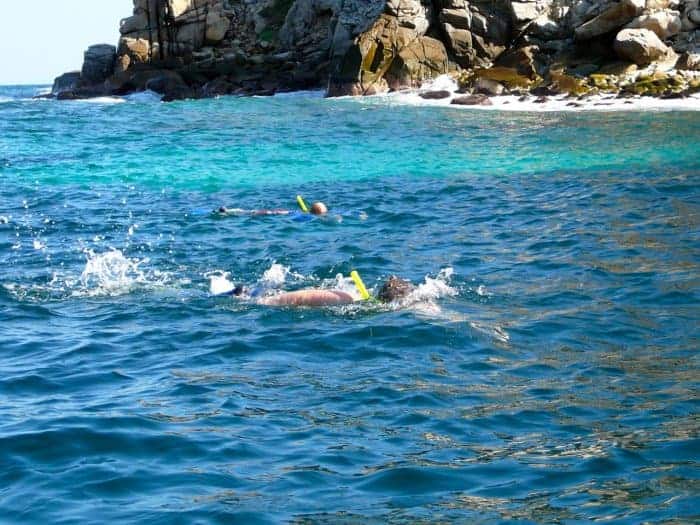 "Watch for strings of gas bubbles escaping from between the rocks on the bottom" said our guide as we anchored in open water. "You may find sea turtles and Nurse Sharks resting in the gaps in the coral."
Deciding to drip-dry for a few stops, I soaked up the panorama of sun and sea. Manta rays leaped above the water's surface and plumes of crystal spray shot out of a nearby blowhole.
No other boats were in sight.
Where is Huatulco Mexico?
Located in the southern state of Oaxaca two hours from Puerto Escondido, it's 185 km south of Acapulco and closer to Guatemala than major Mexican cities.
Yet its isolation doesn't mean you'll be roughing it. Much like Cancun, Los Cabos and Ixtapa, Huatulco was identified as a prime site for tourism development by Fonatur, the Mexican government agency.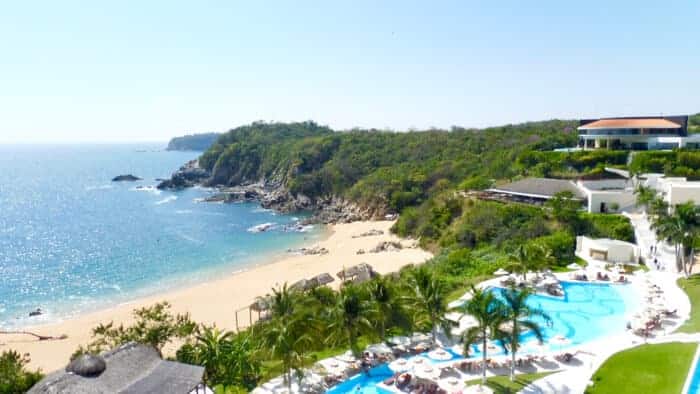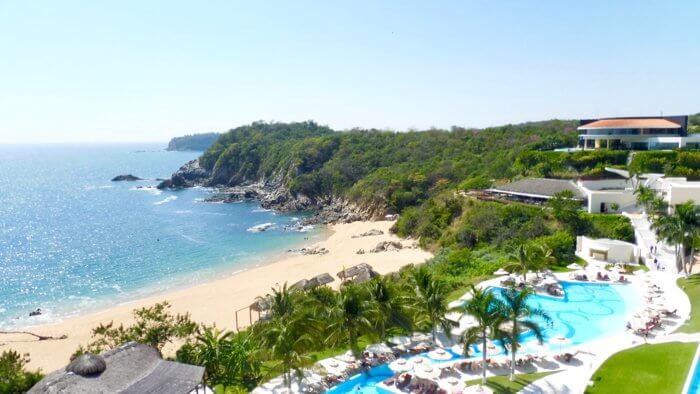 A massive injection of cash created an impressive infrastructure of wide boulevards, luxury marinas, golf courses and a modern sewage treatment system. Yet it remains surrounded by stretches of undisturbed wilderness.
With flights to Huatulco increasing, the region's peaceful seclusion may not last long. But for now, the beaches and clear blue waters are free of crowds.
Trying to decide on a resort that's good for snorkeling? Learn more about where to stay in our Hotel Guide to the Best Huatulco Beaches
Top Huatulco Resorts for Snorkeling from Shore
While taking a Huatulco snorkeling tour is the best way to see the most variety of fish, it's possible to experience some rewarding snorkeling from shore in Huatulco.
There's a wide range of hotels for every budget in Huatulco and La Crucecita (inland town).
If you're on a budget, the Holiday Inn Huatulco located in the Santa Cruz harbour features clean rooms with balconies, a full service restaurant, a Starbucks and an outdoor swimming pool with a view.
Check rates and availability at the Holiday Inn Huatulco, an IHG Hotel, on Booking.com.
It's even possible to snorkel right in the bay of Santa Cruz. The Santa Cruz marina is also where you book fishing tours for fish like sailfish, marlin and tuna.
It's also possible to do some snorkeling from the shore at Dreams Resort & Spa and the Barceló Huatulco Resort & Spa on Bahia Tangolunda, one of Huatulco's best beaches.
To a lesser extent you can also snorkel at Secrets Resort & Spa, where you'll need to wait for low tide and cross over the rocks at the end of Conejos Bay to find the best snorkeling area.
Be wary of ocean conditions if you choose to swim here as the under currents can be strong.
The inexpensive Mision de los Arcos Hotel in the heart of La Crucecita offers luxury rooms (with AC) at budget prices. It's located in La Crucecita which means you'll need to taxi or bus it to a beach.
Enjoy Unlimited Luxury with a Secrets Huatulco Day Pass
Snorkeling in Huatulco: Tips and Gear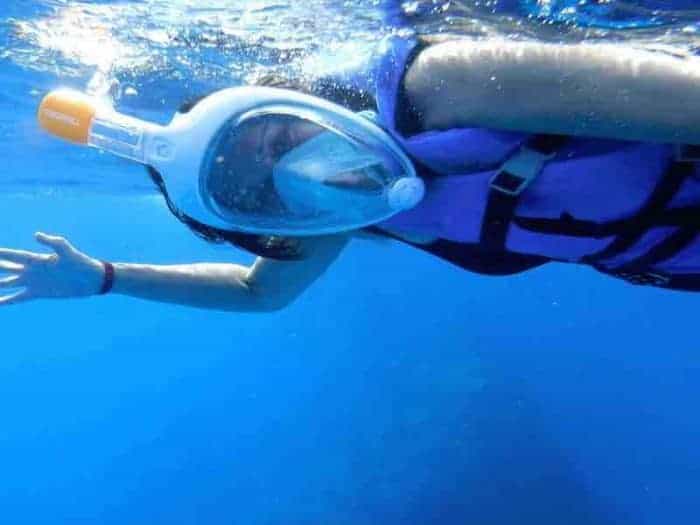 What to Pack
According to the environmental protection organization Marine Safe and many other sources, "swimmer pollution" is a major cause of declining coral reefs in many parts of the world, including the Caribbean, the Red Sea, Costa Rica and anywhere humans get into the water on or near a reef.
Chemicals in sunscreen such as oxybenzone induce coral bleaching and are genotoxic which means it damages coral DNA. Oxybenzone is also toxic to algae, sea urchins, fish and mammals.
Concentrations of oxybenzone are growing around nearshore reefs are already within the range of being a significant environmental threat so it's important to take action to reduce the chemicals in our ocean now.
To reduce your impact when snorkeling, try to use sunclothes to protect against UV exposure and reduce the amount of sunscreen you use. You can reduce the quantity of sunscreen you use by 90% if you apply it only to your face, back of hands, neck and feet and use a biodegradable suntan lotion such as Badger SPF 35 Sport Sunscreen Cream.
Snorkel Gear
While most tour operators include snorkel gear as part of their rental rate, the quality of the gear can vary widely. If you want to have the best and safest snorkeling experience, it's wise to travel with your own snorkel kit.
At minimum, invest in a mask and snorkel. I travel with a custom snorkel mask that's been fitted with prescription lenses. It cost $200 but has lasted me for years and is virtually indestructible.
Our Contributor Editor Sue Campbell who has fearlessly snorkelled everywhere from Belize to Tahiti swears by her full face snorkel mask.
It's important to invest in a good quality full face snorkel mask as low-cost, poor-quality imitations have the potential for CO2 build-up and head straps can be too tight and difficult to remove in an emergency.
Other Fun Things to Do in Oaxaca, Mexico
This article was original published in 2018 but was updated in 2023 with new images and information.
Pin to Pinterest!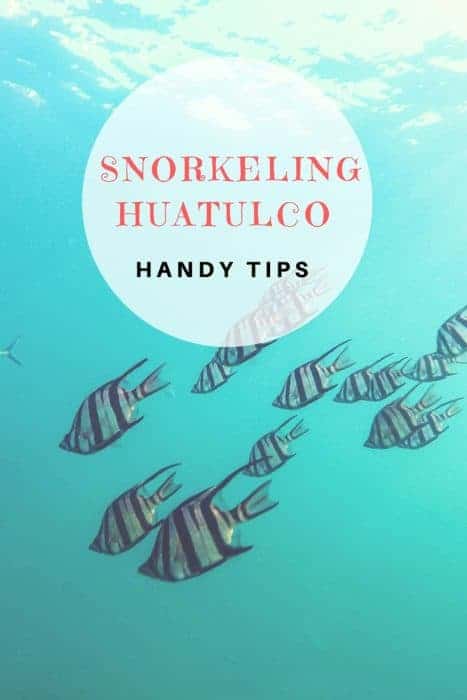 Dividing her time between Canada, Guatemala and Mexico (or the nearest tropical beach), Michele Peterson is the founder of A Taste for Travel. Her award-winning travel and food writing has appeared in Lonely Planet's cookbook Mexico: From the Source, National Geographic Traveler, Fodor's and 100+ other publications.
Read more about Michele Peterson.