We may earn income from links in this post. Please read this Disclosure for details.
Looking for unique and memorable things to do in Freeport, Bahamas?
For nature-minded travellers, Freeport's three national parks, pine forest and underwater caves are just as much a draw as the brilliant white sand beaches and Bahamian food.
Named "Gran Bajamar" (great shallows) by Spanish conquerors, Grand Bahama Island is the most northerly of the 700-island archipelago that makes up the Bahamas.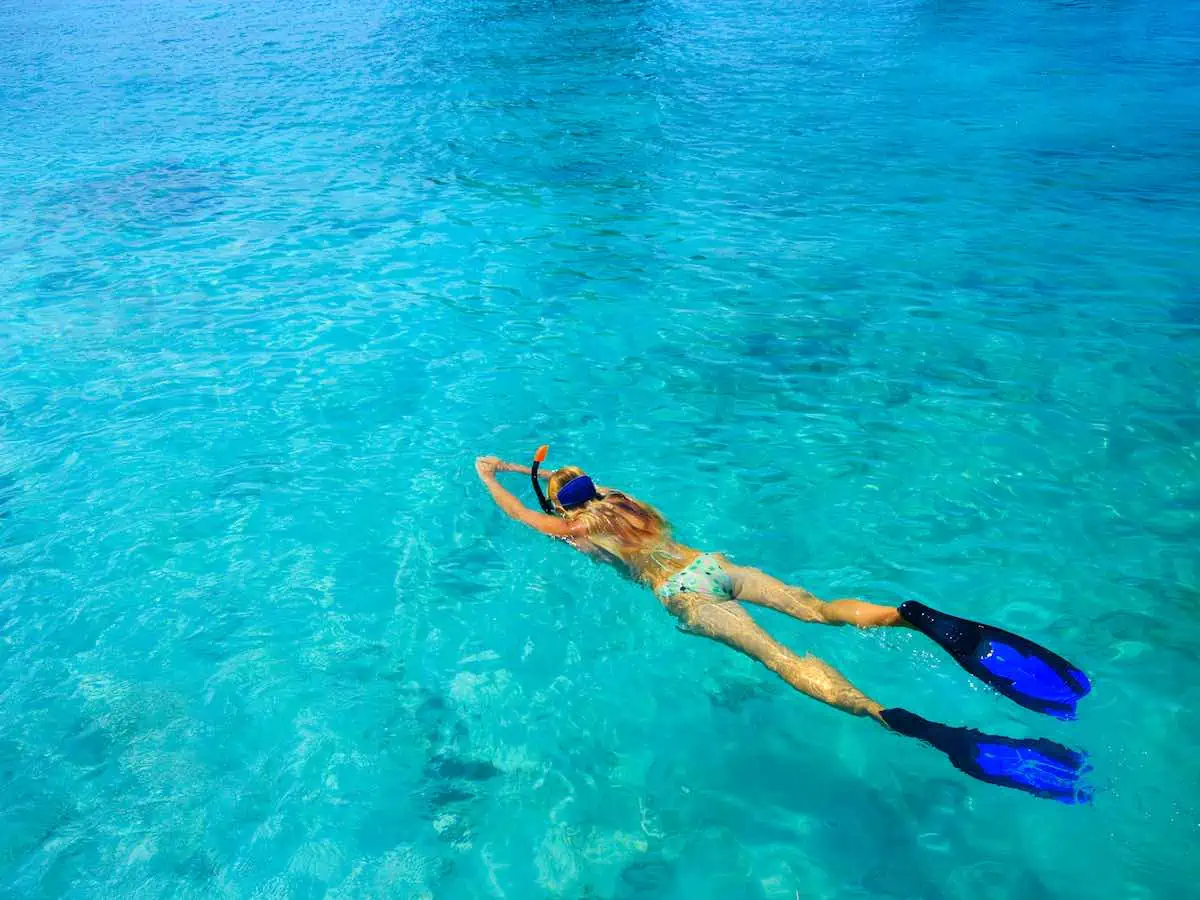 Set in the North Atlantic just 80 kilometres off the Florida Coast, it's divided into three districts — the West End, the East End and Freeport, home to just 52,000 people.
It's a generous 155 kilometres long and 27 kilometres wide.
In other words, this is the island for people like me who need their space.
As a travel writer and book author who has spent decades exploring the world's still-wild places, I'm impressed by its wealth of natural and cultural attractions.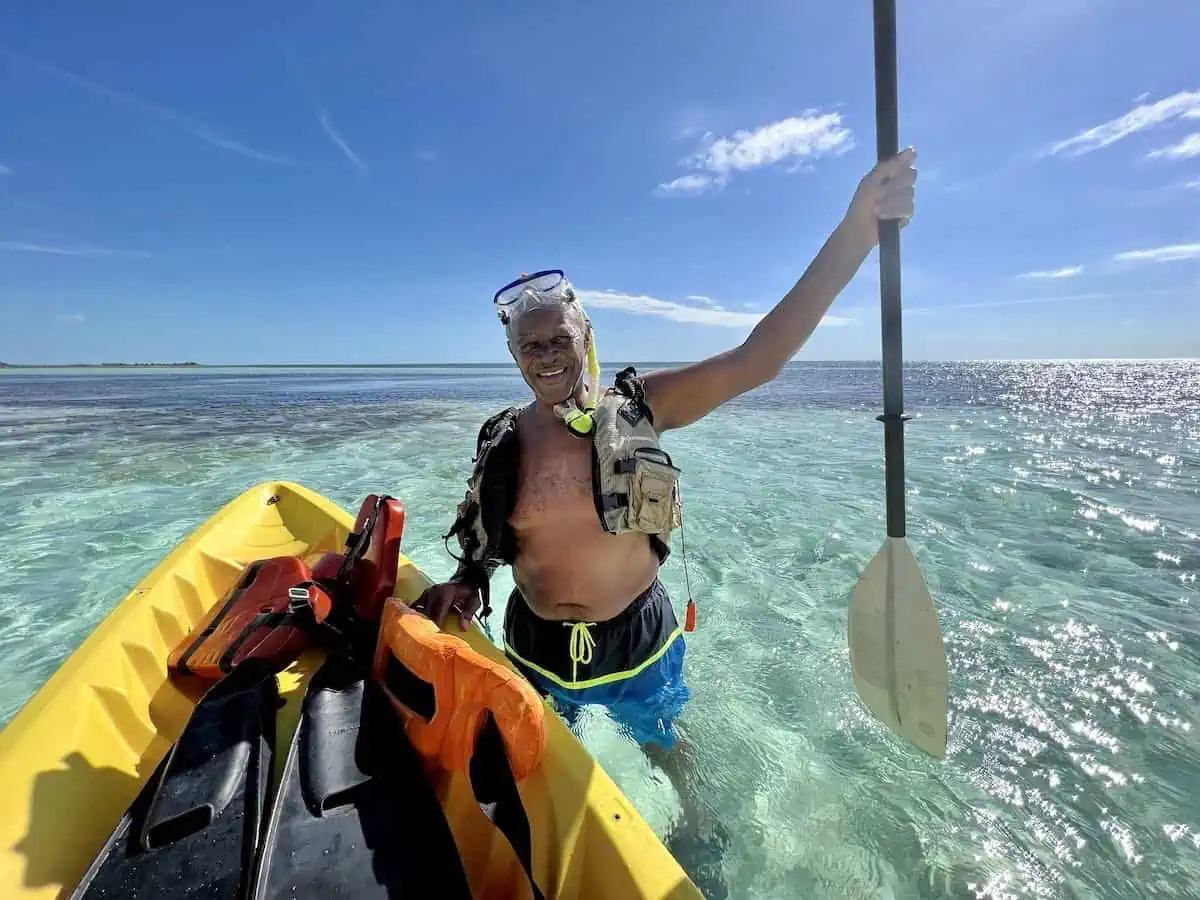 While Freeport can fill up with day-tripping cruise ship travellers, it's nowhere near as busy and developed as Nassau, Bahamas.
There are lots of opportunities to commune with nature, explore its rich history and engage with Bahamian culture.
Read on to discover the best things to do in Freeport and why it should be at the top of your bucket list for future travels.
1. Snorkel in a Blue Hole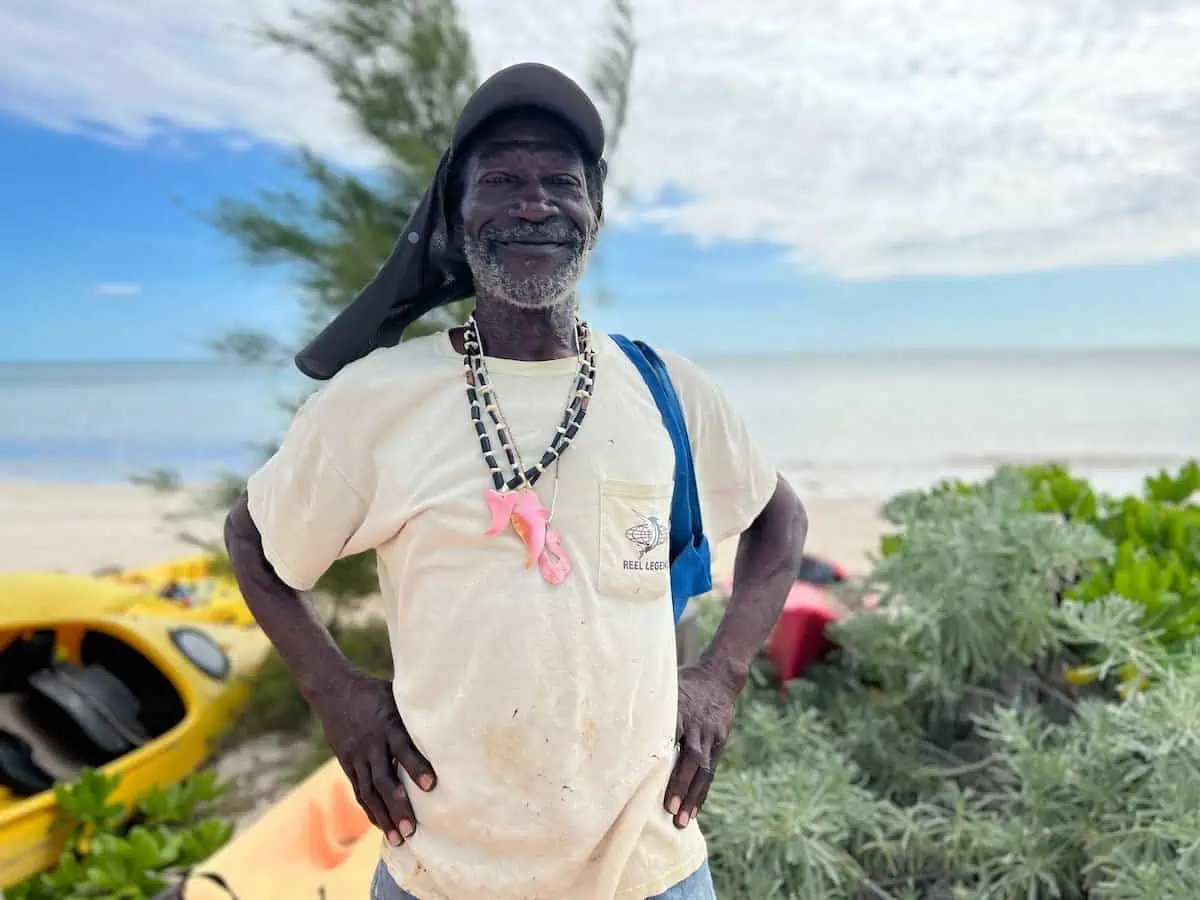 A top activity in Freeport is to connect with nature. On the island's eastern end, H. Rudy Sawyer of Blue Green Outdoors takes people kayaking, snorkelling and birding around the waters of Grand Bahama.
I join him and Leroy Glinton at Crabbing Bay Beach for a gentle kayak in the shallow turquoise water.
We paddle over two deep, dark spots known here as blue holes.
"They give snorkellers, and even other divers, the opportunity to see fish you'd normally expect to see in deep water, close to shore," Sawyer explains.
We slip out of the kayaks and snorkel over the first hole, marvelling at a school of southern sennet, a fish that some nickname "baby barracudas."
My tour ends with fried snapper and rotisserie chicken purveyed from Tipsy Sisters in McLean's Town and eaten at Pelican Point Beach.
2. Tour a Coral Farm — on Land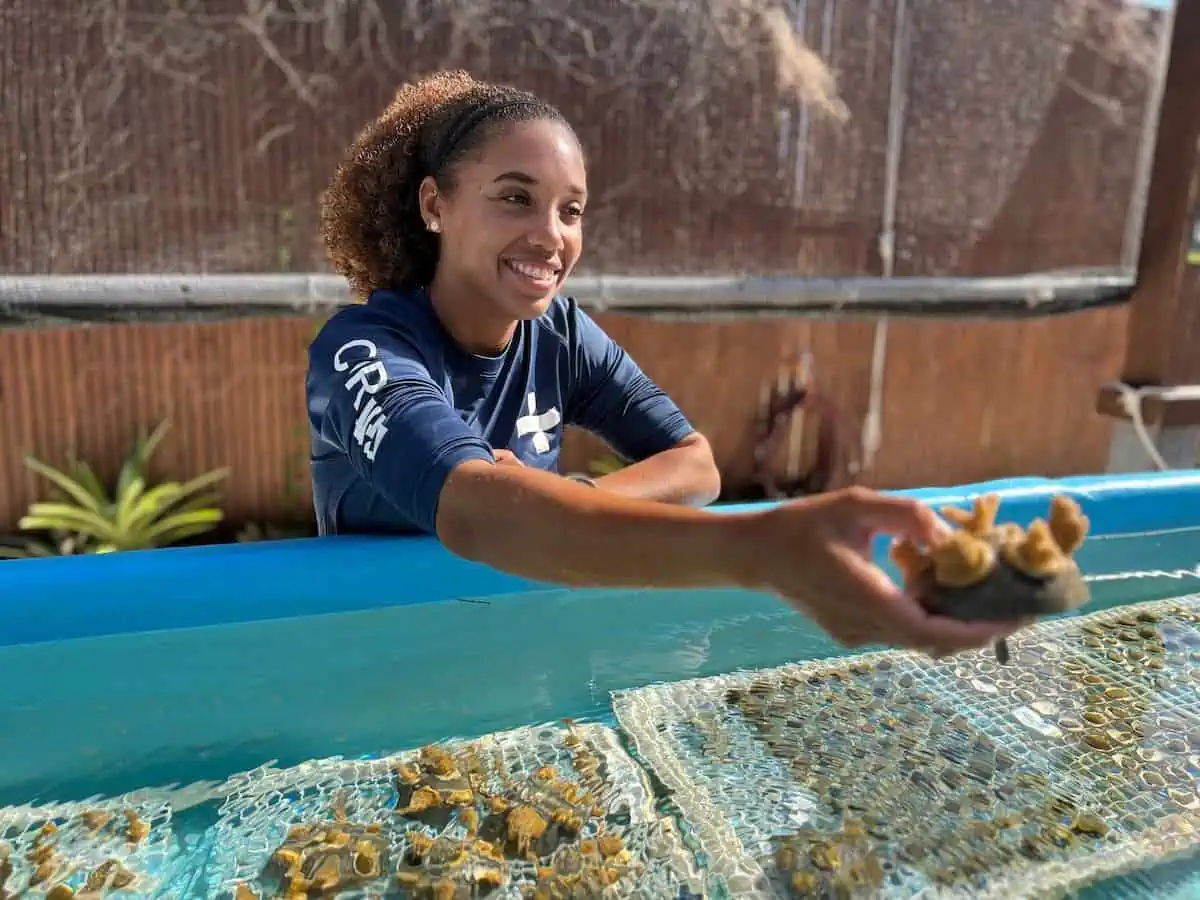 Coral Vita is the world's first land-based, commercial coral farm for reef restoration. It regrows coral 50 times faster than normal and make them more resilient to climate change.
On a tour with coral restoration specialist Alannah Vellacott, I learn that coral is part animal, part plant and part rock. Healthy coral reefs provide critical medicine, food, protection and biodiversity.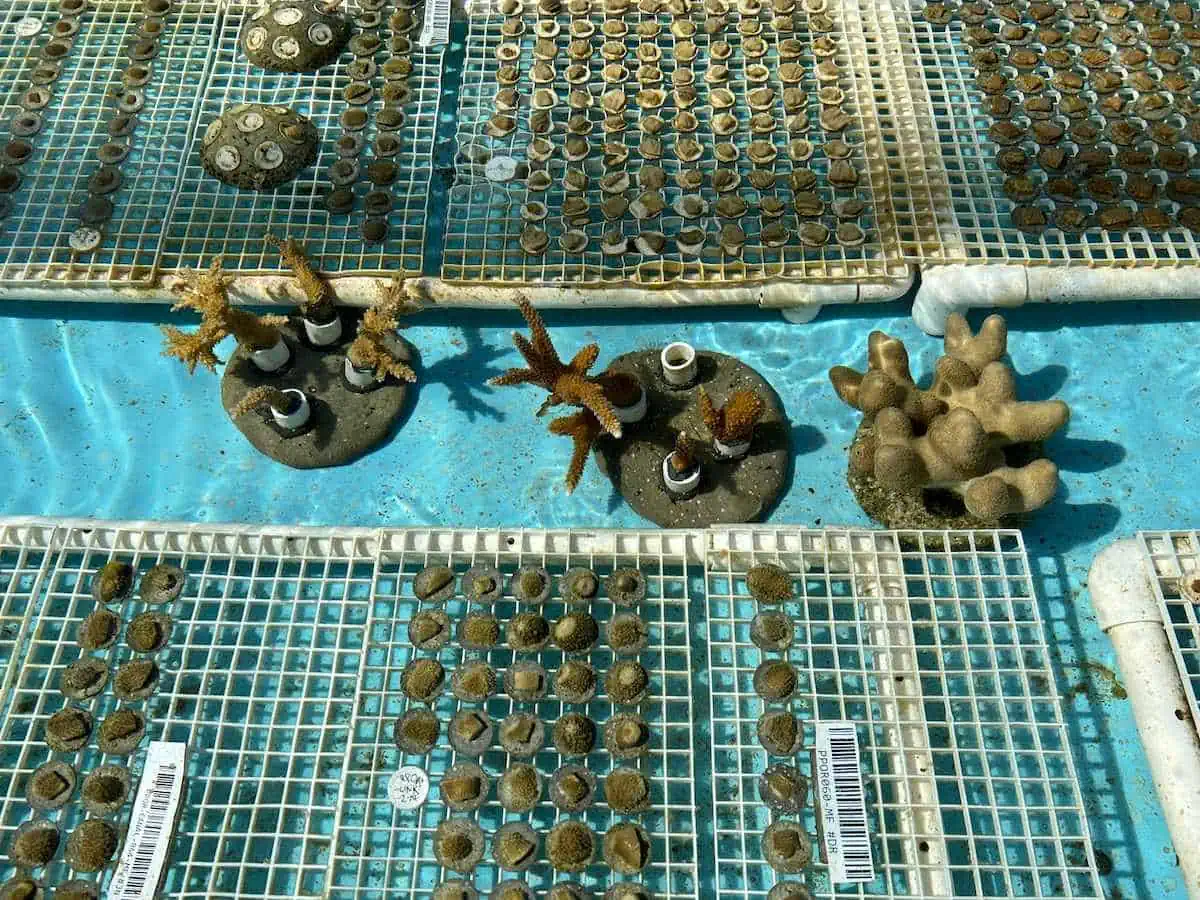 But we've lost half of the world's coral reefs in the last decade due to stressors like climate change, coral disease, overfishing, pollution, invasive species, careless recreation, coastal development and changing storm intensity and frequency (such as Hurricane Dorian).
Coral Vita is growing 10,000 corals at its pilot farm but has room for 30,000 and hopes to expand.
⭐️ Pro Tip: You can adopt a coral micro-fragment ($50 USD) or seven-piece "cookie" ($350 USD) that will grow until it's ready to fuse with other coral fragments and be planted in the ocean.
3. Delve Into Maritime History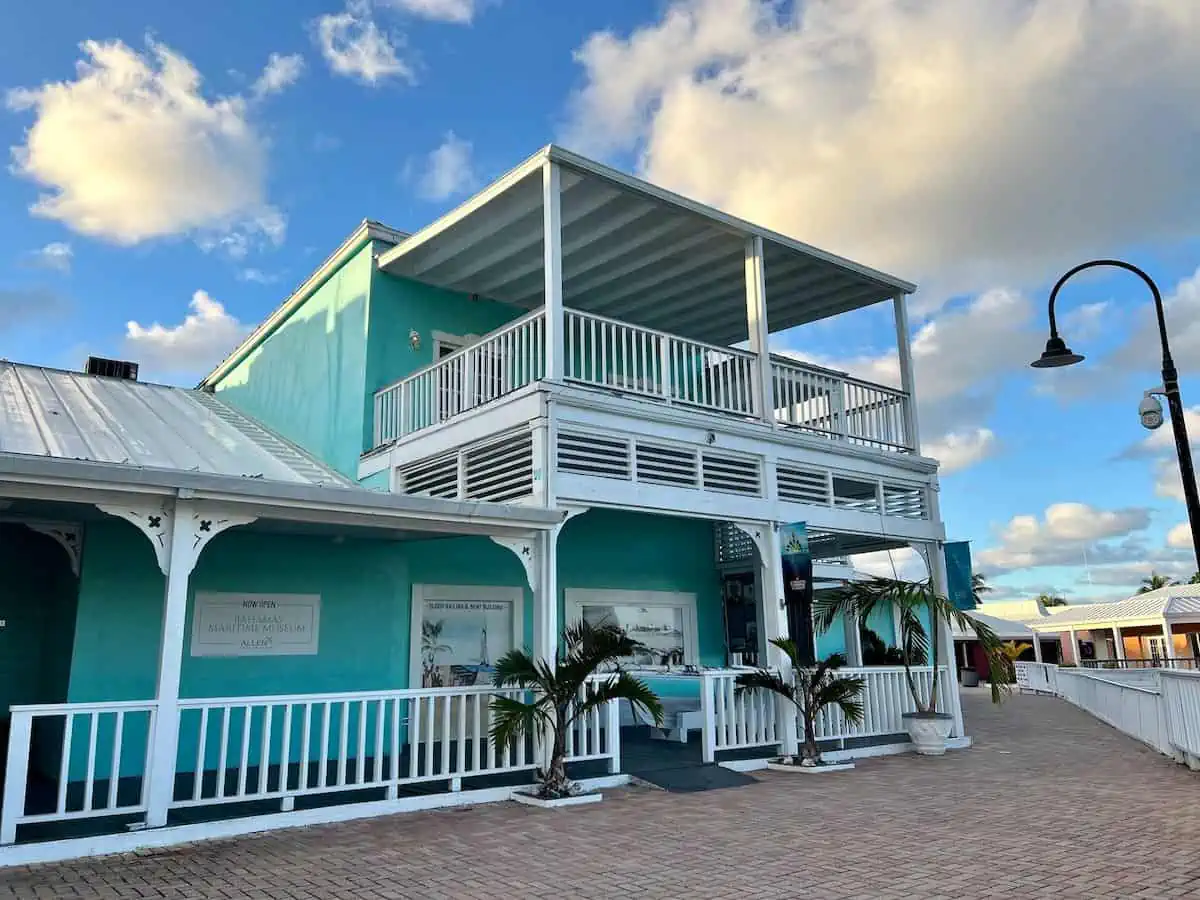 The Bahamas Maritime Museum just opened in Port Lucaya Marketplace (Google Map) in August 2022.
This new Freeport attraction is the brainchild of Texas natives Carl and Gigi Allen, owners of Allen Exploration, a historic shipwreck recovery company.
The Allens hope to sustainably redevelop the once-thriving fishing community of Walker's Cay, and recover, preserve, restore and display historic shipwreck material.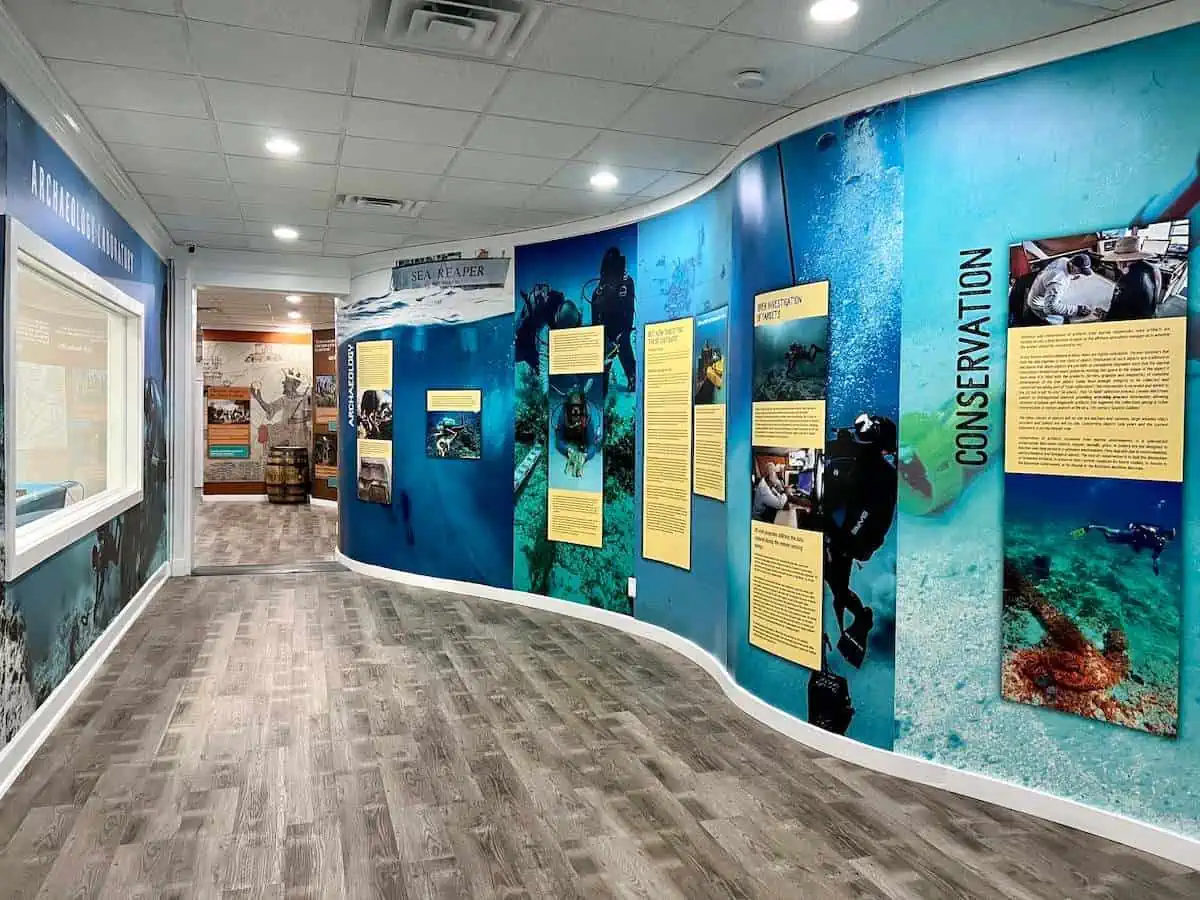 In this educational Freeport activity, visitors learn about the Lucayans (the people who lived here before Europeans colonized the Americas), and the fish, shark, conch and sea turtles that call these waters home.
And confront the uncomfortable topic of the transatlantic trade in enslaved people and modern-day slavery/human trafficking.
The museum hits its stride detailing the 1656 sinking of the Spanish galleon Nuestra Señora de las Maravillas, and showcasing some recovered objects.
A viewing window lets you see into the archaeology laboratory.
4. Get Your Shopping Fix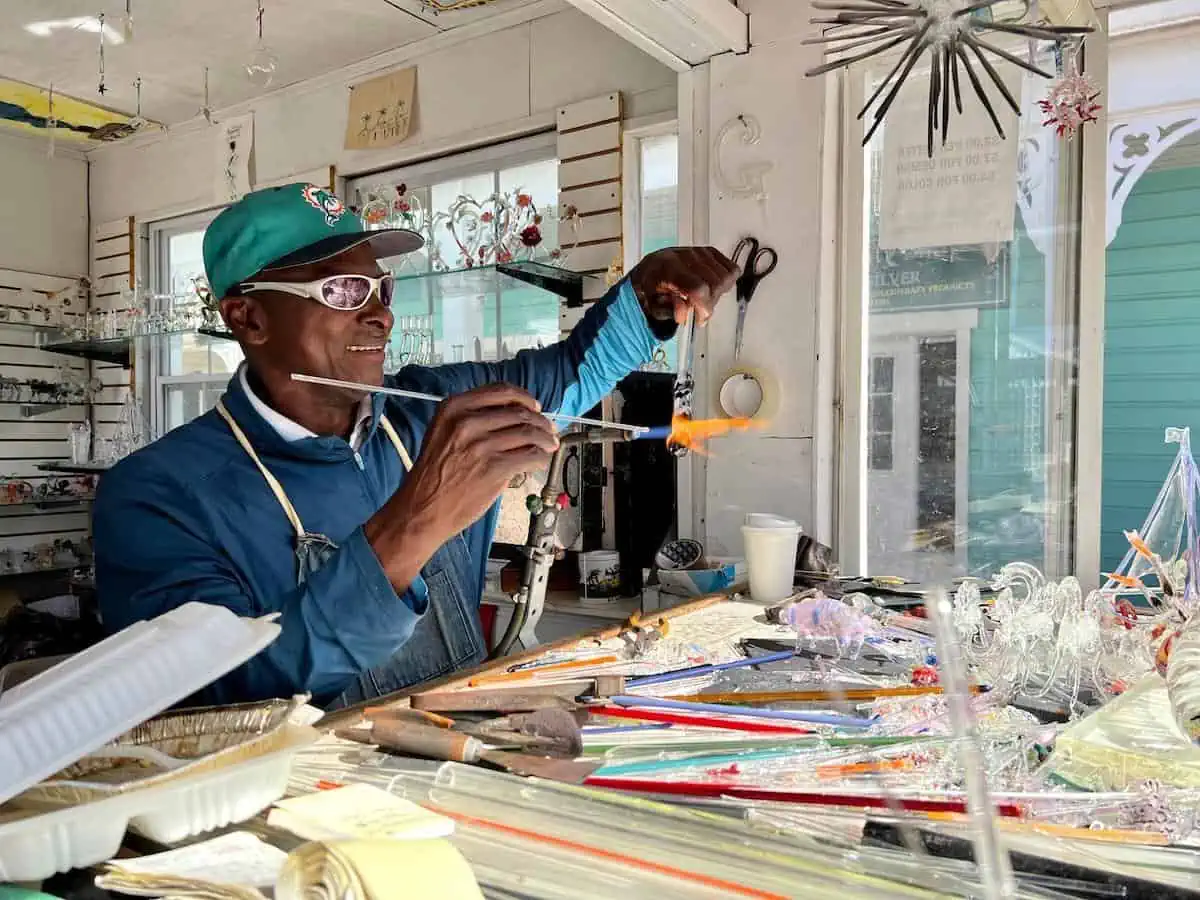 Speaking of Port Lucaya Marketplace, it's an open-air tangle of shopping and dining streets in Freeport's main tourism drag.
A couple of "straw markets" feature mostly handmade wares. Starfish-shaped chocolates at Bootleg Chocolates & Café will charm the kids but be sure to try the ganaches that pay homage to the Guava Duff dessert and Gully Wash (more on that below) cocktail.
At the tiny Glass Blower Shop (Google Map), Sidney Pratt works on new creations all day long. Themes range from fantastical ocean creatures to costumed Junkanoo figures.
Two aging red phone booths speak to the islands British ties and draw selfie seekers.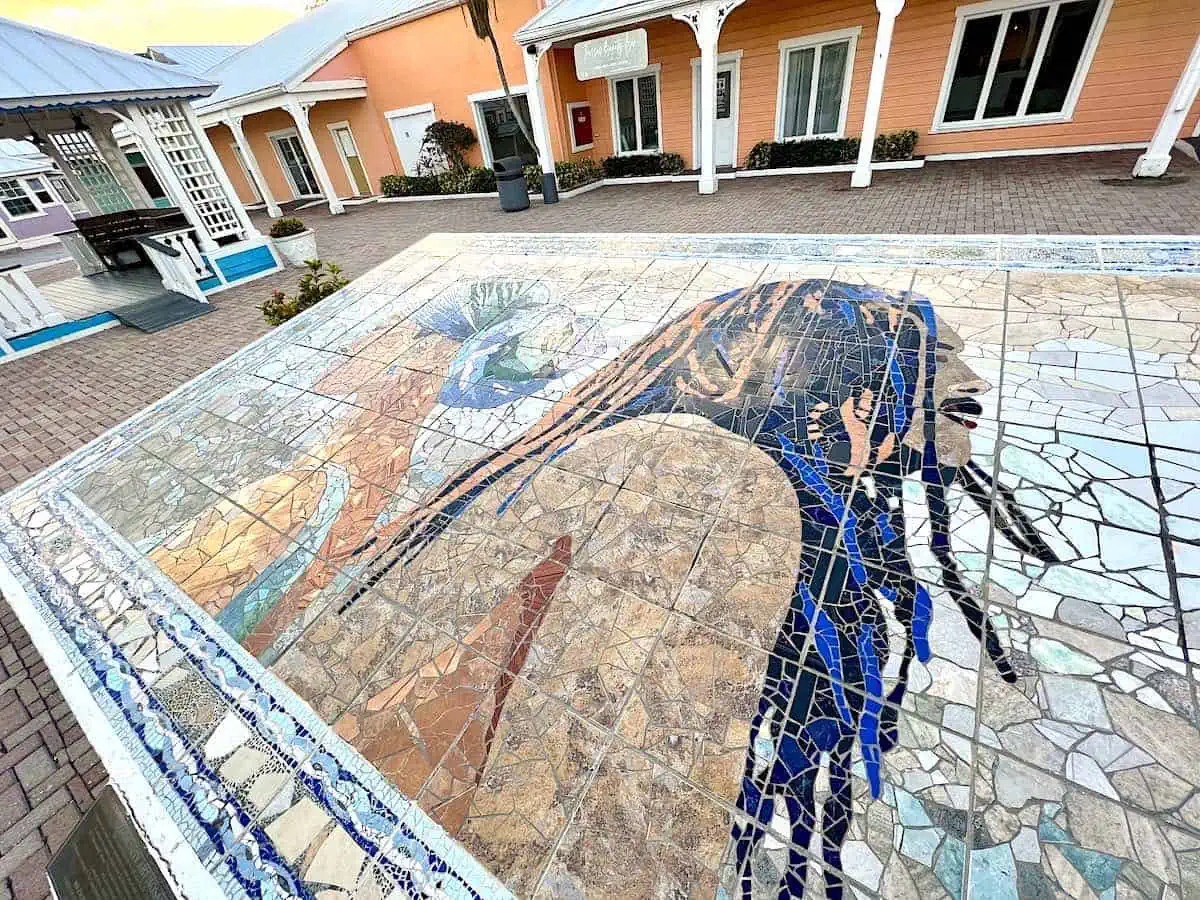 ⭐️ Insider Tip: There isn't much public art on Grand Bahama, so make a point of finding the 2013 art mosaic featuring a Bahamian woman and dreadlocked man that was made "by the community, for the community."
5. Eat Your Weight in Conch Salad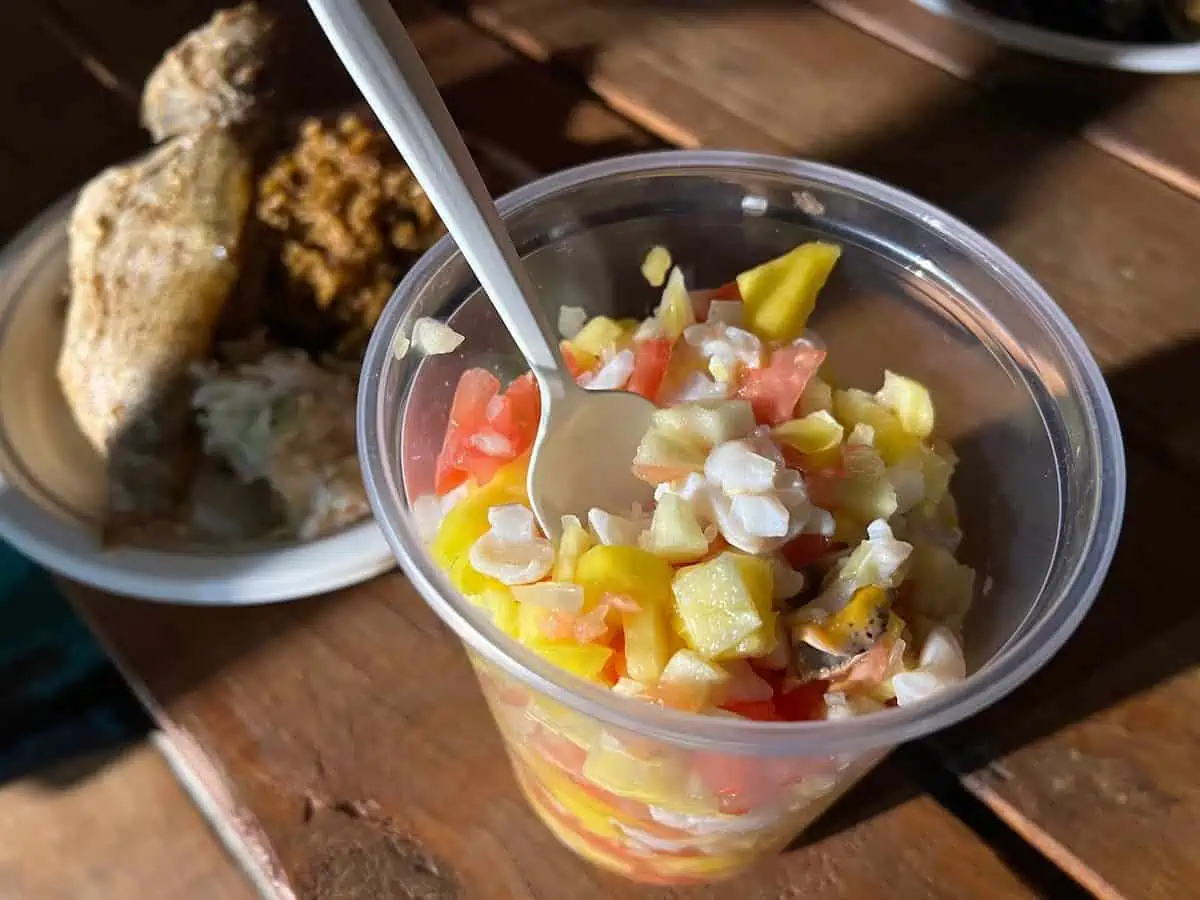 Pronounced conk, conch is the star of Bahamian cuisine. The gastropud mollusk is a sea snail that lives in a large, heavy orange and pink shell.
The shells have spikes at one end that look like a crown, hence the nickname queen conch.
Conch love sandy plains with tall swaying grass in shallow water. The shells are used for jewellery or souvenirs. The mild, white snail flesh is often compared to calamari.
To access the flesh, conch vendors drill a hole in the top of the shell and then pry the conch loose.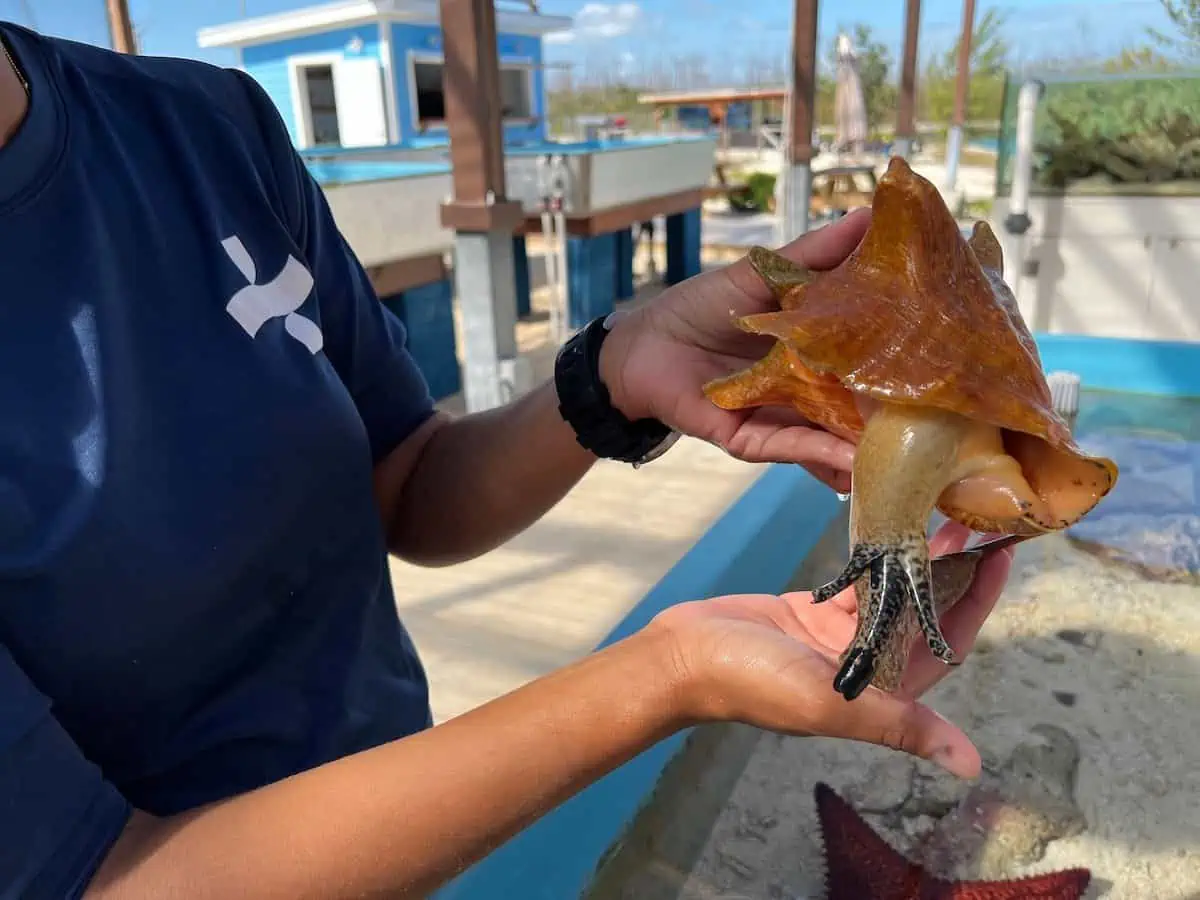 Look for conch salad at food stalls where street vendors toss diced tomatoes, onions, bell peppers and hot peppers with raw conch and fresh lime and orange juice.
If you like Latin American ceviche, Tahitian poisson cru or Spanish seafood salad you're sure to love Bahamian conch salad.
Conch fritters, cracked conch and conch chowder are also popular dishes to try in the Bahamas.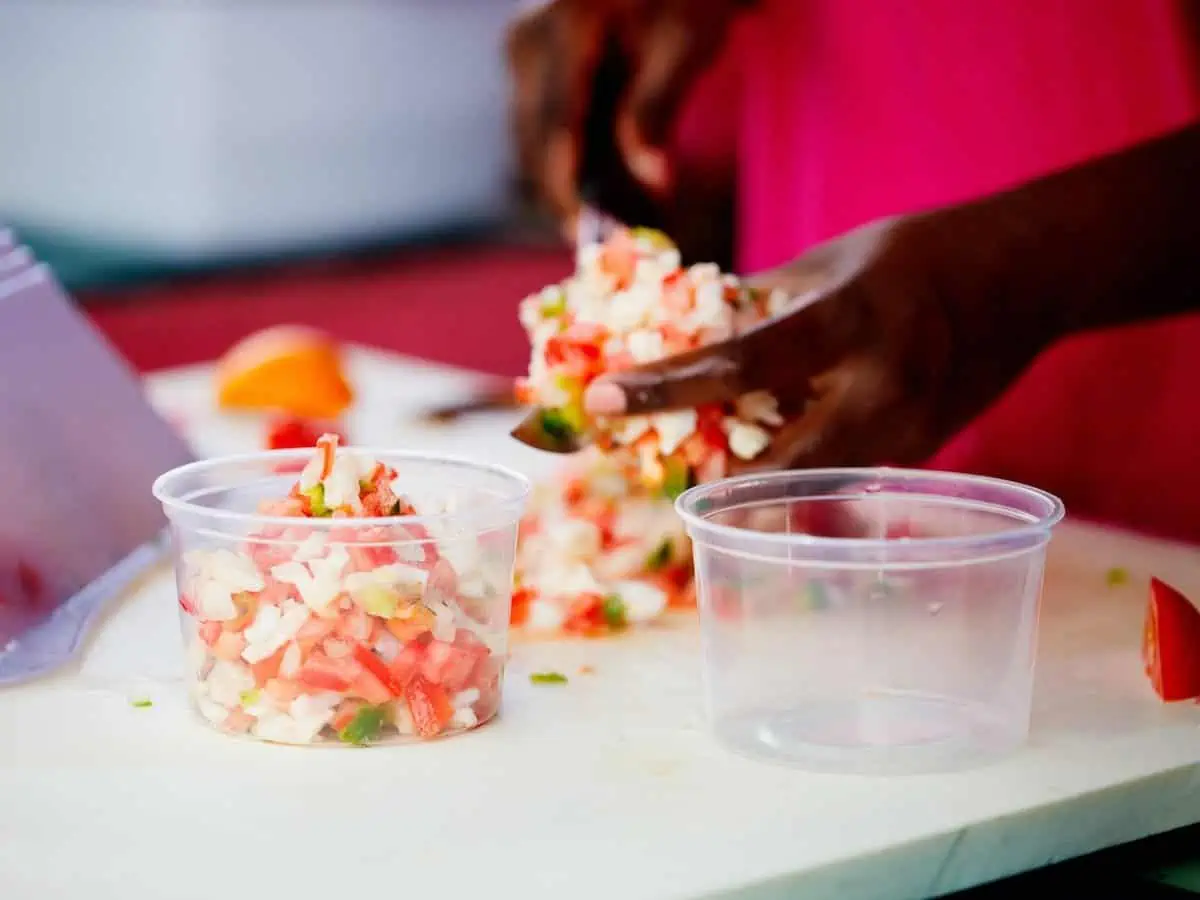 If you're keen to learn more about Bahamian cuisine, a cooking class is a fun thing to do in Freeport.
In this half-day experience (including transportation from your hotel or the cruise ship port) you'll visit a Famers' Market, sample bush tea and locally-made beer plus learn how to make classic Bahamian conch fritters.
Check rates and availability of a Bahamian Cooking Experience in Freeport on Viator.com.
6. Celebrate the Bahamian Fishing Industry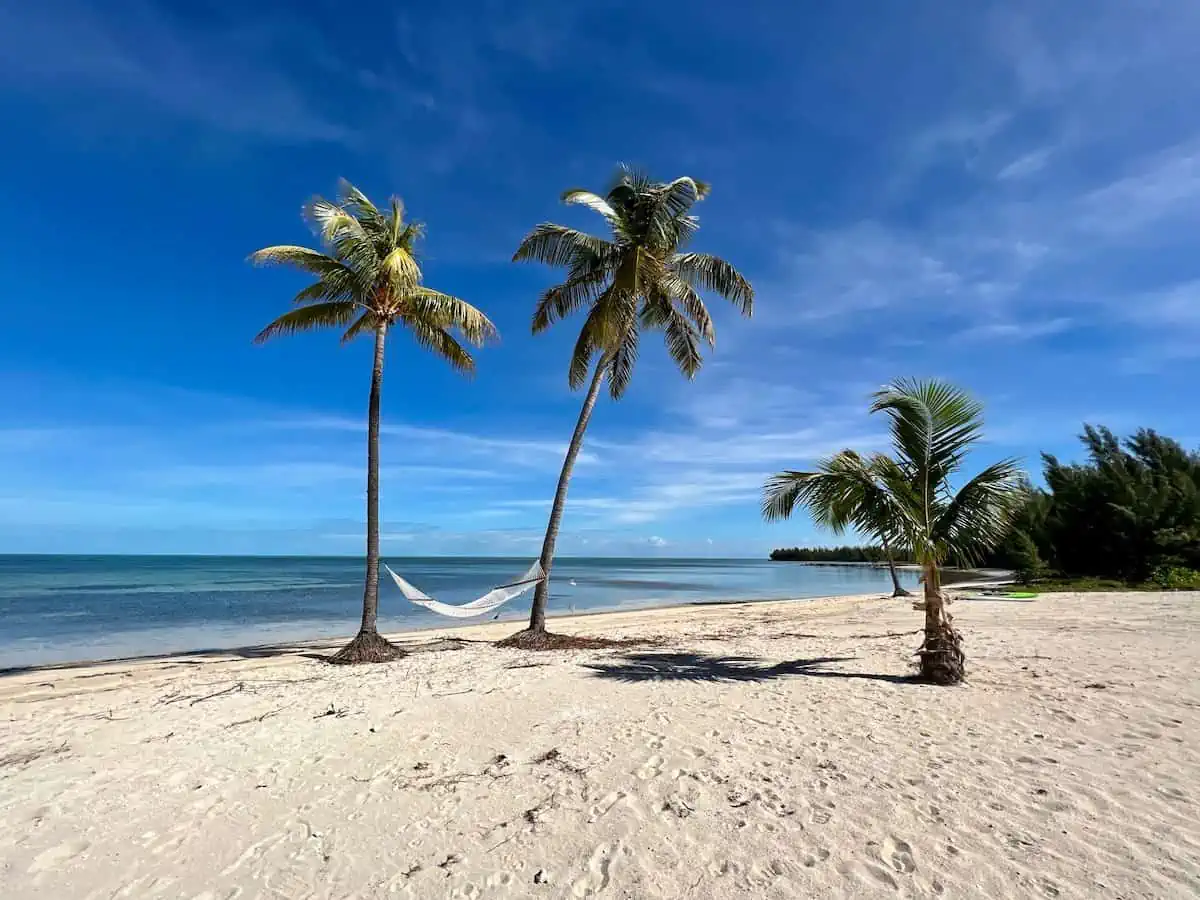 Old Bahama Bay Resort is a mellow West End resort that's popular with celebrities. It features 73 colourful beachfront suites and a classic white sand beach.
Teasers Tiki Bar is between the freshwater swimming pool and beach. The lunch menu revolves around conch (Conchy Conch Fritters, Cracked Conch Bits, Fresh Bahamian Conch Salad) and fish (local fish dipped in a local beer batter, fried and served with Bahamian goat pepper lemon sauce).
But I love the simple fish wrap. It's blackened snapper wrapped in a soft tortilla with lettuce, tomatoes and homemade tartar sauce.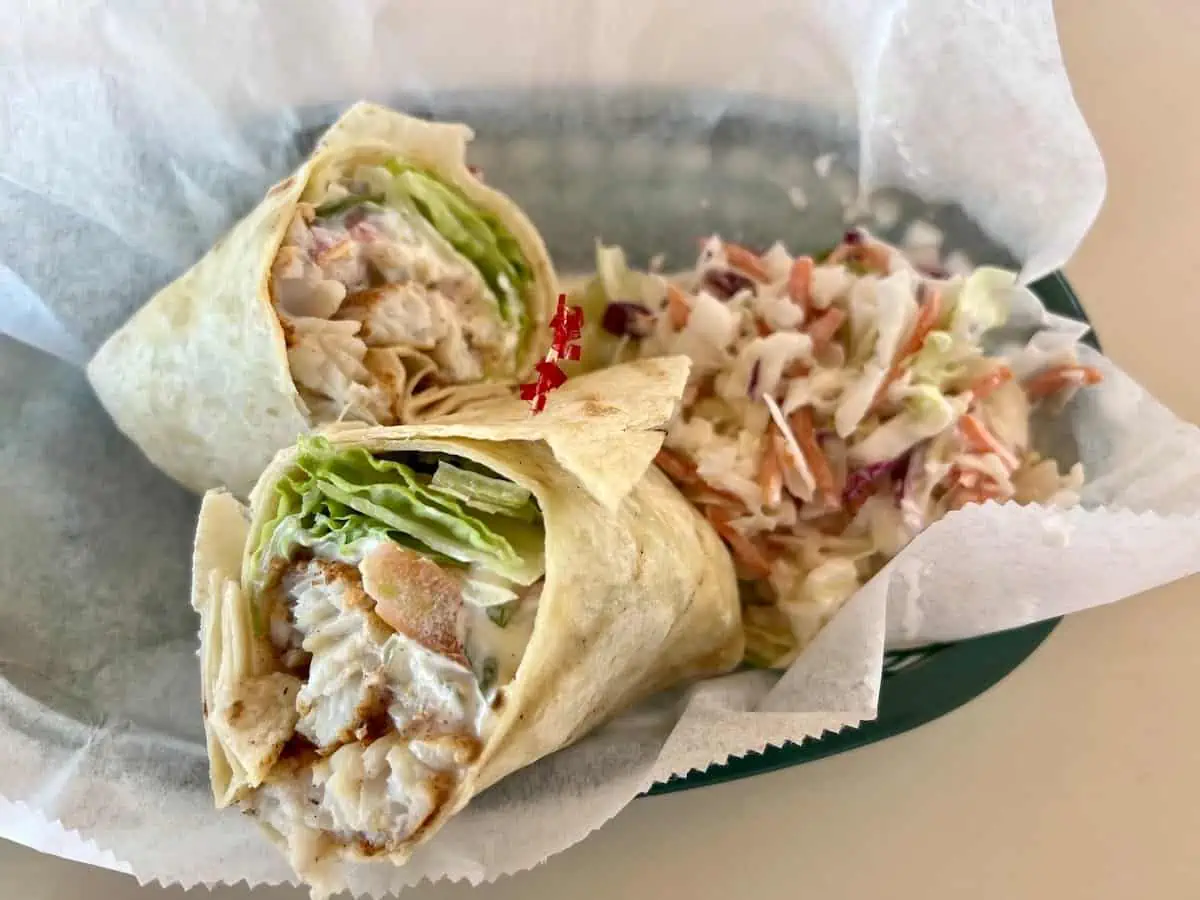 On a road trip to the West End, look for signs of the fishing industry. You'll see commercial conch traps just offshore and mounds of conch shells.
7. Enjoy the View at Pinders Point Lighthouse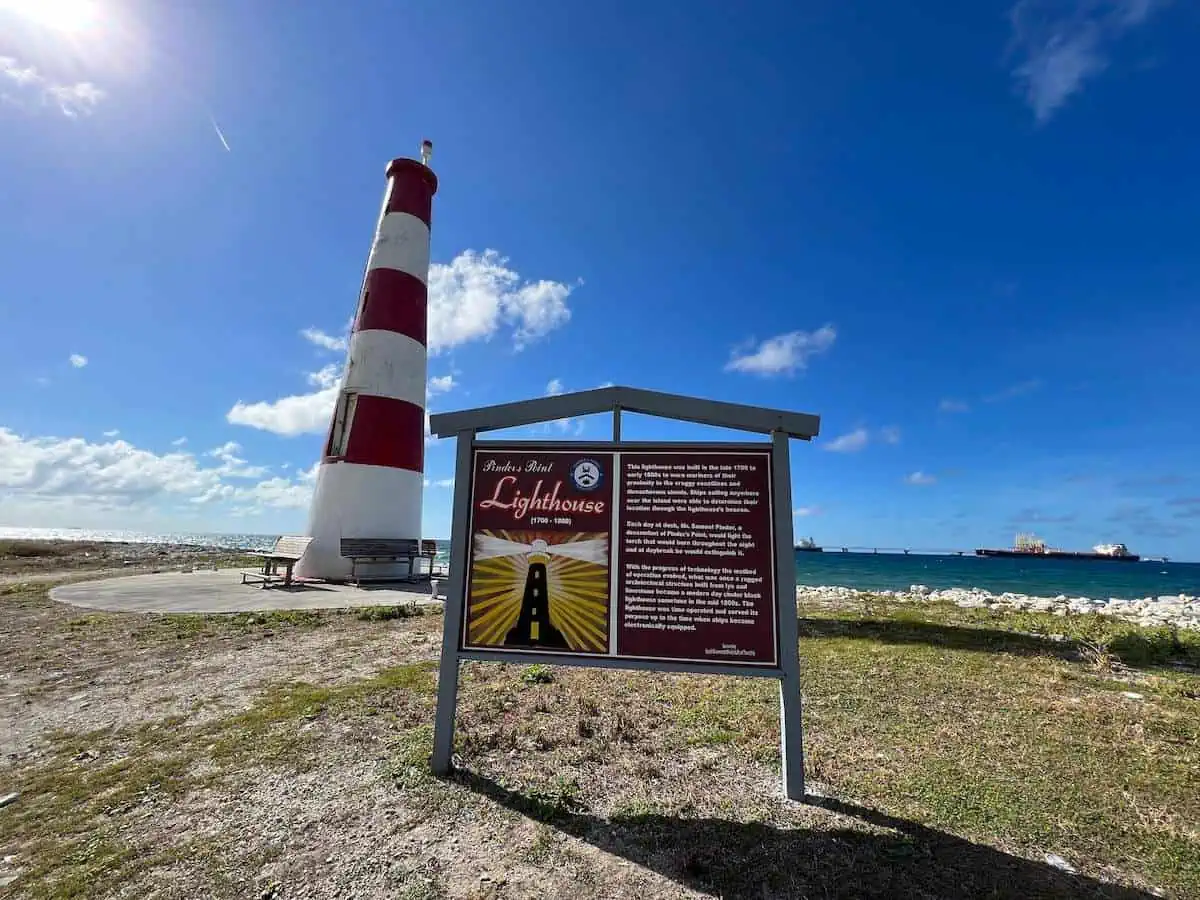 It's no Peggy's Cove (the most photographed lighthouse in Canada), but there's something charming about Pinders Point Lighthouse (Google Map).
The modest lighthouse — a stubby red and white tower on a cement circle surrounded by benches — is a popular Freeport tourist attraction.
It was built between the late 1700s and early 1800s to warn mariners about craggy coastlines and treacherous shoals.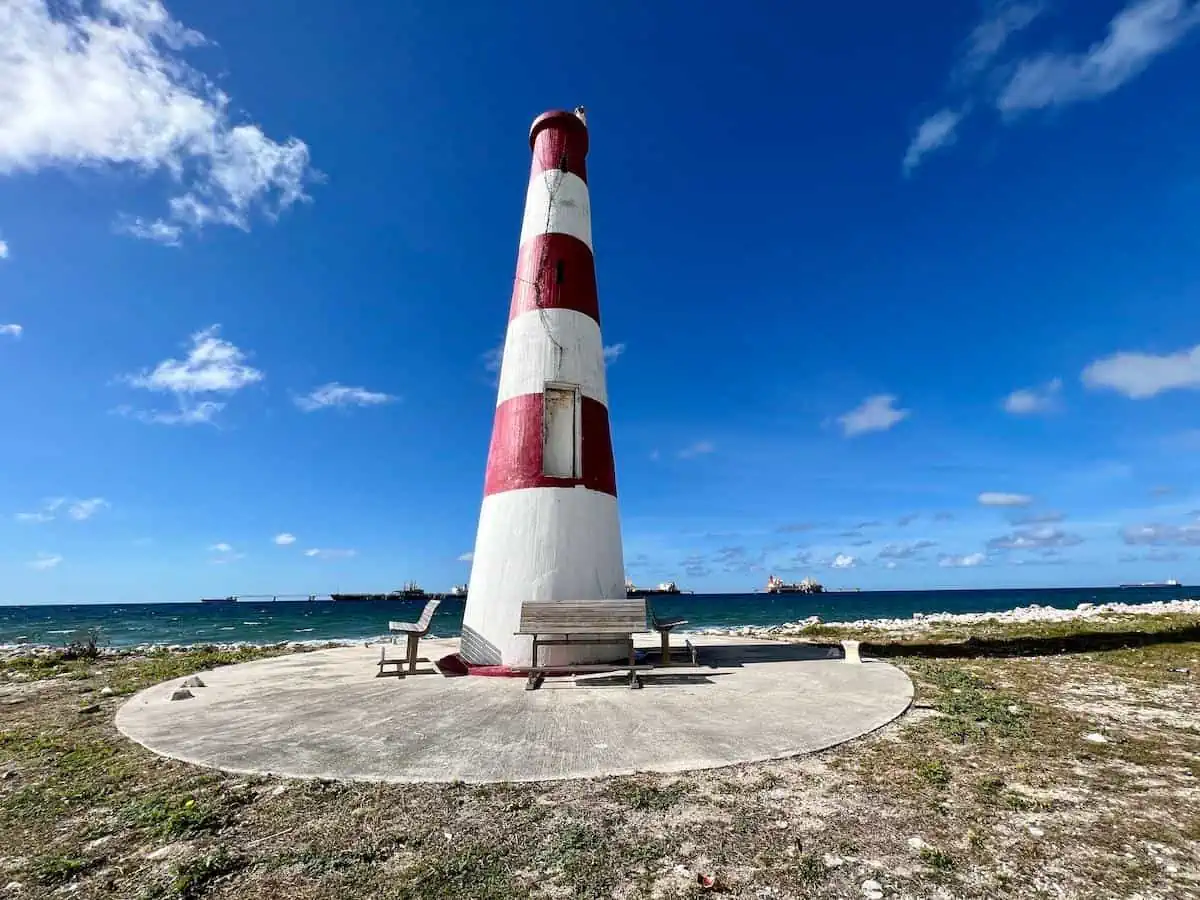 "Each day at dusk, Mr. Samuel Pinder, a descendant of Pinder's Point, would light the torch that would burn throughout the night and at daybreak he would extinguish it," an interpretive sign explains.
But by the mid-1990s, what was once a "rugged architectural structure" built from lye and limestone became a cinder block lighthouse operated on a timer.
Restored in 2009, it's a good place to view ships in Lucayan Harbour.
8. Drink a Gully Wash Cocktail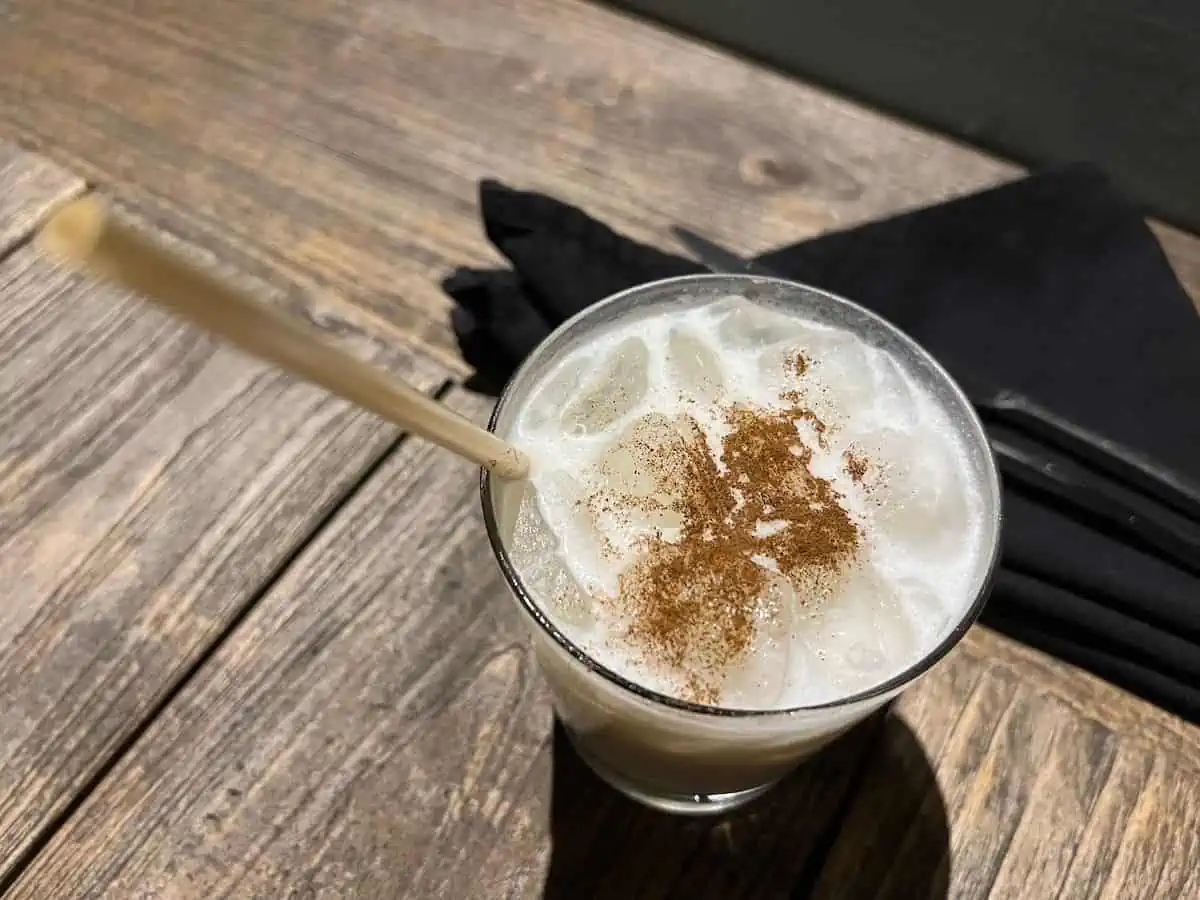 Who knew that the combination of coconut water, gin, sweetened condensed milk and nutmeg would taste so fabulous?
On Grand Bahama, most people call this frothy cocktail the Gully Wash but some call it Sky Juice. The origins of the competing names are murky, although a gully wash is usually an intense but short-lived rain storm.
The drink can also be elusive outside of Bahamian homes. Many restaurants consider it a casual drink better suited to fish fries and don't serve it.
But the wonderfully elegant Stoned Crab (Taino Beach) does! So nurse one while you wait for anything from lobster-stuffed pasta shells and seared scallops to filet mignon and a warm apple crumble.
It's "mom food" as the owner proudly told me.
9. Experience Bahamian Culture with a Local Ambassador
For about 40 years, the People-to-People Program has been connecting intrepid visitors with gracious locals to experience Bahamian culture.
That's how I wind up at the Freeport home of Collete Williams for a traditional breakfast of corned beef and grits, stew fish and chicken souse, plus a tour of her tiny kitchen and sprawling garden.
Read an in-depth review of my People to People Breakfast Experience in Freeport.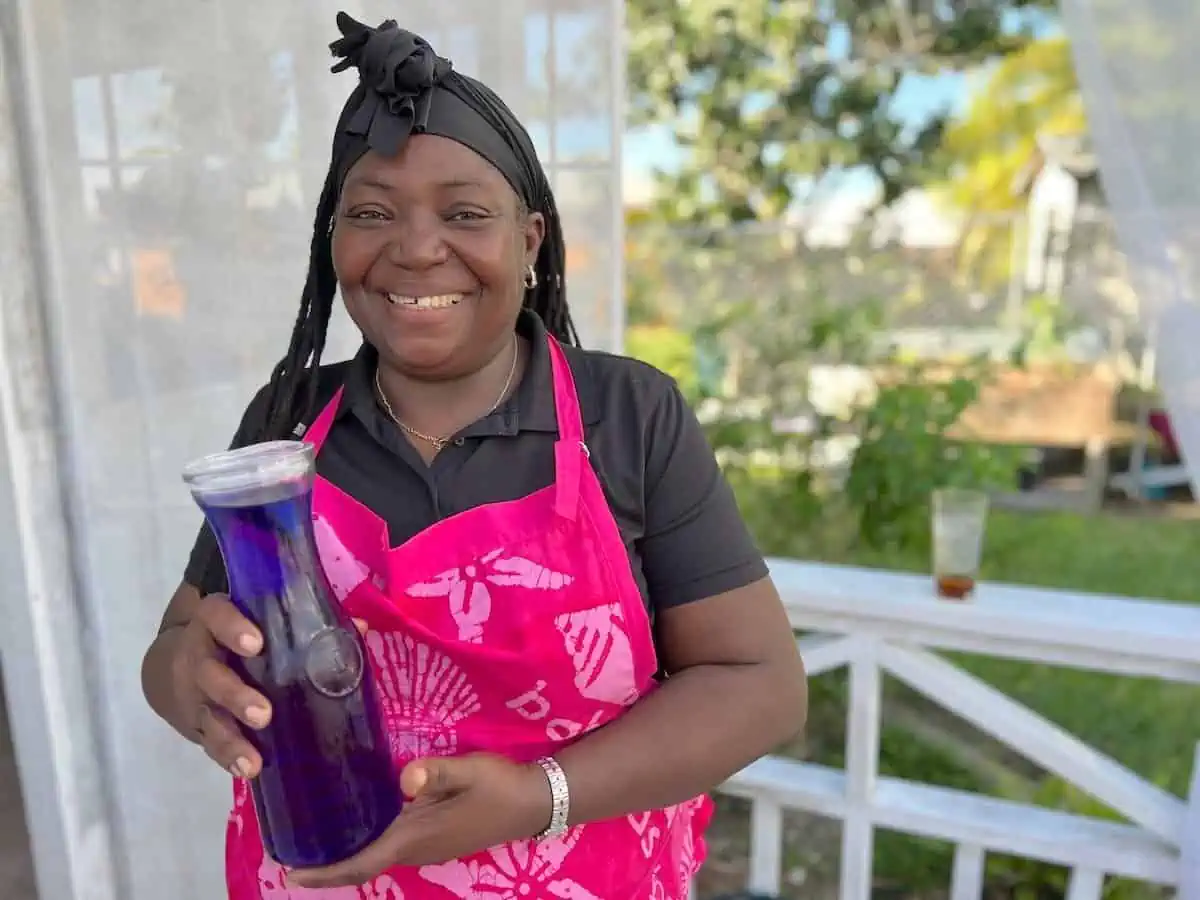 Visitors to Grand Bahama (and several other islands) apply online, detailing their age, gender, occupation, family makeup and travel dates.
They then hope to be matched with a volunteer ambassador for a free experience in a local's home or in the community.
Several times a year, there's a free People-to-People tea party with storytelling, music, entertainment, pastries, sandwiches and "bush" tea like the two I enjoy at Collete's breakfast.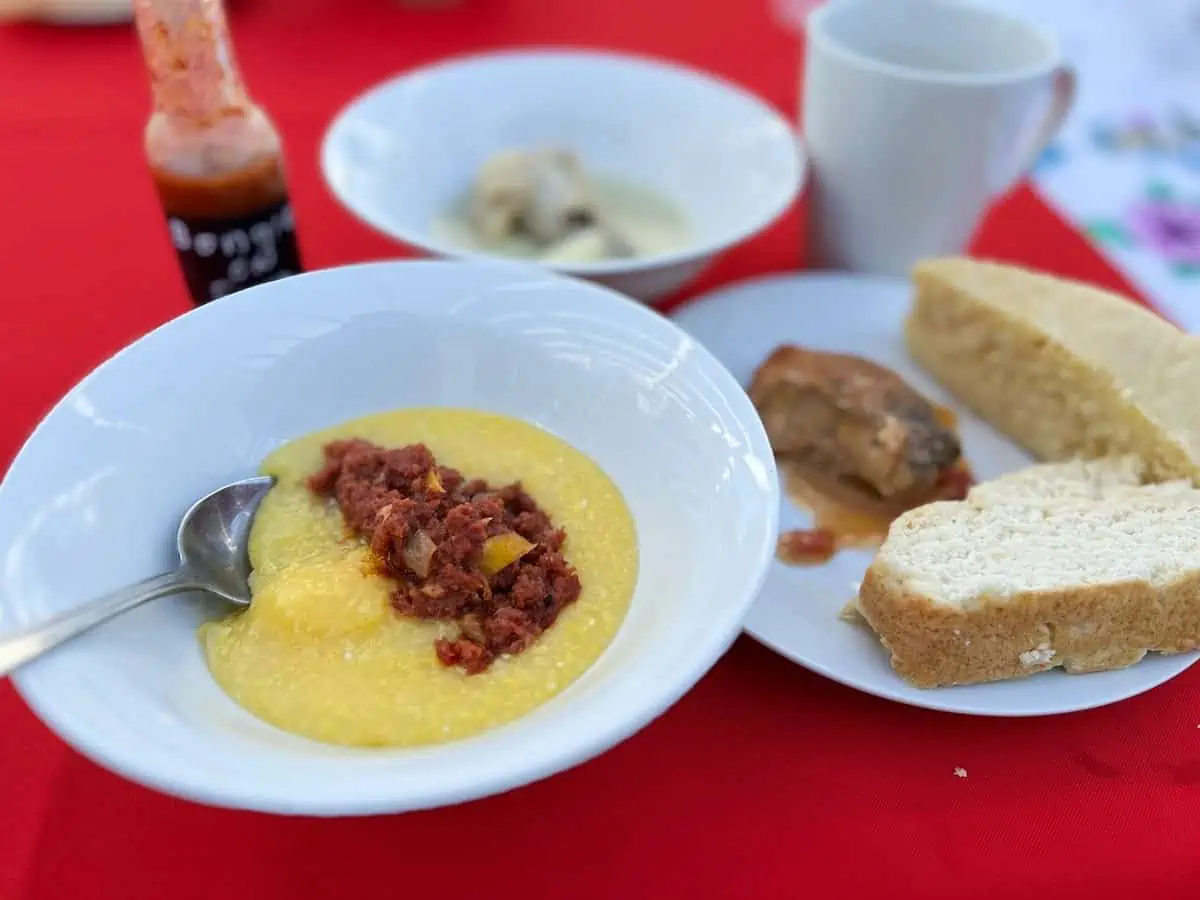 Register for the People to People Guest Experience and get paired with a Volunteer Ambassador on the Islands of the Bahamas website.
Editor's Note: If you're not able to line up a People to People experience but still want a glimpse at Bahamian life beyond the resorts, the Mamma Gal Local Experience takes visitors away from the tourist zones and to markets, remote beaches and local conch shacks.
Check rates and availability of the Mamma Gal Local Experience on Viator.com.
10. Live it Up at Wednesday's Fish Fry Party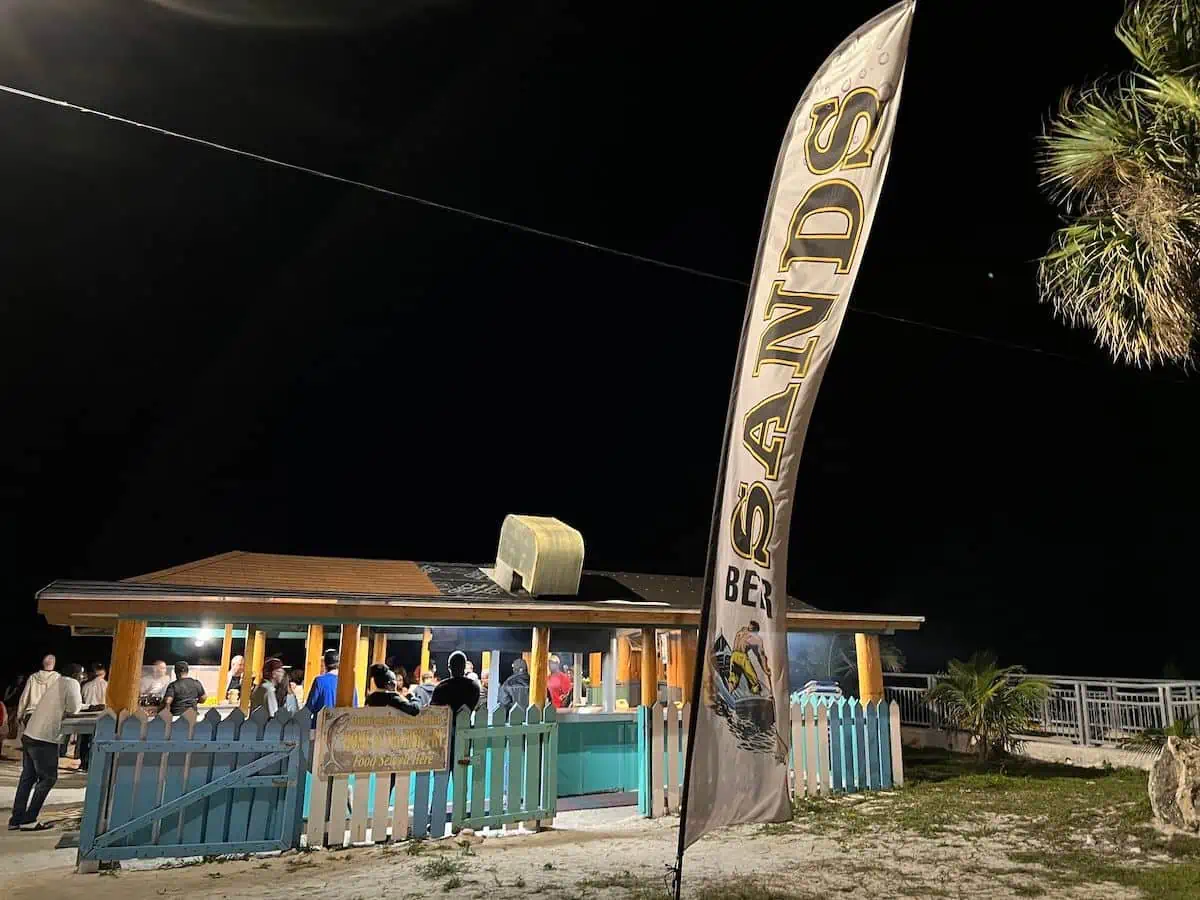 Every island in the Bahamas has some version of fish fry, which can be a permanent collection of beach shacks/street vendors like in Nassau, or a Wednesday night ritual like in Freeport.
This is such a popular thing to do in Freeport, lineups for the Smith's Point Fish Fry beside Taino Beach start at sunset.
While there are a handful of places to choose from, we opt for Outriggers (Google Map).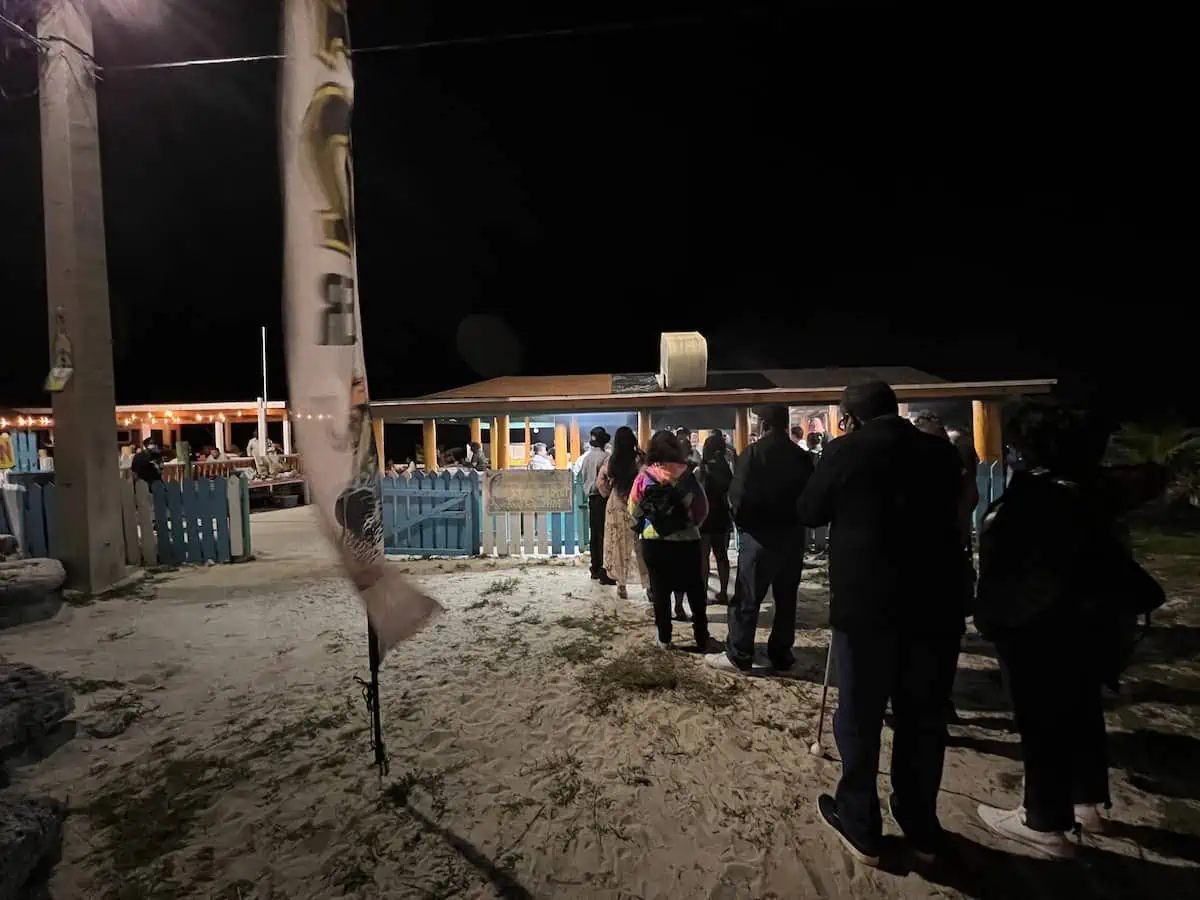 You pick a main (fried fish, pork, ribs or chicken) and sides (like macaroni and cheese, rice or coleslaw). Then you decide if you're craving conch salad.
Desserts include Guava Duff (steamed pudding with guava swirl), sweet potato bread and coconut or banana tarts.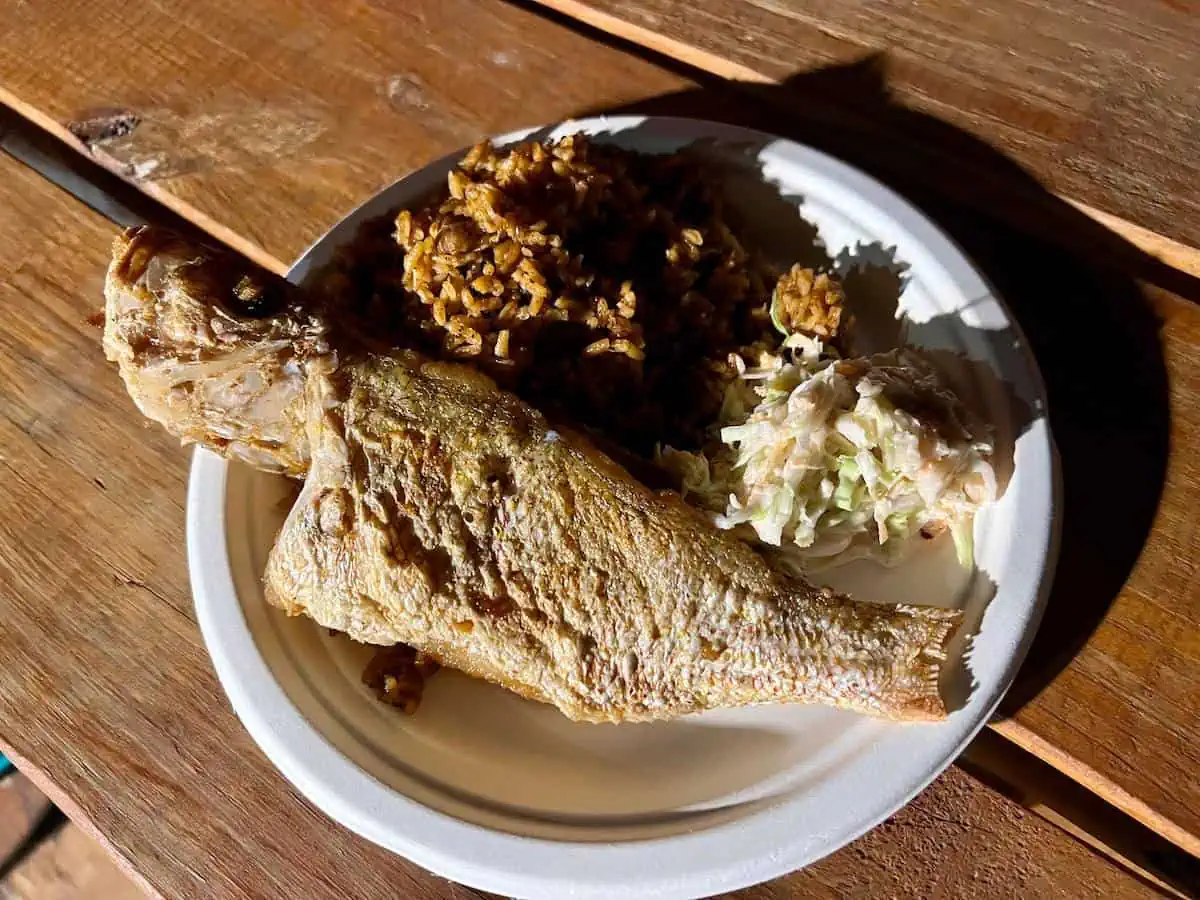 Locals might get takeout or settle in at the picnic tables for an evening of music and dancing.
The Fish Fry party is definitely a fun thing to do in Freeport at night. Much as it does at the Shirley Heights Party in Antigua, the music — generally a mix of reggae, soca and calypso — and partying heats up as the night progresses.
Everyone is welcome to join in.
⭐️ Pro Tip: Both US and Bahamian dollars are accepted all over Grand Bahama Island.
11. Commune With Nature at Rand Nature Centre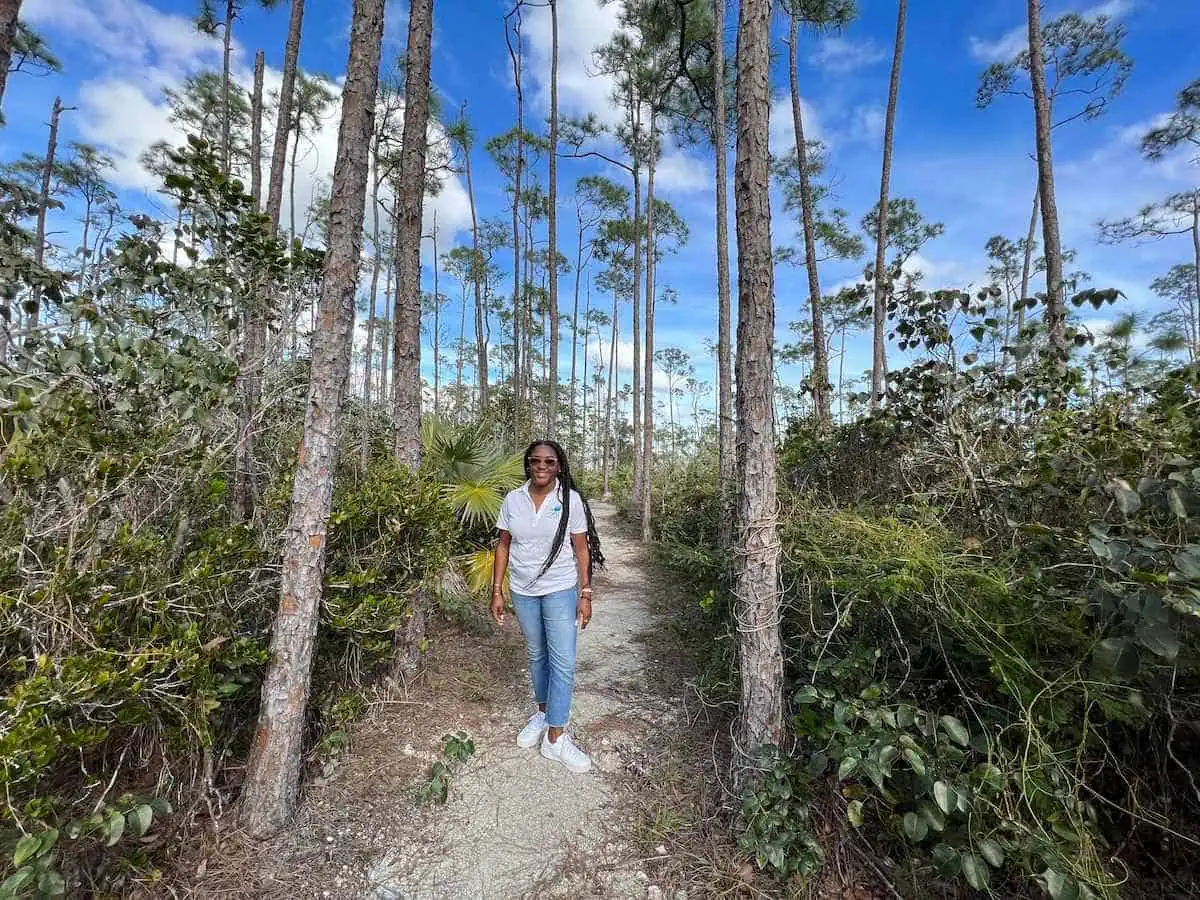 The non-profit, non-governmental Bahamas National Trust runs three national parks on Grand Bahama. One of them, the Rand Nature Centre, is right in central Freeport.
The 100-acre centre was established in 1969 by Dorothy Rand as a living memorial to her philanthropist/inventor husband James, who retired in Grand Bahama.
From the visitor centre, take the kilometre-long looped trail through the pine forest to a "watchable wildlife pond" full of turtles and wading birds, and on to an arboretum that showcases native plants.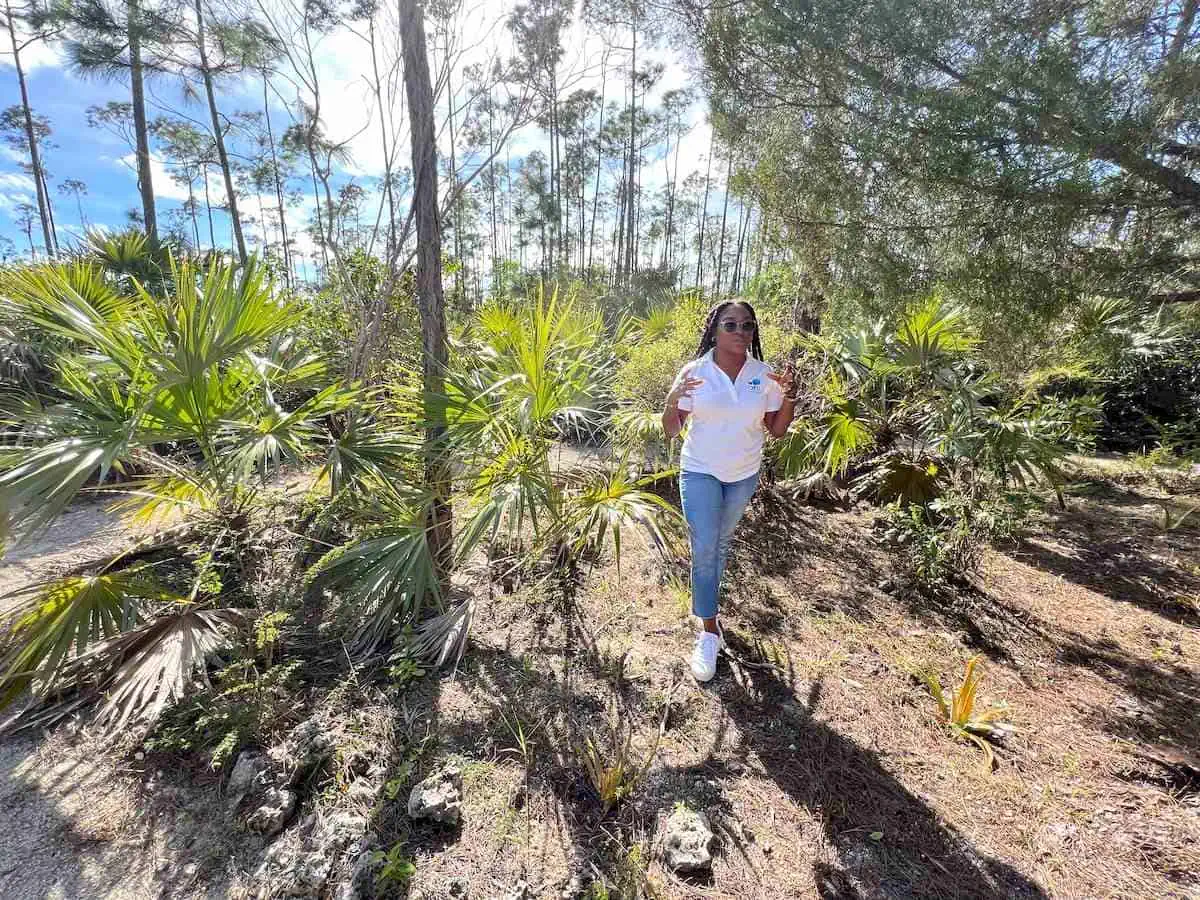 This pine forest — which survived Hurricane Dorian's onslaught — attracts endemic and migratory winter birds, like the Red Legged Thrush and Cuban Emerald Hummingbird, as well as Zebra Longwing butterflies and elusive Brown Racer snakes.
Signs along the trail identify trees and plants.
12. Visit a Secluded Beach in Lucayan National Park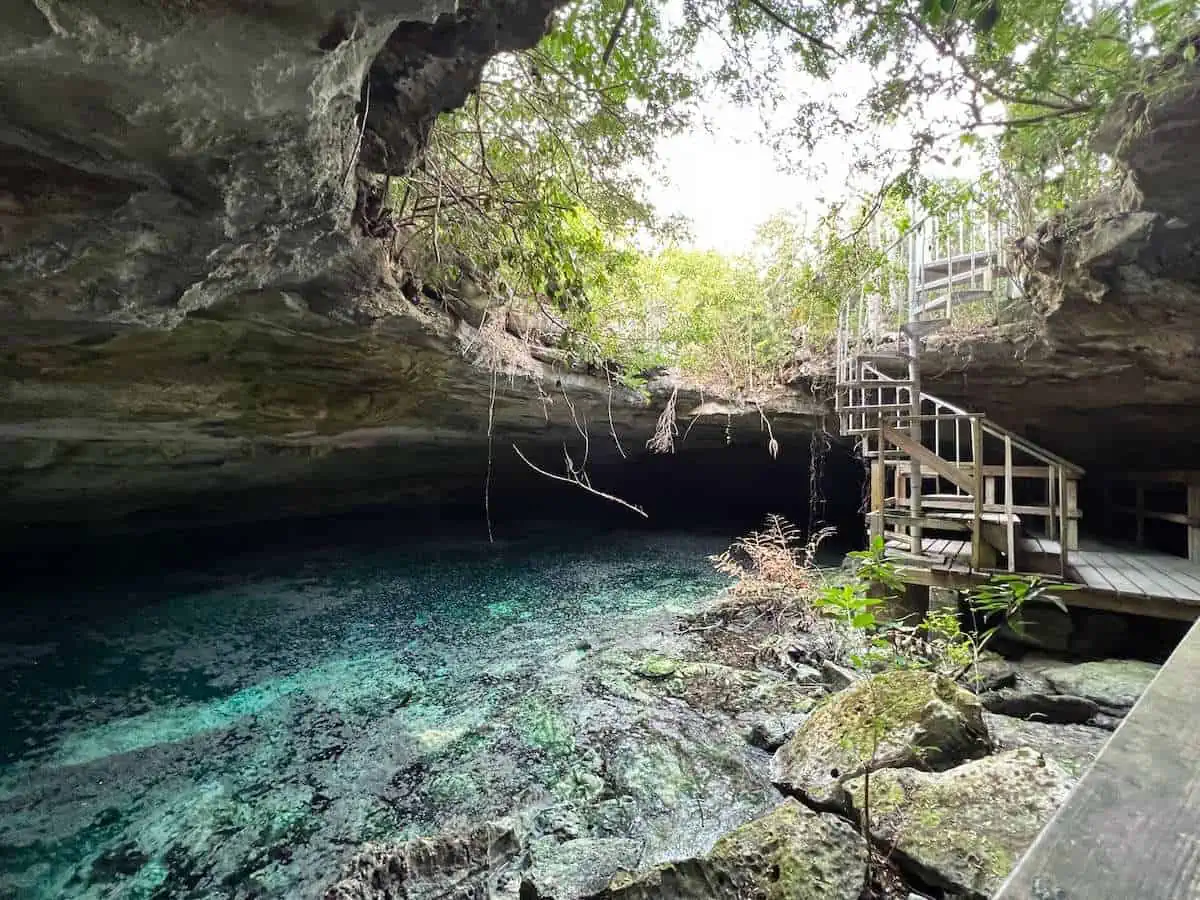 Lucayan National Park is split into two enticing parts.
On the north side of the highway, a looped boardwalk takes you into two caves — Ben's and Burial Mound — that combine to form one of the longest charted underwater karst cave systems in the world.
The park is named after the original inhabitants of the islands.
In 1986, archaeologists discovered skeletal remains of several Indigenous Lucayans within a water-filled cavern near the entrance to what's now called Burial Mound Cave.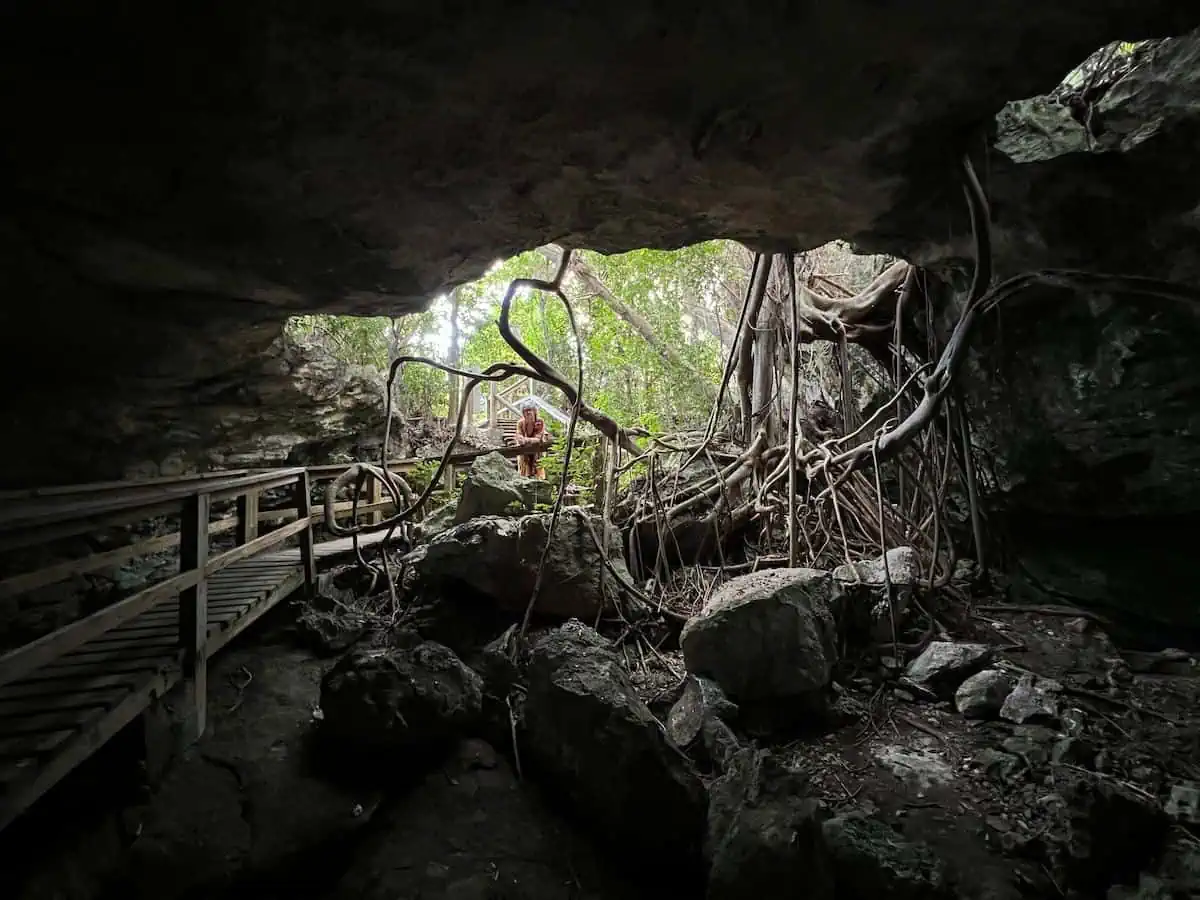 On the south side of the highway, a longer looped boardwalk transports you through multiple ecosystems from a mangrove creek and coppice forest to sandy dunes and coral reefs.
Here you'll find Gold Rock Beach — dubbed "the welcome mat of Freeport" — not far from the spot where Pirates of the Caribbean was filmed.
The best East End Island Sightseeing Tours from Freeport include a visit to Lucayan National Park. You'll also see Taino Beach Public Park and Garden of the Groves botanical gardens and Gold Rock Beach on this full day excursion.
Check rates and availability of an East End Island Sightseeing Tour on Viator.com.
13. Sip Some Suds on a Bahamian Brewery Tour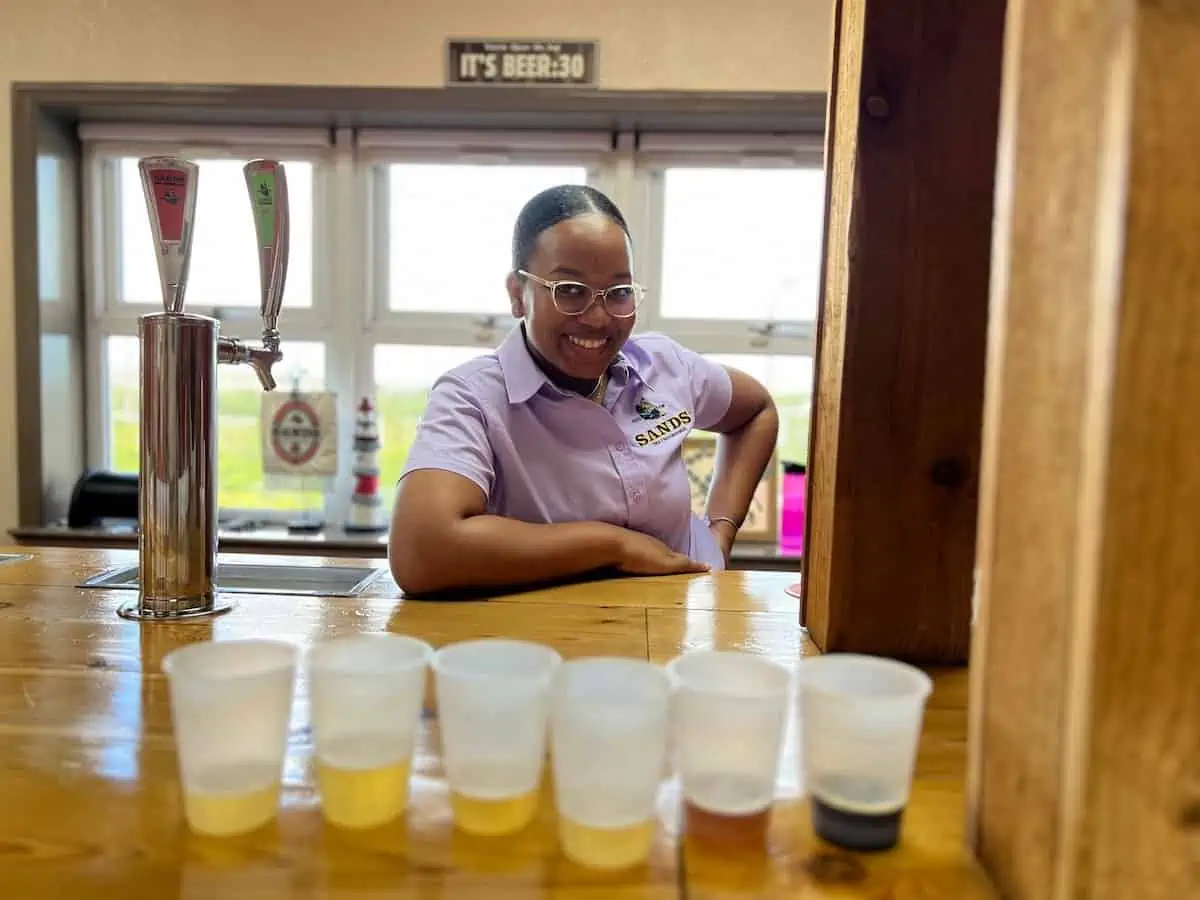 If you're wondering what to do in Freeport, Bahamas that's indoors, then head to the Bahamian Brewery for an entertaining and informative guided tour.
"It's Beer:30," says a sign in the in-house bar that's a stop on the tour. "This beer is making me awesome," says another.
Taneisha McIntosh leads us through a tasting of Sands, Sands Light, High Rock Premium Lager, Bush Crack Light Lager, Sixty Six Steps Ale and Strong Back Stout.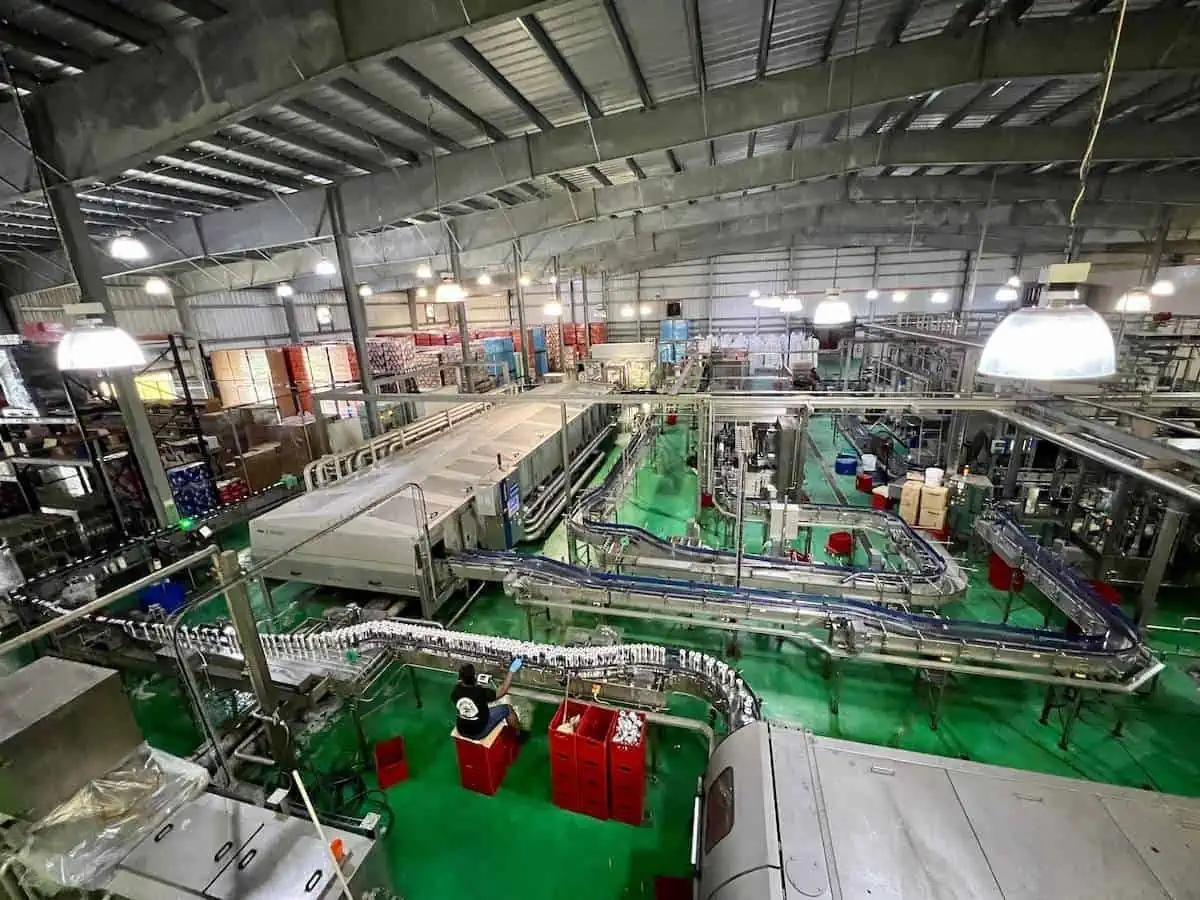 That's after Crystal McSweeney details how this Bahamian owned and operated brewery opened in 2007 and named its first beer — Sands — after founder/CEO Jimmy Sands.
Then she guides us through the brewing and bottling/canning process and provides plenty of time to photograph the production line.
Tours run weekdays and last about 45 minutes. Cost is $15 USD (includes beer tasting). Book in advance.
There's also a retail shop on site called Jimmy's Wines & Spirits.
Related: You might also like to try West Indies Brewery in Grenada and Balashi Brewery in Aruba, other island breweries we love.
14. Feed the Sharks at Pier One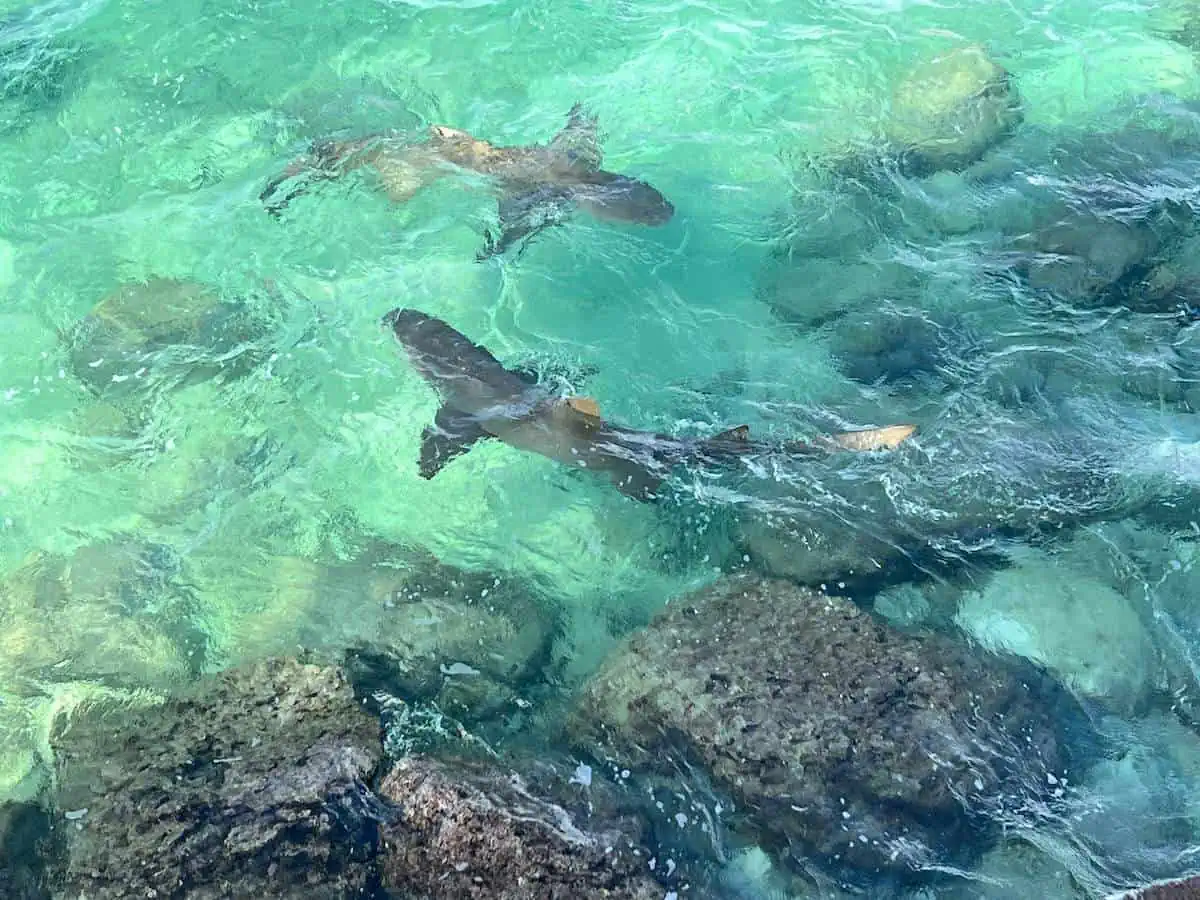 One of the most unique things to do near the Freeport Bahamas Cruise port involves sharks.
In the Freeport Harbour (not far from the cruise ship terminal) is Pier One Restaurant and Sushi Bar (Google Map) that feeds not only humans but sharks.
It's on a rocky perch overlooking the ocean where bull sharks and lemon sharks congregate. Three times a day — at 7, 8 and 9 p.m. — dinner guests can watch a shark feeding.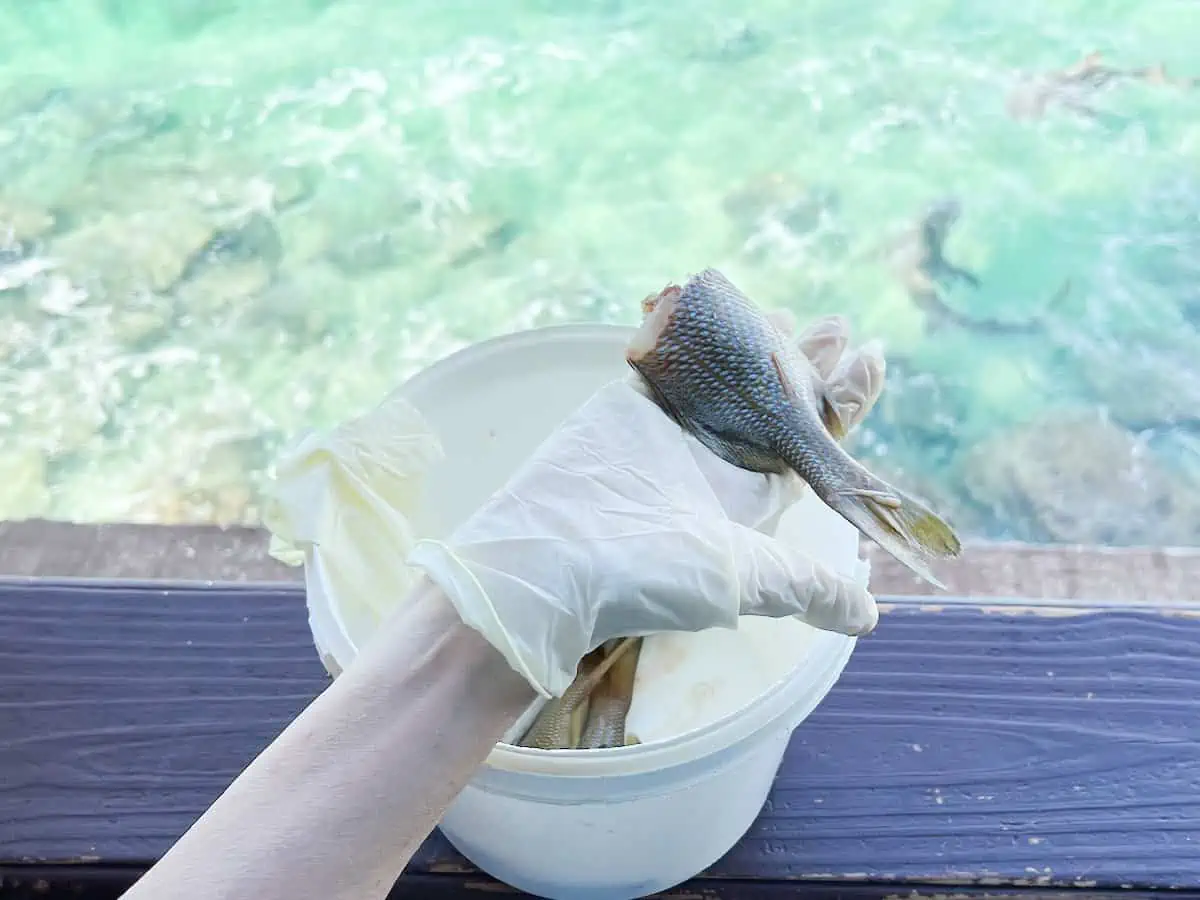 But if you show up outside of those hours, the staff will sell you a bucket of shark food for $10 USD and give you rubber gloves.
That's how I wind up tossing a dozen fish heads to a pair of lemon sharks one memorable morning.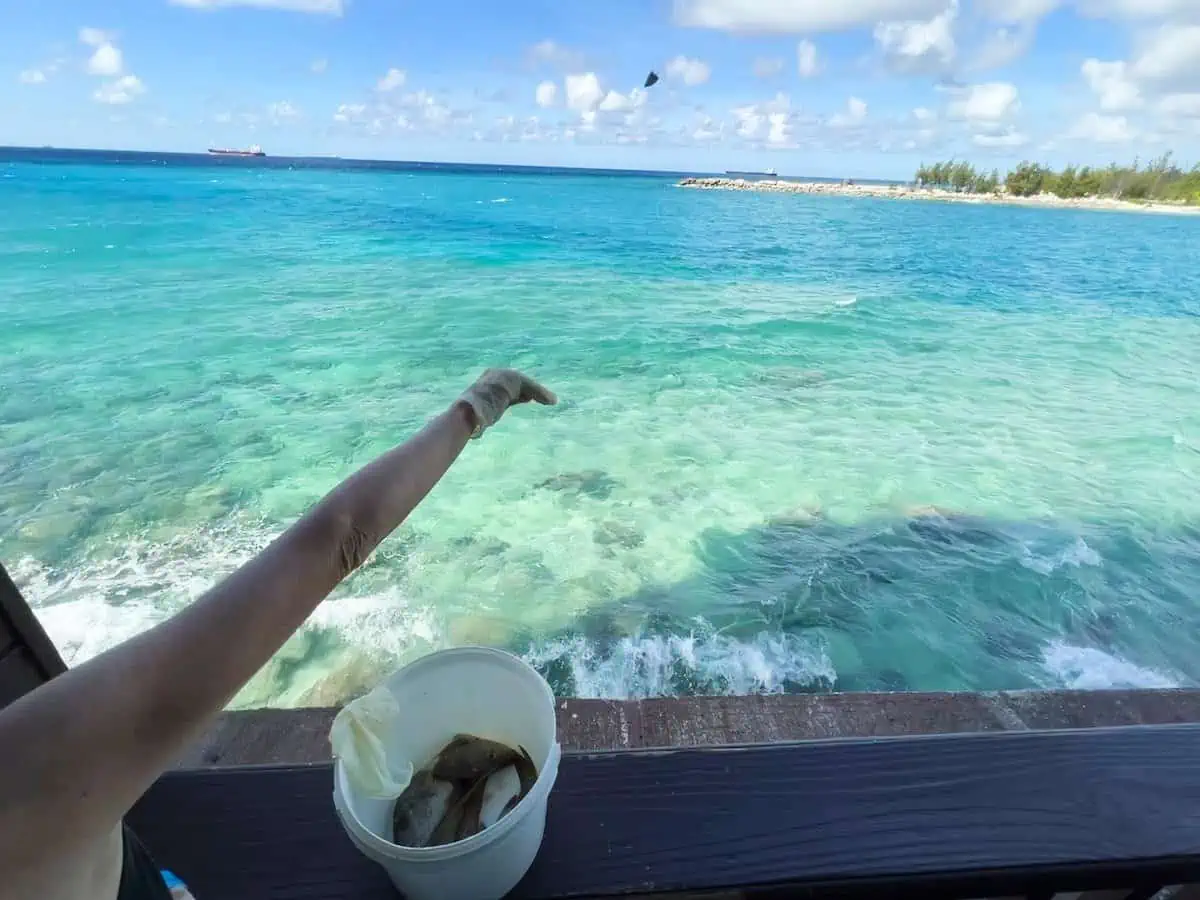 A sign explains that social lemon sharks aren't usually a threat to humans.
Bull sharks, however, inspired the book Jaws that became a 1975 blockbuster film.
15. Safely Interact With Wild Stingrays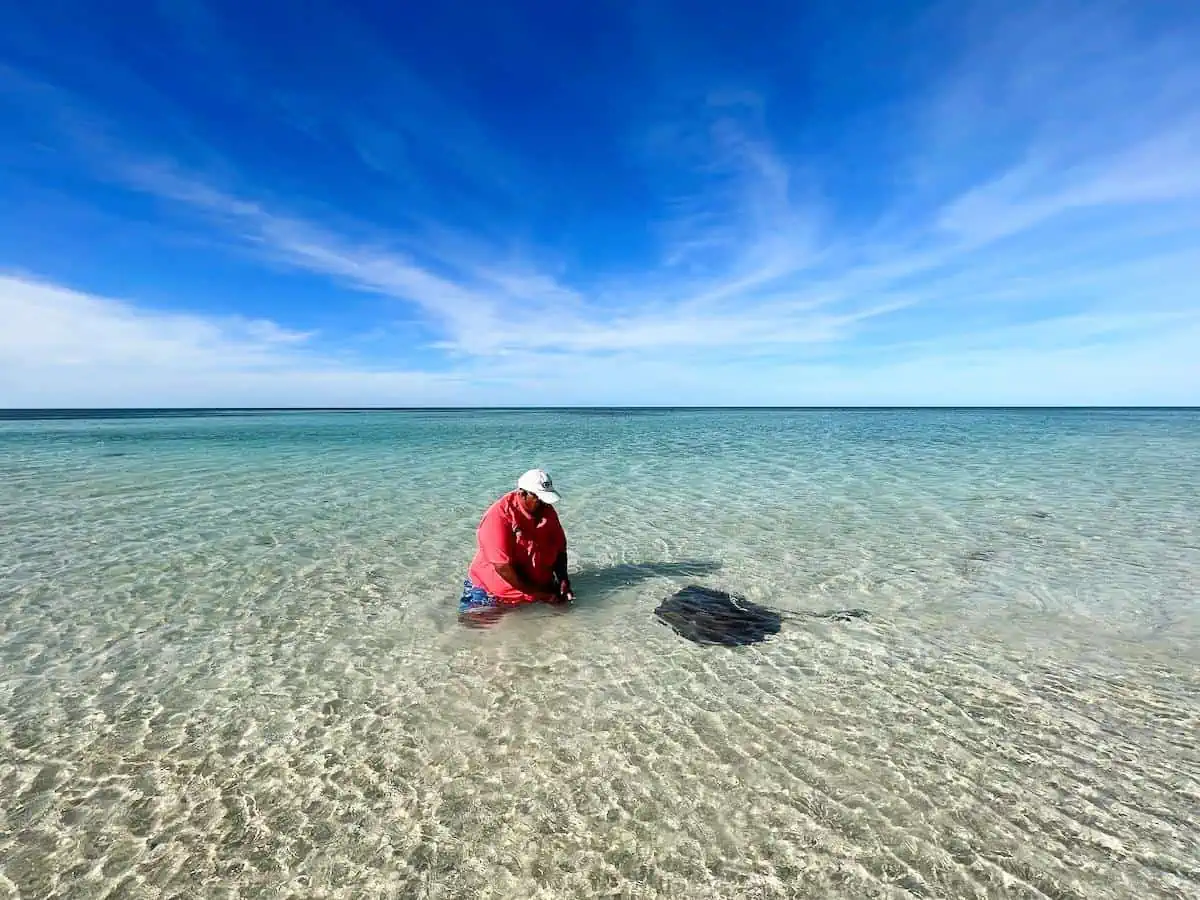 "We're dealing with wildlife, we're dealing with raw nature, and I can't control any of it," warns captain Keith Cooper of West End Ecology Tours as we head to a deserted island on his stingray experience tour.
"But I do work with it, and it's quite amazing when the stingrays are there they put on a beautiful display."
For 17 years, Cooper has been getting to know the wild southern stingrays that forage near Sandy Cay.
He calls them his business partners, has names for most of them because of their birthmarks and personalities. He says the bond he has with them is "unlike any thing you've seen in your life."
We stand in the shallow water and meet two female rays. The best part? Cooper's tours are limited to six people.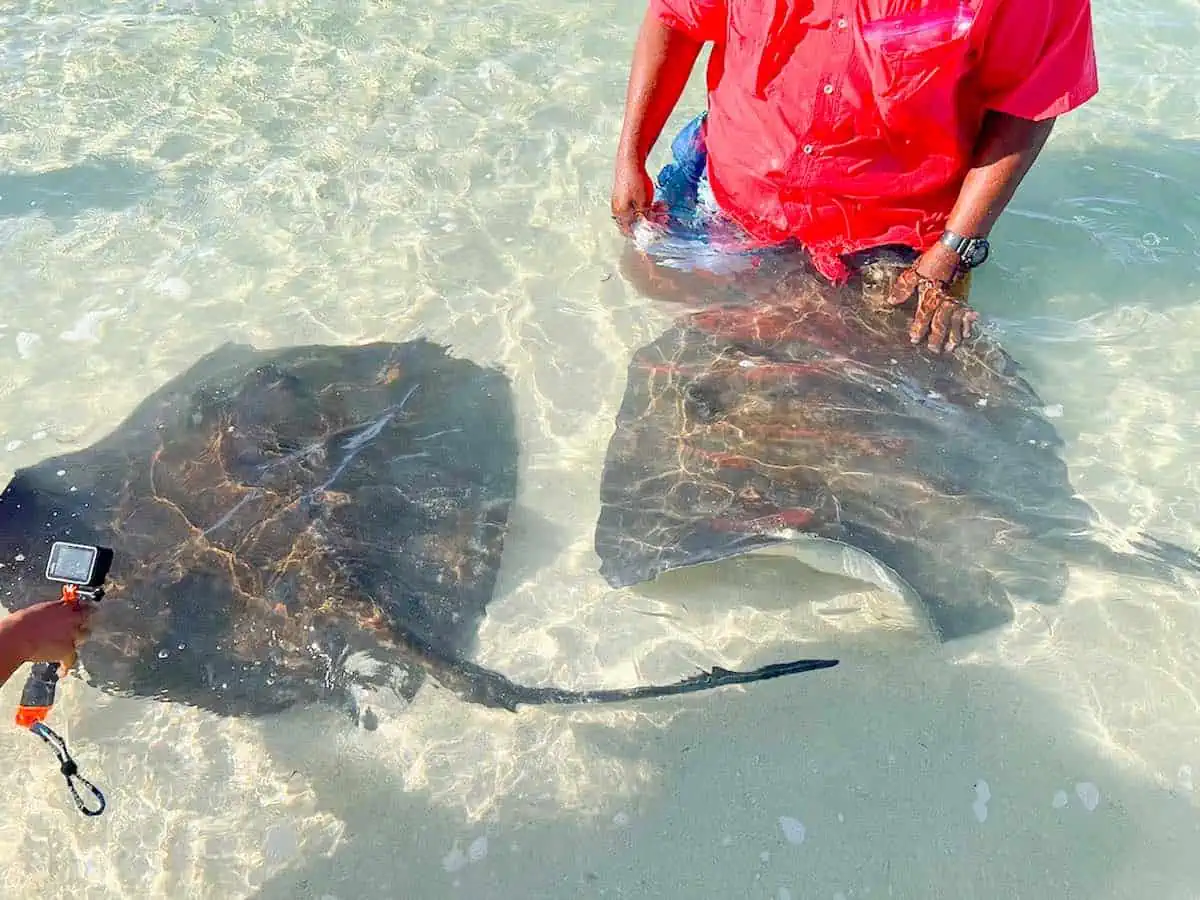 The Family-Friends Multi Day Combo tours combine the Stingray Ecology Tour with snorkelling and fishing tours for a once-in-a-lifetime Bahamian experience.
Final Thoughts on Things to Do in Freeport, Bahamas
Although the Bahamas is located in the North Atlantic, it's still considered part of the Caribbean community.
Be aware that Grand Bahama is still recovering from the devastation of Hurricane Dorian in 2019, which means some attractions and facilities may still be under repair.
Getting Around: You'll need a rental car to explore Grand Bahama. Remember to drive on the left.
Official Bahamas Tourism Board: To help plan your trip, check out the official tourism website of the Islands of the Bahamas.
Getting There: Sunwing has weekly direct flights between Toronto or Montreal and Freeport in winter. Westjet and Air Canada fly to Nassau on New Providence Island. From there, take Bahamasair to Freeport.
Good to Know: At Crystal Beach, there's a swimming pigs experience. Unlike the famous swimming pigs of Eleuthera, which are feral, these domesticated pigs are let out of their pen when large groups of tourists stand in knee-deep ocean bearing apple chunks on bamboo skewers.
FAQs
What is the nicest beach in Freeport, Bahamas
Taino Beach is widely considered the nicest beach in Freeport as it features the quintessential pearly white sand and turquoise waters that Grand Bahama Island is famous for.
Does Freeport have a free beach?
All beaches are public property in the Bahamas which means access to all beaches in Freeport, Grand Bahama are free. That does not include the use of umbrellas and lounge chairs or resort/beach club facilities.
What is the difference between Freeport and Nassau, Bahamas?
Nassau was founded in 1670 by British settlers which means it has a colonial history compared to Freeport which was established in 1955 by American financier, Wallace Groves. Freeport is also much less developed than Nassau.
Other Caribbean Escapes for Nature Lovers
Save to Pinterest!
Jennifer Bain is a recovering newspaper food and travel editor who now travels the world in search of quirk. Based in Toronto and with a retreat on Fogo Island in Newfoundland and Labrador, she's an award-winning freelancer who has written two cookbooks and two travel books. View her portfolio at JenniferBain.co