We may earn income from links in this post. Please read this Disclosure for details.
Want to try some some traditional Grenadian food? This in-depth guide offers an introduction to Grenada local food — the best main dishes, desserts and drinks — you need to try on the beautiful "Spice of the Caribbean."
Located at the southern tip of the Windward Islands in the eastern Caribbean north of Trinidad and Tobago, Grenada and its sister islands of Carriacou and Petite Martinique are best known for their 40 beaches, lush landscape and turquoise blue waters.
But its other big attraction is its culinary scene.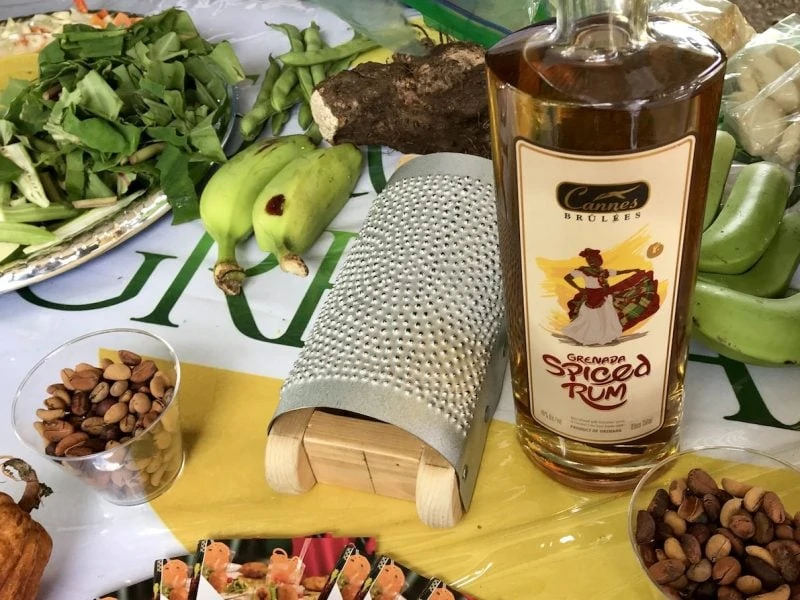 Grenadian food is so rich and rewarding, it was one of the top reasons I wrote 12 Reasons I'm Tempted to Drop Everything and Move to Grenada after my very first visit.
Grenada's culinary roots are a fascinating mix of African, Arawak, Indian and British influences. Grenada's rich volcanic soil is also fertile ground for plants such as mauby, sour sop and chadon beni, a pungent leafy herb somewhat similar to cilantro.
All do their part to contribute to the unique flavours of Grenadian cuisine.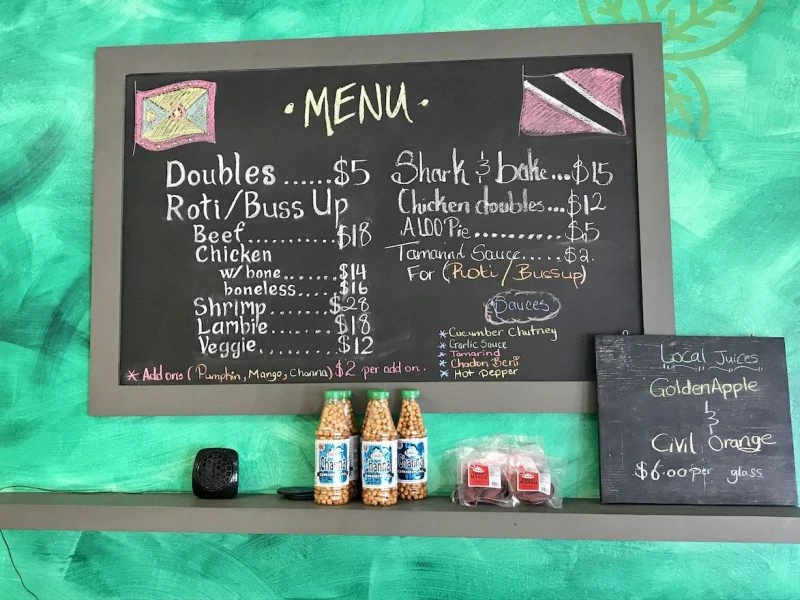 Since that first visit, I've returned to Grenada seven times, writing travel stories for Virgin Atlantic, the Globe and Mail, Hola Latinos and other magazines. Every time I return there's more great food and culture to discover.
So, fasten your seatbelts and pack your stretchy pants, here's what you shouldn't miss when it comes to food, drink and traditional dishes to try in Grenada.
I've even included some of the best places to eat in Grenada if you're looking for local food.
Traditional Grenada Food Dishes
Oildown
One of the first Grenada foods you need to try is Oildown, Grenada's national dish. Spend any time in Grenada and you'll soon notice locals walking to beaches, toting gigantic steel pots.
Cooking this one-pot stew packed chock full of plantain, breadfruit, salted meat, chicken or fish, spices and coconut is an all-day community affair.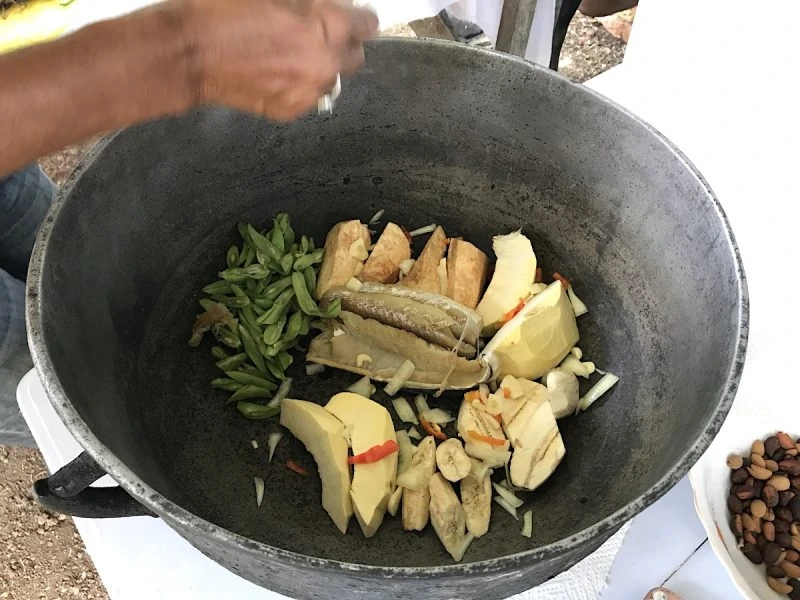 Layered in a large pot, it's set over a burner to simmer for the day during a "beach lime" a Grenadian beach party. It's a dish to be enjoyed with friends and family.
While enjoying your oildown, you'll likely discover tender dumplings hidden within the smoky broth.
Steamed dumplings might seem more suited to Tyrolean ski slope than a beach cookout but the filling stew is somehow a perfect complement to the cooling trade winds. Surprising and satisfying–much like the island of Grenada itself.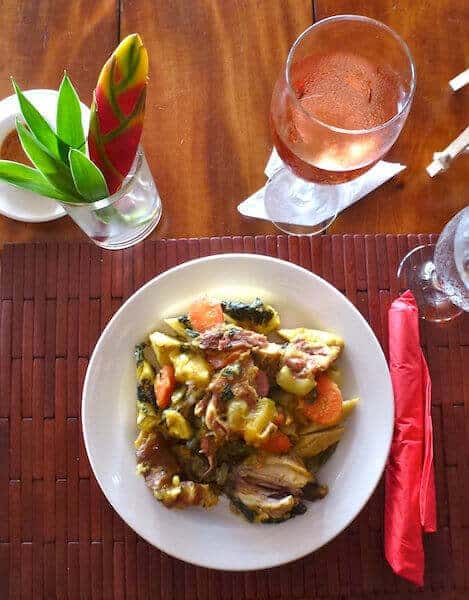 Where to Try It: As Oildown is most often enjoyed with family and friends it's not often seen on restaurant menus unless you happen to be on the island on Grenada's Independence Day.
BUT the good news is that you can often find oil down at one of the events sponsored by the Grenada Hash House Harriers, a running group that meets weekly to run through the jungle and party.
One of the largest hash groups in the world, up to 300 people in Grenada meet weekly at a preset location to run (or walk) a route through the bush. At the end of the run, they enjoy oildown, grilled chicken and cold beer. This is where us food fans spring into action.
I've tried a lot of oil down and I can attest that the oildown at the Hash events is some of the best oildown you'll ever find. So, check out the Grenada Hash House Harriers website to find out the location of the next event and strap on your running shoes for some fun, Grenadian style.
Saltfish Souse – Grenadian Breakfast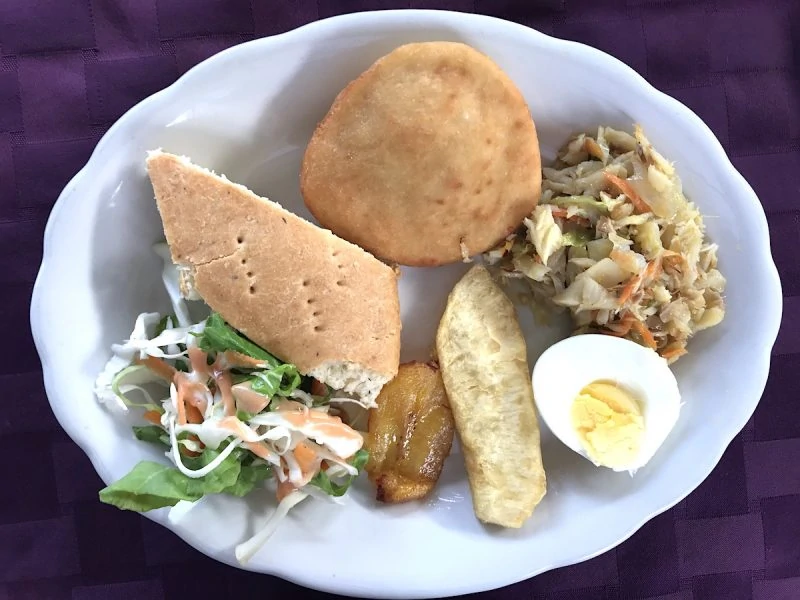 Saltfish for breakfast might be unexpected for those used to typical bacon and egg-style American and British breakfasts but dried salt cod is a popular ingredient throughout the world.
Check out our collection of globally-inspired salt cod recipes you can make at home!
The popularity of salt cod hails back to when fish was preserved in salt in order to make it survive the long ocean voyages across the Atlantic during the colonial era. So, it's possible to find salt cod or bacalao in Portugal, Spain and throughout Latin America and the Caribbean served at various times throughout the day.
In order to prepare Grenadian saltfish, the dried fish is rehydrated in fresh water, during several cycles replenished repeatedly, and then flaked and mixed with chopped tomato, onion, pepper and parsley. It's usually served warm alongside or tucked inside a bake, a pouch-shaped bun similar to a pita.
Where to Try It: Saltfish Souse is often served as part of the expansive breakfast buffet at the Radisson Grenada (one of our top choices for a budget hotel on Grand Anse Beach) or you can order it at Patrick's Local Homestyle Restaurant, on Lagoon Road across from Port Louis Marina.
Here, breakfast features bakes, salt fish souse, smoked herring, a hard boiled egg and coffee or cocoa. I've also seen it served at Grenada's Market Square on Saturdays.
Pigeon Peas Soup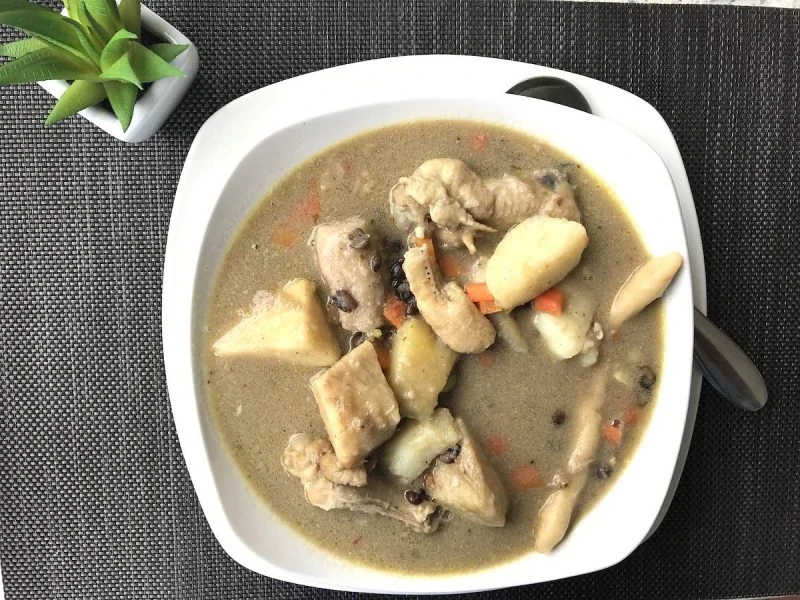 One of the best things to do in Grenada on a Saturday is to head to one of the local restaurants for a steaming bowl of one of the traditional soups. One of the most popular Grenadian soups is pigeon peas soup, a hearty bowl of meats (often pigtail) and provisions.
In the West Indies provisions are vegetables grown in the ground such as sweet potatoes (yams), cassava ( yuca) as well as plantain, pumpkin and breadfruit.
One of the unique additions to Grenadian soups are dumplings, which are different than the fluffy ones you'll find in North America, but are satisfyingly firm, rather long, strips of dough that are incredibly delicious and filling.
Where to Try It: One of the best places to try Grenadian soups is on Saturdays at Cayenne (473-439-1800), a local restaurant located on Montessori Road beside the Grand Anse Shopping Centre across from the Radisson Hotel. Prices are very reasonable.
A bowl of delicious Grenadian soup will set you back just 10 EC or $3.50 USD. Another top spot is Andy's Soup House.
Doubles and Roti – Grenada Street Food and Snacks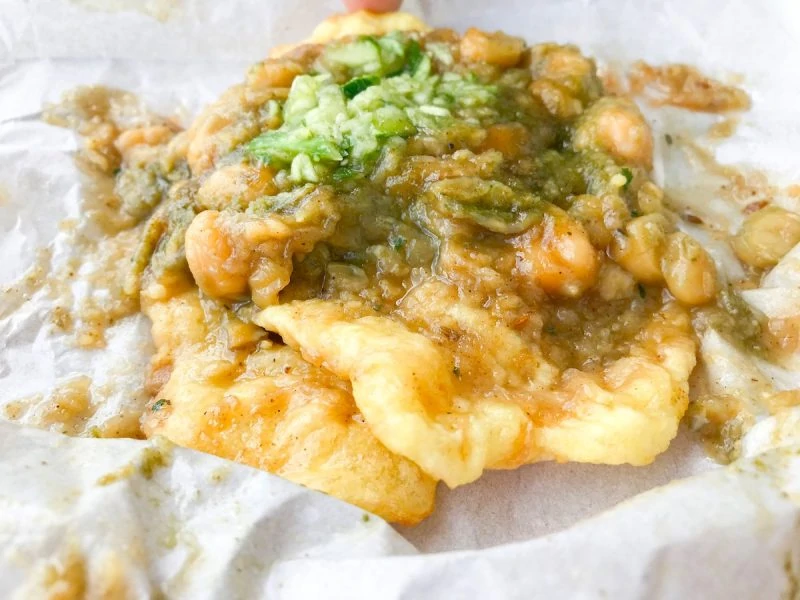 Although they originated in Trinidad and Tobago, a Grenadian double is its own unique handful of deliciousness.
This traditional snack is made of two pieces of bara, a flat fried bread made of flour, baking powder and turmeric, stuffed with slightly spicy curried chickpeas. Topped with sweet mango and hot pepper to your liking, they're often enjoyed for breakfast or snacks.
Those with more of an appetite should opt for the slightly larger roti, a wrap folded around a stewed protein such as goat, lambie (conch), chicken or even shrimp.
This popular street food is enjoyed throughout the day and is available from food trucks and vendors as well as roti shops.
Where to Try It: In Grand Anse, you can often find vendors selling roti, doubles and other snacks and street food near the round-about across from the Spiceland Mall, near the Radisson Hotel.
Or, you can head to the roti shop Chadon Beni in Le Marquis Complex and and dine at one of the outdoor or indoor tables. It's located near Siesta Hotel, one of our favourite cheap hotels near Grand Anse Beach. Further afield in Grenville are several other roti shops, my favourite of which is simply called My Place Roti and Doubles.
For an upscale goat curry roti, try Spice Island Resort. Their version of this traditional Grenadian food comes with several tasty sauces and is especially delicious.
Macaroni Pie, Coleslaw and Other Grenadian Side Dishes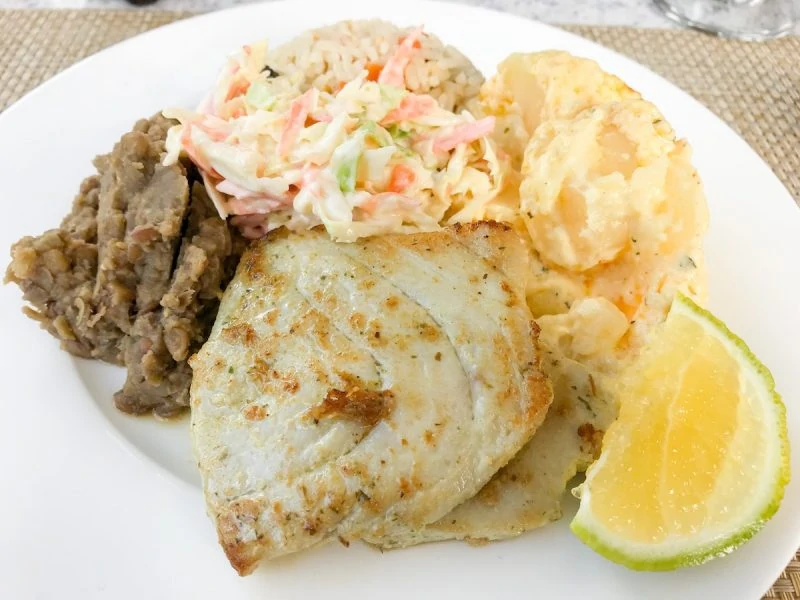 An entire article could be devoted to the side dishes of Grenadian cuisine. I could enjoy a whole meal of just side dishes such as callaloo, macaroni pie, coleslaw, scalloped potatoes, lentils and more. The options truly seem endless!
For lunch specials, these tasty sides usually accompany a piece of grilled fish, creole chicken or other meat. They're only available until they run out so plan to eat lunch early for the best selection of sides.
Grenadian Chicken Pelau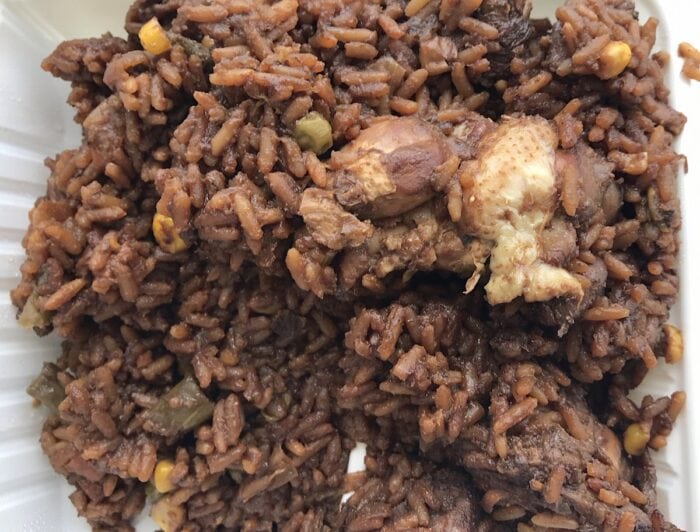 This popular one-pot Grenadian dish features aromatic chicken and rice in what's almost a Caribbean version of Spanish paella. It's made by browning the chicken in caramelized brown sugar and then adding white rice, thyme, peas, vegetables and coconut milk.
The mixture is then simmered until the rice is cooked and the flavours merge in magical perfection.
Where to Try It: Pelau is a traditional Grenadian dish for a mid-week meal and can usually be found on one of the buffet hot tables in the historic capital of St. George's such as Deyna's. I discovered a delicious pelau to-go at the IGA at Spiceland Mall.
Goat Dairy Artisanal Cheese
Another must-try is the goat cheese at the Grenada Goat Dairy, another project born from the devastation of Hurricane Ivan. This not-for-profit organization partnered with Belmont Estate, a fully functioning 17th century plantation located an hour from the capital city of St. George.
Proceeds from the sale of organic Grenada Goat Dairy cheese support education and training on husbandry, production and marketing within the community.
Within the barns a herd of dairy goats–a mix of local, pure bred Alpine and floppy-eared Nubian–happily chow down on organic "goat greens" that look much like a mesclun salad you might find on a resort buffet.
Inside the modern facility, the goat milk is filtered, refrigerated and pasteurized to the highest international food safety standards.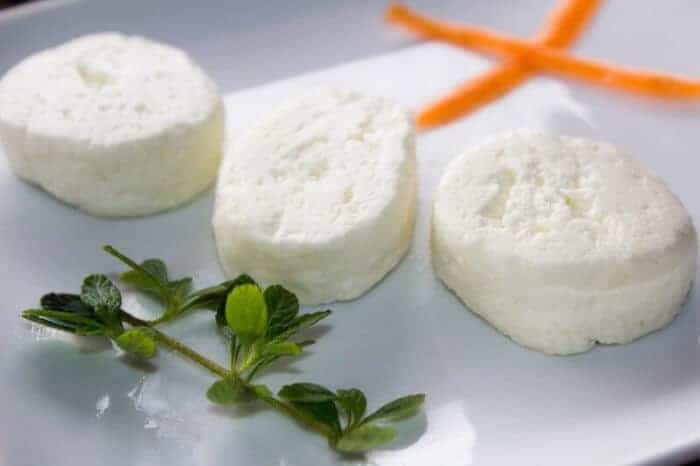 The cheese's delightfully smooth texture offers just a touch of milky tartness. According to Christine Curry, the project's director and co-founder, the combination of quality facilities and the goat's healthy diet results in a delicate tasting chèvre.
Where to Try it: The Calabash Hotel's esteemed Rhodes restaurant, headed by London celebrity chef Gary Rhodes, often features Goat Dairy's chèvre on the farm-to-table menu. The cheese is especially delicious within a ruby-toned beetroot tart, a dish that showcases its velvety texture.
Grenada Crab Back
While walking to Grand Anse beach from the Siesta Hotel each day, I'd often see dozens of large land crabs scurrying into holes by the side of the road. I wondered why people didn't eat them. As it turns out they do!
One of the most popular traditional Grenadian dishes is called Crab Back and it's made with fresh crabmeat mixed with herbs and a cheese sauce baked inside a crab shell.
Where to Try it: Head to BB's Crabback in the Carenage near Fort George where it's listed on the appetizer menu.
Grenada Spiny Lobster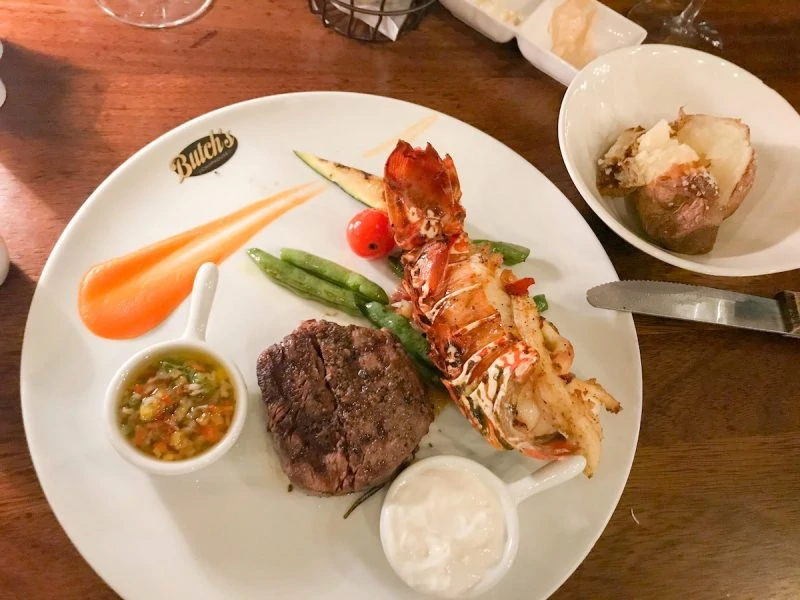 Spiny lobster is a popular food in Anguilla and other regions of the Caribbean. Lobster season in Grenada runs from September 1st to April 30th, however that doesn't mean you'll always find it on menus.
Where to Try it: In Grenada, spiny lobster lives among the reefs and in the mangroves of the Grenadine islands. You can try calling a restaurant such as Aquarium, Sails or Coconut Beach in advance to see if they have any available.
If you're a guest at Sandals Grenada All-inclusive Resort (one of our top choices for the best luxury resorts in Grenada) enjoy it as part of the Surf & Turf dinner at Butch's Chophouse – no extra charge or supplement.
Organic Chocolate
Also located near Belmont Estate is the Grenada Chocolate Company, a solar-powered, tree-to-bar cooperative at the edge of the Mt Hope rainforest.
Surrounded by lofty Madre de Cacao, a tangerine-blossomed tree that provides protective shade for the cacao trees, red and yellow cocoa pods grow in wild abandon. You can crack open a pod and scoop out the beans to sample the citrusy, white pulp.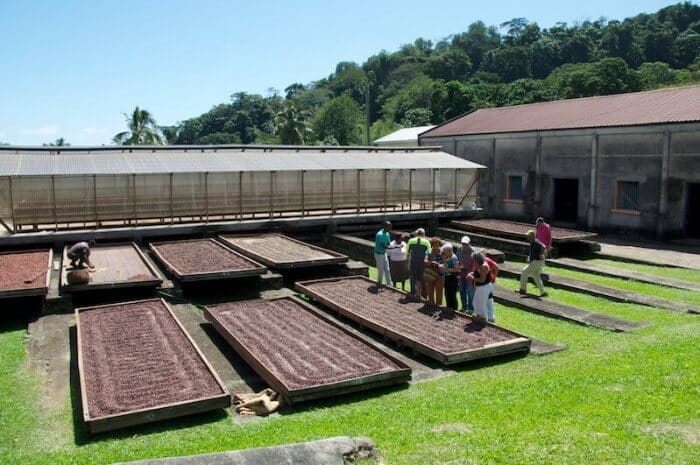 The Grenada Chocolate Company cultivates almost exclusively Trinitario cocoa bean, a variety prized for its intense and complex flavour. Within the processing area, the cacao beans are hand harvested, fermented and sun-dried naturally.
The beans are then polished traditionally by workers who "dance the cocoa" by turning the beans with their feet in a giant copper bowl or in drying trays.
After drying, the cocoa beans are roasted, winnowed, churned, tempered and pressed into chocolate of exceptionally intense flavour.
Where to Try It: Chocolate lovers won't want to miss the Grenada Chocolate Festival, a delicious celebration of chocolate from bean to bar, that takes place each spring.
Callaloo Soup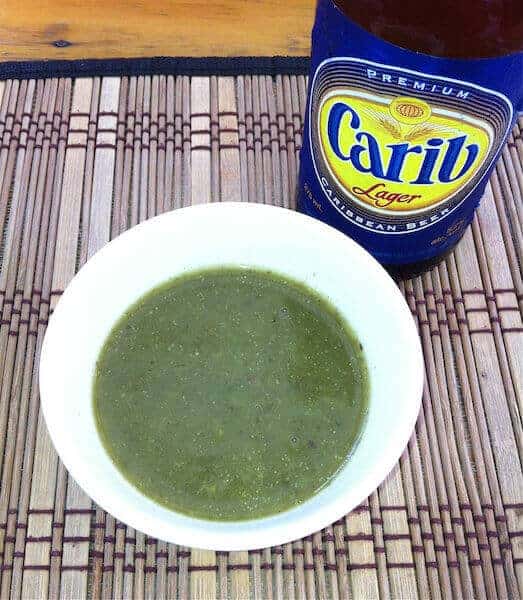 It's a good thing callaloo is good for you — the leafy greens are packed with iron — because it's so delicious you might find yourself eating your weight in it each day! Originally brought from West Africa in the 17th century the mineral-rich vegetable has become a staple of Caribbean cuisine. It thrives in Grenada's fertile soil with leaves the size of yoga mats growing freely by the side of the road.
One thing you need to know is that no matter how tempting it might be to do so, you can't just grab a handful of callaloo from a ditch and chow down. Its prickles can scratch your stomach if you eat it raw. Instead, you've got to remove the stems, chop the leaves fine and cook it for a long time.
Where to Try It: Sample callaloo tucked inside tender cannelloni at beachfront Aquarium restaurant, pureed in soup at Patrick's Local Homestyle Restaurant, and sprinkled on top of thin crust wood-fired pizza at Le Phare Bleu Marina & Resort.
At True Blue Bay callaloo is sauteed with thyme and onions and stuffed inside a chicken breast, grilled and topped with a heavenly sauce of coconut milk, cream, white wine and fresh-grated nutmeg. The spice-infused creation is simple but bursts with flavour.
Nutmeg Syrup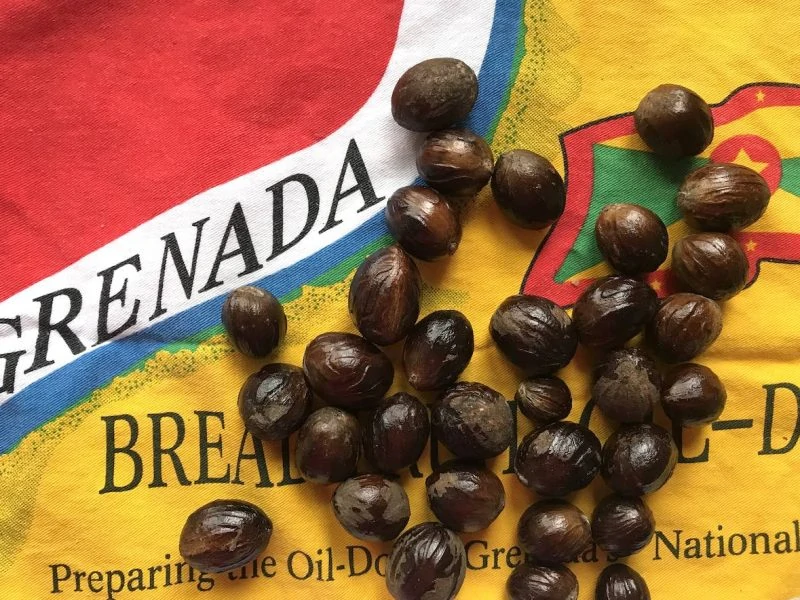 Although it's estimated that Grenada lost 80% of their nutmeg trees during Hurricane Ivan, nutmeg production is still thriving on the island. It also figures strongly in Grenadian food.
You'll find fragrant nutmeg grated on top of rum punches, within sweet nutmeg syrup and in many dishes such as oildown to desserts like nutmeg ice-cream.
One of the best places to experiences Grenada's wealth of spices is at Laura's Herb & Spice Garden, an educational botanical project located at the southern tip of the island.
Grenada Drinks
Rum Punch
While most Caribbean islands have one version or another of rum punch cocktail, a Grenadian rum punch is a memorable work of art. This cocktail is often made in large batches — with white or dark rum — and comes in various degrees of alcohol concentration.
The most potent rum punch is served at Rocky's Bar on Morne Rouge Beach and when asked for the recipe he told me it was:
"One of sour (one cup of lime juice), two of sweet (two cups of simple syrup);
Three of strong (three cups rum) and four of weak (four cups of pineapple and orange juice)."
He topped off the mixture with Angostura bitters and a liberal grating of fresh nutmeg. Grenadian rum punch is always served with a maraschino cherry but sometimes comes with an extra fruit garnish.
Where to Try It: You can sample a Grenadian rum punch almost everywhere except for the roadside rum shops where you sip the rum neat. Some of my favourite spots include Rocky's Bar at Morne Rouge, BB's Crabshack and West 61 on Grand Anse Beach. Umbrellas Beach Bar features a daily Happy Hour with various cocktails including a rum punch and variations like a Dark 'n Stormy.
Grenada Rum Agricole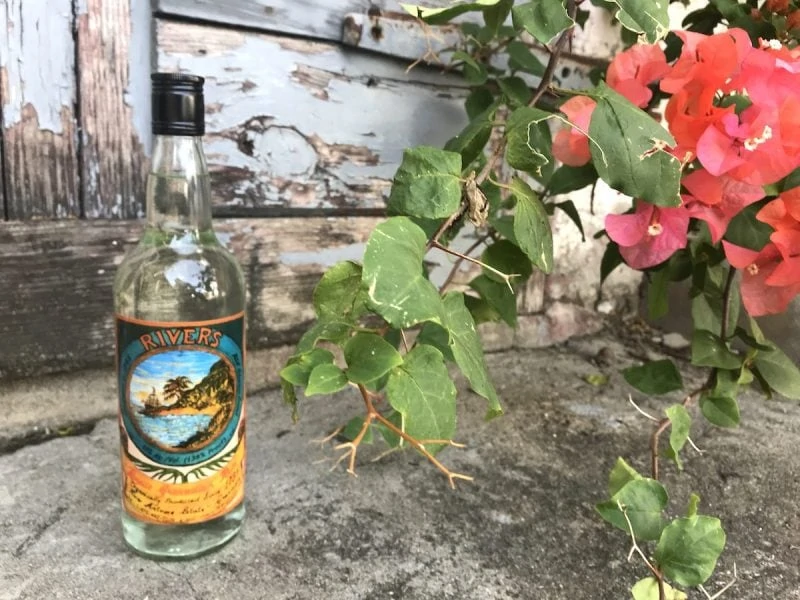 Take a step back in time at River Antoine Estate & Rum Distillery, established in 1785 and located near Lake Antoine, a deep teardrop-shaped lake formed by the crater of an extinct volcano.
The sprawling estate is home to the oldest functioning water-powered rum distillery in the Caribbean and feels like a place locked in time. It's a place where workers harvest sugar cane by hand and the rum-making process is powered by nature.
Much like the plantation's terrain, Rivers Rum, produced in strengths up to 150-proof, is not for the faint of heart. But this rawness is part of its appeal. It's also highly flammable so even if you're tempted (and you will be) don't try to take the 150 proof stuff on the plane.
Where to Try it: River Antoine Distillery is currently under renovation ( as at Feb 2020). Other rum distilleries to tour include the Westerhall Estate Distillery, the third oldest distillery in Grenada.
You can take a walk through distilling history, see some of the fields of sugar cane being reintroduced to Grenada and sample several Westerhall rums.
Grenada Craft Beer
For me, no Caribbean trip is complete without sampling the local beer and one of the best additions to Grenada's culinary scene is the West Indies Beer Co., the eastern Caribbean's first microbrewery.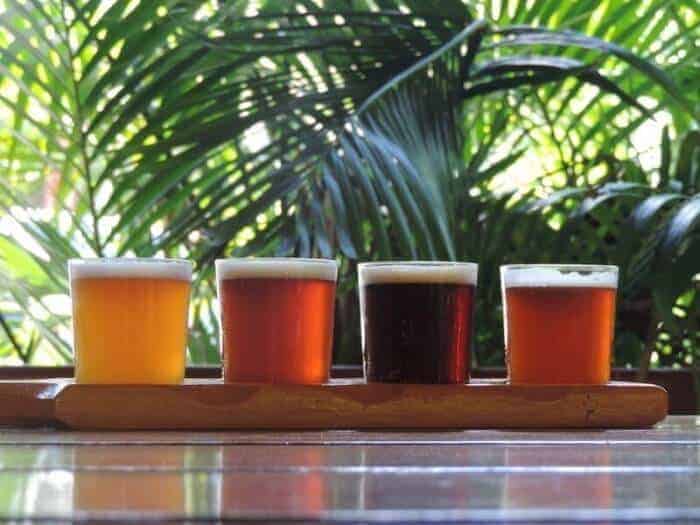 Holding the first brewery license granted on the island in 50 years and hawking their hops to beer fans from a brewpub in the community of L'anse Aux Epines near the Calabash Hotel on a southern peninsula of the island, they specialize in natural beer brewed using traditional ingredients.
Founded by Master Brewer Mark Heath (who hails from Ringwood Brewery in the UK), ingredients include malted barley, Irish Moss seaweed and spring water sourced from Grenada's rainforest-draped volcanic mountains.
Beers to try include Old Mongoose Porter, a traditional bitter (watch for it infused with organic cacao at the Chocolate Festival) and a flagship brew Windward IPA, a fruity golden ale that's as refreshing as the island's trade winds.
Get a growler to go or join the crowd in the beer garden, where office workers from the nearby US Embassy mingle with locals during special events such as pig roasts and tapas nights.
Blue Tea at Tower Estate Afternoon Tea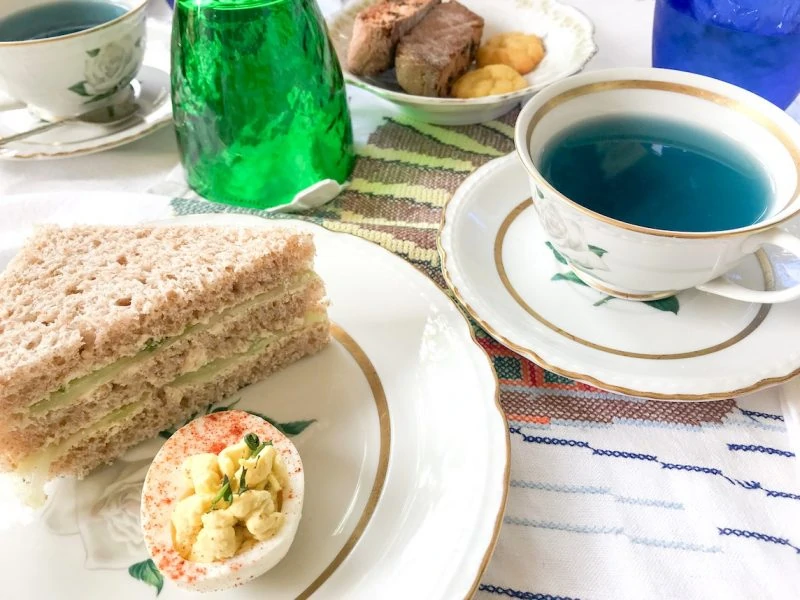 An unexpected experience in Grenada is the opportunity to enjoy an elegant afternoon tea at Tower Estate, a gracious great house built in 1913 and owned by the Slinger family since 1945.
The estate's sprawling gardens are bursting with flowering shrubs, heliconias, lilies, bromeliads and heritage plants as well as a wealth of produce.
Visitors can sample this farm to fork fare during the afternoon tea served on the terrace. One of the highlights of the traditional English afternoon tea is the opportunity to sample their delicious blue tea, crafted from blue butterfly pea flowers grown in the estate gardens.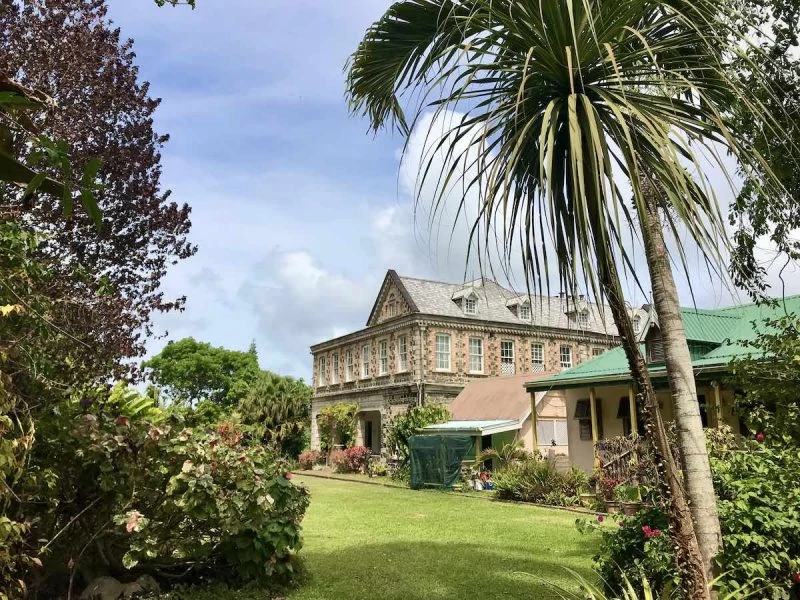 Combo tours that feature a garden tour and Afternoon Tea are also available (Wednesday to Friday). Cost for Afternoon Tea alone is $65 EC but it's well worth taking the 30-minute Garden Tour as well for the cost of $80 EC.
Insider Tip: Chef Belinda of Flavours of Grenada also offers a traditional 3-course Grenadian Sunday Brunch at the Tower Estate. Make reservations in advance via the Tower Estate website.
Cocoa Tea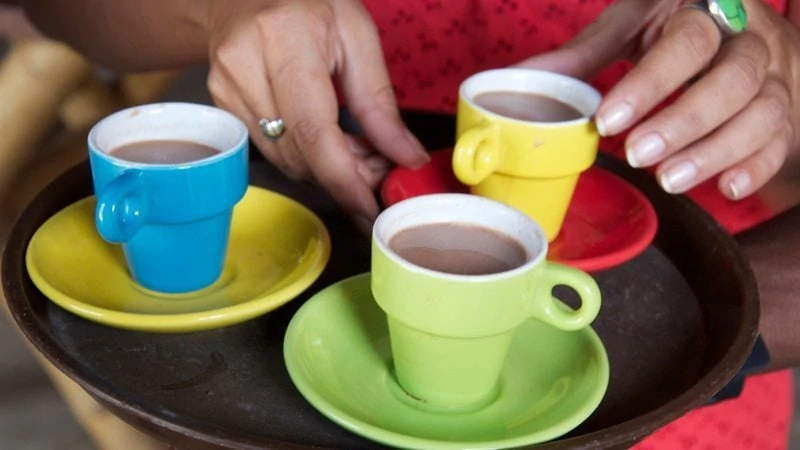 Spend time in Grenada and you'll soon find yourself enjoying delicious cocoa tea for breakfast instead of your usual morning coffee. Made with cocoa balls and boiling water (rather than milk), this traditional Grenadian drink is also excellent as an afternoon beverage.
Where to Try it: You can order a mug of cocoa tea at the Chocolate Museum in the historic capital city of St. George's. It's easy walking distance from the cruise ship terminal and Market Square.
While at the museum you can learn about the cultivation of cacao in Grenada and sample various types of chocolate produced on the island.
Grenada Desserts
Sweet Potato Pudding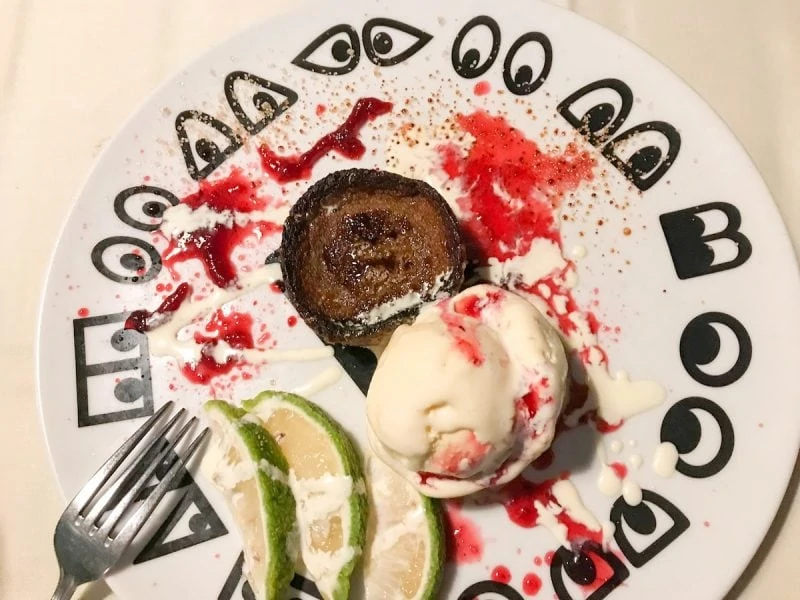 Almost everyone you meet in Grenada will have their favourite family recipe for this traditional dessert. Even our local guide who drove us through the backroads of the island had his own secret recipe for his sweet potato pudding–one that was so popular he made it in big batches and sold it to his neighbours.
But no matter who makes it, Grenadian sweet potato pudding features grated sweet potato, grated coconut, milk, fresh spices such as nutmeg, cinnamon and ginger. The pudding is then glazed with sugar and placed in the oven where it cooks slowly for an hour or more until it reaches gooey, sticky perfection. It's usually served topped with ice-cream.
Where to Try It: The dessert menu at BBs Crabback in St. George's features the delicious Eliza Sweet Potato Pudding, named after Chef/Owner Brian Benjamin's first granddaughter. Delicious!
Nutmeg Ice-Cream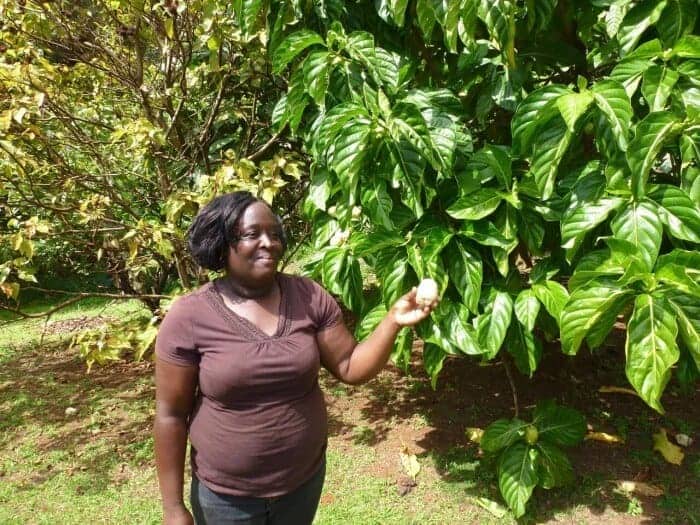 Whether you pick up some nutmeg ice-cream at the IGA supermarket or order it for dessert at one of the local restaurants, this cool treat is an unforgettable highlight of a day in Grenada. There's nothing quite as fragrant or with such a depth of flavour as fresh grated nutmeg.
Grenada Food Experiences – A Travel Guide to Grenadian Food and Cuisine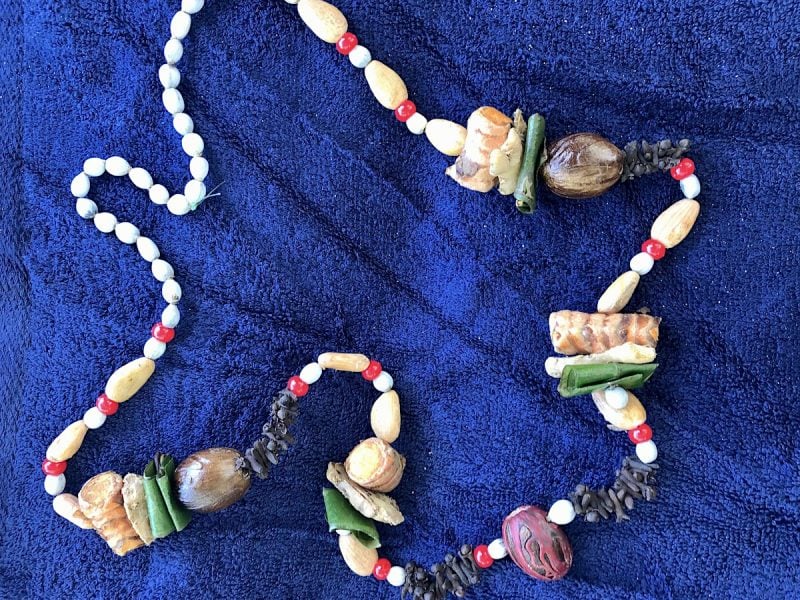 Flavours of Grenada: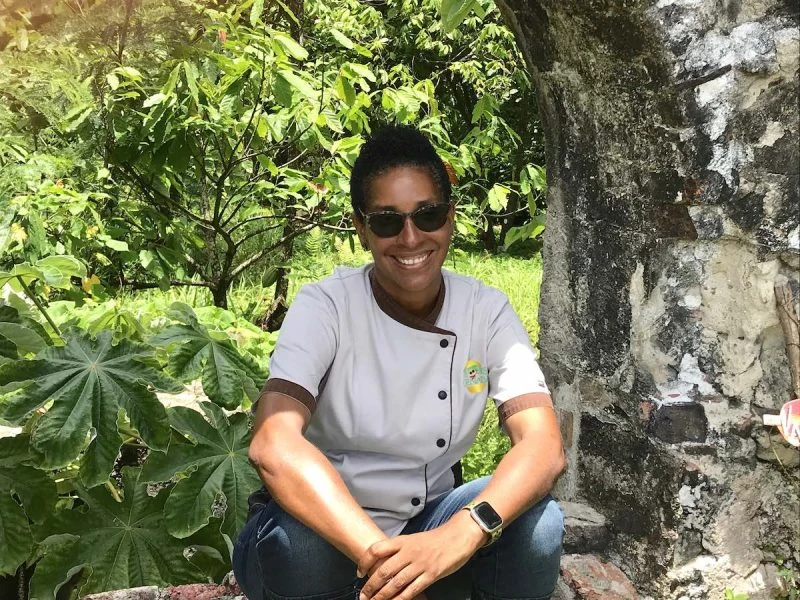 Food Tours in Grenada: Roger Augustine, owner of Grenada-based Ambassador Tours & Taxi, offers personalized excursions, transfers and tours with authentic Grenadian food experiences.
Official Grenada Tourism Site: Pure Grenada Official Tourism Site
Rum Tours in Grenada: Hidden Treasures Tours offers escorted group and individual tours to rum shops, the River Antoine Rum Distillery, Westerhall and other points of interest for foodies. Contact them at mlprinz@gmail.com or hiddentreasures2009@live.com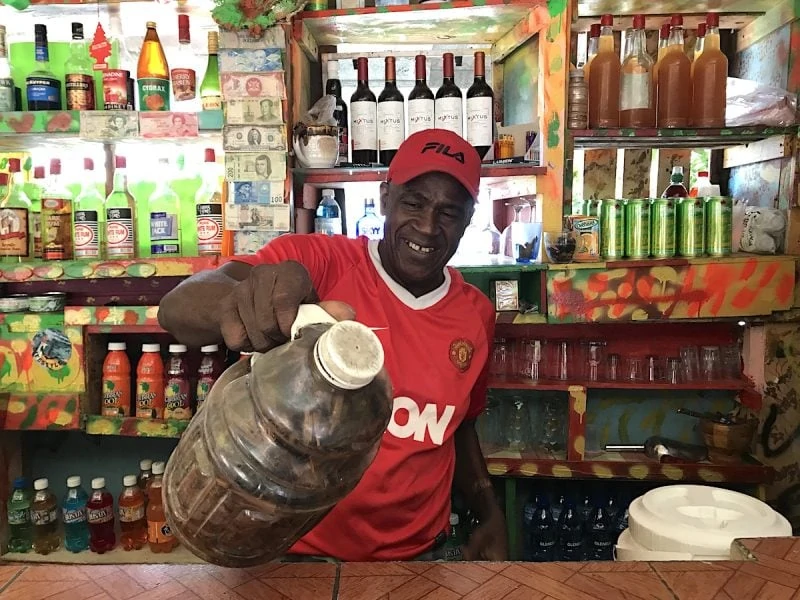 Cooking Class in Grenada: You can even taking a cooking class to learn how to cook with callaloo and other local ingredients. At True Blue Bay Resort, popular cooks Esther and Omega offer cooking classes for hotel guests and visitors.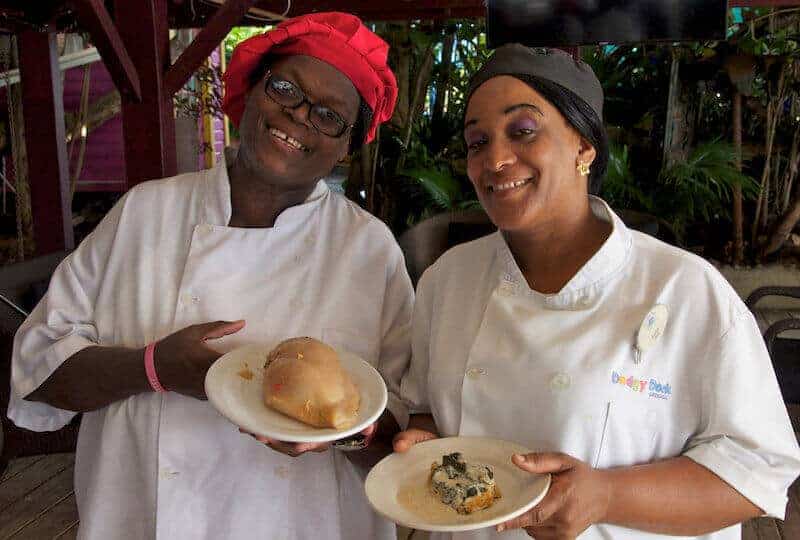 Foodie Hotels in Grenada: If you love Grenada food, you won't be disappointed with any of these foodie-friendly hotels: The Best Hotels, Resorts and Apartments for Every Budget in Grenada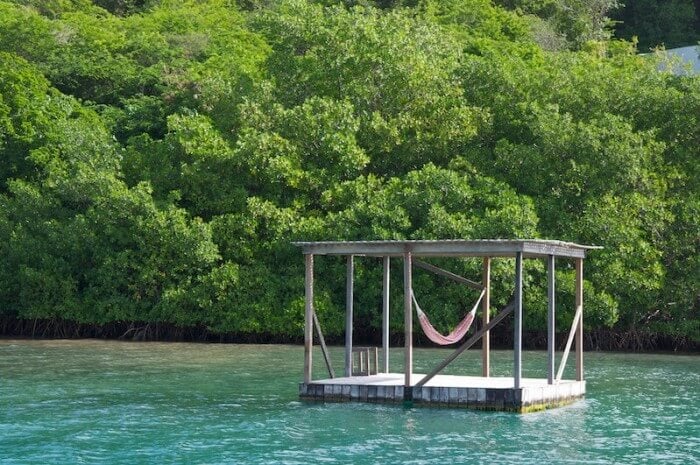 You Might Also Like:
Top Five Family-friendly Islands in the Caribbean
Save to Pinterest!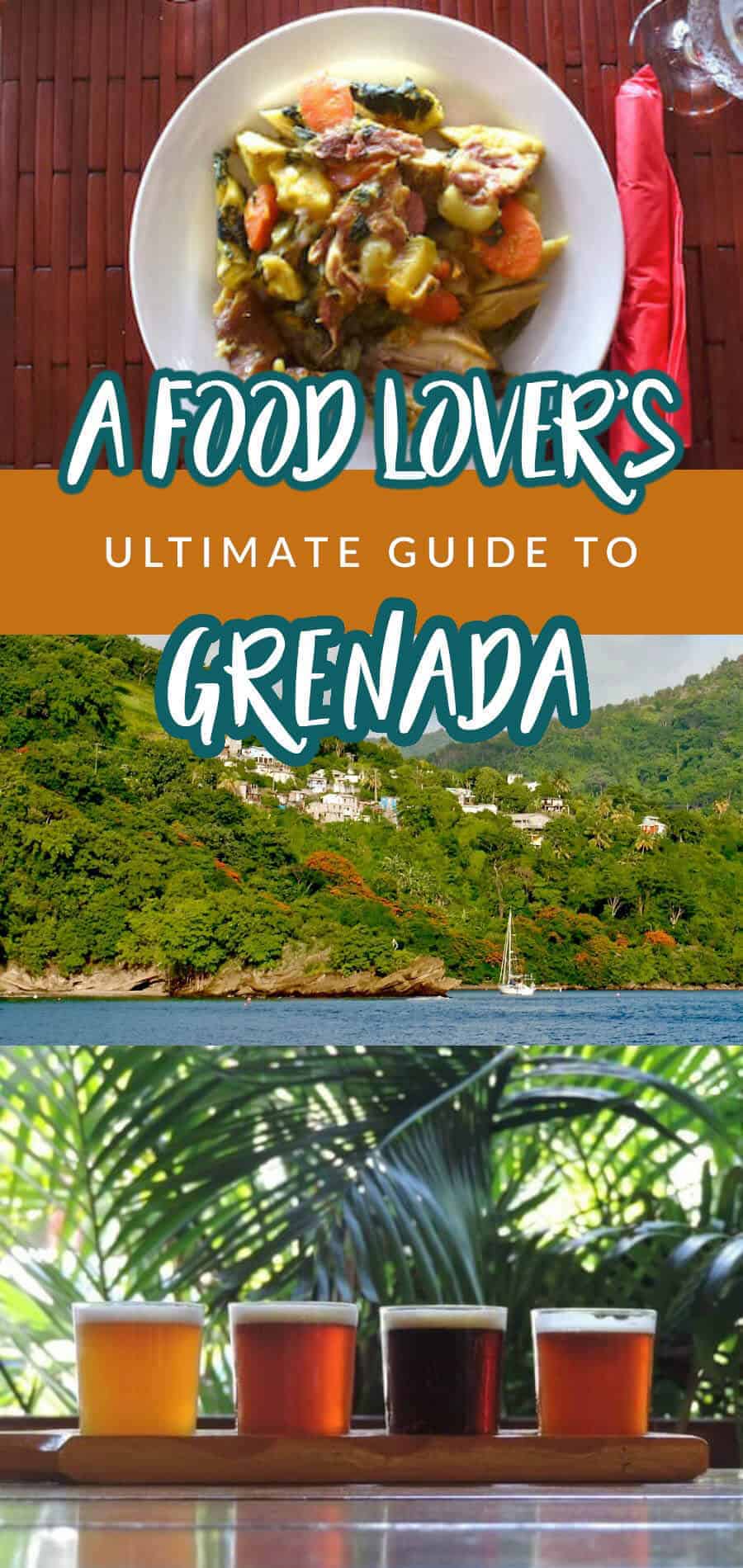 Originally published in 2016 and updated in February 2020.
Dividing her time between Canada, Guatemala and Mexico (or the nearest tropical beach), Michele Peterson is the founder of A Taste for Travel. Her award-winning travel and food writing has appeared in Lonely Planet's cookbook Mexico: From the Source, National Geographic Traveler, Fodor's and 100+ other publications.
Read more about Michele Peterson.