We may earn income from links in this post. Please read this Disclosure for details.
There are so many things to do in Trinidad and Tobago, plan on spending at least 5 days in this beautiful, dual-island nation.
From hiking a waterfall trail in an old-growth rainforest to dining on creamy dasheen soup topped with crabmeat in a contemporary restaurant, its combination of outdoor adventure and big city sophistication is an adventure for the senses.
It's also what makes the dual island country of Trinidad and Tobago a truly unique Caribbean destination.
Here's a look at the top things to see, do and experience during a visit to Trinidad and Tobago:
1. Go Swimming in Tobago
If you're craving some untamed nature — the way the Caribbean was before mega resort developments hit– begin your explorations as I did, on the island of Tobago.
Just a quick 20-minute flight from Trinidad, Tobago is small in size but rich in natural resources and features pristine beaches, old-growth tropical rainforest and coral reefs that seem custom made for snorkelling.
One of the first things to do in Tobago is take a swim in the warm waters of Pigeon Point Heritage Park, the island's best-known beach.
When I visited Pigeon Point Heritage Park, the white sand beaches were free of crowds; my only swimming companions a mother and her young child.
2. Enjoy a Beach Day at Pigeon Point Heritage Park
A beach bar at Pigeon Point Heritage Park offered toes-in-the-sand relaxation as well as a hearty lunch buffet featuring Trinidadian dishes such as stewed pigeon peas, macaroni pie and pelau, a savory one-pot rice dish made with caramelized chicken.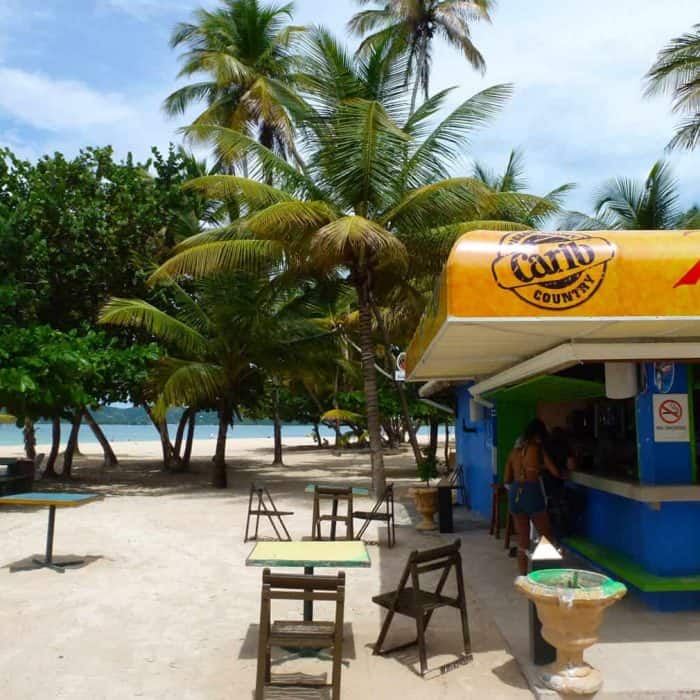 Other beach pleasures included a cruise on the Island Girl catamaran ( now closed unfortunately!).
Departing Mt. Irvine Bay just before sundown, I sailed along Tobago's north shore where white-mist waterfalls could be seen in the dense foliage of the mountainous island interior.
Seabirds soared overhead, drawn to the rich sea life in Buccoo Reef, a protected habitat where star coral, elkhorn coral and brain coral thrive.
If you do decide to go snorkelling in this pristine marine environment, it's worth packing some eco-friendly travel products such as organic suncream so you don't damage the eco-system.
3. Sip the Beers of Trinidad and Tobago
One of the top things to do in Tobago is sample one of the local beers. Both Carib and Stag beer are brewed by Carib Brewery Ltd located in Trinidad, St Kitts-Nevis and Grenada. It wasn't always that way.
Stag Lager was first brewed by the National Brewing Company who launched it in 1973. It languished in sales until purchased by Carib Brewery who, in a move of marketing genius, decided to rebrand the beer capitalizing on its slightly bitter taste to proclaim it a "manly" beer.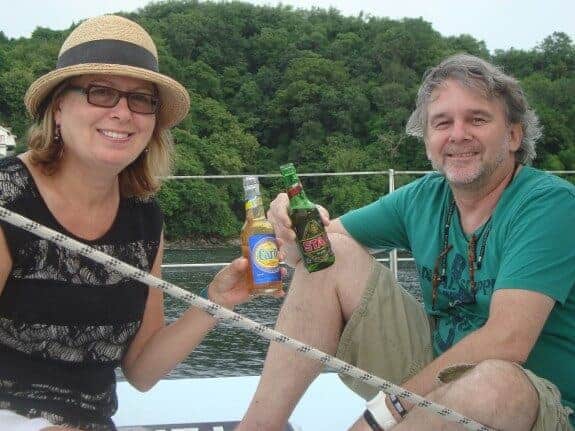 Early advertisements showed a bare-chested man astride a motorcycle with a Stag Beer. The theme of stamina, tenacity and confidence hit a chord with Caribbean men and sales rocketed. One of their tag lines is "It's a Man's World – Rule it responsibly."
Carib on the other hand is light, citrusy and slightly floral with a brand image that evokes youthfulness and fashion. And although there's nothing stopping a man from drinking a Carib beer, it's become best known as a woman's beer.
4. Catch a Technicolour Sunset on Tobago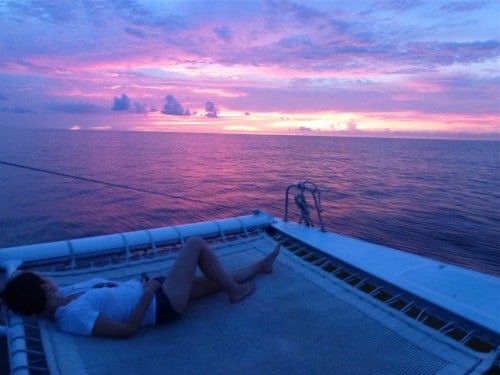 After our education in beer, we continued sailing along the coast of Tobago. As the sun set in brilliant technicolor around us it was so spectacular, we raised a toast in cheer to it and to equal opportunity beer-drinking.
5. Go Hiking at Argyle Falls, Tobago
One of the top things to do in Trinidad and Tobago is go birdwatching. You can expect to see a wide variety of species on Tobago especially during a hike to Argyle Falls, Tobago's highest waterfall.
Located in the heart of the Main Ridge Forest Reserve, a hilly backbone covering 60% of the island, it's the oldest protected rainforest in the western hemisphere and provides habitat for 250 species of birds.
I hiked along an empty trail flanked by graceful bamboo, splashed in a cool pool at the base of the misty waterfall and listened to the raucous call of the cocrico, Tobago's national bird.
6. Relax at Magdalena Grand Beach Resort in Tobago
Even my hotel on Tobago was immersed in nature. Set amid virgin mangroves and tropical gardens, the Magdalena Grand Beach & Golf Resort offers a breezy take on plantation design with shutters, intricate wooden lacework and vaulted ceilings.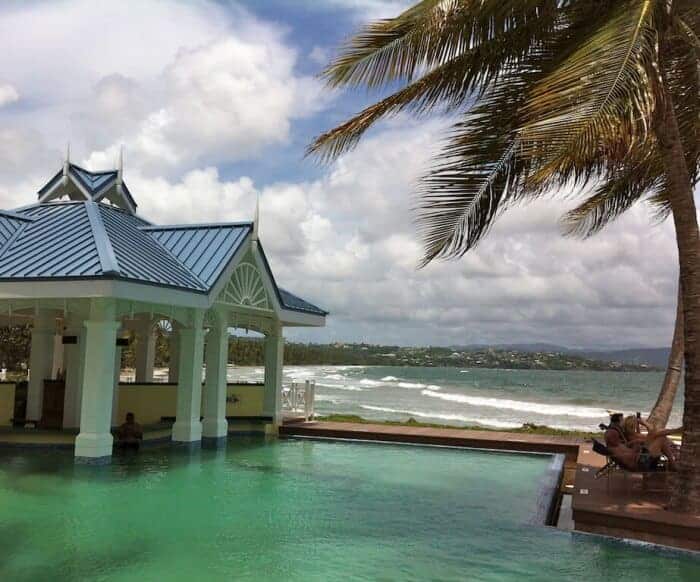 The rooms overlook the wild Atlantic coast where giant leatherback turtles come to nest on a long expanse of empty beach.
That night, I floated on my back in a secluded swimming pool and watched the stars come out. It felt like the true Caribbean.
Another great option if you're looking to experience island life like a local is to stay in one of the comfortable guest houses in Tobago. They range in cost from affordable to luxury so you're sure to find something to fit your budget!
7. Watch a Goat Race in Tobago
One of the more unusual and unique things to do in Tobago is to watch a goat race. Although Easter Tuesday is the official day for watching the sport of goat racing, it's possible to see it at special events such as the Tobago Heritage Festival, which takes place from mid-July to August.
Although I didn't have a chance to see an actual race, I did have the opportunity to meet some of the goat racing athletes and their fleet-of-foot goat partners.
In this unique sport, jockeys and their goats race on a 100-yard grass field. Unlike horse racing, in the sport of goat racing, the jockey doesn't ride the goat but instead runs barefoot beside it holding on to a long rope.
Both the jockey, trainers and their steeds have to train extensively in order to win prize money in this highly competitive racing event.
8. Explore Big-City Sophistication in Trinidad
Although it might be tempting to spend your whole vacation exploring Tobago, it's well worth adding the more developed island of Trinidad to your itinerary of things to do in Trinidad and Tobago.
I stayed at the Hyatt Regency Trinidad in Port of Spain. Overlooking the racing yachts and cargo ships in the Bay of Patria, the sleek Hyatt Regency Trinidad in Port of Spain bustled with dignitaries, fashion models and executives working in the country's booming oil sector.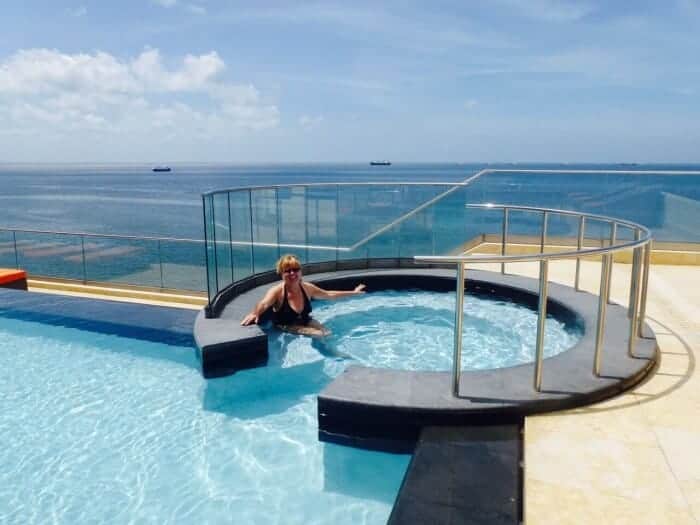 With one foot in the Caribbean and another in South America (Venezuela is just 11 kilometres away), the city is a hub of commerce and sophistication.
9. Visit Dattatreya Yoga Centre in Carapichaima
But tranquility wasn't far away. After check-in, my first stop was the Dattatreya Yoga Centre in the nearby town of Carapichaima. Here, inner peace is the mantra.
Surrounded by abandoned sugar fields, a gigantic 26 metre tall statue of the monkey-faced Hindu god Hanuman, the tallest outside India, welcomed people of all faiths to enjoy the centre's peaceful meditative spaces, take a yoga class or request a blessing.
10. Meditate at the Temple of the Sea in Trinidad
Also offering peaceful meditation is the nearby Temple of the Sea, the world's only temple built in the ocean. A domed structure with windows open to the sea, its prayer flags and offerings of pottery, flowers and fruit serve as symbols of Trinidad's religious tolerance.
Siewdass Sadhu, an ex-indentured labourer from India, chose the site because the clear, blue waters reminded him of the holy Ganges.
11. Eat Roti in Trinidad
For foodies, one of the top things to do in Trinidad is sample the local wrap roti, a delicious roll of dough filled with a fragrant curry stew. It's one of the country's favourite street foods but we enjoyed ours at Alpine Roti, a restaurant and bar in Preysal.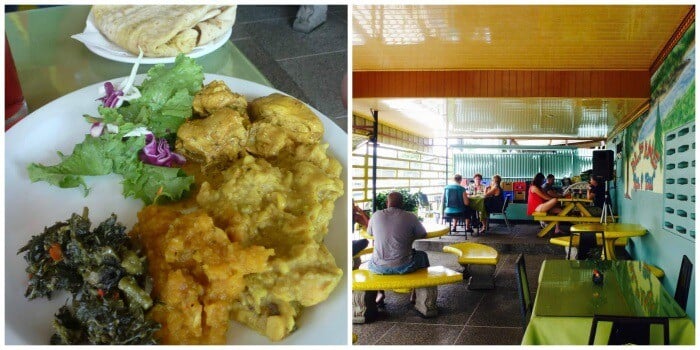 There are several Trinidadian specialties on the menu at Alpine Roti including pelau, stewed chicken, breadfruit oil down, macaroni pie, ox-tail, goat and many other delicious local dishes. You'll want to try it all!
12. Go Zip-lining in Maqueripe Bay
Our delicious stop for curry and roti at Alpine Roti fuelled me for my next adventure at Zipitt, a zip line in Maqueripe Bay. The one-hour adventure offers seven zip lines with a total length of 600 metres, the highest soaring above ancient rainforest and offering panoramic water views.
I opted for ground-based adventure and wandered along hiking trails amid yellow butterflies, hummingbirds and peeping frogs.
13. Hang Out at Maracas Beach, Trinidad
One of the top things to do on a visit to the capital city of Port of Spain, Trinidad is to take road trip through the lush, green-clad mountainside to the northern coast of the island. Here you'll find Maracas Bay, a large crescent shaped bay lined with tall palm trees.
On Maracas Beach, there are beach loungers for rent, washrooms and changing facilities as well as several concession stands selling the local specialty called "Shark and Bake." This popular Trinidadian sandwich is found at beach shacks and street food stands throughout the country but the best place to try it is at Maracas beach.
Shark and Bake traditionally features a fillet of black tip shark tucked inside a warm, crispy bread pocket topped with condiments such as mango chutney, tamarind sauce, mayonnaise, hot pepper sauce, sliced onions and more. Think of a hot dog stand gone wild and you've got the fixin's for Shark and Bake.
However, you might want to reconsider ordering Shark and Bake. The local Papa Bois Conservation group is advocating for a ban on this food, citing pushing for a ban on the catch and trade of these sharks to help protect a fast-dwindling population.
The day we visited Maracas Bay, the waves were too high to safely swim but the beach area was nice for relaxing. The sand is a dark golden colour at Maracas Beach rather than white.
14. Cruise the Sea Caves of Northwest Shore
I wrapped up my nature experiences with a yacht cruise through the sea caves known as the Bocas off the northwest shore. Although developers, including Trump, have been eyeing this stunning island archipelago, for now it remains uninhabited.
The mysterious limestone caves are places of legend from ghosts to fairies. I swam in a sheltered bay and then watched dolphins frolic in the waves and a grey heron dive for its evening meal.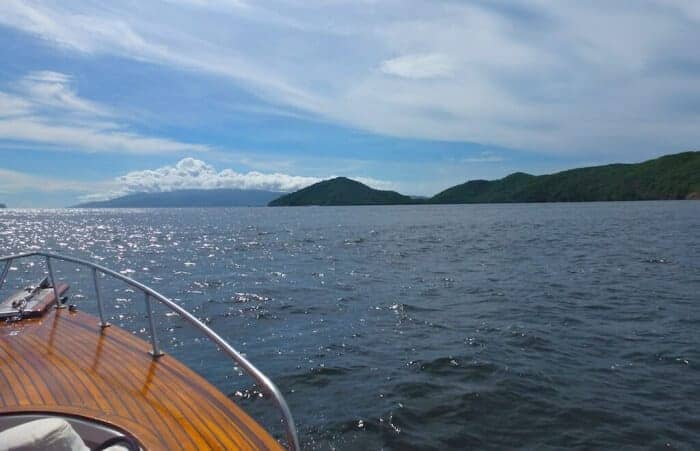 For my final night in Trinidad I went upscale and headed to the Woodbrook district, a neighbourhood that's a mecca for Port of Spain's style-makers.
With the pulsing DJ music, celebrity photographers and international stars of the Trinidad Tobago Film Festival, it was a sophisticated urban scene pulsating with island life.
Yet for all its vitality it was reassuring to know that wild, untouched Trinidad and Tobago was just minutes away.
15. Trinidad + Tobago Film Festival
One of the largest publicly attended film festivals in the Caribbean, the Trinidad + Tobago Film Festival is an exciting event for film buffs and culture lovers.
Festival events take place in September on both islands, but major venues are in Port of Spain, Trinidad. Get a schedule of films at the official Trinidad + Tobago website
Travel Planner to Trinidad and Tobago
Hyatt Regency Trinidad: A prime waterfront location near major attractions, with a wellness spa, fine dining and a rooftop infinity pool make this hotel a top choice for a stylish stay in Port of Spain.
Check prices and availability at the Hyatt Regency Trinidad in Port of Spain on Booking.com
Magdalena Grand Beach Resort: This expansive property offers 178 deluxe rooms, plus 22 suites with terraces and ocean views. It features three swimming pools, a golf course, spa, dive centre and a pristine beach.
Check prices and availability at Magdalena Grand Beach Resort & Spa on Booking.com
Official Tourism Board: www.gotrinidadandtobago.com
Gail's Exclusive Tours: Professionally guided hiking, waterfall, culture, culinary and beach tours on both Trinidad and Tobago. exclusivetourstnt.com
For more ideas on secluded beaches to visit and under-the-radar islands in the Caribbean, check out these posts:
Montserrat: A Tribute to Sir George Martin
Mexico's most beautiful undiscovered beaches: Xpu-Ha beach
Save to Pinterest!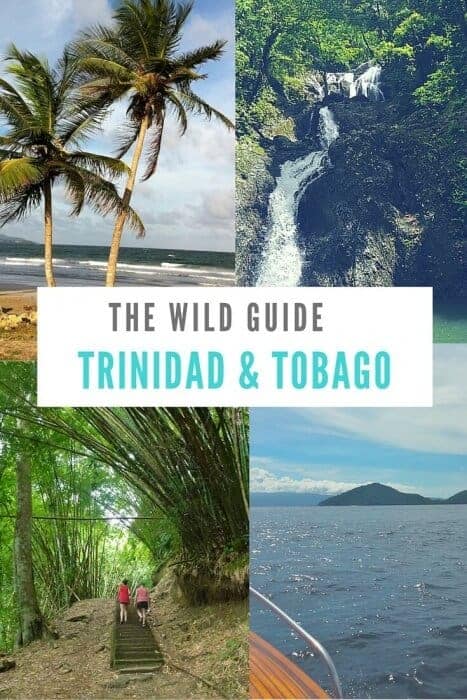 Dividing her time between Canada, Guatemala and Mexico (or the nearest tropical beach), Michele Peterson is the founder of A Taste for Travel. Her award-winning travel and food writing has appeared in Lonely Planet's cookbook Mexico: From the Source, National Geographic Traveler, Fodor's and 100+ other publications.
Read more about Michele Peterson.