We may earn income from links in this post. Please read this Disclosure for details.
Looking for an easy day trip from Playa del Carmen or Cancun? Xpu Ha Beach, a long stretch of white sand south of Playa del Carmen and north of Tulum, is one of the best beaches on Mexico's Riviera Maya coast for swimming, snorkelling or just chilling out.
With its perfect combination of clear waters, limited undertow and soft white sand, it's hard to believe it's still under the radar of most visitors.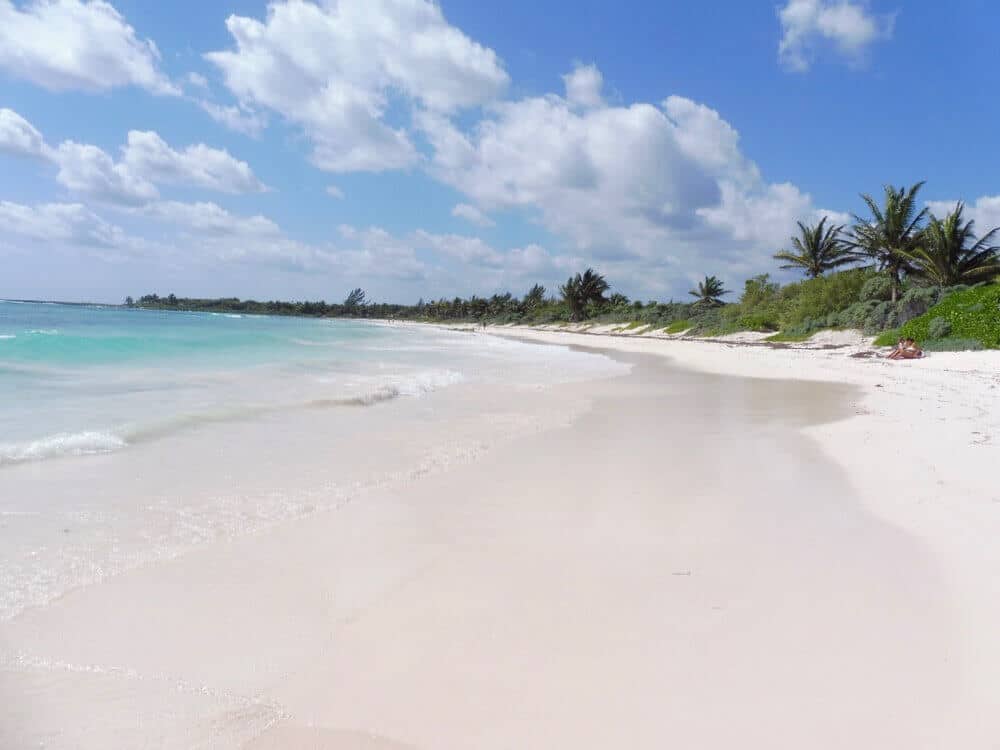 Maybe it's because its name doesn't exactly roll off your tongue (pronounce it as shpoo-ha and you'll be pretty close) but during our month-long stay in Playa del Carmen a few months ago, it was one of my favourite beaches.
Xpu-ha beach is the kind of place you should visit now before the crowds arrive. It's one of the best beaches in the Yucatan.
Here's what you need to know about this perfect patch of beach paradise:
Location of Xpu Ha Beach – Playa Xpu Ha
Playa Xpu ha is located around 25 kilometers south of Playa del Carmen off Highway 307 on the way to Tulum, in between Puerto Aventuras and Akumal. It makes a perfect stop if you're visiting the cenotes of Tulum.
Although this stretch of coastline is sometimes affected by sargasso seaweed, a problem that has been plaguing beaches in Mexico and the Caribbean since 2015, quite often the waters are completely clear and beautiful for swimming.
If you're planning a beach vacation and have been wondering about the current seaweed conditions in Xpu-Ha and nearby luxury all-inclusive resorts Barceló Maya Palace or Catalonia Royal Tulum, it's important to note that seaweed conditions can change daily depending on tidal currents, wind and water temperature.
Scroll down to get resources on the latest forecasts on seaweed in Xpu-Ha, Akumal, Tulum and Cancun.
How to Get to Xpu Ha Beach Riviera Maya
The good news is that it's relatively easy to get to Playa Xpu-Ha, even if you don't have your own car.
You can take a taxi (we were quoted 350 MXN pesos for a one-way fare) or you can hop on one of the minivans known as colectivos.
Unlike Puerto Escondido, Oaxaca where a colectivo is most often a pick-up truck with a buzzer in back, here on the swanky Riviera Maya, they are air-conditioned, relatively new mini-vans, complete with seat belts.
Not only are they comfortable but they are cheap. Our ride (one-way) cost just 70 pesos (under $4 USD) for 2 people. (Prices subject to change so ask before you get in the van).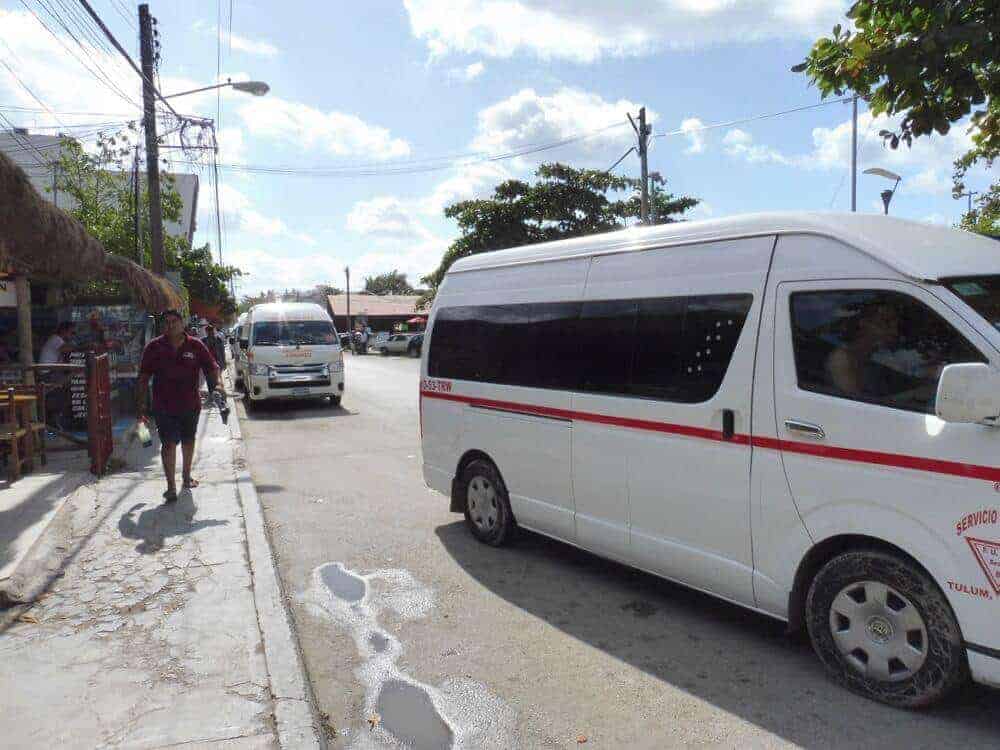 You can catch a colectivo in Playa del Carmen at the corner of 20 Avenida and 2 Calle Norte, a 5 minute walk from Walmart. The vans headed to Tulum will be pointing north on the street.
You just climb into one with an open door, grab a seat and tell the driver where you are going.
How to pronounce Xpu-ha? The pronunciation of Xpu-ha is pronounced shpoo-ha (shouting "poo-pa" from the back of a crowded van is likely one of the most embarrassing things you could ever do ).
Once the mini-van is full, it will depart, making stops along Federal Highway 307 to let other passengers out. You pay your fare when you get out. After a 20 minute ride, you'll arrive at your highway stop (km 265).
Then, cross the highway, pay 50 pesos at the kiosk, get a wristband and walk down the dirt road with the sign for La Playa restaurant, home of the Xpu-Ha Beach Club.
Save your food bill so you can get a refund of your 50 pesos on your way out (assuming you leave before 6 pm). It's an easy 10 minute walk, past mangroves and fruit trees, and is mostly shady.
However, there are mosquitos in the Cancun Riviera Maya area. So, spray yourself with insect repellent before you start walking.
What to Do at Xpu-Ha Playa Beach Club
Unless you bring your own beach chairs, food and drink, your best option for the day is Restaurant & Beach Club La Playa. It's hard to miss it as it's the largest restaurant on the beach.
The clamshell chairs and tables are free to use for the whole day with a minimum order of food and drink. This gets you access to tidy washrooms with flush toilets, showers, lockers and change rooms. It's also very family-friendly.


Things to Do at Restaurant & Beach Club La Playa at Xpu-Ha Beach
On calm days, the top things to do in xpu-ha include swimming, snorkelling or just splashing about. In addition to being one of the best beaches for snorkelling in the Yucatan, it's one of the best beaches in Mexico for families.
Even non-swimmers ( like me) will find it an easy spot to swim, assuming you don't arrive on a windy day. If it's windy you can always go kitesurfing or go for a long walk. The sand is flat and smooth so perfect for beach walking.
But what most people do is just hang out and relax on the beach. Sip a cocktail, order a bucket of beer or listen to live music. If you plan your visit and arrive on a Saturday or Sunday around 2:30 pm, you can listen to live jazz or salsa music at Restaurant & Beach Club La Playa.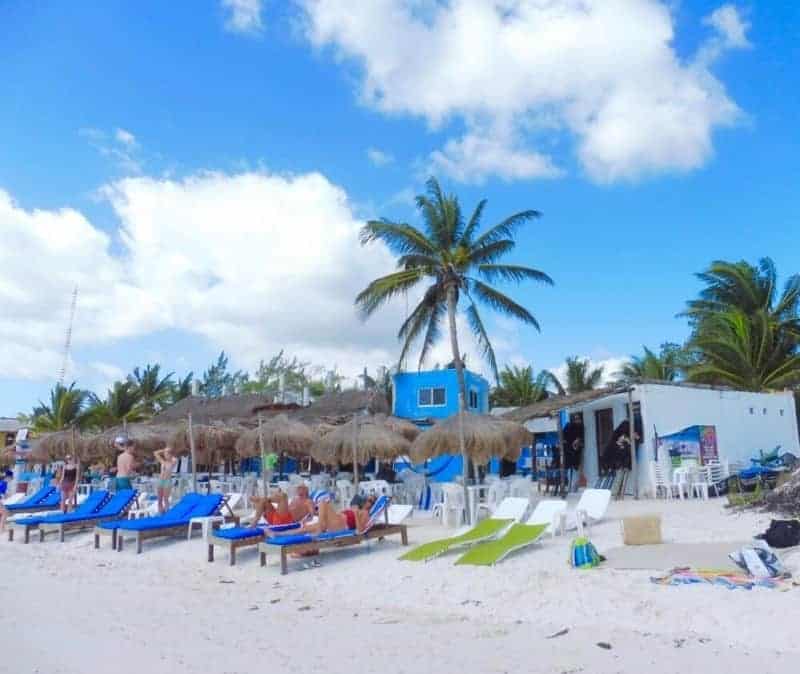 Costs at Xpu-Ha Beach Club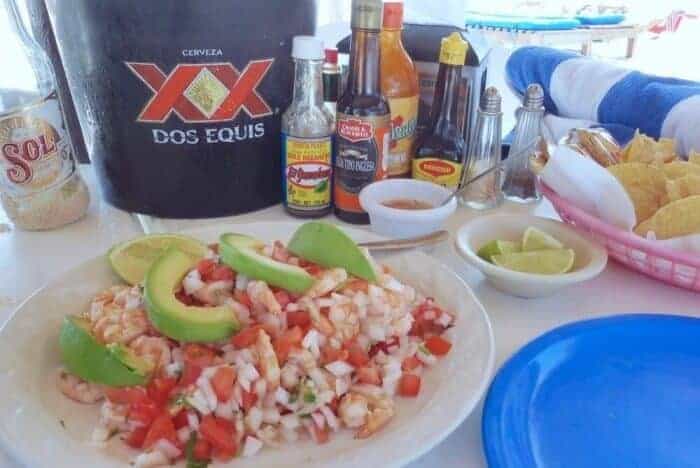 Prices aren't as low at Restaurant & Beach Club La Playa as they are in the heart of Playa del Carmen. Expect to pay 180 pesos for ceviche or aguachile (a tasty combo of shrimp mixed with tomato, cucumber, cilantro, lime, serrano chile and red onion).
If you're nervous about eating raw seafood, you don't need to worry here. At Restaurant & Beach Club La Playa, the shrimp is boiled before it's mixed with the vegetables.
A huge order of ceviche is 295 pesos ($15 USD) and comes with enough condiments to stock an OXXO store. A platter of nachos with guacamole is 235 pesos while a generous portion of shrimp pasta is 250 MXN pesos.
You can also get burgers and fries or a deep fried whole fish. This is one of the most extensive menus you'll find of any of the casual beach clubs in Riviera Maya.
There's even a kid's menu, which makes Xpu Ha Beach one of our top choices for a family-friendly vacation on the Riviera-Maya.
When it comes to beach drinks, sip a classic margarita cocktail, order a bucket of icy cold beer or try a Michelada, a spicy concoction of tomato juice, beer and lime juice.
Sargassum Seaweed at Xpu-Ha Beach Mexico
Like much of the Caribbean coast of the Mexico stretching from Cancun to Tulum, this stretch of the Riviera Maya was affected by historic quantities of sargassum seaweed in 2018 and 2019.
Read our report on the current Seaweed Conditions in Cancun learn about the health hazards of swimming in sargassum seaweed and get information on the seaweed forecast.
To monitor current seaweed conditions, you have a few options.
1. GET MAPS AND SEAWEED UPDATES ON FACEBOOK by RED DE MONITOREO DEL SARGAZO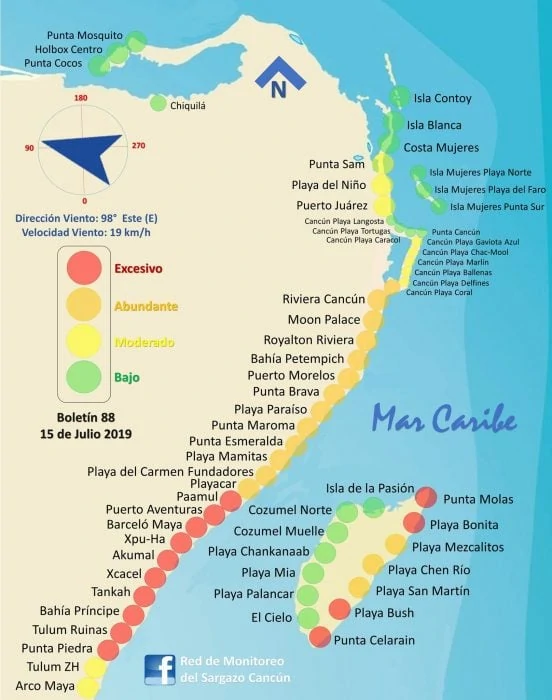 This not-for-profit group is made up of engineers, biologists and other experts who are volunteering their time to provide monitoring expertise and services. They publish maps of areas affected by sargasso seaweed in Cancun, Riviera Maya and Tulum. You can also get updates from the Red de Monitoreo del Sargazo Cancun Facebook Page.
2. Check Webcams to see live Feeds of Beach Conditions
Check the webcams such as the Akumal Beach Webcam to see live feeds of beach images that update every 10 seconds throughout the day.
In Cancun, Mexico you can check the Live Aqua Webcam to see live video frames updated every 15 seconds.
3. Consult Seaweed Forecasting Projections
You can also check the Sargassum Early Advisory System (SEAS), a forecasting project based in Texas intended to help predict the movement of sargassum blooms. Originally created in 2013 to help with forecasting of the large Sargassum landings in Texas, it now provides forecasting for the Gulf Coast, Mexico and the Caribbean.
Travel Guide to Xpu-Ha Beach, Restaurants and Hotels
Restaurant & Beach Club La Playa: The beach club and restaurant is open daily. In low season the hours are 11:00 am to 7:00 pm and during High Season ( Winter) hours are 10:00 am to 6:00 pm. In high season, arrive early, as lounge chairs disappear fast. Live music begins at 2:30 pm on Saturday and Sunday.
Visit the website at Restaurant & Beach Club La Playa to double-check times and get more details.
Glamping, Resorts and Hotels on Xpu-ha Beach Mexico
Serenity Luxury Eco-tents: Asian-inspired glamping tents are located directly on Xpu-ha beach. The range of accommodation is from one bed accommodation to a double with a king and a queen size bed so Serenity is a good option for families.
Check prices and Availability on Serenity Luxury Eco-tents on Booking.com.
Check Prices and Availability at Catalonia Royal Tulum Resort & Spa on Booking.com.
Check Prices and Availability at Happy Jungle Villa on Booking.com.
If you're looking for beachfront hotels near Tulum, check our post on the most romantic hotels in Mexico for more options.
YOU MIGHT ALSO LIKE:
Love beaches? To discover more about vacations on other beaches in Mexico or things to do near Playa del Carmen, check out these posts:
How to Celebrate Day of the Dead in Cancun Riviera Maya
5 Reasons to Visit Valladolid Mexico
Beginner's Guide to Puerto Escondido, Oaxaca
Save to Pinterest!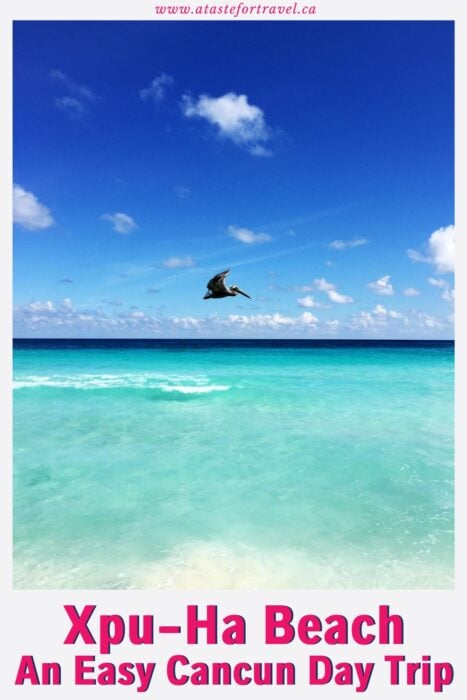 Dividing her time between Canada, Guatemala and Mexico (or the nearest tropical beach), Michele Peterson is the founder of A Taste for Travel. Her award-winning travel and food writing has appeared in Lonely Planet's cookbook Mexico: From the Source, National Geographic Traveler, Fodor's and 100+ other publications.
Read more about Michele Peterson.