Home » Destinations » Mexico » Huatulco »

Complete Guide to Huatulco: Beaches, Food, Weather, Safety, Hotels
Complete Guide to Huatulco: Beaches, Food, Weather, Safety, Hotels
Home to nine beautiful bays and 36 beaches, Huatulco is far away from the party zone atmosphere of Cancun and other well known resort destinations in Mexico.
But being under-the-radar that doesn't mean you'll need to rough it. Set within an environmentally protected national park dotted with pristine beaches and turquoise waters,  it's clean, safe and rich in culture. There's also a wide range of accommodation to choose from —  everything from luxury all-inclusive hotels on the beach to budget boutique inns in La Crucecita, the downtown zone.
Whether you're travelling with a family, on a couples getaway or a solo explorer, there are plenty of things to do in Huatulco and reasons to choose if for your next vacation in Mexico.
With this complete guide to Huatulco, learn why this destination is Mexico's best-kept secret and discover the best things to do, the top tours and excursions, the best beaches for swimming and more.
Where is Huatulco?
The Bahias de Huatulco are located in the state of Oaxaca on Mexico's west coast facing the Pacific Ocean. It's important not to confuse Santa Maria de Huatulco with the resort destination of Huatulco (officially known as Bahias de Huatulco) where Secrets Resort & Spa and the other major beach resorts are  located.
The city of Santa Maria de Huatulco, while nearby and well worth visiting for its rich history, is located inland in the lowlands of the Sierra Madre Sur mountains beyond the Bahias de Huatulco International Airport (HUX).
La Crucecita is the service town or downtown for the large, all-inclusive resorts located along the bays of Huatulco. It has its own special charms and is worth visiting for its church with a largest mural of  the Virgin of Guadalupe, good selection of restaurants and nightclubs, leafy zocolo and shopping.
La Crucecita also has a few budget hotels worth checking out if you don't need to be located directly on a beach and are willing to take a taxi and do some beach-hopping.
Pronunciation
How do you say Huatulco? It's pronounced "wa-tool-ko" with the emphasis on the second syllable. And if you're wondering about Oaxaca…it's pronounced "wa-ha-ka."
Is Huatulco Mexico Safe?
Huatulco is a very safe destination for visitors. Crime in Huatulco is lower than in other resort destinations as the Bahias de Huatulco area is much smaller than other resort destinations and has one of the highest IDH Índice de Desarrollo Humano ( Human Development Index)  in Mexico when it comes to employment, education and salaries (which means crime such as robberies, assaults and street gangs are lower).
Its tourism  infrastructure was built by and is maintained by FONATUR so visitors and local residents enjoy excellent roads, lighting and tourism police security.
Is it safe to travel to Huatulco Mexico? As recently as August 22, 2018, the U.S. Department of State gives Mexico overall a Travel Advisory Level 2: Exercise Increased Caution.  The state of Oaxaca is a Level 2: Exercise Increased Caution ( which is the same as Quintana Roo and better than Jalisco or Nayarit other popular resort destinations).
There are NO restrictions for government employees or the general public for transit between the airport in Huatulco to hotels in Puerto Escondido or Huatulco.
However it pays to exercise caution and avoid hiking remote trails alone, walking the beaches at night or carrying large sums of money. Also pay attention to water conditions and beach warning flags posted. A red flag means the surf is high or there are dangerous currents or both.
Weather in Huatulco Mexico
If you're planning to vacation between November and March, you're more likely to get reliably sunny skies in Huatulco than  anywhere along the Cancun Riviera-Maya coast.
Let's take a closer look at Holiday Weather in January, February and March. The average temperature in Huatulco is generally 3-5 degrees higher than in Cancun-Riviera Maya. In January you can expect 26 C (79 F) vs  an average temperature of 23 C (73) in Cancun.
Another important consideration is rain. Huatulco is located within a dry tropical climate which means it's drier than other beach destinations in Mexico such as Puerto Vallarta or Cancun Riviera-Maya.  There is less precipitation overall and the average number of days with rain in Huatulco between January and March is 3 while Cancun-Riviera Maya is 16.
The wettest month in Huatulco is June while Cancun-Riviera Maya it's September.
How Clean are Huatulco's Beaches?
Huatulco is one of the few places in the world with both Green Globe Certification and EarthCheck Gold Certification,  the benchmark for recognizing sustainable tourism practices and environmental protection.
The municipality's state-of-the-art sewage treatment plant means Huatulco's beaches are among the cleanest you'll find anywhere in Mexico.
The other good news about the beaches in Huatulco is that they consistently receive high marks for cleanliness by SEMARNAT, the government agency responsible for monitoring the water quality of the beaches in Mexico. Three times a year they  publish  water quality results measuring the enterrococcus fecal bacteria levels. Scores of more than 200 per 100 milliliters of water means swimming is unsafe for human health.
Under its Clean Beaches Program, the agency monitors 15  beaches and 17 sites within the three main tourism areas of Oaxaca and while the beach at Conejos Bay isn't specifically listed, all six beaches in Huatulco reported within the  June 23, 2018 report received APTA scores — from a low of 10 in Playa Chahue to a high of 29 at Playa la Bocana so it's safe to assume Conejos Bay has an equally low level of pollution.
How Swimmable are the Beaches?
Which has better beaches? Huatulco or Cancun Riviera-Maya? The sand on the beaches on Mexico's Pacific Coast is golden rather than white,  coarser and has a steeper slope to the water than those on Mexico's Caribbean coast.  In Huatulco, while the beaches are less crowded and more private than those elsewhere in Mexico, with the exception of Tangolunda Bay they are not ideal for long walks.
There is no problem with beach erosion. The beaches in Huatulco are wide and spacious.
How swimmable are the waters? This varies daily and seasonally. Huatulco's waters can be rough with strong rip currents so it's important to heed the advice of lifeguards and safety flags.
While the waves can sometimes be strong depending upon the tides and do pick up in the afternoon, the waters at Playa Tangolunda, located east of Santa Cruz and Playa Chahue, are generally easy to swim in.  The sand at 800 metre long Tangolunda beach is golden brown and not too coarse.  The beaches on Tangolunda Bay have a moderate slope to the water and the sand is firm so it's a good beach for people who like to take long  morning or afternoon beach walks.
In-experienced swimmers will feel comfortable at Playa Tangolunda. The beach at the east end of Tangolunda Bay near Dreams Huatulco Resort & Spa is the best for families. Even the smallest toddlers will be able to spot schools of fish in the shallow waters near the rocky outcropping.
While many people recommend swimming at Chahue, for me, the strong waves, steep drop offs and rip currents can make for scary swimming if you're not a strong swimmer.
Seaweed in Huatulco
Unlike east-facing Mayan Riviera and Cancun, much of the Caribbean and Florida, Huatulco is free of sargassum seaweed so you will not encounter problems with smelly, rotting seaweed in the water or accumulating along the shoreline.
Top Tours in Huatulco
Seven Huatulco Bays Tour by boat
One of the first things to do in Huatulco is get oriented to some of the most beautiful and secluded beaches you'll ever see. It's very easy (and inexpensive ) to hop in a taxi (or on a boat) and get to the beaches in the Bahias de Huatulco area.
One of the best ways to do this is by taking a Seven Huatulco Bays tour at the Santa Cruz Marina and explore the beaches from the water.
You can hire one of the small boats known as lanchas at the ticket office located on the east side of the Plaza in the Santa Cruz marina. There is a taxi stand and bus stop directly in front of the ticket office.
Coffee Plantation Tour
Grown on the slopes of the cloud forests of the Sierra Madre Sur mountains, Pluma Hidalo coffee is one of the world's most famous coffees. Taking a coffee plantation tour to learn more about growing these coffee beans, sampling coffee at source and visiting the mountain villages is one of the top day trips in Huatulco.
Read more in Take a day trip to Pluma Hidalo Coffee Country 
Snorkeling in Huatulco
If you're looking for outdoor adventure, you can also book an all-day  tour of the Seven Huatulco Bays that includes snorkelling with a PADI-certified guide (and a gourmet picnic lunch) with Hurricane Divers located at the Santa Cruz marina.
Be sure to pack an underwater camera if you plan to snorkel. There's plenty of marine life to see. For underwater photography I travel with the easy-to-use and rugged Fujifilm FinePix XP80 Waterproof Digital Camera with 2.7-Inch LCD (Yellow)
Read more about taking a swimming and snorkelling tour in Taking the Plunge in  Huatulco
Archeological Ruins in Huatulco
Many people don't know that Huatulco is also home to fascinating archeological ruins. Be sure to visit the  Bocana del Rio Copalita Eco-Archaeological Park, an archeological zone featuring pyramids, ball courts and other ruins dating to 500 BC when the site was home to the ancient city of Copalitan. A small, but informative, museum is filled with ceremonial objects and other artifacts.
Further afield, it's worth a road trip to Monte Albán, an archeological site built by the Zapotecs. One of  Mexico's most important ruins you'll need at least two days for this trip as it's a minimum five hour drive each way. You can cut that time if you fly to Oaxaca City and overnight.   
 Sea Turtle Nesting or Baby Turtle Release
As well as scuba diving and swim snorkel adventures, it's also possible to witness a sea turtle hatching or turtle nesting on the coast of Oaxaca. Be sure to include a visit to the Sea Turtle Centre  in Mazunte. As well as being prime sea turtle nesting zones, many of these bays are accessible only by boat and play a role in the rich cultural traditions of Oaxaca.
Other Things to Do in Huatulco
There are many other things to do in Huatulco, from taking a cooking class to whitewater rafting so get the details on top excursions, tours and day trips in our post on Top 10 Things to Do in Huatulco. 
Top Huatulco Beaches
Santa Cruz Beach – Playa Santa Cruz Cruise Terminal
If you're arriving in Huatulco by cruise ship, Playa Santa Cruz is the first of the Huatulco beaches you will see. Directly located at the Santa Cruz marina, it's a small golden sand beach in Huatulco with calm waters suitable for families and children.
You'll often see small fish swimming in the shallows. The waters are surprisingly clear and clean considering that it's so popular. At the east end of Playa Santa Cruz, the beach is roped off to protect swimmers from motorized water craft.
The only downside is that if you happen to arrive on a cruise ship day, the sight of a giant cruise ship on the cruise ship pier can overwhelm the view. For drinks and light lunches, get a lounger at La Playa restaurant and swim in the water directly in front of the Huatulco restaurant. Staying close to Bahia Santa Cruz means it's also easy to rent a boat and explore one of the more remote beaches.
Recommended hotel at Santa Cruz Beach: Holiday Inn Huatulco
Tangolunda Bay – Top Luxury Hotels and Resorts
When it comes to choosing a hotel for a winter vacation, I like to stay in one of the Huatulco hotels on the beach. That way I can go for long morning walks or hang out on the beach and easily return to my room or the hotel's restaurant whenever I want.
There are also plenty of budget hotels in Huatulco to choose from if you are not a fan of the beach or if you're on a budget. The largest selection of budget hotels are located in the town of La Crucecita, a short taxi ride from Santa Cruz marina.
Read our post on Bring the Kids to Dreams Huatulco Resort & Spa for more.
Recommended Huatulco Hotels on the Beach at Bahia Tangolunda: Barcelo Huatulco Beach Resort or Dreams Huatulco Resort & Spa
Conejos Bay – Bahia Conejos Huatulco
Located east of Tangolunda Bay, just before La Bocana at the mouth of the Copalita River, the  beautiful crescent-shaped Conejos Bay is one of the most photogenic of the Huatulco beaches.
While the views are spectacular, the beach at Conejos Bay is not ideal for swimming. The water is often rough and the drop-offs can be steep. Secrets Resort is adults-only so this beach is perfect for couples without children.
Recommended hotel on Conejos Bay: Our top choice for an adults-only resort in Huatulco is  Secrets Huatulco Resort & Spa. The all-inclusive Secrets Huatulco Resort & Spa is currently the only resort on Conejos Bay but this may soon change.
In Spring 2017, the Governor of Oaxaca, Alejandro Murat Hinojosa announced plans for the construction of a 761-room Nickelodean resort and water park on Bahia de Conejos.
Read more: Enjoy unlimited luxury with an all-inclusive Day-Pass to Secrets Huatulco Resort & Spa   
Other Huatulco Beaches
The best beaches for a day trip include those at Playa San Agustin Bay (located at the bottom of a dirt road and home to a large coral reef), Maguey Bay, Organo Bay, La India (for its incredible white sand) at Chachacual Bay and many bays so remote they are accessible only by boat.
Culture
Oaxaca is rich in cultural diversity. The remote bays along the coast of Huatulco are the habitat for the tixinda snail, the rare purpura sea snail as a source for the "royal  purple" dye used by the Mixteco weavers of Oaxaca. It can take the milk from 1000 snails to dye one reboso (shawl).
The women of the Tixinda Cooperative weavers create magic on their backstrap looms, weaving colourful huipils (tunic dresses), bed linens, table cloths and smaller items such as wallets, purses and pillows.  The weaving is rare, beautiful and highly-prized by collectors.
One of the top things to do in Huatulco is to shop for Oaxacan handicrafts. Stop into the Museo De Artesanias Oaxaquenas and browse their fine selection of quality work. Black pottery, alebrijes (brightly  painted wooden figurines), vanilla and weavings are top souvenirs to consider.
Read more: Quest for Oaxaca's Sacred Sea Snail 
Events
Huatulco Blues on the Beach
Leading international jazz and blues musicians perform at this popular annual concert series in January and February. Proceeds go to assist the charity Un Nuevo Amanecer, a children's rehabilitation center.
Food & Drink to Try in Huatulco
Huitlacoche or Cuitlacoche
Huitlacoche, a unique black corn fungus, is so revered for its earthy flavour that it's known as the Mexican truffle. Appearance-wise, the delicacy is about as appetizing as a lump of coal, but the black gold fetches top dollar in local markets. Try it stuffed in a savoury crepe at Terra-Cotta restaurant in Mision de los Arcos, located in La Crucecita, Huatulco's lively centre.
Paletas
Homemade icy paletas, made by freezing purified water with sugar and fruit, offer a tasty way to cool off in the heat. Expect to find watermelon, guava and mango along with exotic creations like gooseberry or jicama with chili and gardenia petals.
Mole
Oaxaca is known as the Land of Seven Moles, so you're sure to see moles on the menu of restaurants in La Crucecita and Huatulco. Mole negro is the most popular, often appearing on chicken. This rich, mildly spicy and smoky-sweet sauce is made from tomatoes, almonds, raisins, chocolate, plantain and chilies, including the rare chilhuacle variety, grown only in southern Mexico.
Dive in with a sampler platter, which includes stringy quesillo cheese, grilled meats and tamales topped with mole negro at El Sabor de Oaxaca.
Mezcal
While tequila  is restricted to only blue agave, mezcal is created through blends of up to 20 different types, resulting in a vast range of flavours from floral to smoky. Look for mezcal de pechuga, an especially delicate mezcal created by using a raw chicken breast during distillation. Learn more in 10 Amazing Foods to Try in Puerto Escondido for tips on where to sample mezcal at its source.
Nopal Cactus
Look for nopal cactus at La Crucecita's Mercado Municipal, where you can watch Zapotec vendors remove the spiky spines, peel the rind and then slip the paddle-shaped leaves into plastic bags to go. Sample it in a salad or drink it in a smoothie – it's full of antioxidants and soothing on the stomach.
Pluma Hidalgo Coffee
Pluma Hidalgo coffee beans are hand-picked, shade-grown, Arabica beans grown at a high altitude. The coffee plants are dusted by ocean breezes, which adds minerality to the flavour of the coffee. You can visit a coffee plantation in the coffee town of Pluma Hidalgo itself or shop for the coffee beans in La Crucecita. There are several good coffee vendors located near the intersection of Bugambilia and Guanacastle at the zocolo.
---
 This post contains affiliate links. Read more on our Disclosure Page. 
If you are looking at more details on the hotels mentioned in this post, you can save money when booking by checking prices on Hotelscombined.com. This free search engine compares prices on Expedia, Hotels.com and other major hotel websites and shows you the best ( and lowest) prices.
And that's not the end of things to do on the coast of Oaxaca! Read our Essential Puerto Escondido Travel Guide for more information on hotels, beaches, things to do, day trips and more in Puerto Escondido and Mazunte. Or go directly to these posts:
7 Reasons You'll Love Mazunte Mexico 
Escape to Gecko Rock Resort in Sea Turtle Country 
9 Travel Tips for a Perfect Romantic Getaway in Puerto Escondido, Oaxaca
Beginner's Guide to Puerto Escondido Beaches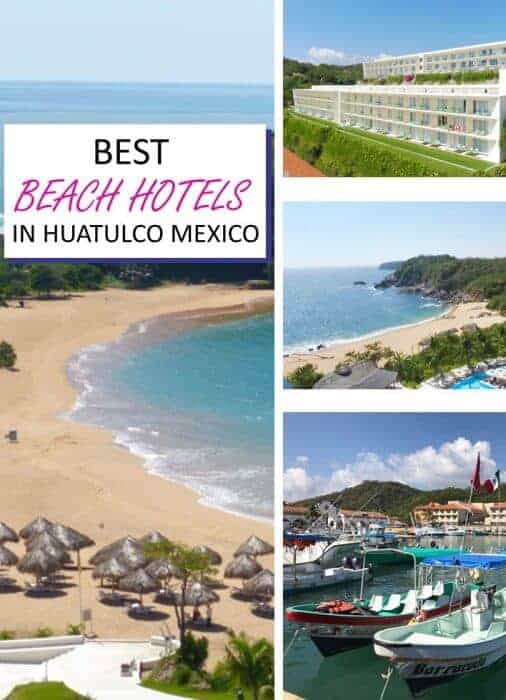 Michele Peterson
Dividing her time between Toronto, Mexico and Guatemala (or the nearest tropical beach), Michele Peterson is an award-winning writer, blogger, editor and publisher who specializes in travel, cuisine and luxury lifestyles.