We may earn income from links in this post. Please read this Disclosure for details.
Home to nine beautiful bays and 36 beaches, Huatulco, Mexico is clean, safe and rich in culture. In addition to the stunning beaches in Huatulco, there's also a wide range of accommodation.
You can choose from luxury all-inclusive hotels on the beach, condos and budget boutique inns in La Crucecita, the downtown zone.
But with so many beaches to choose from, it can be tough to decide which beach is the best for your vacation.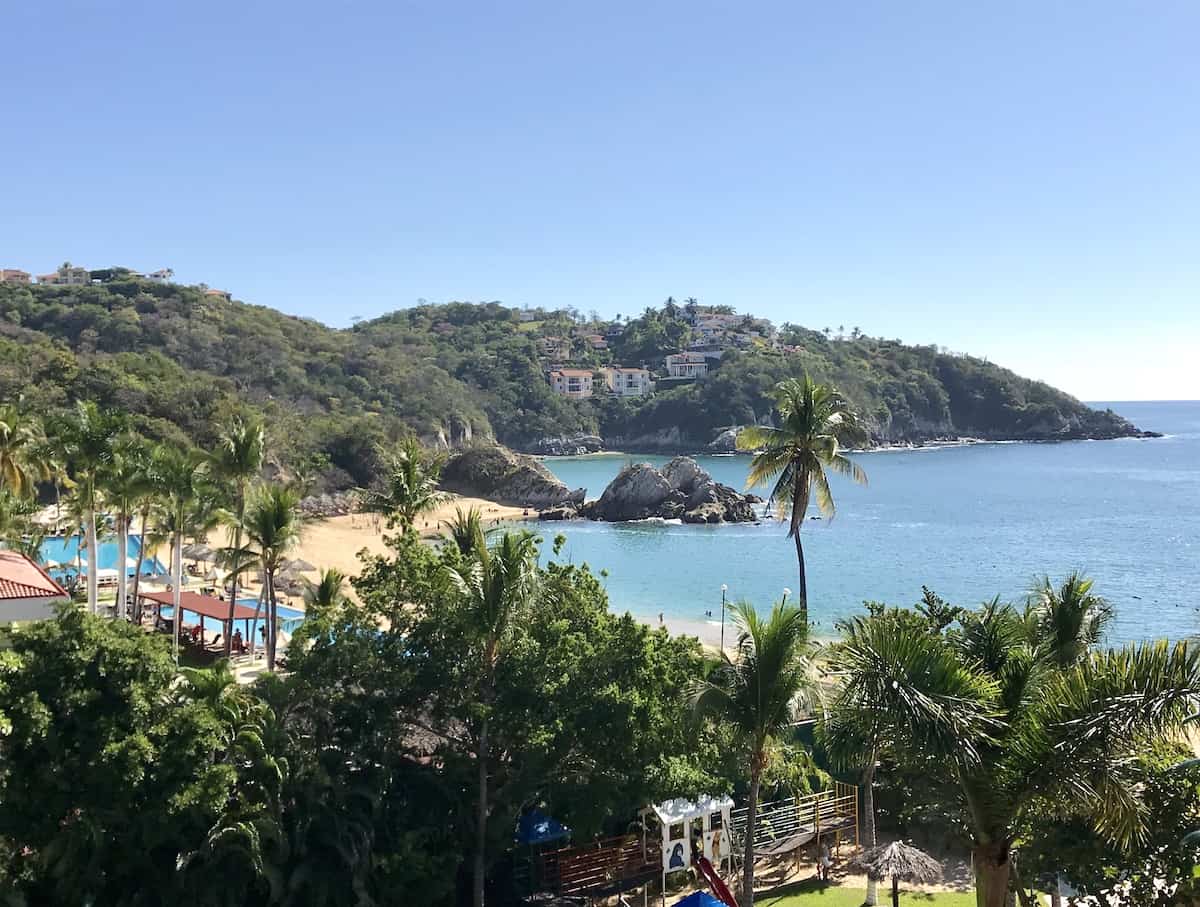 I've been exploring the state of Oaxaca since my first visit in 2003. Between living in Puerto Escondido and researching Mexico's Pacific Coast for Fodor's guidebook and Lonely Planet's Mexico from the Source, I've spent a lot of time in Huatulco.
With its golden sand and sunny skies (and reliably hot weather), it's one of my favourite places to enjoy some beach time. I'm convinced that Huatulco is one of Mexico's undiscovered treasures!
To help you make the most of your visit to Huatulco, here are my top picks of the six best beaches in the Bahías de Huatulco area.
Each one has a different character and something to experience. Here's what you need to know about planning a beach vacation in Huatulco, Mexico:
Where is Huatulco?
The Bahias de Huatulco are located in the state of Oaxaca on Mexico's west coast facing the Pacific Ocean. It's important not to confuse Santa Maria de Huatulco with the resort destination of Huatulco.
While it's well worth visiting for its rich history, Santa Maria de Huatulco is located inland in the lowlands of the Sierra Madre Sur mountains beyond the Bahias de Huatulco International Airport (HUX).
The beach resort and all-inclusive hotel zone is officially known as Bahias de Huatulco!
Pronunciation
How do you say Huatulco? It's pronounced 'wa-tool-ko' with the emphasis on the second syllable. It's sometimes spelled incorrectly as 'watuka' or 'hua ulco' but is officially known as the Bahías de Huatulco.
And if you're wondering about Oaxaca…it's pronounced 'wa-ha-ka.'
1. Playa Santa Cruz Beach – Best Huatulco Beach Near the Cruise Terminal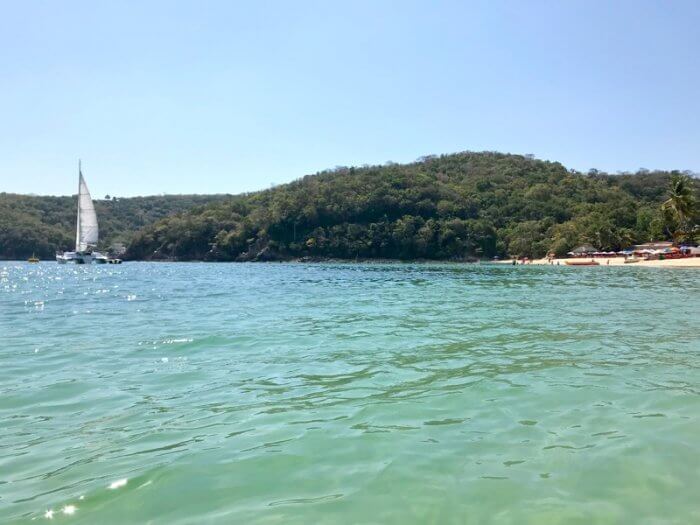 If you're arriving in Huatulco by cruise ship, Playa Santa Cruz is the first of the Huatulco beaches you will see. Directly located at the Santa Cruz marina, it's a small golden sand beach in Huatulco with calm waters suitable for families and children.
You'll often see small fish swimming in the shallows. The waters are surprisingly clear and clean considering that it's so popular. At the east end of Playa Santa Cruz, the beach is roped off to protect swimmers from motorized water craft.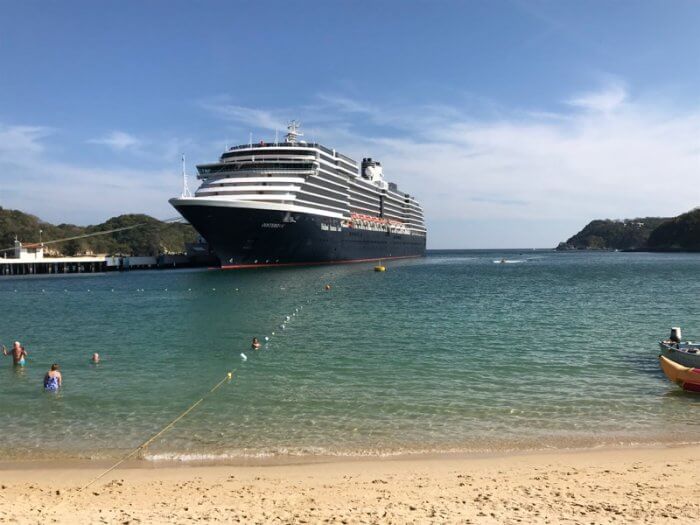 The only downside is that if you happen to arrive on a cruise ship day, the sight of a giant cruise ship on the cruise ship pier can overwhelm the view.
For drinks and light lunches, get a lounger at La Playa restaurant and swim in the water directly in front of the restaurant. Staying in a hotel close to Bahia Santa Cruz means it's also easy to rent a boat and explore one of the more remote beaches.
Best hotel at Santa Cruz Beach:
Check prices and availability at Holiday Inn Huatulco on Booking.com
2. Tangolunda Bay – Top Beach for Luxury Hotels and All-inclusive Resorts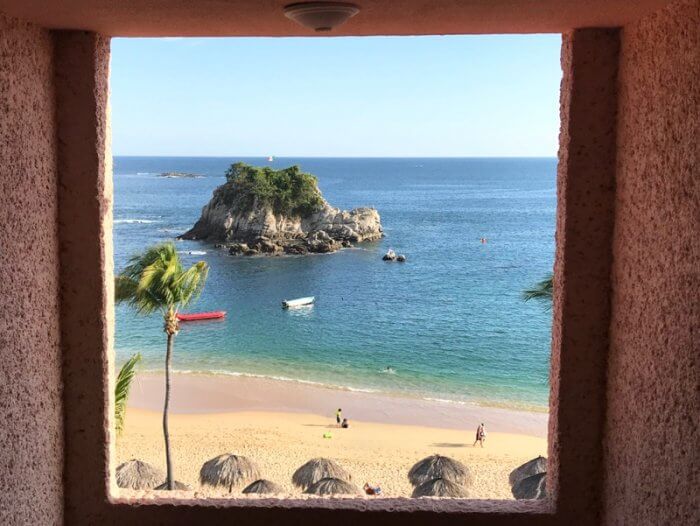 When it comes to choosing a hotel for a winter vacation, I like to stay at a hotel directly on the beach. They're perfect for long morning walks and of course, great views.
There are lots of hotels on the beach to choose from at Playa Tangolunda. It's a good choice for people looking for a Huatulco resort with a long stretch of sand for morning or afternoon beach walks.
It's also one of the best swimming beaches. In-experienced swimmers will feel comfortable at Playa Tangolunda although you still need to pay attention to water safety conditions. A green flag means water conditions are safe to swim.
The beach at the east end of Tangolunda Bay near Dreams Huatulco Resort & Spa is the best for families.
Even the smallest toddlers will be able to spot schools of fish in the shallow waters near the rocky outcropping.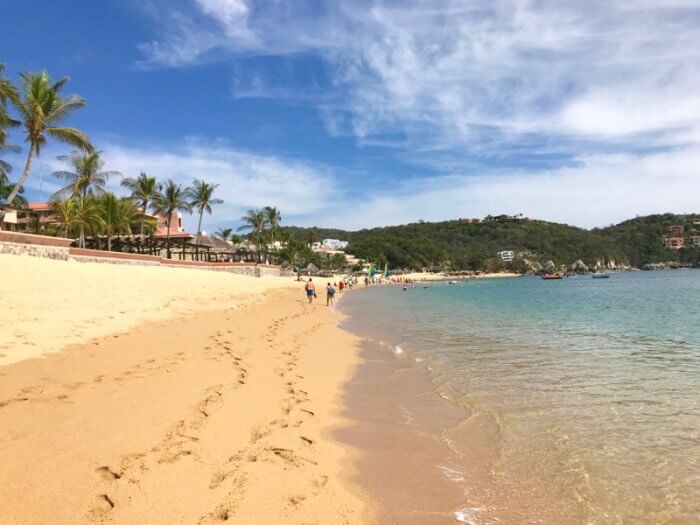 The sand at 800 metre long Tangolunda beach is golden brown and not too coarse. The beaches on Tangolunda Bay have a moderate slope to the water and the sand is firm.
If you're only visiting for the day, many of the resorts offer day passes which provide access to beach loungers, drinks and dining.
Ideally located in the middle of the bat, the all-inclusive Barcelo Huatulco offers a day pass for $45 USD. hde's also a day pas program at Dreams Huatulco Resort & Spa. Note that in peak holiday periods, day passes may not be available.
Recommended Huatulco hotels on the beach at Bahia Tangolunda:
Check rates and availability at Barcelo Huatulco Beach Resort on Booking.com
Check rates and availability at Dreams Huatulco Resort & Spa on Booking.com
3. Conejos Bay – Bahia Conejos Huatulco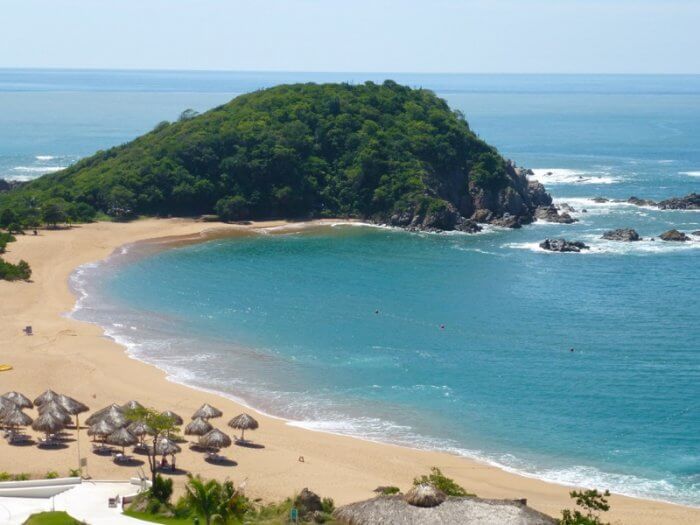 Located east of Tangolunda Bay, beautiful crescent-shaped Conejos Bay is one of the most photogenic of the Huatulco beaches.
While the views are spectacular, the beach at Conejos Bay isn't ideal for swimming. The water is often rough and the drop-offs can be steep.
Secrets Resort is adults-only so this beach is perfect for couples without children. It also has a spa and several infinity pools offering spectacular ocean views.
It's also the closest bay to La Bocana beach at the mouth of the Copalita River, where you can enjoy a therapeutic mud bath.
Or, spend a few hours at the fascinating Parque Eco-Arqueológico Copalita and Museum, one of the top things to do in Huatulco.
Recommended hotel on Conejos Bay:
Our top choice for an adults-only resort in Huatulco is Secrets Huatulco Resort & Spa. The all-inclusive Secrets Huatulco Resort & Spa is currently the only resort on Conejos Bay but this may soon change. A 761-room Nickelodean resort and water park is scheduled to open in Summer 2021 on Bahia de Conejos.
Read more: Visiting for the day? Outside peak holiday periods, it's usually possible to get an all-inclusive Day-Pass to Secrets Huatulco Resort & Spa
Check rates and availability at Secrets Huatulco Resort & Spa on Booking.com.
4. La Entrega Beach
One of the busiest and most crowded beaches in Huatulco, La Entrega is not without its charms. Not only are there several seafood restaurants to choose from on this long beach, but the snorkelling is actually quite good from shore.
With its calm waters and roped off section protected from motorized watercraft, it's a good beach for families. It's a fine beach for swimming as it doesn't have a strong undertow or steep drop off.
Try to arrive early in the day to avoid the crowds.
5. Chachacual Beach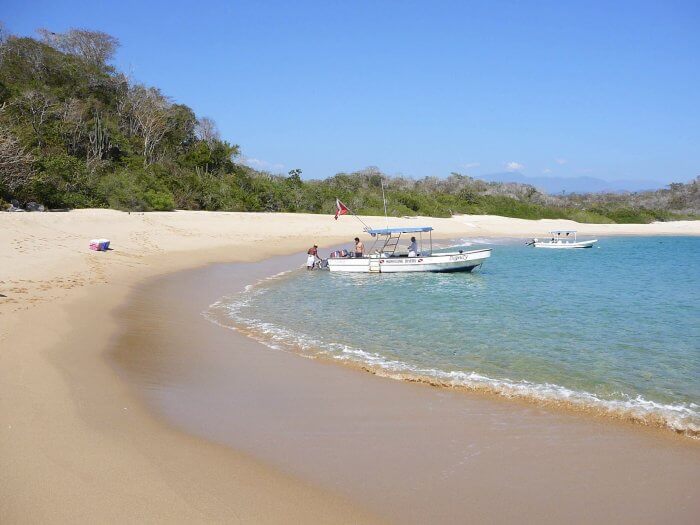 One of Huatulco's best beaches is accessible only by boat. Chachacual Bay is home to Playa La India, known for its incredible white sand.
Most Huatulco snorkelling excursions (including the highly recommended Hurricane Divers) feature a stop at Chachacual Bay along with Maguey Bay, Organo Bay, Cacaluta and other bays so remote they are accessible only by boat.
Or, they're coastal zones protected as sea turtle habitat or the tixinda sea snail valued as the source of purple dye in traditional Oaxacan weaving.
6. Playa San Agustin
One of the best beaches in Huatulco for a day trip include those at Playa San Agustin Bay. It's located at the bottom of a dirt road and home to a large coral reef. There's excellent snorkelling from shore and several seafood palapas.
To get to this beach, it's best to rent a car in Huatulco and use it to go exploring further along the coast of Oaxaca to Mazunte and its beautiful beaches.
Or, book a taxi and make arrangements to get picked up for the return trip back to Huatulco.
Budget Hotels in Huatulco (Away from the Beach)
There are also plenty of budget hotels in Huatulco to choose from if you don't need to be on the beach or if you're on a budget. The largest selection of budget hotels are located in the town of La Crucecita, a short taxi ride from Santa Cruz marina.
La Crucecita is the service town or downtown for the large, all-inclusive resorts located along the bays of Huatulco.
It has its own special charms and is worth visiting for its church with a large mural of the Virgin of Guadalupe, good selection of restaurants and nightclubs, leafy zocolo and shopping.
La Crucecita also has a few budget hotels worth checking out if you don't need to be located directly on a beach and are willing to take a taxi and do some beach-hopping.
My favourite hotel in La Crucecita is Mision de los Arcos, a clean, well-located, budget boutique hotel where a standard room costs 850 MXN pesos (around $35 USD) a night.
Huatulco Safety – Is Huatulco Mexico Safe?
Huatulco is a very safe destination for tourists. Crime in Huatulco is lower than in other resort destinations as the Bahias de Huatulco area is much smaller than other resort destinations.
It also has one of the highest IDH Índice de Desarrollo Humano ( uman Development Index) in Mexico when it comes to employment, education and salaries (which means crime such as robberies, assaults and street gangs are lower).
Its tourism infrastructure was built by and is maintained by FONATUR so visitors and local residents enjoy excellent roads, lighting and tourism police security.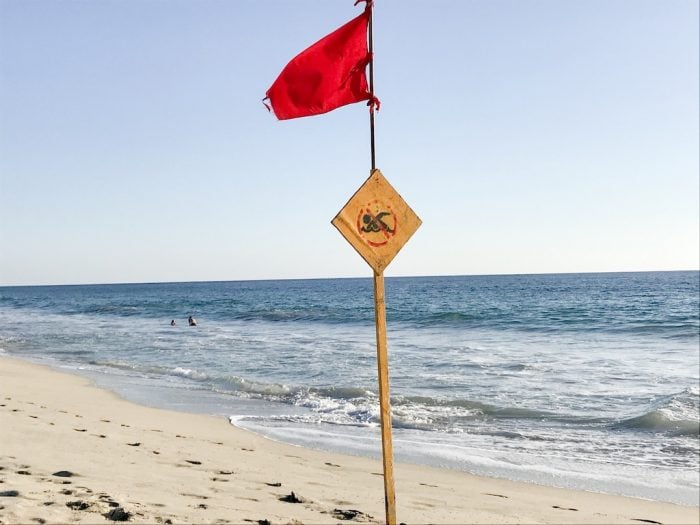 Is it safe to travel to Huatulco Mexico? As recently as December 19, 2019, the U.S. Department of State ranked Mexico overall a Travel Advisory Level 2: Exercise Increased Caution.
The state of Oaxaca is a Level 2: Exercise Increased Caution, which is the same as Quintana Roo (home to Cancun and the Riviera-Maya) and better than Jalisco, Sinaloa (Level 4) or Nayarit (Level 3) other popular Mexican resort destinations.
There are NO recommended restrictions for government employees or the general public for transit between the airport in Huatulco to hotels in Puerto Escondido or Huatulco.
However it pays to exercise caution and avoid hiking remote trails alone, walking the beaches at night or carrying large sums of money.
Also pay attention to water conditions and beach warning flags. A red flag means the surf is high or there are dangerous currents or both. Many people worry about crime in Mexico but pay little attention to water conditions.
According to the State Department, the most common form of death for American tourists outside the US is accidents at 38 percent, drownings are next with 19 percent, then homicides at 18 percent.
Weather in Huatulco Mexico
If you're planning to vacation between November and March, you're more likely to get reliably sunny skies in Huatulco than anywhere along the Cancun Riviera-Maya coast.
Not only is the average temperature s generally 3-5 degrees higher than in Cancun-Riviera Maya, but there's less rain. In January you can expect 26 C (79 F) vs an average temperature of 23 C (73) in Cancun.
The average number of days with rain in Huatulco between January and March is 3. In Cancun-Riviera Maya it's 16.
How Clean are Huatulco's Beaches?
Huatulco is one of the few places in the world with both Green Globe Certification and EarthCheck Gold Certification, the benchmark for recognizing sustainable tourism practices and environmental protection.
The municipality's state-of-the-art sewage treatment plant means Huatulco's beaches are among the cleanest you'll find anywhere in Mexico.
The other good news about the beaches in Huatulco is that they consistently receive high marks for cleanliness by SEMARNAT, the government agency responsible for monitoring the water quality of the beaches in Mexico.
Three times a year they publish water quality results measuring the enterrococcus fecal bacteria levels. Scores of more than 200 per 100 milliliters of water means swimming is unsafe for human health.
Under its Clean Beaches Program, the agency monitors 15 beaches and 17 sites within the three main tourism areas of Oaxaca.
All of the six major beaches in Huatulco reported within the June 23, 2018 report received acceptable APTA scores — from a low of 10 in Playa Chahue to a high of 29 at Playa la Bocana. They all have relatively low levels of pollution compared to many other resort destinations in Mexico.
How Swimmable are the Beaches in Huatulco?
Which has better beaches? Huatulco or Cancun Riviera Maya? The sand on the beaches on Mexico's Pacific Coast is golden rather than white, coarser and has a steeper slope to the water than those on Mexico's Caribbean coast.
In Huatulco, while the beaches are less crowded and more private than those elsewhere in Mexico, they are relatively short. With the exception of Tangolunda Bay they are not ideal for long walks.
There is no problem with beach erosion. The beaches in Huatulco are wide and spacious.
How swimmable are the waters? This varies daily and seasonally. Huatulco's waters can be rough with strong rip currents so it's important to heed the advice of lifeguards and safety flags.
While the waves can sometimes be strong depending upon the tides and do pick up in the afternoon, the waters at Playa Tangolunda, located east of Santa Cruz, are generally easy to swim in.
While many people recommend swimming at Chahue, for me, the strong waves, steep drop offs and rip currents can make for scary swimming if you're not a strong swimmer.
Seaweed in Huatulco Beaches
Unlike east-facing Mayan Riviera and Cancun, much of the Caribbean and Florida, Huatulco is free of sargassum seaweed so you will not encounter problems with smelly, rotting seaweed in the water or accumulating along the shoreline.
How to Get to Huatulco from Oaxaca City by Plane – TAR Airlines
TAR Airlines has expanded its routes, which means it's now even easier (and cheaper) to combine beach time with city time. For fans of Oaxaca's string of Pacific coast beaches, there's especially good news.
You can fly direct between Oaxaca City and Huatulco as well as between Querétaro and Huatulco (Oaxaca) via TAR Airlines. You can also fly directly flights from Querétaro to Puerto Escondido, Oaxaca (PXM) and then travel from Puerto Escondido to Huatulco by bus or shuttle.
How to Get from Huatulco Airport to Puerto Escondido ( by bus, taxi or shuttle)
Who is TAR Airlines? They are a 100% Mexican, regional low-cost airline operating a fleet of Embraer 145 ERJ, twin-engine jets produced by Embraer, a Brazilian aerospace company. Based in Querétaro, Mexico, they offer service to destinations throughout Mexico, including Puerto Vallarta, Acapulco, Zihuatanejo and more.
Unlike VivaAerobus where a multitude of extras can increase the price if you're not vigilant about deselecting them when making a reservation, on TAR Airlines the fare includes all taxes, extras. It also includes the cost of a reserved seat. But it's still worth keeping an eye on hidden expenses with these tips and tricks for Flying with a Discount Airline.
Wondering how to find the best and cheapest airline flights? Here are the best apps for flight deals.
TAR Airlines: You can make a reservation directly on the TAR website (Spanish only).
How to Get to Huatulco from Mexico City
From Mexico City, you can take a direct flight to Huatulco with Aeromexico, VivaAerobus, Interjet and Volaris.
If you have a long layover or need to overnight at the airport, check out our list of the Top 3 Airport Hotels near Aeropuerto Internacional Benito Juárez (MEX).
And that's not the end of things to do on the coast of Oaxaca! Read our Essential Puerto Escondido Travel Guide for more information on hotels, beaches, things to do, day trips and more in Puerto Escondido and Mazunte. Or go directly to these posts:
Save to Pinterest!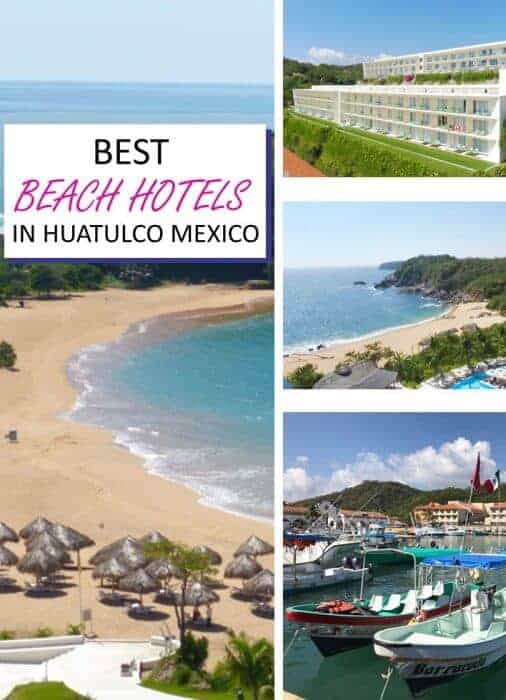 Dividing her time between Canada, Guatemala and Mexico (or the nearest tropical beach), Michele Peterson is the founder of A Taste for Travel. Her award-winning travel and food writing has appeared in Lonely Planet's cookbook Mexico: From the Source, National Geographic Traveler, Fodor's and 100+ other publications.
View more posts by Michele Peterson Read more