We may earn income from links in this post. Please read this Disclosure for details.
Planning a vacation in the Azores? This detailed Azores itinerary will help you plan your trip. It's packed with tips on fun things to do and best places to see.
Rich in natural wonders, full of tradition and great food, you'd need a lifetime to make a small dent in the bucket list of steaming hot springs, sky-high lakes and regional cuisine of the Azores islands of Portugal.
But our itinerary for one week in Azores features the island of São Miguel and offers an unforgettable taste of its beauty, main attractions and local food in a three, four or seven-day vacation.
Why Choose the Azores? Fast Facts
The Azores, a lush island archipelago that's an autonomous region of Portugal, is a splash of nine volcanic islands in the middle of the North Atlantic Ocean.
Due to their geographic location between Europe, Africa and America, the Azores island archipelago have long felt a world apart. Sighted by navigator Diego de Silves around 1427, they served as a stopover for explorers such as Christopher Columbus.
Yet, these islands off of Portugal are not as remote as they sound. Modern day travellers can reach the Azores via direct flights in five hours from North America and two hours from mainland Portugal via Azores Airlines.
Today's travellers seeking a haven from the crowds of mainland Europe are discovering its appeal. And its surprising affordability. How does lunch for €15 EUR or a luxury hotel with seaview and fabulous breakfast for under €200 EUR sound?
Here are the main reasons to choose the Azores for your European holiday:
natural beauty
few crowds (for now)
very affordable
What is the Best Azores Island to Visit?
While all of the nine islands in the Azores Portugal are blissfully off the tourist path, if you're trying to decide on which Azores island to visit the largest island of São Miguel offers the best mix of attractions, hiking, luxury hotels, restaurants and scenery.
Although it's helpful to learn a few basic words in Portuguese before you visit, English is widely spoken in the Azores. The island of São Miguel has the best developed tourism infrastructure and the highest English-speaking population.
It's also possible to go island-hopping in the Azores. So we've included tips on visiting other islands such as Terceira, Pico, Flores and Graciosa in this travel itinerary.
Azores Weather: When to Go
Azores is a year-round destination with spring-like temperatures. Winter temperatures never drop below 10 C and although summer months have the most sunshine, temperatures rarely rise above 30 C.
Summer can see cruise ship crowds on port days so it's important to try to visit popular attractions such as Caldeira Velha early in the day in order to avoid crowds.
November to March are the months with the most rain (132 mm to 118 mm is the monthly average). The driest month is July but fog can be expected at any time.
How Long to Stay in Azores? Our 7-day Azores Itinerary
How many days do you need in the Azores? We stayed a full week but it's possible to stay for a shorter length of time and still have a fantastic vacation.
The best way to get around and experience the most of São Miguel is by renting a car. Get information about the types of cars available, tips on saving money on your rental car and reserve online at DiscoverCars.com.
This itinerary is packed with tips on how to experience the best of São Miguel island whether you're planning a 7-day itinerary or are there for just a few days.
Days 1-3 of our Azores Itinerary will give you a good mix of what São Miguel island is known for from crater lakes to local food.
Whale-watching, hiking and dolphin excursions depart from the Ponta Delgada marina and are easy to fit in to your itinerary.
Make sure you book your tours online in advance to avoid disappointment.
Day 1: Fun Things to Do in Ponta Delgada
Founded in 1546, São Miguel's pretty capital city of Ponta Delgada features a seaside promenade, distinctive white and black basalt architecture, a Renaissance fortress and many public plazas.
Home to the João Paulo II International Airport, it's the island's largest city and makes the ideal base for exploring São Miguel island.
Ponta Delgada is also the hub for departures for most excursions and tours in the Azores.
1. Explore the Carlos Machado Museum
One of your first stops should be the Carlos Machado Museum where the fine exhibits capture the spirit of adventure from the Age of Discovery.
From the size of the bones of the enormous right whale, bigeye tuna and giant swordfish on display within its Natural History Museum, it's easy to imagine why early mariners described the waters surrounding the Azores as full of unknown creatures.
2. Browse the Mercado da Graça
Sample local cheeses, gawk at the pineapples and other fresh local produce, mingle with shoppers and soak up the atmosphere of this well organized and orderly traditional market.
This is the place to stock up on cans of tinned fish, perfect for taking back home as food souvenirs.
Just don't expect to see the incredible variety of famous canned sardines you can find in the Conserveira de Lisboa and other food boutiques in Lisbon. I was surprised to learn that the Azores is better known for its tuna and horse mackerel than sardines.
Although I wasn't initially too keen on the sound of horse mackerel, it's actually an important commercial fish that can be eaten smoked, fried, salted, and baked.
It's a member of the Carangidae family of fish that includes jacks, pompanos and wahoo.
There are actually five types of tuna in the Azores and the government has implemented quite strict regulations on the fishing industry to ensure that fishing methods are dolphin safe.
In October 2017, The Azores Declaration made a firm commitment to support small-scale, selective and sustainable fisheries and the coastal communities that depend on them for income, nutrition and culture.
3. Get Inspired at Sacred Art Museum
More treasures await within the Sacred Art Museum, notable for its baroque architecture featuring black basalt and white limestone.
These distinctive stones also figure prominently in the intricate patterns of the calçada portuguesa (Portuguese cobblestone pavement mosaics) along Ponta Delgada's picturesque streets.
4. Enjoy a Traditional Seafood Lunch
After your stroll, do as the locals do and stop at Restaurante Gastrónomo near the Church of São Pedro. Staying true to its regional roots, the menu features fresh caught fish-of-the-day, octopus salad and espatada (grilled meat on a skewer) as well as local yams, a side dish with every meal.
This is also the place to try lapas (limpets) and cracas (barnacles), grilled shellfish bathed in olive oil and lemon juice, accompanied by anise-scented bread for sopping up the juices.
If you're keen to learn (and sample) even more Azorean food specialties, then sign up for a culinary walking tour of Ponta Delgada.
This 3.5 hour guided tour includes stops and food tastings at local markets and shops including Mercada da Graca, Louvre Michaelense, and O Principe dos Queijos (Prince of Cheese).
Check prices and availability of a Walking Food Tour of Ponta Delgada on Viator.com.
5. Learn about Cute Pineapples at the Arrudo Pineapple Plantation
Another legacy of the Azores' rich history is the pineapple, introduced in 1850 following the collapse of the orange industry.
Look for this pint-sized but sweet pineapple in local dishes such as black sausage with pineapple, bolo da ananas (pineapple cake) and chutneys.
Although many of the original glass greenhouses have been shuttered, the Arrudo Pineapple Plantation offers free tours of its still-operating greenhouses.
There's also a boutique packed with pineapple-themed souvenirs from food to jewellery. The plantation is a $6.00 Euro taxi ride from the heart of Ponta Delgada.
6. Watch a Documentary at the Pineapple Cultivation Interpretive Center
At the modern new Pineapple Cultivation Interpretive Center in Fajode Baixo (a short walk from the Arrudo Pineapple Plantation above), you can browse displays tracing the history of pineapple production in the Azores.
Be sure to watch the documentary on the cultivation processes of this disappearing tradition.
7. Soak up History at Forte de S. Bras
It's still possible to see the vestiges of the Azores' maritime history. Although 15 forts once protected the island, Forte de S. Bras, located in the modern-day capital of Ponta Delgada on the Azores' largest island of São Miguel, is the only one still in operation.
Active through WWI and WW2, its military museum is open to visitors and displays artifacts such weapons, uniforms and artillery.
Day 2: Explore the North Coast of São Miguel
1. Sip Tea at Cha Porto Formoso Tea Plantation
For even more unique agritourism, one of the top things to do in Sao Miguel Azores is visit the Cha Porto Formoso tea plantation near Ribeira Grande.
Sao Miguel is the only place in Europe where black tea is produced. The first seeds (camelia sinensis) arrived on São Miguel in the 19th century.
Visitors can take a free, guided tour through the entire process of making premium tea, from walking the fields to viewing 19th century processing machinery and sampling Pekoe, Orange Pekoe and Broken Leaf black teas.
2. Plunge Beneath Waterfalls at Ribeira dos Caldeirões
Ever hiked beneath a rainbow? Adventurous travellers looking for the ultimate in high-adrenaline thrills should plan a guided canyoning excursion through the Ribeira dos Caldeirões Natural Park.
Wild ginger, Japanese cedars and create a picturesque backdrop as you rappel, jump and slide down cliffs and through the crystal clear waterfalls of a meandering river canyon.
For gentle hiking, the park features walking trails through still-wild landscapes draped by giant tree ferns and waterfalls. Plan to stay at least two hours.
There's a gift shop, washrooms and a coffee shop tucked inside the Parque Natural da Ribeira Dos Caldeiroes Visitors Centre plus stunning views of the canyon from the open air terrace.
If you love outdoor adventure, it's also worth spending some time in Geres on the mainland of Portugal. Exploring the hiking trails, thermal spas and waterfalls are just a few or the incredible things to do in Peneda Geres National Park.
In addition to ferry service, there are several flights from Porto to Ponta Delgada in the Azores.
3. Go Surfing and Eat Seafood at Santa Barbara Eco-Beach Resort
Although a bit of a jaunt away along the north coast, its worth making the trip to the Santa Barbara Eco-Beach Resort to enjoy its windswept beach and contemporary cuisine.
The town itself is home to the Santa Barbara Church, a structure that dates back to 1485 but was expanded in 1770.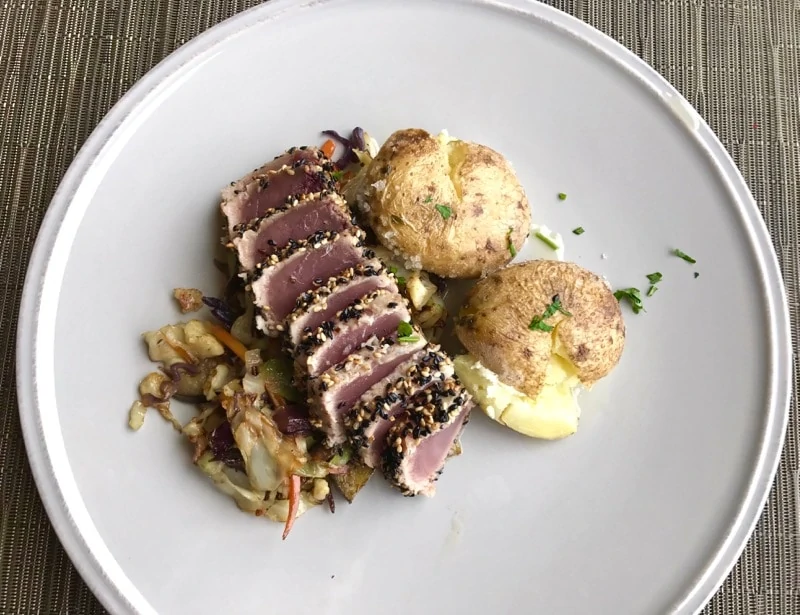 This eco-friendly resort is best known for its surfing and outdoor adventure sports.
Chill out at the breezy Beach Club and enjoy sushi and sashimi created with fresh locally-sourced fish or a seafood lunch of fresh tuna or catch of the day.
Day 3: Soak Up the Views at Fogo Lake
1. Go Hiking at Lagoa do Fogo
Nature lovers will also appreciate stunning Lagoa do Fogo (Fogo Lake), the highest lake on the island of São Miguel.
This mirrored lake set within the caldera of a young volcano, is poised 575 metres (1,886 feet) above sea level in the middle of the island.
Taking a tour to hike Fogo Lake's well-marked trails is one of the top things to do in Sao Miguel Azores as it's a scenic way to experience its unique beauty.
The easy paths meander through mossy channels and beneath fragrant forests of juniper, laurel and heather.
Check rates and availability of a full day tour to Lagoa do Fogo on Viator.com.
2. Soak in Hot Springs at Caldeira Velha Waterfall
After a Fogo Lake hike, relaxing pleasures await at Caldeira Velha, a waterfall and hot springs on the northern slope of Fogo Volcano.
Here you can soak in iron-rich waters or plunge beneath a cascading waterfall set within the Azores UNESCO Global Geopark, a protected area of volcanoes, calderas, lakes, lava fields, fumaroles, thermal waters and volcanic caves.
Day 4: Enjoy Outdoor Activities in the Furnas Valley
1. Witness Thermal Springs at the Furnas Geo-Site
Another fascinating day trip from Ponta Delgada takes you along winding roads flanked by hedges of hydrangea to the Furnas Valley where you can experience a rewarding immersion into the volcanic history of the Azores.
The Furnas Valley, home to a jade green volcanic caldera (lake), thermal springs and fumarolic fields with openings in the ground where hot, sulphurous steams escape.
The Azores islands are a popular hiking destination and the Furnas Valley is home to one of the most scenic trails. You can do an easy 9.3 kilometre hike in a loop right from the town of Furnas itself.
Roam through this otherworldly landscape, sipping pure, mineral-rich waters from drinking fountains along the way in the town of Furnas, a parish in the municipality of Povoação.
Watch for vendors offering tastings of the local fruit liqueurs in flavours such as blackberry, passion fruit and pineapple. Be forewarned that the sulphurous springs are smelly!
Check rates and availability of a guided tour to Furnas Valley on Viator.com.
2. Sample the Traditional Azorean Lunch of Cozido das Furnas
The Furnas Valley is a geo-site known for its thermal fields where locals prepare Cozido das Furnas, a meat and root vegetable dish cooked by volcanic heat in underground pits.
It's fun to watch them withdraw their pots from the subterranean ovens each day at 12:30.
Set among cobblestone streets in the heart of town, the art deco Terra Nostra Garden Hotel is one of the top places to sample Cozido das Furnas, a regional dish of beef, chicken, chorizo and kale steamed underground by volcanic heat.
Each chef's recipe is different and Terra Nostra's version is deservedly the island's most famous.
This traditional lunch is often served with queijadas da vila, a sweet pastry made of egg yolks according to a recipe created by nuns of the Convent of Santo Adre in the 16th century.
3. Soak in Thermal Baths at Terra Nostra Park and Hot Springs
The Terra Nostra Garden Hotel also happens to be located next to Parque Terra Nostra or Terra Nostra Park.
At this 18th century botanical garden thermal waters cascade from fountains into an open-air bathing pool.
This means that after your lunch of cozido, you can soak in iron-rich hot springs in thermal baths set among a forest of 2,000 trees.
To be honest, these were not my favourite thermal waters in the Azores. They weren't very hot and it was a bit unsettling to be swimming with ducks and other birds. But my husband loved them as he enjoyed the mineral-rich waters.
Pro Tip: If you plan to soak in the thermal waters at Terra Nostra Park, be sure to wear a dark coloured bathing suit as the iron-rich minerals will permanently discolour light fabrics.
Take a blanket or a large towel so you can lie under the towering trees and soak up the fresh air and sunshine.
Day 5: Discover the Western Point of São Miguel
1. Marvel at Sete Cidades Lake
When it comes to stunning backdrops, a must-see on any Azores itinerary is Lagoa das Sete Cidades, one of the seven natural wonders of Portugal.
The largest freshwater lake in the Azores, this beauty is situated within a crater at the top of a dormant volcano on the western point of São Miguel island.
Ancient legends say that this twin set of turquoise blue and bottle green lagoons were formed from the tears of a green-eyed shepherd and a blue-eyed princess who shared a forbidden love.
In modern days, it's known for its views and as a great place for couples' photography shoots.
The best viewpoint (and backdrop for photos) can be found at Vista do Ri Lookout (King's View) named after King D. Carlos and Queen D. Amelia to commemorate their visit to Sao Miguel island in 1901.
The last monarchs of Portugal, they were known for their love of the sea, floral gardens and beauty.
2. Soak up Wellness with a Spa Day at Ponta da Ferraria Thermal Pool
A main attraction on the western coast is Ponta da Ferraria, a natural thermal pool set in the sea among basalt rocks.
Enjoyed by lovers since the 15th century, it offers the unique opportunity to bathe in steaming volcanic waters in the ocean at low tide.
For an especially magical afternoon, be sure to book a massage treatment at Termas da Ferraria.
This full service spa features serene indoor and outdoor baths, hydrotherapy pools and private treatment rooms.
Check prices and availability of a Full Day Tour of São Miguel West with Sete Cidades (including lunch) on Viator.com.
Day 6: Go Whale Watching or Island-Hopping
To experience the scenic splendor of the Azores coastline, it's also worth adding some whale and dolphin watching to your Azores itinerary.
Whale-watching is one of the top things to do if you're visiting the Azores with family. The best family tour companies will often include a full day whale-watching excursion in their Azores itineraries for families.
The Azores are one of the world's largest whale sanctuaries. Book a whale watching tour and it's quite possible to spot more than 20 different types of resident and migratory species, including the rare right whale, sperm whale and giant blue whale.
The best whale watching tours include sailing around the Princess Ring Islet of Vila Franca do Campo. On your cruise you'll be accompanied by a marine biologist guide who will help identify the marine life.
Check rates and availability of a whale watching tour on Viator.com.
Another option for your holiday is to go island-hopping and stay at one of the fabulous beach resorts, guest houses and hotels in the Azores.
The nine islands of the Azores are divided into three groups.
Eastern Group: Islands of Santa Maria and São Miguel
Central Group: Islands of Terceira, Graciosa, São Jorge, Pico and Faial
Western Group: Islands of Flores and Corvo
The island of Terceira is the second largest and second most populated island in the Azores archipelego. Here's a round-up of the best things to do on Terceira.
Day 7: Immerse Yourself in Ponta Delgada
If you didn't go island-hopping, this is a day to catch up on all the things you meant to do on Day One of your 7-day Azores itinerary, but didn't have a chance to do!
If you're staying at the Azor Hotel, you'll be just steps away from several churches and other buildings notable for Baroque architecture featuring black basalt and white limestone.
These distinctive stones also figure prominently in the intricate patterns of the calçada portuguesa (Portuguese cobblestone pavement mosaics) along Ponta Delgada's picturesque streets.
Antonio Borges Garden and the Jose do Cando Garden are popular botanical gardens to visit. In addition to 6,000 species of trees, you'll see manicured grounds and Victorian gardens.
Whether it's basking on a black sand beach or hiking through cedar-scented forest to a thermal pool, the island of São Miguel within the Azores island archipelago offers a uniquely satisfying nature and food-fuelled escape.
Costs, Nightlife, Food and Tours in São Miguel
All this rugged natural beauty doesn't mean you'll be roughing it on your holiday in the Azores. Across the island of São Miguel, there's a fine selection of hotels offering a luxurious tay at surprisingly affordable prices.
Unless you really splurge on eating out, the biggest expense will likely be the cost of your accommodation.
Check out this list of your favourite hotels in the Azores.
Another expense to budget for is excursions to the attractions.
For example, you can expect to pay €75 EUR per person for a full day guided excursion to Furnas.
This includes lunch, transportation and the services of a licensed guide. Try Azores GreenMark, one of the companies we used in Azores.
Ponta Delgada Restaurants
À Terra Restaurant and Rooftop Bar: After a full day of fresh air, indulge in cocktails at the Whale Watching Bar. This rooftop lounge at the Azor Hotel offers sunset views across the Ponta Delgada marina. Opt for appetizers such as lapas (barnacles) served on volcanic stone.
Alcides Restaurant: Stroll to the Historic Centre of Ponta Delgada for an intimate candlelit dinner at Restaurante Alcides set within a historic wine cellar in the San Sebastian neighbourhood.
This family-owned restaurant is famous for being the best place in the Azores to sample Bife à Regionala an Azorean steak that's a traditional Portuguese dish featuring sirloin or rib eye steak marinated in red wine, garlic and fragrant bay leaf and red pepper.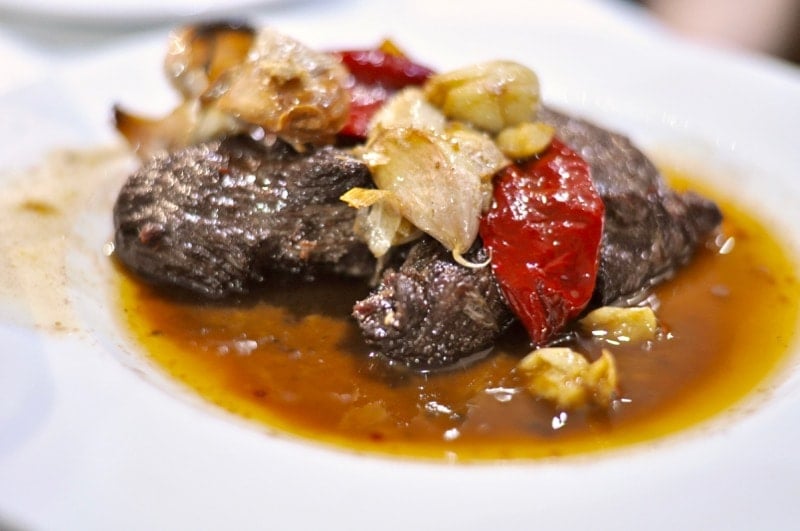 At Alcides, the Bife Alcides is an enormous slab of juicy, tender meat packed with flavour. It comes in two sizes 270gr to 320gr for €19 EUR and 215gr to 230gr for €15 EUR. Seafood such as swordfish, cod and other regional specialties are also available.
Visit the Hotel Alcides website or ask your hotel to call and make a reservation.
Ponta Delgada Nightlife
Another option is to dine at the Casa do Bacalhau. Here entertainment includes Fado, the soulful Portuguese love ballads performed by singers accompanied by classical guitarists.
The simple yet satisfying meal features bacalao (salt cod), salad, rice and dessert. Be sure to reserve in advance.
Getting To the Azores Islands
Azores Islands Location: The islands of the Azores are closer to North America and Europe than most people think. Located in the North Atlantic Ocean, they are two hours from mainland Portugal. It's just over five hours from the North American continent via Azores Airlines (formerly SATA).
Azores Airlines offers direct flights to Ponta Delgada on São Miguel, several times a week from Toronto. Flights are also available from Boston and Montreal (seasonally).
Worth the splurge is an upgrade to Executive Class service. You'll enjoy fully reclining seats, fine-dining with Portuguese wines, airport lounge access and an elevated service. www.azoresairlines.pt
Tours and Tourist Information
Azores Tourism Board: www.visitazores.com
Azores GreenMark: Eco-friendly tours and guided adventure experiences www.azoresgreenmark.com
Car Rental in the Azores: Compare prices and reserve a rental car online at DiscoverCars.com.
This post was originally published in 2018 but was substantially updated with new information in 2023.
Other Amazing Experiences in Portugal and Spain
FAQs
How many days do you need in Azores?
Because the island is mountainous, you need a minimum of five days in order to see the main attractions such a crater lakes and fully experience the diverse beauty of the main island of São Miguel in the Azores. An extra few days will give you enough time to visit neighbouring islands and do some whale-watching.
What is the best month to visit Azores?
May is a good month to visit Azores as you can avoid the cruise ship crowds of peak season. May is also outside the rainy season and not known for fog so you should be able to see the crater lakes and other natural attractions clearly.
Save to Pinterest!
Dividing her time between Canada, Guatemala and Mexico (or the nearest tropical beach), Michele Peterson is the founder of A Taste for Travel. Her award-winning travel and food writing has appeared in Lonely Planet's cookbook Mexico: From the Source, National Geographic Traveler, Fodor's and 100+ other publications.
Read more about Michele Peterson.