We may earn income from links in this post. Please read this Disclosure for details.
Looking for an unforgettable place to stay in the Azores Islands? Here's a complete guide to the best hotels in São Miguel, Portugal when it comes to food, stunning location and luxurious accommodation.
While the Azores islands off the coast of Portugal are known for their beauty — from sky-high crater lakes to steaming hot springs — they're equally famous for their unique regional cuisine.
At these top luxury hotels in São Miguel, the food and drink is so good you're going to want to check it out as soon as you've checked in!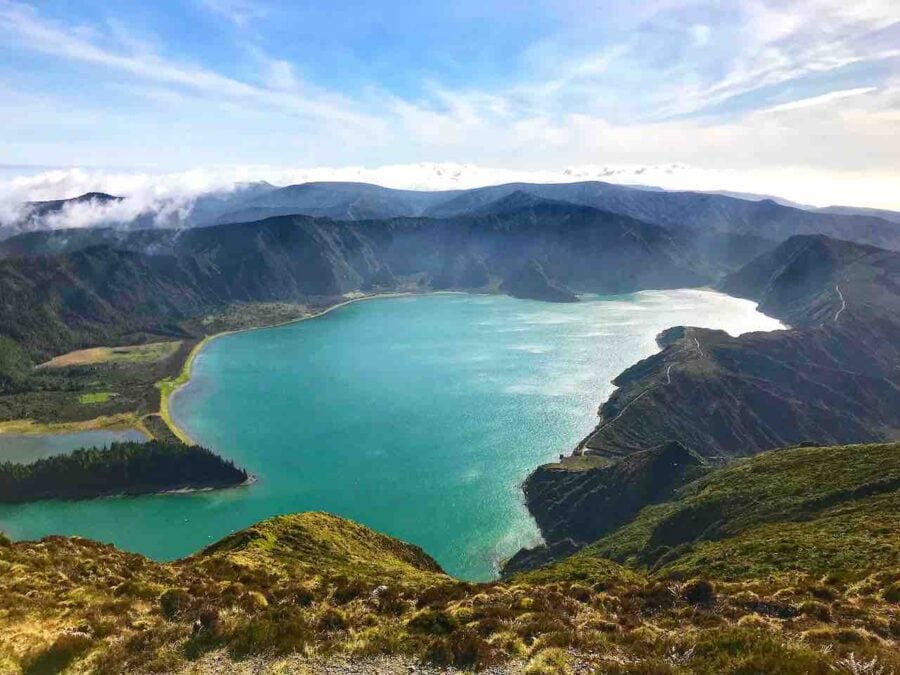 You'll be thrilled with the great value you can get in the Azores! You can enjoy a posh stay for much less than elsewhere in Europe.
We've personally stayed at each of these Azores luxury hotels.
Although our vacation in the Azores was part of an outdoor adventure tour, these hotel choices are also perfect for a romantic getaway, solo vacation or honeymoon.
São Miguel is definitely one of the best places to go in Portugal when it comes to outdoor adventure, culture and cuisine.
1. Octant Ponta Delgada: Best Hotel in Ponta Delgada
Whether you follow our 7-Day São Miguel itinerary or do your own thing, a great place to stay in São Miguel is the boutique-sized Octant Ponta Delgada Hotel.
lt has a prime location overlooking the seaside promenade in Ponta Delgada, capital of the Azores. This is the best place to stay on São Miguel island for easy access to tours, local restaurants and shopping.
Opened in 2016, this luxury design hotel features 126 guest rooms featuring sleek washrooms with rain showers and a rooftop swimming pool. Many of the rooms have spectacular ocean views.
While there's plenty of inspiration to get outside and go exploring (mountain bikes, canyoning equipment and other outdoor gear are even part of the lobby decor), its acclaimed kitchen features a bakery, a wood-fired oven and carefully-prepared regional specialties.
At À Terra restaurant, guests fuel up with São Jorge cheese (love that cheese bar!), locally-grown pineapple and bolo lêvedo, saucer-sized muffins drizzled with honey.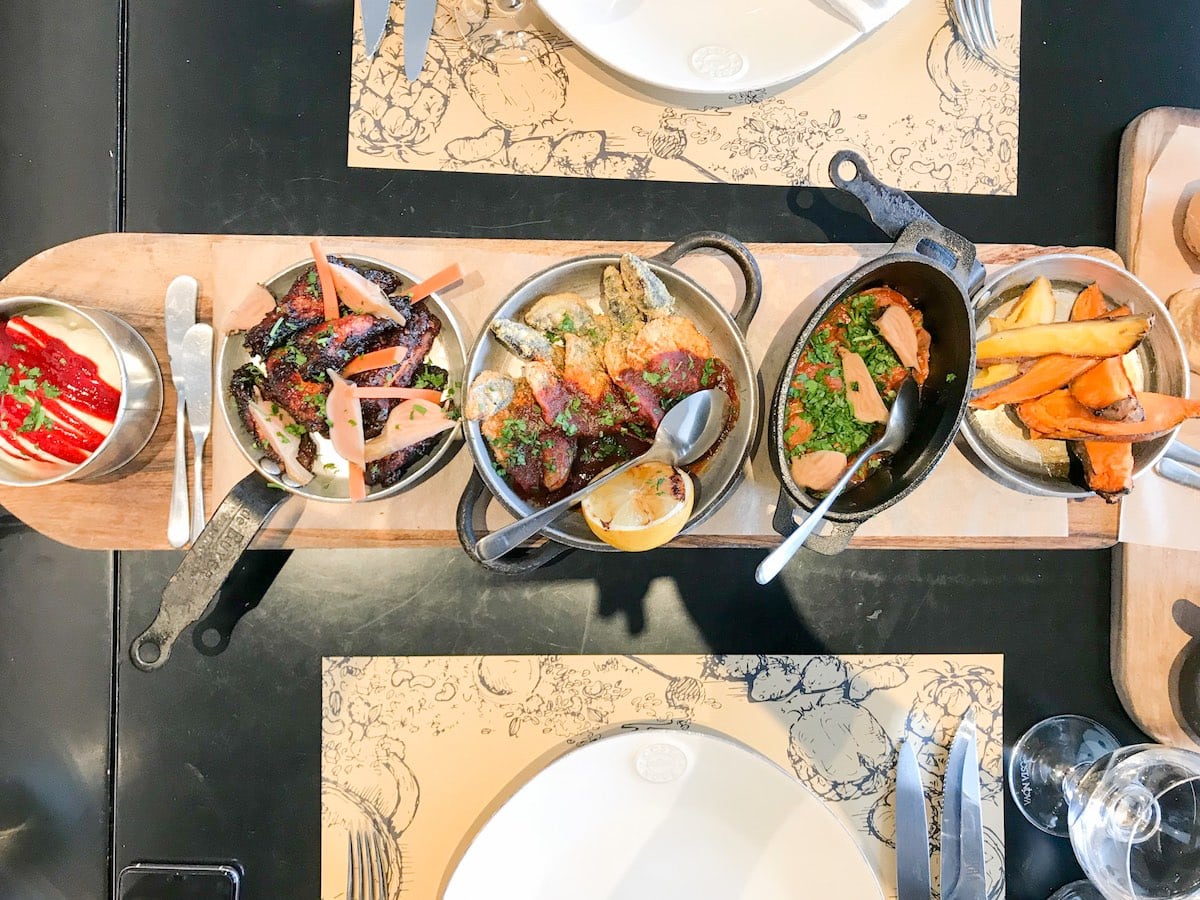 After a full day of fresh air, relax with cocktails at the rooftop lounge where the sunset puts on a spectacular display and you might even spot some whales.
Later, stroll to the historic centre of Ponta Delgada for an evening at the Casa do Bacalhau for live performances of fado, soulful Portuguese music along with a selection of salted cod dishes.
It's also a good Sâo Miguel hotel for families as it's so close to major attractions.
Check prices and availability for the Octant Hotel in Ponta Delgada on Booking.com
2. WHITE Exclusive Suites & Villas in Lagoa
Perched high above the blue Atlantic, this modern boutique hotel features nine posh suites and one villa in an exclusive cliffside location in Lagoa, just outside Ponta Delgada (Google Map).
With its white washed walls, natural materials and endless infinity pool, White Exclusive Suite and Villas offers a tranquil setting and spectacular ocean views.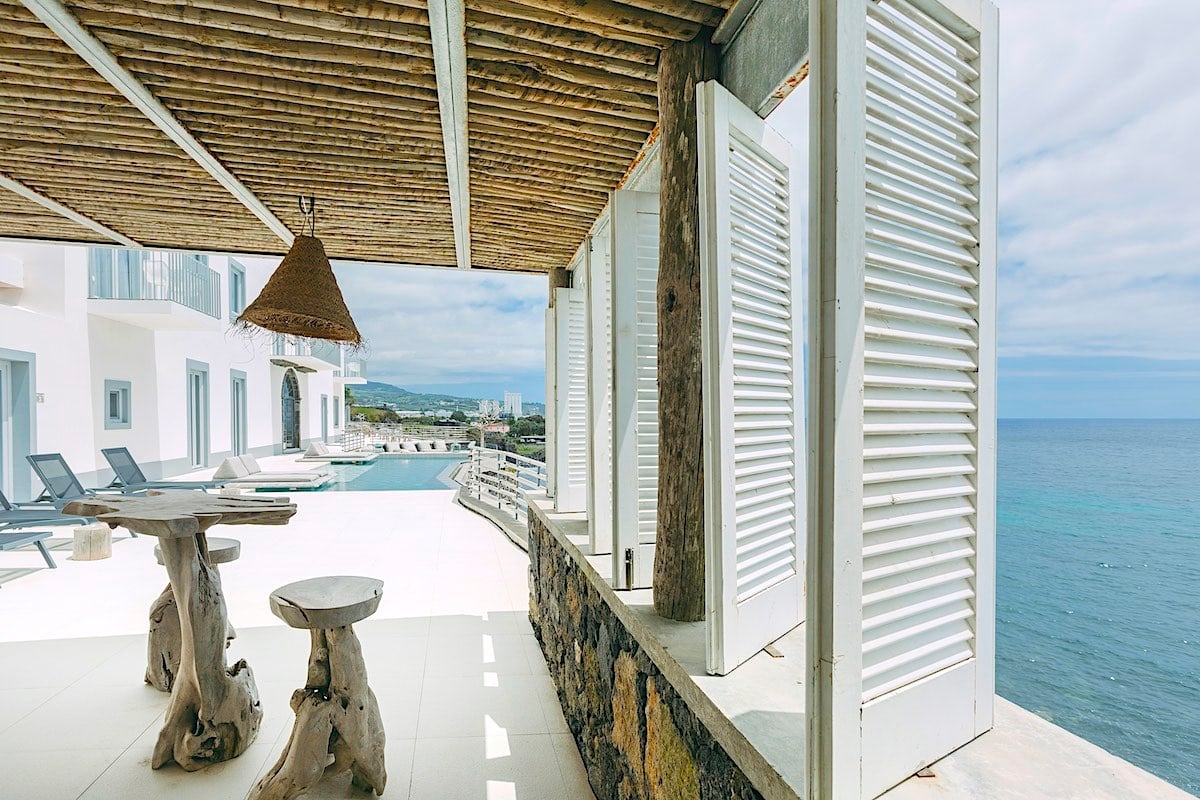 When it comes to food and beverage, the options are as creative as the setting.
In addition to the full Azorean breakfast (included in the room rate), guest rooms are equipped with handy kitchenettes.
They're perfect for chilling out with a bottle of wine and other foodie finds from the Mercado da Graca in Ponta Delgada.
For evening, fine-dining options include a 4 or 8 course Chef's Tasting menu, a gastronomic romp from farm (or ocean) to table through the Azores. Highlights include aged Azorean sirloin, sustainably-sourced seafood and seasonal greens.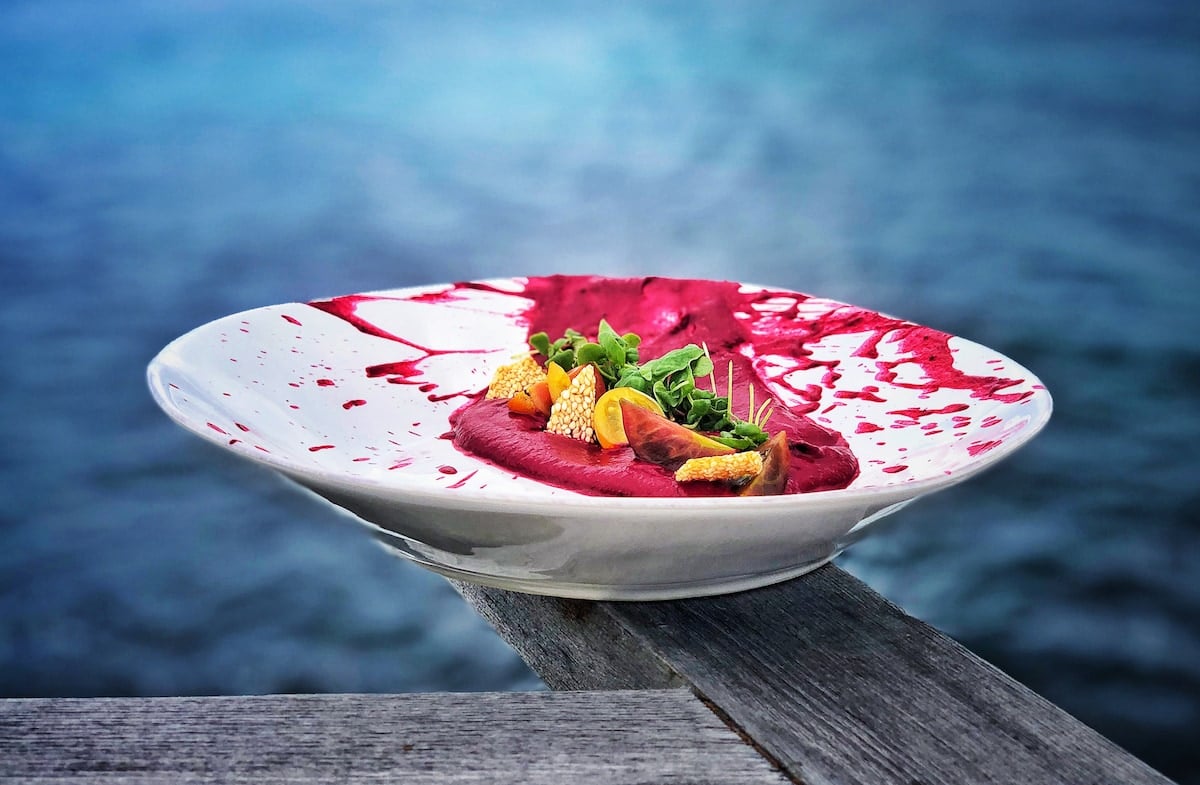 Even the casual offerings such as sandwiches, salads and sharing plates have been carefully curated to present the best of the islands' fare from local cheeses and sausages, Azorean pineapple and Santa Catarina tinned tuna.
Check prices and availability at White Exclusive Suites & Villas on Booking.com
3. Santa Barbara Eco-Beach Resort in Ribeira Grande
For foodies looking for a secluded adventure-themed retreat, the Santa Barbara Eco-Beach Resort on the north shore of São Miguel offers plenty of big wave action, a surf school and beachside bliss.
The sister hotel to White Exclusive Suites & Villas, this eco-friendly resort is best known for its surfing, outdoor adventure sports and breezy Beach Club.
Its sophisticated design uses natural elements of wood, granite and stone to give the space a sleek, fresh appeal.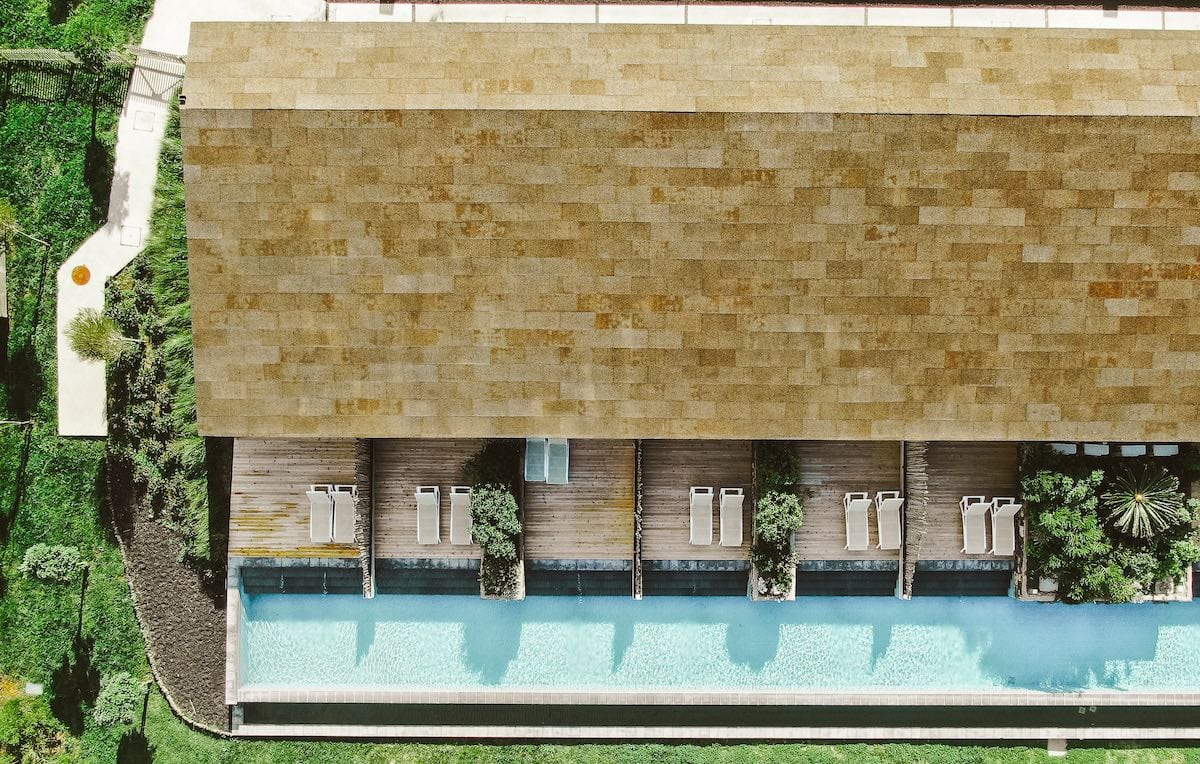 Or, relax indoors in the lobby bar and restaurant sipping signature cocktails while overlooking the sea. The onsite Asian-inspired restaurant features the island's best sushi.
In addition to sushi, the menu offers tuna with smashed potatoes, shrimp teppanyaki and octopus lagareiro style on sweet potato.
Another tasty dish is local fish cooked in a salt crust with aromatic herbs grown onsite.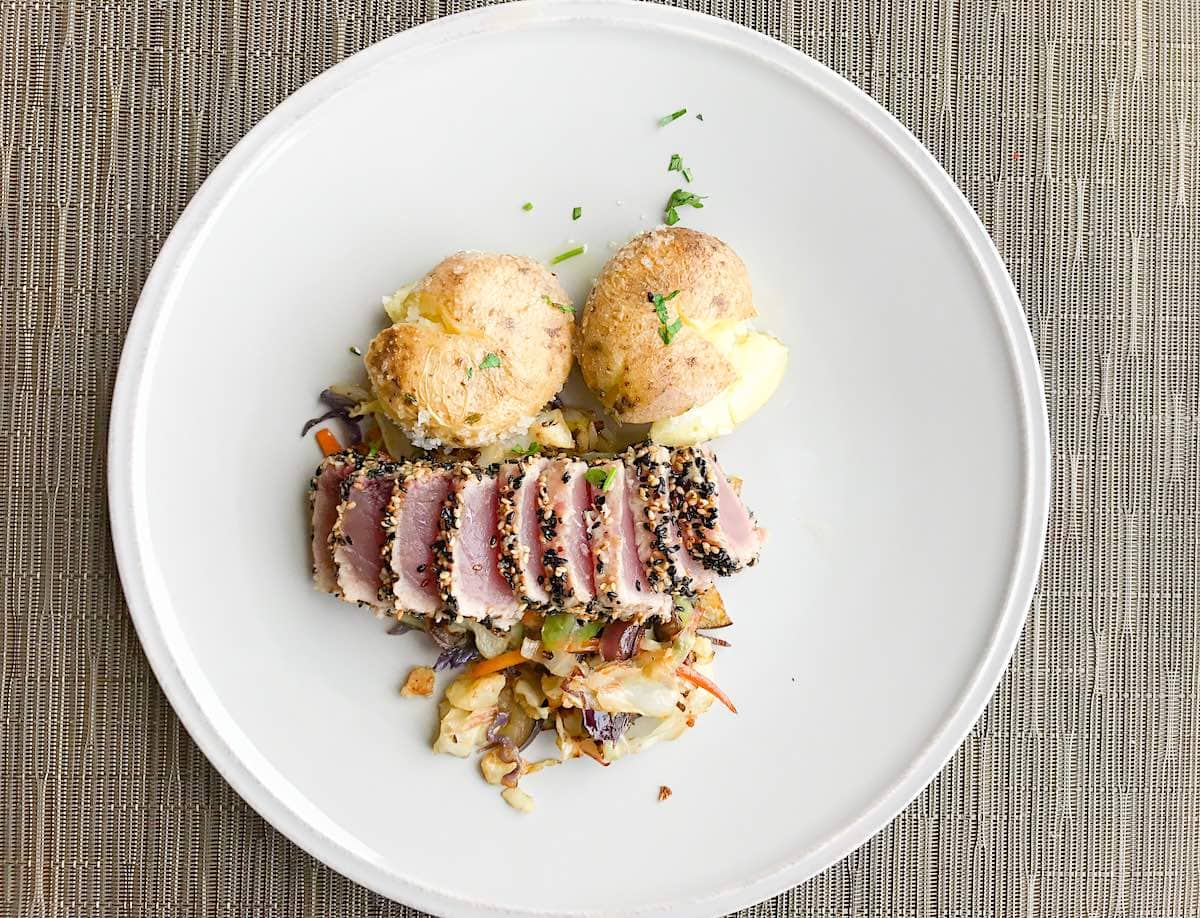 One of best hotels on São Miguel for vegetarians, there are lots of plant-based menu options at the Santa Barbara Eco-Beach Resort.
Enjoy satisfying ramen with wakame seafood as well as veggie tempura. Pair it with garlic bread topped with Sao Miguel cheese.
With an onsite farm featuring two greenhouses, there's a wealth of fresh vegetables, aromatic herbs and fruit.
You're also a short drive to the Tea Porto Formoso tea plantation. Stroll the tranquil fields and sample Europe's most unique black tea.
Check prices and availability at the Santa Barbara Eco-Beach Resort, in Ribeira Seca/Ribeira Grande on Booking.com
4. Furnas Boutique Hotel and Spa: Best Furnas Valley Accommodation
Although you could easily stay in Ponta Delgada for your entire stay and make day trips for hikes, attractions and sightseeing, it's also worth spending a few days in São Miguel's countryside.
Located 60 kilometres (37 mi) east of Ponta Delgada, Povoação is an ideal place to stay in São Miguel if you're looking for wellness and outdoor adventure.
Famous for its hot springs, the municipality is located amid the semi-active craters of the Furnas and Povoação volcanoes, circled by forests, mountains and river valleys.
Here, you can soak up the verdant views and more than 22 classified mineral-rich medicinal waters.
The best luxury hotel with a spa and hot springs is Octant Furnas Hotel, a sister resort to the Octant Ponta Delgada.
While guest rooms and suites are smaller than those in the Octant Ponta Delgada, the amenities more than make up for it. Some rooms even feature private pools and terraces.
All guests enjoy many opportunities for relaxation and rejuvenation at the Thermal Spa and Fitness Centre.
A wellness hub features 10 treatment rooms, floatbed, shirodhara (ayurvedic massage with oil), Vichy shower, sauna, and hammam.
Here, volcanic water emerges from its subterranean source to be filtered into four dreamy pools.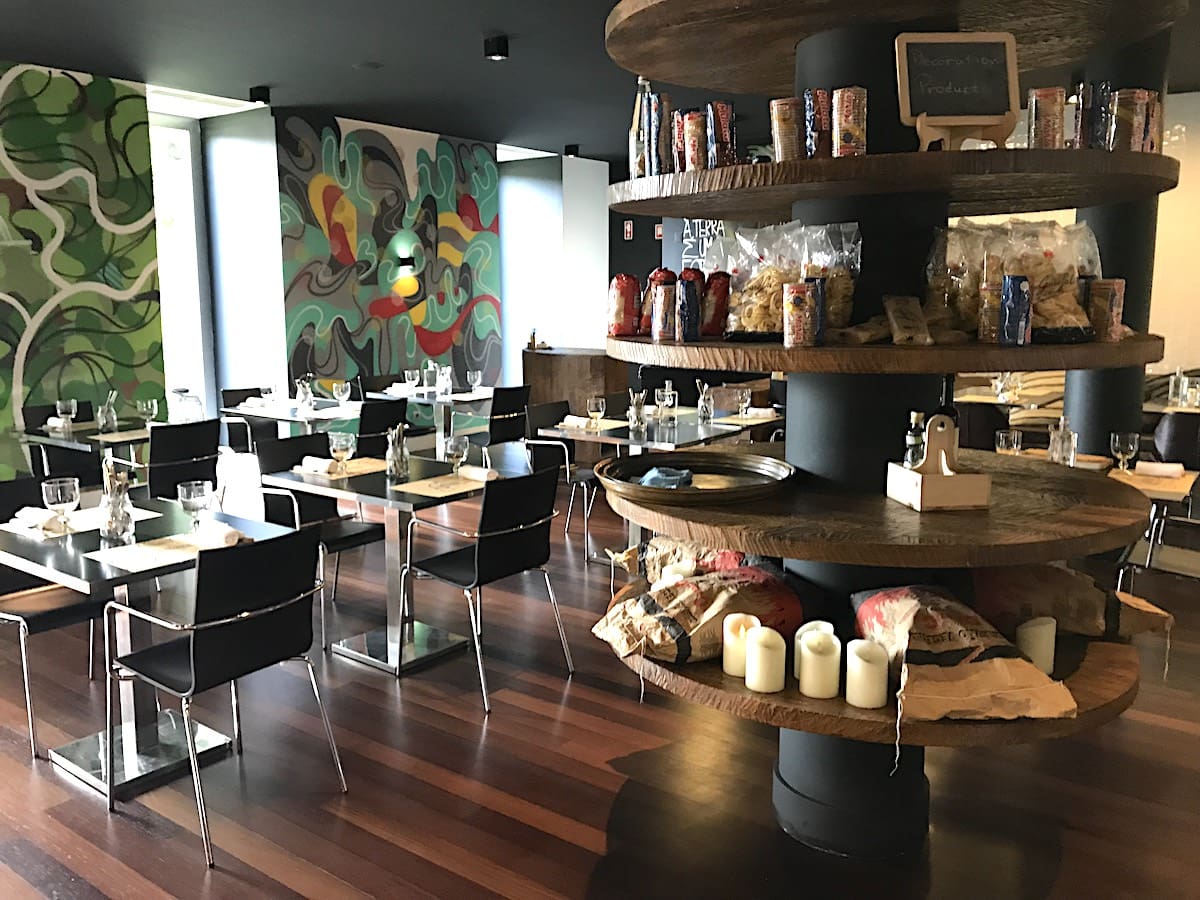 When it comes to dining, the onsite restaurant offers upscale cuisine featuring locally-sourced ingredients. The wood-fired pizza is especially delicious when enjoyed outdoors around the fire pit deck.
Craft cocktails, refreshing spritzers and an extensive wine list make the Octant Furnas Boutique Hotel a top São Miguel Hotel for a spa stay in Furnas (Google Map).
It's ideal for a honeymoon, couples getaway or girls spa weekend.
Check for rates and availability at Octant Furnas Hotel on Booking.com
5. Terra Nostra Garden Hotel: A Classic Hotel in Furnas
Another of the best hotels in São Miguel is the art deco Terra Nostra Garden Hotel. Set among cobblestone streets in the heart of the atmospheric village of Furnas, it's located next to Terra Nostra Park (Google Map).
At these 18th century botanical gardens, thermal waters cascade from fountains into an enchanting open-air bathing pool. An indoor swimming pool and spa round out the sybaritic offerings.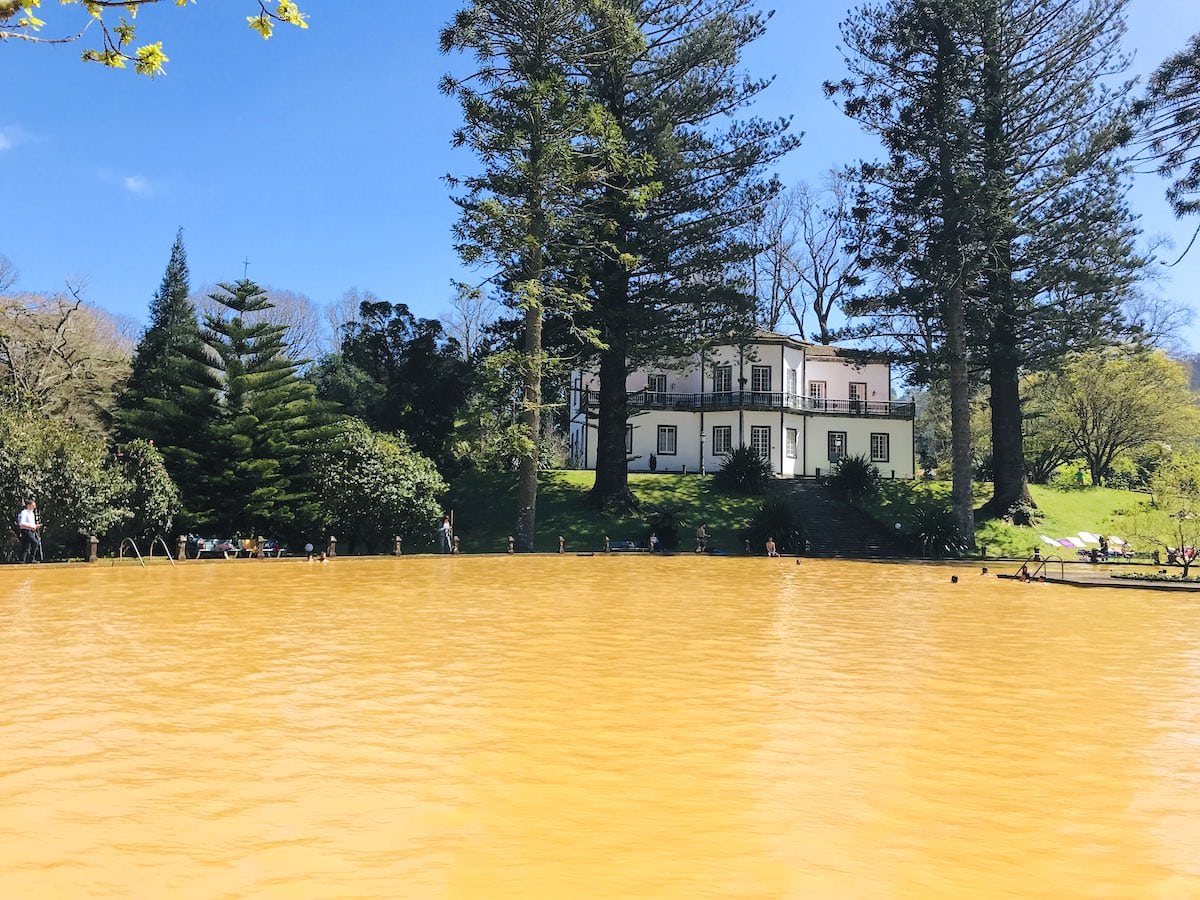 However, it's important to note that the hot springs are open to the public. So it's not as private as you might think.
But by staying at Terra Nostra Garden Hotel you do enjoy privileged access to the Terra Nostra Botanical Gardens and outdoor hot springs pool. This means you can experience it when the crowds are gone!
When it comes to local cuisine, Terra Nostra also happens to be the top place to sample Cozido das Furnas. This famous Portuguese dish of beef, chicken, chorizo and kale is steamed underground by volcanic heat.
Each chef's recipe for cozido is different. But Terra Nostra's version is deservedly the island's most famous.
Another highlight is sampling local artisanal liqueur at the nearby Azores Geopark. Crafted by regional cooperatives it comes in fresh flavours such as tangerine, passion fruit and of course, pineapple.
Check prices and availability at Terra Nostra Garden Hotel in Furnas on Booking.com
Travel Guide to São Miguel Hotels, Azores
How to Get to the Azores
The islands of the Azores are closer to North America and Europe than most people think. Located in the North Atlantic Ocean, they are just two hours from mainland Portugal. The Azores are five hours from North America via Azores Airlines (formerly SATA).
Azores Airlines offers flights to Ponta Delgada on São Miguel Azores. Fly three to five times a week direct from Toronto as well as direct from Montreal from June to September. Flights are also available from Boston.
It's worth the splurge is an upgrade to Executive Class service. You'll enjoy fully reclining seats, fine-dining with Portuguese wines, airport lounge access and an elevated service that will whisk you to island bliss in style. www.azoresairlines.pt
Azores Tourism Board: www.visitazores.com
Save to Pinterest!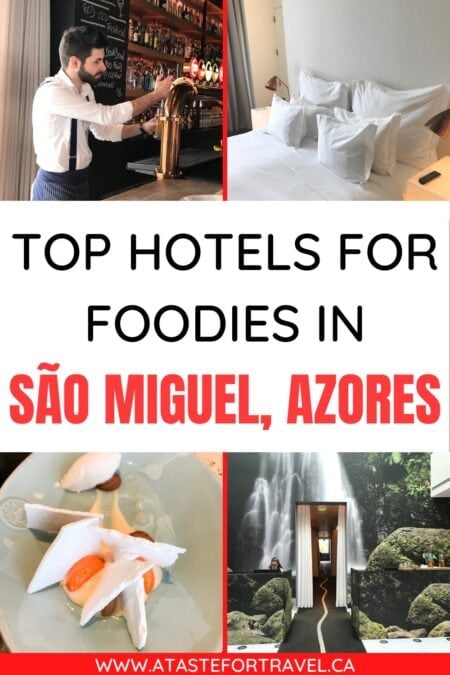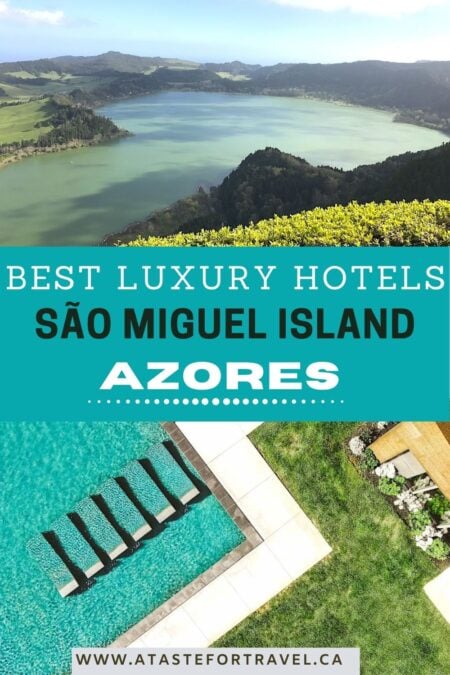 Getting Around São Miguel
You'll need a car to get around São Miguel Island if you plan to spend any time outside of Ponta Delgada. Taxis can be expensive. With a car you're able to stop and swim in hot springs or enjoy a local lunch.
We rent our cars on Discovercars.com. It's an online car rental booking site that compares rates from several companies to find the best deal.
Check for the best car rental rates at Discovercars.com
More Portugal Travel and Food Inspiration
Dividing her time between Canada, Guatemala and Mexico (or the nearest tropical beach), Michele Peterson is the founder of A Taste for Travel. Her award-winning travel and food writing has appeared in Lonely Planet's cookbook Mexico: From the Source, National Geographic Traveler, Fodor's and 100+ other publications.
Read more about Michele Peterson.