We may earn income from links in this post. Please read this Disclosure for details.
Curious about the food on a Holland America Canada & New England cruise?
In this cruise review and travel guide, you'll learn about exciting and memorable dining experiences, top culinary excursions, ship menus and signature food on Holland America's 7-day Canada & New England Discovery cruise on the Nieuw Statendam.
Jump ahead to the section you're most interested in or read along set by step.
Why Take a Canada & New England Cruise?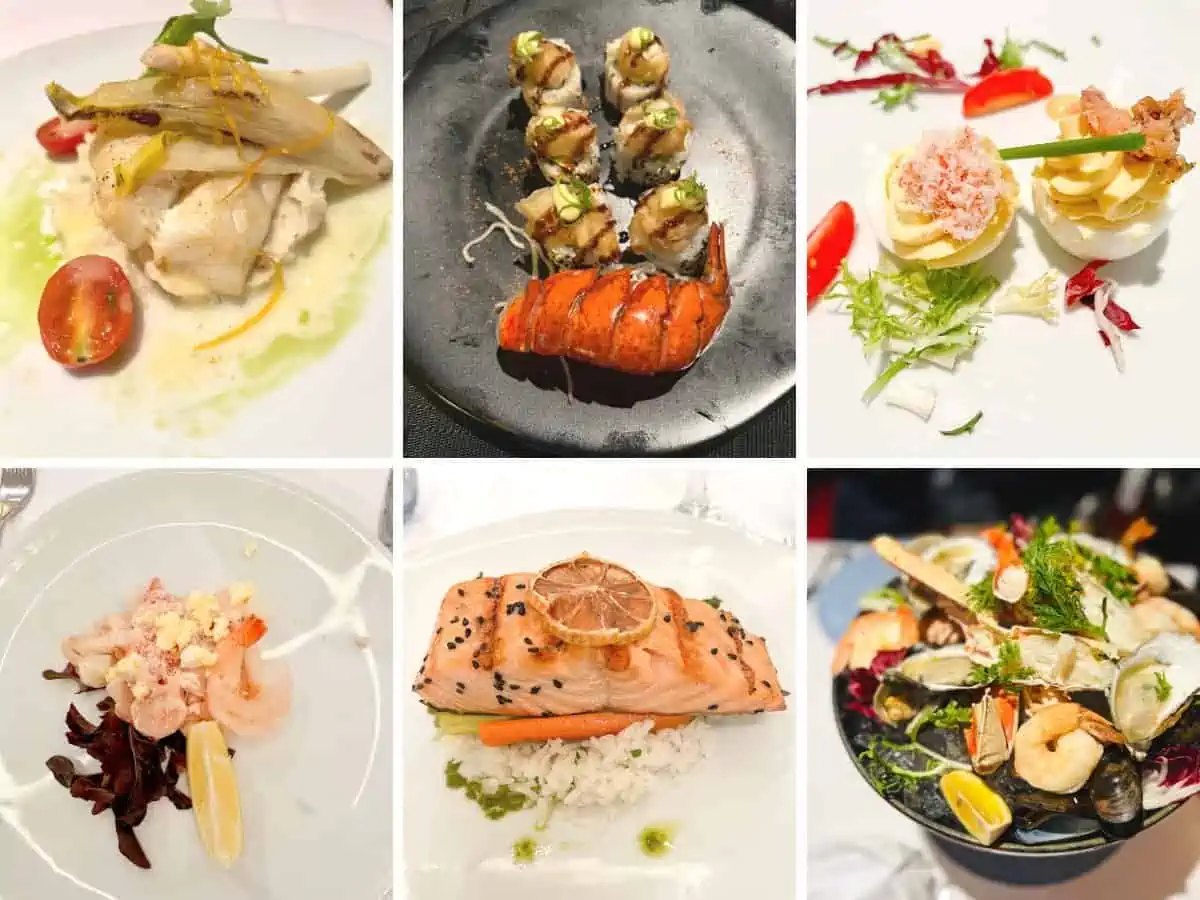 'Do you want your lobster roll made in the classic way or warm? With tarragon mayo or naked?' asked the server at Downeast Deli on Main Street in Bar Harbor, Maine.
Given a chill Atlantic wind was rattling the window panes, going "naked" seemed rather brave. So I opted for the classic.
It was our first port of call on Holland America's 7-day Canada & New England Discovery cruise from Boston to Quebec City and I was already well into discovery mode.
Who knew there were so many ways to serve a lobster roll?
The philosophy at Holland America Line (HAL) is that food and travel are gateways into understanding a culture.
And, as I'd discovered on other cruises — through Asia on the MS Volendam — where I sampled awamori (a legendary rice spirit) in Okinawa and to Norway — one of the best places to see the northern lights — shore excursions, onboard experiences and dining allow guests to dive deep into a destination.
So in the North Atlantic, where fishing is the lifeblood of the economy and culture, it's only natural that a cruise would be a celebration of the fishing industry and the bounty of its seas.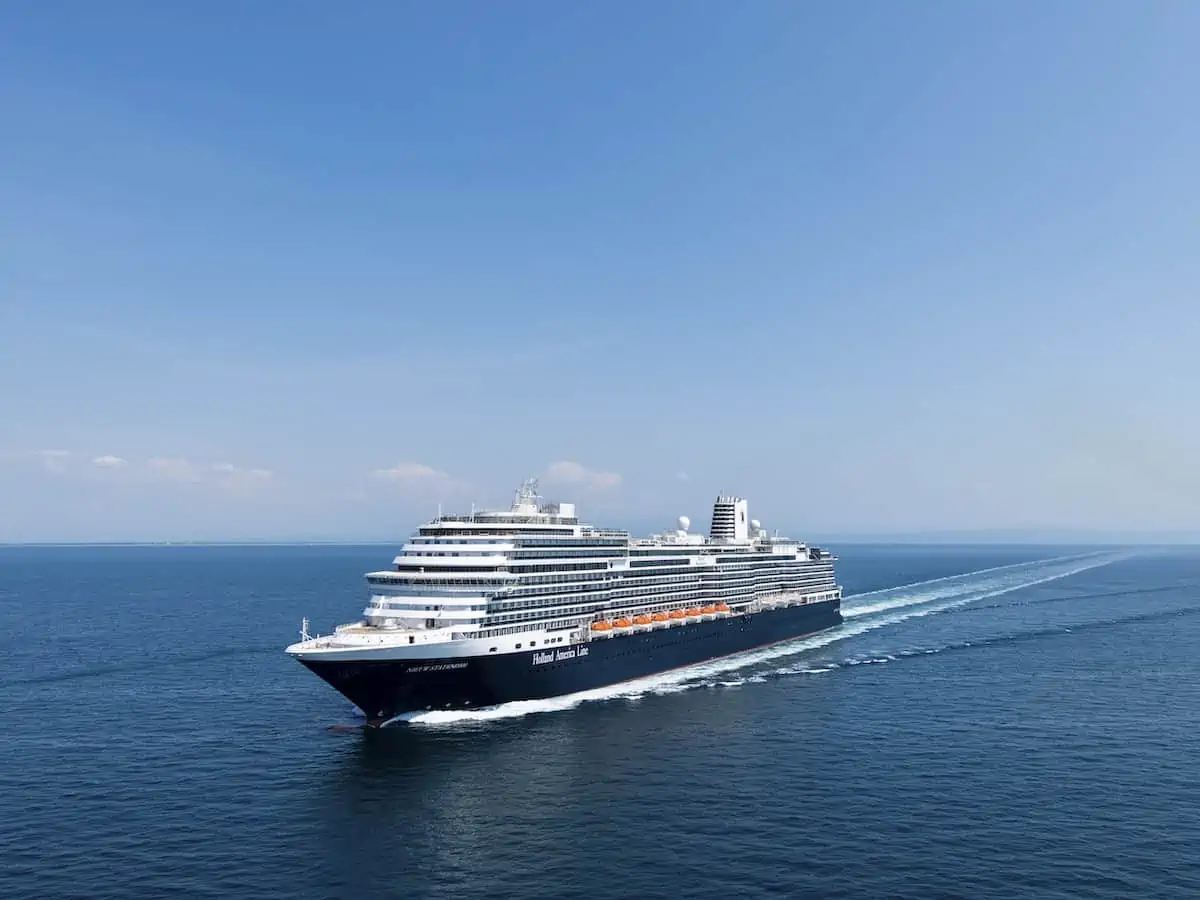 I'm admittedly a big seafood fan.
But a visit to Canada and New England is more than just a romp though the world of seafood.
Its culinary landscape includes crisp, fruit-forward ciders, seasonal brews produced by craft distilleries, artisanal chocolate and a whole range of other delicious flavours.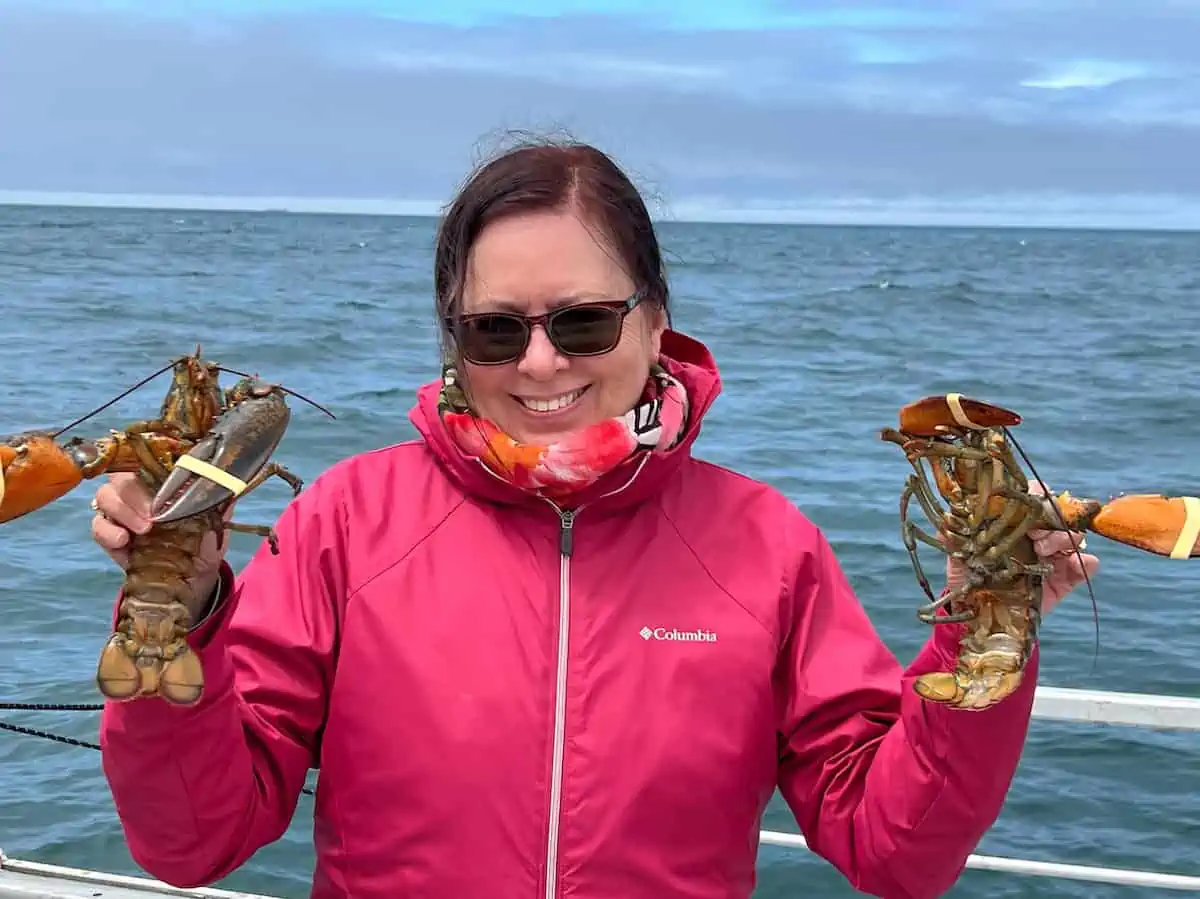 Cruising in autumn also happens to be a prime time to catch the east coast's famous display of fall colours.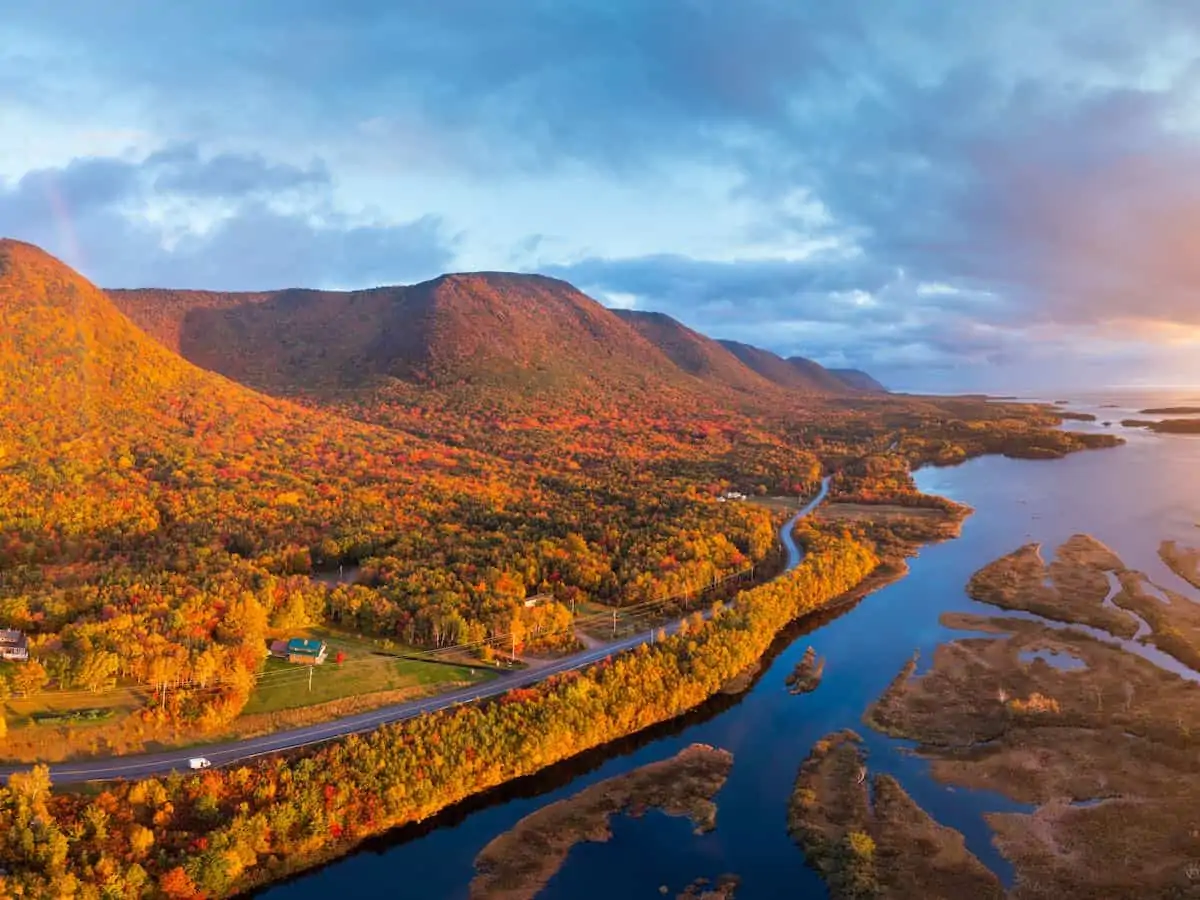 Canada-New England Cruise Itinerary
Holland America Line has one of the longest cruise seasons for Canada and New England.
It begins in May and wraps up in October, catching the peak of the fall colour season.
They offer several New England itineraries.
Our sailing was the 7-Day Canada & New England Discovery cruise featuring ports of call in:
Boston (Massachusetts),

Bar Harbor (Maine),

Halifax (Nova Scotia),

Sydney (Cape Breton Island, Nova Scotia),

Charlottetown (PEI),

Quebec City (Quebec).
The itinerary is a mix of lesser known and famous destinations such as Québec City's Old Town, a UNESCO World Heritage Site.
For North Americans, New England & Canada itineraries offer the added advantage of being able to experience a European-style culture (and practice French!) without a long overseas flight.
Overview of Holland America's Nieuw Statendam Ship
Built in 2018 and still sparkling with newness, the Nieuw Statendam can accommodate 2,666 passengers in 1,377 staterooms.
At 971 feet long, it was the largest ship we've travelled on. But it's actually considered a mid-size cruise ship compared to others, such as Wonder of the Seas, a Royal Caribbean ship that's the largest in the world.
Along with the Rotterdam and Koningsdam, the Nieuw Statendam is classified as a Pinnacle Class ship in HAL's fleet.
This signifies ships with the most amenities in terms of swimming pools (two on our ship), a casino, entertainment, restaurants, activities and venues.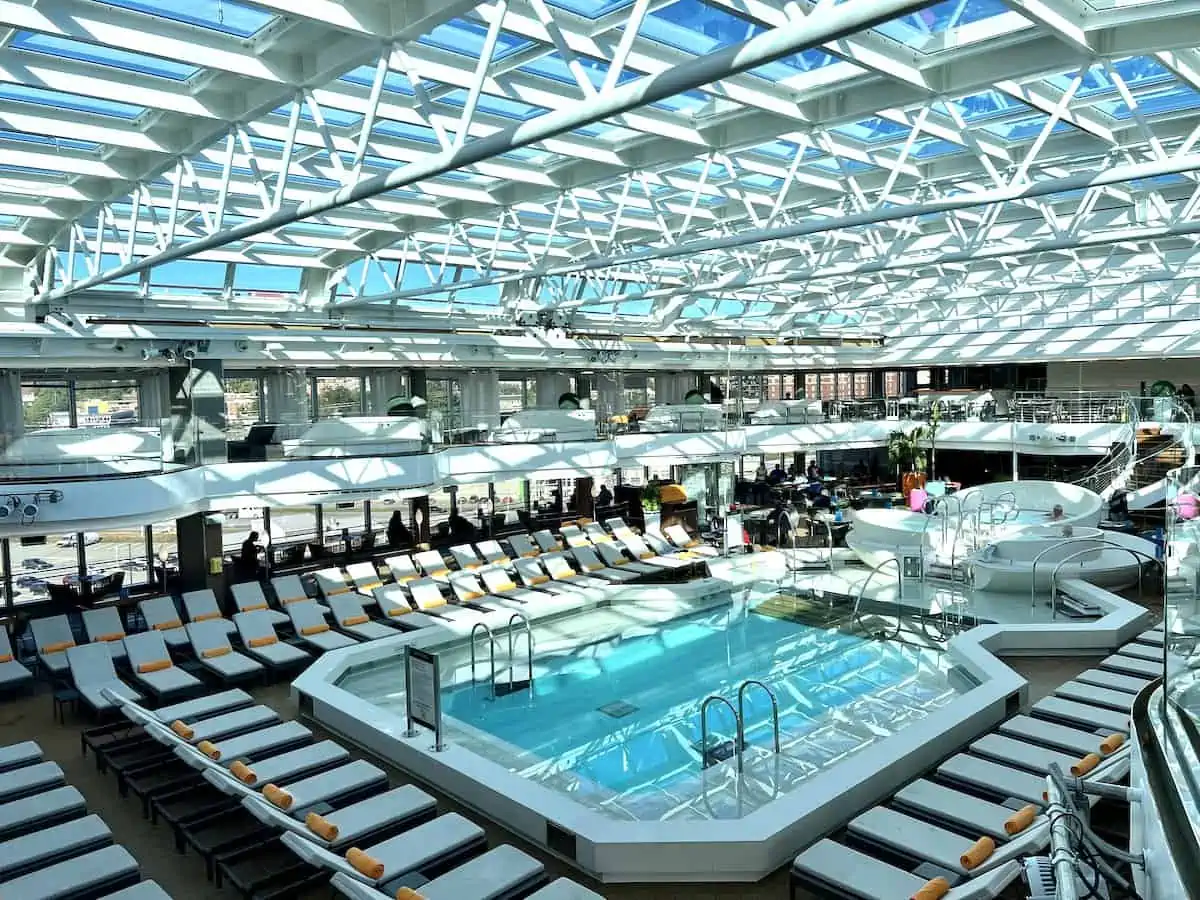 Coming off of a cruise of the Danube on Uniworld's SS Maria Theresa River (capacity for 150 passengers), the MS Europa 2 (516 passengers) and the Royal Clipper (227 passengers), we wondered if we'd feel lost onboard the much larger Nieuw Statendam.
Our fears were unfounded. Our Veranda stateroom (6199) was located on the Mozart Deck (aft and starboard) which positioned it near both the Main Dining Room and the Dutch Grand Café, two of our favourite dining venues.
Our Verandah category cabin (approximately 228-405 sq. ft. including private verandah) was filled with light from floor-to-ceiling windows.
It included a desk and chair, a sitting area with coffee table, two lower beds converted to a queen-size bed, ample closet space, a mini-bar and cabinet/serving area plus a spacious bathroom with a massage showerhead.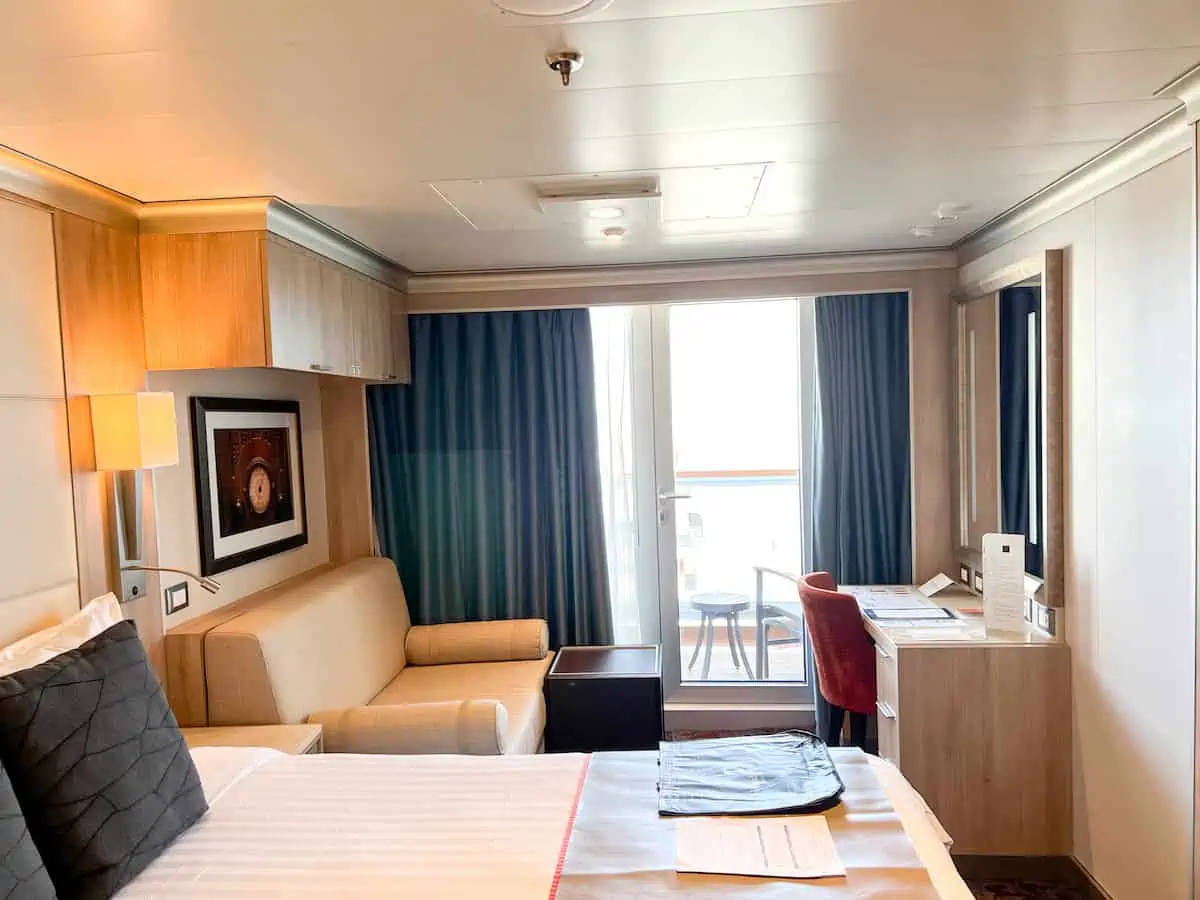 Not only was our stateroom (6199) quiet and convenient, for the direction of our sailing — Boston to Quebec City — it offered prime views of the ports.
Although it was a bit of a jaunt to Explorations Central on Deck 12, we'd choose this stateroom again if we had the opportunity.
When it comes to public entertainment venues, the ship features live music at the Rolling Stone Rock Room, B.B. King's Blues Club, Billboard Onboard and the visually stunning two-level Lincoln World Stage.
They're all hot spots for enjoying a mocktail, cocktail, beer or glass of wine.
Onboard Dining – Included Restaurants
When it comes to meals, the food on Holland America's Nieuw Statendam is consistently excellent and features imaginative menus with well-presented regional specialties and classic dishes.
Its Culinary Council of seven world-class celebrity chefs help craft the menus bringing the latest trends, global influences and expertise to the cruise experience.
Menus also draw on seasonal and regional ingredients such as seafood, premium sustainable beef and farm-fresh produce.
And if you're looking for plant-based dining, the ship's menu has one of the best vegetarian menus I've ever seen. Vegetarian, dairy-free, gluten-free and healthy options are available on every menu.
Special diets can be catered to with advance notice.
Note: Meals are included in the price of your fare at the Dining Room, Lido Market, Dive-in (burgers and hot dogs), New York Deli & Pizza, Grand Dutch Café and Room Service.
Basic coffee and tea (hot and iced), select juices and water (not in bottles or cans) are also included.
Drinks packages are also available for purchase:
Quench Drink Package: 15 non-alcoholic beverages per day. It includes speciality coffees, mocktails, smoothies and juice, canned water and soda.
Signature Drink Package: HAL offers a Signature Beverage Package (beer, cocktails, wine) prior to boarding at 50% off. If we wanted a beer ($7), glass of wine ( $9-$14), or a cocktail we just charged it to our onboard account. We didn't regret not upgrading the drink package.
There are daily cocktail specials and a Happy Hour between 4 and 5 pm at Ocean Bar and Billboard.
Here are the highlights of the included restaurants on the Nieuw Statendam.
Dining Room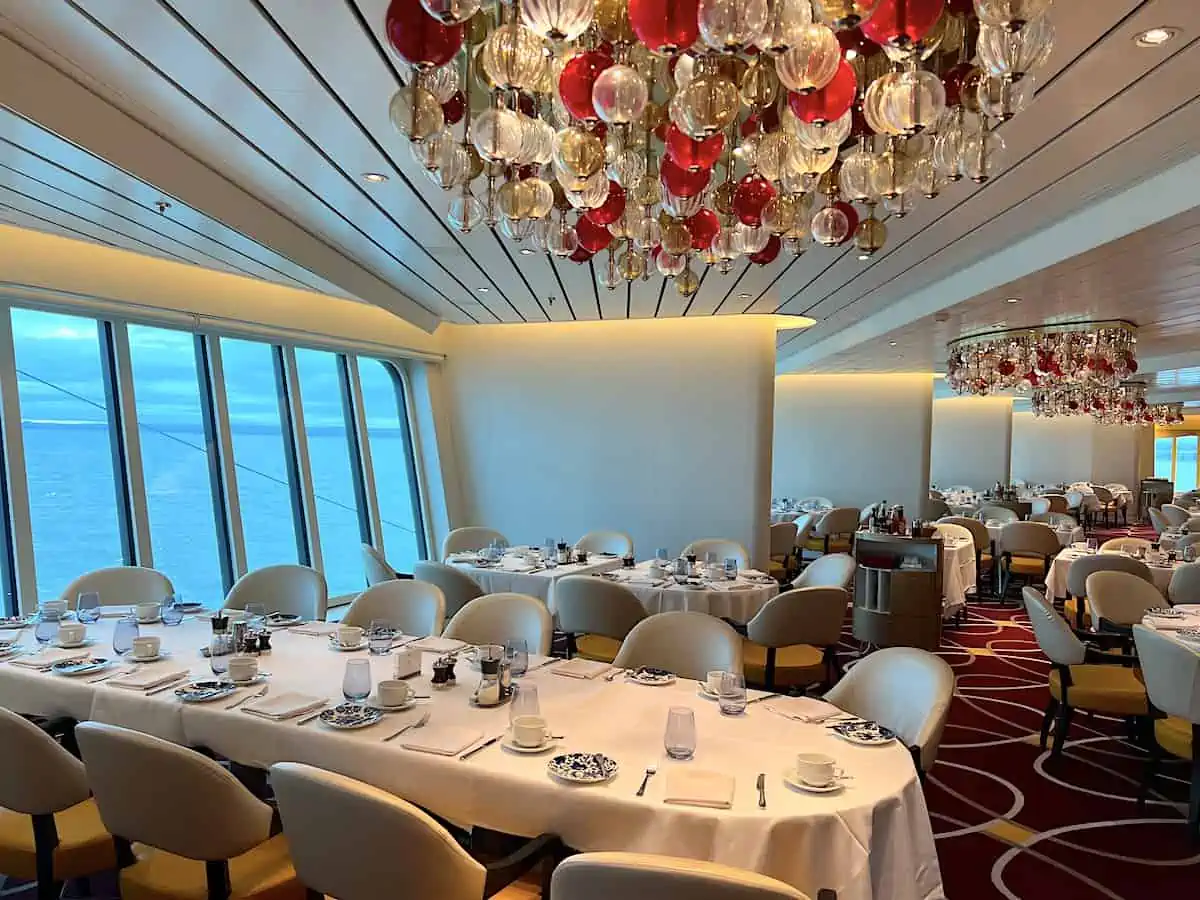 This soaring 2-level space on Plaza 2 and Promenade 3 with white linen topped tables is open for à la carte breakfast and dinner daily with no reservations needed for smaller parties.
It's also open for lunch on the at-sea day.
Insider Tip: Gluten-free, vegetarian and non-dairy options are clearly identified on all menus. The Dining Room offers a special full menu for vegetations upon request.
With its calming, muted colour scheme, the Dining Room was our favourite place for breakfast.
In addition to its panoramic views, the Dining Room features a breakfast menu with a vast range of options from fluffy Belgian waffles to a hearty Tex-Mex vegetable egg skillet that comes with a grilled tortilla.
As well as classics such as full American and British breakfasts, the breakfast menu also features healthy creations such as a wild rice and quinoa bowl designed by Culinary Council Member Kristen Kish, a Top Chef winner and leading restauranteur.
Be sure to try the creamy Swiss Style Muesli at breakfast at least once. Chock full of wholesome oats and nuts, it's one of Holland America's most requested recipes.
Later, at 3 pm, the Dining Room is the serene setting for a posh Afternoon Tea. It features three tea sandwiches and a selection of tarts, sweets and scones, a perfect pick-me-up after a busy day ashore.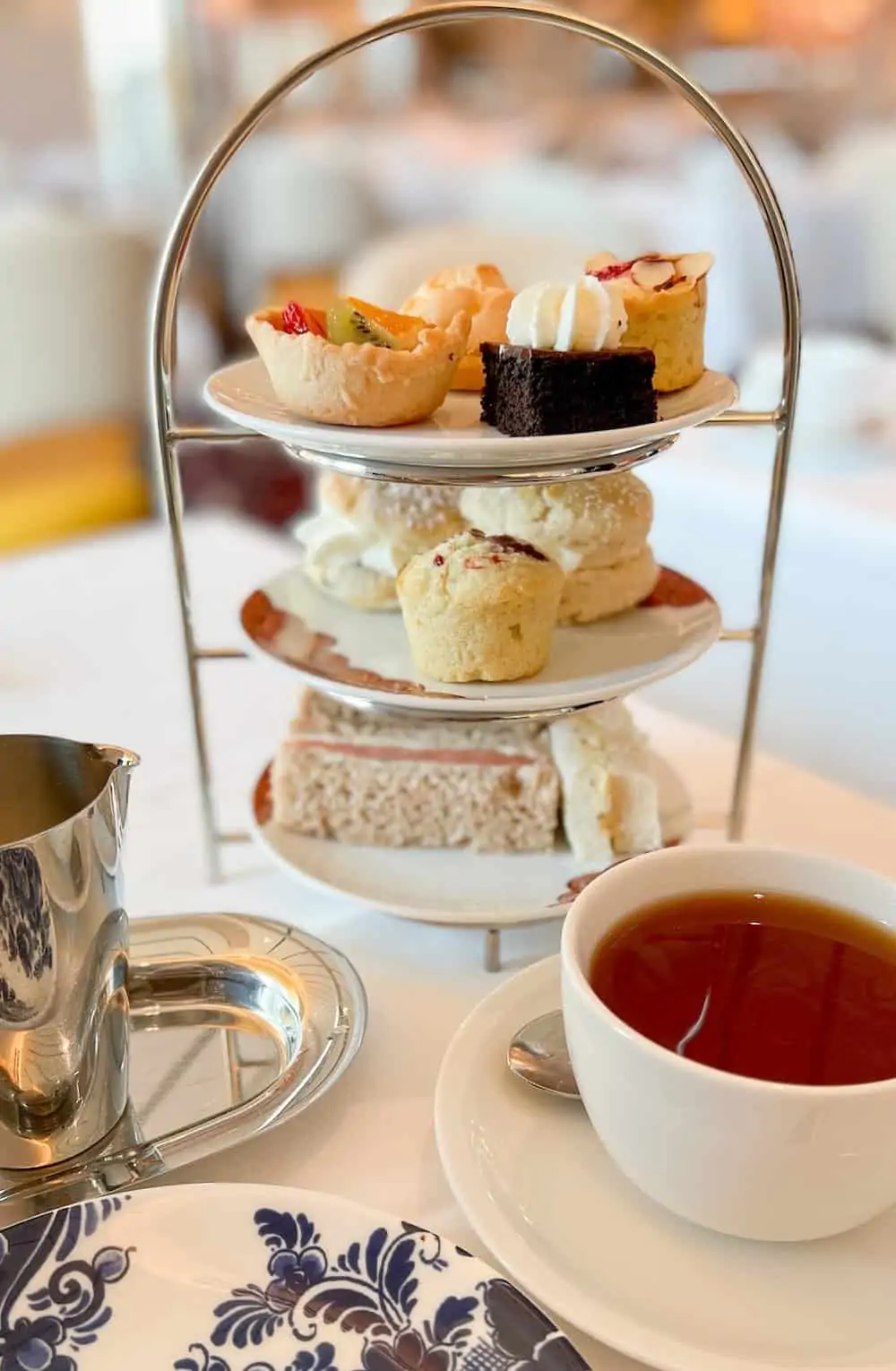 The dinner menu in the Dining Room will appeal to both adventurous gourmands and those who identify as picky eaters.
You can enjoy exuberant local flavours such as cod with endive and caramelized orange in one of the EXC Port to Table menu items or go for a classic caesar salad followed by roasted chicken or pot roast.
For a splurge, the Indulge options such as a Filet Mignon with 5 oz lobster tail are available at an extra cost ranging from $8.50 to $75.
There's always something innovative or classic to find on the Dining Room menu.
Dinner Times: 5:15 pm – 9:00 pm
Lido Market – Casual Dining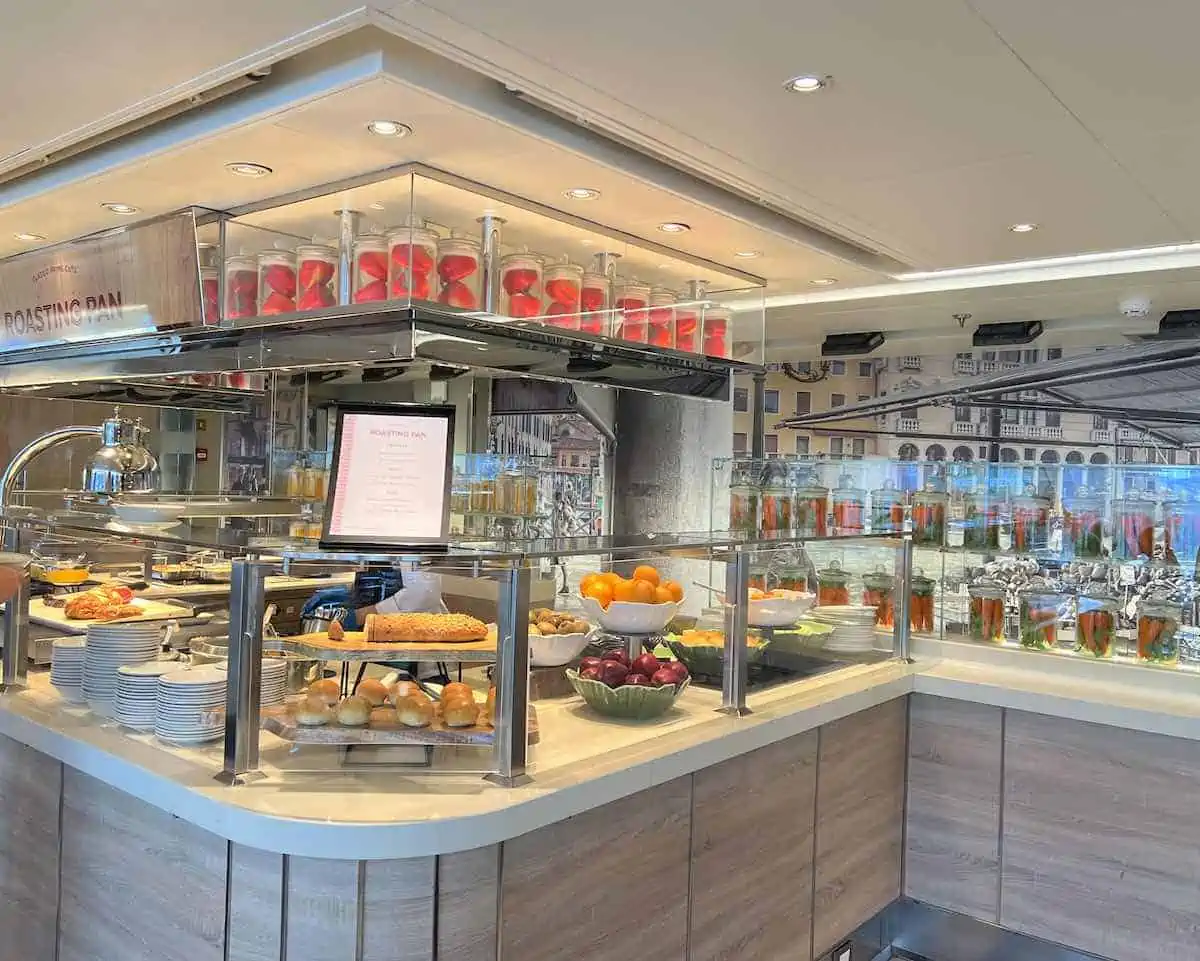 Evoking homemade goodness with the best of a street food crawl, the Lido Market casual dining venue on Deck 9 features food stations centered around themes.
The buffet features pre-made items such as soup/appetizers, mains, side dishes, breads, desserts as well as live cooking stations with carving, pasta, eggs to order, sandwiches and more.
The concept is low-touch which means the stations feature protective shields. This eliminates customer touch points as the masked and gloved servers portion out the food. This set-up allays any safety concerns and works very efficiently even at popular stations.
The Lido Market buffet opens early at 7:00 am and closes late at 11:30 pm and is open almost continuously, closing only for 1- 1.5 hour periods between meal times.
This is the place to go for a quick breakfast, fast lunch or casual dinner. The menu at the Lido Market varies daily and includes locally-inspired specialties such as steamed mussels or themes such as Tex-Mex night etc.
What we liked best at the Lido Market was the salad bar with its ultra-fresh ingredients to build-your-own-salad to order or choose a pre-designed salad such as a classic Cobb or Asian.
Grand Dutch Café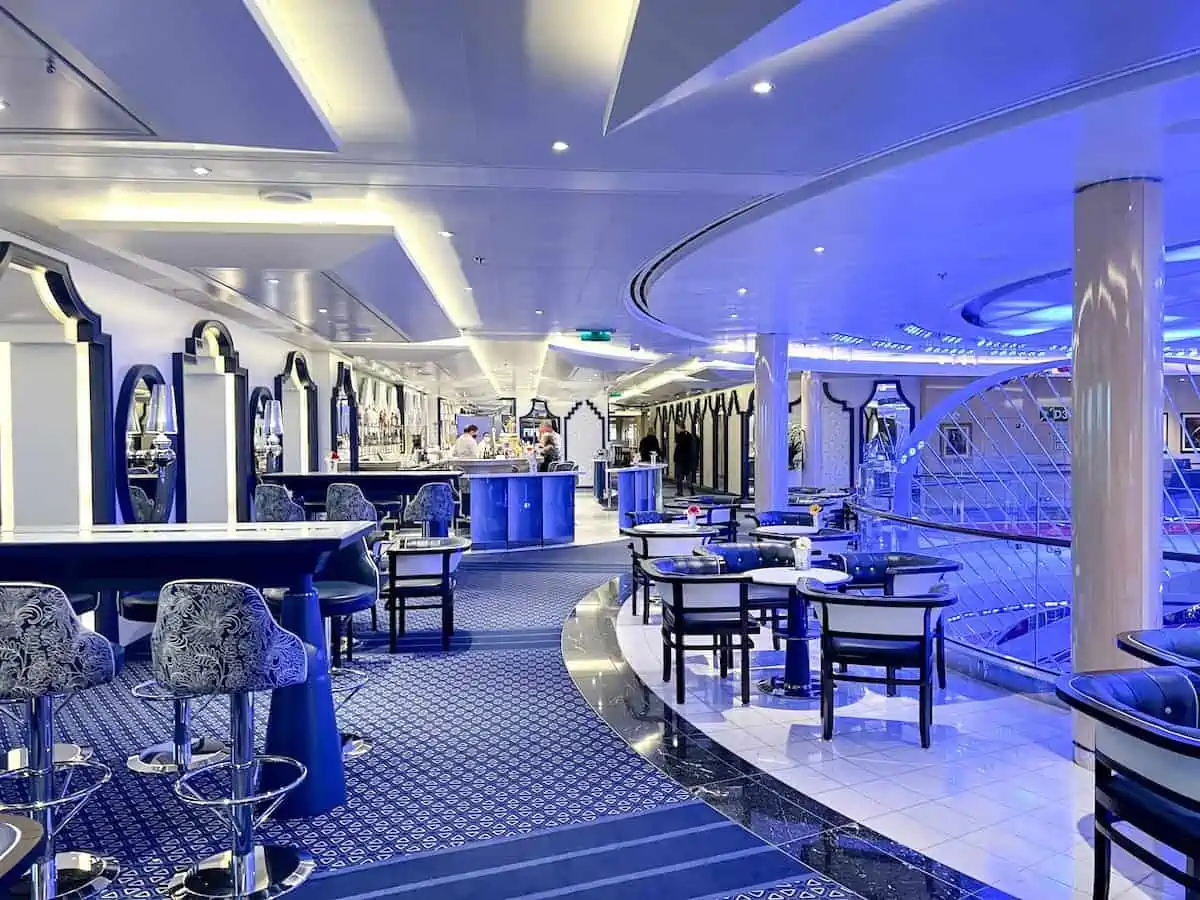 One of our first discoveries was the Grand Dutch Café on Deck 3. This hidden gem was our first stop each morning and our last stop in the late afternoon.
In addition to serving up expertly-prepared specialty coffees such as espresso, cappuccino, cafe americano and herbal teas worthy of the trendiest independent neighbourhood coffee house, the Grand Dutch Café also offers an array of soothing Dutch comfort food.
So if the Atlantic winds are chilly outdoors, warm up with a steaming bowl of Dutch pea soup. Or, snack on Dutch tapas such as bitterballen (meatballs) and an open-faced sandwich of dark, dense rye.
A slice of pillowy apple cake or a few buttery gevulde koek (almond cookie) are naturals with your cup of java.
The coffee, HAL's own Rotterdam 1873, is a small-batch Dutch blend crafted by Beukenhorst Coffee USA known for its smooth taste and full-bodied aroma.
Tip: Keep a lookout for gift boxes of the Rotterdam 1873 coffee. They include a pair of Royal Delft porcelain coffee mugs and make a fine gift or souvenir.
Dive In Burgers and Dogs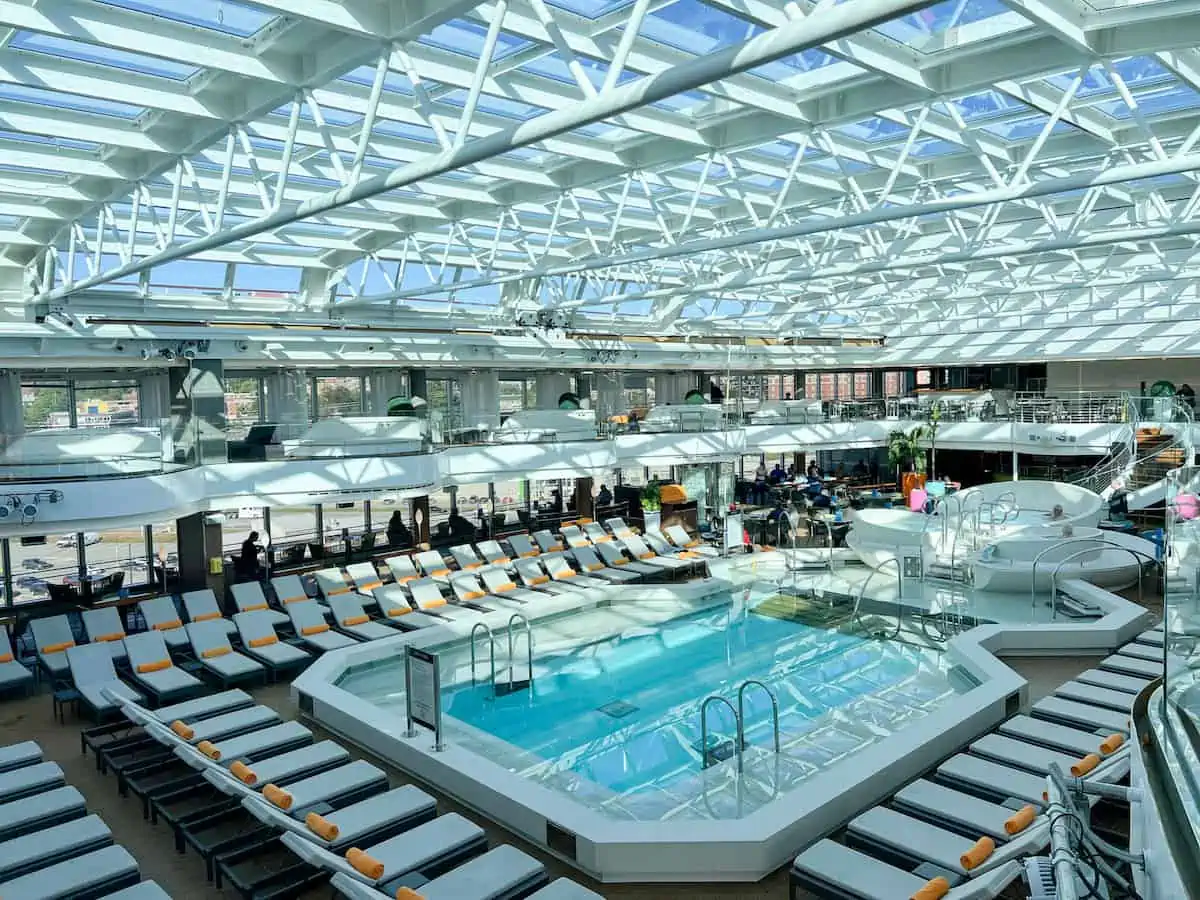 We didn't try the burgers or hot dogs but caught a good look at burgers waiting for pick-up. These towering burgers looked worthy of the best pub or backyard grill.
They came piled high and dripping with toppings including chop-chop lettuce salad, tomato, onion, gooey melted American or Gouda cheese and a smear of secret sauce.
Brown rice burgers, grilled portobello mushroom, or chicken breast and a skinny version (with lettuce substituting for the brioche bun) and Nathan's Famous gourmet hot dogs round out the offerings.
New York Deli & Pizza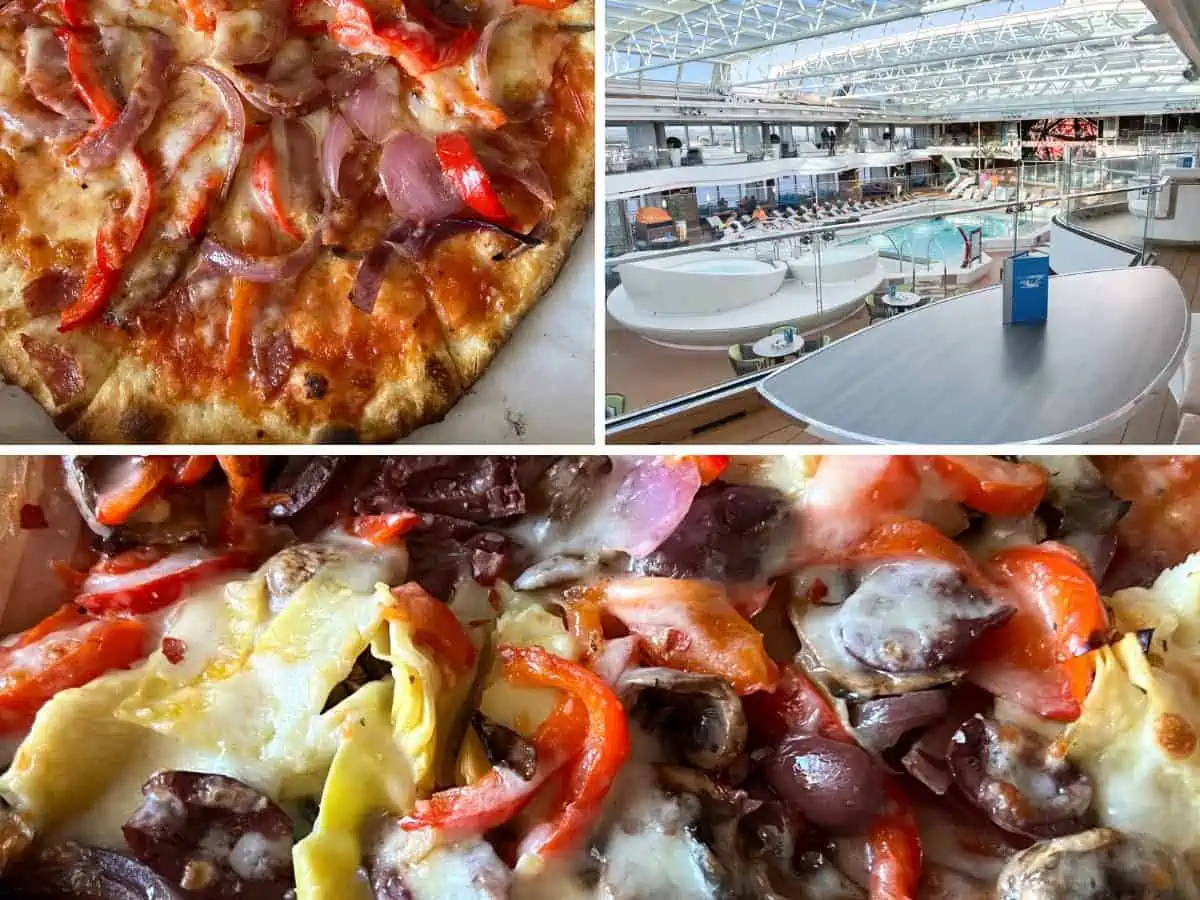 Choose from six varieties of thin crust artisanal pizzas such as Primo, featuring salami pickled pepper and red onion created by Culinary Council member Ethan Stowell, owner of multiple Seattle restaurants and pizza joints.
Or build your own creation with an assortment of premium ingredients including spicy capocollo, smoked ham, bay shrimp, kalamata olives, mushrooms and more.
The menu also features bagels with lox and cream cheese, Ruben sandwiches and even caesar, caprese and chef salads!
I just wish I'd discovered this gem (it's on Deck 10 overlooking the pool zone) earlier in the cruise.
Speciality Dining
There is an extra cost to dine at the speciality restaurants. Be sure to make reservations in advance to avoid disappointment.
Pinnacle Grill – Premium Steakhouse
The contemporary carnivore-centric menu at the Pinnacle Grill features 28-day wet-aged USDA Prime steaks served with classic steakhouse flair.
The beef tenderloin with lobster dumpling bathed in lobster Béarnaise sauce was quite possibly the best steak I've had in recent memory.
Cooked to perfection, it was like butter to cut and came with sides of asparagus with hollandaise sauce, creamed spinach and mushrooms. Several of my dining companions ordered the petite Filet Mignon with lobster tail and were equally impressed.
While this is definitely refined dining, the menu at Pinnacle Grill has plenty of fun quotient.
The Clothesline Candied Bacon — a signature creation by David Burke — was a fun, conversation piece and its hit of maple sweetness evoked the autumn season.
If you have time and budget for just one speciality restaurant then the Pinnacle Grill should be it.
Tamarind – Posh Pan Asian
Tamarind restaurant was another of our favourite speciality restaurants on the Nieuw Statendam.
It's got a polished, upscale decor that's inviting yet impressive for date night and special occasions.
Tamarind is a place where diners can get a taste of sushi master and Culinary Council member Chef Andy Matsuda's sushi creations for at an affordable rate.
Typically this type of Japanese dining would start in the triple digits in most cities.
Born in Japan, Matsudo is a master of sushi who heads up the Sushi Chef Institute in Los Angeles, California teaching the latest techniques and trends.
He designs and leads the sushi dining options at Tamarind, Nami Sushi, and the Lido Market.
But the menu at Tamarind journeys well beyond sushi.
Other especially enticing Pan Asian menu options at Tamarind include sticky sweet chicken lollipop appetizers and wok-seared vegetables in a lightly creamy coconut curry sauce.
For dessert, the mango posset gets our vote for a sweet but refreshing finish to a memorable meal.
Rudi's Sel de Mer – Impressive French Seafood Brasserie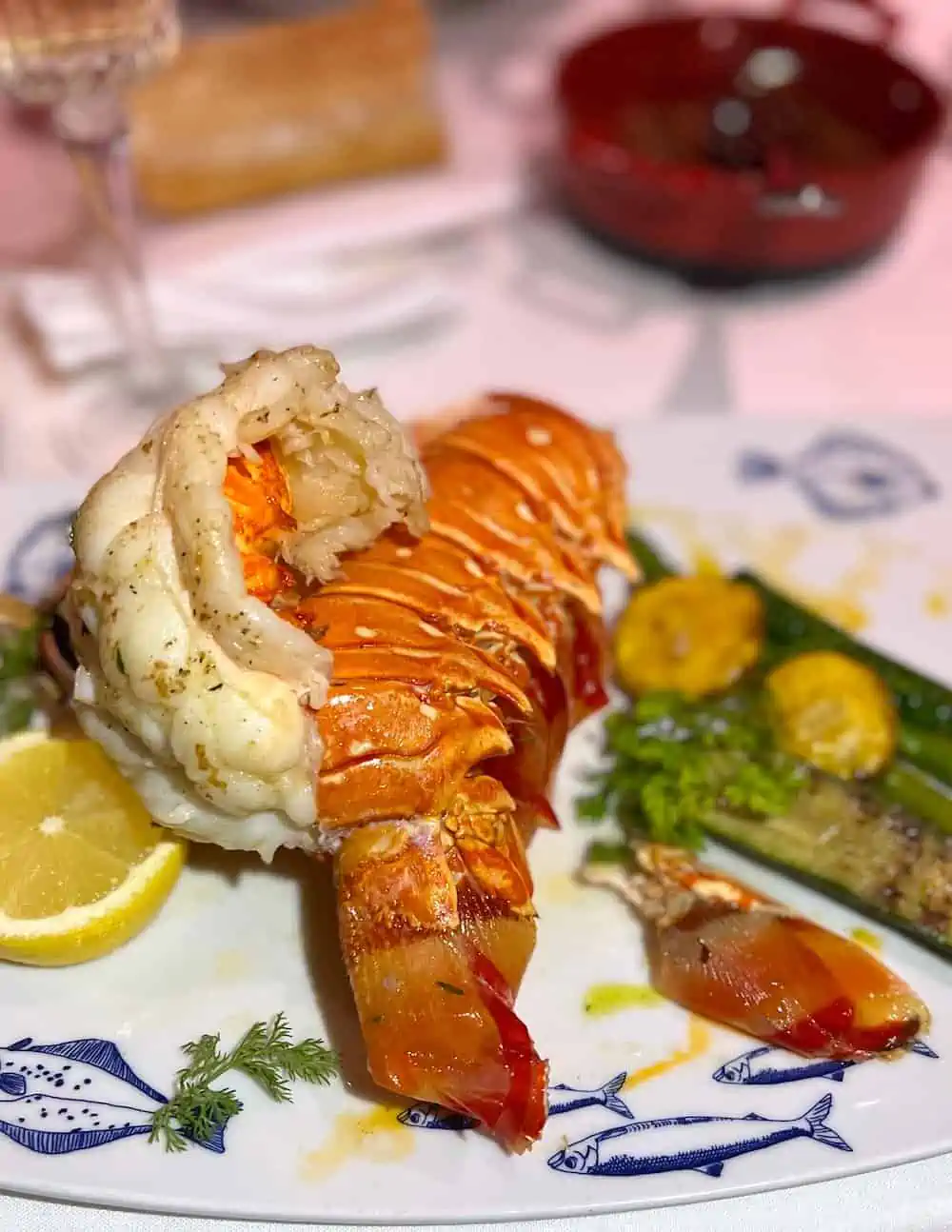 Master Chef Rudi Sodamin is Holland America Line's Culinary Council chairman so his namesake French seafood brasserie is one of the most coveted reservations at sea.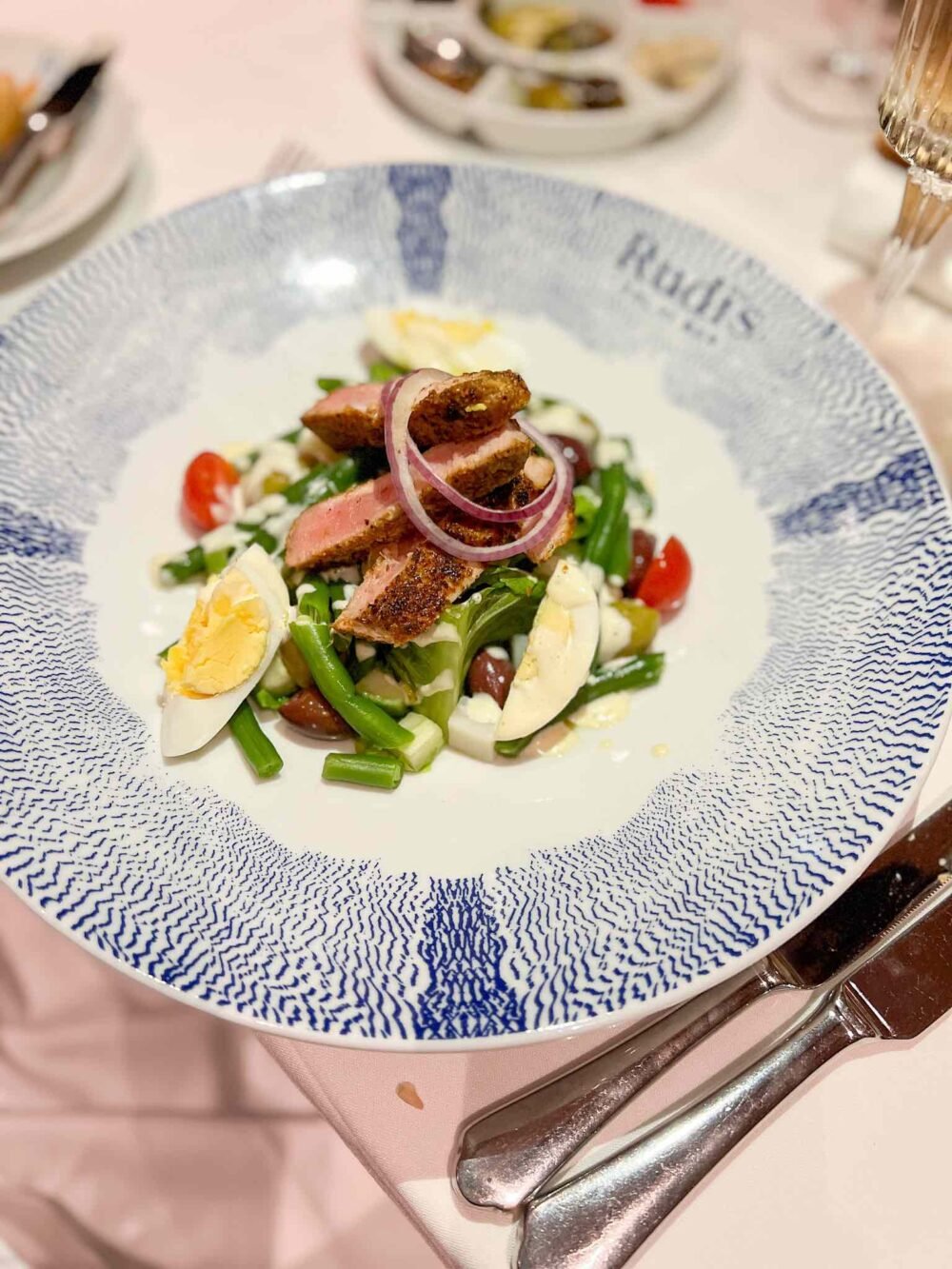 Food and wine are served with finesse at Rudi's so it's another top choice for special occasion dining. It's also one of the poshest dining venues and guests dress accordingly.
Nami Sushi
We didn't have a chance to try Nami Sushi but we heard great feedback from other guests on the cruise. They were also savvy enough to order sushi from the Room Service menu where it's available at an extra cost.
Next time for us!
Canaletto – Italian for Sharing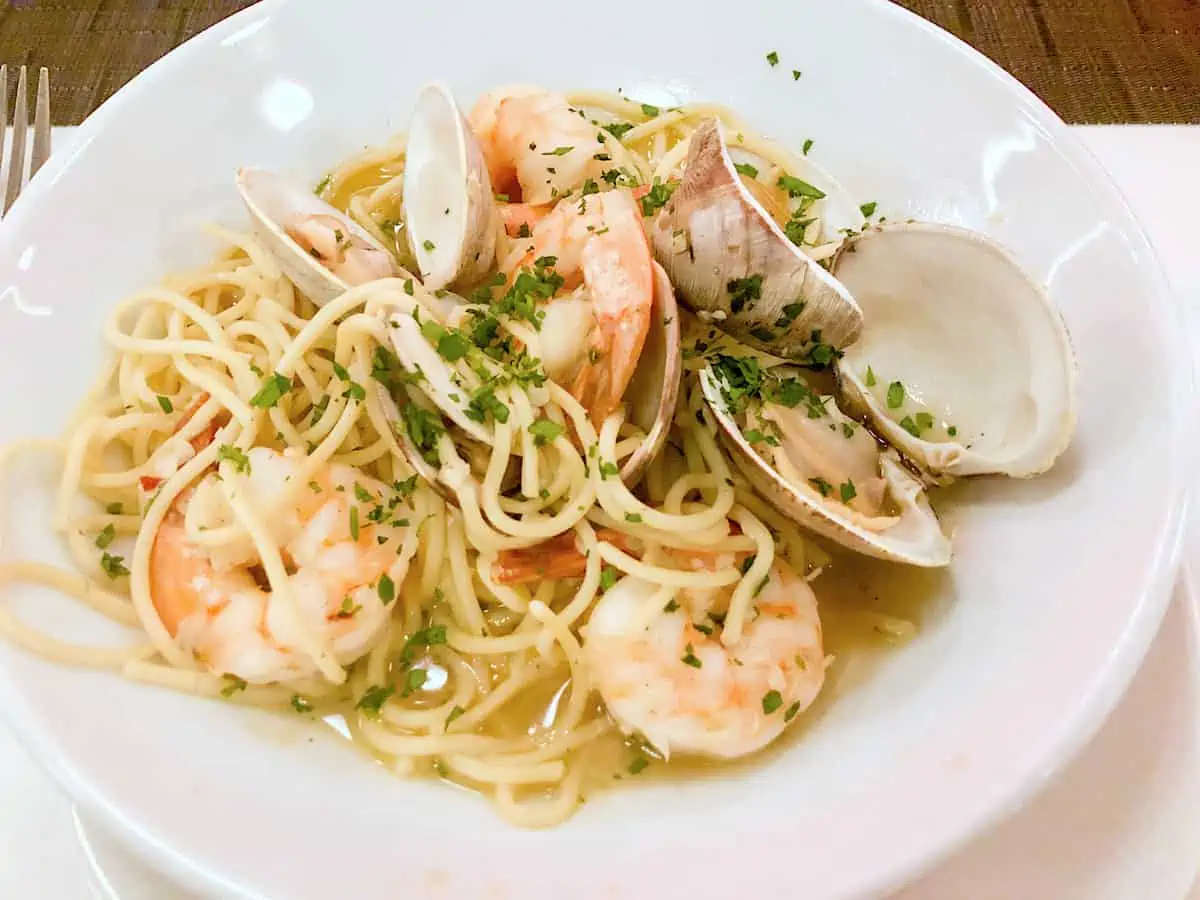 Open in the evenings and tucked into a corner near Lido Market on Deck 9, Canaletto serves up an ever-evolving menu of large plates and small plates for sharing.
Here you'll find crowd-pleasing Italian classics such as lasagna, spaghetti alle vongole (spaghetti and clams) and spaghetti bolognese.
Culinary Shore Excursions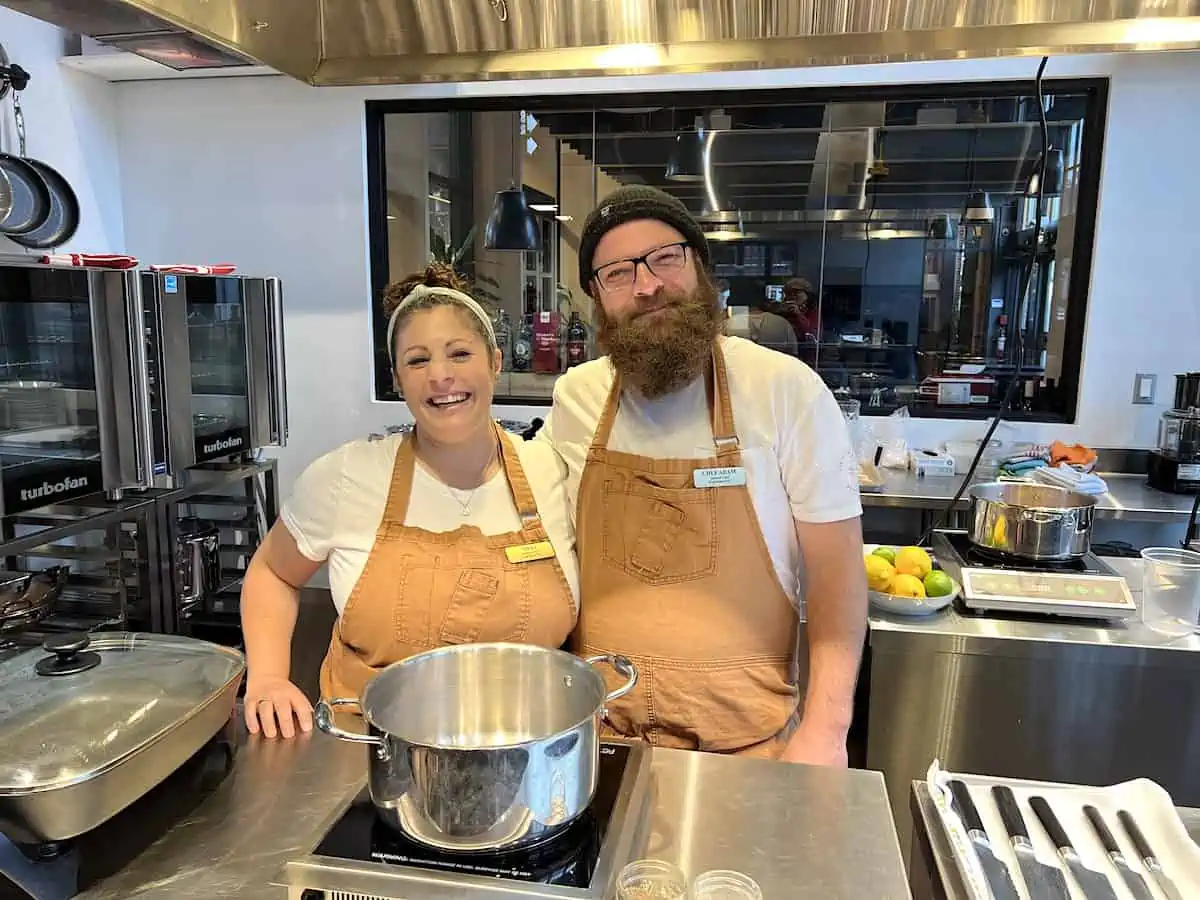 Holland America has partnered with Food & Wine Magazine to offer top quality culinary excursions. We participated in the Seafood Chef Experience at the port of Charlottetown in PEI.
The cooking demonstration was an introduction to East Coast Seafood delivered in a fun and engaging way.
Although the experience was slightly different than described (it took place in the historic Food Hall & Market at the port rather than a local restaurant) it was both educational and entertaining.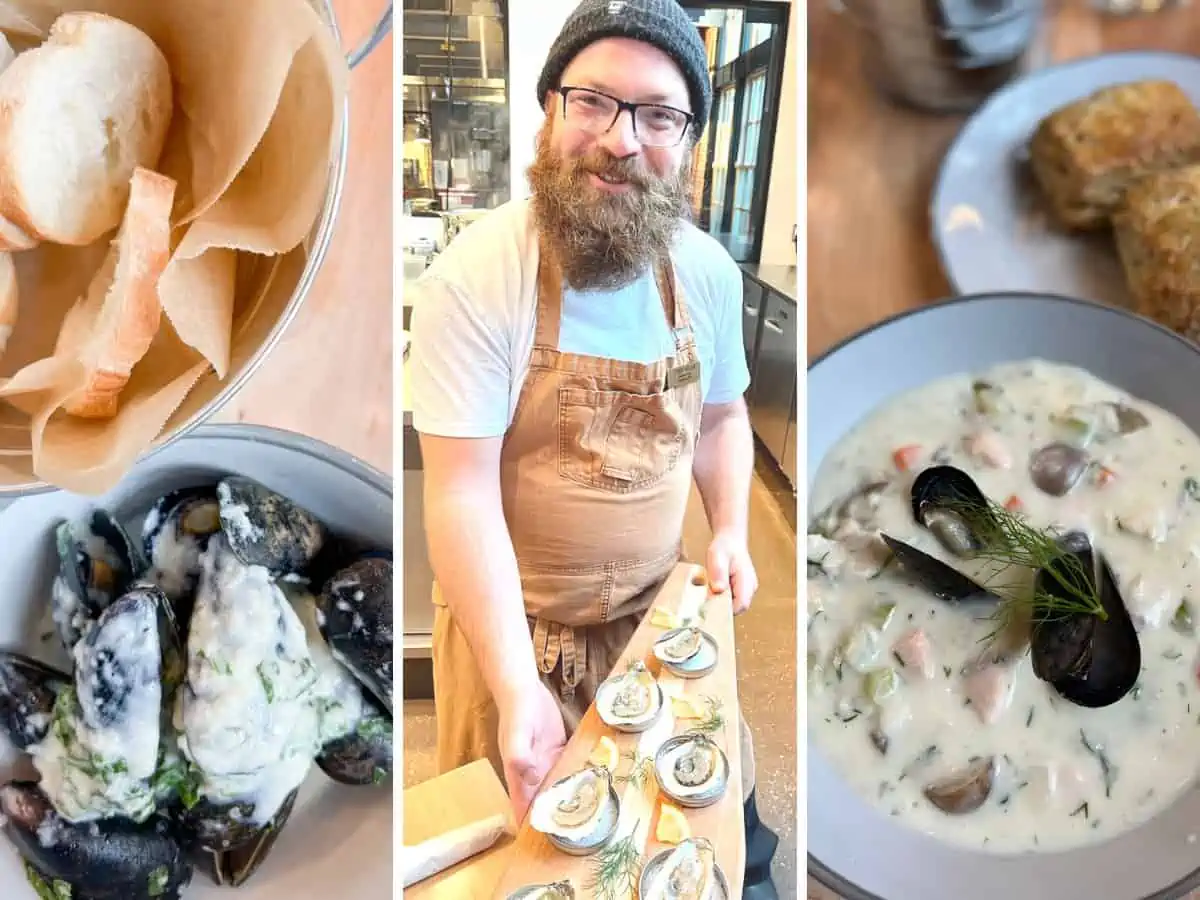 Here's what the experience included:
sampling fresh oysters
learning how to make mussels in Rockefeller Sauce and Red Wine Tomato Sauce
trying Sour Cream Scones featuring a brilliant secret ingredient – dill pickle juice!
discovering tips on how to make East Coast Seafood Chowder, a delectable mix of scallops, haddock or cod, Atlantic salmon, mussels, potatoes and cream. This involved preparing the fish stock, cooking the seafood and building the chowder base by building a roux.
recipes to take home.
While more of a demonstration than a hands-on class, it was entertaining and educational plus a good dose of Maritime hospitality.
Memorable Onboard Culinary Experiences
How about lobster? Let's get right to it. This is a dream cruise for lobster lovers.
Not only is there lots of lobster available onboard in the speciality restaurants but you can crack into steamed whole lobster or grab a lobster roll at almost every port of call.
You can even go on a lobster boat to experience lobster fishing! Or listen to an EXC Talk all about the rewards and challenges of lobster fishing.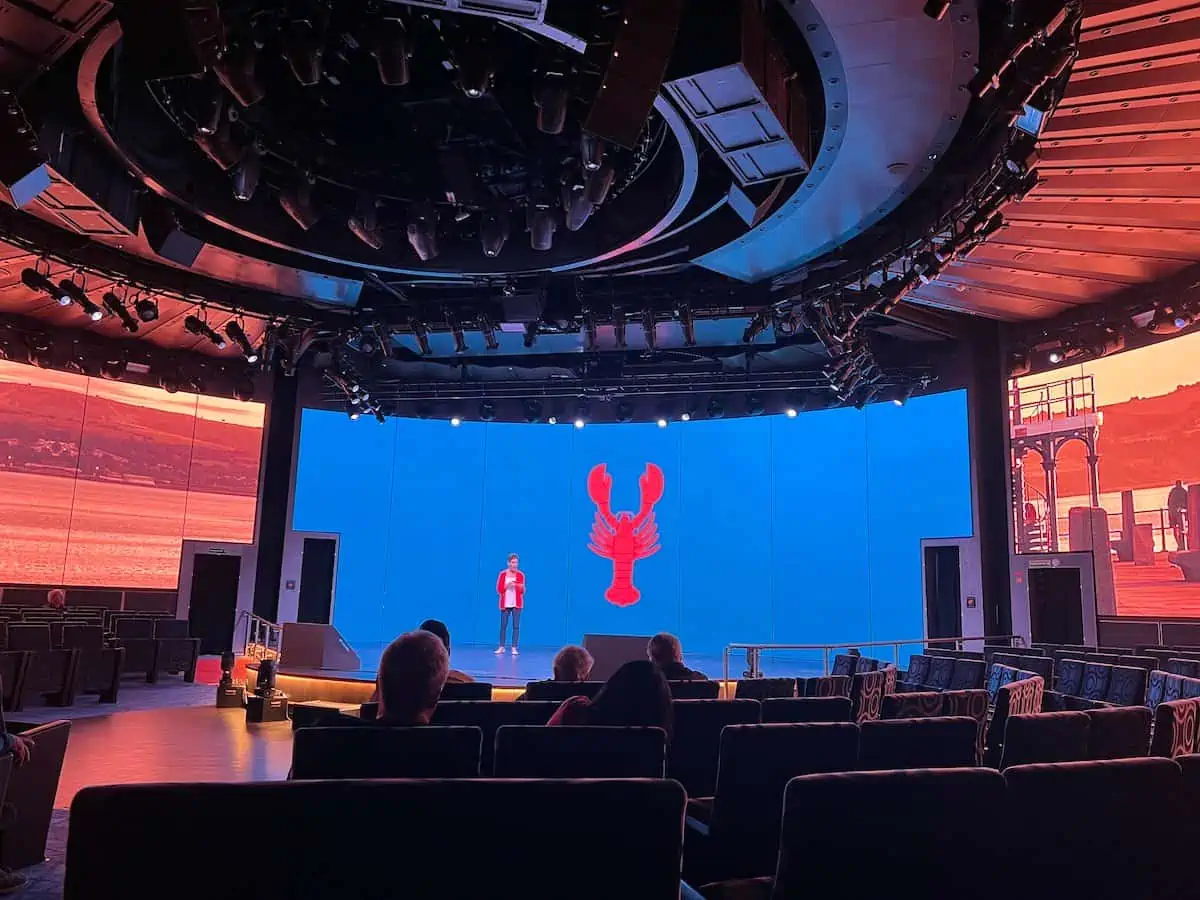 Although HAL also offers Whisky Tastings, a Dale de Groff Mixology Class, International Beer Tasting and Tutored Wine Tasting as onboard culinary experiences (nominal extra cost), unfortunately we didn't have time to include those on this trip.
Best Food Experiences and Tours at Cruise Ports
Boston, Massachusetts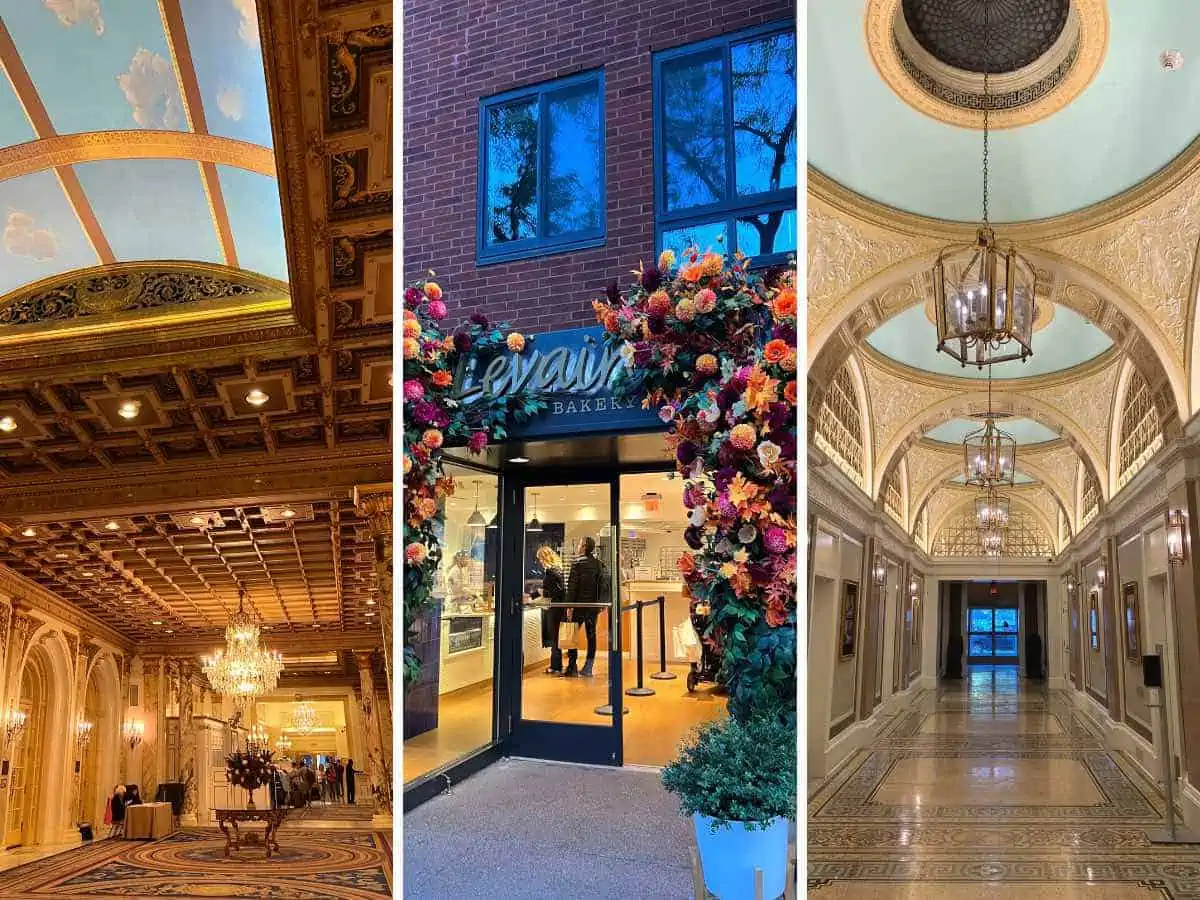 We flew direct from Toronto to Boston and it was a short 20 minute taxi ride to the the pre-cruise host hotel, the Fairmont Copley Plaza.
If you take the bus to Boston from New York City as many travellers do, it's an 8 minute walk from the bus station.
From browsing the Boston Tea Party Ships & Museum (Google Map) to enjoying a pint of the local brew at Samuel Adams Brewery, there's a wealth of tasty things to do in Boston.
There are also a lot of enticing dining options in the historic Back Bay neighbourhood.
But in anticipation of the bounty of seafood awaiting us on our New England cruise, we dined at the Fogo de Chão Brazilian Steakhouse just steps from the hotel.
At this restaurant, various meats are cooked churrasco (grilled over embers) and served rodízio style by servers who carve the meats from giant skewers onto diners' diners' plates. It's got a fun, casual atmosphere that's welcome after a day of travel.
During our post-dinner walk, we picked up oatmeal cranberry scones from Levain Bakery (180 Newbury Street).
This popular New York based bakery is famous for its giant chocolate chip cookies but their oatmeal scones and pumpkin ginger bread — packed with rustic, fall flavours — were stellar.
Foodie Tip: If you don't have a chance to scout out the city's iconic dessert Boston Cream Pie while in port, check the Dining Room menu onboard.
Bar Harbor, Maine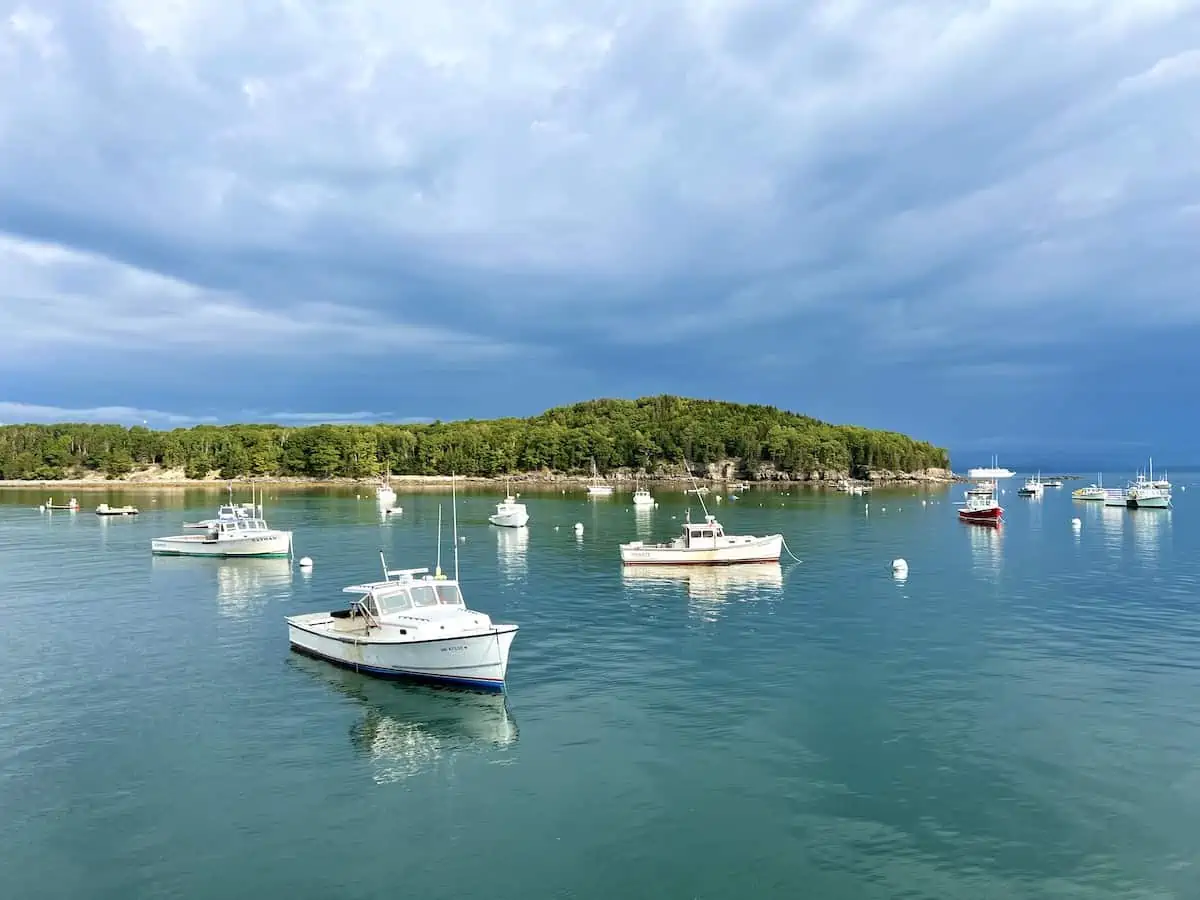 Lobster Roll: The Downeast Deli (65 Main St.) is our top choice for a quick bite within easy walking distance of the main pier. Order take out from the counter and head to the park at Newport & Main St. for a scenic snack.
Then stroll the shore walk past the stately Bar Harbor Inn, try your might pushing the Balancing Rock, then circle back along Wayman Lane to Main St. gawking at the mansions, boutiques and shops while you work up an appetite.
Whole Steamed Maine Lobster: Most restaurants open at 11;30 am in Bar Harbor so plan to hop on the mid-morning tender from the ship if you don't want to reserve a table in advance.
Testa's Bar and Grill serves a Maine Lobster Dinner with a 1 1/4 pound lobster, fresh corn on the cob and rosemary potatoes. Pair it with a refreshingly fruity blueberry ale or a leaf-peeping ale crafted by the Atlantic Bar Harbor Brewery.
Or go for the flight of four craft beers on tap.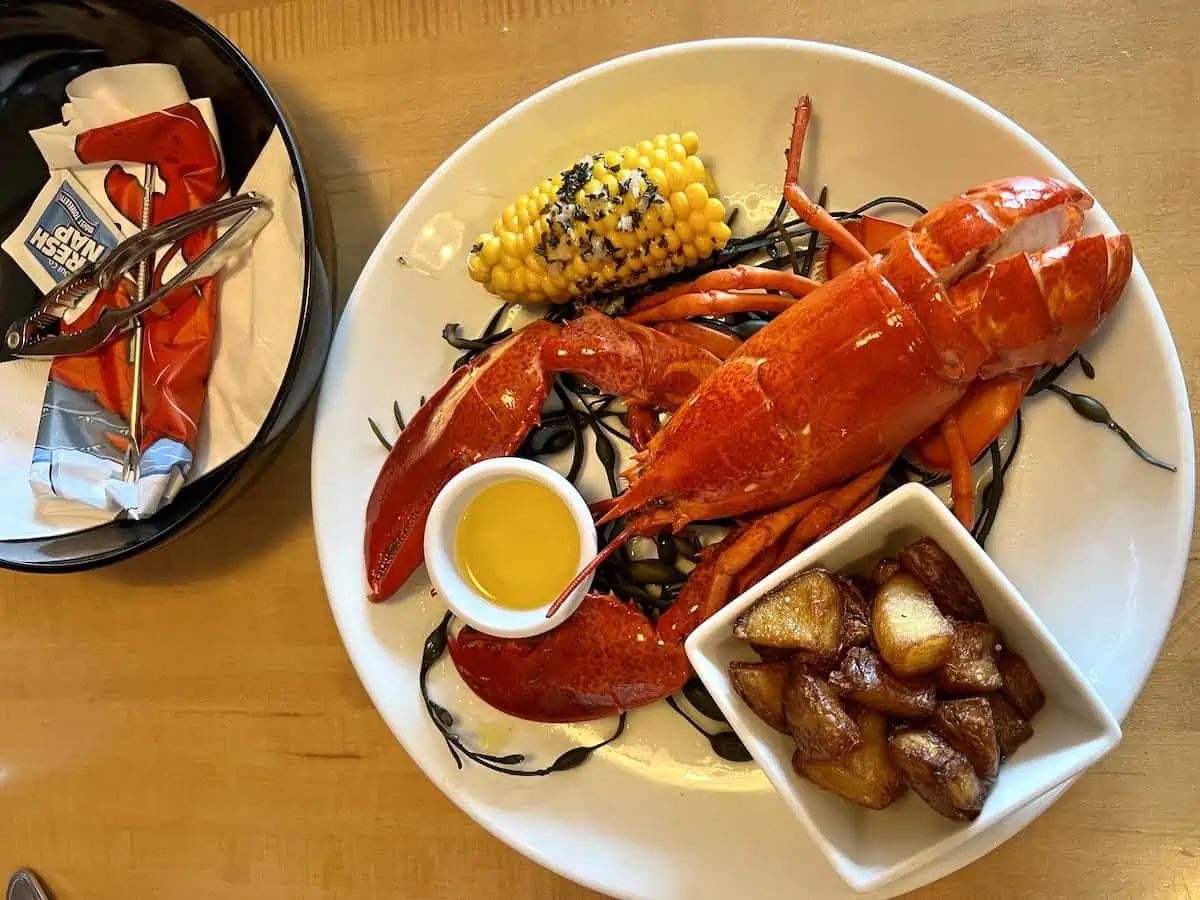 Tip: If you're visiting outside of lobster season, check before entering the restaurant if you have your heart set on lobster. It might not be available outside of the peak season.
Expect to pay Market Price. In September 2022 it was $32 for the lobster dinner.
While Bar Harbor is famous for its seafood, it also happens to be home to Royal Restaurant, one of the best Indian Restaurants in Maine. So if you're not a seafood fan you won't have to go hungry.
Maine is also famous for its blueberries so get an antioxidant vibe happening by wrapping up your Bar Harbor food jaunt with a sweet treat such as blueberry ice cream or a blueberry donut.
Halifax, Nova Scotia
Just a few months ago I attended the Travel Media Association of Canada's 2022 conference in Yarmouth, Nova Scotia, a veritable lobster fest.
In addition to lobster and sweet snacks like BeaverTails (sugary deep fried dough shaped to resemble Canada's emblematic animal), there are several other famous Canadian foods unique to Atlantic Canada and Halifax.
Read our complete guide to the Top 10 Foods to Try in Halifax. Many of them are steps away from the cruise terminal. Don't miss out!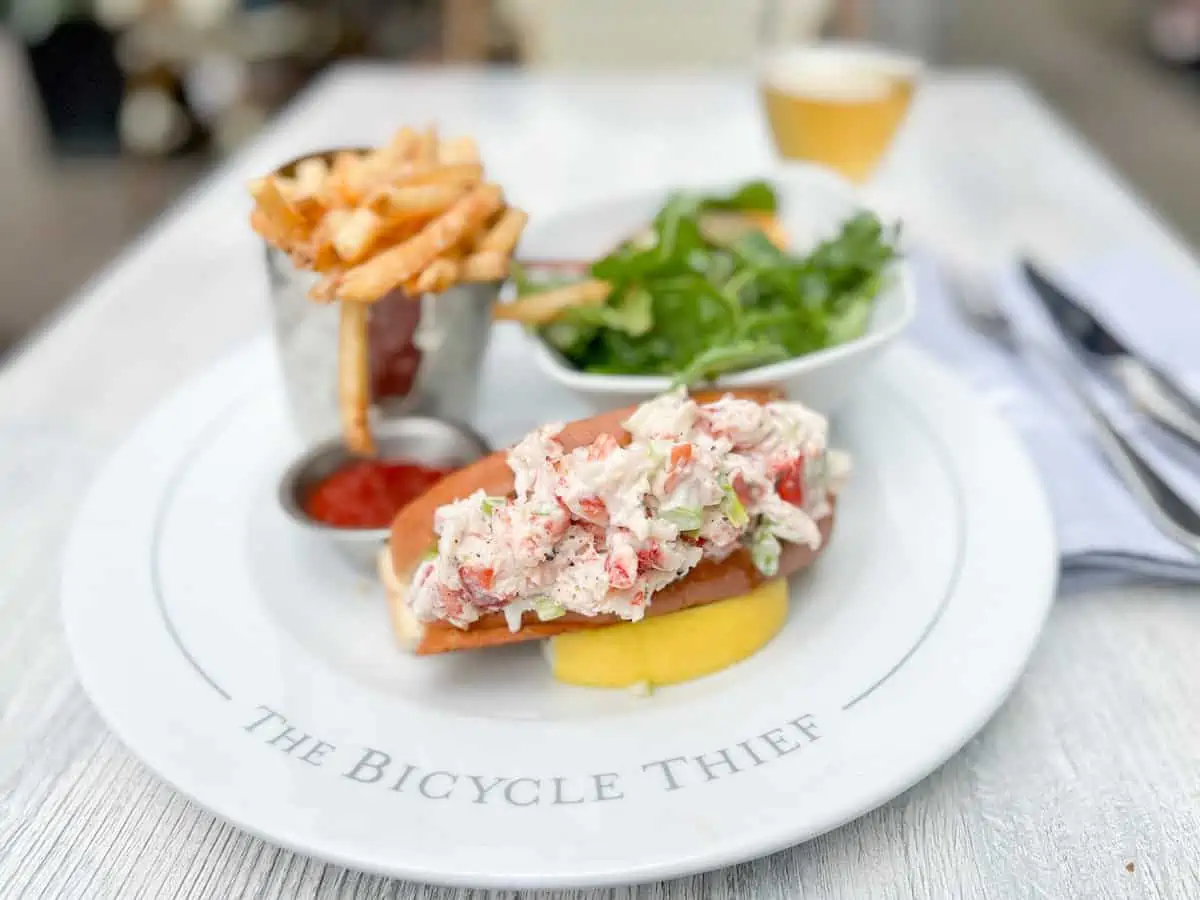 Our guide includes foodie favourites such as the Bicycle Thief on the Halifax waterfront, home to one of the city's best lobster rolls.
As well as the place locals go for a Halifax Donair. The official food of Halifax since 2015, this handheld snack features thin slices of spiced beef on warm pita topped with onion and tomato and drizzled with a unique sweet, garlicky sauce you won't find anywhere else
But our Halifax Food Guide goes beyond the city's famous foods. It's packed with insider tips on trendy new wine bars and treats like artisanal chocolate.
With a full day in port, you can linger at attractions such as the Halifax Citadel, where you can hear the firing of the Noon Gun, a daily tradition since 1857.
Sydney, Cape Breton Island, Nova Scotia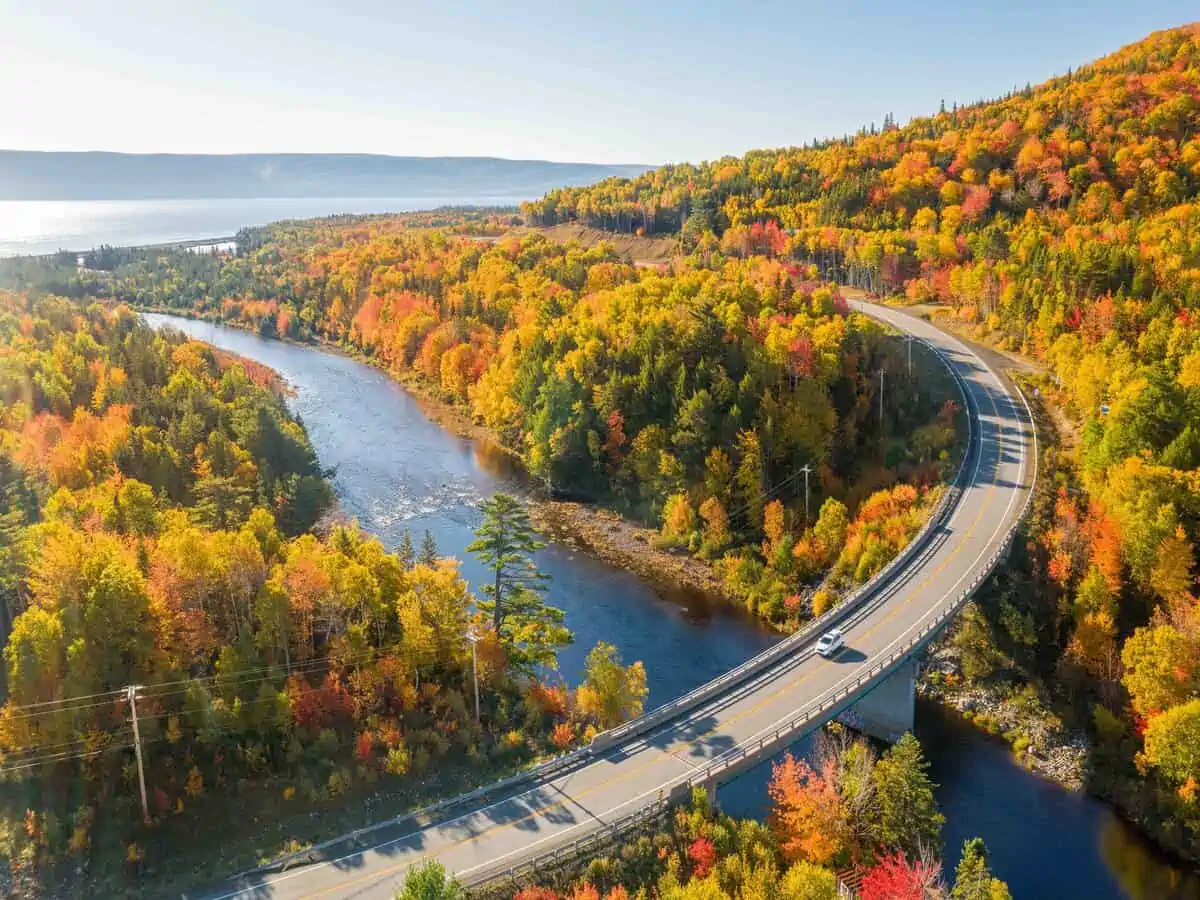 Scottish Oatcakes: Try these deliciously crispy, not-too-sweet crackers at the Clucking Hen Cafe and Bakery (45073 Cabot Trail) open seasonally. .
Cape Breton Hard Cider: Sample this bubbly apple cider famous for its fun, cheeky labels at Island Folk Cider House, a locally owned and operated craft cidery in downtown Sydney.
Craft Beer: There are three craft breweries in Cape Breton. Be sure to try the Cape Breton Island Time Lager (14 IBUs). It pairs perfectly with seafood chowder or seared scallops.
The One Foodie Souvenir You NEED to Take Home on a Canada & New England Cruise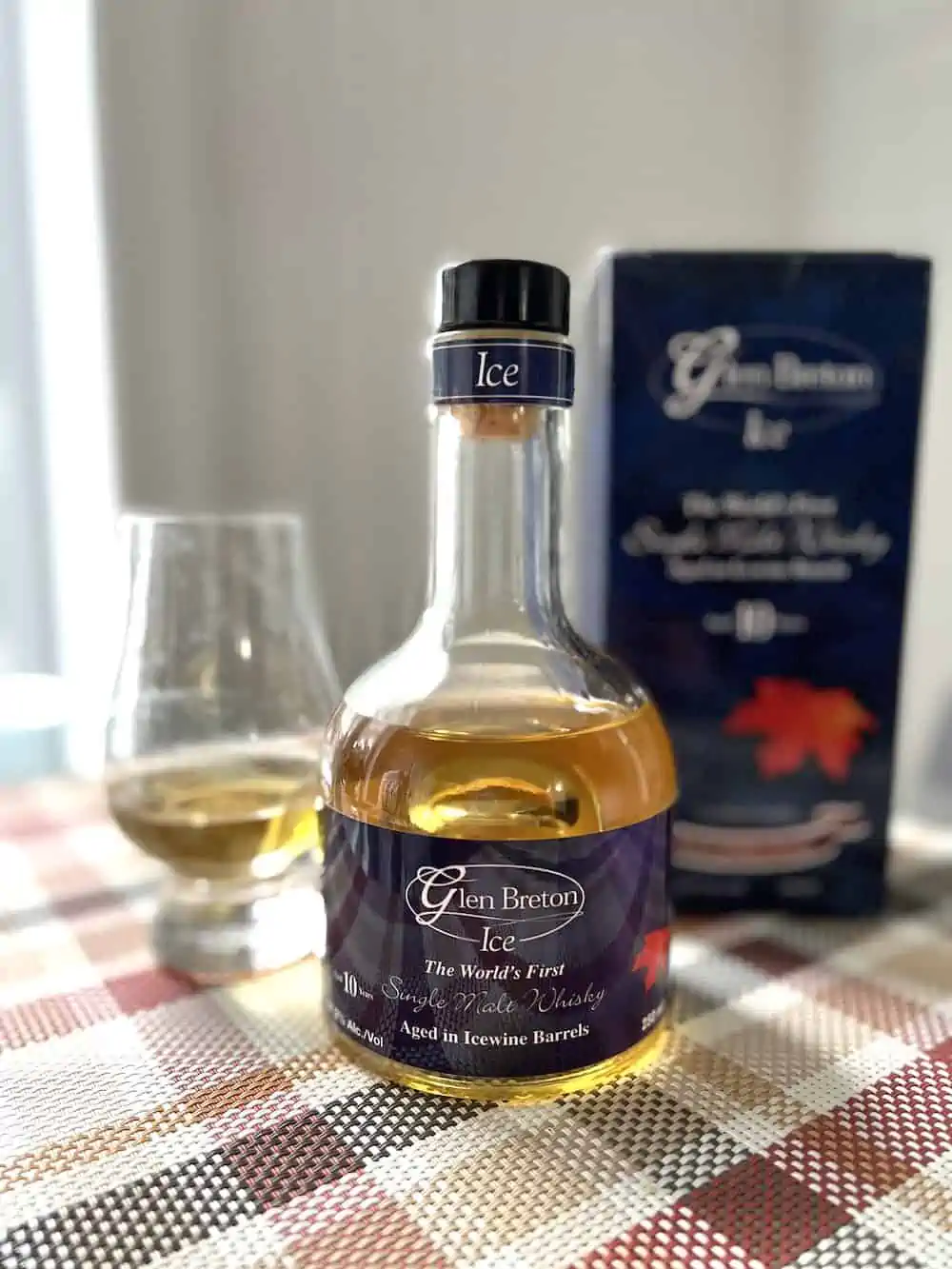 Baddeck is a perfect spot to pop into the Nova Scotia Liquor Commission (16 Campbell Street) to pick up a bottle of Glen Breton Ice, the World's First Whisky aged in icewine barrels from Grand Pre winery.
This taste of Nova Scotia makes a welcome souvenir for the foodies on your list. it even comes boxed! Declare it to security when you return to the ship and your Holland America stewards will store it for you for retrieval on disembarkation.
Enjoy the Ice Whisky in our Chamomile Whisky cocktail, a Bourbon Hot Toddy, straight or on the rocks.
You'll need to rent a car (I use Discover Cars to find the lowest rate) or hire a taxi to get to the distillery and back. Sydney & Cape Breton Taxi Tours also provides private sightseeing tours as well as customized tours.
Charlottetown, Prince Edward Island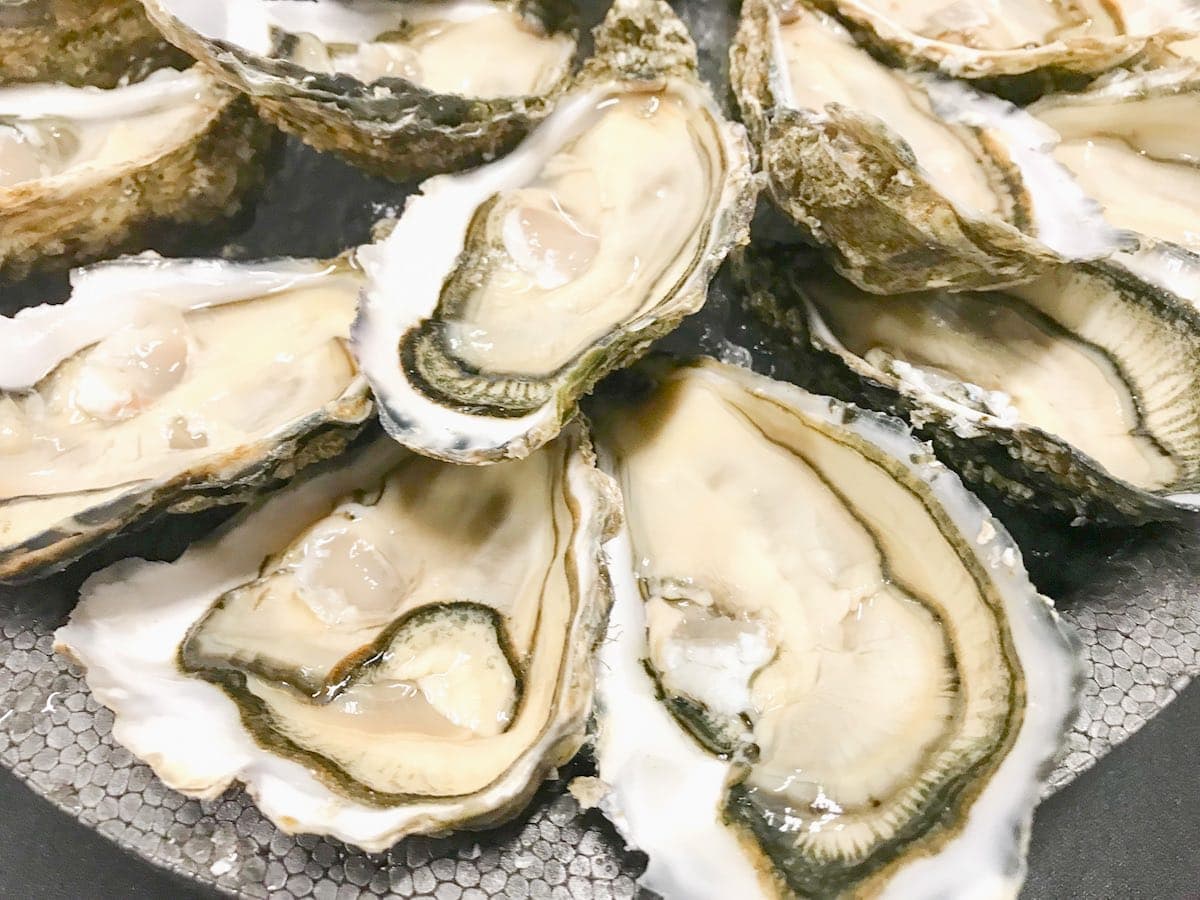 While we highly recommend HAL's Seafood Chef Experience at this port of call, you'll still have time for a quick stroll around historic Charlottetown.
PEI is famous for its oysters so factor an oyster slurping stop into your plan.
Quebec City, Quebec – Best Post-Cruise Extensions and Day Trips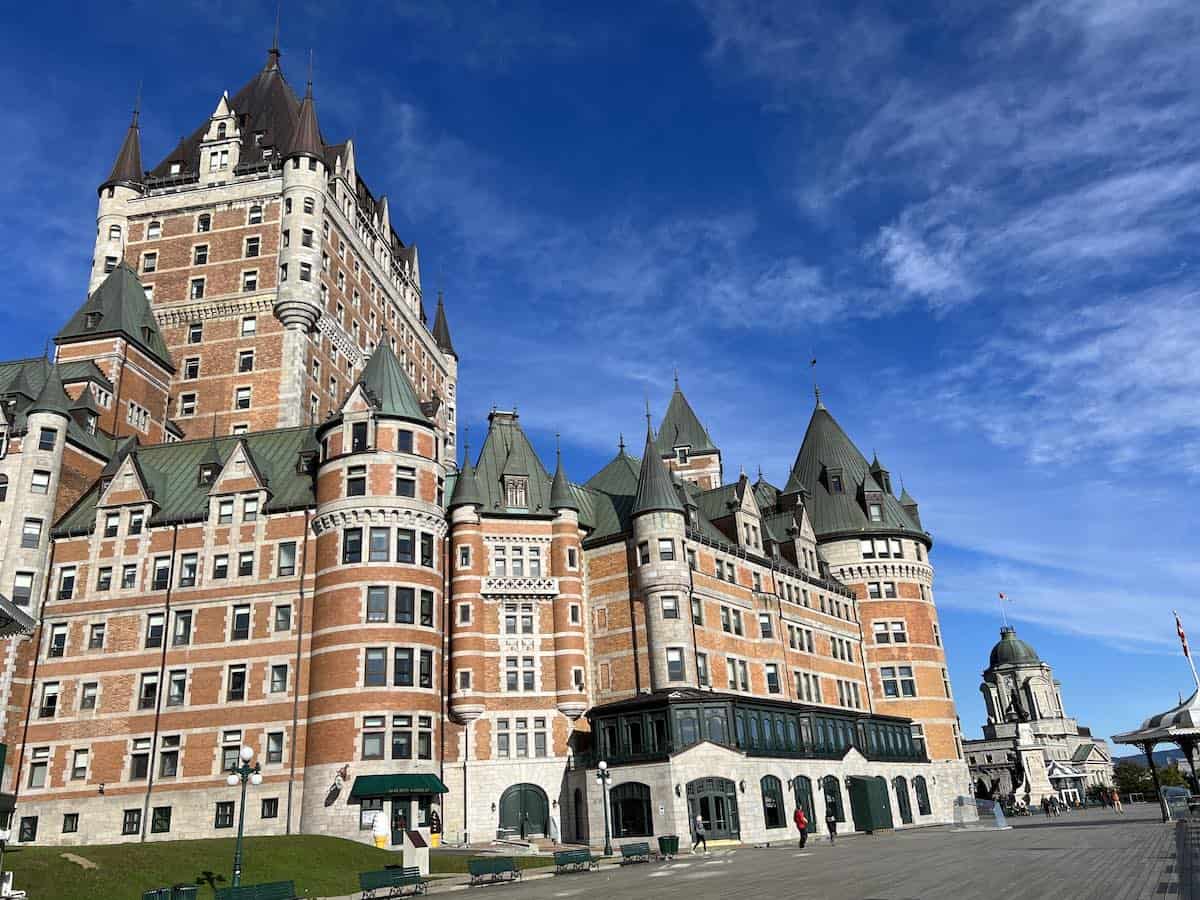 While you can't leave Quebec City without sampling the famous local dishes of poutine (French fries, gravy and cheese curds), tourtière and maple syrup, there are several other famous Canadian and Quebecois dishes and ingredients well worth seeking out.
Visit the official Destination Québec cité – Destination Quebec City tourism website to plan your time in Quebec City. Be sure to take a historical walking tour of Old Quebec.
Check out our One Day Itinerary for Quebec City.
It features details on the Cicerone Tours guided walking tour of Old Quebec, nightlife suggestions as well as a stroll beyond the historic fortified walls through two of Quebec City's most bohemian and colourful neighbourhoods.
There's so much to see and do, it's wise to add on some extra days to soak up the atmosphere of this UNESCO World Heritage Site.
One of the most popular day trips is to go from Quebec City to Montmorency Falls, a 15-minute drive from Old Town. This natural wonder is actually taller than Niagara Falls!
The Fairmont Le Château Frontenac is a Canadian landmark and our top choice of where to stay in Quebec City. Watch for our upcoming review of this famous luxury hotel.
The Musée National des Beaux-Arts du Quebec (179 Grande-Allée Ouest) in Battlefield Park is a fascinating place to begin.
Its four buildings (including the soaring modern Pierre Lassonde Pavilion) are filled with 40,000 art works dating from the 16th century to contemporary times.
Plan to enjoy lunch at restaurant Café Quebecor par Laurent Godbout located within the MNABQ.
The menu created by the acclaimed Quebec chef and author features globally-inspired regional Québécois cuisine with locally-sourced ingredients such as boudin with caramelized onions, smoked trout and duck.
A very worthwhile day trip is to journey by boat to Grosse Ile and the Irish Memorial National Historic Site of Canada. It's an important site for learning about Canada's immigration history.
Another option is to extend your Canadian adventures by taking the VIA Rail train west for a weekend in Montreal.
The train trip to Montreal takes around three hours one way and is a slideshow of picturesque scenery. Book early or on a Tuesday to score extra fare savings.
To make the most of your cruise from Boston to Quebec City:
Book culinary shore excursions early using the Navigator app.
Plan to dine at a speciality restaurant and reserve as soon as possible.
Pack a collapsible shopping bag to make purchases on shore.
Pack some bubble wrap or inflatable wine bottle protectors. They're handy for cushioning everything from liquor to mustard to jams.
Health Protocols
The embarkation process in Boston took less than 30 minutes as we'd completed the VeriFLY app. It held our proof of vaccination records and travel information as well as the ArriveCAN code required (at that time) to re-enter Canada.
Be sure to check the Health Protocols & FAQ before you travel as testing and vaccine requirements continue to evolve.
Early embarkation took place at noon so we were in the Lido restaurant enjoying lunch by 1 pm.
What's the Best Time for a Cruise in Canada New England?
The Canada and New England cruise season runs from May to October. While the summer months are popular for families with children or school teachers on summer break, the best time for a cruise in Eastern Canada New England is the fall foliage season.
It's the peak season for leaf peeping in New England and Eastern Canada from the end of September to the end of October. It's also not too hot or rainy.
So autumn is an ideal time to take a cruise.
Save to Pinterest!
Dividing her time between Canada, Guatemala and Mexico (or the nearest tropical beach), Michele Peterson is the founder of A Taste for Travel. Her award-winning travel and food writing has appeared in Lonely Planet's cookbook Mexico: From the Source, National Geographic Traveler, Fodor's and 100+ other publications.
Read more about Michele Peterson.