We may earn income from links in this post. Please read this Disclosure for details.
Wondering what to see and do in one day in Québec City, Canada? This one-day itinerary includes the top attractions in Old Québec, unique sights, local restaurants and cool neighbourhoods.
Why is Québec City So Famous?
Québec City was founded in the 1600s which makes it one of the oldest European cities in North America.
In 1985, UNESCO designated the Historic District of Old Québec (Vieux-Québec) as a World Heritage Site. This prestigious designation recognizes how its Upper Town (built on a cliff) and Lower Town (with its ancient districts) provides one of the world's best examples of a fortified colonial city.
It's actually the only walled city north of Mexico!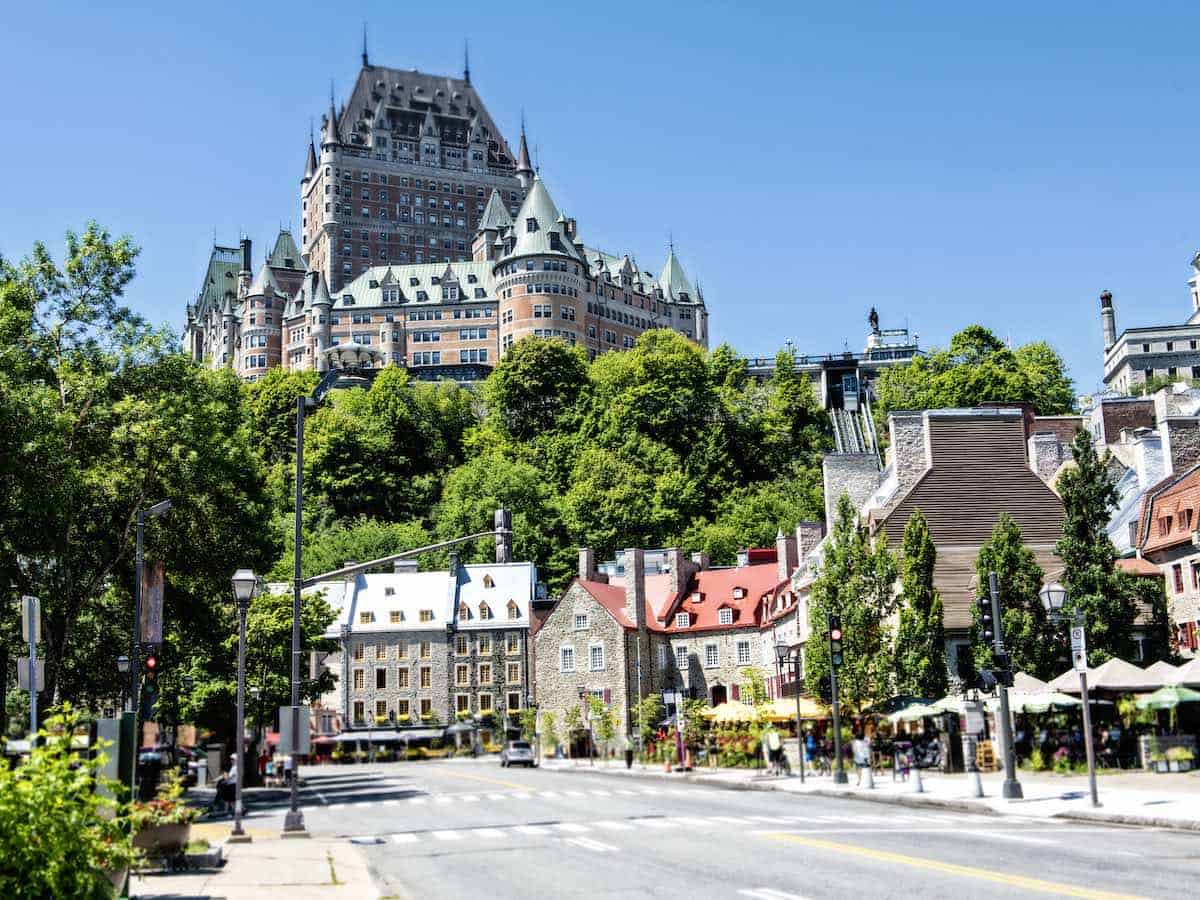 My own connection to Québec City runs decades deep.
During a childhood family visit in 1966, equipped with a Kodak Brownie Instamatic camera, I photographed (in rather blurry fashion) many of Quebec City's landmarks.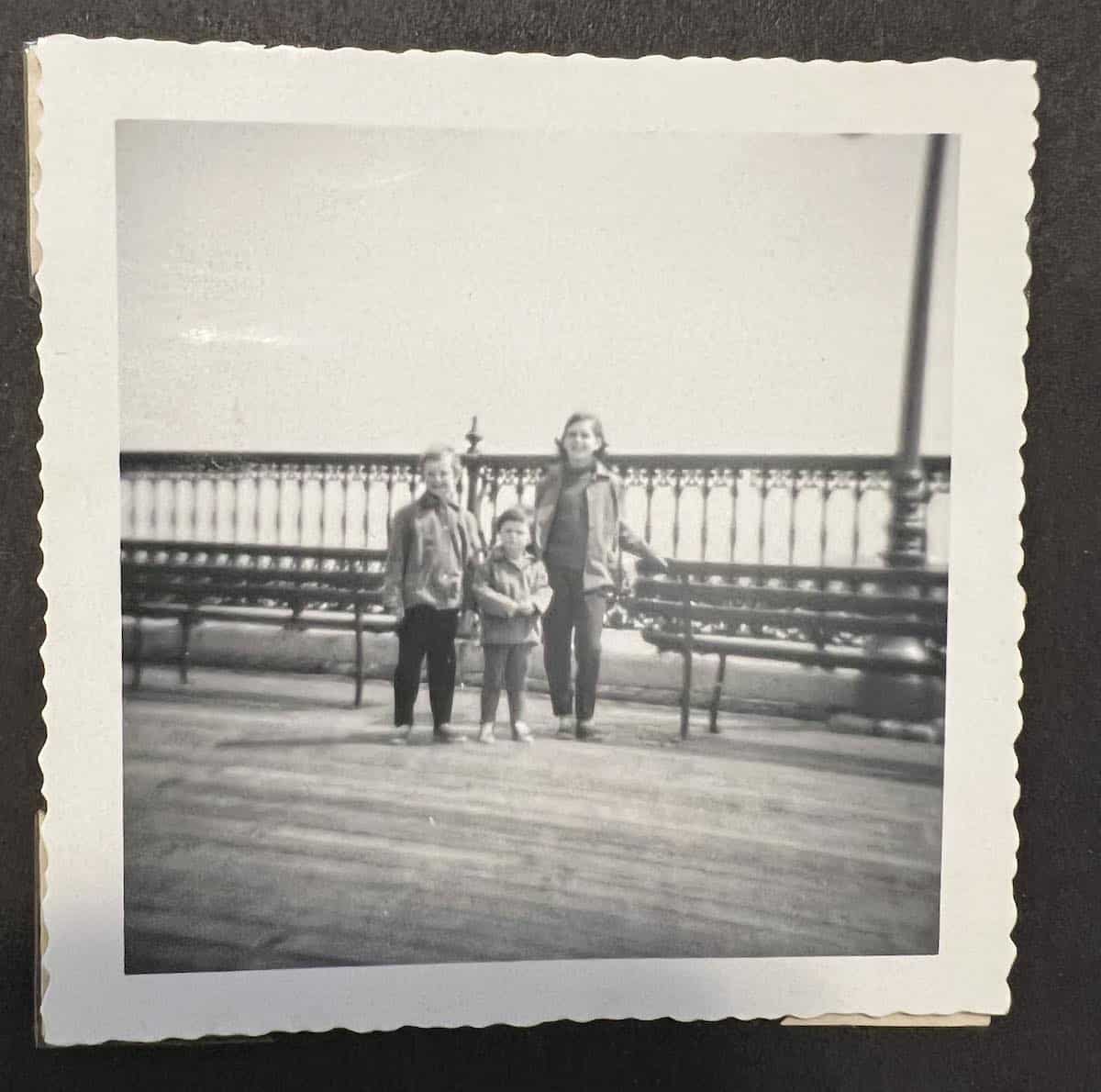 The towering Chåteau Frontenac, winding cobblestone streets and narrow, spired buildings of Canada's most European city seemed a world away from our modern bungalow in the suburbs of Winnipeg.
That early experience launched a lifelong curiosity in world culture and a passion for travel.
My love of Québec City has endured to this day. Since it's a short flight or scenic train ride from Toronto or Montreal, I try to visit as often as possible.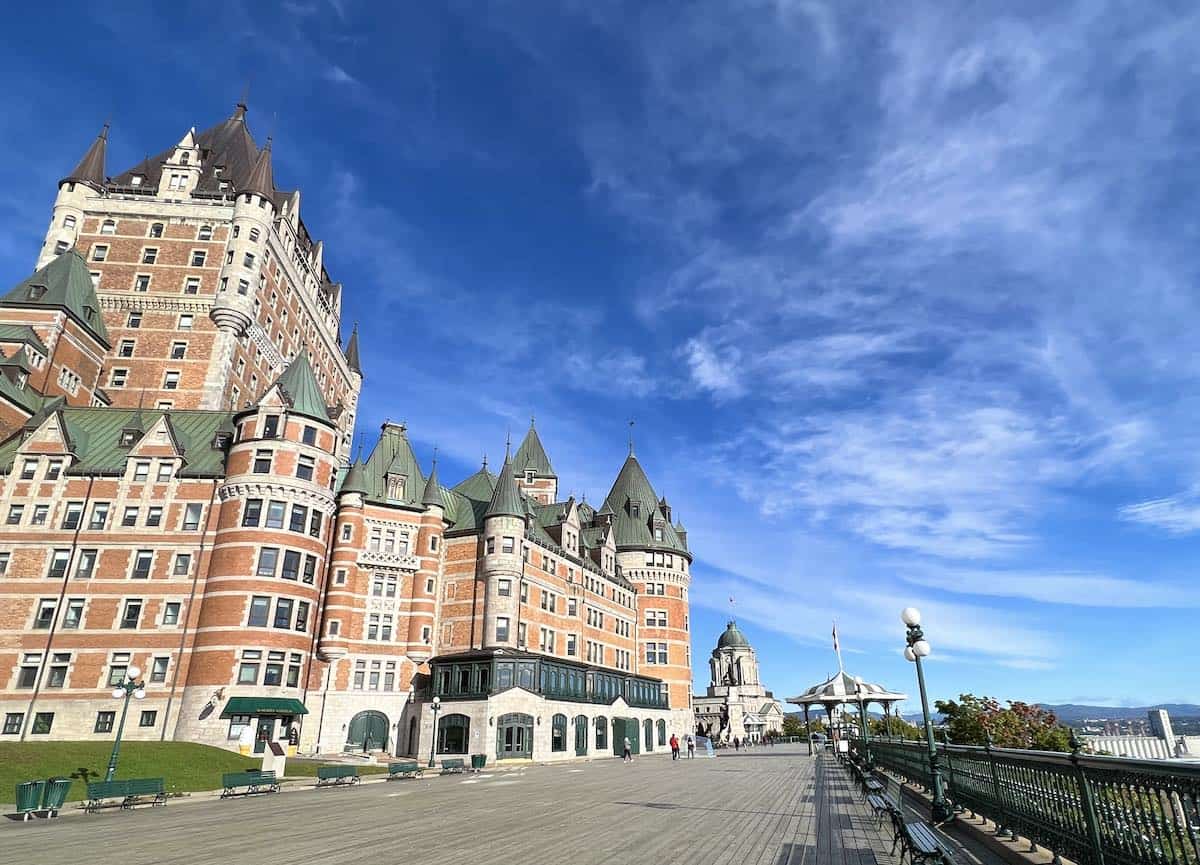 Most recently, on Holland America's New England & Canada Cruise from Boston to Quebec City, I made a point of exploring beyond the historical centre. I highly recommend you do so too!
Here are my suggestions for what to see in Québec City in one day.
In addition to including major attractions, top restaurants, neighbourhood cafes and nightlife, it also includes some of the best free things to do in Québec City.
Morning Itinerary
This one-day itinerary is specially designed to allow you to explore Québec City on foot from spring to autumn.
You can walk the entire itinerary or hop in a taxi for the final stretch. They're easy to hail and inexpensive.
If you're visiting Québec on a cruise, you'll disembark in the Port area, at the edge of Québec's historic district. Your one-day tour of Québec City will begin with a walk through the pedestrian-zone of Quartier Petit Champlain.
The cobblestone streets lined with narrow three-story buildings topped with chimneys and with flowers cascading beneath dormer windows will make you feel as though you've been transported to Europe.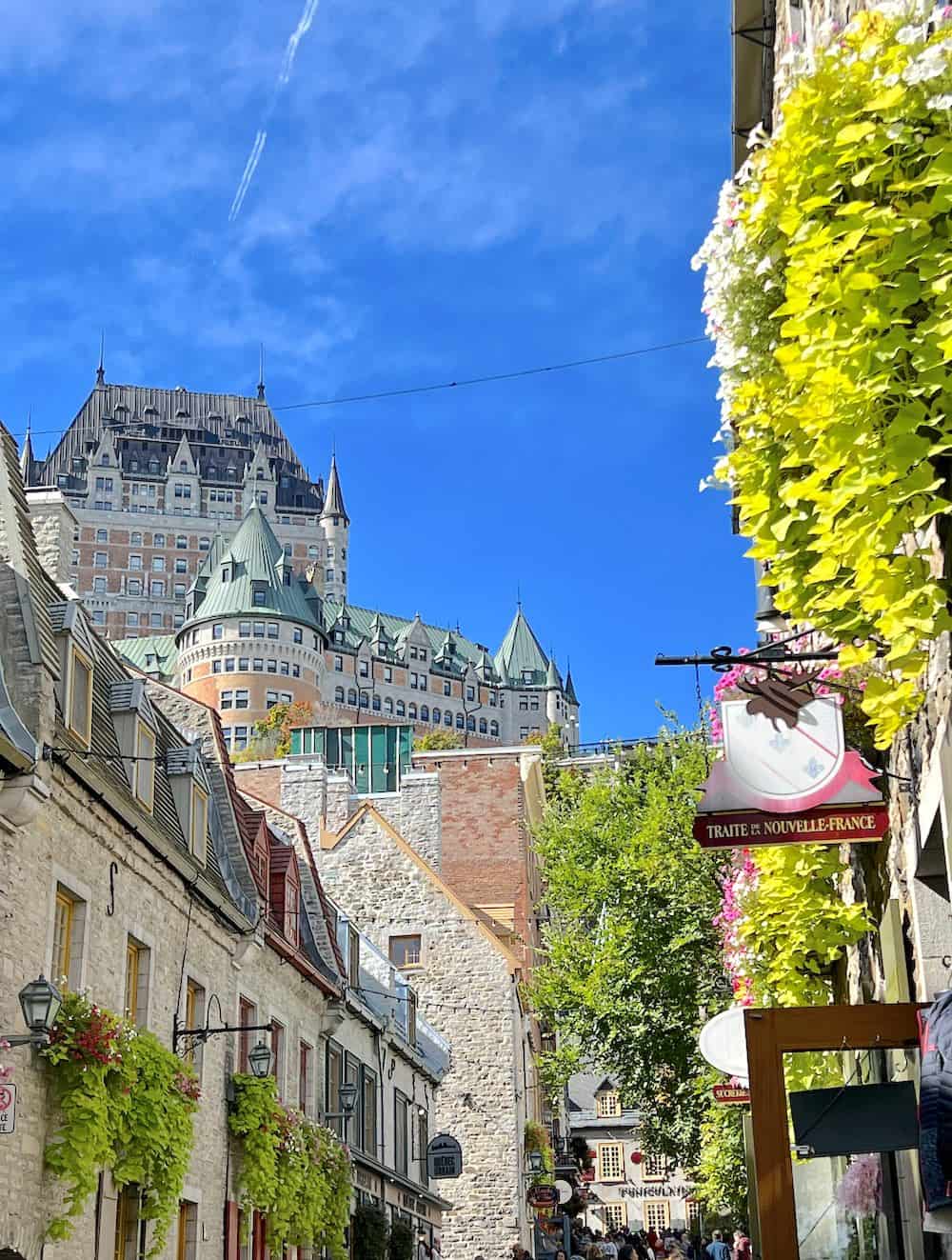 For breakfast, follow the stairs up to the world-famous Fairmont Le Château Frontenac, said to be the most-photographed hotel in the world.
This icon of Québec City was built in 1892–93 and its French Châteauesque architectural style inspired many of Canada's grand hotels such as the Fairmont Empress in Victoria and Chateau Laurier in Ottawa.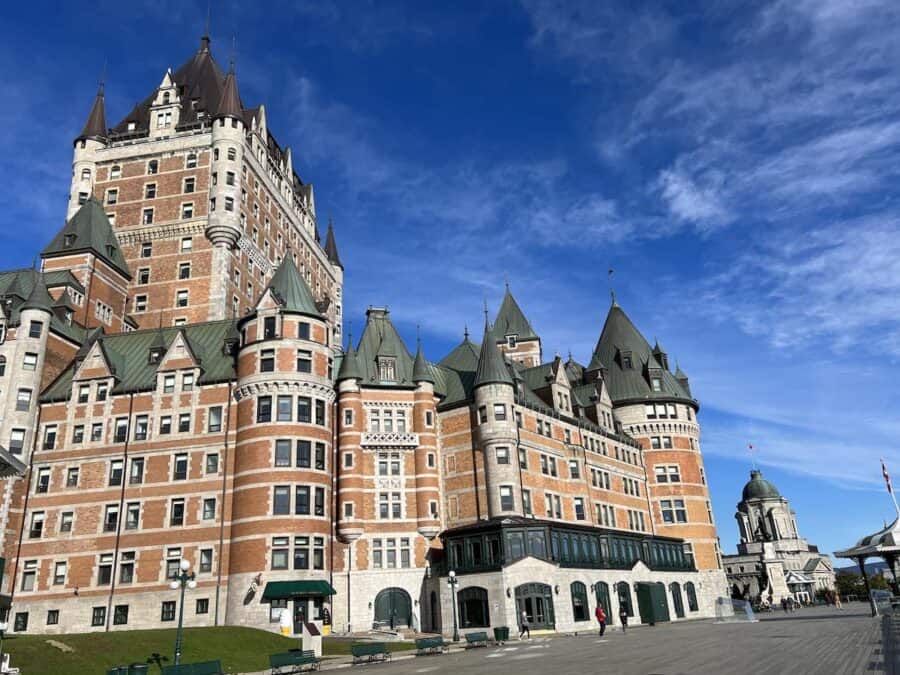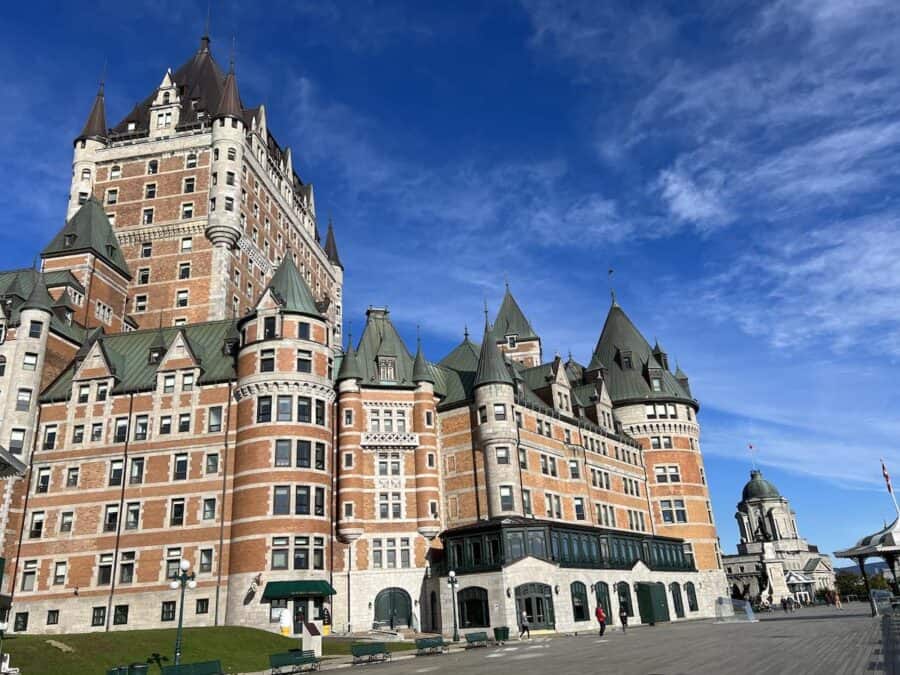 The lavish breakfast buffet at Fairmont Le Château Frontenac. features many of Quebec's locally made specialty cheeses.
Some cheese recipes, such as ricotta-like La Faisselle, date back to the 1600s when the first French settlers arrived. They're especially delicious paired with crusty bread and drizzled with sweet honey sourced from beehives on Château Frontenac's rooftop.
Check prices and availability of a one-hour guided tour of the Fairmont Le Château Frontenac on Viator.com.
After breakfast, stroll along Dufferin Terrace to soak up the stunning views of the St Lawrence River and surrounding area.
This long wooden promenade has been delighting visitors since 1838 and you'll find plenty of street entertainers performing there in the spring and summer months.
Mid-Morning Tour of Vieux Quebec
The best way to learn about the history of Québec is to join a walking tour of Old Québec.
Most historical walking tours of Vieux Quebec and Hop-On, Hop-Off Bus Tours begin near the Tourist Information Centre on Place D'Armes beside the Fairmont Le Château Frontenac.
This public square anchored by a graceful Gothic fountain is the hub of Old Québec. We recommend Cicerone Tours for your guided walking tour of Vieux Québec.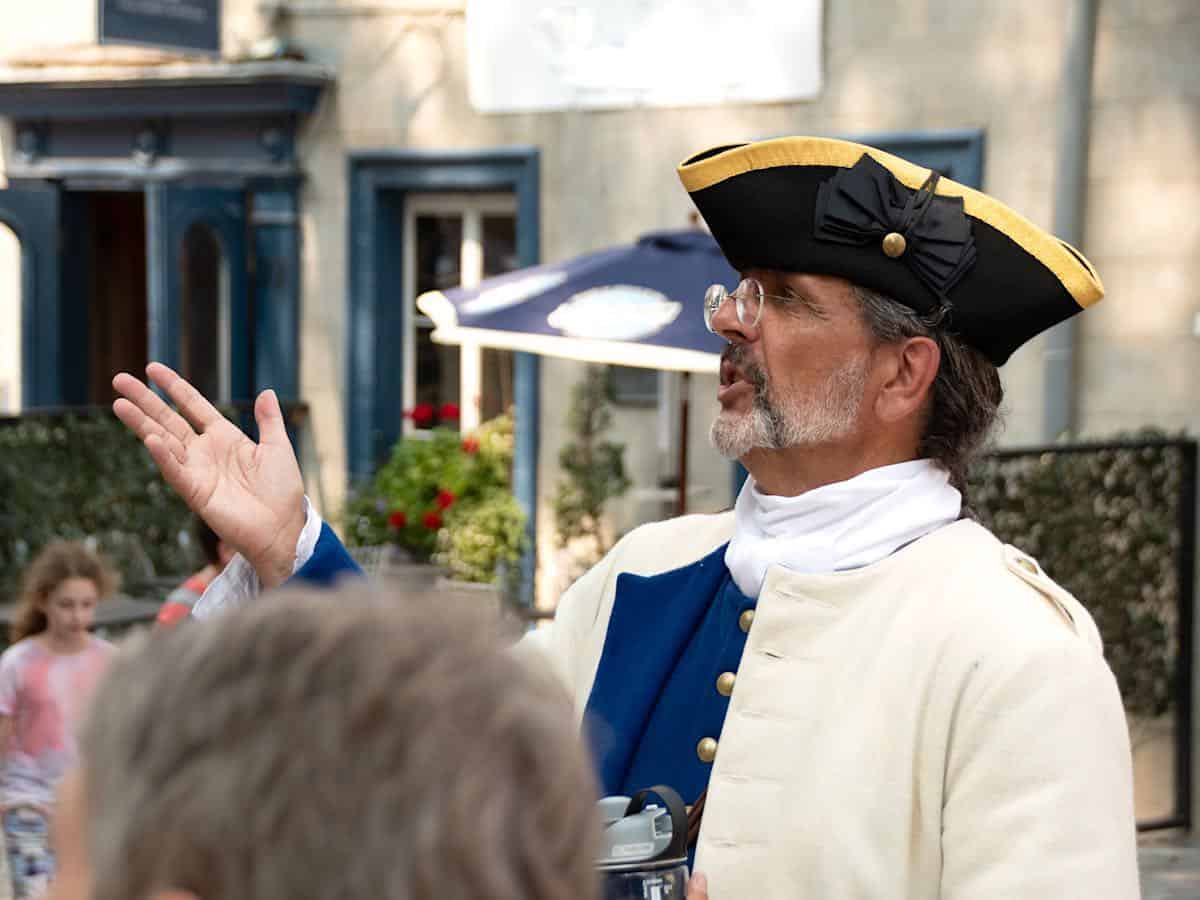 Not only do their costumed re-enactors bring history to life by sharing stories about early settlers but they'll cover 400 years of Québecois history along the way.
Attractions include the city fortifications, the basilica of Notre-Dame-de-Québec, Place Royale (the place where Samuel de Champlain founded Québec City in 1608) and Notre-Dame-des-Victoires, the oldest church in North America.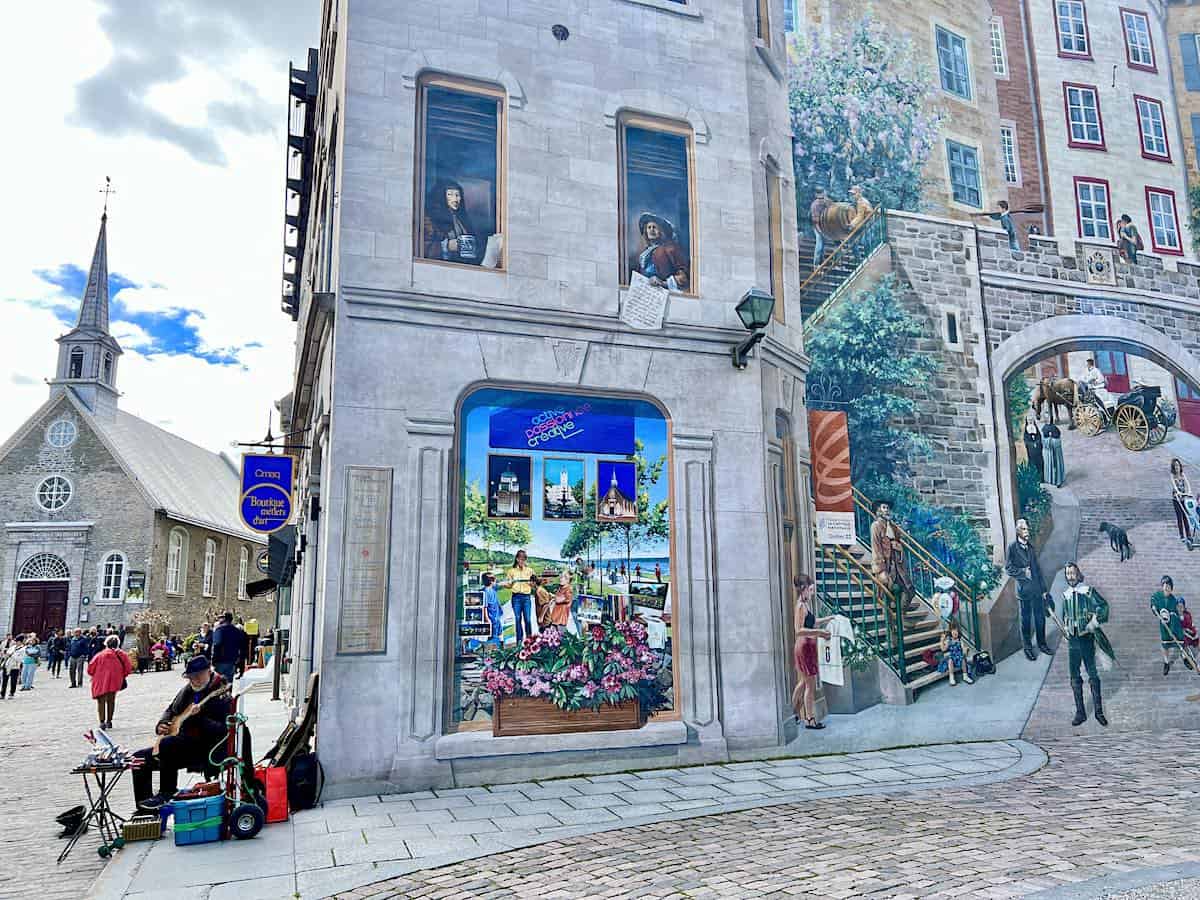 You'll also encounter a wealth of public art, both historic and contemporary. While the popular Umbrella Street is no more, the PASSAGES INSOLITES public arts circuit features playful, irreverent art installed in and around Quebec City in the summer.
By the time you reach the famous fresco in Petit-Champlain, you're probably in need of refreshment.
So, make your way back to Upper Town to continue along the route of this one-day itinerary.
⭐️ Pro Tip: Take it easy by riding the Funiculaire du Vieux-Québec (Google Map), a vertical railway that first carried passengers in 1879.
Not only will you save some thigh-burning step-climbing but the views the Petit-Champlain 'hood, the St. Lawrence and Place Royale are incredible as you travel up the 195 feet.
Once you arrive in Upper Town, head to La Maison Smith Cafe (9 Rue Jardins) to enjoy a cup of their fabulous artisanal coffee paired with the most buttery and flaky croissant you'll find outside of Paris.
After your jolt of java, you'll be revived and ready to continue your one-day tour of Québec City.
So walk through the gates of Vieux-Québec and head west along Rue St. Louis to Battlefields Park. This National Park is as important to Québec City as Stanley Park is to Vancouver.
⭐️ Insider Tip: Enroute, if you have time it's worth seeing Québec from a very different angle! Travel up the 221m tall Observatoire de la Capitale (Google Map) to the 360° viewing gallery.
This offers the highest and best view of the city, and is a must-see for your one day in Québec City.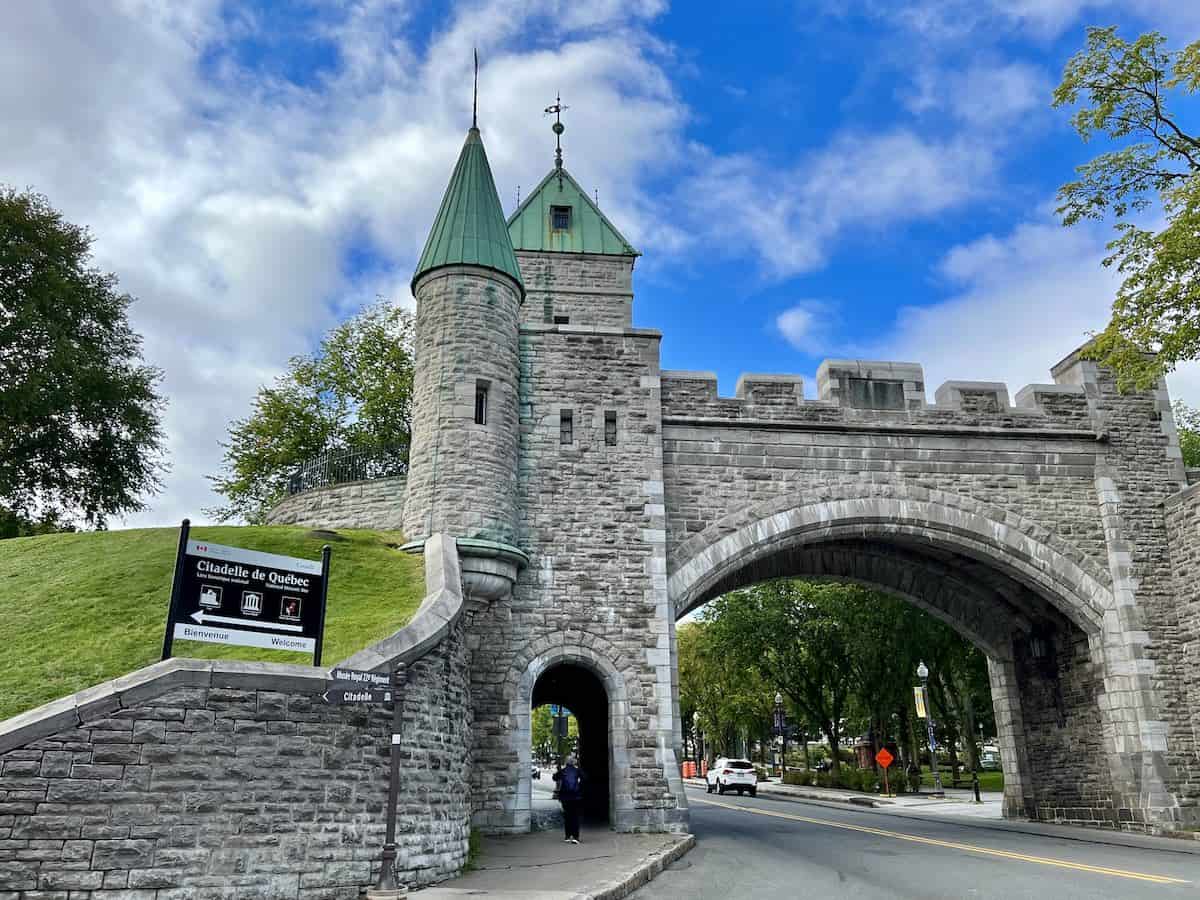 The Plains of Abraham Museum is the gateway to the park. Inside the museum, you'll find plenty of permanent and temporary exhibitions to choose from.
You'll learn about the Battle of the Plains of Abraham in 1759 and how British troops led by General James Wolfe scaled the cliffs of Quebec to defeat French troops led by Marquis de Montcalm.
This led to the surrender of Québec to the British and shaped Canada today.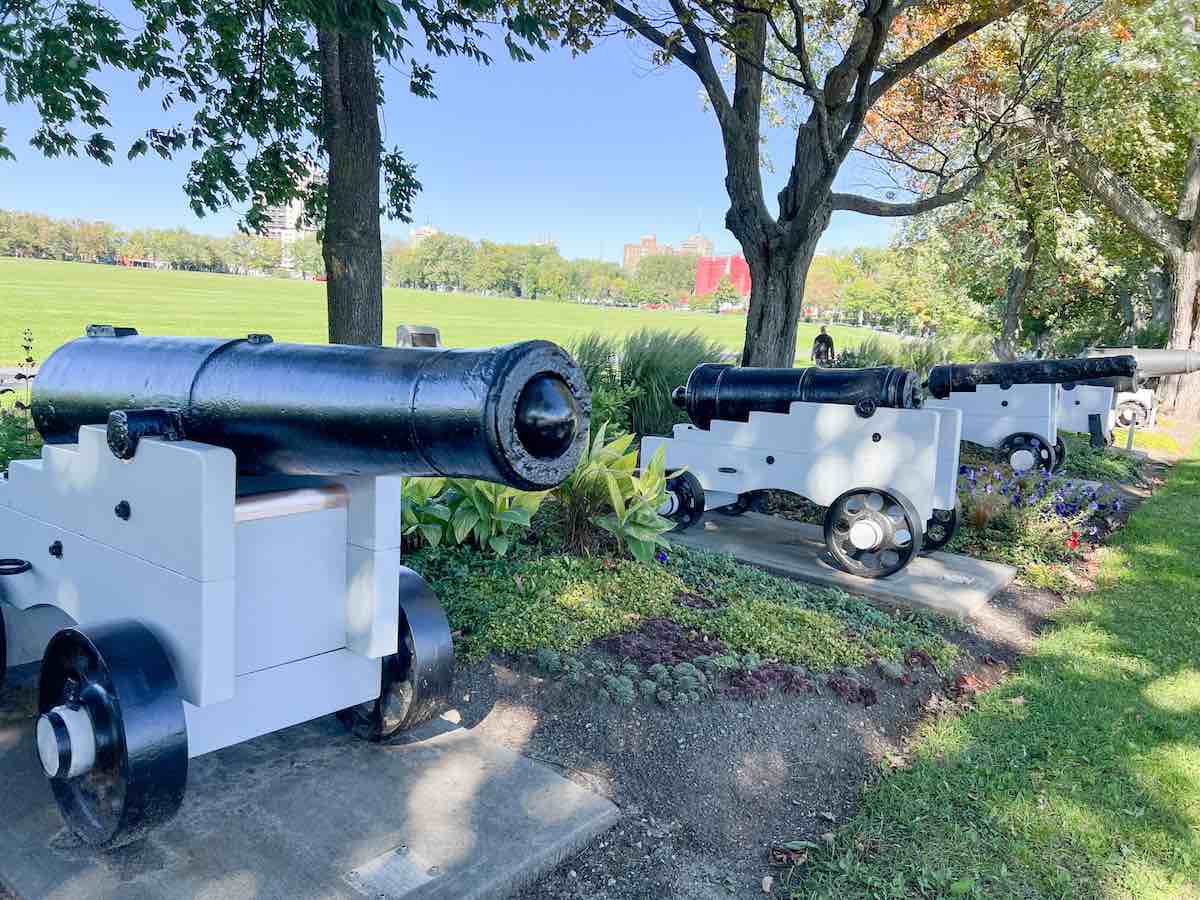 It's nearly lunchtime now, but there's time to browse through the historic and contemporary art exhibits at the Musée National des Beaux-Arts du Quebec (179 Grande-Allée Ouest) in Battlefields Park.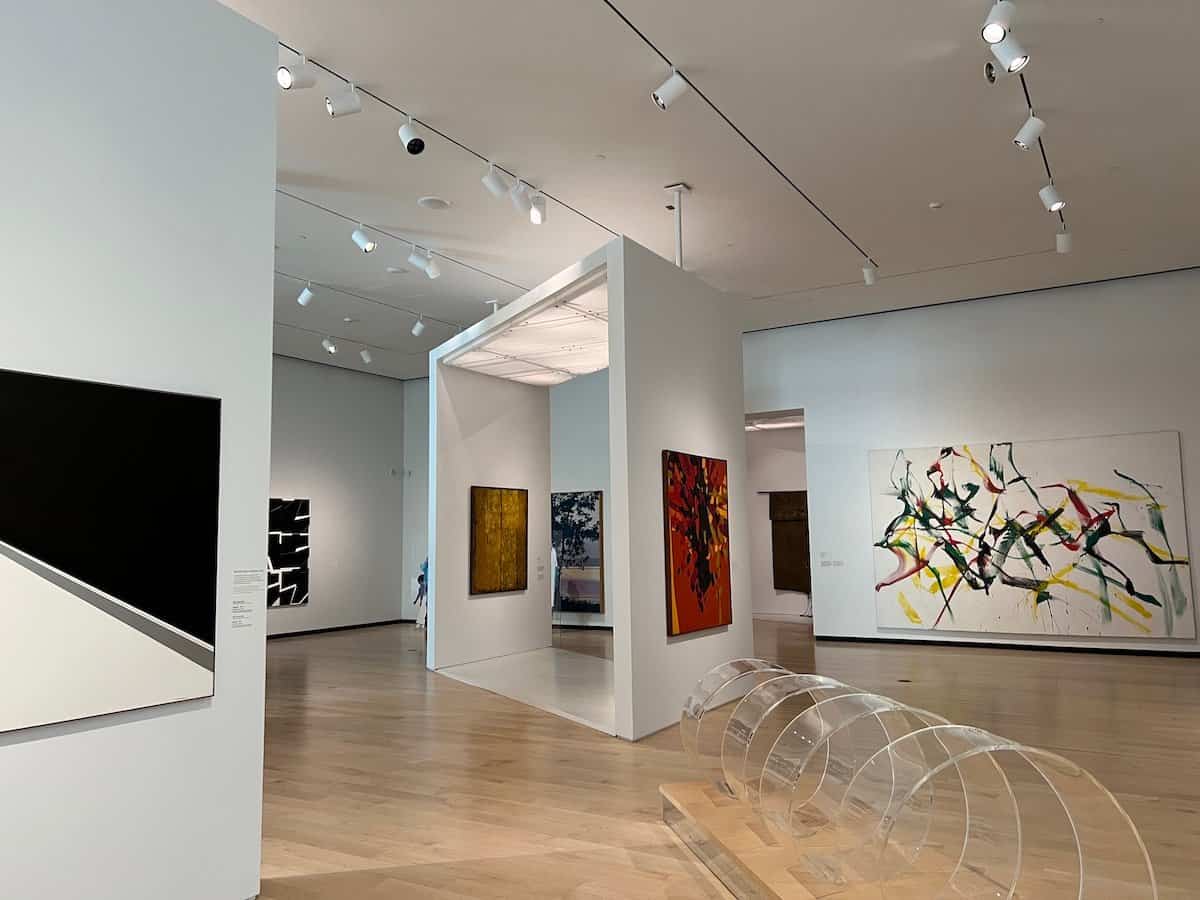 Its four buildings (including the soaring modern Pierre Lassonde Pavilion) are filled with 40,000 art works dating from the 17th century to contemporary times.
⭐️ Pro Tip: Exploring the museum's vast collection is a top thing to do on a rainy day in Québec City.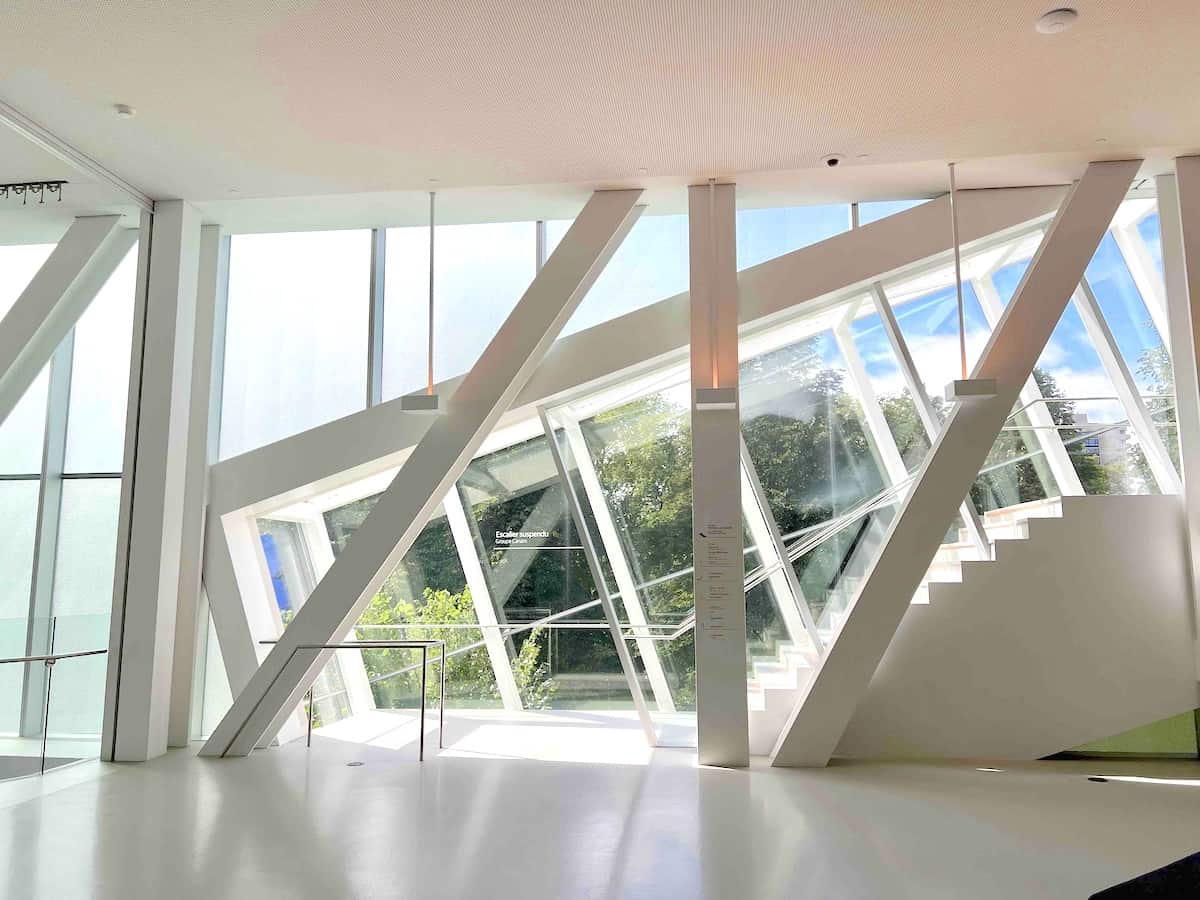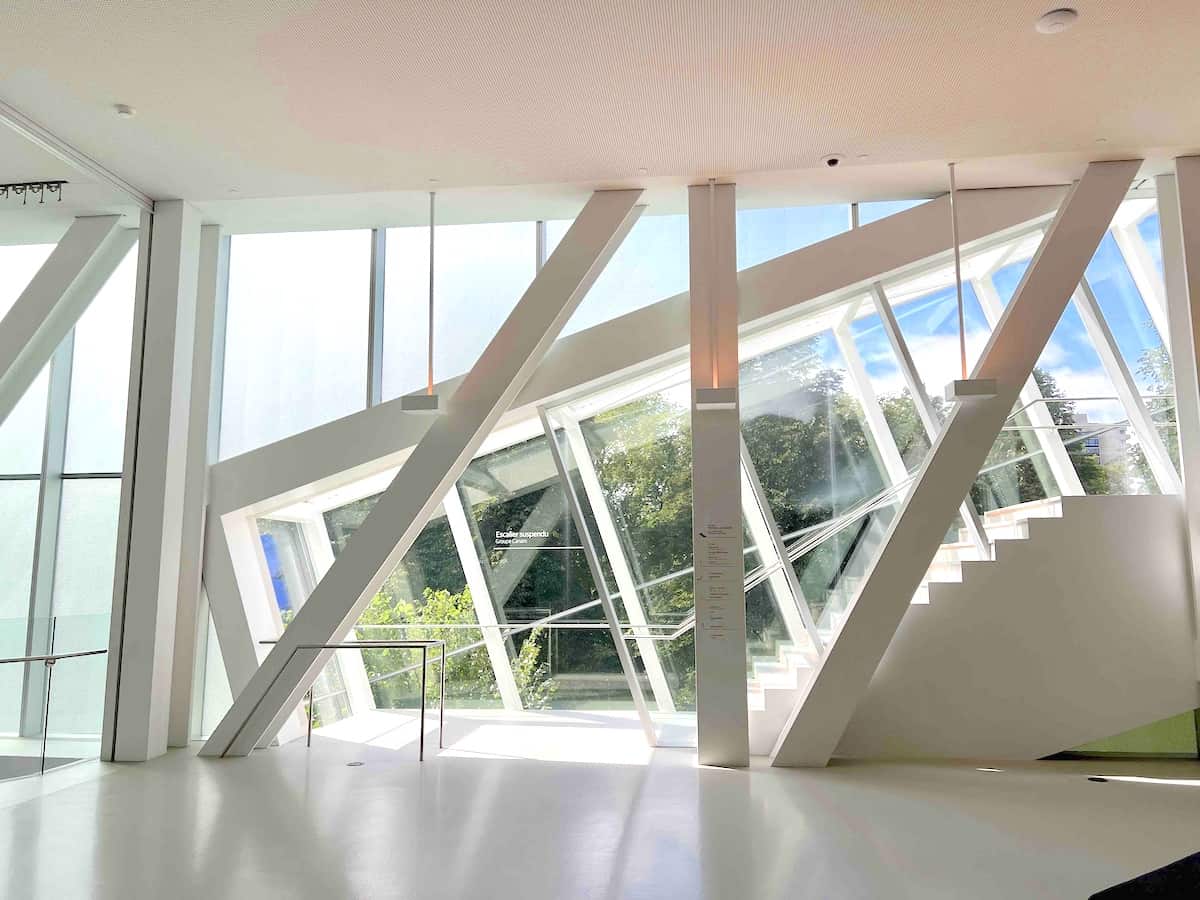 Lunch at Café Quebecor par Laurent Godbout
Plan to enjoy lunch at restaurant Café Quebecor par Laurent Godbout located within the MNABQ.
The menu created by the acclaimed Quebec chef and author features Mediterranean-inspired regional Québécois cuisine with locally-sourced ingredients such as boudin with caramelized onions, smoked trout and duck.
The terrace facing the leafy park is lovely on a summer day. The craft beer menu is among the best you'll find anywhere. Reservations recommended.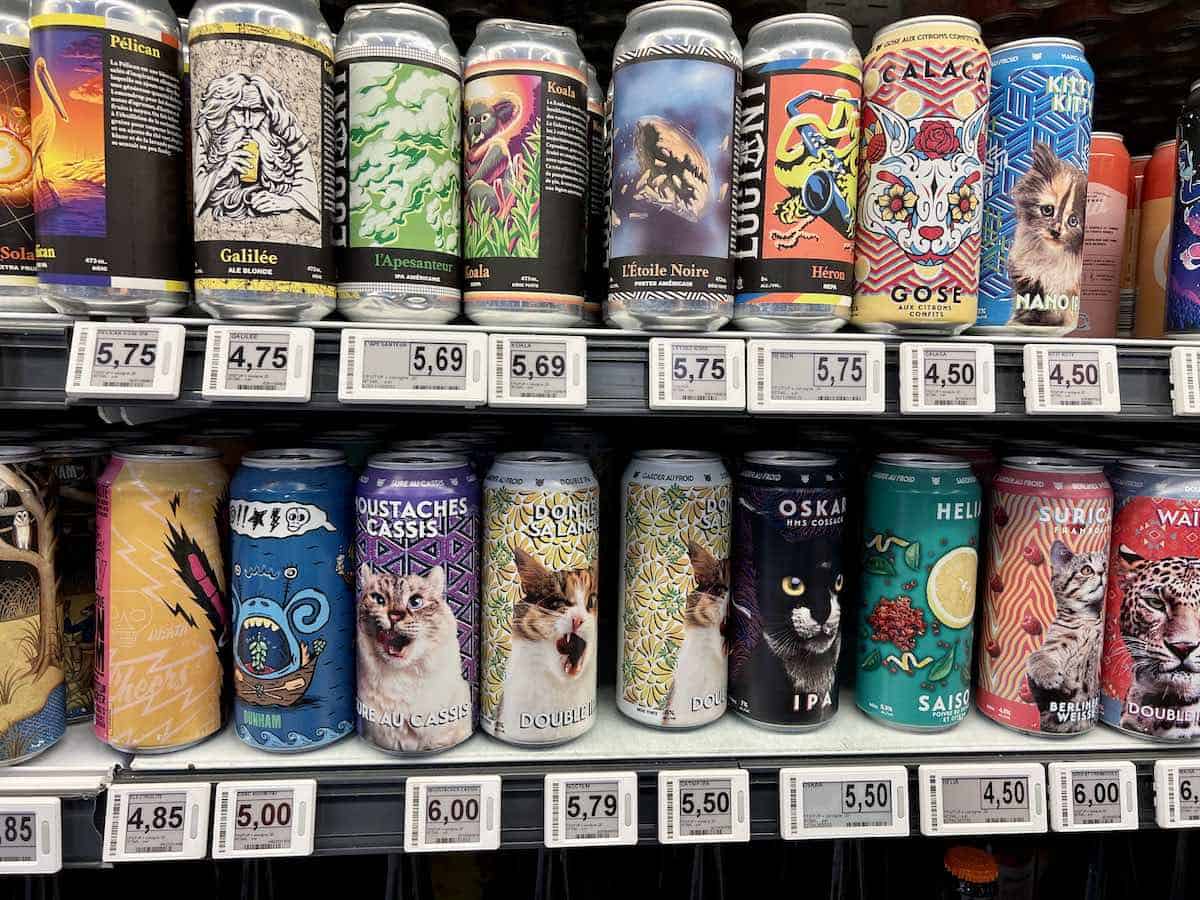 Afternoon – Neighbourhood-Hopping in Montcalm and St. Roch
Ready for a little shopping? Your Québec City itinerary continues in the upscale but bohemian Montcalm neighbourhood, which is full of stylish boutiques, independent bookstores, museums, art galleries and bistros.
You only have a little time to browse but it's worth taking your time to soak up a bit of this neighbourhood's artsy community spirit.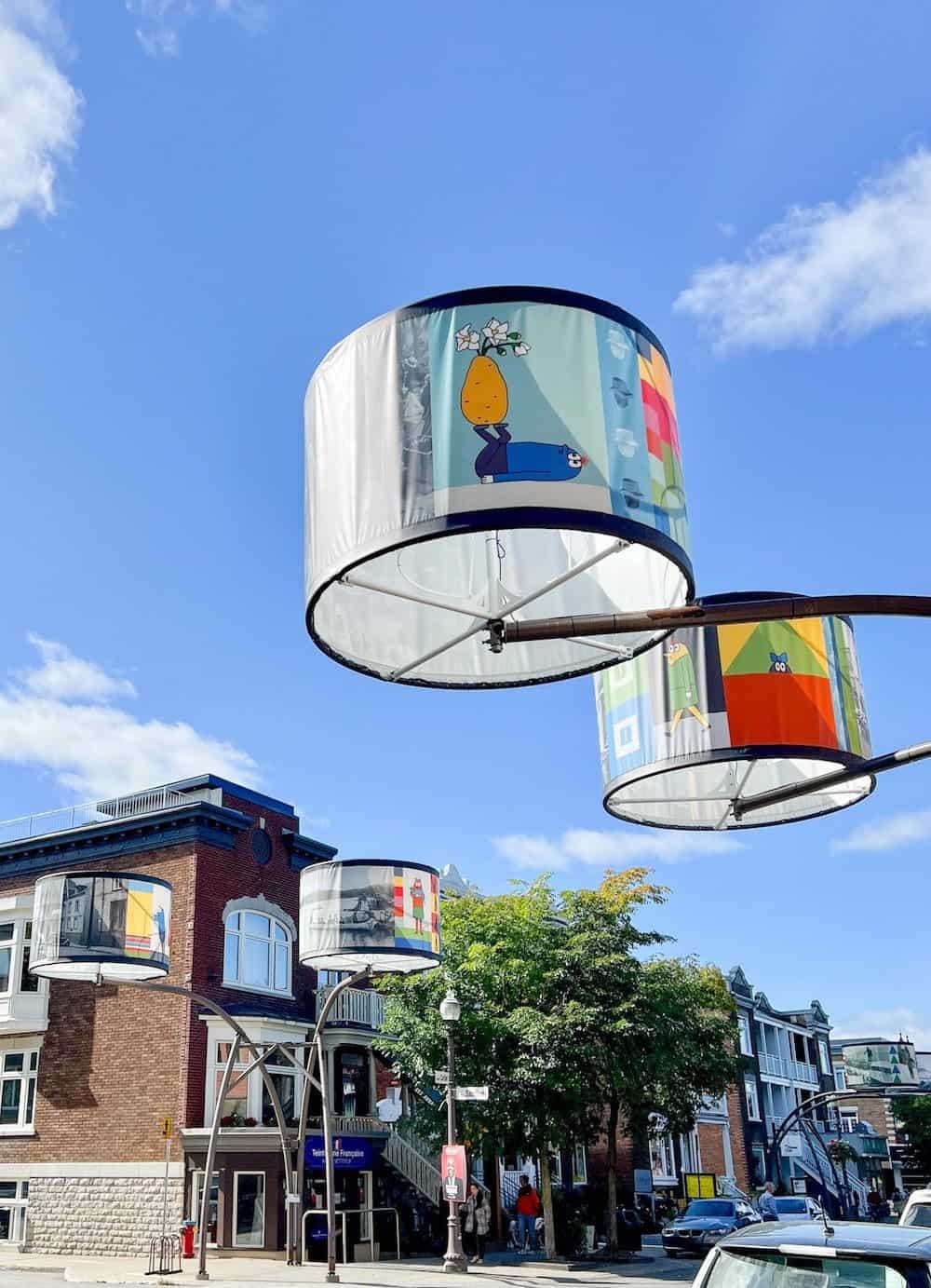 In summer, Avenue Cartier converts into a charming pedestrian-only street.
Be sure to pick up some sweets at Les Confiseries Pinoche (Google Map) or Chocolats Favoris, beloved for its artisanal ice-cream, a desserts and sustainably-sourced cocoa treats.
For a jolt of java, pop into Café Castelo (807 Avenue Cartier).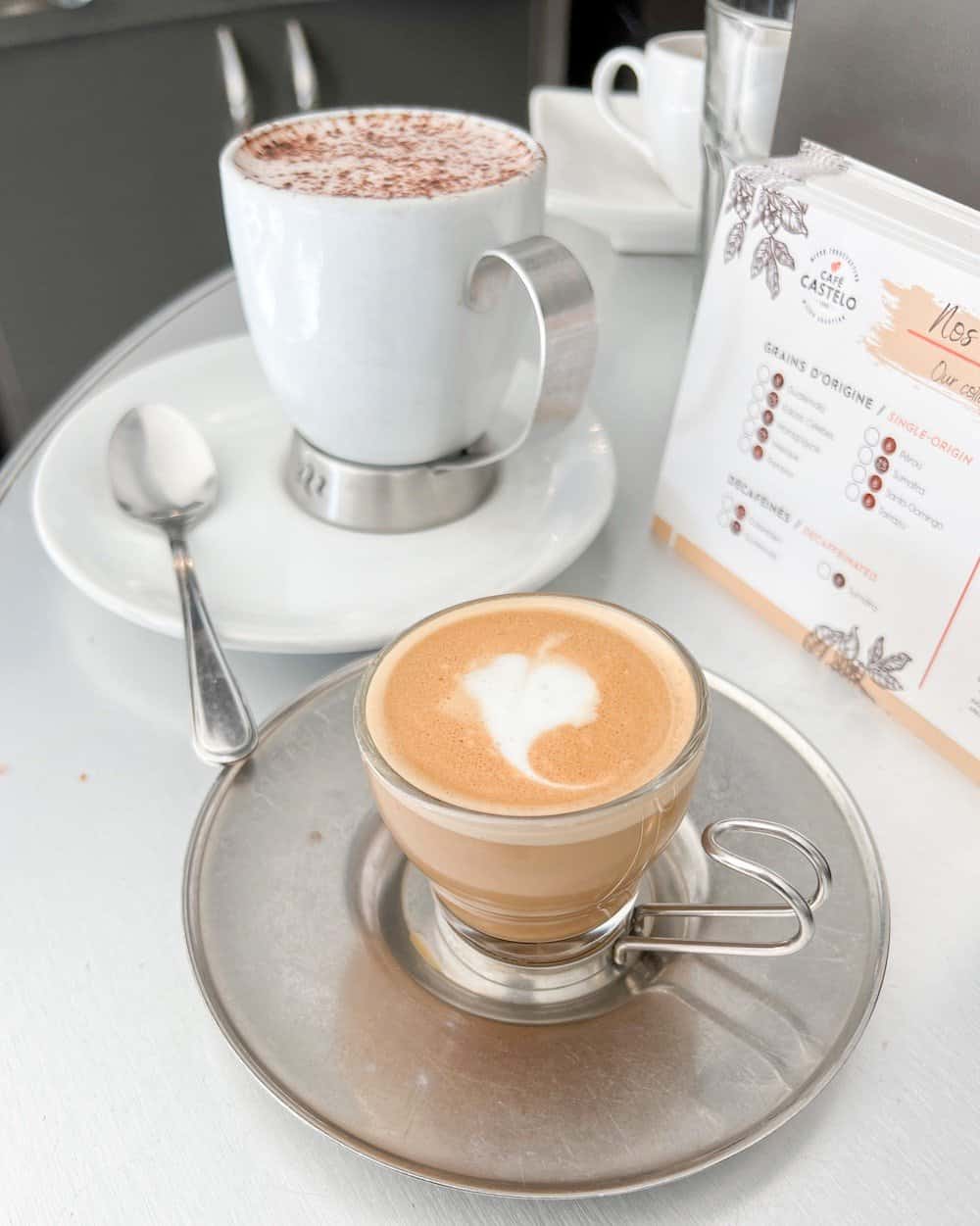 This independent, micro coffee roasting house features a wide range of single-origin beans sourced from around the world, including our favourite plantations in the highlands of Guatemala.
Continue your stroll down Avenue Cartier, heading towards Boulevard Charest East in trendy Saint-Roch.
Take note of the historic public staircases, such as Escalier Colbert (Google Map), that connect the Upper and Lower Town.
They're part of a series of 30 steep stairways that have been built linking the two zones over the years. Breakneck Stairs, the oldest, dates back to 1635!
Mid-Afternoon – A Micro-Distillery Stop
Next up is one of the most unique things to do on a one-day itinerary of Quebec City. It's the opportunity to sample some artisanal honey mead at Apikol Distillery & Meadery, located at 627 Boulevard Charest E. (Google Map)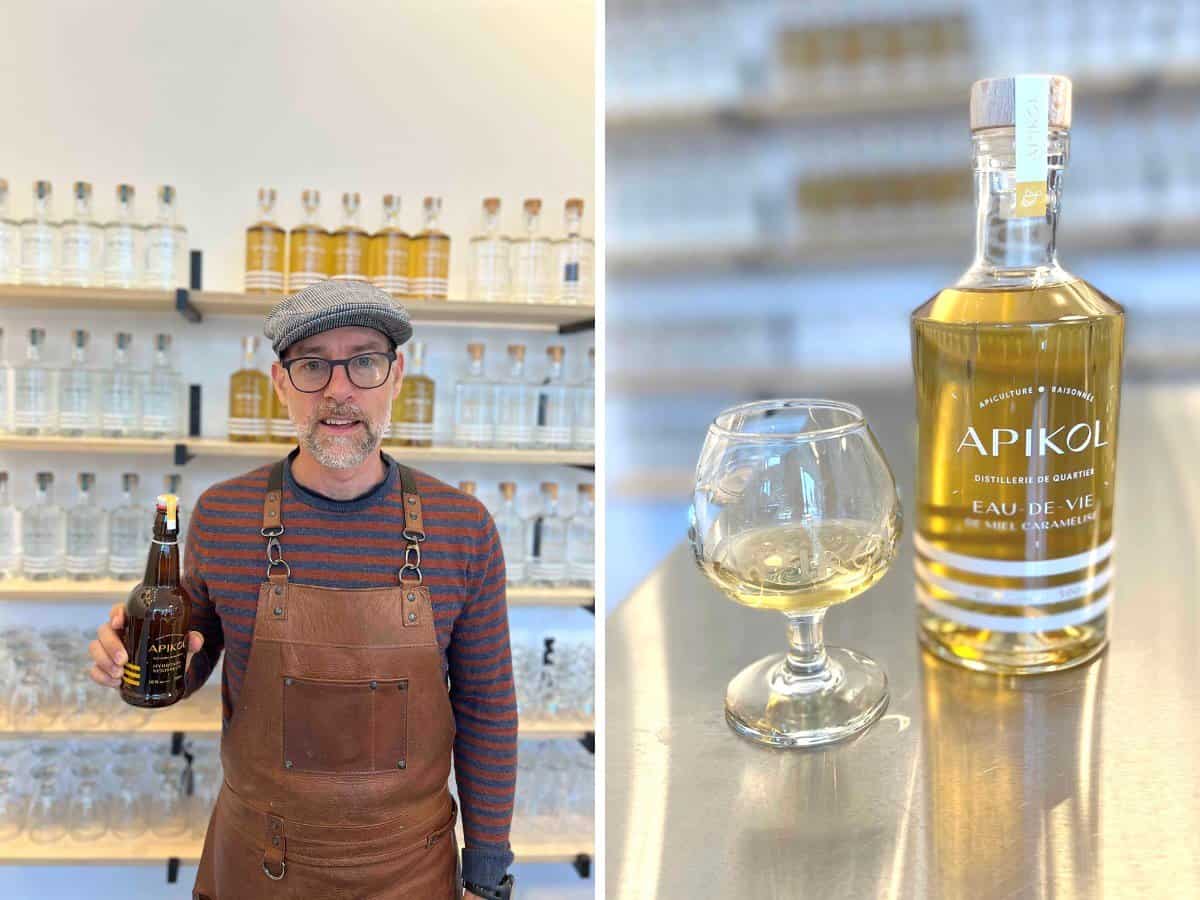 All of the products produced and distilled here are made from 100% pure honey. You can even see a beehive in action right on the premises!
Take a tour of the distillery or enjoy a tutored degustacion (tasting) of a flight of cocktails ($20 CAD) or spirits ($15). Here's what's on the tasting bar menu to discover:
the signature Apikol sip, a sparkling mead that's double fermented and very refreshing.
a delicate gin featuring Québec herbs and botanicals.
a smooth vodka made of all-flower honey.
a caramelized honey brandy aged in oak barrels. It would be perfect in this honey chamomile whisky cocktail.
a raspberry brandy sweetened with ripe Quebec berries.
⭐️ Foodie Tip: These unique urban agriculture products make wonderful souvenirs and gifts for friends at home.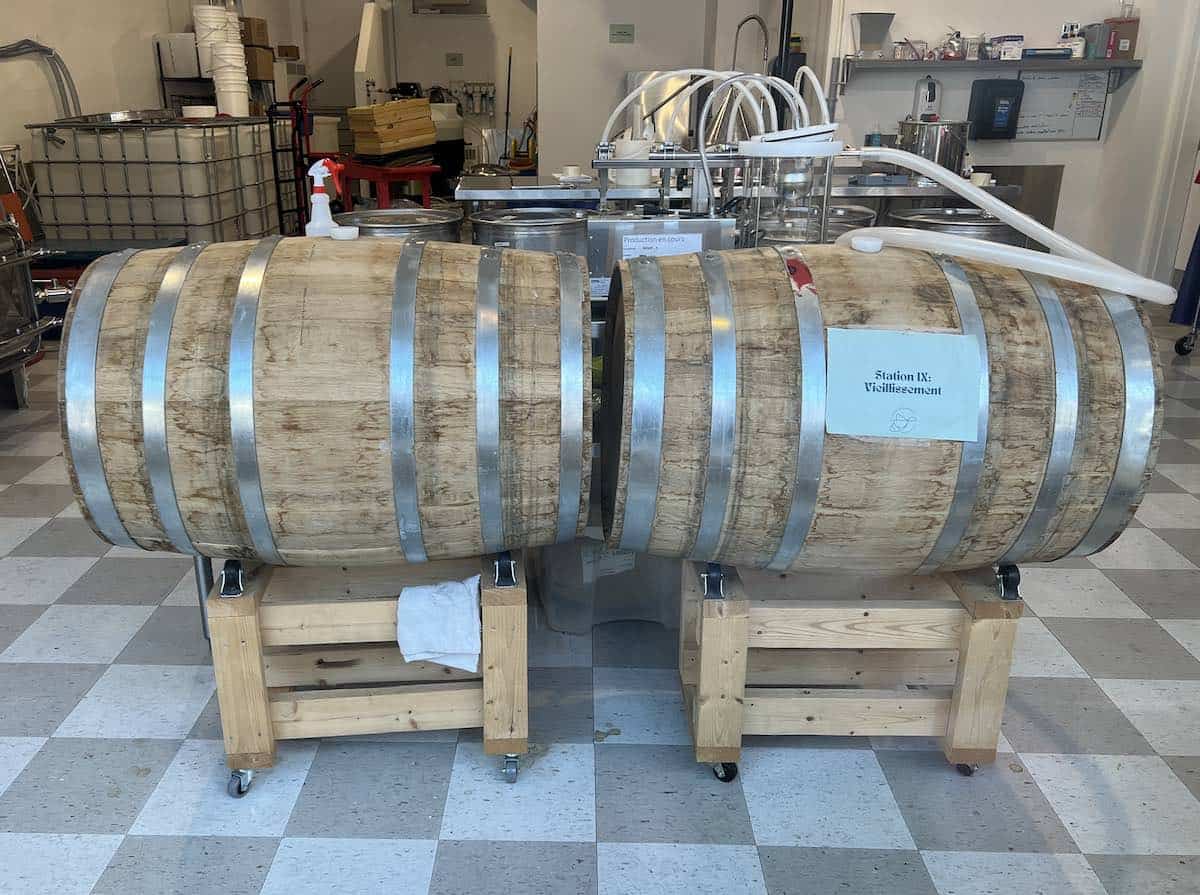 It's nearly evening now, but there's time to check out Saint Roch Church, which is Québec's largest church and was built between 1914 and 1923 in the Gothic Revival style.
Take a peek inside its Romanesque Revival interior, which features Saskatchewan marble containing visible fossils.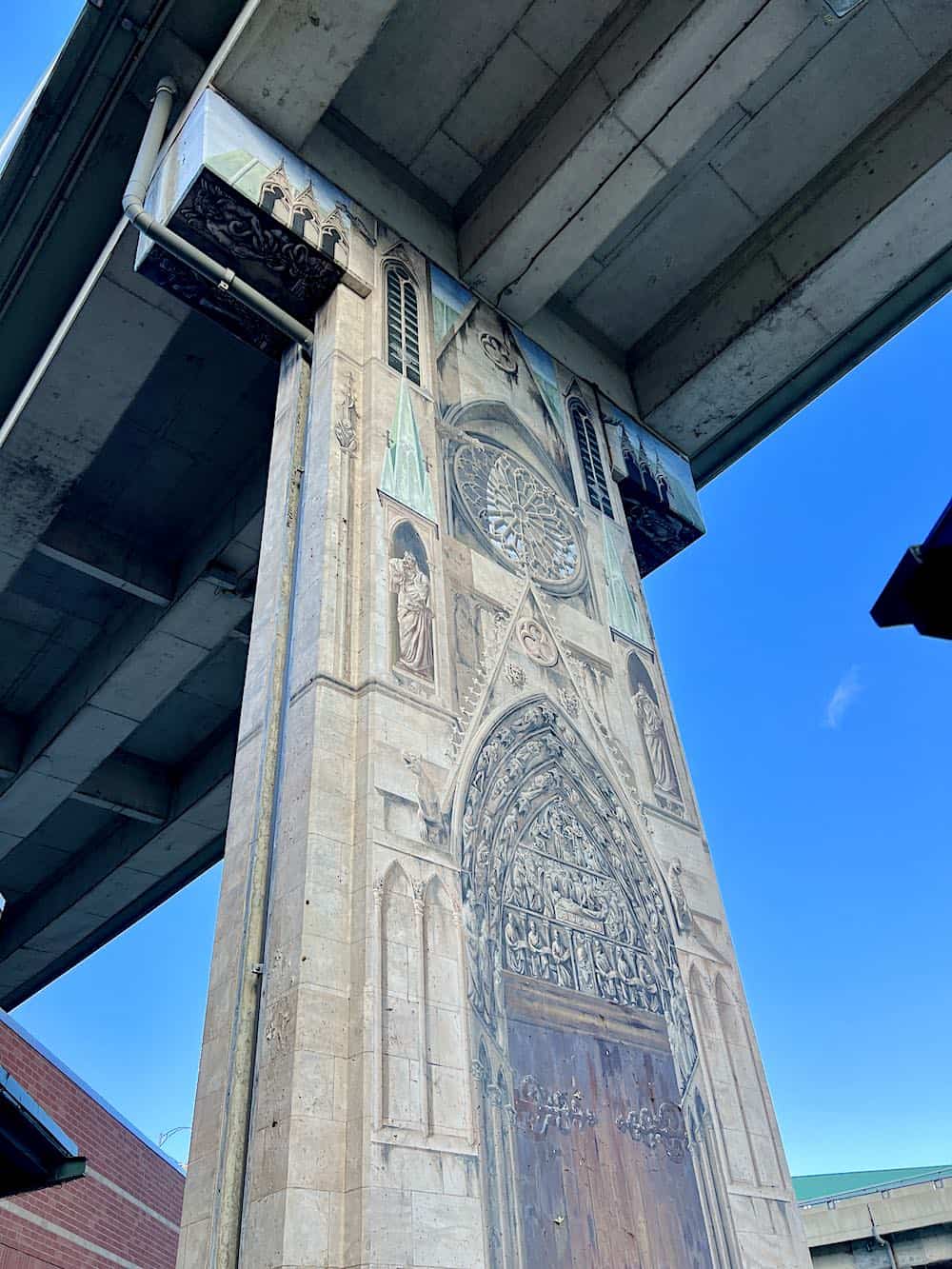 Finally, head back towards the Port area, passing by several fantastic works of public art as you stroll along Boulevard Charest. There's even artwork on the highway underpass.
It's a totally free arts crawl!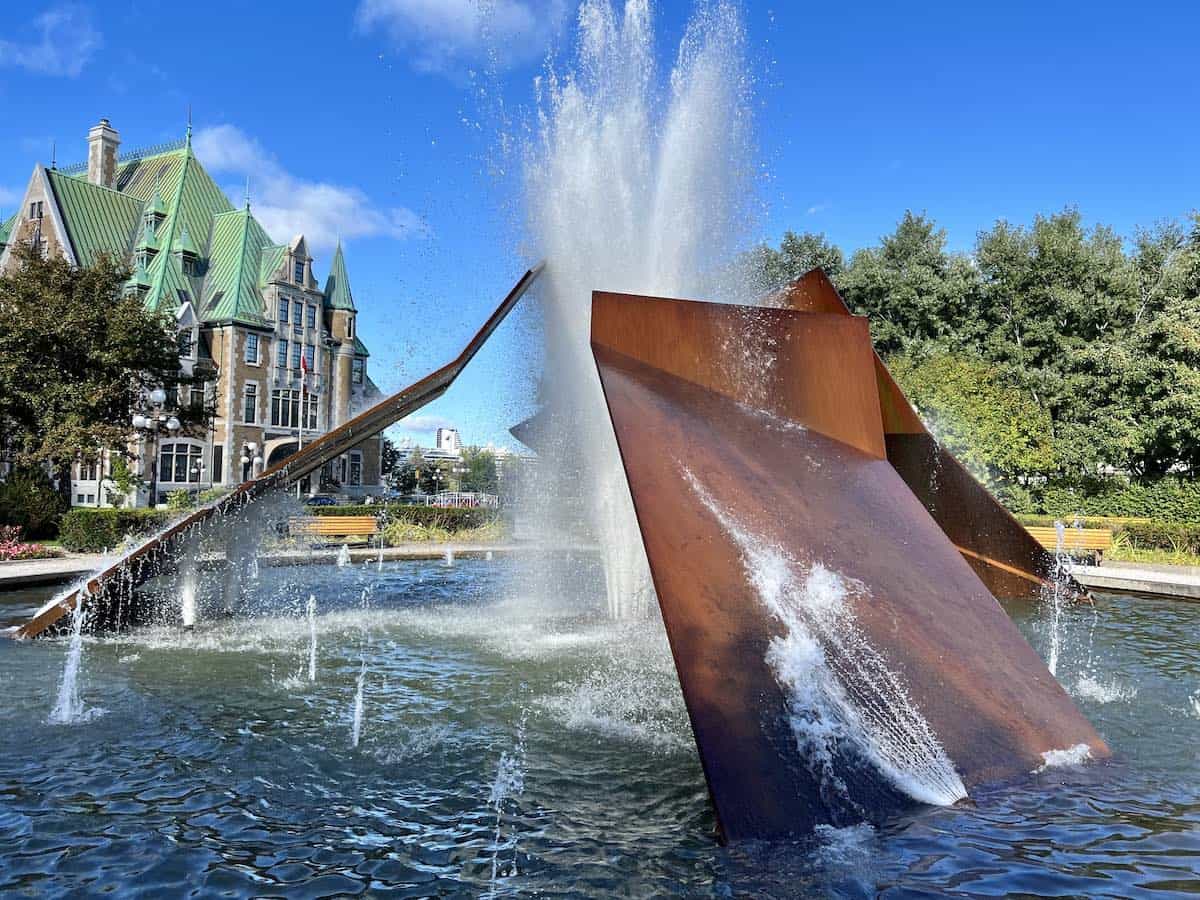 Rest a while on the benches at the Place Jean-Pelletier fountain in the square in front of the Gare du Palais (Google Map) the Via Rail and bus station built in 1915 in the Châteauesque style.
Circle back along Rue Saint Jean until you reach Fairmont Le Château Frontenac and the Tourist Office at Place D'Armes.
Cocktails, Dinner and Nightlife in Quebec City
As evening approaches, it's not yet time to wind down. Québec City is renowned for its food scene, so you're going to want to soak up as much of the city's joie de vivre as you can.
Its cuisine reflects French, British, and Indigenous influences and capitalizes on the bounty of its agricultural riches much of it sourced from nearby Ile d'Orleans, often called the food basket of Québec City.
Begin your evening with cocktails on lively Rue Saint-Jean. This pedestrianized street has loads of restaurants, outdoor terraces and bars to choose from.
For a taste of contemporary Québec cuisine stop at Le Bedeau, a stylish wine bar (Google Map) with a tapas menu featuring Quebec ingredients.
Choices include tartare de boeuf and fennel paired with an organic Erbatino wine of Sicily, local burrata cheese and honey with a white from the Loire Valley and more.
Follow drinks with dinner in a cozy restaurant. For Italian fare, Portofino Bistro (54, rue Couillard) is located in a building built in 1759 and often has live music.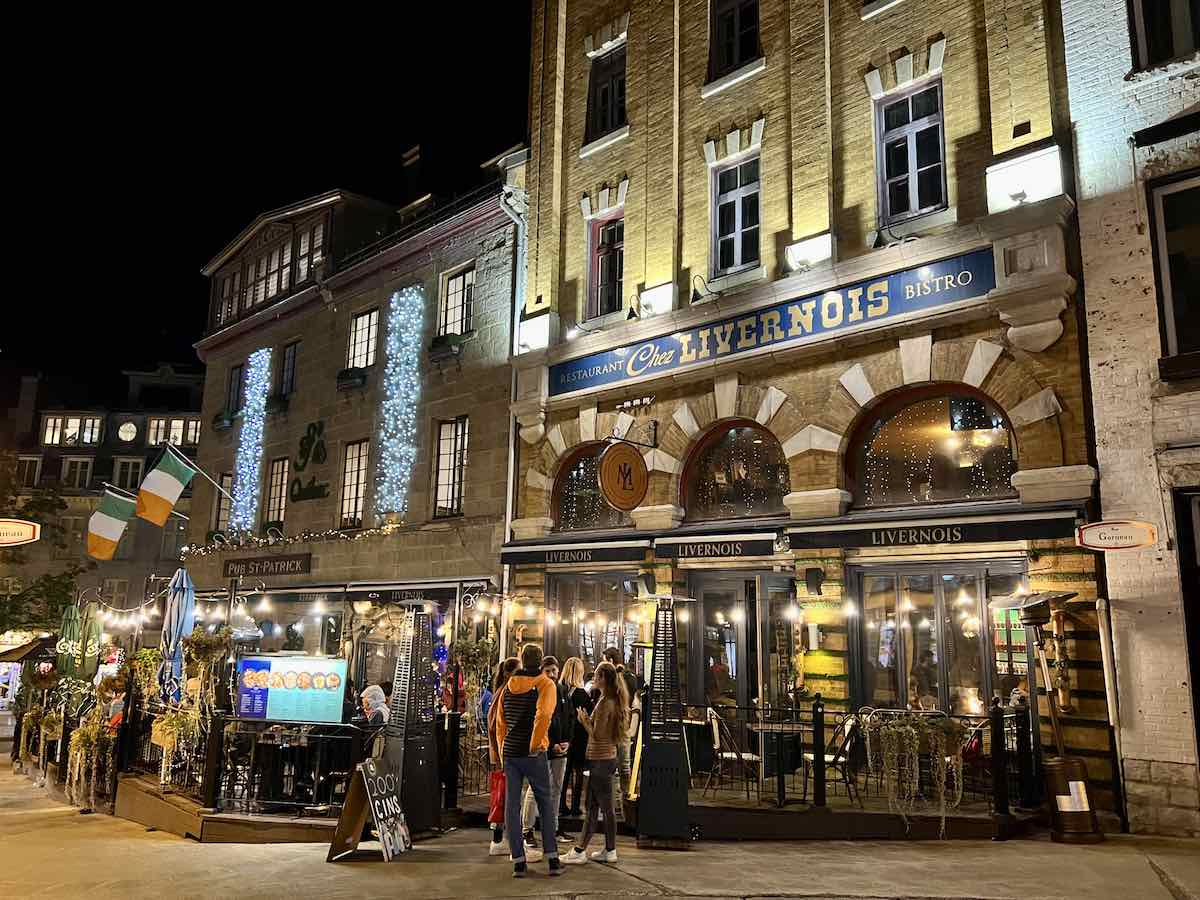 Or to dive into the flavours of traditional French-Canadian fare, take a guided Gourmet Walking Tour that features five courses with wine pairings at top restaurants.
For casual Quebecois fare such as tourtières, pea soup and swoon-worthy pastries head to family-owned Paillard, a popular café-boulangerie (Google Map).
Finally, it's time to wrap up your exhilarating one day in Quebec City. Allow the welcoming crowds to draw you into a bar de chansonniers, restaurant with live traditional music, on rue Saint-Jean.
The toe-tapping melodies of Quebecois fiddle is sure to linger in your memory long after your return home.
Make This a 2-Day Quebec City Itinerary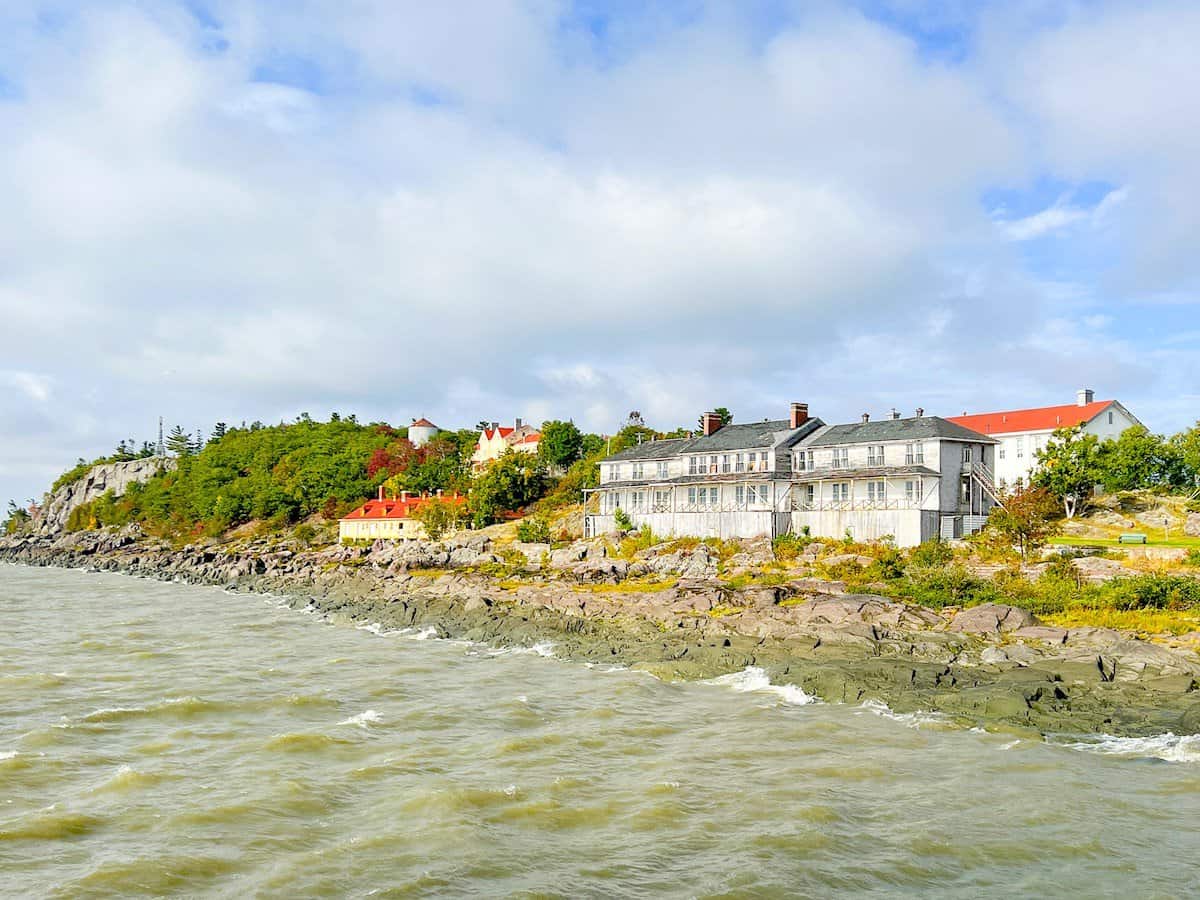 While one-day is enough to give you a taste of Québec City's unique personality and charm, it's possible to spend a weekend (or longer) and still not be bored.
If you have extra time, make your trip into a weekend or two-day visit to Québec City by adding a few of the following top things to do:
Getting Around: Quebec City is both walkable and safe for pedestrians. Wear comfortable walking shoes to navigate the cobblestone streets and uneven surfaces.
Rideshare services such as Uber and Lyft are available in Quebec City. Taxis are another good option.
If you're not taking a guided tour, you'll need to rent a car to explore beyond Québec City.
More Information: Plan your trip, get maps and more at the official Québec City Tourism Website.
Where to Stay: The Fairmont Le Chateau Frontenac is a world-renowned landmark hotel with resort amenities including a fitness centre, swimming pool and outdoor terrace. Located at the top of Cap Diamant in the heart of Old Québec it's a symbol of Québec City and French Canadian hospitality.
It's ideally located for exploring Quebec City attractions. But, It's also surprisingly easy to access by car if you're planning day trips.
Check rates and availability of Fairmont Le Château Frontenac on Booking.com.
Trip Planning Resources and FAQs
Visit the official Destination Québec cité – Destination Quebec City tourism website to plan your time in Quebec City.
Is One Day Enough for Quebec City?
If you manage your time wisely in the museums, one day in Quebec City is enough time to see the major sights and attractions in Upper and Lower Town. You'll also have time to enjoy a Quebecois lunch and experience some of its vibrant unique neighbourhoods.
What are 3 Things You Should Do if You're a First-time Visitor to Quebec City?
The top three things to do in Québec City include walking the cobblestone streets of Old Québec, enjoying the views of the mighty St. Lawrence River and impressive Château Frontenac on Dufferin Terrace and journey through history at Battlefields Park, site of the pivotal 1759 battle between French and British troops.
Is Quebec City Worth a Day Trip?
Quebec City is definitely worth a day trip. Old Québec is a UNESCO World Heritage Site with 400 years of history and the only walled city north of Mexico. It's home to a distinct Francophone culture that's reflected in its language, architecture, music and cuisine.
Other Fantastic Canadian Cities to Visit
Save to Pinterest!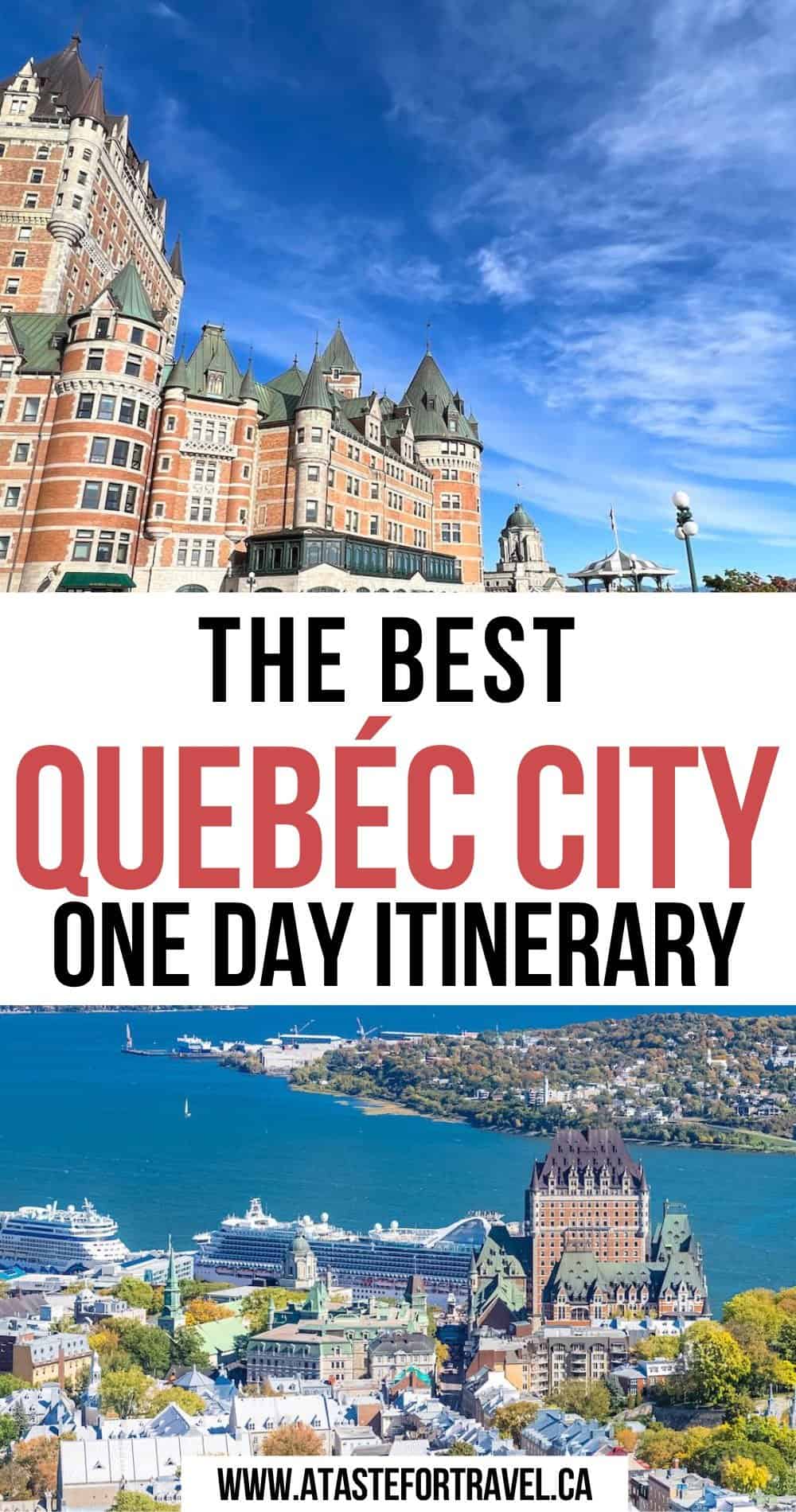 Dividing her time between Canada, Guatemala and Mexico (or the nearest tropical beach), Michele Peterson is the founder of A Taste for Travel. Her award-winning travel and food writing has appeared in Lonely Planet's cookbook Mexico: From the Source, National Geographic Traveler, Fodor's and 100+ other publications.
Read more about Michele Peterson.