We may earn income from links in this post. Please read this Disclosure for details.
Looking for an unforgettably posh vegan afternoon tea in Victoria? On a layover during a recent Taiwan press trip, I wanted to visit my daughter who had recently moved to Victoria and treat ourselves to some seriously posh pampering before I headed home to Montreal.
Served in the glamorous Lobby Lounge at the Fairmont Empress Hotel, the deliciously decadent Vegan Afternoon Tea was a highlight of our Mother-Daughter reunion in Victoria.
High Tea vs Afternoon Tea – What's the Difference?
If you're looking for high tea in Victoria, it's important to understand the difference between High Tea and Afternoon Tea.
When most North Americans think High Tea, they think of the three-tiered fancy china set with the dainty sandwiches, scones and goodies served in the mid afternoon. That's actually a traditional Afternoon Tea, originally enjoyed by high society.
High Tea as it's known in the UK also features a warm, hearty dish such as a casserole, baked beans or fish and is more of a working class experience served around 5 pm. It's a common misconception to confuse the two.
Although "Afternoon Tea" doesn't sound nearly as fancy as "High Tea", when it comes to a posh afternoon tea featuring a mix of sweet and savoury treats, it doesn't get much fancier than Afternoon Tea at the Fairmont Empress Victoria.
If you're looking for high tea at the Empress, it's known as Afternoon Tea and has a long and illustrious history.
Featuring an iconic chateaux-style architecture, the Fairmont Empress opened in 1908 and in June 2017, wrapped up a $60 million restoration that preserves its proud history yet vaults the hotel into a modern era of luxury. Served daily since opening, Tea at the Empress is served in the glamorous Lobby Lounge.
It also happens to be the top spots for vegan afternoon tea in Victoria. Even if you're not vegan, afternoon tea at the Empress is definitely one of the top experiences to include on any foodie trip to Victoria.
Best Vegan Afternoon Tea in Victoria
I had heard great things about the Afternoon Tea at the Fairmont Empress Victoria but was concerned that they might not be able to cater to my daughter's vegan diet. Turns out I had absolutely nothing to worry about.
Surprisingly, although the tradition of serving Afternoon Tea goes back to 1908 at the Empress Hotel Victoria, they are very contemporary and up-to-date with modern trends in dietary needs.
Their thoughtful menu can cater to up to 32 different dietary restrictions including sugar-free afternoon tea, gluten-free afternoon tea, vegetarian afternoon tea, dairy-free…you name it, and still offer a delicious array of tiers fit for royalty.
In fact, our tea sommelier server had actually personally served Queen Elizabeth II there a few years ago.
I ordered the regular afternoon tea and their special new blend of tea dedicated to Meghan Markle, now the Duchess of Sussex. Served on their custom-made china, it was beyond excellent … decadently delicious and very filling, too. Everything one would expect for this type of elevated experience. We felt very fancy indeed.
I was especially impressed by the creativity of the vegan selections on the vegan afternoon tea at the Empress Hotel.
If you're curious about the selections on other vegan afternoon teas, check out the menu of the Vegan Afternoon Tea in Stratford-Upon- Avon in the UK. You might also be interested in our exclusive recipe for vegan Kiwi and Coconut Milk Chia Pudding served on the menu at the Shangri-la Toronto's posh Afternoon Tea.
Menu Vegan High Tea at Empress Hotel Victoria
The vegan afternoon tea menu started with a scone made with strawberry lavender jam (locally sourced strawberries and lavender from the Empress Hotel's herb garden on the roof). The second tier consisted of four dainty sandwiches that included local heirloom Sun Wing English cucumber on rye, truffle artichoke and red pepper pinwheel on rye, Moroccan spiced eggplant on whole wheat, and carrot and cardamom on whole wheat.
Last but not least, the dessert plate consisted of dark chocolate bark, devil's coconut fudge cake, spiced wild berry tart, mango passion tapioca pudding and vegan shortbread.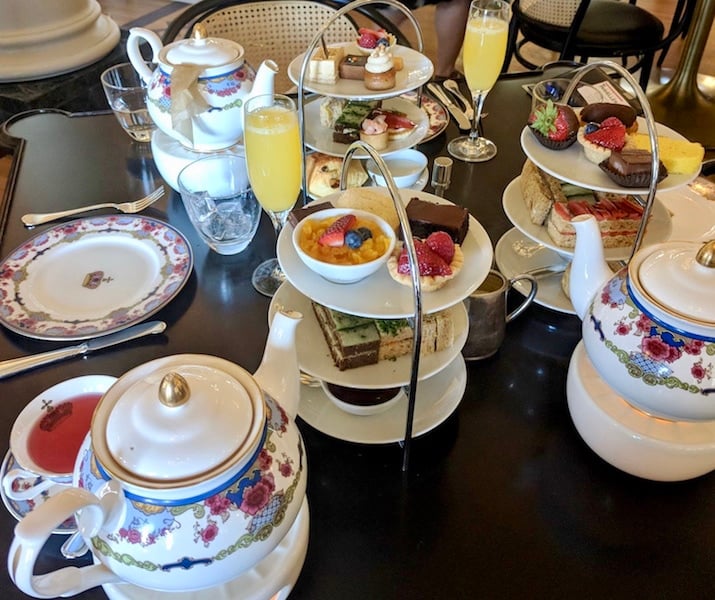 All of this was nicely paired with the Bella Coola organic herbal tea, which is light with a sweet taste of tropical pineapple. In total, there are 21 tea blends to choose from at the Empress Hotel Victoria. In addition to the original Empress blend created by the Metropolitan Tea Company and the rare Tong Mu Phoenix Lapsang Souchong blend, all of the tea at the Empress is ethically sourced and certified by the Ethical Tea Partnership.
I found myself eyeing my daughter's tiers on the fine china afternoon tea stand wanting a taste too, but she was not offering. It's tough to find fancy vegan treats like this, so she was over the moon and not wanting to miss a bite.
We chit-chatted the afternoon away while gazing out onto the iconic Inner Harbour with the background of beautiful classical music being played on a grand piano behind us. Once sated, we were ready for some royal pampering at the spa.
Read more about vegan dining options in our Insider's Guide to the Best Vegan Restaurants in Victoria, B.C.
Upscale Pampering at the Fairmont Empress Willow Stream Spa
Willow Stream Spa is within the Fairmont Empress and although independently operated it seamlessly reflects the posh vibe of the hotel throughout its operations. We both enjoyed the ultra-relaxing Salish Sea Vitality Face 90-minute treatment with seaweed extracts. And I love a spa treatment with a great back story.
The spa is the exclusive supplier of Seaflore Skincare a leader of "seaweed science" and big promoter of green practices. The seaweed is hand foraged locally by Diane Bernard who is known as "the Seaweed Lady". She actually also gives thalassotherapy educational seminars and wild seaweed tours.
It was my first visit to Victoria, so my daughter showed me around her new home city. It's so scenic and charming and easily walkable, we ended up at a rollicking Irish pub to toast the town in style. And the bonus was that it had the largest selection of Irish whiskey in Canada! They also had a killer good live band playing, and the place was hopping. It was an ideal way to way to cap off our Mother-Daughter royal reunion with a jigger of quality hooch and a jig to lively music.
After all, though we enjoy going upscale there's nothing wrong with some good old down home fun, too.
Helijet Victoria to Vancouver
As I needed to get to Vancouver airport quickly for my trip home.I left Victoria the next day in a luxurious way. I tried the helicopter service from downtown Victoria right to downtown Vancouver with Helijet, a helicopter service operating between Richmond, Vancouver, Victoria, Nanaimo, Prince Rupert and Haida Gwaii.
The flight afforded fabulous views and took a mere 25 minutes from port to port. Again, not so much a transfer as a trip well worth taking in itself.
Guide to Afternoon Tea at the Fairmont Empress Victoria
Cost of Afternoon Tea at the Fairmont Empress:
Afternoon Tea $82 per person
Champagne Tea (includes a flute of Veuve Clicquot Brut) $115
Royal Champagne Tea (includes a flute of Veuve Clicquot Rose) $122
Reservations: Be sure to reserve well in advance to avoid disappointment. You can reserve online here:
Location: 721 Government Street Victoria British Columbia, Canada
Interested in staying overnight at one of Canada's most famous luxury hotels? Click here to check prices on the Fairmont Empress Victoria on Hotelscombined.com, a search engine that compares room rates on hotel booking sites such as Expedia and Booking.com to find you the lowest rate.
Like this Post? You Might Also Enjoy:
Save to Pinterest!
Contributing Editor, Sue Campbell is an award-winning Canadian travel writer specializing in the Caribbean and tropical hot spots. Follow her journeys on Instagram and Twitter @Suectravel
View more posts by Sue Campbell Read more